In the latest episode of the new Michelle Obama Podcast, the former First Lady said she is currently battling "some form of low-grade depression."
"Not just because of quarantine, but because of the racial strife, and just seeing this administration, watching the hypocrisy of it, day in and day out, is dispiriting," she said on the podcast. "Spiritually, these are not fulfilling times."
Mrs. Obama's second podcast episode of the season is titled "Protests and the Pandemic," and it features award-winning journalist of NPR fame, Michele Norris. (Norris previously anchored NPR's "All Things Considered.")
Together, the two women discuss "how we can gain new understandings of ourselves during an international pandemic and national reckoning with race."
Depression and anxiety have been on the rise among Millennials and Baby Boomers alike in recent years, some of which are attributable to the actions of the Trump Administration, while other aspects of the mental health crisis have to do with larger societal trends.
Mrs. Obama is merely the latest high-profile figure to express these feelings, around which there is more social literacy than ever before. (You're currently reading a magazine dedicated to mental health and wellbeing, after all.)
Still, the Becoming author is not alone in her sense that the Trump Administration's handling of racial tensions is, at least in part, to blame for these feelings.
"I don't think I'm unusual in that," she expressed when asked about the current state of politics in the U.S.. "But I'd be remiss to say that part of this depression is also a result of what we're seeing in terms of protests, the continued racial unrest, that has plagued this country since its birth."
"I have to say that waking up to the news, waking up to how this administration has or has not responded, waking up to yet another story of a Black man or a Black person somehow being dehumanized, or hurt, or killed, or falsely accused of something, it is exhausting. And it has led to a weight that I haven't felt in my life, in a while."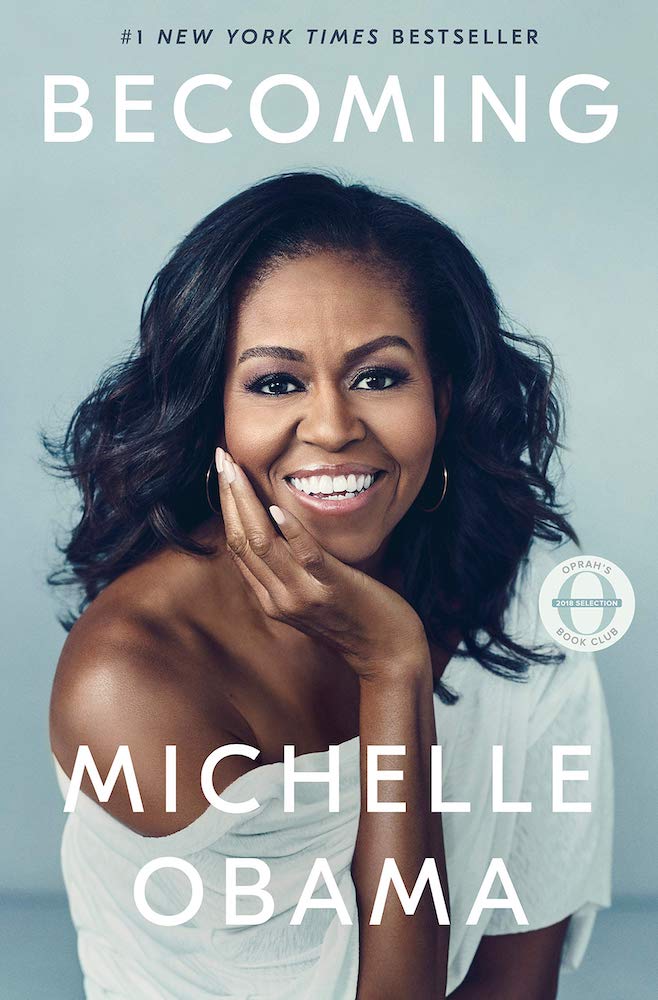 Mrs. Obama says she deals with her depression by keeping a routine, in particular trying to "get a workout in," "get outside", and "keep a regular dinner time." The Obama family has also gotten into doing "thousand piece jigsaw puzzles" and "spades tournaments," which she says is a silver lining because "[the girls] wouldn't have sat down, but for this quarantine, to learn how to play a card game with their Dad."
She also expressed appreciation for the fact that quarantine has taught her how to be more self-sufficient, including "doing her own waxing" and "doing her own nails."
"There's a lot of stuff that I'm figuring out," she quipped with Norris. "If I want it done, I have to learn how to do it. But that's how we were raised."
Still, the former First Lady said she's struggled recently with sleep and exercise routines. (FWIW: studies show these can help ease depression symptoms, significantly. So can meditation and joyspotting.)
"I'm waking up in the middle of the night because I'm worrying about something or there's a heaviness," she explained of this restlessness. "I try to make sure I get a workout in, although there have been periods throughout this quarantine where I have just felt too low."
"Spiritually, these are not fulfilling times."
"You know," she continues, "I've gone through these emotional highs and lows that I think everybody feels, where you just don't feel like yourself. Sometimes there's been a week or so where I had to surrender to that– and not be so hard on myself. And I'd say, 'You know what? You're just not feeling that treadmill right now.'" The moral of the story, moreover, is that it's okay not to feel okay sometimes.
She also said that when it comes to managing feelings of depression, "knowing yourself" and "the things that do bring you joy" can help.
"My spirit lifts when I'm feeling healthy, and when I'm surrounded by good people. So I reach out. I reach out to my family, and to my friends, even in this time of quarantine. I fought to continue to find a way to stay connected to the people in my life who bring me joy, and my girlfriends, my husband, my kids; it's the small things," she continued.
"Because you have to recognize that you're in a place, a bad place, in order to get out of it. So you kind of have to sit for a minute, to know that 'Oh, I'm feeling off'. So now I gotta feed myself with something better."
Listen to the full episode by searching "The Michelle Obama Podcast" on Spotify. Watch a teaser for the series, below.
(You can also read the full transcript of the interview here.)
***
On a brighter note: Michelle Obama's Shrimp Linguine Recipe is lovely.
Also: Watch Barack Obama Call Out "Woke" Culture: "That's Not Activism." It's charming in a very "Dad" way.
Related: These 5 Depression Hacks Can Help Ease the Doldrums (We Promise).
Looking for a mood-boosting news source? John Krasinski's "Some Good News" is Making The World A Happier Place.