This guide to the best restaurants in Sante Fe features a mix of high-end and casual options– from down-home Pueblo-influenced New Mexico diners to upscale resort hot spots. Ultimately, it features a little bit of everything. And as with all of our restaurant guides, we like to spotlight restaurants that offer the perfect combination of delicious food and a unique experience that captures the spirit of a place— whether you're looking for breakfast, lunch, or dinner.
Ultimately, Sante Fe is a very special city that is decidedly a product of its history. This desert food oasis exists at the intersection of Spanish, Pueblo, and contemporary New Mexican culinary traditions, as well as the emerging farm-to-table movement that would seem somewhat paradoxical in the high desert of the American SouthWest. That's why it's known as "The City Different": for its unique ability to showcase different facets of local tradition.
Santa Fe, moreover, is a melting pot. Its mis-mash of Spanish, Pueblo, and Ranchero cultures and customs often culminate, most notably, in the food. Ultimately, if you're looking for a unique meal in Santa Fe, the below restaurants will deliver.
Scroll on to read our list of the best restaurants in Sante Fe for unique, comforting, unforgettable meals.
***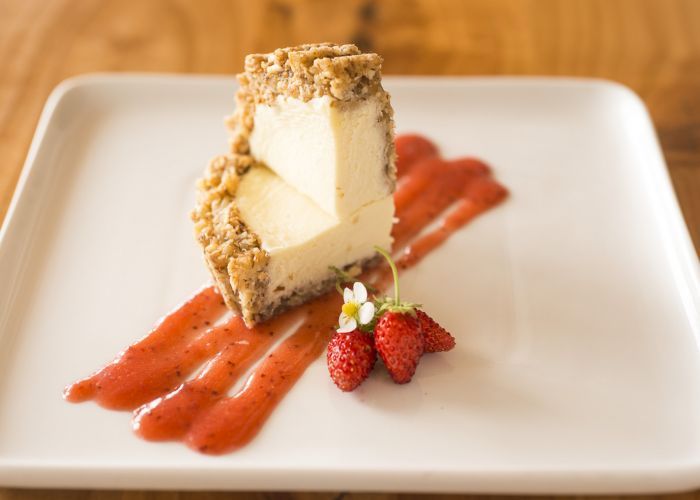 Blue Heron Restaurant at Ojo Sante Fe Resort
The fabulous farm-to-table organic dining at Blue Heron Restaurant is almost as amazing as the setting. Nestled inside Ojo Santa Fe Resort (a 70-acre garden oasis that has been a source of traditional healing and wellness for centuries), the restaurant takes its cue from local ingredients and the traditional flavors of the Southwest.
Helmed by chef Rocky Durham, the restaurant specializes in New American West cuisine enlivened by farm-to-table ingredients of the Southwest.
Embracing the resort's ethos that food is a potent elixir for healing body and mind, Durham works closely with local farmers and the Ojo Sante Fe gardening staff to source the truly local organic herbs, fruits, and vegetables around which the menu is crafted.
The results are as vibrant as they are flavorful– the salads are excellent, and the Green Chile Cheeseburger remains a longstanding winner of the 2017 Edible Magazine Smackdown.
We love the signature Goat Brie en Croute and the Duck Salad "Lyonnaise" with confit duck leg, curly endive, warm mustard dressing, and poached egg. Also be sure to Chef Rocky's "Elvis" dessert comprised of decadent chocolate cake, peanut butter gelato, and banana brûlée.
The menu also showcases a global selection of varietals and locally brewed craft beer. (This is also a great Santa Fe restaurant for vegetarians; go for the scrumptious Quinua Cakes or the tamales.)
The peaceful, friendly resort restaurant features reclaimed wood floors and ceilings as well as floor-to-ceiling windows overlooking the spring-fed pond. Whether enjoying Sunday brunch or weekday dinner, you can also opt for shaded al fresco dining on the Blue Heron Patio. (Weather permitting, of course.)
And if you're looking for a natural water view, this is one of the only restaurants in greater Santa Fe that has one.
El Farol on Canyon Road
Want a good steak? Hailed as Santa Fe's "most iconic and historic bar and restaurant," El Farol is perfect place to eat when exploring Canyon Road. The rustic adobe vibes are distinctly Santa Fe, and the menu is, frankly, exquisite.
This tapas-style cantina offers delicious, thoughtful, aesthetically-pleasing compositions on every plate. Since 1835, they've offered one of the most unique and reliable dining experiences in the region.
From perfectly-cooked shishito peppers to paella to churros, El Farol captures the flavors of the region's unique mix of Southwestern cultures. The sangria is excellent, the brussels sprouts with bacon are so, so good, and they regularly have live music and Flamenco (yes, that's also a thing here).
Arrive between 3 and 5 PM to experience their epic Happy Hour tapas. I love the Flash Fried Avocado with Pico de Gallo and Lime Crema, which also features on their dinner menu. It's also worth trying the croquettes of the day, which are somewhat seasonal and always intriguing.
For dinner, try the signature Green Chile Cheeseburger or seafood dishes like the signature Mejillones (mussels in a spicy tomato broth with hazelnut picada served with french fries and grilled bread).
They also have several excellent gluten-free options. Try the sensational Paella de Verduras (local vegetable paella) or Pollo con Patatas (regal crest chicken breast served with Spanish chorizo, green olives, marble potatoes, pequillo peppers, shallots, garlic and herbs).
Overall, everything on the menu is delicious, unique, and inventive. You can't really go wrong with anything you order. Just be sure to save room for their beautiful Tres Leches cake!
Frit0 Pie at the Five & Dime General Store
Santa Fe's "original" Frito Pie can be found at the Five & Dime General Store. This Santa Fe original is so notorious that even Anthony Bourdain had to try it! As you can see in the CNN clip above, a Frito Pie is exactly what it sounds like: chile and a "day glo orange cheese-like substance" is dropped directly into a bag of Fritos, which you eat with a spoon. (Seriously!)
It is more of a carnival treat than an actual dining experience, but it is nothing if not original. For the quintessential Santa Fe "Frito Pie" experience, head to the Five & Dime General Store.
Again, this is something you can experience only in New Mexico. Like Bourdain says, "I'm against everything this dish stands for… and yet, it's delicious."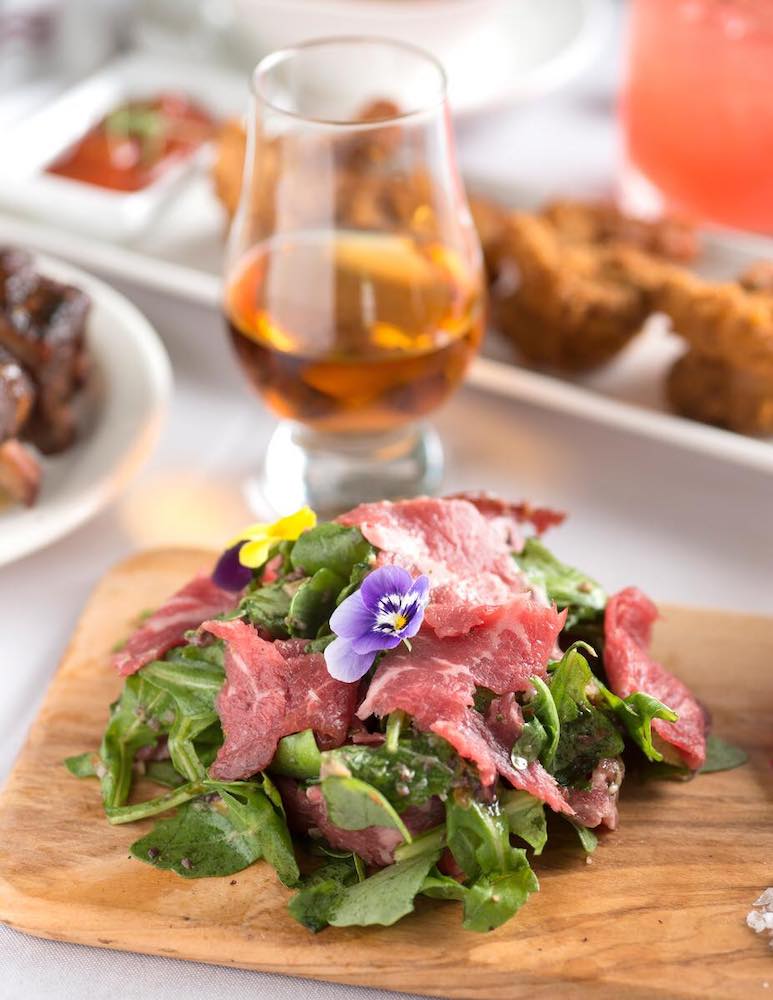 Farm Fresh Cuisine at Radish & Rye
We love Radish & Rye's farm-to-table approach to regional cuisine. Great for a nice dinner out on the town, or whenever you're looking for a little "R&R". All the produce is locally-sourced, the fish is wild caught or sustainably-farmed, and the meat and poultry is hormone- and antibiotic-free.
The super-fresh salads and incredible bourbon make a wonderful start to any meal, but the tenderly-cooked proteins and delectable SouthWest flavors ultimately persist in memory. This a restaurant that brings people back again and again.
The seasonally influenced rotating menu has featured everything from the best darn local frisée and beet salad with charred pecans and feta-chevre dressing to a unique twist off of fried chicken and waffles. (For example, Fried Quail + Buttermilk Thyme Waffles with rye whiskey molasses and pickled corn relish. However, they've also done classic Organic Free Range Buttermilk Fried Chicken, served with hubbard squash waffles, pralined bacon, and bourbon maple syrup. Either way, this dish is always an adventure. So good!)
When available, we also love their beef tartar and seared scallops, which are usually served with an umami-inducing starch like grilled polenta with shimeji mushrooms in a white wine caper beurre blanc. Mmm-mmm.
Rustic Touches for a Memorable Meal
Aesthetically, look for artisan touches, like how the restaurant places cut up squares from old menus as doilies for their desserts. The patina'd metal sign outside the restaurant connotes a similarly storied vibe. These kind of details are subtle, but they add up to create a wonderfully thoughtful experience.
Radish & Rye feels distinct to the SouthWest, to Santa Fe, and it is appropriately reflective of the hard work and time that goes into bolstering a regional food shed in the desert. And oh, that reminds me: be sure to save room for dessert. When Radish & Rye is serving ice cream, you don't want to miss it.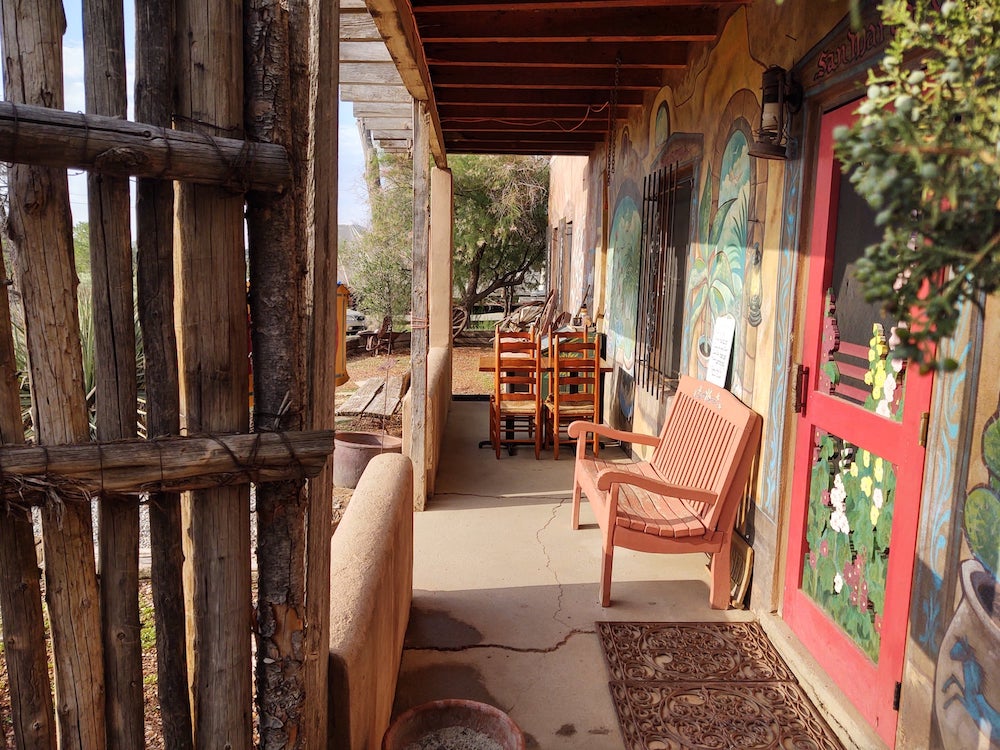 San Marcos Café
Located 25 minutes from downtown, San Marcos Café serves quintessential down-home Santa Fe-style food that locals and tourists both love. This tiny, charming café features home-cooked specialties and New Mexico favorites. Locals claim it has Santa Fe's best green chile. We love the incredible stuffed acorn squash and delightful huevos rancheros.
Also: there are no frills here. And yet: the people are so nice and welcoming that a meal here might just touch your soul. For many visitors, dining here is the culinary highlight of their trip to Santa Fe.
For starters, the fresh homemade cinnamon rolls are insanely good— this is an item they are known for. The attached Feed Store, meanwhile, offers an earnest look into real ranch living, with pet, horse and bird feed for sale as well as hardware, building supplies, farrier supplies, and propane. There aren't many places in Santa Fe where you can eat brunch and also see a peacock!
It's lively, quaint, and decidedly unique to "The City Different". As a result, San Marcos Cafe is one of the most unique places to get what is frequently named as the best breakfast in Santa Fe.
San Marcos Café is open from 8 AM to 2 PM, and gets busy with regulars most days. Do as the locals: come early, and come hungry.
View this post on Instagram
Get the Famous Breakfast Burrito at Tia Sophia's
Speaking of classic Santa Fe breakfasts, Tia Sophia's is one of the most famous local eateries in all of New Mexico. The southwest style chile is famously hot, and the breakfast burrito is a big, hearty crowd pleaser.
Order the cheese-smothered original breakfast burrito (above) or opt for the hand-held, bacon-stuffed version. Tia Sophia's has a reputation that precedes it. Thus, expect crowds and a line unless you get there early (aka before 9 AM).
Lore has it that back in the 80's, longtime Tia Sophia's waitress Martha Rotuno coined the phrase "Christmas," to refer to the combination of red and green chile that most restaurants now offer on various New Mexican dishes. (More on this local slang, below.)
Overall, this reliably great Santa Fe breakfast joint perfectly encapsulates the regional cuisine of New Mexico. Expect light and fluffy corn tortillas, decadent huevos rancheros, and chile galore. This is my favorite local spot to get breakfast in downtown Santa Fe. A visit to Santa Fe isn't complete if you don't stop at Tia Sophia's! It may be touristy, but it's worth the experience.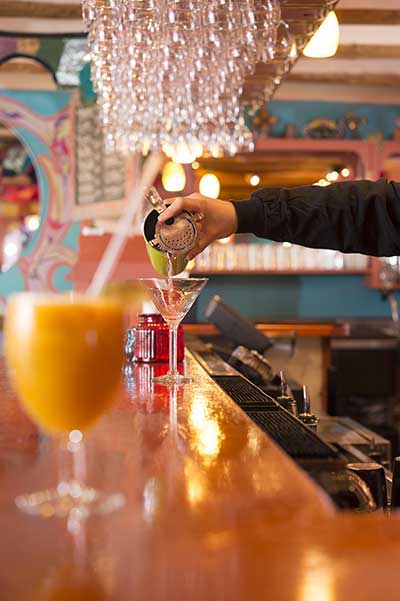 La Choza Restaurant (Best Tacos in Santa Fe)
It's not fancy, but La Choza Restaurant is THE place to go if you want to experience some of the best tacos and enchiladas in Santa Fe. La Choza is the sister restaurant to The Shed, a local go-to for downtown dining in Santa Fe. It has been serving authentic New Mexico cuisine— a hybrid regional cuisine that is not-quite-Tex-Mex, not quite Mexican food– since the early 1980s.
At this point, they are a local staple. They also serve awarding-winning red and green chile, a distinct local dish that you have to try at least once before leaving the city. (But more on that, later.)
We love the colorful decor and the unassuming friendliness at this tiny Santa Fe restaurant. Order the giant blue corn enchiladas, the chile relleno, or the sopapillas (Spanish fried dough) for the quintessential experience. Because of their numerous meatless options, La Choza is also one of the best restaurants in Santa Fe for vegetarians. (No, you don't have to miss out on truly local cuisine just because you don't eat meat. Dive in!)
Also, the cocktails here are excellent. If you want to try some of the best margaritas in Sante Fe, add La Choza to your list. I like the house margarita (who doesn't love a classic?) as well as the Sangre de Cristo margarita. The latter features Cruz del Sol Plata + Solerno blood orange and is named after the local mountain range.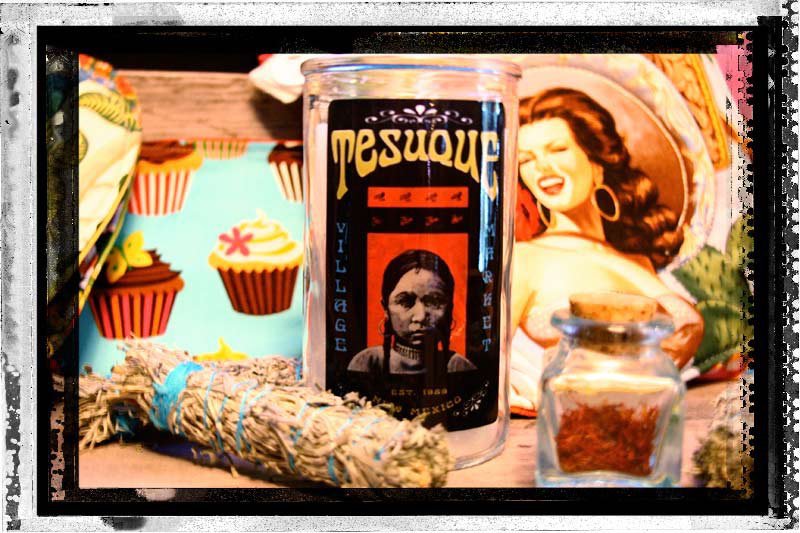 Tesuque Village Market (Quirky Local Grocer)
The super casual, dine-in-or-take-out Tesuque Village Market does great breakfast, lunch, and takeaway items that locals and repeat visitors to Santa Fe have come to adore. This cafe and grocery has excellent drinks and a welcoming, come-as-you-are vibe.
We love the chips n' gauc, the Tatonka Buffalo Wings, and the Smokey Black Bean Quesadilla, but really I like going for the vibe. (It'll make sense when you get there. The food– like the Green Chile Stew– is super authentic and local. We also just love that you can buy local spirits and prayer candles at the same time.)
The people are laid back, as is the food. Try the signature tamale or a fresh pork posole if you're looking for to-go options. Otherwise, stay and enjoy the piñón-encrusted salmon or half rotisserie chicken in the open air seating area.
This place is defined by it's friendliness, quirk, and charm– they even have their own taco truck tacos (chicken, carne adovada, shredded beef, ground beef, or pork ranchero). They also have their own version of Frito Pie (which again, is something you're only going to see in Santa Fe).
The baked goods here are also lovely the vibe is as laid back as anywhere in Sante Fe. If you don't want your meals to be fussy or fancy– but you still want flavor that kicks– this is the lunch spot for you.
Personally, I love the "Aquacate with Huevos"– "avocado with black beans and two eggs any style". (<— Finally, a restaurant that serves avocados as a main dish and eggs as the side hustle. 🙂 ) Drinks-wise, order the "Hot Flash". This place is nothing if not endearing.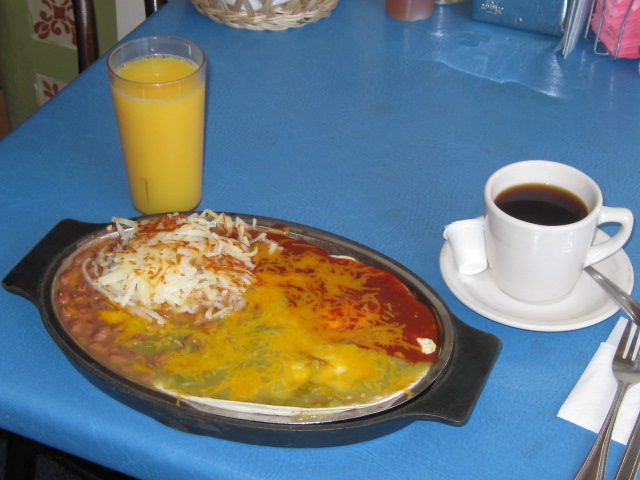 PSA: The Story of "Christmas"
When ordering local dishes in and around Santa Fe, you may be presented with the option of adding "red chile, green chile, or Christmas." "Christmas" is shorthand for a mix of both red and green chile, which could be added to an enchilada or ladled over a huge breakfast burrito at Tia Sophia's, for example.
Where possible, I always recommend ordering the "Christmas" option. That way, you'll get to taste both local flavors. Either way, don't leave Sante Fe without trying some chile! If you want to eat like a local, it's a must.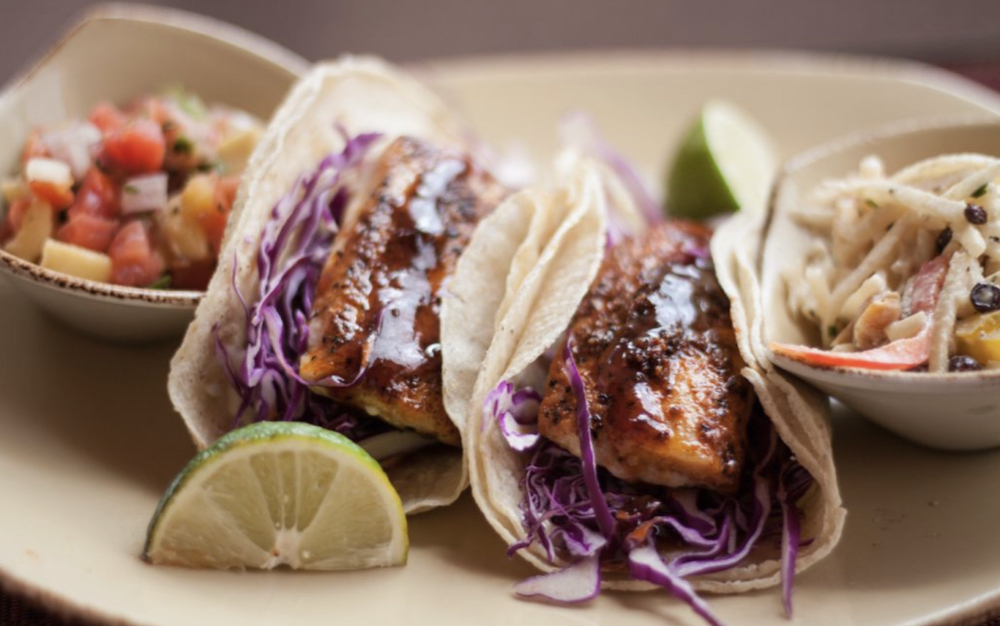 Artesian Restaurant & Wine Bar (Super Local Farm-to-Table)
FWIW, the Artesian Restaurant and Wine Bar, located next to Ojo Caliente Mineral Springs about 1-hour north of Santa Fe, is a fabulous place to eat after taking a day trip for a mud bath and thermal soak. They have great chicken enchiladas that perfectly showcase this locally iconic "Christmas" combo detailed above.
Plus, the chef incorporates Ojo's own farm-grown herbs, fruits, and vegetables into the globally-inspired menu. (<— Note, however, that Artesian is technically located outside of Santa Fe. If you're willing to make the trip outside the city, it's lovely and SO picturesque. If you already plan to visit Ojo Caliente, this is a great place to eat lunch. The salads are fantastic and so fresh!)
Related: Take a behind-the-scenes look at Ojo Santa Fe, New Mexico's most idyllic wellness resort.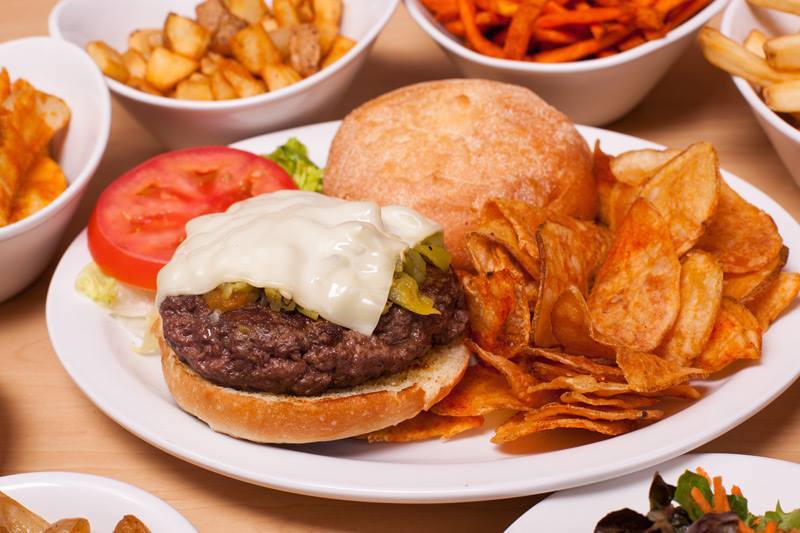 Santa Fe Bite (Great Budget Option)
Santa Fe Bite makes one of the best bargain Green Chile Cheeseburgers in Santa Fe. That's the main reason locals flock to this all American eatery, a newly reopened restaurant by the owners of now shuttered Bobcat Bite. (A different era…)
People love this burger, and it's great for those traveling on a budget. So much so that we're not even going to discuss anything else on the menu. If you don't order the burger here, you're doing it wrong.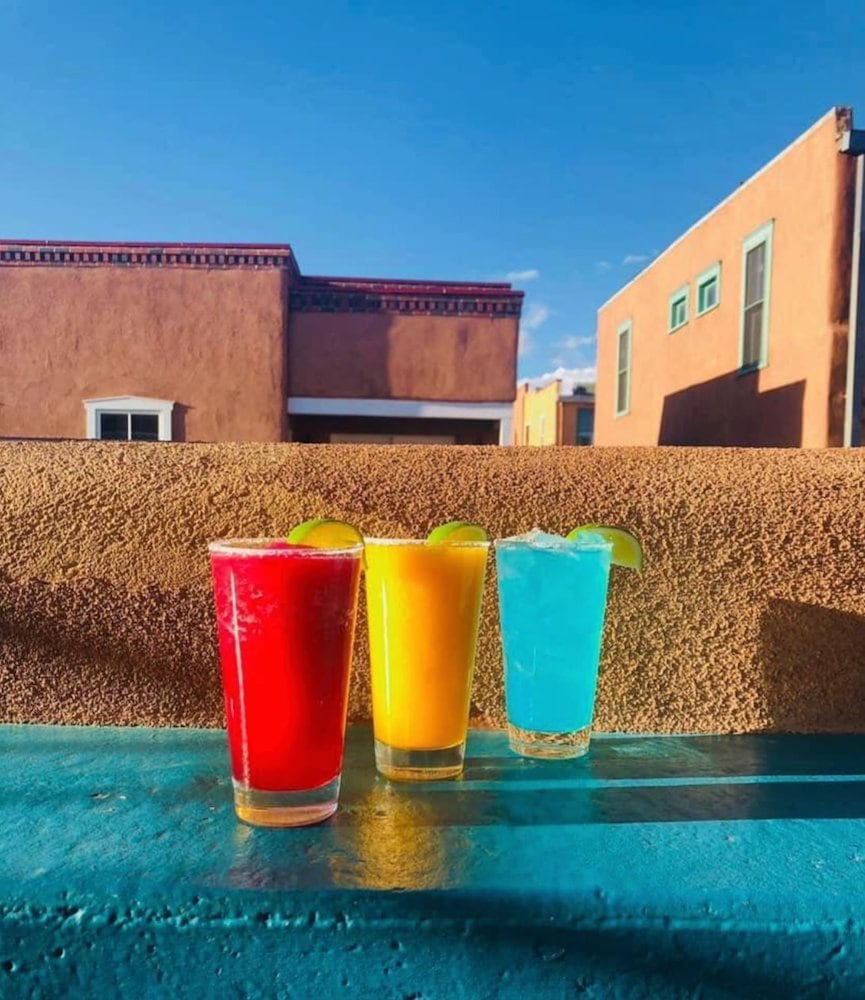 Sip Prickly Pear Margaritas at Coyote Cafe & Cantina (on the Santa Fe Margarita Trail)
The Coyote Cafe & Cantina has arguably the best margaritas in Santa Fe, including a fabulous prickly pear margarita that offers a literal taste of New Mexico (talk about local flavor!) With its perch above Historic Santa Fe Plaza, Coyote Cafe is also a great restaurant for instant cultural immersion. There's cool graffiti-style art on the walls, and many locals hang out here alongside the tourists.
Specifically, it's an awesome rooftop venue for drinks with a view. And the food, of course, is excellent. (It has to be if it made this list.) The menu features nouveau New Mexican specials ranging from Tacos al Pastor to Chile Morita Mexican White Prawns to a gorgeous Southwest-style Banana Cream Pie. If you want to see a modern menu representative of larger food trends in Santa Fe, this is it.
Other Places to Get Great Margaritas in Santa Fe
(Editor's Note: Many experts claim that Santa Fe has the best margaritas in the world. The wide variety of margaritas at Maria's New Mexican Kitchen, which is also on the so-called "Margarita Trail," are also great. We also recommend the Signature House Margarita at Del Charro Saloon and the Smoke & Fire Margarita at La Choza.)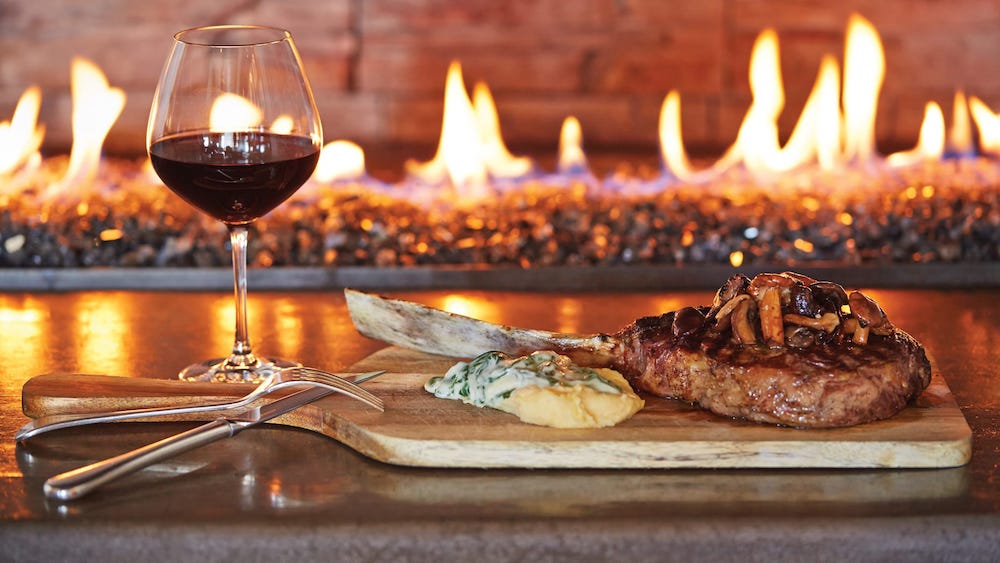 Terra Restaurant at Four Seasons Resort Rancho Encantado (High-End, Bespoke Experience)
The refined experience at the Chef's Garden Table at Terra involves diners selecting the herbs that executive chef Kai Autenrieth will use to season their four-course meal with wine pairings. Located inside the Four Seasons Rancho Encantado, this fine dining restaurant is easily one of the best in the state. It's also one of the best restaurants for a dinner date in Santa Fe. (If you want to get dressed up, dine here.)
Foodies love the global focus of this regionally-specific menu. We love the homey Spicy Green Chili Corn Chowder and the Chimayo Duck Pappardelle with grilled peppers, maple leaf duck confit, and garrotxa cheese. It's fantastic!
The gorgeous New Mexican Steak "Oscar" style, meanwhile, features huitlacoche and crab, chipotle hollandaise, grilled asparagus, green chile mashed potatoes, and smoked queso fresco. It's lovely, with incredibly-finessed flavors that are emblematic of the menu's larger appeal. If you're looking for a fine dining experience unlike any other in Santa Fe, Terra Restaurant is the spot for you.
Even The Desserts Reflect Local Sensibilities
At Terra, even dessert has a global-yet-local influence. The Four Seasons is a global brand, but the on-site restaurant has a decidedly vibe. This is a thread that carries through the meal to the dessert menu.
For example, you can expect seasonal brulee and decadent sticky toffee pudding– but also regional comfort dishes like upscale "Boozy" Churros. These are made with lavender sugar and an array of sauces featuring distinctly-local flavors you won't find anywhere else. (Recently these were: rumchata vanilla cream, prickly pear limoncello, kahlua mexican chocolate, and dulcey mezcal. Yum!)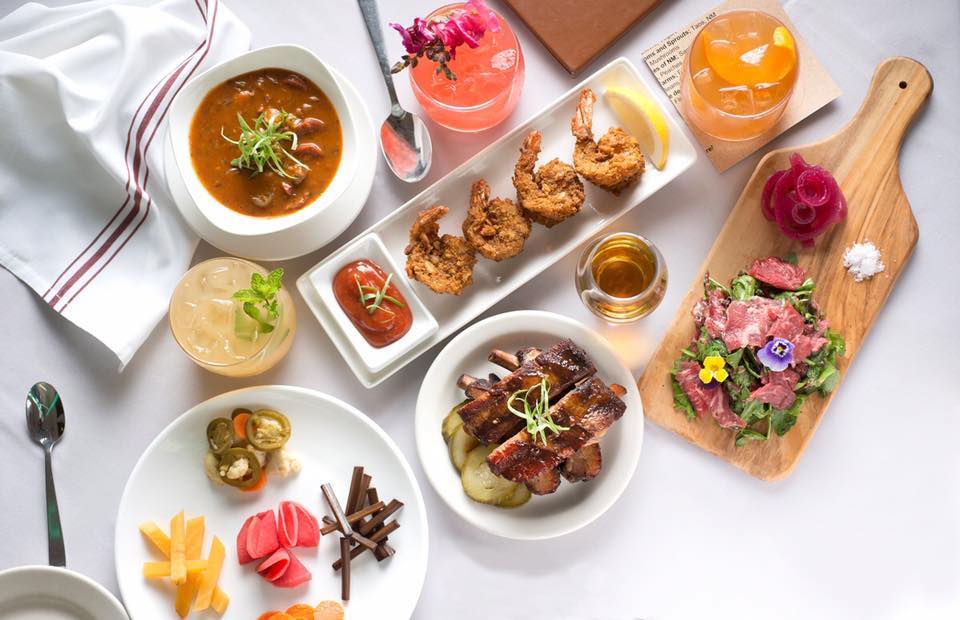 What To Eat in Santa Fe
Look for these local foods and regional culinary staples when dining in Santa Fe.
Biscochitos (pine nut cookies)
piñones
chile
burritos/tacos/enchiladas
margaritas (of course!)
blue corn pancakes
anything made with prickly pear (drinks, tacos, margaritas, etc)
green chile burgers
masa
local pears
Mexican vanilla ice cream
"Christmas" chile (aka both red and green chile, together)
Mayan style chocolate (chocolate with chili spices mixed in)
***
Related: Take a behind-the-scenes look at New Mexico's Premiere Wellness Resort, Ojo Santa Fe.
Want more bespoke dining guides? Our critically-acclaimed Travel Well section features insider guides to the best restaurants in America's coolest cities, from Honolulu to New York and everywhere in between. You can also search by category of food.