This easy green Persian pesto frittata is a delicious twist off of a classic Persian frittata recipe. More importantly, it's a great way to pack a ton of greens into a single, one-pan meal. Made in a cast iron skillet, frittatas are great for picky eaters, or if you're looking for creative ways to eat more greens that isn't just another salad or green smoothie.
I love this Persian pesto frittata specifically because it's a great recipe for using up extra greens— even fresh salad greens– so that they don't go bad in the refrigerator.
For example, if you got a CSA delivery or Farm Share with a ton of greens that you don't know how to cook, this recipe is ideal. Just swap whatever greens you have for the Swiss chard in this recipe. Super easy!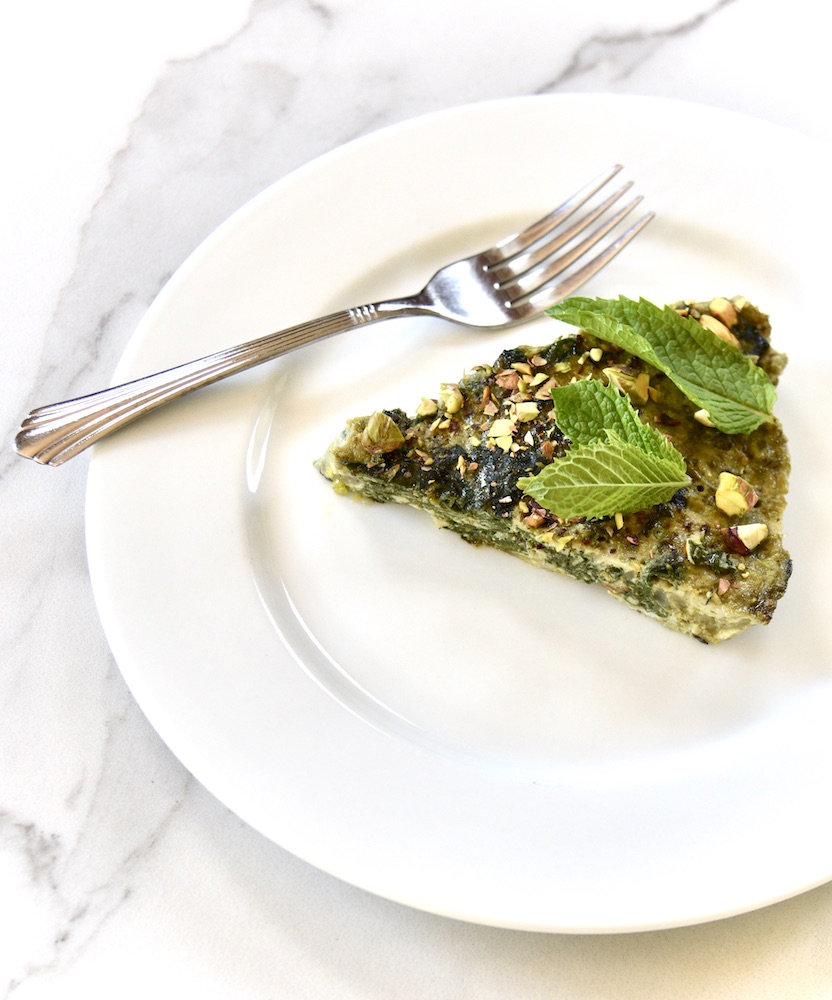 Vitamin K is a naturally-occurring vitamin that is found in many greens, like kale, swiss chard, spinach, and parsley. As a fat-soluble nutrient, it's super important for blood and bone health. New studies suggest that Vitamin K might even be more important than calcium in building strong bones!
Women, in particular, need sufficient Vitamin K to maintain strong bones as they age, and also during pregnancy. Men, meanwhile, need Vitamin K for overall immunity as well as clotting issues and bone density.
Generally speaking, traditional Persian frittata recipes have more greens than eggs. This gorgeous green Persian pesto frittata honors that tradition and modernizes the dish with additional antioxidant superfoods and spices. We've also simplified the recipe so that you can cook everything in the same pan.
***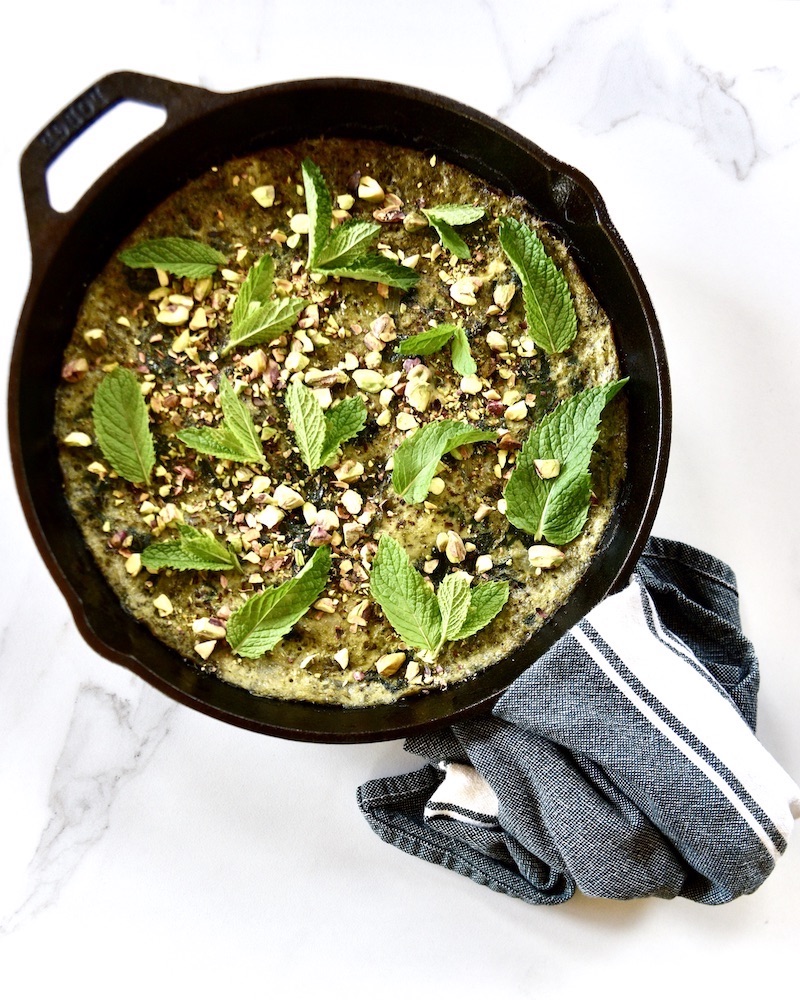 Persian Pesto Frittata
This super healthy twist on a classic Persian Frittata recipe is chock full of essential Vitamin K and immune-boosting antioxidants. Recipe serves 4.
6 eggs
1 teaspoon fresh grated turmeric
5 Tablespoons avocado oil
4 Tablespoons basil pesto (or pine pollen pesto!)
1 onion, chopped
2 Tablespoons fresh thyme (or 2 teaspoons dried thyme leaves)
8 cups Swiss chard or Lacinato kale (about 2 small bunches), stems removed, torn
3 Tablespoons chopped pistachios
fresh mint leaves for garnish
salt + pepper
red chili pepper flakes (optional)
Instructions
Preheat oven to 375 degrees F.
In a large mixing bowl, whisk the eggs. Add turmeric, pesto, and a pinch of salt.
In a cast iron skillet or oven-safe skillet, heat 2 tablespoons of oil over medium heat and add the onion and a pinch of salt. Caramelize the onions until they are slightly golden, about 5-6 minutes. Slowly incorporate the greens and thyme, adding 2 cups to the pan at a time so that they can cook down. Once all the greens are in the pan, add 2 more tablespoons of oil, and salt and pepper to taste. Stir to incorporate and remove from heat.
Add the greens + onion mixture to the bowl containing the egg mixture. Stir to incorporate. Drain any excess liquid from the pan, then grease with a tablespoon of oil. Pour the egg mixture back into the pan.
Return the man to medium heat and cook for a few minutes, until edges start to bubble (about 5 minutes). Do not stir. Once the edges bubble, sprinkle with red chili pepper flakes and place the entire pan in the oven to cook for 10 minutes or until eggs are set.
Remove from oven and allow to cool for 5 minutes. Sprinkle with pistachios and mint, then slice like a pizza and serve. (This pesto frittata can be eaten warm or at room temperature. It pairs really well with hot sauce!)
***
Related: Trying to eat more veggies? Make our Healing Hazelnut Beet Salad or these Easy Grilled Shishito Peppers next.