I'll just cut right to the chase: whether you're a foodie traveling to O'ahu or someone simply looking for a good place to eat in Honolulu, you can't go wrong with anything in this guide to the Best Restaurants in Honolulu. In no particular order, we've highlighted the best places to eat in the city and spotlighted what they are known for, below. This way, you can easily bookmark and scroll through this list for reference when traveling around the city.
For the record, Honolulu wasn't always such a foodie-friendly city. Historically, people came for the beach, not the eats. However, in the last decade the city's culinary IQ has risen significantly, as the farm-to-table movement, Instagram food aesthetics, and an increasing immigrant-rich and ex-pat filled population have begun to shift the local taste. Fresh fish and tropical fruits are readily available, as are an increasing number of international cuisines.
While the Hawaii state capital still lags behind New York, Paris, London, and Los Angeles in terms of depth and variety of dining options, Honolulu is nevertheless emerging as a world-class food city– and the restaurants below are leading the charge. Whether you're a local or a tourist, these are the restaurants you shouldn't miss. Aloha and enjoy!
***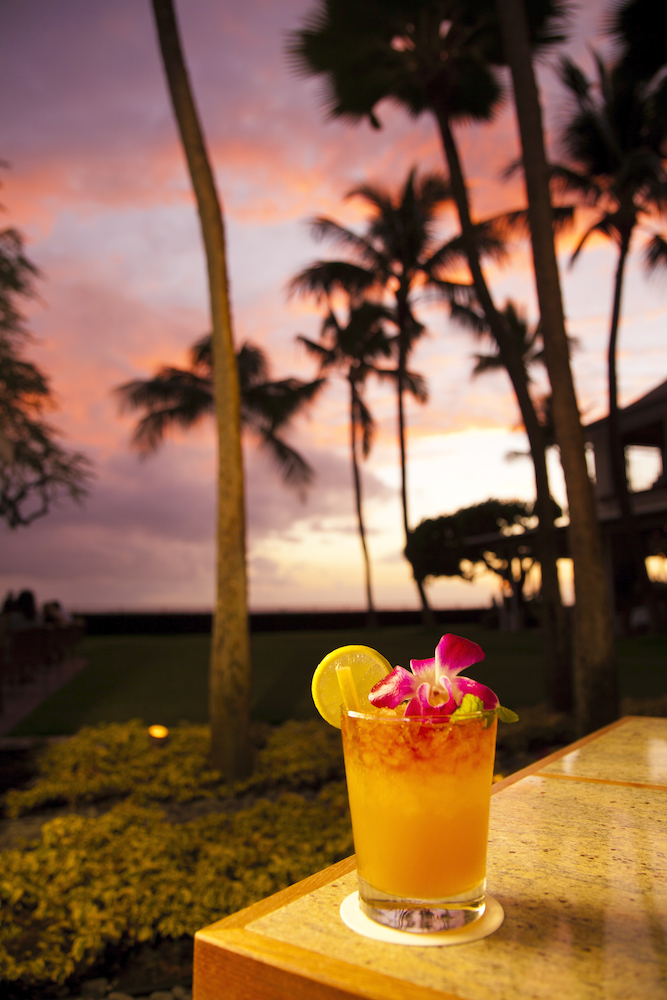 House Without A Key (For Sunset Mai Tais and Live Music)
House Without A Key is a Waikiki staple that even locals go to when they want to watch the sunset over drinks. This waterfront restaurant at the ritzy Halekulani Hotel is delightfully casual, with great views of Diamondhead and Waikiki Beach during the day. Come evening, they are known for their iconic mai tai cocktails (the restaurant claims to have invented the drink as we know it).
Also, around 5:30 each night, live ukelele musicians begin playing a long set accompanied by a professional hula dancer, who usually comes on just after sunset. Go here around 5 or 6 for happy hour and live music, then stay for dinner under the stars. The restaurant serves upscale Hawaiian staples like short rib, Hawaiian snapper, and local fish tacos which you can enjoy while listening to waves crashing just a few feet away. For dessert, try their fluffy signature coconut cake, another local favorite.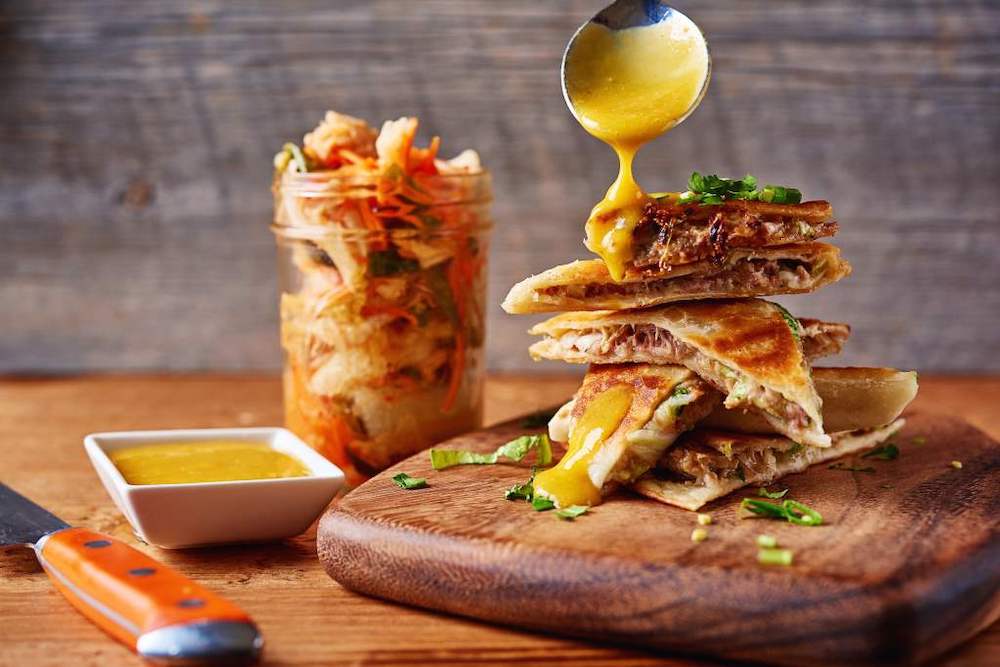 Merriman's (for Cocktails, Oysters, and Chic Decor)
Merriman's is an award-winning modern Hawaiian gastropub, helmed by Peter Merriman, a locavore chef who helped pioneer Hawai'i Regional Cuisine. Be sure to get the Kalua Pig Quesadilla with mango chili sauce and house made kim chee. Or, opt for the "Bag o' Biscuits" served with fresh honey butter. The seafood specials are also reliably excellent, and the signature smoked oysters (when available) are some of the most unique you'll ever try.
Cocktail lovers should not miss the famous Mai Tai. Made with handcrafted macadamia nut syrup and honey liliko'i (aka yellow passionfruit) foam, it's easily the best cocktail on the island, served with the foam expertly cradled in a fresh pineapple slice. (It's SO gorgeous!) While seemingly every restaurant in Honolulu claims to serve "the best mai tai on O'ahu," this one is actually the best. (And we've tried almost all of them, so we can say that confidently.)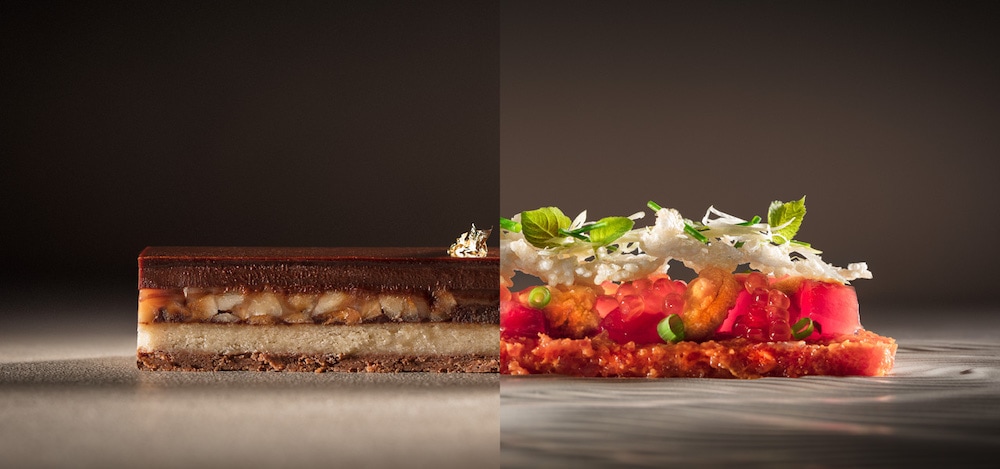 MW Restaurant (To Witness Creative Genius)
MW Restaurant is one of my favorite restaurants in Kako'ako, which showcases excellent Pacific Rim cuisine by husband and wife duo Chef Wade Ueoka and Pastry Chef Michelle Kerr-Ueoka. For dinner, the mochi-crusted Kona Kanpachi is a must; this unique and delicious fish preparation is what made Wade famous. Served with seasonal local vegetables and a brightening vinegar-based sauce, it's recommended for those who want to try the quintessential menu item. We also love the quotations-bearing "Fried Chicken" (a play off of traditional Chinese pressed duck) and the gorgeously plated Ahi Poke Nachos. However, you should also leave room for dessert, as Michelle was a James Beard semi-finalist– which is why they even serve dessert during lunch service.
Ultimately, the excellence of flavor and seasonality at MW stems from the synergy of Wade and Michelle's unique, complimentary skills. (Even the iconic fork logo– one fork facing up, another fork facing down– symbolizes the "W" and the "M" of their names, respectively.) For dessert, try Michelle's signature Tropical Fruit Creamsicle Brûlée, which features liliko'i sorbet and liliko'i custard, tapioca pearls, tropical fruits and a gorgeous burnt sugar brûlée cap. Liliko'i (aka passionfruit) is a distinct flavor of the islands, and this was the item that won Michelle James Beard recognition. As a result, it won't be going off the menu anytime soon. Lucky for us!
Mud Hen Water (For Hipster Hawaiian Tapas)
In the increasingly foodie friendly Kaimuke neighborhood, Mud Hen Water serves excellent Hawaiian-style small plates served family style. The rotating menu changes often, but signature staples include classic Pohole (Hawaiian fern) salad; baked banana with peanuts, egg, and curry butter; chicken rice croquettes; and elevated Hawaaiian-style BBQ spare ribs served with fresh lime salt dipping sauce.
In general, Mud Hen Water is walk-up friendly, as long as you're willing to sit at the bar or a high top table. Otherwise, feel free to make a reservation. Be advised, however, that parking in Kaimuki can be tricky. Plan to street park, and potentially walk a few minutes to get to the restaurant. (There are also a few paid parking lots in the area, for those who don't mind the fee.) Either way, the excellent, hipster fare at Mud Hen Water is totally worth the trouble.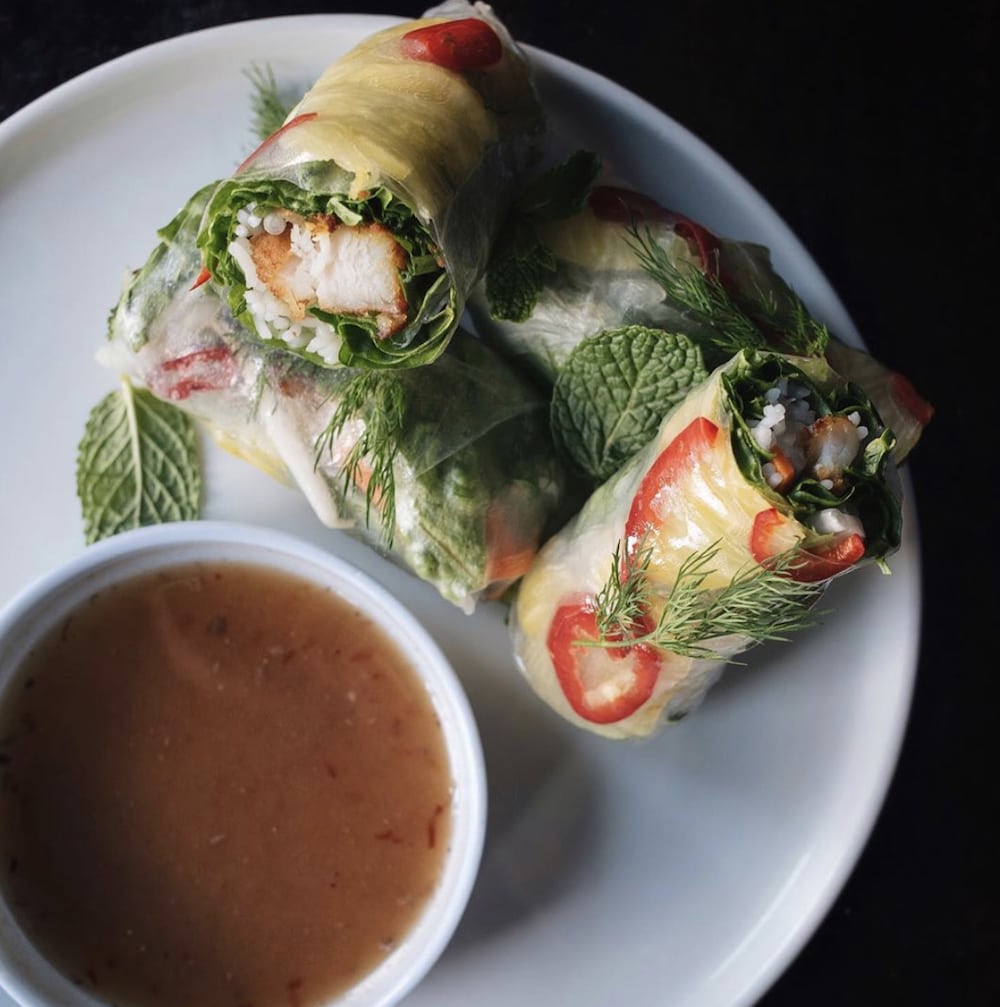 The Pig and The Lady (For Fun Pho)
The Pig and the Lady serves excellent Vietnamese in Chinatown, and many young people on the island regard it as the best restaurant in Honolulu at the moment. We love the Burmese Salad and the creative Pho 75 (the signature's signature pho). Dine here for creative, vegan-friendly vegetable dishes and tasty Vietnamese spice combinations inspired by Hawaiian Regional cuisine. This hybridization of culinary genres is partially what makes this restaurant so unique. Because finding parking in Chinatown is not easy (and it's not very walkable from the rest of Honolulu) we recommend taking an Uber here. Stop by nearby Lucky Belly for happy hour ahead of time (we love the SF inspired cocktail menu).
You may also see a food tent for The Pig and The Lady at many O'ahu area farmers markets, like KCC or KailuaTown. They offer an abridged version of the same menu they offer in the restaurant, so if you can't make it to the brick and mortar location, you can still experience the pho in a more casual setting.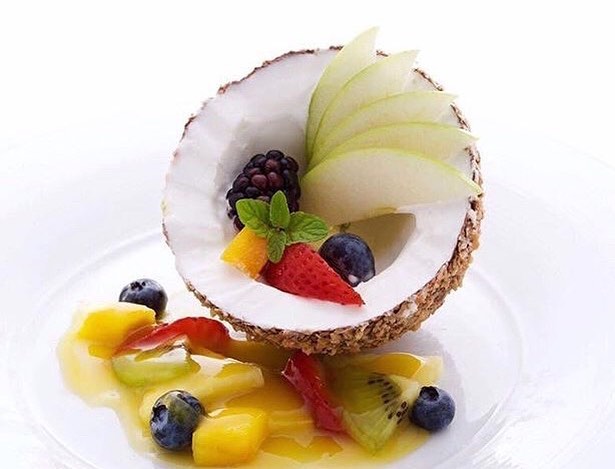 Alan Wong's (An Obama Favorite– Get "The Coconut")
Alan Wong's serves a loveable Keahole lobster and shrimp lasagna, which won Michelle Obama's favor during one of the first couple's many dinner dates here. This James Beard winner also dazzles with specials like the recent Kauai Shrimp "Escargot" and kalua pork grilled cheese. (Obama likes the twice-braised short rib, a notable chef's favorite.)
Above all, be sure to order "the Coconut," a haupia serbert encased in a chocolate-coconut shell that looks exactly like a coconut. Served with liliko'i sauce and fruit, you might think it's an actual coconut until you cut into it with your spoon. It's amazing!
Other items on the menu can be very particular, taste-wise, so this restaurant is not a great place for picky eaters. I don't recommend it for traditionalists or those who are new to fusion food. The flavors here are adventurous, especially when it comes to the specials, and even foodies like myself occasionally find them a bit challenging. Still, Alan Wong's is one of the best fine dining restaurants in Honolulu. It's perfect for date night, Barack and Michelle style.
Helena's Hawaiian Food (For Traditional Hawaiian Cuisine)
Though it may not seem fancy (and it isn't,) Helena's Hawaiian Food is a classic Michelin-starred local haunt that is world-famous for codifying traditional Hawaiian cuisine as we know it. They won a James Beard award in 2000 for outstanding regional cuisine, a distinctive award that designates them as serving truly authentic cuisine of a place.
Helena's is the place to go if you're interested in experiencing traditional Hawaiian food as Hawaiians historically ate it. Throughout the years Helena's has stayed true to their purist roots, never straying from tradition to follow trends. For example, Helena's is one of the few places on the island where you can still get opihi, a local delicacy shellfish that at one time sold for $100 an ounce.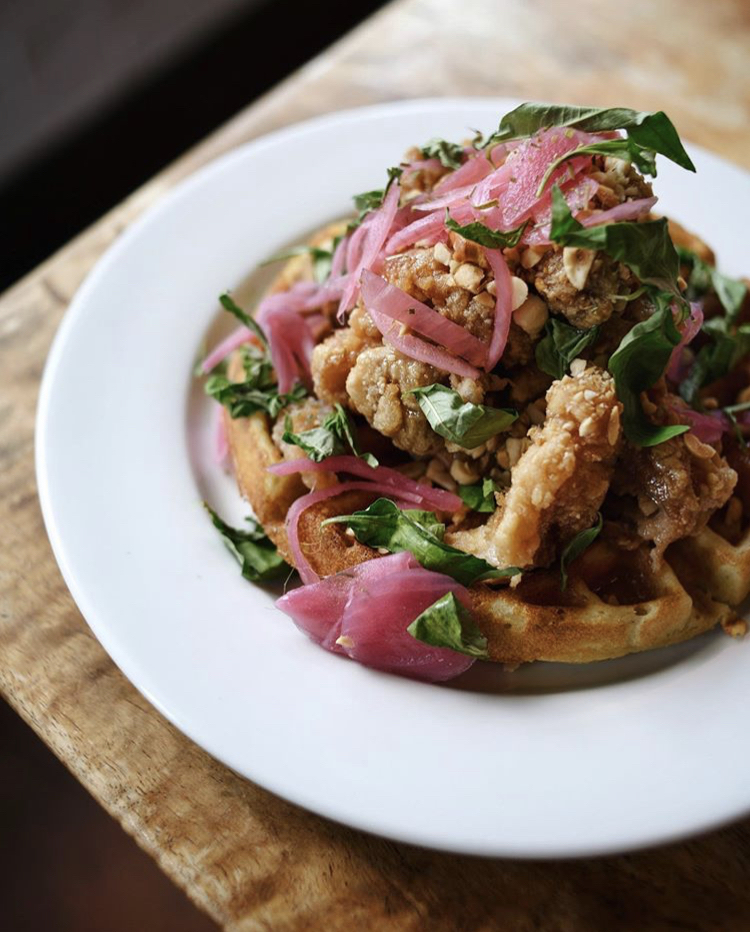 Piggie Smalls (For Swaggy Puns and Asian Flavors)
Piggie Smalls, as the excellent pun entails, is all about good pork. Portions are huge and the flavors are generous and bountiful, reflective of the island's fusion-immigrant culture. Here, you'll enjoy Hawaiian takes on Pan-Asian classics like Mochiko Chicken and the table-mixed Burmese Salad, which is excellent. Piggie Smalls also does local originals like Pacific Rim inspired chicken and waffles, and a Truffle Katsu Burger, which we can't get enough of. If you like street food and hip-hop, this is the restaurant for you.
Piggie Smalls was founded by the same group behind The Pig and the Lady, which is why so many of the squarely Asian dishes feel similarly modern. We love ordering the crispy-skinned pork belly, the Brisket Pho French Dip sandwich with clams, and the King salmon dish (when it's seasonal). After dining, you can go shopping in the nearby Ward Village Shops, or head across the street to Merriman's for a late night cocktail.
Monkeypod Kitchen (A Locavore Classic)
Monkeypod Kitchen in Ko Olina is another Peter Merriman restaurant– great for families, cocktail lovers, and people who want to experience classic farm-to-table and ocean-to-table food on O'ahu. They really good pizza, fish specials, and are famous for their cream pies, which come in a variety of flavors like banana and coconut, etc, as well as seasonal flavors like gingerbread around the holidays. Each pie comes in a local macadamia nut crust with a generous layer of fresh whipped cream (it isn't a cream pie without cream, after all).
Monkeypod Kitchen is named after the iconic Hawaiian monkeypod tree, which is endemic to Hawaii. (You see them all over the North Shore and lining several streets in downtown Honolulu). While the Ko Olina location of Monkeypod Kitchen feels very resort-y (because it's Ko Olina), the restaurant somehow still manages to feel home-y. The service is reliably good, and when they have live music, it's excellent. We recommend sharing one of their pizzas as an appetizer; if you're going to get Hawaiian pizza in Hawaii, this is the place to do it. The fish specials are also always very exciting, as they use the best local ingredients; we recommend ordering at least one fish special for the full experience.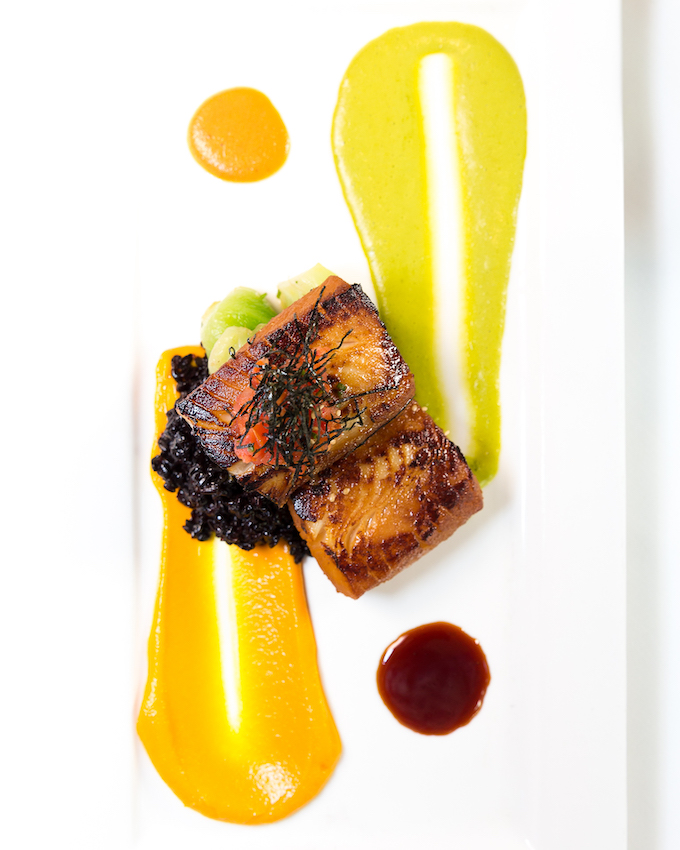 Roy's in Hawaii Kai (A Waterfront Staple)
Roy Yamaguchi is one of the OG Hawaiian chefs responsible for putting Hawaiian fusion cuisine on the global culinary map. At the original Roy's in Hawaii Kai, guests have enjoyed fresh Hawaiian fare in a contemporary setting with stunning views of Maunalua Bay for the last 25 years. Today, there are dozens of Roy's around the islands and on the mainland, but the original remains a truly buzzy neighborhood restaurant that stands the test of time.
The Waikiki location is popular, but Roy's in Hawaii Kai has a better view. We recommend getting the excellent short rib or the Misoyaki butterfish as entrees. For appetizers, you can't go wrong with the purple sweet potato bisque and a few fresh salads. As for dessert– be sure not to miss their gluten-free chocolate soufflé and the signature pineapple upside down cake, which takes 30 minutes to make. Roy's is open for dinner only, and they are good at accommodating kids.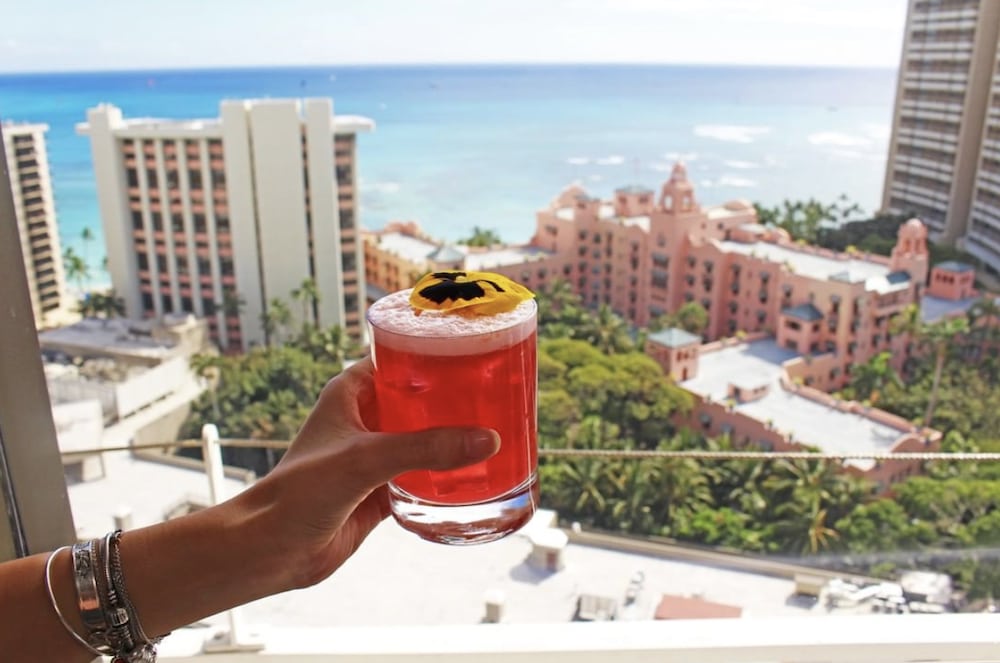 Top of Waikiki (For Dinner with a View)
This 21st-floor revolving seafood and steak restaurant has great views! Top of Waikiki offers surprisingly great food with small, expensive portions, for sure– but dining here is a unique experience that really demonstrates the size and sprawl of Honolulu, which is much bigger than most people think. Top of Waikiki is also a "classic" Honolulu hot spot, a restaurant where many other notable area chefs– like Wade Ueoka of MW restaurant– got their start.
We love the rotating restaurant's Kona Kanpachi and the artfully composed salads. (They're small, but beautiful.) We also appreciate how many vegetable dishes are sourced from local farms (a shockingly rare thing in Hawaii). The seafood, of course, is all excellent and caught fresh daily. Also, the restaurant offers free validated parking with a convenient covered lot on site. Their daily Happy Hour is also great, as it's the perfect place to see a Waikiki sunset from above. (Just don't get confused when ascending in the escalators; the bar on the 20th floor is SKY Waikiki, a bar and nightclub. The revolving restaurant is actually on the 21st floor, at the tippy-top of the building.) If you're looking for a view of the city, this is the restaurant for you.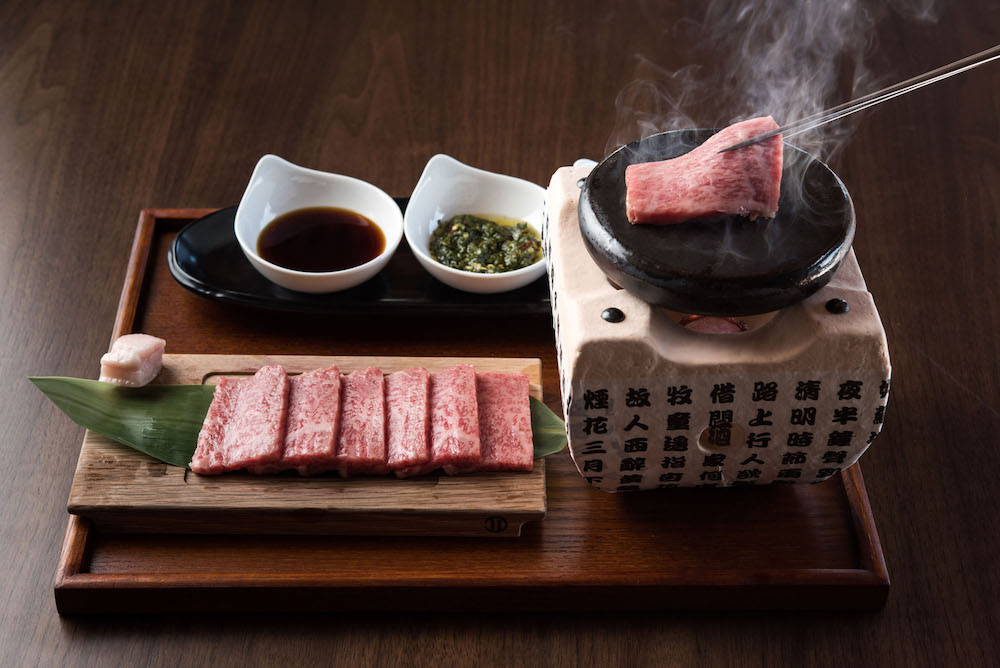 Morimoto Asia Waikiki (For Iron Chef Lovers)
The flagship of Iron Chef Morimoto's Hawaii arm is Morimoto Asia Waikiki, a pan-Asian dim sum, sushi, and large plates restaurant known for it's exceptionally good take on a Bronzino (they butterfly the fish like it's a piece of origami paper). Come for sunset around 5:30 and be sure to order the signature sticky ribs as an appetizer; the duck caesar salad is also great. Downstairs, Morimoto's ramen and sake bar, Momosan, is a lesser-known, cheaper option for a  fairly-priced, casual dinner.
Despite their location inside the new 'Alohilani Resort, both restaurants draw a casual, mixed crowd of families, business lunchers, and tourists from all over Waikiki. Because of this, the dress code is pretty lax. Come as you are– even after a day on the beach. (All restaurants in Waikiki are pretty chill about the dress code, but this is not usually the case at other Morimoto restaurants.)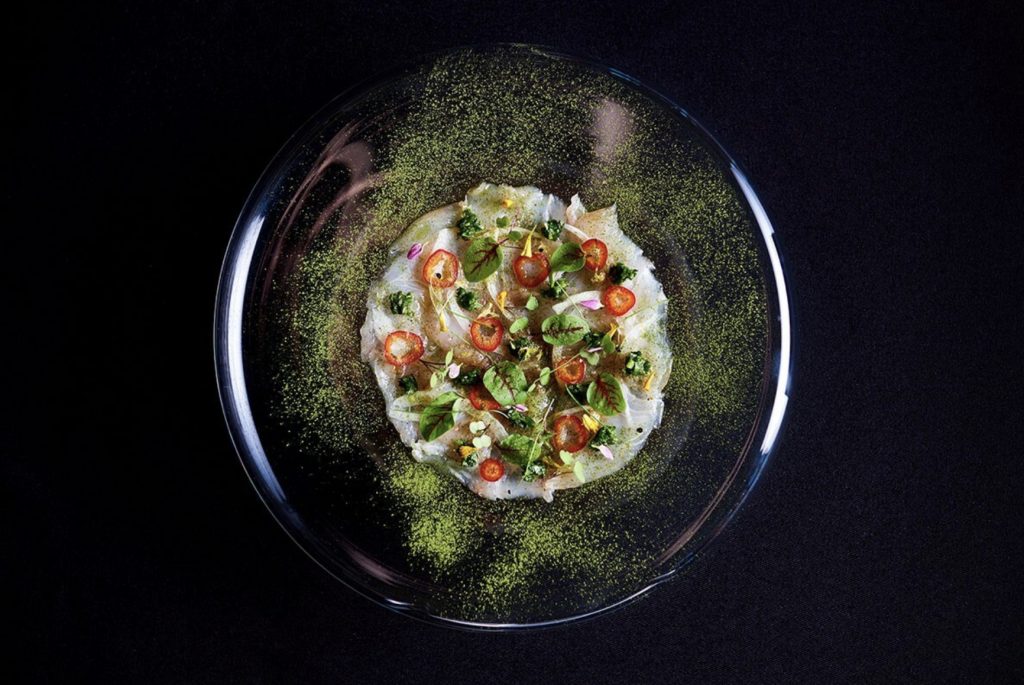 Hoku's (For Scenic Views)
Hoku's Restaurant at the Kahala Hotel is the epitome of luxury. The stylish waterfront restaurant inside the Kahala Hotel offers a delicious, elegant dinner menu. However, they are really celebrated for their lavish Sunday brunch, which includes everything from rack of lamb to Alaskan king crab. I recommend making a reservation for brunch on a Sunday around 1 PM. This way, you can watch the dolphins do tricks in the hotel's private salt-water pool afterwards. It's so fun and cute!
For an ideal dinner experience, make a reservation around sunset (between 5 and 6:30 PM, depending on the season) and go early. Sit in a rocker overlooking the dolphin pool and enjoy a long, leisurely cocktail before dining. When you're ready, head inside for dinner. The menu consists mostly of upscale seafood– but what you're really paying for here is the view of the beach. Hoku's is a side of the island that most people don't usually get to see unless they're staying at the Kahala. It's pricy, but a nice experience.
Duke's Waikiki (For Local History and Fresh Ahi)
Duke's is another Waikiki classic that's right on the beach. It's one of the best places to eat when you're coming from the airport and don't have a reservation anywhere. Duke's is named after the famous surfer, Duke Kahanamoku, who invented surfing as we know it. He effectively put Hawaii on the map for the sport. Today, Duke's legacy carries on through a number of local restaurants and retail stores named in his honor.
Duke's Waikiki is a local chain that specializes in macadamia-nut crusted ahi tuna, which is surprisingly great. They also have an economical salad bar option and a wonderful chocolate haupia macadamia nut pie that we recommend for dessert. (Get ready for some Hawaii-style portions!) The vibe at Duke's is super casual, so it's great for families and those eating on a budget. And, the Waikiki location has the best view of Diamonhead and Waikiki, right on the beach! As a result, both food snobs and even the tackiest tourists love eating here.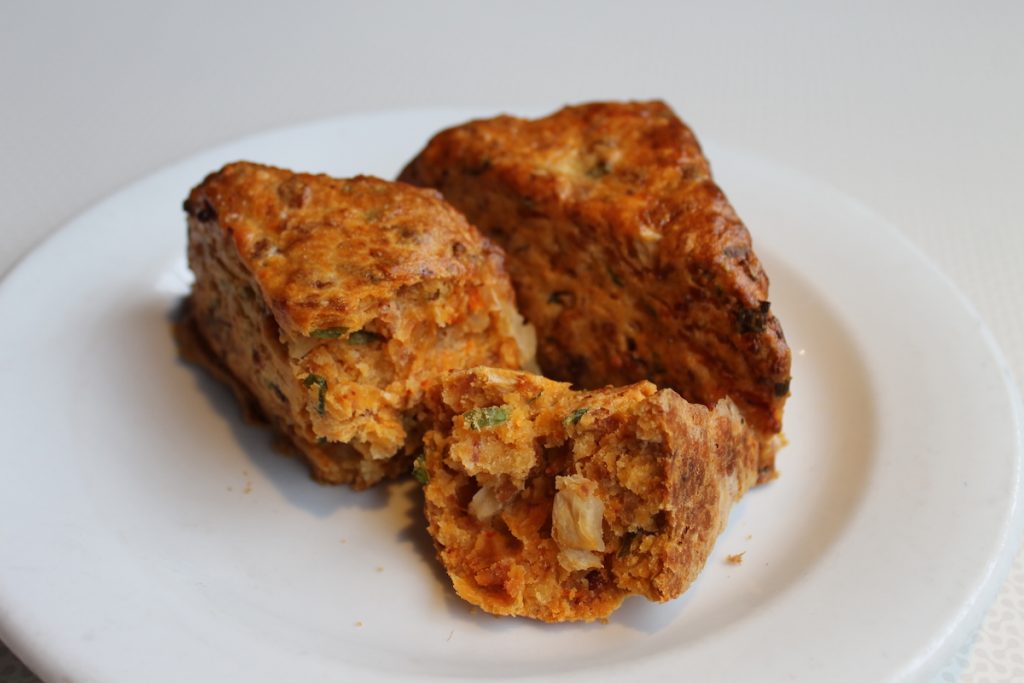 Koko Head Cafe (for Kaimuke Style Brunch)
Koko Head Cafe is an "island style brunch house" that's popular among locals for their corn flake crusted french toast (with french toast ice cream and billionaire bacon– what?!?), as well as their savory scones and skillets. It is easily one of the best places to get breakfast or brunch in Honolulu, but it's open until 2:30 PM so it's a great option for lunch, as well.
Run by celebrity chef Lee Anne Wong, Koko Head Cafe is ideal place to get brunch in Kaimuke, which has a few cool local, "hipster"-leaning shops that are worth exploring. The restaurant is open from 7 AM to 2:30 PM and they don't take reservations. If there's a wait, run across the street to Gecko's to marvel at their insane archive of comic books and collectors items (they also have air conditioning when it's hot).
Korean food lovers should be sure to get the Breakfast Bibimbap, which consists of bacon, portuguese sausage, heritage ham, soy-mirin shitake mushrooms, on choy, sesame carrots, bean sprouts and sunnyside up eggs served over crispy garlic rice in a skillet. Either way, all of the skillets are popular. The scones are also super inventive. A recent Kimchee Bacon Cheddar Scone on the menu was served with sour cream and chives. (Think "elevated biscuit" with a Pacific Rim influence.) I recommend going here after hiking Koko Crater.
Nobu (for Sushi Lovers)
Nobu's Honolulu location is a dazzlingly unique venture in it's own right. The world-renowned restaurant chain helmed by Master Chef Nobuyuki "Nobu" Matsuhisa serves exquisite Japanese-Peruvian fare. Today, it is truly one of the world's most sought after restaurant brands. For people who want to experience the best of the best, we recommend their 12-course Teppan Omakase, which features toro poke.
Because tuna is something of a religion in Hawaii, Nobu's Honolulu location is a great place to experience high-end sushi-grade fish as handled by a team of world-class chefs. A meal here is not cheap, but you get what you pay for, which is not always the case in Waikiki. You may even spot a celebrity or two dining here during your meal. (Nobu has a cult following among the well-heeled.) You're also likely to see several Lamborghinis and other impressive luxury sports cars parked outside– because, as they say: "the vibe attracts the tribe."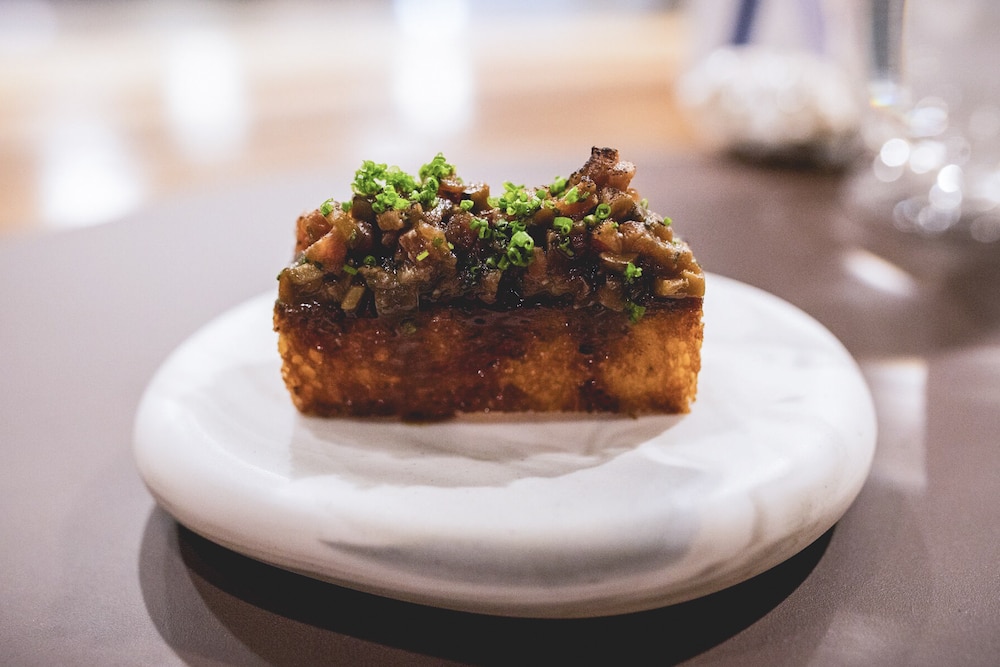 Senia (For New American Fusion)
Senia was easily one of the most closely watched restaurants in Honolulu when it opened in 2017. At the time, national news outlets and food magazines feverishly covered the grand opening of this New American/Hawaiian fusion hot spot, and their enthusiasm hasn't abated since. Senia is a collaboration between British Chef Anthony Rush and local chef Chris Kajioka, who are both veterans of Thomas Keller's Per Se in New York City (one of the finest restaurants in the world).
Senia's excellent rotating menu dazzles with seasonal treats like Kusshi Oysters and Maui Venison Tartare. Their unique handling of local delicacies– seasoning with finesse, elevating when necessary– has earned Senia a consistent moniker as one of the best restaurants on O'ahu. We like that Senia offers both ala carte style snacks and family-style dishes. This is also a great lunch spot because you don't need a reservation to enjoy their prix fixe menu. However, reservations are required if you're interested in experiencing the Tasting Menu at the Chef's Counter, which I definitely recommend for a special occasion.
(Senia is also conveniently located right next to The Pig and The Lady in Chinatown. Reservations recommended for both restaurants, but if you walk up to either restaurant last minute and you can't get a table, you can always try the other.)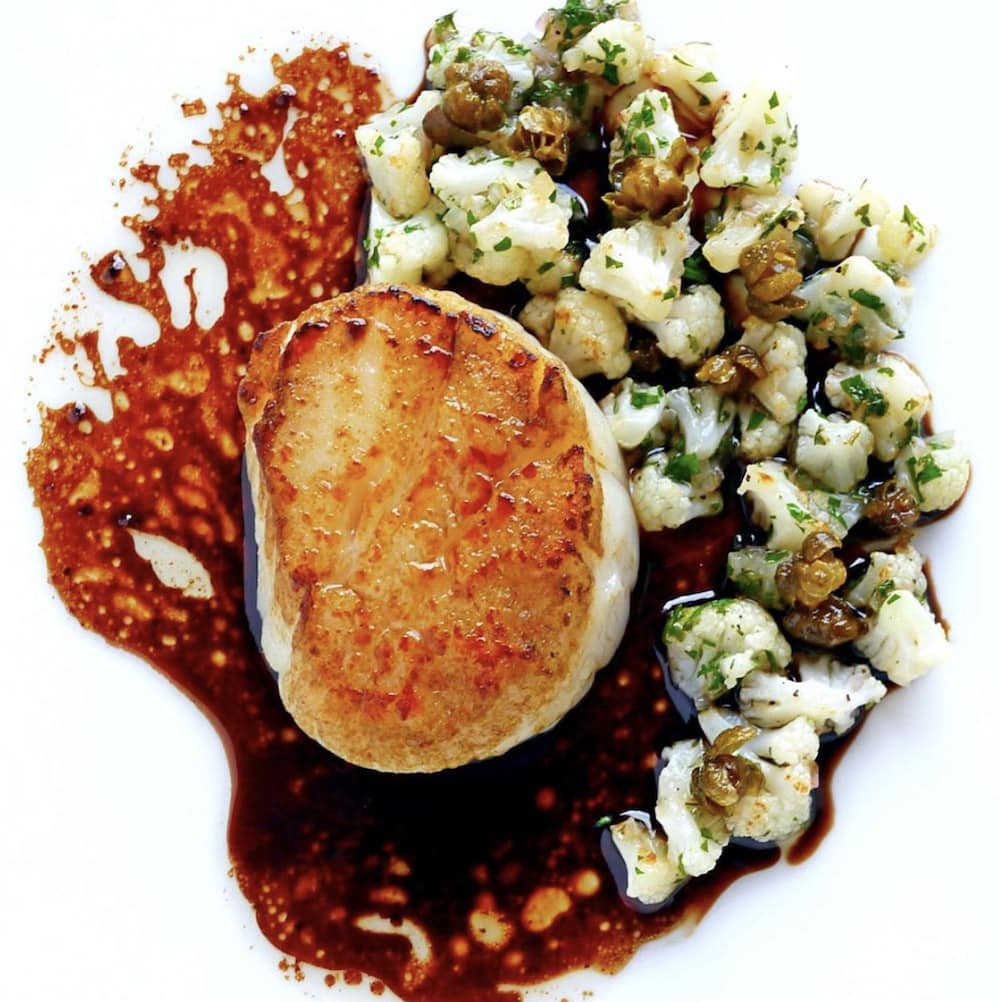 Chef Mavro Restaurant (For Hawaii Style Fine Dining)
Elegant fine dining hotspot Chef Mavro is helmed by one of O'ahu's most famous chefs, George Mavrothalassitis (<–say that name five times fast). As such, it is arguably the best fine dining restaurant in Honolulu. The upscale restaurant has been serving Hawaiian-French fusion fare for the last 21 years. They were one of the first truly "fine dining" establishments on the island. Today, they offer a variety of flexible chef's tasting menus that delight foodies from all over the world.
The Grand Tasting menu is the way to go for people who are willing to spend the money; It can cost as much as $192-215 per person, but it's worth it for the decadent miyazaki wagyu, Elysian Fields lamb, and creative "pre-desserts" like fresh watermelon in a champagne gelée. Simply put, the food is super refined, as one might expect of an upscale French restaurant. The service is, of course, stellar.
We recently enjoyed excellent abalone from the Big Island, Elysian Fields lamb, and too many fresh accoutrements to count. To make their signature french country bread rolls (served with seaweed-infused butter) Chef Mavro uses the same starter he first made them with 21 years ago. Keep in mind that there is no ala carte menu at Chef Mavro– everything is pri-fixe; you simply choose the number of courses. The restaurant is located at a busy intersection between two neighborhoods abutting Waikiki. (You'll need to drive or Uber if that's where you're staying.) Fortunately, there is free, convenient parking on site. And believe me: the drive is worth it for the bread alone.
Paris.Hawaii (For Upscale French-Hawaiian Fusion)
Paris.Hawaii is a rare fusion restaurant that serves Paris inspired, locally influenced Hawaiian food in an elegant setting. The innovative, minimalist menu crafted by Chef Yuya Yamanaka is a must for foodies. Gastronomy buffs will appreciate the uniquely hybridized flavors (if not the moderately small portions, which allow you to savor them). Here, chef blends tropical flavors with fine French cooking techniques to create prix fixe dinners that delight and inspire.
Like several other top restaurants in Honolulu, Paris.Hawaii is only open for dinner. Reservations are de rigueur. Look forward to rotating, seasonal dishes centered on boutique local products like Moloka'i Venison Burger, Niihau Lamb, Kona Lobster, and Kaua'i Shrimp. They also serve Lava Rock Oyster grown locally on O'ahu's own Kualoa Ranch. It's lovely.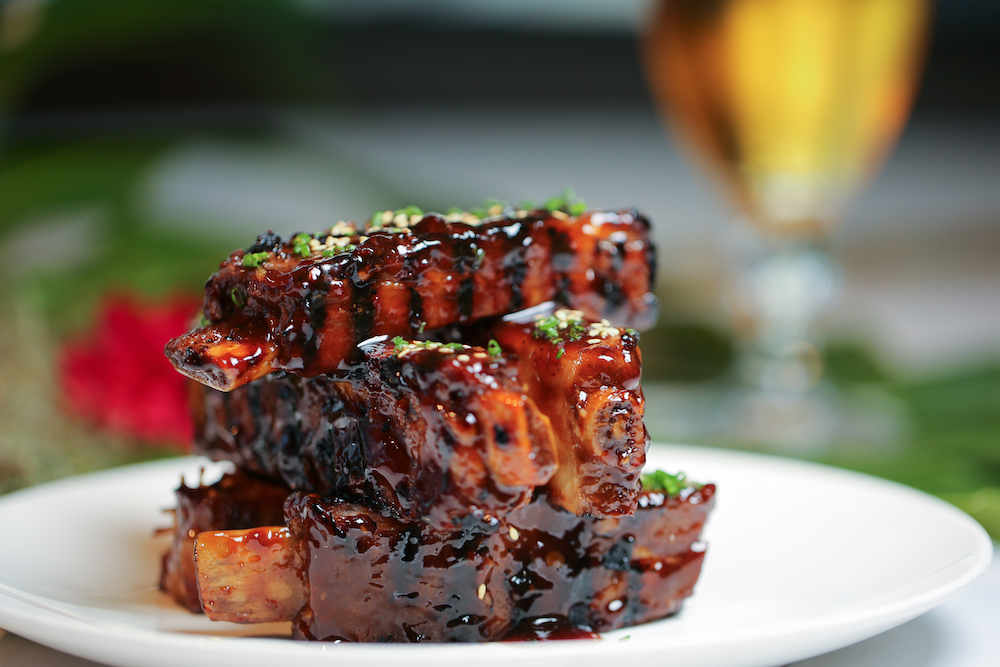 Eating House 1849 (for Great Ribs)
Eating House 1849 is another one of Chef Yamaguchi's creations, serving haute Hawaiian "plantation cuisine" inspired by Hawai'i's past. We love the Kiawe Smoked BBQ Pork Ribs and the Ahi Kale Salad. The signature burger features Makaweli beef, Big Island wild boar, Portuguese sausage, cheese, tomato, and bacon jam. Eating House 1849 sits atop the International Marketplace in Waikiki, so the outdoor seating is luxe and spacious, surrounded by raised beds of local tea leaves and (on an ideal day,) a nice trade wind breeze. It's a great place to stop for lunch in Waikiki.
Parking is available on site inside the International Marketplace, and there are great Happy Hour specials (50% of all food between 5 and 6 PM, last we checked). Portions are generous as far as Waikiki goes, but that doesn't mean they skimp on quality. Eating House has flavors that can really kick. No matter what you order, you'll want to lick the plate.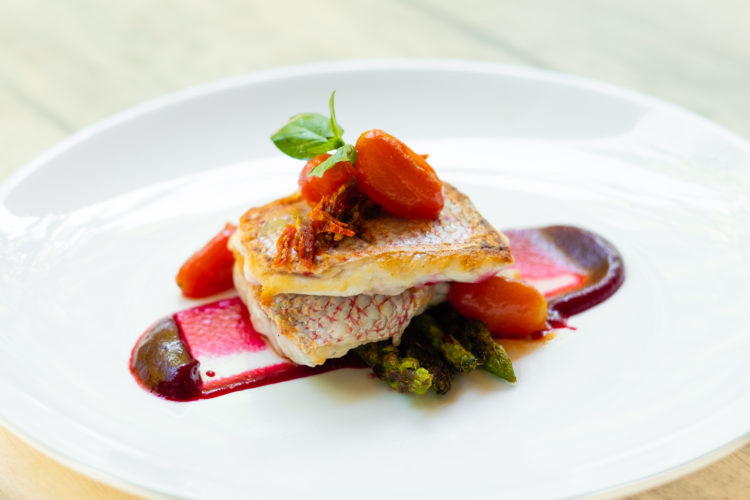 Azure at The Royal Hawaiian (For Fancy Beachfront Dining)
Any list of the best restaurants in Honolulu wouldn't be complete without mentioning Azure at The Royal Hawaiian Hotel. The seafood is excellent and as fresh as it gets, the bar is lively, and the view is incredible. The Royal Hawaiian is the gem of Waikiki, one of the first major hotels built right on its shores. As a result, Azure is THE place to "see and be seen" at one of Waikiki's most iconic hotels.
In addition to seafood, they also do excellent steak and have a great wine list. Perhaps for these reasons, Azure is not very family friendly. But the Royal Hawaiian itself is so lovely that parents might not care. Because the Royal Hawaiian is open concept, dining at Azure is also a nice opportunity to wander through this iconic property, which you might not otherwise see unless you are staying there.
Moku Kitchen (for Family-Friendly Pub Fare)
Moku Kitchen highlights Hawai'i's Farming and Ranching scene, in yet another notable restaurant in the SALT at Our Kaka'aka complex. The team behind Monkeypod Kitchen and Merriman's (above) have done it again. This time, serving refined but accessible gastropub cuisine by Peter Merriman.
The seasonal fare focuses on highlighting whatever local produce and veg looks good to the chef at the time. This can include everything from roasted squash ravioli to asian-style stir fried green beans. The menu features great local salads– but also pizza, tacos, and french fries to please the entire family. For a perfect diner's night out, head next door to Butterfly Creamery for some Poi Banana Bread, Black Sesame, or Kona Coffee flavored ice cream after dinner.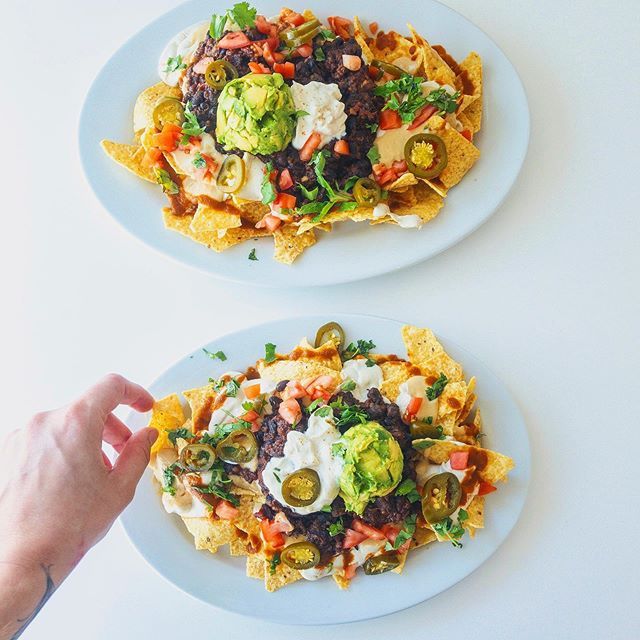 Vegan Hills (for Upscale Vegan)
High-quality vegan options aren't really "a thing" in Honolulu, until it comes to Vegan Hills. Try their award-winning "Why Not Chos'– a serving of Mexican style nachos made with cashew cream and jalapeno queso. They make all savory nut and mushroom meats in house, so you won't have to settle for soy or franken-meat; these do, however, come at a price, and portions vary wildly. This is, however, always vitalizing, nourishing food.
Vegan Hills is located in Kaimuki, which is sort of out-of-the-way from Waikiki and the bustle of downtown Honolulu. (It's near Moke's and Koko Head Cafe, which are both listed in our guide to the Best Breakfast in Honolulu.) However, for vegans or those in search of an authentic vegan Hawaiian meal, it's worth traveling for. On the dinner menu, don't miss VH's creamy avocado chocolate mousse. It's incredibly delicious– and the fact that it is vegan is just a bonus.
Mariposa (For Great Salads and High Tea)
Mariposa has a beautiful lanai overlooking Ala Moana Beach inside the Neiman Marcus at Ala Moana Center. It's super popular with locals looking to get elevated New American eats with a view of the harbor. Now, I know what you're thinking: "How good can a restaurant inside a department store be?!"
Answer: Very good! Get the chambord sangria and try one of their excellent salads for a perfect light lunch overlooking the water. Mariposa also recently introduced Sunday Haute Tea, which quickly became daily Haute Tea due to popular demand. Most days, it's easy to walk up and get a seat in between shopping, but Haute Tea can fill up. Book your table in advance for lunch, dinner, Sunday brunch, or afternoon tea here.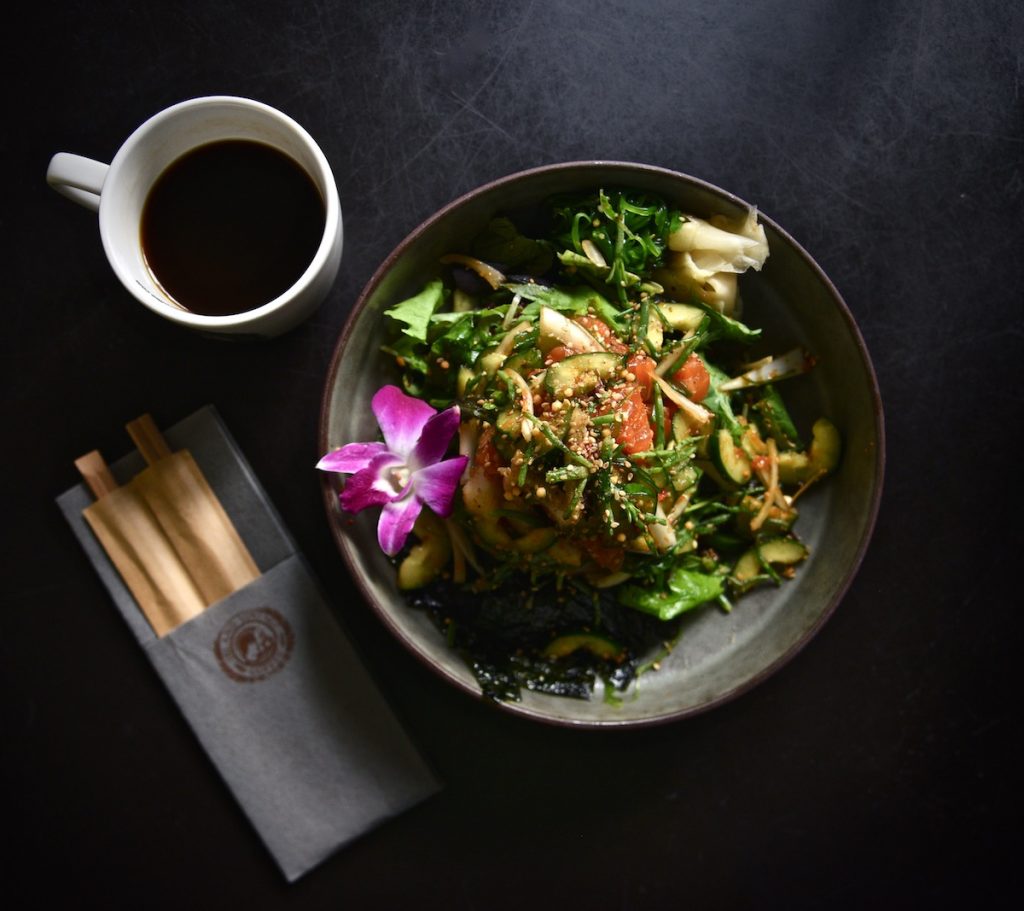 Island Vintage Coffee (A Go-To Waikiki Favorite)
Island Vintage Coffee is a fabulous place to eat in Waikiki, and should be on any tourist's itinerary. Whether you're looking for breakfast in the cafe, or dinner that their newly-expanded wine bar, the food never disappoints. As a result, it's popular with repeat travelers and locals. I take everyone who visits me in Hawaii to Island Vintage Coffee at some point.
The food is locally sourced, super fresh and flavorful, and it's fairly priced with huge portions. Also, they can accommodate those with allergies better than most places in Waikiki. (Unfortunately, Waikiki is a difficult place to eat out if you have something like a gluten allergy.) Everyone loves Island Vintage's upscale poke and the hearty, robust salads. They also serve a Wagyu beef burger that is one of the best on the island. And of course, the coffee is always excellent.
There's indoor and outdoor seating at their Waikiki location, and a convenient second location near Matsumoto's Shave Ice in Haleiwa, on the North Shore. There's also an Island Vintage in Ko Olina. The menu here is voluminous, so you'll never run out of options. In fact, many people choose to make repeat visits. We suggest you make at least two trips– one for the coffee, and one for the food.
***
Want more Honolulu food reccomendations? Read our guide to the best coffee shops in the city. Need more affordable options? These popular island breakfast joints will keep you full and satisfied all day.