Gummy vitamins have taken off as an overwhelming trend among adults in recent years. The enthusiasm is shared and seemingly ubiquitous, addled in part by endorsements from major pop culture figures, tech companies, and athletes.
Reese Witherspoon, for instance, recently shared a meme on Instagram that said: "Those Who Say You Can't Mix Business With Pleasure Have Never Taken a Gummy Vitamin." (It got thousands of approving comments.)
Of course, there's also the proliferation of Millennial-focused gummy brands like Smarty Pants, OLLY, and Hum Nutrition, which have dominated the social media sphere. As a result of these trends and forces, gummy vitamins as a concept have now reached peak visibility.
Most people turn to gummy vitamins when they can't swallow a pill. Others look to them as a multitasking way to satisfy a candy craving.
Either way, the culture of taking gummy vitamins is now very popular among young adults– the same demographic that is, studies show, struggling massively with chronic stress and anxiety.
DIY Sleep Gummies
Accordingly, our DIY lemon balm and tart cherry sleep gummy recipe combines gentle herbs, juice, and gelatin to make a surprisingly mellow nighttime gummy that's helpful for those struggling with insomnia and anxiety.
Texture-wise, these gummies are a cross between JELL-O jigglers and sport cubes, which are refreshing and not-too-sweet.
They're sort of like a homemade gummy vitamin– except they're less sweet and deliciously tart. (And they have way less sugar than most OTC gummy vitamins.)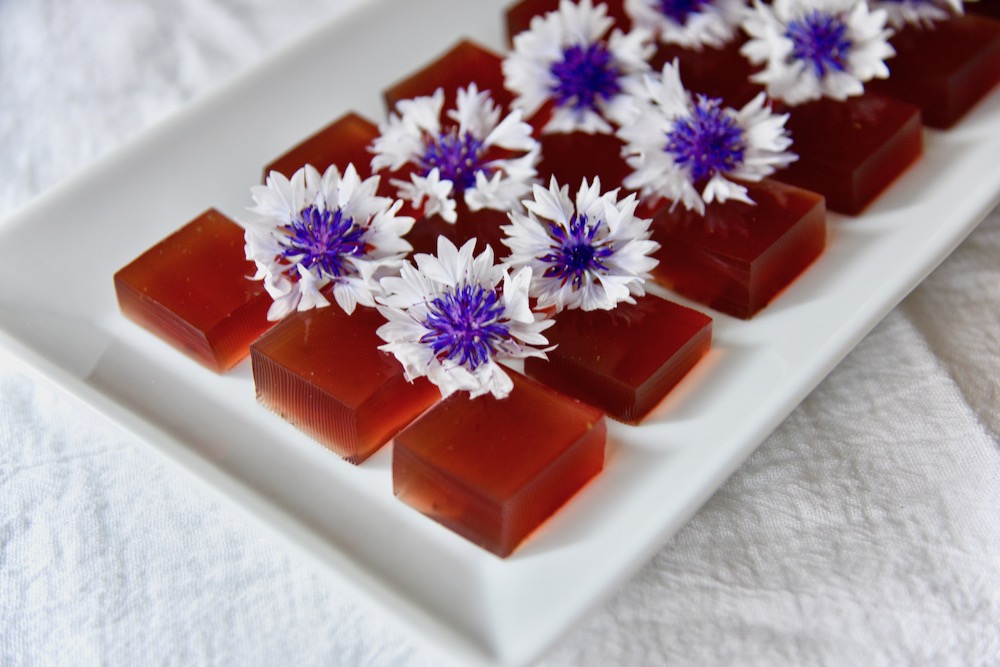 As those in the medical community still disagree on the merits of taking vitamins, many nutritionists are quick to note that eating nutritious food is the best way to get your recommended daily intake of vitamins. This is true. And this has always been true.
But, for those who enjoy a good gummy vitamin, these DIY sleep gummies do double duty. They help you relax and improve your capacity for deep sleep. They are easy to make, and fun!
Plus, there are virtually no side effects. Most importantly with this recipe, you also know exactly what you're consuming– unlike with many supplements, which are not regulated by the FDA.
A Better, Natural Sleep Aid
The calming effect of the lemon balm in this recipe helps ease you into sleep naturally and gently.
Because this isn't a hard-core supplement (again, the only "active" ingredient here is lemon balm, a popular sleep-inducing tea) it is thus virtually impossible to eat too many. This is because lemon balm works with gamma-aminobutyric acid or GABA, the neurotransmitter responsible for sleep regulation.
Ideally, eat 1 to 2 squares about 1 hour before bed for the best results.
Also, the gelatin is gentle on your stomach and beneficial for joints, hair, skin, and nails. Overall, it's a great wellbeing supplement that is much cheaper to produce than if you were to buy them. They're also better for the environment than traditional gummy vitamins, which come swaddled in excess packaging.
The below recipe is a riff on New York City herbalist Dawn Petter's favorite herbal remedies for insomnia. Because the active ingredient is lemon balm tea, these "sleep gummies" are gentle enough for kids and adults alike.
Best of all, you can enjoy them on a full or empty stomach. Try them for a week and see what you think. Most people experience an improvement in their quality of sleep immediately.
We love them!
(Also: This post contains Amazon Affiliate links for easy shopping. As an Amazon Affiliate, we may earn from qualifying purchases. This is why we only link to rigorously, repeatable research studies involving ingredients we trust and use ourselves. No exceptions!)
Enjoy!
***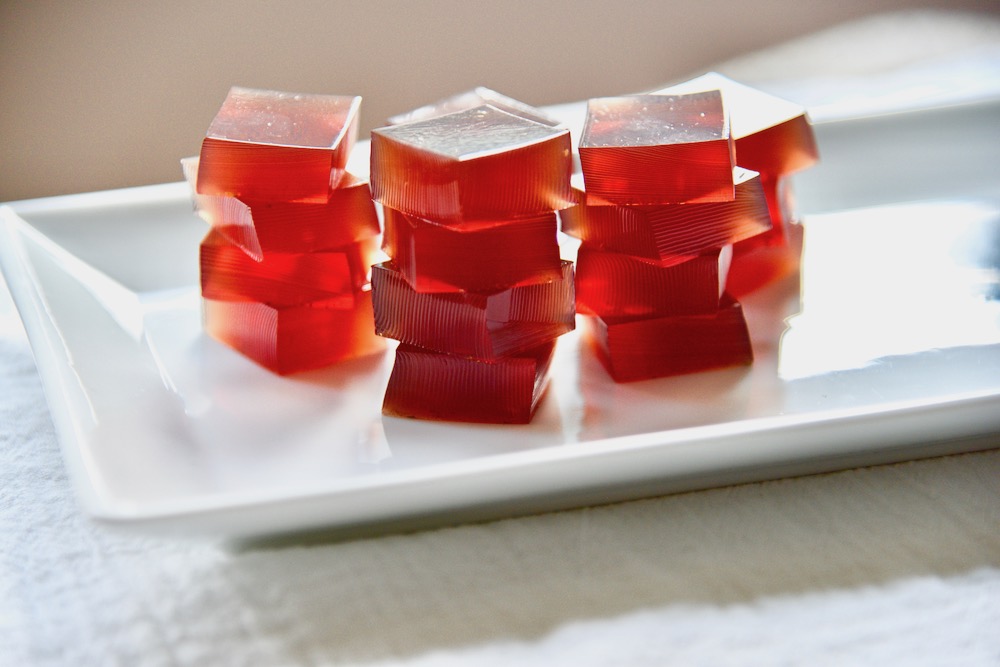 DIY Lemon Balm Sleep Gummies Recipe
Instructions
Combine lemon balm infusion and tart cherry juice in a small saucepan. Whisk the gelatin into the liquid one tablespoon at a time, then bring to a gentle simmer.
Once gelatin melts and there are no visible lumps, remove from heat and pour into a 8″ square baking dish. You can also pour the liquid into molds if you want to make cool shapes.
Refrigerate overnight before cutting gel into 1″ inch squares. Eat one gummy nightly for gentle sleep assistance.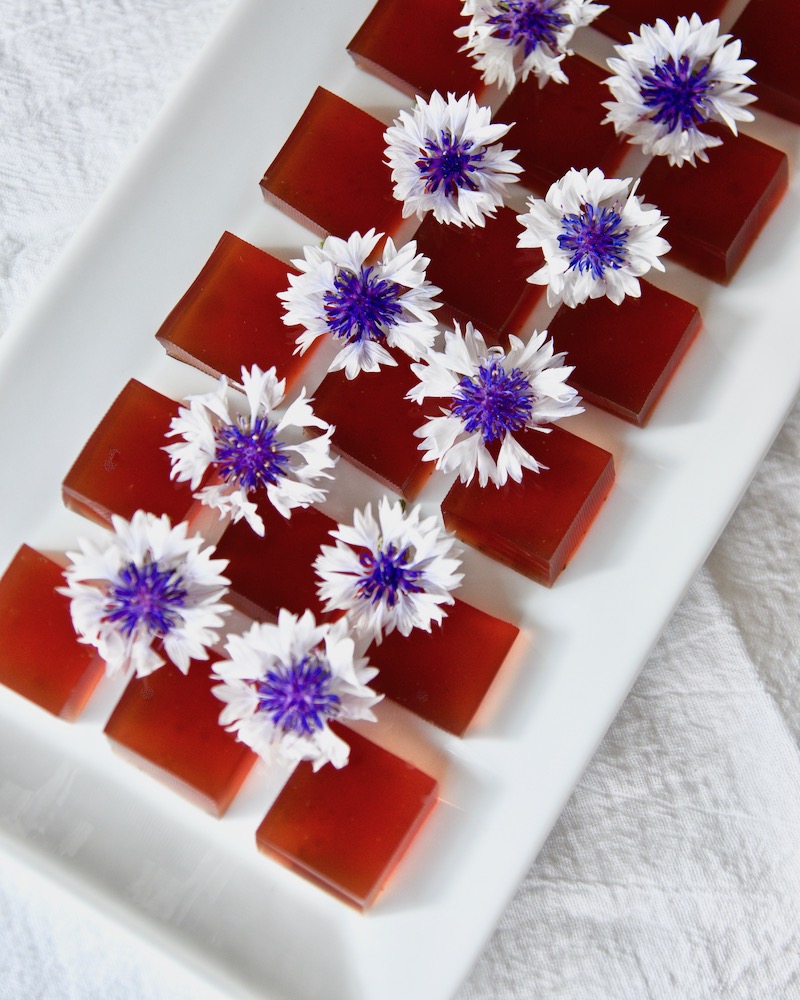 Notes
One sleep gummy is one "serving", so to speak. Eat one gummy each evening at least 1 hour before bed for gentle sleep assistance. You could safely eat up to 6 of them at a time, but one should be sufficient if you just want to take the edge off of racing thoughts at night.
These DIY sleep gummies will last several weeks in the refrigerator. Store in an air-tight glass container.
For a vegan version of the above recipe, swap the bovine gelatin for agar agar powder. Follow the instructions on the packaging.
FYI: The edible flowers in the pictures above are mere props. They add a little joy to the plate, but they are not included in this sleep gummy recipe.
As usual, consult with your doctor before trying any new supplements– even ones that are made from tea. You want to make sure that there are no interactions with other medications you may be taking.
If you consistently struggle with getting a good night's sleep, consider investing in a weighted blanket. (It's another non-invasive way to calm your mind without medication.) Good luck!
***
Related: The 11 Safest, Most Effective Herbal Remedies for Insomnia.
Read more about How Sleeping With a Weighted Blanket Can Help with Insomnia, Stress, and Anxiety.