Olive oil cake is all the rage in the baking world right now. This vegan olive oil quick bread is versatile and moist enough to moonlight as an olive oil cake (if you want to bake it in a cake pan) or as olive oil cake muffins.
We love it best as an understated olive oil quick bread. It's not too sweet, super-rich, and moist as all olive oil baked goods should be. (It's sort of like a cross between cornbread and cake, and so, so delicious.)
The secret to keeping this olive oil quick bread moist is a boatload of maple syrup and olive oil. As a result, the recipe is super easy to make because it features items most people already have in their pantry.
Ultimately, this vegan olive oil quick bread is delicious, popular with health-conscious folks, and not too overpowering, flavor-wise. It pairs well with savory toppings as well as sweet ones. (We love it plain, but those in our test kitchen also liked it with Nutella, butter, raspberry jam, and even scallion cream cheese.)
Best of all, this olive oil quick bread is vegan, gluten-free, and refined sugar-free. Because the recipe calls for mineral-rich maple syrup instead of refined cane sugar, the cake has a slightly better nutrient profile that works well with many sugar-restrictive diets. (There's also some emerging evidence to suggest that maple syrup can underscore the efficacy of antibiotics, but that's a story for another time.)
Olive oil is rich in omega-3 fatty acids, which is why it's such a profoundly anti-inflammatory food.
Baking this olive oil cake at 350°F is also a low enough temperature that the olive oil won't oxidize. (Olive oil's smoke point is between 374–405°F (or 190–207°C). As such, it should not be used for cooking above those temperatures, otherwise, you'll cook out any beneficial nutrients and the heat will form harmful free radicals in the oil.)
Fortunately, this recipe uses just enough olive oil to keep the bread moist and it cooks at a safe temperature. You get all the benefits and taste, without too much prep.
The resulting cake is delicious– and it is very likely one of the most anti-inflammatory baked goods on the planet. Enjoy!
***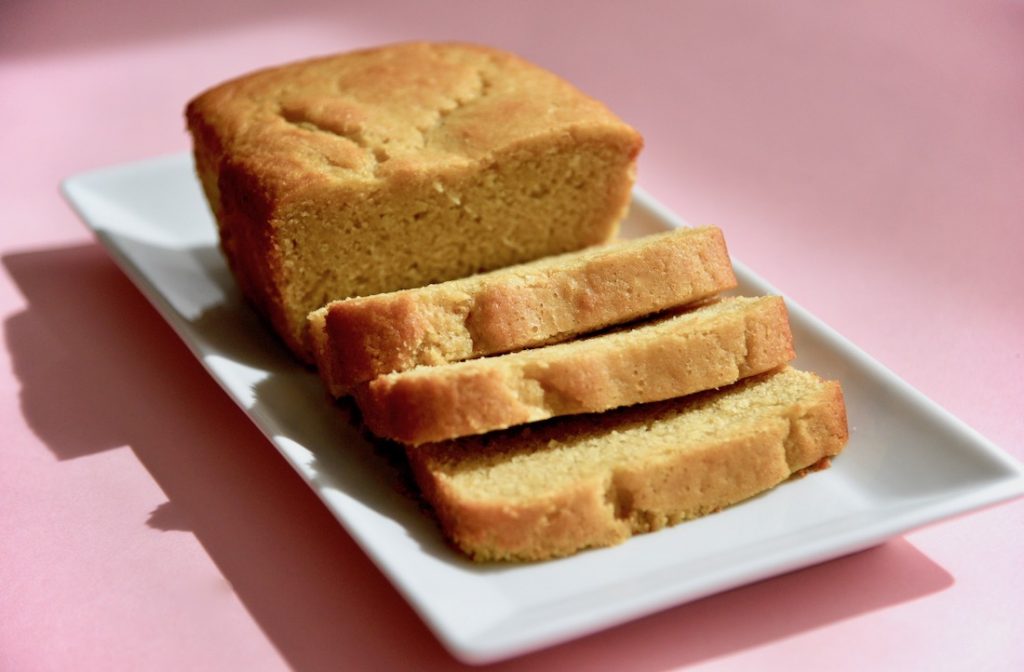 Gluten-Free Vegan Olive Oil Quick Bread
1/2 cup extra virgin olive oil
1/2 cup + 2 Tablespoons maple syrup
2 cups all-purpose gluten-free flour (we used Bob's Red Mill)
1/2 teaspoon baking soda
2 teaspoons baking powder
1/2 teaspoon salt
1 cup orange juice
1 Tablespoon apple cider vinegar
a pinch of orange zest (optional)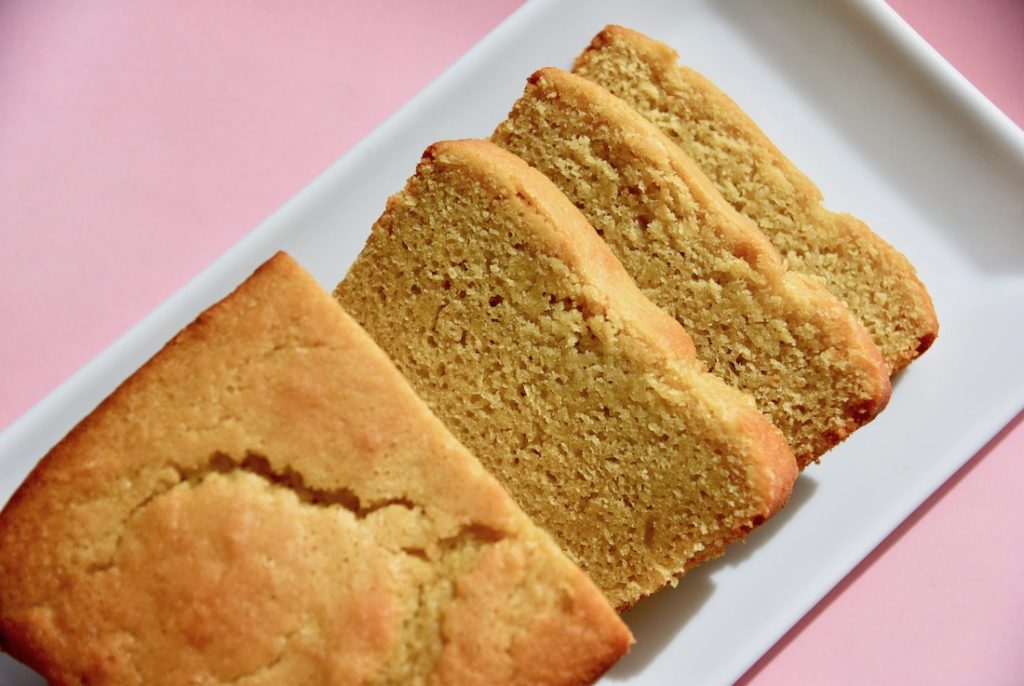 Instructions
Preheat oven to 350°. Line a 9 x 5 inch glass quick bread pan with parchment paper.
Whisk all the dry ingredients together (gluten-free flour, baking soda, baking powder, salt).
Add the wet ingredients (maple syrup, orange juice, olive oil, apple cider vinegar, zest). Stir to thoroughly combine.
Pour into the pan. Bake for 45 to 50 minutes, or until a toothpick inserted in the middle comes out clean. Let bread cool completely in the pan on a baking rack. Wrap immediately once cool to keep the bread moist.
Notes
This gluten-free vegan olive oil quick bread yields 8-12 servings. 12 if you're feeling disciplined, 8 if we're being honest about how real people eat.
Refrigerate bread for up to 1 week or keep tightly wrapped in foil at room temperature for 3-5 days. This cake is very moist, so it will mold quickly in warm, damp environments.
For what it's worth, this olive oil quick bread recipe can also be made as a cake. It's as versatile as it is delicious. Serve at a summer brunch, Halloween party, or Thanksgiving dinner. Maple hints at the flavors of Fall, and the lightness and citrus-y undertones delivered from the orange juice, zest, and olive oil add a brightness that pairs beautifully with frosting.
If you're making a cake, bake this recipe in a 9″ cake pan. It looks autumnal, but tastes like home any time of the year. Either way, the gluten-free flour that we use in this recipe makes the quick bread and/or cake very soft, since gluten-free flour usually has less of a bite than regular flour.
We cannot emphasize enough that incorporating olive oil into baked goods can significantly improve the nutrient profile and make them easier to digest (and less inflammatory).
Also, vegan baked goods typically have less of a caloric impact on your brain, because they are easier to metabolize. Often, the flavor and texture of vegan baked goods are just as good (if not better!) than the original recipes, too– as long as you know what you're doing.
Fortunately, most olive oil cakes are naturally vegan, so no one will be able to tell the difference. 🙂
Enjoy!
***
Related: We love Natalie Portman's Vegan Hamantaschen Recipe.
For more vegan and gluten-free recipes, check out our wellness-focused Mood Recipes section– featuring everything from Gluten-Free Peanut Butter Brownies to Stress-Busting Turmeric Popcorn, and more!
(^ We also have non-vegan and gluten-filled recipes like Gâteau au Yaourt & Wagyu Beef Meatballs, FWIW.)