This edition of our Nourished By My Heroes series features the first male subject we've ever featured in this column: Ted Lasso, the lovable hero of the Apple TV+ soccer-themed series Ted Lasso. Below, we share the official Ted Lasso Biscuit recipe– the real recipe used to make the iconic cookies on the show.
Fans of this super popular mental-health-positive show were won over in Season 1 when affable American soccer coach Ted (played by Jason Sudeikis) famously gave his English boss, Rebecca (played by Hannah Waddingham) a delightful pink box of cookies. (Or, as they are called in the UK, biscuits.)
Rebecca– who is one tough cookie herself– is reluctantly won over by the gesture. Apparently, the biscuits are so delicious that she can't seem to get enough of them.
Going forward, whenever they have a meeting, Ted brings her these cookies. He calls it "Biscuits with the Boss." Soon, this special little ritual becomes a symbol of the growing friendship between the two. Viewers, of course, were won over by the gesture, as well.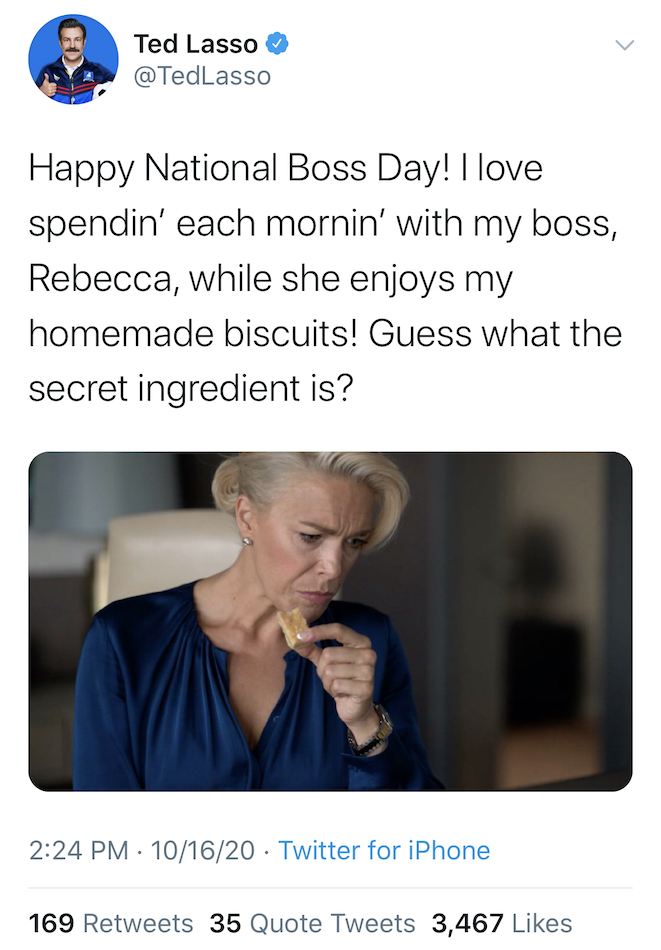 Part of what makes Ted Lasso's biscuit recipe so alluring is the small gesture of kindness they come to represent, which is also a through line in the series.
Rebecca gleefully awaits her biscuit delivery each morning and eventually, she asks Ted where the cookies come from– only to find out later that he makes them himself.
After doing some basic research on the Internet, it was pretty easy to find the real-life recipe for the cookies/biscuits that Ted bakes for his boss in the show. They really are delicious, and they are super easy to make!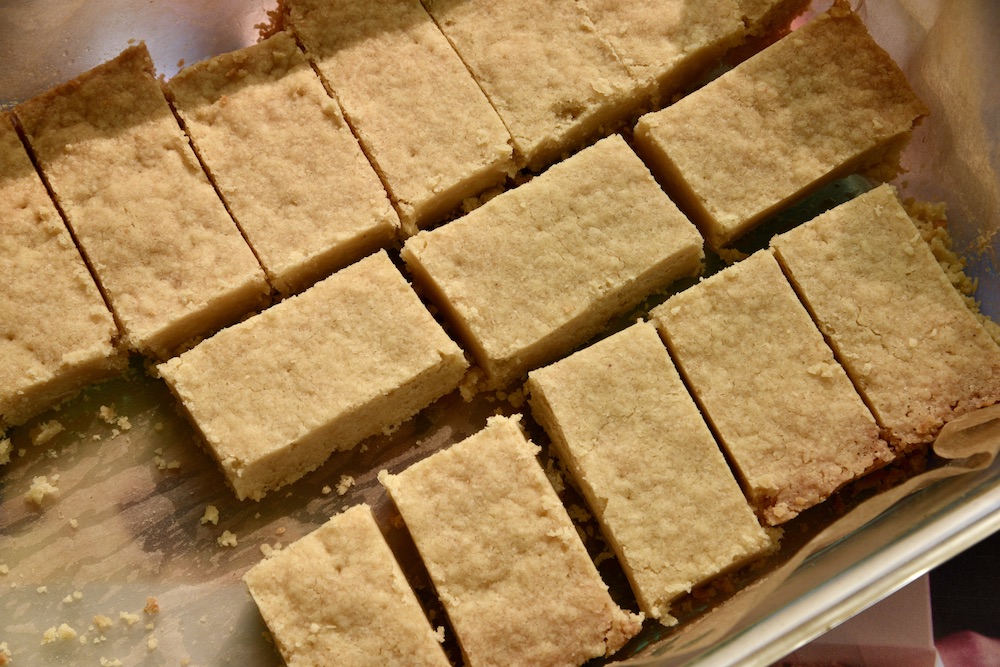 The actual recipe from the show is the first half of Melissa Clark's New York Times recipe for Bittersweet Brownie Shortbread. (The showrunners just omitted the chocolate part.)
The resulting recipe for Ted Lasso's biscuits is just as loveable and sweet as Ted himself. We love the rich, buttery bite and the fact that this shortbread is crumbly-soft and salty-sweet.
Get the recipe below, and make it for your next watch party. (We even tracked down an identical pink box for you to package them in– just like the one Ted uses on the show.)
Enjoy!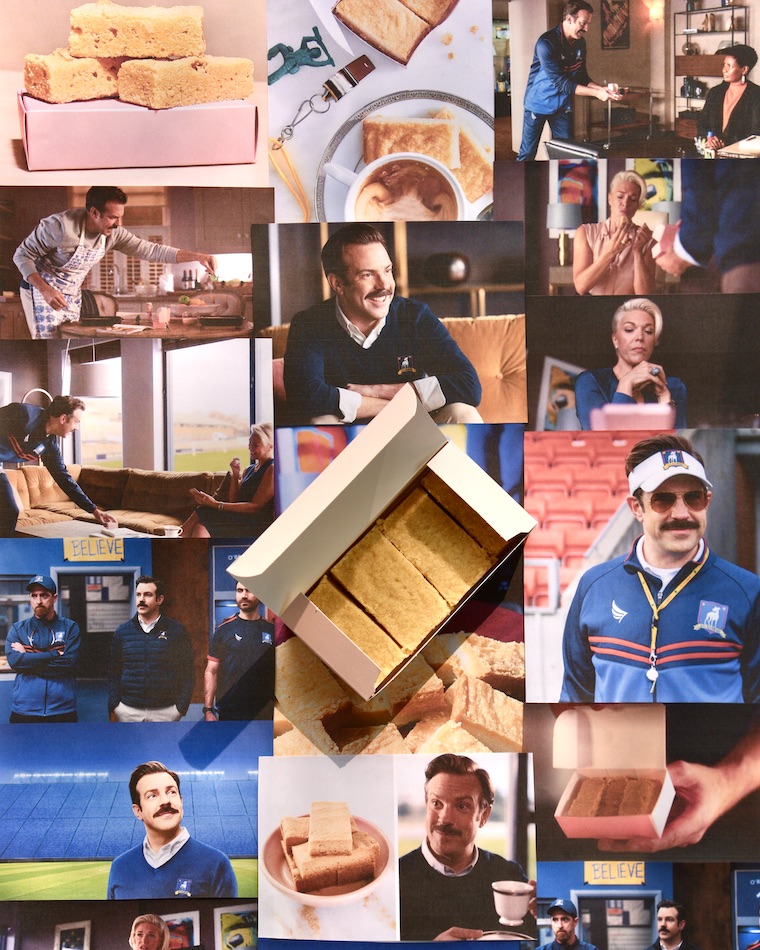 Ted Lasso's Biscuit Recipe
The recipe used in the show is the first half of Melissa Clark's recipe for Bittersweet Brownie Shortbread from NYT Cooking. (They just left out the chocolate part.) This recipe yields approximately 2-dozen shortbread cookies.
Ingredients
1 ½

cups/340 grams cold unsalted butter (3 sticks), cut into 1/2-inch pieces, plus more for greasing the pan

3

cups/385 grams all-purpose flour

¾

cup/150 grams granulated sugar

1 and ¼

teaspoons fine sea salt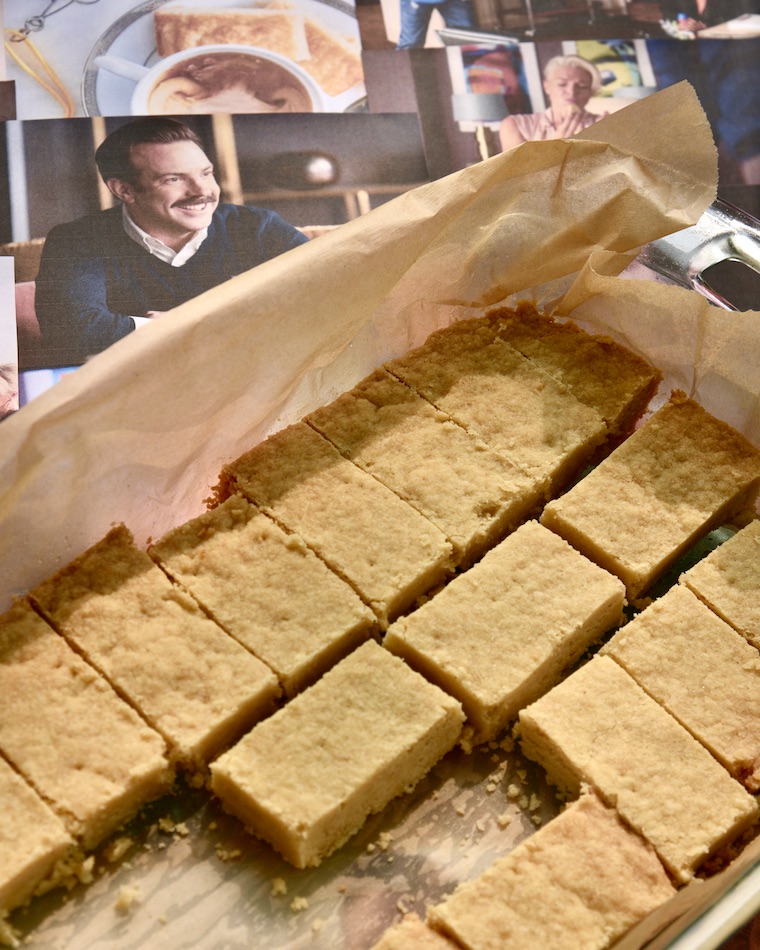 Instructions
Preheat oven to 350 degrees F.
Grease a 9-by-13-inch baking dish. Then, line it with parchment paper so that there is a 2-inch overhang of parchment paper on all sides of the pan. (Yes, you should both grease the pan and line it with parchment paper. These cookies are delicate!)
In a food processor or electric mixer fitted with beaters, mix together the flour, sugar, and salt. Then, beat in the butter on low speed until the dough just comes together. You can also knead it together with your own hands! (Either way, it should still be a little crumbly.)
Press dough into the pan and prick it all over with a fork. Bake until golden, or about 30-35 minutes. Remove pan from oven and let it cool completely before cutting.
Cut the shortbread into roughly 1.5-inch by 2-inch rectangles. For the complete Ted Lasso biscuit experience, pack them in one of these cute pink boxes, which are identical to the ones Ted packs them in on the show. Enjoy!
***
Related: Explore more recipes from our Nourished By My Heroes series– including Michelle Obama's Shrimp Linguini, Gloria Steinem's Breakfast Freekah, Hillary Clinton's Chocolate Chip Cookies, and Natalie Portman's Vegan Hamantaschen Cookies. (<— Yes, these are all their real recipes. So cool!)