This easy Instant Pot popcorn packs all the flavor and freshness of homemade popcorn without any of the fuss. It takes only 10 minutes to prepare and combines several anti-inflammatory spices to maximize health benefits and taste– which is why this stress-busting turmeric popcorn is my favorite homemade popcorn recipe, ever.
Made with stress-reducing turmeric and black pepper, this easy Instant Pot popcorn also features dulse flakes and nutritional yeast. These two powerhouses of flavor help balance nutrient deficiencies in the body.
Meanwhile, curcumin, the principal antioxidant in turmeric, specifically targets inflammation markers in the brain that are correlated with stress, anxiety, and depression— an effect that is enhanced by black pepper, which is why we include a hefty dose of it in our seasoning.
People also crave carbs when they are stressed, and this healthy, buttery-tasting popcorn is a low-calorie way to satisfy that craving. (And since you're making it yourself, you can avoid the chemicals found in microwave popcorn.* More on this in the "Notes" section, below.)
Nutritional yeast has a delicate "cheesy" flavor that combines with ghee to yield a buttery flavor that reminds me of Smartfood. But the health benefits of nutritional yeast are also well documented: it's high in immunity-bolstering Vitamin B12 and B6, which have been shown to ease symptoms of Seasonal Affective Disorder, depression, and chronic fatigue.
Dulse seaweed, meanwhile, has a natural umami flavor that is said to reminisce of Bacon.
Turmeric popcorn is anti-inflammatory and gentle on the stomach, which makes it an excellent snack to eat when you are feeling nervous. I like packing it as an airport snack because it's lightweight, TSA compliant, and flying makes me anxious.
Prepare it for a movie night at the end of a stressful work week, or make it for picky eaters as a way to sneak in extra nutrients. The possibilities are endless. Enjoy!
***
Instant Pot Turmeric Popcorn Recipe
This yummy, Instant Pot popcorn is full of anti-inflammatory spices that help combat the symptoms of stress, anxiety, and depression.
Seasoning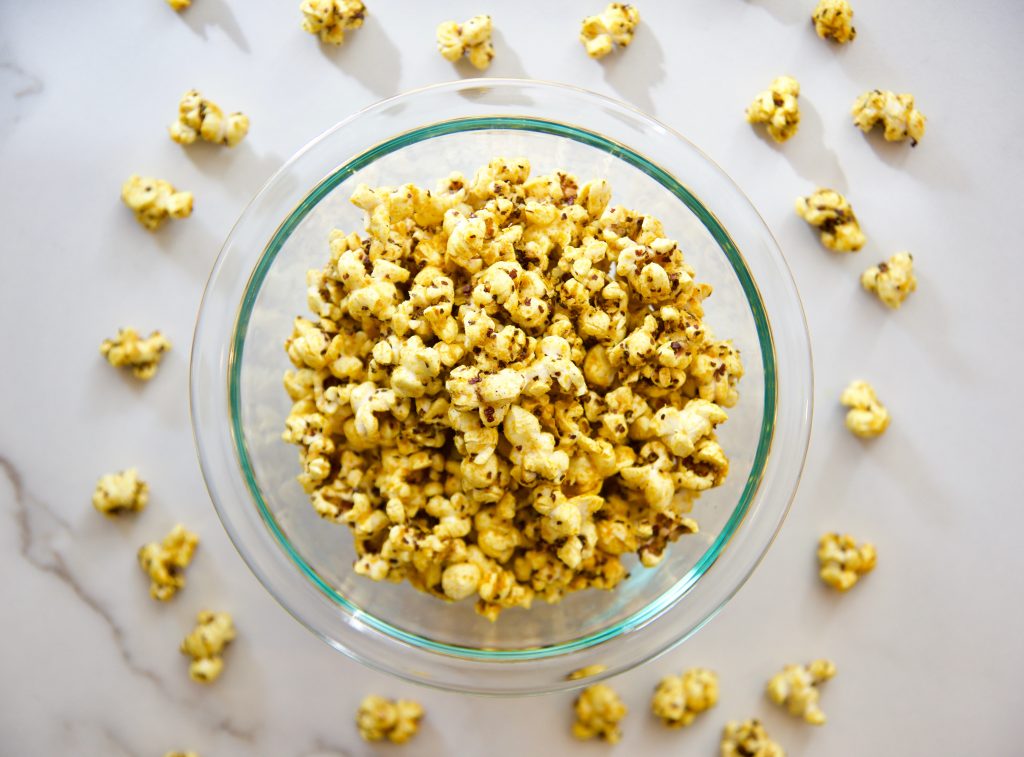 Method
Select "Saute" on the Instant Pot and wait for it to say "HOT". Add oil and 2 Tbsp ghee to the hot pot and then mix in popcorn kernels, evenly coating them with oil.
Rest the IP cover on top of the pot, but don't close it or lock it in. Let pop for up to 8 minutes OR whenever the popping stops. You should hear popping after a minute or two.
Lift the lid and stir. Not all of the kernels will pop, but about 70% of kernels should. Use salad tongs or a large slotted spoon to transfer popcorn into a large mixing bowl. This will allow you to effectively remove the un-popped kernels.
In a small bowl, thoroughly mix together all of the seasoning ingredients.
Pour 1 Tbsp melted ghee over the popcorn then sprinkle on the seasoning mixture. The oil will help the seasoning adhere.
Stir with a wooden spoon or toss the Instant Pot popcorn with your hands to evenly coat with seasoning. It's best to do this when the popcorn is still warm so that the flavors can meld. (Excess seasoning may pool in the bottom of the bowl– this spice mixture can be used again or saved for future cooking.)
If desired, add more salt to taste. Serve warm. Enjoy!
Notes
Store homemade turmeric popcorn in an airtight container like a mason jar, pyrex, or glass canister. You can also use a ziplock bag, but something rigid is better. Instant Pot popcorn is also best consumed within 3-5 days– but mine usually doesn't last that long. 🙂
Also, you don't have to make Instant Pot Popcorn to use this seasoning. If you wanted to make stovetop popcorn and toss it with these seasonings, you'd still get the health benefits of turmeric. Just be sure to add the seasoning when the popcorn is still warm, so it will adhere.
* PSA: Making Instant Pot popcorn is way better for your health than using microwave popcorn. Chances are that you already know this if you're reading how to make Instant Pot popcorn from scratch.
But if you didn't already know this, however, here's the deal: Microwave popcorn is linked to cancer risk because of substances called per/polyfluoroalkyl, or PFAS, which are found in the lining of the bag. When microwaved, the popcorn absorbs the chemicals.
PFAS, in turn, are endocrine disrupters, which can cause a number of negative effects in the human body. Endocrine disrupters can cause cancer, birth defects, immune system problems, and other developmental disorders, to which children are especially susceptible.
Read more of the research on endocrine disrupters here.
Also: This post contains Amazon Affiliate links, which means we may earn from purchases. This is how we pay for our investigative research and bespoke recipe development to ensure the best quality information for our readers! Thanks, as always, for being one. 🙂
***
Love this Instant Pot popcorn recipe? Try making our Peanut Butter Dopamine Brownies. (<— This gluten-free natural mood booster is one of our favorite desserts of all time!)
Related: 24 Helpful Gifts for Stressed Out People.