Citrus fruits are nature's little bundles of zen, for a number of reasons. Research from the U.S. National Library of Medicine shows that lemon and sweet orange oil, among other citrus scents, have a positive effect on human physical, mental, and spiritual wellbeing. This is partially because the smell of citrus has a positive effect on the limbic system– a complex system of brain structure involved in coordination emotion, motivation, learning, memory, and (yes) anxiety.
And because aromatherapy has very few side affects, everyone from Cancer researchers to naturopaths have been looking into the health benefits of scent and its potential applications in a variety of health contexts. That is, however, only part of the story that makes citrus so helpful for stress and anxiety. Below, we explore what the science literature says– and float some new theories about why we could all use more exposure to nature's most perfect class of fruit.
Aromatherapy For Anxiety
In today's marketplace it's easy to surround yourself with the smell of citrus even when you don't have access to the fruit. Look for it in all-natural perfumes like John Masters Organics sparkling citrus roll-on fragrance, or choose a citrus-scented candle like Homesick brand's lemon-zest infused "Southern California" soy candle.
Citrus soap has lots of positive effects for body and mind (Burt's Bees Energizing Citrus Ginger Body Wash is a personal favorite of mine, as is Mrs. Meyer's Lemon Verbena Hand Soap). Using all-natural cleaning products that incorporate citrus scents is also a subtle way to incorporate aromatherapy into your home, and is recommended for people who need active stress relief. (If cleaning stresses you out, try using Mrs. Meyer's Lemon Verbena Everyday Multi-Surface Cleaner and inhaling deeply. I'm not joking.) You can also seek out aromatherapy essential oils in citrus flavors, specifically (click the links to some trusted products, below). Either way: surround yourself with the smell of citrus, and you'll notice an improvement in your mood almost immediately.
View this post on Instagram
Citrus Essential Oils
Essential oils with citrus aroma notes include: bergamot, grapefruit, lemon, lemongrass, lime, mandarin, neroli, and sweet orange oil, which latter has less of a "zesty" scent. Use essential oils in diffusers, for massage, or try adding a few drops to the bottom of the tub while you shower. Inhale deeply and feel your spirits lift.
Lemon essential oil is uplifting and relaxing– it's also helpful in treating wounds when added to natural salves and anti-bacterial ointment. Bergamot essential oil (a green citrus fruit native to the Mediterranean and also the flavor behind earl grey tea) is calming, uplifting, and a powerful antiseptic agent. If you're trying to wean yourself off of using too many antibacterial soaps, looking for bergamot-scented liquid soap is a nice place to start. Citrus essential oils like Lemongrass, Neroli, and Sweet Orange Oil are antiseptic and antibacterial, and they also naturally destroy bad odors, which is why they are often used in natural cleaning agents as an alternative to harsh chemicals.
As we mention in our article on the Best Snacks for Flight Anxiety, the smell of citrus is calming on the nervous system. Vitamin C also boosts immunity at a time when it is most compromised. (On a plane, passengers are confined in close quarters while the body is under stress and exposed to lots of germs and radiation.)
10 Emotional Conditions That Benefit from Citrus Aromatherapy
(& the Scents That Work Best)
Anger – Bergamot, Neroli, Orange
Anxiety – Orange, Neroli
Depression – Bergamot, Grapefruit, Lemon, Mandarin, Neroli, Orange
Fatigue/Burnout – Bergamot, Grapefruit, Lemon
Fear – Grapefruit, Bergamot, Lemon, Neroli, Orange
Grief – Neroli
Insecurity – Bergamot
Memory – Lemon
Panic Attacks – Orange, Bergamot, Neroli
Mild Stress – Bergamot, Neroli, Orange
Peeling an Orange
As we discuss in our Anxiety Relief Guide, peeling an orange during periods of stress is helpful even if you don't feel like eating the orange– you'll experience the benefits just by peeling it. The trick here that busy hands help idle minds. When you're nervous, it helps to have a small task to do– something that doesn't require too much cognitive bandwidth or emotional fortitude. Knitting, playing with a Rubik's cube, and puzzling also help– but when you peel an orange, you'll also get the added benefits of natural aromatherapy.
For maximum benefit, try slowly peeling the orange to see if you can get the peel off in one piece. Others go so far as to see if they can peel the translucent skin off of each individual slice of orange, if removing the peel wasn't enough to take the edge off your spiraling thoughts. It's a weird, specific way to distract yourself, but it works!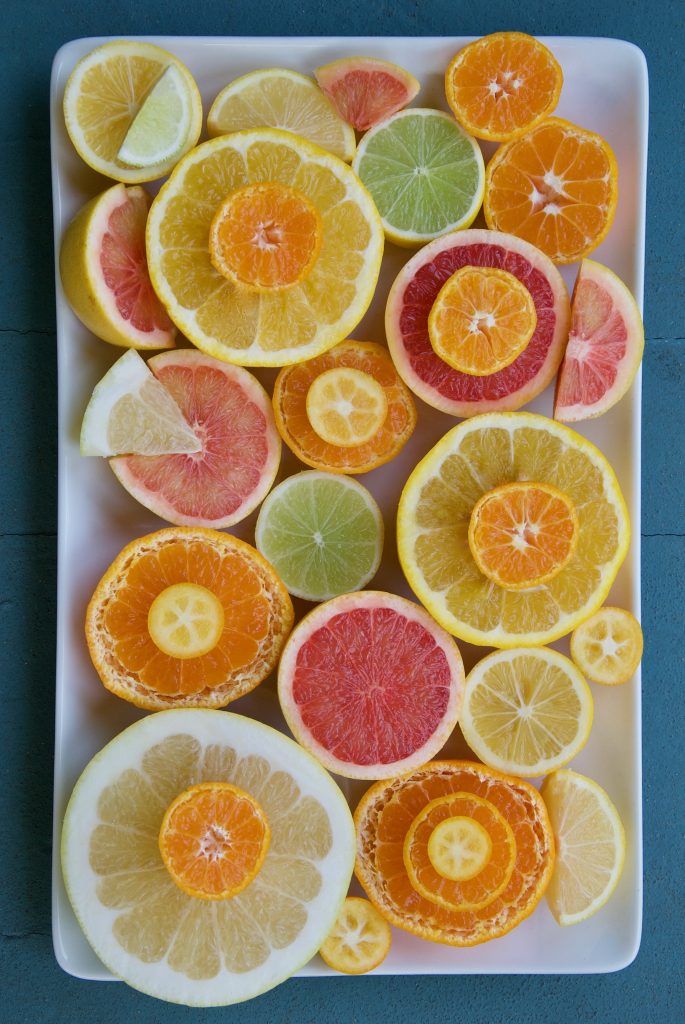 From the Inside Out
The CDC's Second National Report on Biochemical Indicators of Diet and Nutrition also found that over 16 million people over the age of 6 in the United States are deficient in Vitamin C. Ironically, Vitamin C levels in the body decline rapidly in response to stress, or other physical and emotional health problems. The people with the lowest levels were in the 20-59 year old range. Interestingly, this is the same age range in which most people experience unprecedented stress. Coincidence? Probably not. It's a common anecdote in the realm of nutrition to hear people say, "Hey, I love fruit! I eat a TON of fruit and if anything I'm trying to eat less fruit in order to eat more vegetables!" Whether you've heard that line before or not, it is nevertheless surprising that most adults are deficient in such a fundamental, essential vitamin.
Drinking hot water with lemon is calming for the nervous system and the adrenals, which, when inflamed, can precipitate stress and anxiety. This is also a subtle way to incorporate more Vitamin C without adding the calories of fruit. (Not that fruit isn't good for you, because it is! We don't want to perpetuate that myth.) Drinking hot lemon water is an easy way to add more Vitamin C to your diet while also soothing your digestive system.
Travel Buddies
Oranges are more or less the perfect snack for planes— they are a source of natural hydration and immunity because they are rich in Vitamin C, but they are also allowed through security even though they are basically a ball of juice. This is helpful because airplane travel compromises the immune system. In close quarters, the cold and flu virus can be hard to avoid. Traveling with an orange is a helpful way to bolster against these common sicknesses.
Most importantly, peeling an orange is ideal during turbulence. As mentioned above, removing the skin from each individual orange slice is also a good trick if you are stuck in your seat during turbulence. The smell of citrus is calming and also elevates mood, so you're less likely to bother the people sitting next to you. (Unlike those folks who bring fried food into economy class, thereby making the entire airplane smell like a McDonald's.)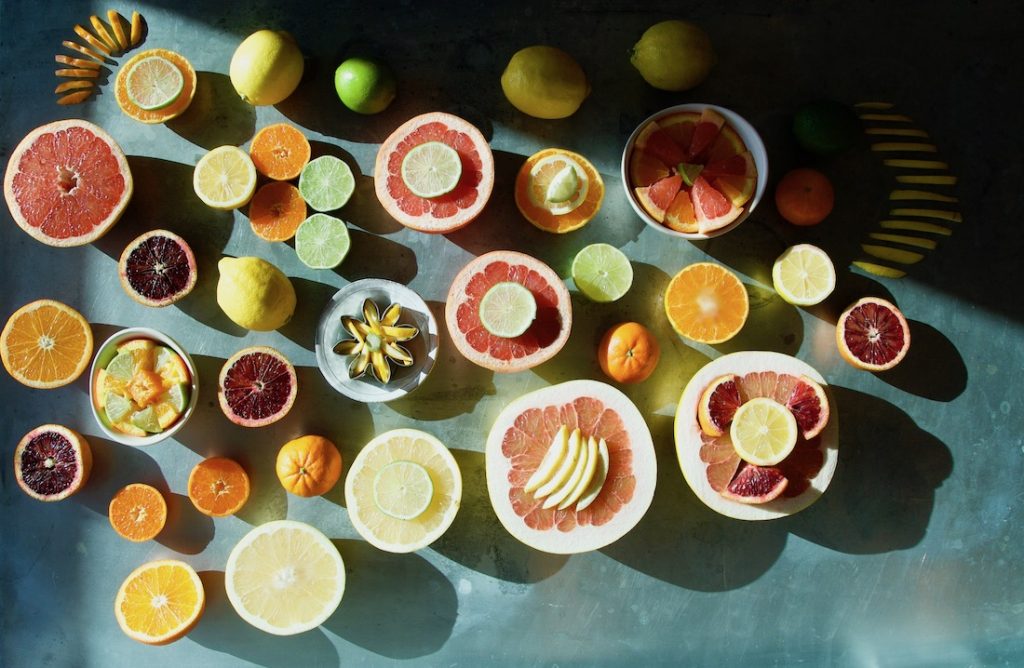 Color and Texture
Pink and orange hues are visually relaxing to the mind. Why? It's a long story, but basically in the 1980's researchers in Seattle discovered that putting extremely agitated people in rooms with pink walls could significantly reduce these people's feelings of anger, rage, and fear. The specific shade of "Baker Miller Pink" is roughly the same shade as a pink grapefruit. Another theory suggests that the comforting effect of pink has something to do with the first color we all see in the womb (I'll leave it at that).
Being able to neatly divide citrus fruits into quarters and sections also acts as a sort of visual ASMR— its a food that gives our hands something to do (when we peel and break it open) and it's very symmetrical (visually pleasing). The fact that all the sections and peel fit together neatly also soothes the mind (on a subconscious level, we like visual structure and order– ala Mari Kondo's "messy life, messy mind" theory).
Unlike a pomegranate or a tumble of overgrown grapes, for example, there's a symmetry and purpose to the sections of an orange that few other fruits have. It's also round and easy to hold, embodying the Japanese design principle of ensō (円相 , or "circle"), which expresses the moment when the mind becomes free to let the body create. In this way, colorful citrus fruits are like a 3D scented puzzle– one that's capable of stimulating all of our senses at the same time.
***
Fore more stress and anxiety relief tips, consult our Comprehensive Guide to Anxiety Relief. For more insight on foods that promote mental wellness, visit our Mood Recipes section.