The health benefits of sleeping under heavy blankets have been documented throughout history, but the trend has emerged again in the digital age as an antidote to insomnia, stress, anxiety. As it turns out, sleeping under a weighted blanket is a particularly effective treatment for people who find themselves struggling with an inability to "wind down" before bed.
As we explained in our Comprehensive Guide to Anxiety Relief, weighted blankets like the industry-leading Gravity Blanket (pictured below) were developed with research from The Journal of Occupational Therapy in Mental Health and The Journal of Sleep Medicine & Disorders.
Neuroscientists engineer these blankets with therapeutic use in mind. And this is not 'woo' science, either. Studies show that gravity blankets are an effective, non-invasive way to improve sleep.
Using them also decreases symptoms of stress and anxiety, so you don't even have to use a weighted blanket for sleep. (You could simply curl up under one while watching TV, and you'd still experience the benefits.)
Ultimately, it's all about boosting comfort and ease. And it may go without saying that weighted blankets are also great for power naps! (I love mine.) If you need to fall asleep quickly and efficiently, moreover, a gravity blanket can be a great tool.
How Weighted Blankets Work
The idea here is that instead of taking invasive sleep medications to calm yourself to sleep, a weighted blanket simulates a "hug" in your brain, activating the body's sense of proprioceptive input– also known as "deep touch pressure stimulation".
Deep touch pressure stimulation is a method of therapeutic stimulation that activates select pressure points on the surface of the body.
These pressure points increase the production of serotonin and melatonin, the hormones responsible for sleep and mood. Stimulating them (almost like a passive massage) therefore induces a relaxation response that helps people fall asleep quickly and more deeply.
Weighted blankets also decrease the production of cortisol, the hormone responsible for stress-related weight gain. Ultimately, this passive physiological treatment has multiple psychological benefits.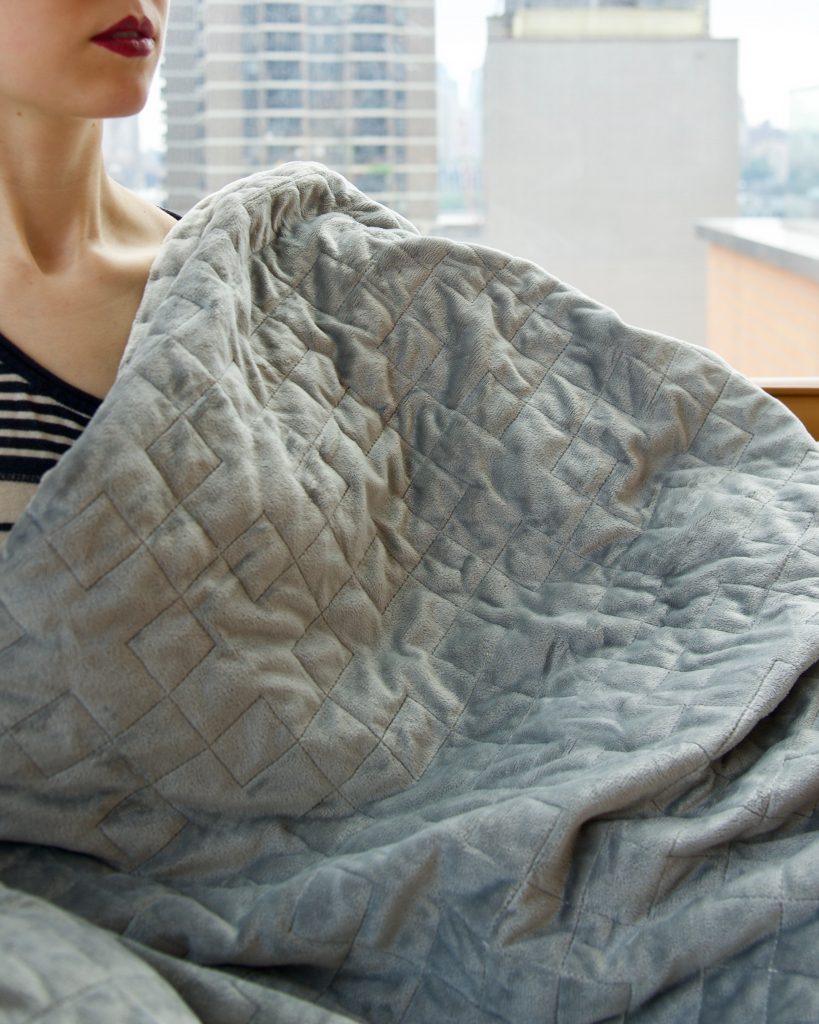 By simulating the feeling of a hug, weighted blankets cause the nervous system to relax. As such, a gravity blanket is actually the most non-invasive insomnia remedy on the market– an alternative to pills that, while not cheap, is proven effective over time.
Research also shows a decrease in heart rate and blood pressure, as well as improved mood and more restful sleep.
Weighted Blankets Induce Relaxation Naturally
Like any good weighted blanket, Gravity Blankets should be 7-12% of the sleeping person's body weight. This is sort of the "sweet spot" at which the weighted blanket is most effective; you want to feel held, not crushed.
As such, only one person should use a weighted blanket at a time. If you distribute the weight over two people, it isn't as effective.
Be sure to get a weighted blanket that most closely approximates 10% of your body weight. So if you are a small person (less than 130 lbs) you should buy a 15 lb weighted blanket. If you're 150+ lbs, go with a 20 lb blanket, etc.
Most weighted blankets cap weight around 25 or 30 lbs. (This is still helpful even if it's less than that 7-12% range of your body weight.)
This Science is Not New
As Gravity Blankets explains on their website: "Weighted blankets have [played a role] in niche medical communities for many years. But only recently have the measurable health benefits for all started to emerge in new scientific studies. Weighted blankets help people fall asleep faster and sleep more deeply. Without a prescription, therapeutic training, or changes in their routine."
At this point, Gravity Blankets sells their signature weighted blanket in Space Grey and Galaxy Blue. They also have a new cooling blanket, for people who get warm when they sleep.
And of course, there are a ton of cheaper weighted blankets on Amazon, for those who are looking for a more affordable option. (Be advised these alternate brands might not have the specific research backing their product. But as long as the blankets are heavy, the science of how they work should remain the same.)
Remember when, as a kid, your grandmother might have tucked you into bed under a super-heavy quilt? It turns out there may have been some health benefits to sleeping with all those heavy blankets, after all.
***
You can buy your own Gravity Blanket here or look for cheaper options on Amazon here.
Want more stress-relieving gadgets? Read our Gift Guide for Stressed Out People. (<— It's one of the most popular relaxation gift guides on the Internet!)
Related: 7 Helpful Ways to Stop Racing Thoughts at Night.
PSA: This post contains Amazon Affiliate Links. As an Amazon Affiliate, we may earn from qualifying purchases. This is why we only include links to well-researched products that we've tested personally, and these commissions go directly towards funding further research and development for our evidence-based journalism.