Just when you think you know everything there is to know about garlic breath, a promising new link between garlic and memory has been traced to a compound in garlic known as allyl sulfide. Allyl sulfide is a naturally occurring flavor compound present in all Allium species, most notably garlic and onions.
According to research from the University of Louisville School of Medicine, allyl sulfide in garlic can keep your mind sharp and improve long-term AND short-term memory, which sheds new light on the role that garlic might play in staving off age-related memory loss.
The study was conducted with mice, so more trials need to be done to observe how the link between garlic and memory takes shape in humans.
However, early assessments suggest that allyl sulfide in garlic can improve memory and also overall cognitive function because of how it is metabolized in the gut.
The research suggests the possibility of using garlic to prevent, diminish, or slow the effects of age-related memory loss.
The findings are particularly promising in the realm of Alzheimer's Disease treatment. This is because even trace amounts of garlic can improve the biodiversity of gut flora, which diminishes with age.
Raw Garlic and Memory
Because of the strong link between gut health and mental health, the benefits of eating garlic are maximized when you eat it raw. This is when both the volatile compounds and prebiotic fibers are most "intact", so to speak.
Raw garlic is very strong– but there are ways to mitigate the flavor intensity. Mince raw garlic very finely and let it sit for 10 minutes before use. Then add it to salad dressings or dips that don't get heated for maximum benefit. This way, the raw nutrients in garlic will remain stable and will not be cooked out.
When you allow garlic to "aerate" before consumption, it also enhances the bioavailability of allyl sulfide.
If you can't stomach raw garlic even after it's been sitting, you can still get some of the benefits of allyl sulfide from eating cooked garlic.
Garlic and its various preparations have long been regarded as one of the cheapest ways to prevent cardiovascular disease— but research has yet to prove the efficacy of garlic supplements on memory and metabolic health. As with most aspects of diet, it's better to eat your nutrients than to take them in pill form.
Until more info becomes available, it's best to incorporate raw garlic as a regular part of a balanced diet. See the example recipe for raw garlic spinach dip, below.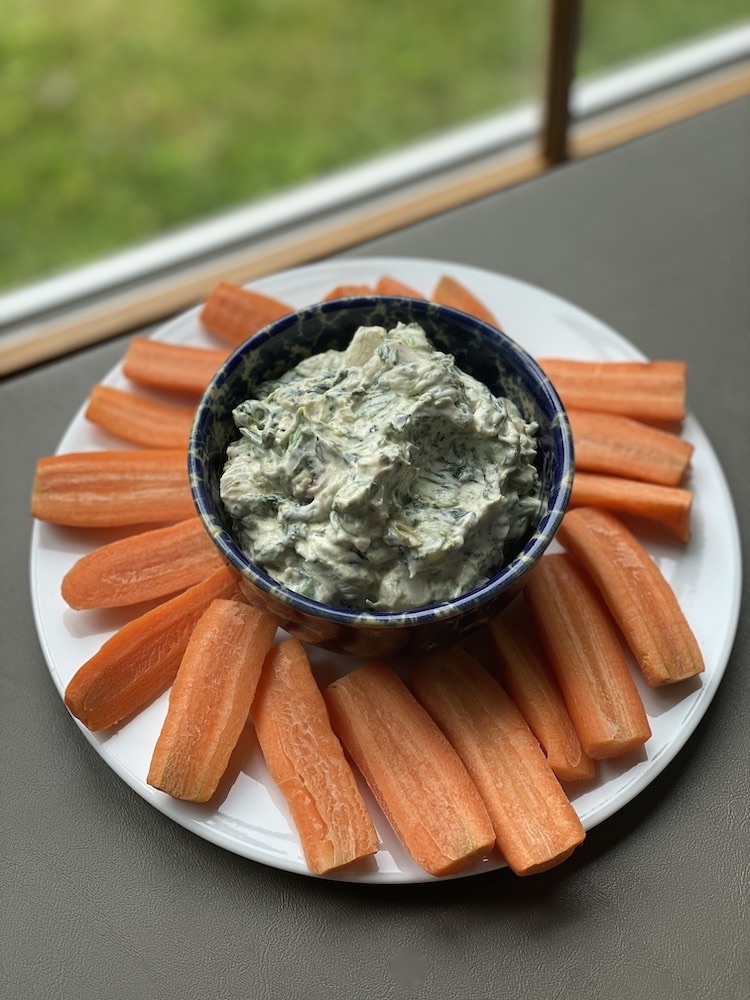 Best-Ever Spinach Dip Recipe (with Raw Garlic)
This classic spinach dip recipe is a holiday favorite.
1 package (10 ounces) frozen chopped spinach, thawed and squeezed to remove excess water
1 package Knorr Vegetable Soup Mix
2 cloves raw garlic, finely minced (allow to sit for 10 mins before using)
2 cups sour cream
1 cup mayonnaise
1 can (8 oz) water chestnuts, chopped
2 green onions, chopped
pinch of paprika
black pepper to taste


Instructions

Allow minced garlic to rest for 10 minutes to activate allyl sulfide compounds in the garlic. (This will also make the flavor less intense.)
Mix all the ingredients together until well combined. Refrigerate for at least 2 hours before serving, so that the soup mix can dissolve and the flavors can meld. Serve dip with raw vegetables, bread, chips, or crackers. It also makes a good sandwich spread. Enjoy!

***

Related: Read our article on How to Improve Your Mental Age.

For more mind-boosting recipes– like this adaptogen-infused Vegan Pine Pollen Pesto— visit our Mood Recipes section.