Herbal remedies for anxiety and stress have gone from being woo-woo to commonplace. As we wrote in our Comprehensive Anxiety Toolkit, anxiety is a multifaceted experience and as such, you should take a multifaceted approach to treatment. Exercise, meditation, getting good sleep, eating plenty of fresh fruits and vegetables, and maintaining healthy relationships can all help relieve anxiety. There are also a number of easy anxiety hacks that can help you feel better in the moment.
But of course, you probably already know that and have tried those things, which is likely why you've landed here. If you're looking for some suggestions of safe, effective herbal remedies for anxiety, you've come to the right place.
The below herbs are useful for people who suffer from anxiety but don't want to take over-the-counter medication to relieve it. Fortunately, these herbal remedies work the same– if more gently– than "intense" pharmaceuticals.
Most importantly, peer-reviewed research demonstrates that "nutritional and herbal supplementation is an effective method for treating anxiety and anxiety-related conditions without the risk of serious side effects." This is good news for people who get anxious even at the thought of taking medication!
Many of the same herbs we wrote about in our guide to safe herbal remedies for insomnia are also helpful in treating anxiety, as these two ailments are often rooted in the same biochemistry. As a result, we've featured some of the same products and linked out to some of the same previously-vetted research in this guide.
For nighttime anxiety, many people also have success with drinking Natural Calm Anti-Stress Magnesium Drink before bed. You can also drink it during periods of acute stress. (Just read those Amazon reviews; people swear by it. For what it's worth, Tina Fey drinks it every night!)
Our Process
Ultimately, the insight below was gleaned from some of our favorite American herbalists and resources: Tieraona Low Dog, MD in New Mexico; Botanarchy Herbs & Acupuncture in Los Angeles; Sun Potion in Santa Barbara; herbalist Dawn Petter + The Alchemist's Kitchen + Flower Power Herbs & Roots in New York City; the Wildflower School of Botanical Medicine in Austin; Mountain Rose Herbs in Eugene, Oregon; Wooden Spoon Herbs in Tennessee; Railyard Apothecary in Burlington, Vermont; and of course, the gospel of herbal icon Rosemary Gladstar, who wrote the OG Beginner's Guide to Medicinal Herbs. (<– FWIW: Gladstar is the patron saint of herbalism. Many herbalists and plant medicine acolytes in the field regard her the way young female lawyers regard Ruth Bader Ginsburg.)
Most importantly, consult with your doctor or herbalist before trying any new herbs.
If you're wary of supplements, try tea first! Or check the links below for some bespoke recipes as to how you can incorporate these herbal remedies for anxiety into easy, nourishing snacks. (For more recipes and info on this food-as-medicine approach, consult our Mood Recipes section.)
Also, this guide contains Amazon Affiliate links and also Etsy Affiliate links for easy purchasing. (As an Amazon Associate and Etsy Associate, we may earn from qualifying purchases. This is why we work our butts off to make sure these recommendations are solid and backed by only the most up-to-date clinical research. We've also tried and use all of these herbal remedies ourselves, as well.)
Scroll our guide to the most effective, evidence-based herbal remedies for anxiety, below. Bookmark this list for easy reference later!
***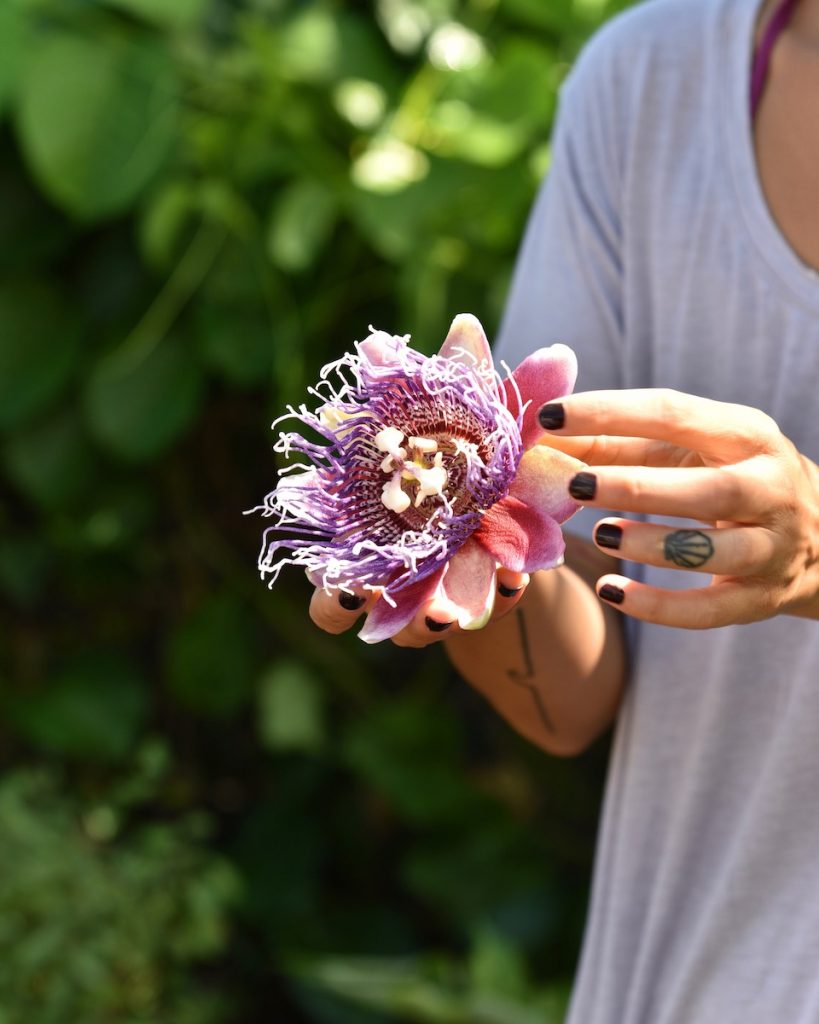 Passionflower (Passiflora incarnata)
Passionflower is an effective herbal remedy for anxiety and also insomnia, as it is a potent stress reliever that calms the adrenal response. Specifically, passionflower calms the nervous system by stimulating the neurotransmitter GABA (gama-amino-butyric-acid). It also boosts serotonin and norepinephrine in the brain. Together, these three relaxation hormones induce a state of relaxation, naturally.
Passionflower is most often consumed in tea form. Below are four of our favorite passionflower remedies for anxiety. If you're new to taking herbal remedies for anxiety, start with a tea. Then, work your way up to a tincture. (Tinctures tend to be stronger treatments, overall.)
G&L Product Recommendations: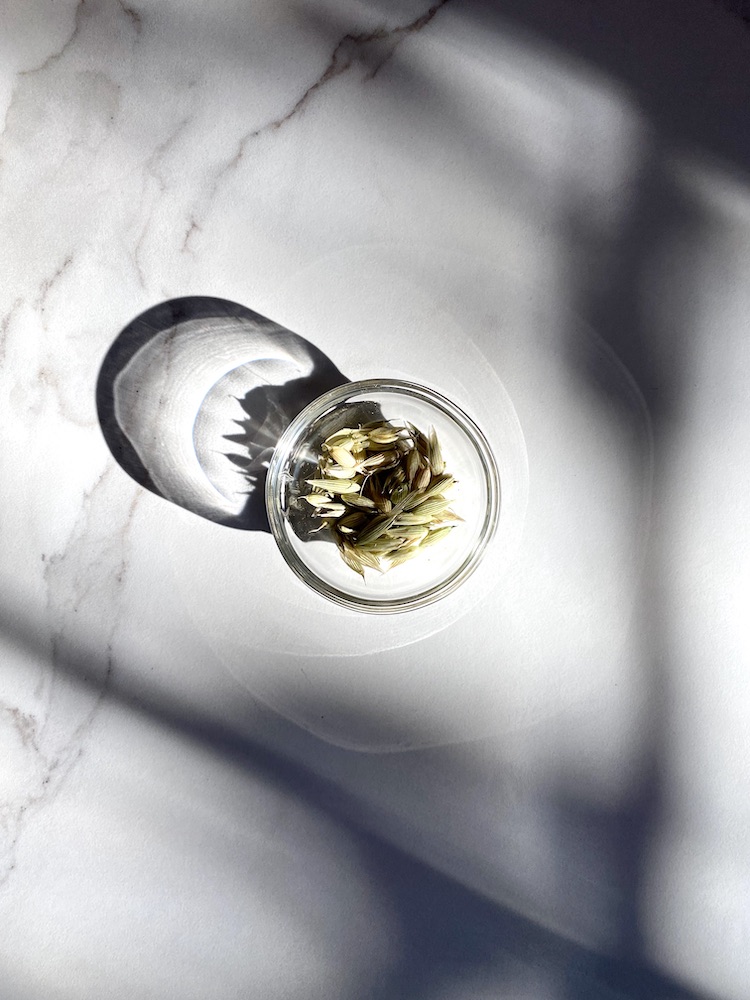 Oatstraw / Milky Oats
Milky Oats– and oatstraw, from the same plant– are two of the oldest, safest, most accessible herbs for anxiety.
Milky Oats are THE go-to herbal remedy that herbalists suggest when clients complain about feeling burned out, anxious and frazzled, or suffering from frequent panic attacks or bouts of stress. It brings everything down a notch, so to speak. Research from UCSC also shows that milky oats can be used to treat everything from mild to moderate stress and anxiety to panic or those in need of body relaxation.
The maturing seeds atop the oat plant enter a wet stage for a short window of time each summer, which is known as the "milky oat" stage. This is when the so-called "milky oats" are harvested for their medicinal benefits. When harvested in time, milky oats are made into tinctures and other brewed herbal remedies for anxiety. (If left on the stalk, these milky oats harden to become the same oats we use for oatmeal!)
The stalks of the same plant, meanwhile, are known as oatstraw. This also works wonderfully as an herbal tea for anxiety. Buy dried, mineral-rich oatstraw to brew like tea, or look for milky oat tinctures made by an herbalist. Our suggestions are below.
G&L Product Recommendations: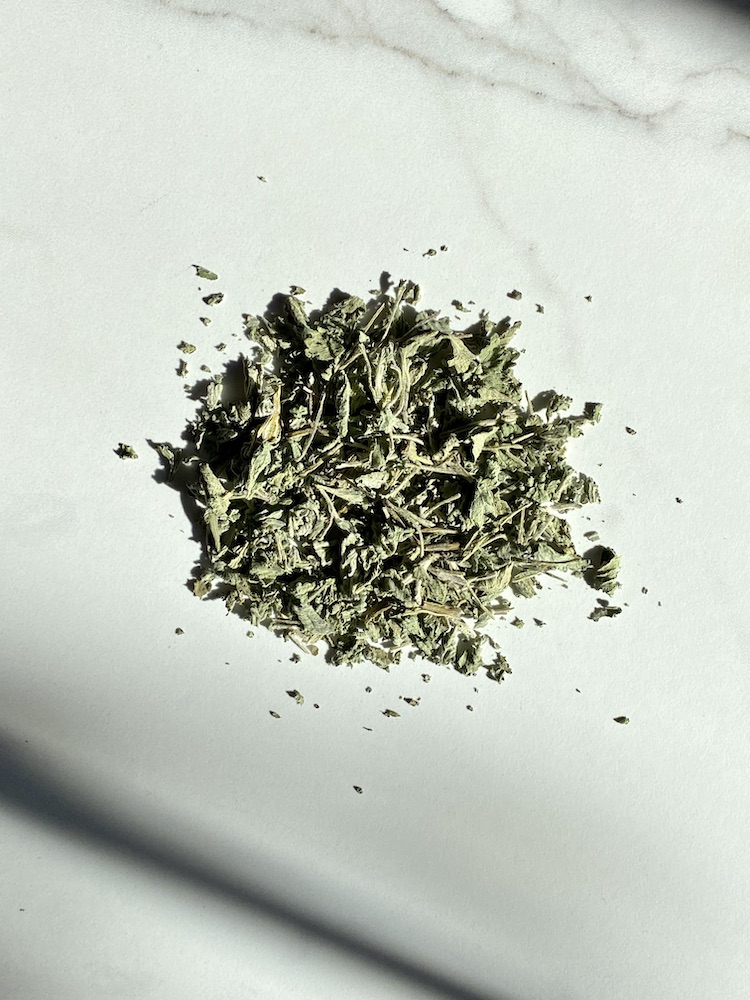 Catnip (Nepeta cataria)
Also known as "Catmint", Catnip is rich in nepetalactone, which makes it a potent plant for calming nerves and depression. It's also soothing to the stomach in cases of stomach cramps, which is why I often recommend it as a tea for people who feel their anxiety in their gut. If you feel like your stomach is in knots when you're anxious, this is the herb for you.
Catnip also has a mildly sedative effect similar to valerian (another good herbal remedy for anxiety, detailed below), which makes it a helpful herb for dealing with insomnia. Overall, however, catnip is one of the best herbs for anxiety because it is so incredibly gentle. The worst that can happen is that you don't really feel the effects–in which case, you might need to brew your tea for longer.
In the Fall and Winter, we like blending fresh dried catnip with a few cardamom pods, a dried orange slice, and cinnamon sticks to make a calming, warming herbal hot toddy. I also like brewing it along with a bag of the Chopra Center's Organic Relaxing Tea. This makes a lovely, calming, post-dinner digestif.
G&L Product Recommendations: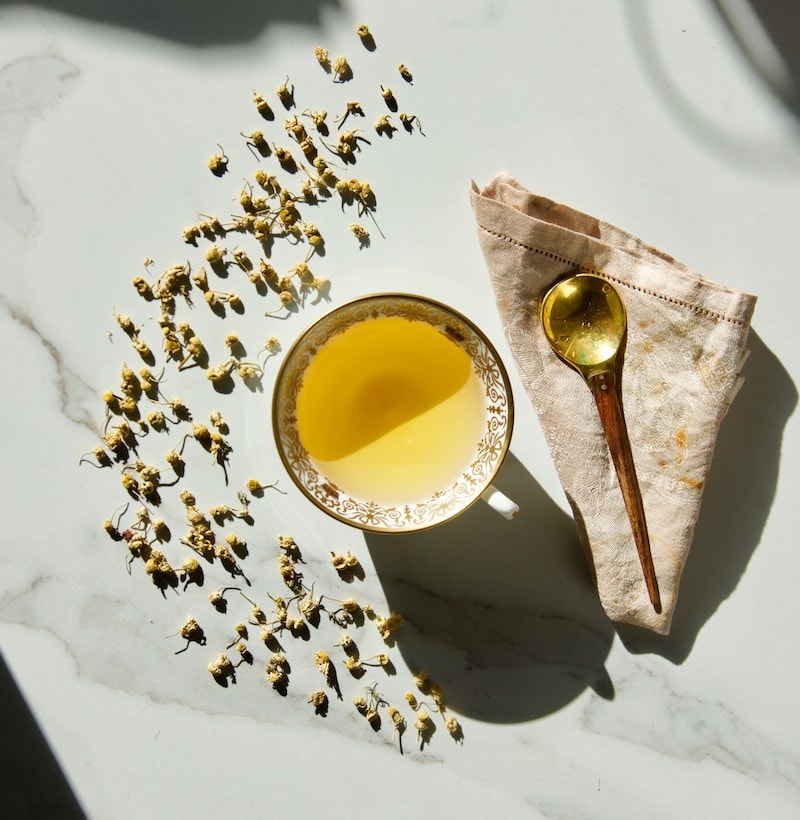 Chamomile (Matricaria chamomilla)
Chamomile is the OG calming herb. While classic chamomile tea is commonly used for sleep and digestive upset, it's also ideal for treating stress and anxiety.
(Chamomile has been taken for thousands of years as a way to settle stomach nerves and calm anxiety. This smooth, gentle, mildly floral tea calms the nervous system and is beloved by people all over the world.)
Never boil chamomile to extreme heat or the beneficial oils will evaporate. Chamomile is also helpful for PMS symptoms and menstrual irregularities.
Azulene volatile oil, meanwhile, is anti-inflammatory and anti-bacterial, as well. This extract found in blue chamomile is very delicate and should never be boiled or exposed to extreme heat or it will evaporate, as well.
Also, be advised that chamomile is related to ragweed and might stimulate seasonal allergies.
Ideally, steep chamomile tea for 5-10 minutes to get a more medicinal brew. Enjoy up to 3-4 cups of tea per day, as tolerated.
G&L Product Recommendations: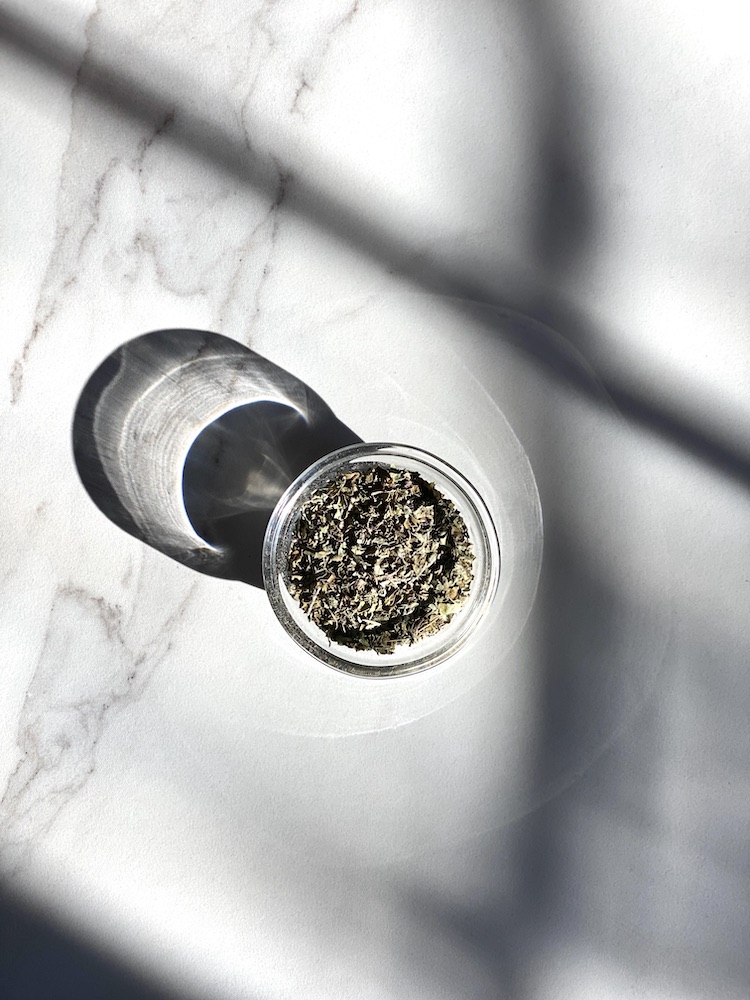 Holy Basil aka Tulsi (Ocimum tenuiflorum)
Holy Basil has been revered medicinally in India for thousands of years. Today, it is still used as a way to decrease stress and anxiety, helping the body adapt to adrenaline-inducing life changes. (Just be sure to avoid if pregnant or trying to get pregnant, as it can have an anti-fertility effect.)
Other than that, Holy Basil is very safe and universally embraced. It stabilizes cortisol levels and also has the ability to increase antibody levels, which is even more important during periods of acute stress, trauma, or distress.
Most people drink tulsi in tea form– Organic India's Original Tulsi Tea is served at what feels like every yoga studio in America. (In India– and at Indian Restaurants– Tulsi is a common ingredient in homemade tea.)
G&L Product Recommendations: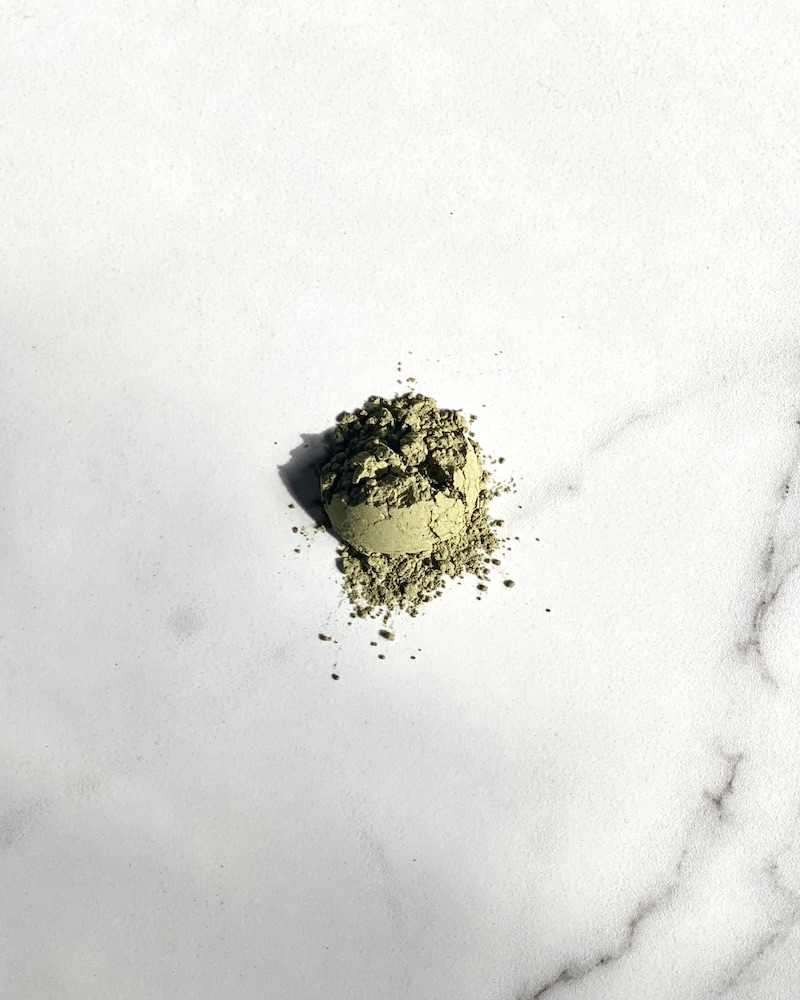 Matcha (Because of L-Theanine)
L-theanine, a widely-tolerated amino acid found in Matcha Green Tea, is known to have a delightfully calming effect on the body. How can this be, you ask? Well, even though matcha Green Tea also contains caffeine (a known stimulant that can otherwise stimulate anxiety,) the L-theanine counteracts the effect and induces an overall feeling of wellbeing and calm.
Basically, if you're someone that usually gets anxious from too much coffee, try a matcha latte instead. You'll get the caffeine boost without the crash or jitters.
L-theanine supplements can also be taken to relax the mind and nervous system by inducing the same calming alpha waves as the tea, only in a more concentrated form. This is because L-theanine activates GABA (gamma-aminobutyric acid), the neurotransmitter responsible for regulating anxiety in the central nervous system. As a result, herbs that activate GABA boost overall feelings of calm and wellbeing.
G&L Product Recommendations: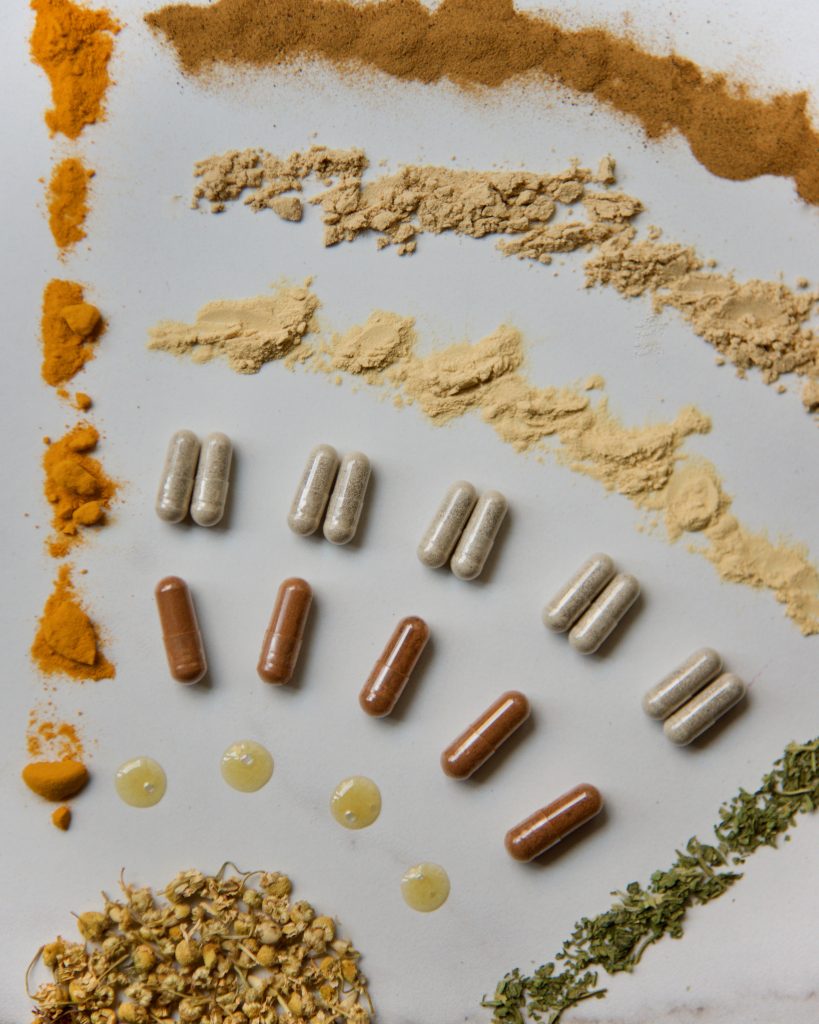 Kava Kava
While not always mentioned in the same mouthful as, say, turmeric and tulsi, kava kava nonetheless remains an effective, accessible herbal remedy for anxiety.
My first experience with kava was on the island of Fiji, where locals often greet visitors with a ceremonial "kava circle" around a fire. Guests gather and sip bowls of kava root tea, which induces a sense of calm and relaxation. It's not quite tea, and certainly not as sweet as juice, but that's the closest way to describe it.
To quote WebMD: "Kava Kava is an herbal remedy that's made from the roots of Piper methysticum — a type of plant found in the islands of the Pacific Ocean. Its name literally means "intoxicating pepper." People who live on Pacific islands like Fiji and Tonga have used it for hundreds of years in social gatherings and traditional medicine. They dry out the roots or crush them into a powder. Then they add water and drink the mixture."
In the West, herbalists have started to embrace the use of the root as a natural treatment for anxiety, proscribed alone or in concert with other herbal remedies for anxiety.
G&L Product Recommendations: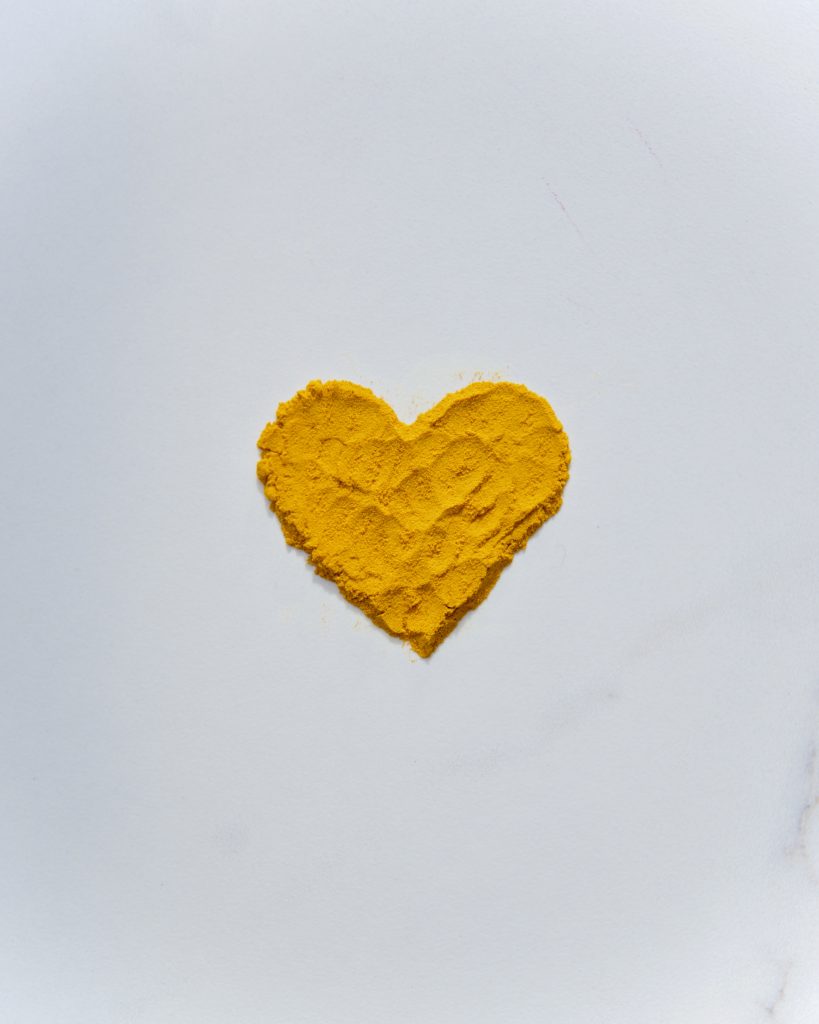 Turmeric
As we wrote in our Comprehensive Guide to Meaningful Anxiety Relief, "Curcumin, the active ingredient in Turmeric, has been linked to improved depression and anxiety outcomes in almost all tested populations, and there have been notably few if any side effects."
This is largely due to the fact that the curcumin in turmeric decreases inflammation in the body, which clinical research has increasingly linked to mental health conditions like depression and anxiety. Inflammation relief, moreover, is key to optimal health– not just mental health.
Research shows that turmeric is even more potent when combined with citrus and black pepper. These both enhance curcumin's absorbability and bioavailability. Ultimately, the easiest way to reap the benefits of turmeric is to eat it. Try an Indian vegetable curry or a dish like butter chicken, which naturally includes turmeric so that you don't have to supplement.
We also specifically formulated this Stress-Busting Popcorn recipe to be made using the powdered turmeric you may already have in your spice cabinet.
Below, we spotlight a few food and supplement options for taking turmeric as a natural anxiety treatment.
G&L Product Recommendations: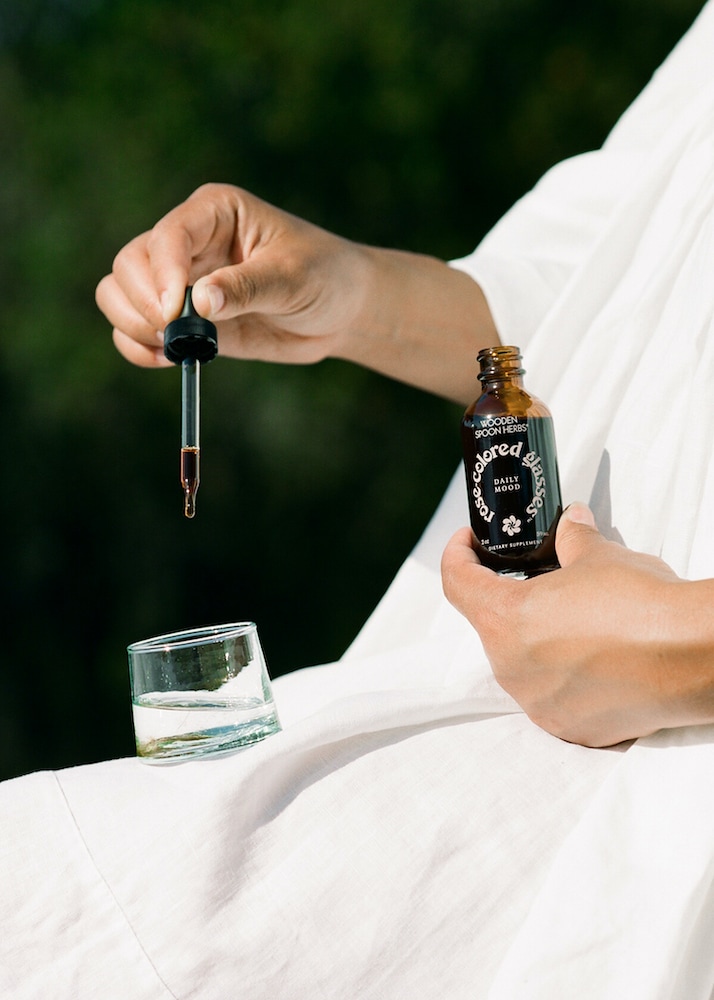 Rose
Rose is another gentle food-grade option for natural anxiety relief. Because the flavor and scent of rose helps elevate mood, it has a variety of applications. Wooden Spoon Herbs' Rose Colored Glasses Tincture is a great anti-anxiety mood support supplement, for example– but you can also cook with rose water!
For example, we use rose syrup in mocktails (mix it with seltzer and a splash of pomegranate juice!), as well as baked goods, smoothies, and homemade ice cream. Top a cake with edible rose petals for a cheery look and taste, or sprinkle some on top of your latte.
We even re-engineered Meryl Streep's own shortbread recipe to make this lovely Pistachio Rose Cookie recipe that provides gentle mood support. (<— Bookmark that recipe for your next holiday gathering!)
Even spraying yourself with a rosewater mist, using rosewater skincare products, or simply smelling rose essential oil can all help relieve anxiety, ambiently. You don't have to eat rose to reap the benefits. Ultimately, studies show that aromatherapy really works!
G&L Product Recommendations: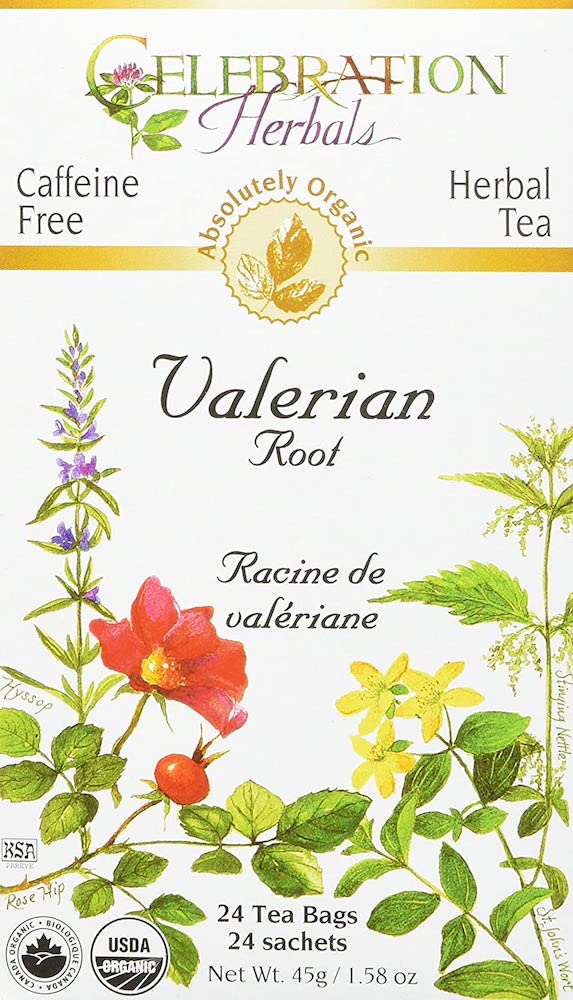 Valerian (Valeriana officinalis)
Valerian root is best known as a natural remedy for insomnia, but its mildly-sedating effects are also beneficial as an herbal remedy for anxiety. However, you should take a smaller dose (or a weaker brew) so that it doesn't make you sleepy. (Otherwise, Valerian can be like the poppy field in The Wizard of Oz: it'll put you right to sleep.)
To use Valerian tea for anxiety, brew one tea bag in 8 ounces of hot, not-boiling water for 2-3 minutes. (You can also brew it up to 10 minutes if it's at nighttime, or you want a more medicinal infusion.) Drink it over ice for an uplifting but calming treatment. Otherwise, drink it hot if you want something more soothing or gentler on the stomach.
G&L Product Recommendations: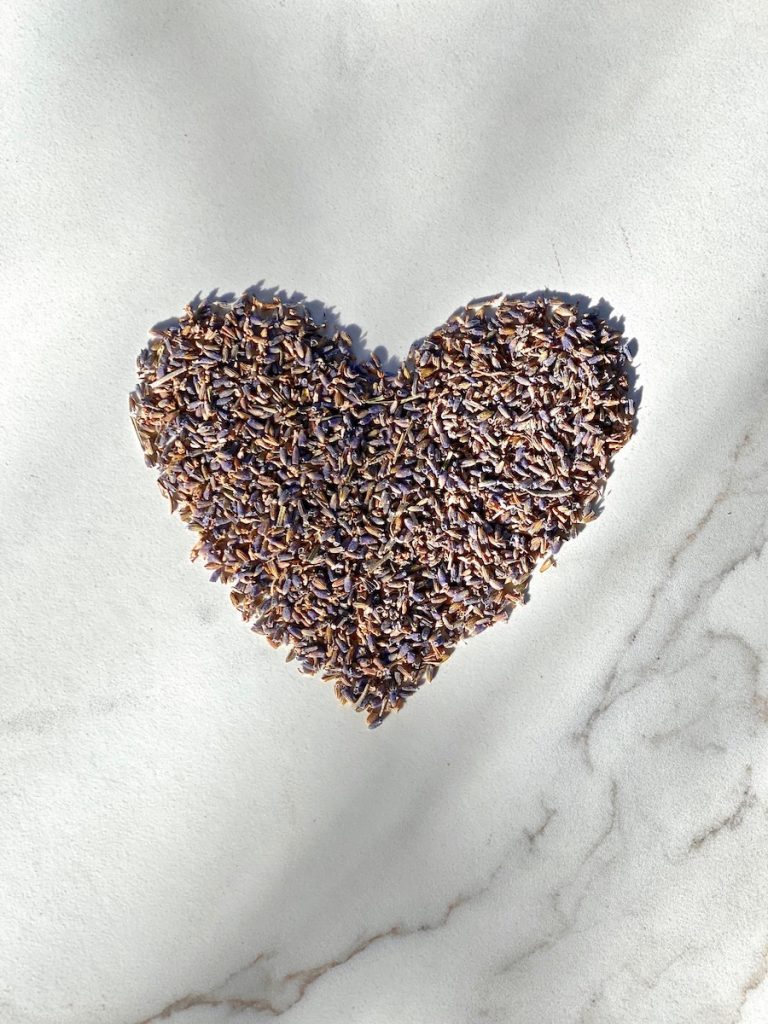 Lavender (Lavandula)
Whether you're using lavender laundry detergent, lavender essential oil, or lavender tea, just the smell of lavender elevates mood and induces a feeling of calm– but you can also eat it and rub it all over your body for the same effect. Studies show that lavender has a direct, relaxing effect on the nervous system.
Just about any scented lavender product (ingestible and non-ingestible) will do the trick. You don't have to consume lavender to experience the benefits. For example, we love making this homemade calming lavender balm to use after a bath or showering. This ritual is especially comforting in the winter.
G&L Product Recommendations: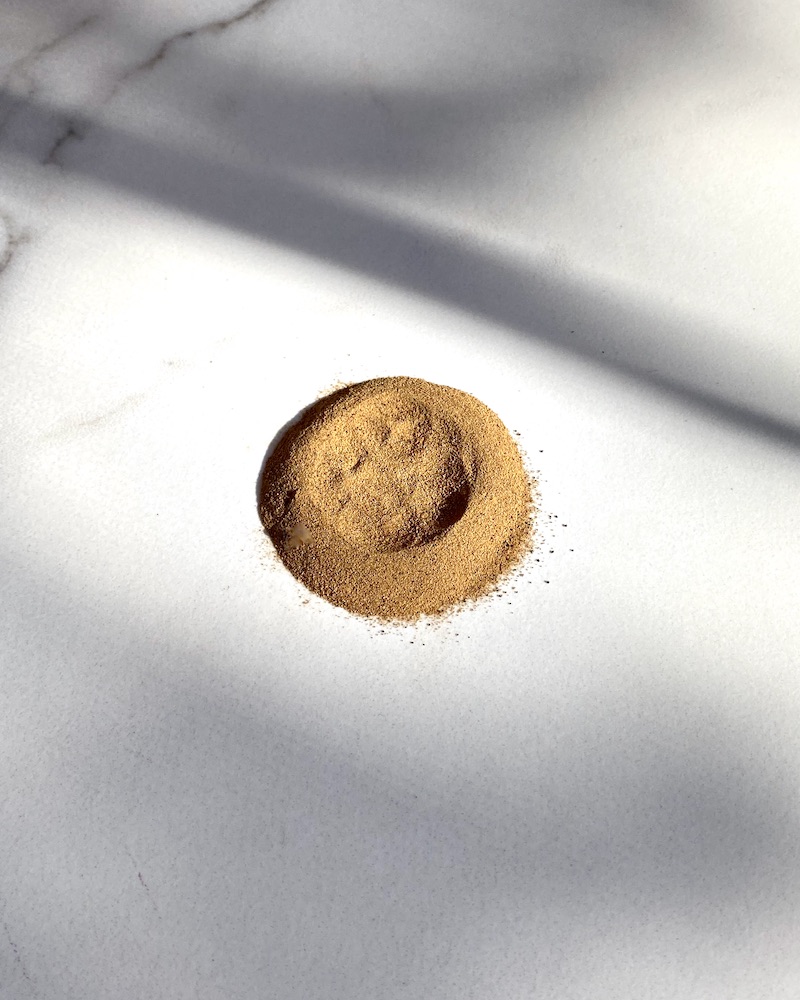 Ashwagandha (Withania somnifera)
Ashwagandha, also known as Indian Ginseng, is a common Ayurvedic adaptogen used for stress relief, immunity boost, hormonal balance, and harmonizing the mind, body, and spirit.
Half a teaspoon taken in milks, elixirs, smoothies, raw treats, or warm water in the midst of busy schedules affords a sense of vigor and resilience. This antioxidant-rich root extract is also highly alkaloid, which is why it helps quell the cellular inflammation associated with chronic stress.
Because of its slightly bitter taste, the powder is best mixed with earthy flavors like chocolate and cinnamon. I recommend baking with it, mixing it into a sweetened latte or smoothie, or mixing it directly with a spoonful of honey. Overall, ashwagandha is excellent adrenal support for people who are overworked and exhausted. As a result, TCM acupuncturists love it.
Personally, I find ashwagandha to be a very gentle and effective natural remedy for anxiety. The bitterness (and at times grittiness) is the only downside– but you can mitigate that with an appropriate mixer.
For example, try mixing ashwagandha into homemade chocolate truffles. To make homemade "medicinal" truffles, melt half a cup of dark chocolate chips with 2 tablespoons coconut oil, 1/4 teaspoon cinnamon, and 3 teaspoons ashwaganda powder. Mix ingredients thoroughly and pour into chocolate molds. Then, let them set for at least 2 hours in the fridge. (You can also just drop 6-8 spoonfuls of mixture onto wax paper and harden them in the fridge overnight.) This makes about 6 servings. Eat one chocolate per day for gentle anxiety support. (Any excuse to eat chocolate, right?)
G&L Product Recommendations: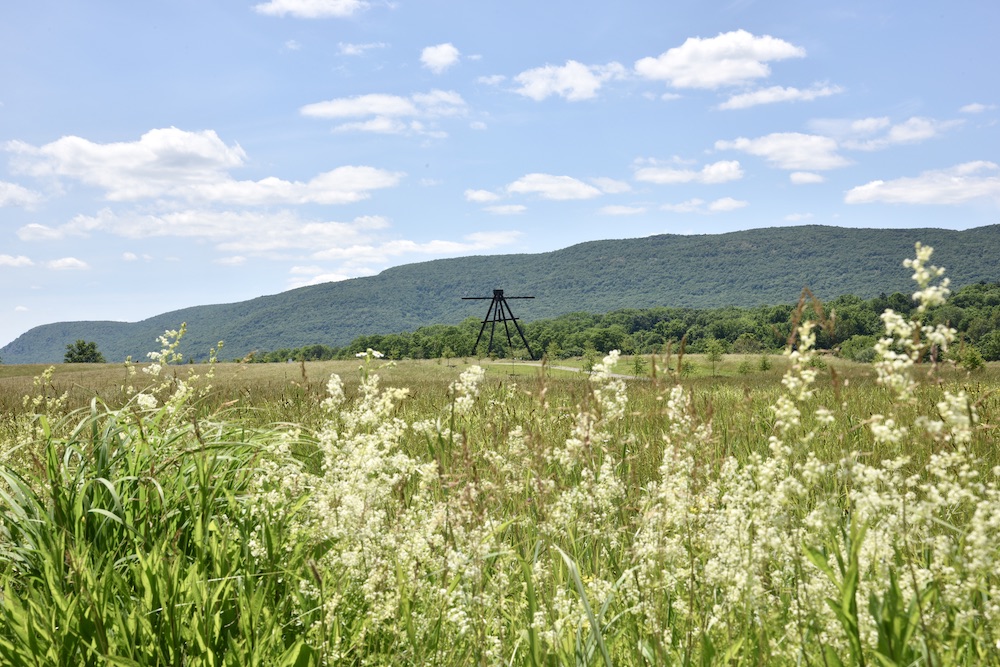 ~ Honorable Mention ~
These other adaptogens have proven beneficial in the treatment of anxiety.
Lion's Mane Mushrooms
Like all mushrooms, lion's mane mushrooms are adaptogens, meaning consuming them helps the body handle stress. While relatively under the radar still, lion's mane is nevertheless becoming "mainstream" in the realm of stress and anxiety relief.
As a result, trendy brands like Four Sigmatic Foods have started incorporating lion's mane into their regular and instant coffee blends.
In addition, lion's mane is also said to improve focus, so many people add lion's mane powder to their morning smoothies. You can also mix it into another beverage to create a focus-enhancing nerve tonic.
Magnolia Bark
Magnolia Bark contains a calming compound called honokoil, which is often used in anti-anxiety tinctures.
While magnolia bark is harder to find as a stand-alone product, it's often used in medicinal tinctures, as well as anxiety supplements for cortisol management.
For magnolia bark, however, we haven't found many commercial suppliers whose standards we trust. For now, we suggest getting magnolia bark from a trained herbalist only. If we discover any handcrafted brands available for online purchase, we'll be sure to link to them here. (This list is regularly updated to reflect evolutions in medical research and product availability. We take this work very seriously!)
Finally, if you have any questions about the information in this guide, feel free to reach out directly. Good luck!
***
Related: These 25 Research-Backed Tips for Meaningful Anxiety Relief explain all the hacks you need to deal with any form of anxiety. You may also be interested in these 11 Effective Herbal Remedies for Insomnia.
Read this if You're Having a Panic Attack.