For all of its beauty and name recognition, Maui is also Hawaii's most dynamic island. So many local destinations are so different from one another that disparate parts of the island might as well be located on another planet. Upcountry feels miles away from touristy Lahaina, which it itself is so different from the jungles of Hana, Ha'iku, and Pa'ia. It's all fantastic, though locals definitely have their preferences as to what areas to visit (and which to skip if you're pressed for time). This is particularly so when it comes to Maui's incredible restaurant scene.
One thing, however, is uniformly understood: the best restaurants in Maui defy classification. Indeed, some of the best food in all of Hawaii can be found on Oprah's favorite island (she owns a massive ranch in Upcountry Maui) and all of it is worth exploring.
From strip mall joints in Kihei to touristy dives in Lahaina to blink-and-you'll-miss-'em roadside stands near Hana to remarkable seafood in Pa'ia, Ha'iku, and Wailea, there's truly something for everyone on every curve of Maui's two conjoined volcanic islands.
Maui's best restaurants range in price from practically free to notably expensive, but they all display some unique aspect of Maui's robust food ecosystem and local culture. We love them all.
No matter where you eat during your visit, you'll experience some cool aspect of the island, trust me. But if you want a meal that's really special, these are the best and most popular restaurants in Maui. We guarantee they won't disappoint. Bookmark this list for easy reference later.
Aloha and enjoy!
***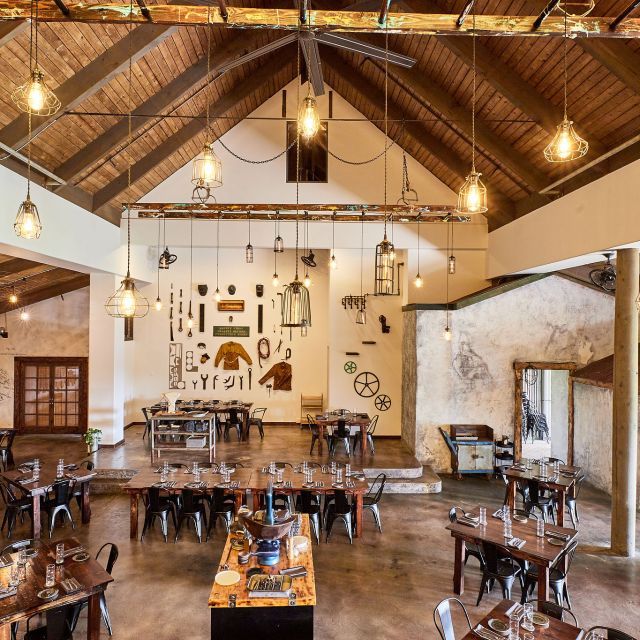 The Mill House
The Mill House is an iconic farm-to-table restaurant in Waikapu that serves innovative meals in a chic industrial space on a mountainside plantation in Easily accessible from Kula, Kihei, and Lahaina, the former mill and restaurant's location on the Maui Tropical Plantation in central Maui honors the regional sugar cane tradition of the past (as a result, the cocktails here are excellent) while modeling the future of sustainable dining.
The plantation supplies much of the restaurant's produce and meat– including specialty Maui beef, rum, local coffee, and coveted tropical fruits. Locally-caught seafood adorns the menu, as well. As a result, Mill House is one of the best farm-to-table restaurants on Maui. For those looking to immerse themselves in the local food scene, this is the best dining experience on the island.
Recently, the menu included an "Upcountry Yacón Tart"– a dessert made from the root of the Peruvian daisy, a tuber that grows particularly well in Maui's semi-arid Arizona-meets-Malibu climate. (The regional farms that supply the restaurant are among the few places on earth experimenting with this alternative food source.)
Sweetened yacón has the consistency and flavor profile of an apple or a sturdy pear. When cooked, it caramelizes almost liked a poached quince. At Mill House, they pair it with local macadamia nut crumble and homemade vanilla bean ice cream. The results, like everything else on the Mill House menu, are simply magical.
The menu here changes often, but we recommend getting at least one seafood dish and one local beef dish. Also, definitely save room for dessert. 🙂
Another Pro Tip: Ask to sit in the open-air Plantation Room if you're going for lunch, or opt for the cozier Sugar Room if you can snag a reservation for dinner. When in Maui, Mill House is a must!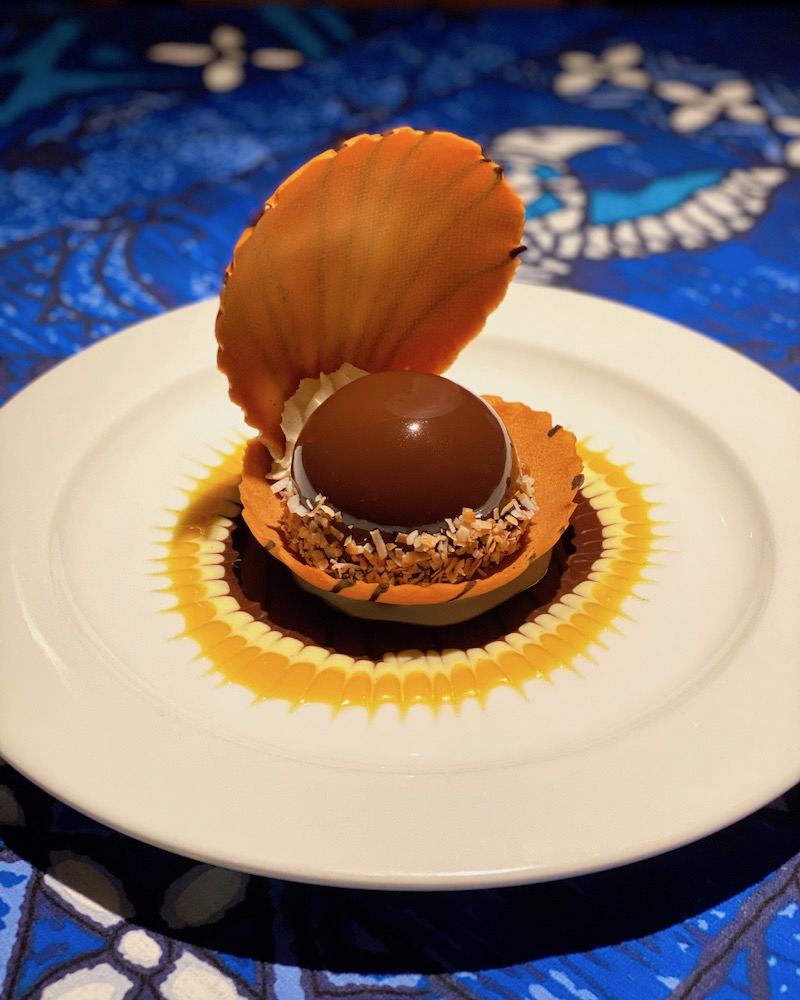 Mama's Fish House
Of all the excellent restaurants on Maui, Mama's Fish House is easily the most memorable. Between the exceptional food, cheery decor, and idyllic location in Ku'au Cove on Maui's North Shore, this restaurant has it all.
Mostly, however, the joy of eating here stems from the world class Polynesian cuisine and gracious, friendly ambiance. Mama's Fish House is the total package, without an ounce of pretense despite having won James Beard Award recognition several times.
Mama's Fish House is the best place to eat high end seafood on Maui. Since 1973, they've been serving up gorgeous, locally-sourced, ocean-inspired cuisine to locals and tourists. Today, the restaurant is an iconic island destination. People come from all over the world to dine at one of Chef Perry Bateman's tables.
All meals begin with delicious Maui honey and poppyseed wheat bread with salted whipped butter and an amuse bouche. (Recently, for example, this was a lovely Hana ginger soup.)
As far as appetizers go, we love Mama's incredible, shareable sashimi platter with rare finger lime and local fish and fruit pairings. (It's a real show-stopper.)
For mains, order Opah or Wahoo– two local white fish delicacies– or try a local Maui beef dish, which will no doubt be deliciously rendered, with pride.
For dessert, don't miss the iconic Polynesian Chocolate Pearl, the most popular item on the menu and one of the most-photographed desserts on Maui. (See picture above.)
Mama's also makes a mean lilikoi crème brûlée. If you can't decide which to order, get both. And yes, reservations are essential!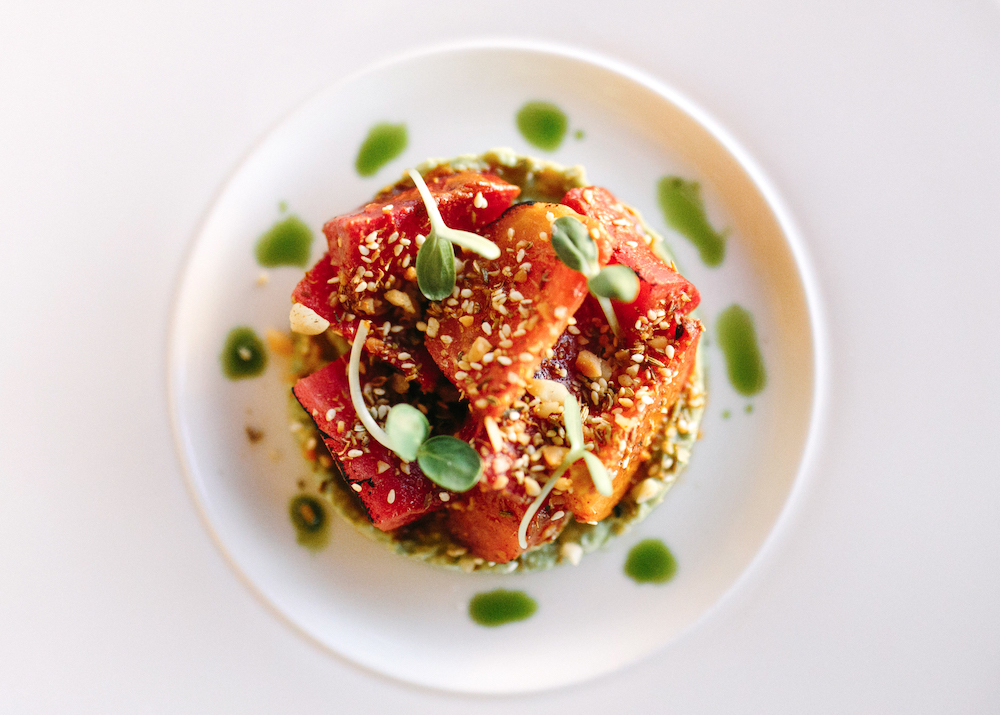 The Restaurant at Hotel Wailea
"The Restaurant," as it is known, serves excellent albeit small portions of locavore, seafood-forward island cuisine. Located on the property that is consistently regarded as the single best hotel in Hawai'i, The Restaurant at Hotel Wailea is a must for foodies– but it may be a bit much for those looking for a nice meal that isn't fine dining. (The resort is also one of the Top 50 Hotels in the World!)
The views are breathtaking, the food is of the utmost quality, and the flavors hit hard. Foodies love dining here; family tourists tend to roll their eyes at the prices. (The wagyu short rib entree will cost you $60; it's $58 for one salmon main, etc.)
Still, we cannot emphasize enough the beauty and charm of this lovely Maui mainstay. The food at The Restaurant– Hawaii's only Relais & Châteaux restaurant– is excellent.
We love the smoked beets with avocado– and it's hard not to adore the panoramic views of the Pacific Ocean, where, on any given night, diners are treated to a spectacular sunset and glimpses of the occasional jumping humpback whale.
The restaurant lanai is blessed with 180 views, which allow you to gaze at the ocean over a canopy of mango and avocado trees. Go to the bar around 5:30 for a great pre-dinner sunset happy hour. Then, have dinner around 6 PM for a gorgeous sunset. When dining in Maui, this is about as beautiful as it gets.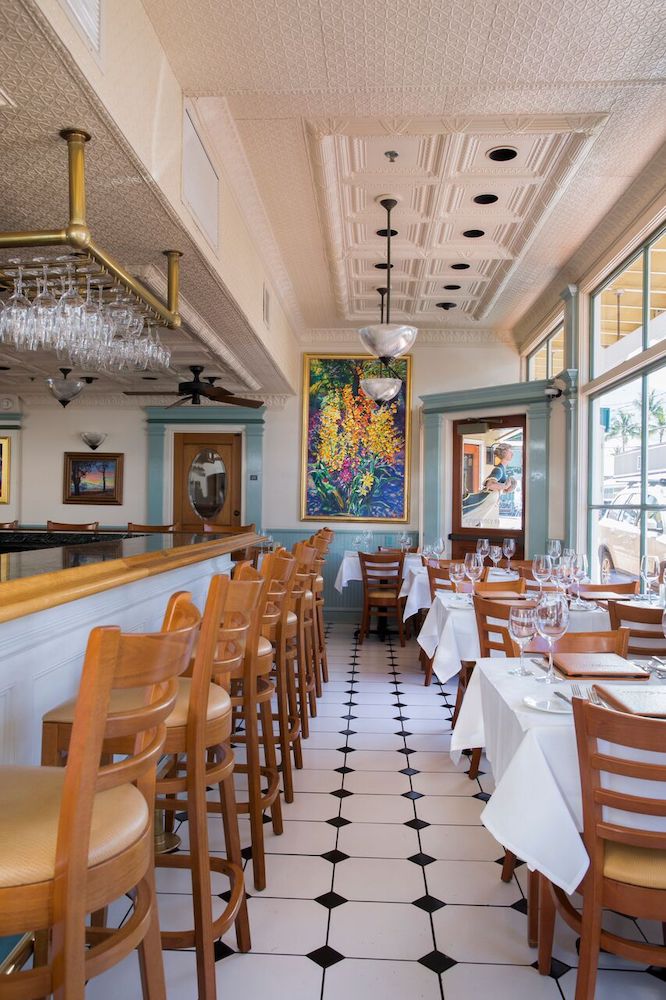 Lahaina Grill
Lahaina Grill is a historic, art-filled bistro inside the iconic Lahaina Inn that feels miles apart from the more rustic, seaside environs of The Mill House or Mama's. Because of its tourist-friendly location, Lahaina Grill somehow feels more approachable, with decor akin to something one might see in a Norman Rockwell painting.
The food at this fine dining establishment is Italian-inspired, but the menu betrays the restaurant's tropical roots, incorporating local ingredients with aplomb. They also have gluten-free options.
Diners enjoy elegant, architectural dishes like the popular Grilled Polenta Stack and fresh Bufala Tomato Salad. The entree roster includes items like masterfully-cooked Veal Chops and Veal Osso Buco.
For dessert, we recommend the signature Kula Lime Tart. Made with the eponymous local citrus and a beautifully-toasted meringue, it's a gorgeously decadent taste of the islands plated with the finesse of a European patisserie.
The cocktails, like the restaurant itself, have a nostalgic charm. Sip on a classic Lemon Drop or Mango Margarita at the dandy bar, replete with 1950s watercolors, filigreed crown molding, and cradle-backed chairs. The surrounding paintings and black-and-white checkered floor tiles reminisce of a certain mainland Americana that feels vaguely familiar and surprisingly welcome here.
At an island restaurant that could easily rely on tiki bar decor, Lahaina Grill insists on a more exacting standard. This has garnered the restaurant multiple awards, including being named a "Top 10 Fine Dining Restaurant in America" on TripAdvisor.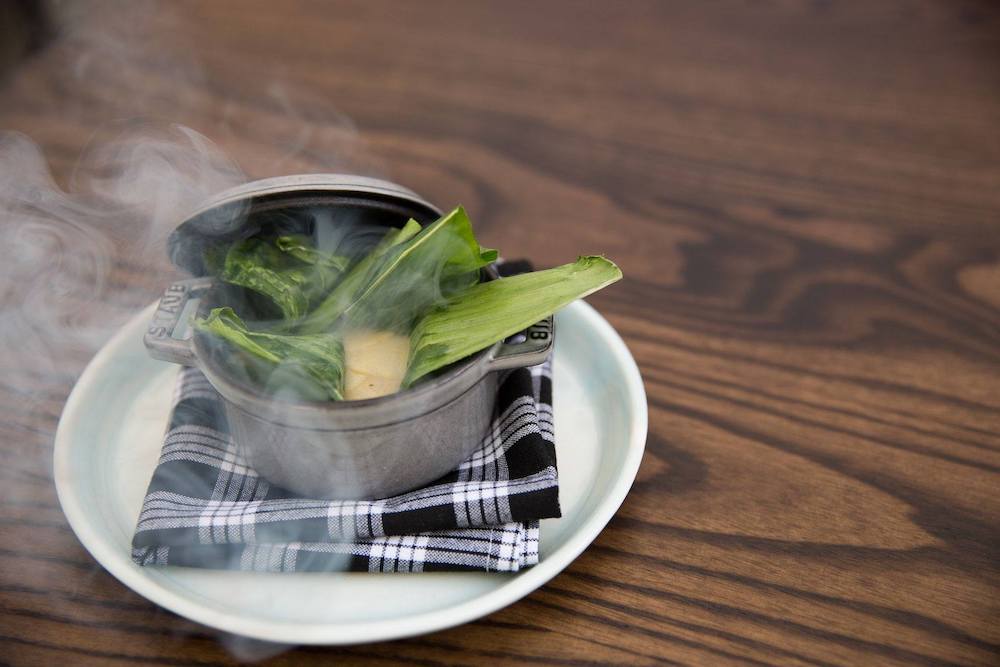 Lineage
While Lineage's location inside an upscale outdoor mall might initially leave some views to be desired, the Filipino-Hawaiian dim sum at this Diner's Choice favorite is worth gathering for. We love sitting at the cozy, sunken outdoor tables at night. Or, curl up inside the minimalist-yet-earthy stained wood interior. Locals love it.
Part of the appeal stems from the management. Chef Sheldon Simeon was named "Fan Favorite" both times he competed on Top Chef; he was also recently featured in Gordon Ramsey's new National Geographic series, Uncharted. (Simeon taught Ramsey how to make traditional Hawaiian Spam n' Eggs. He's that kind of guy.)
Try Lineage's signature Maneki-Neko ("beckoning cat") cocktail, featuring an egg foam imprint of a Chinese good luck cat, and fresh herbs. It's as beautiful and tasty as it is endearing. They also have a great selection of locally-brewed beers, and the service is wonderfully attentive.
For dinner, order the shareable crispy whole fish, the Huli chicken, or the Lamb Caldereta. (Made with Ni'ihau lamb, szechuan, chow fun, and sous vide egg. Yum!) It's all delicious, and fun to share as a table.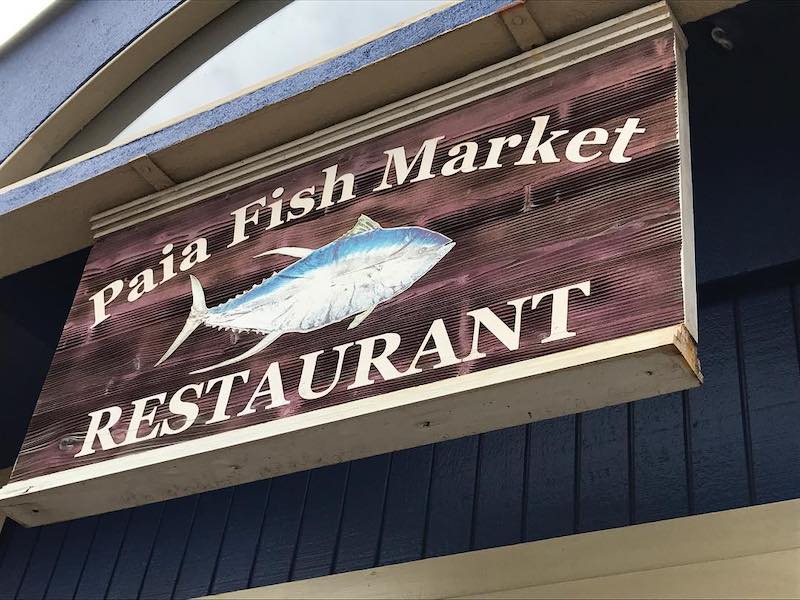 Pa'ia Fish Market
Quaint Pa'ia– a small town known as the "last civilization before the Road to Hana"– has its fair share of hidden foodie gems. Excellent ice cream awaits at Artisan Ice Cream, and coffee lovers adore Paia Bay Coffee Bar. But far and away, one of the best restaurants in this Maui border town is Paia Fish Market.
Paia Fish Market has been serving some of Maui's freshest fish since 1989. It's a favorite among locals and elders who live in the area. Try their ginormous Ono Burger ("the best fish burger on Maui"). The delicious Cajun Opah Salad is also a refreshing twist on a classic Hawaiian fish.
This place has a straightforward, unfussy menu. First, choose your fish– typically mahi mahi, ono, snapper, opah, salmon or ahi. Then, choose your preparation: grilled, sauteed, cajun style, or blackened. It's as simple as that. Almost all fish is cooked with basic spices and served with either vegetables or french fries. The owners like to let the freshness of the fish do the talking.
There are, of course, fried fish options, too. See, for example, the crunchy deep-fried calamari (another area favorite)– and the deep-fried shrimp. We also love PFM's fish tacos and super fresh fish burger options. A cajun-style ono (aka wahoo) burger is a great way to experience this local white fish.
By popular demand, Pa'ia Fishmarket now has locations in Kihei and Lahaina. For the classic experience, go to the original location in Pa'ia.
Paia Fish Market is a good destination for those with dietary restrictions. Paleo diners, health-obsessed eaters, low-carb folks, diabetics, celiacs, and picky eaters can all find something great on the menu. The grilled ahi seafood salad is a particularly popular healthy choice.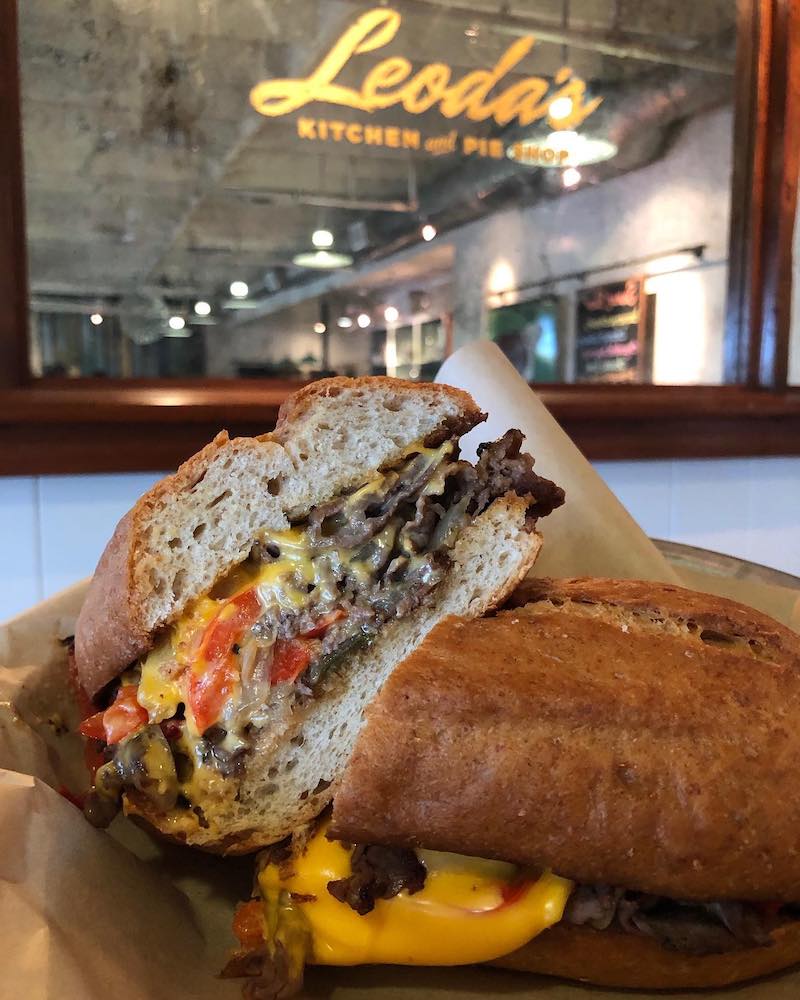 Leoda's Kitchen & Pie Shop
We love Leoda's charming, super famous banana cream pies– and the adorable "mini pies" that they serve at the walk-up counter. (They also have lilikoi pie and chocolate haupia, but that's another story.) Lunch at this Olowalu staple is practically de riguer.
We love stopping here when driving from Upcountry Maui to Lahaina. The food is reliably delicious and relatively cheap. (Plus, there's excellent humpback whale watching at many of the overlooks on nearby Honoapiilani Highway.)
Overall, Leoda's Kitchen & Pie Shop is known for their excellent, filling burgers and sandwiches, like the Hawaiian-style cheesesteak featuring house-roasted Maui beef, kula onions, bell peppers and American cheese on a hapa hoagie. (See image above.)
Pair this with a local banana bread beer (a real thing!) or a lilikoi (passionfruit) mimosa, and you're good to go. No need to make a reservation, but on the weekends, expect a lively crowd.
There's a lovely farmers market next door to Leoda's that's open from 8:30 AM to 5 PM. It features a popular juice truck and vendors selling unusual sundries like garlic chips. This is a cool place to stop along the scenic coastal drive to Lahaina, or after lunch.
Nuka
Nuka restaurant in Ha'iku is a fantastic Izakaya-style sushi restaurant whose fans include everyone from Woody Harrelson and Owen Wilson to Oprah. This is easily the best sushi on Maui, and it always draws a crowd. Go early (the restaurant is only open for dinner) to secure your spot. (There will likely be people sitting on the outside benches before the restaurant even opens.)
We love the insanely beautiful dragon roll and generous seaweed salad. Plus, Nuka is close to the Temple of Peace and Ho'okipa Beach (the best place to watch windsurfers in Hawai'i).
Best of all, the menu supports local fishermen and farmers, which is why the specialty sushi rolls can be quite seasonal. We love their fresh sashimi, general seaweed salads, and artsy decor.
Nuka is open from 4:30 to 10 PM every day, and they don't take reservations. Go right when they open, or expect a wait.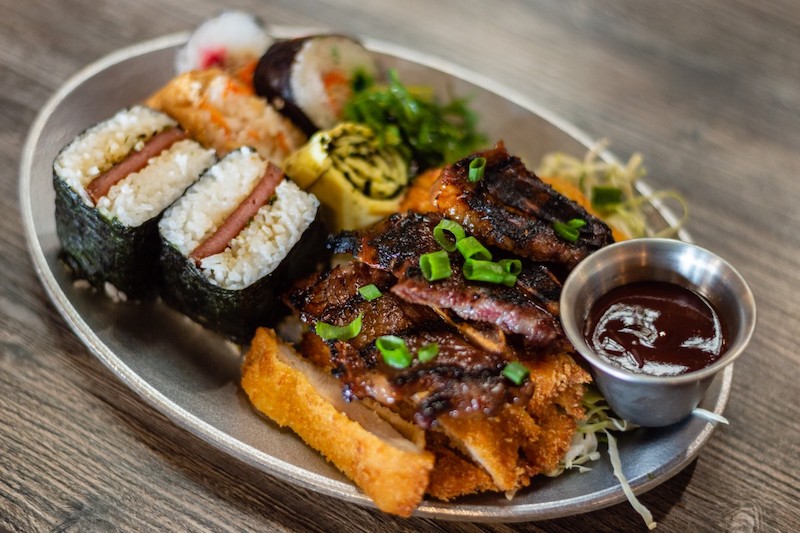 Da Kitchen Cafe
Don't let Da Kitchen Cafe's suburban, strip-mall location in Kahului fool you: this is one of the best, most popular restaurants on Maui. Known for their signature "island soul food," Da Kitchen is always bustling with locals and tourists alike.
People come here for the generous portions of classic Hawaiian food (think pork belly, rice bowls, loco mocos, acai bowls, and the like). Breakfast here is super popular and they have a dedicated gluten-free menu that is safe for celiacs.
Still, the signature item on the menu is the deep-fried spam musubi– a local delicacy that Da Kitchen takes into overdrive by frying in tempura batter. We also recommend the Garlic Shrimp Bowl, the Ahi Poke Bowl, and the Pork Belly Bowl.
The Kahlua Pork and Polynesian Paralysis Loco Moco, meanwhile, are ideal for carnivores and those seeking value. (Objectively, the portions here are insanely huge. If you're one of those people who really optimize for value when eating out, this is the restaurant for you. One meal is enough to split between two-three people.)
Da Kitchen also serves a "Notorious B.I.G." loco moco, which features local hamburger, chili, Portuguese sausage, bacon, eggs, cheese, mushrooms, and SPAM over Hawaiian pork fried rice. (It's so large that you actually get a prize if you eat it all.)
Ultimately, as you might expect, this is the kind of the place Guy Fieri would visit– and he has, multiple times. His signature graffiti is on the wall to prove it.
Hali'imaile General Store
Located on a pineapple plantation in Upcountry Maui, the Hali'imaile General Store is a beloved historic cafe and sundries shop that attracts locals and tourists in equal measure. Celebrity Chef Beverly "Bev" Gannon built this American-Hawaiian-Asian fusion restaurant out of a mom-and-pop general store. As you may surmise, the name hasn't changed since it became a restaurant.
Famous for their crab pizza, perfectly-cooked scallops, and satisfying, elevated burgers, the restaurant tends to attract repeat customers. Hali'imaile General Store is one of Maui's most internationally recognized restaurants.
To date, it has won its fair share of awards. As a result, it's been a popular island dining destination for over 28 years. (And yes, Oprah approves.)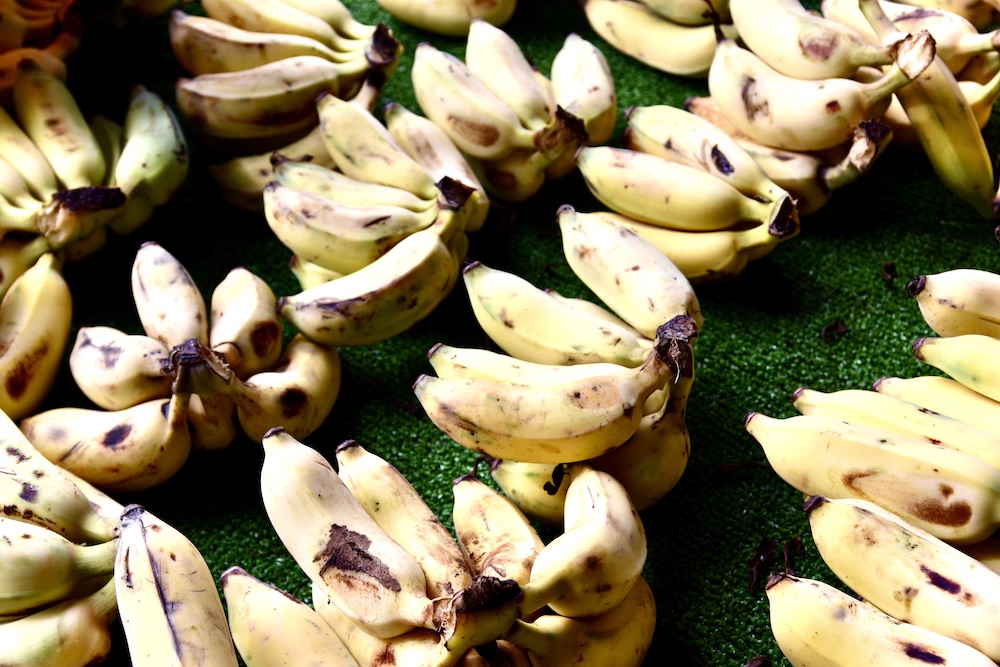 What To Eat and Drink in Maui (i.e. Local Foods To Look For On Menus)
Local Maui beef
Sweet Kula onions
Kula lavender-infused baked goods
Walu (Hawaiian butterfish)
Wahoo + opia (two other popular local varieties of white fish)
Poke
Spam musubi (fried or regular)
Maui Gold pineapples (you can also buy them at the airport as a souvenir)
Passionfruit (the best are from farm stands in Hana!)
Hana honey
Cocktails made with Old Lahaina Rum or Mahina Rum (and local sugar syrup and local tropical fruits, etc etc)
Mai tais (the original Hawaiian cocktail!)
Fresh coconut ice cream (ideally from Coconut Glen's on the Road to Hana)
Local chocolate
Kona coffee, cloud forest coffee, and Ka'anapali-grown coffee. Whew!
***
Related: Here's where to see the Best Sunsets in Maui.
Visiting O'ahu next? Read our guide to Honolulu's 25 Best, Most Amazing Restaurants.