London might be known for its high tea and English breakfast, but it's also a cosmopolitan foodie city that knows a thing or do about good Indian cuisine. Having a curry in London is a quintessential food experience in the city, after all.
Below, we spotlight where to get the best Indian food in London, a city that knows it's way around a thali. We include mentions of which restaurants are best for vegan or vegetarians, and which have more of an Indo-Western or Hybrid influence.
Whether you're looking for excellent Indian cuisine or the kind of Indian cuisine you can only get in London, these restaurants are worth writing home about. After centuries of trade, colonization, and interchange between England and India, the sheer variety of Indian food in London is now a uniquely ensconced part of the culture. There are thousands of Indian restaurants in the city, each offering something unique.
If you're a foodie and you love Indian food or International cuisine, you've gotta give it a try here. Scroll on to get our run-down of the best, most unique Indian restaurants in London (in no particular order, of course). It's all so good.
Cheers!
***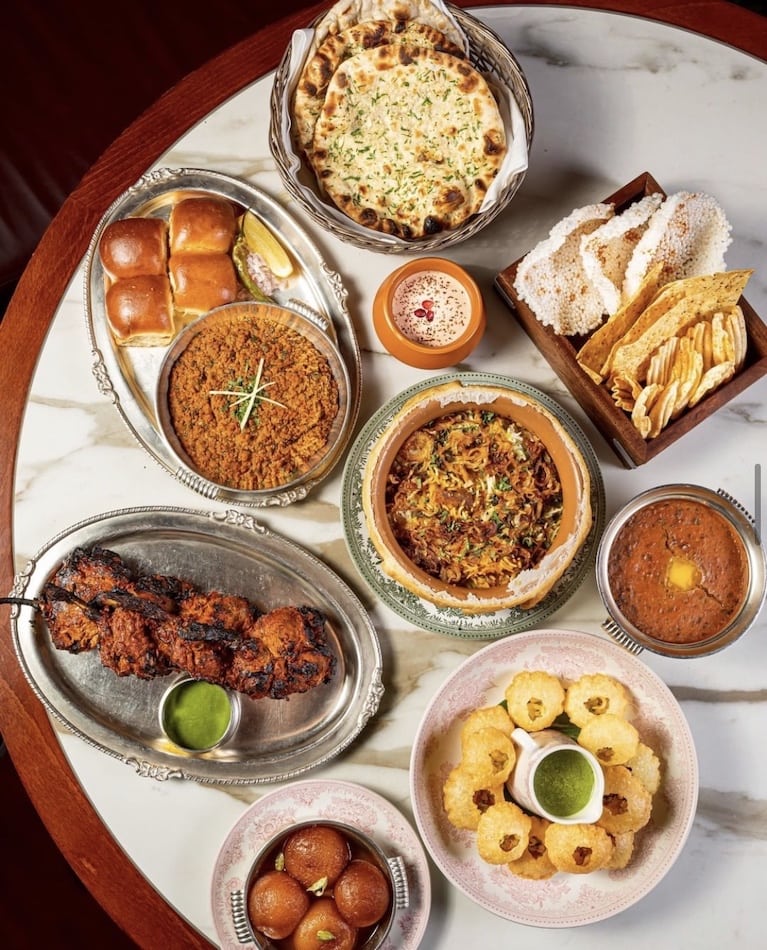 Gymkhana (Upscale Contemporary Indian Cuisine)
Gymkhana is a Michelin-starred Mayfair classic that serves great contemporary Indian cuisine in chic, Old World digs. It was named London Restaurant of the Year in 2015 and it is still one of the city's most buzzed about scenes.
The restaurant's aesthetically-pleasing exterior includes an often-photographed floral display facing Albemarle Street. However, make no mistake: this is also one of London's best upscale Indian restaurants because of the food.
Here, skilled chefs hybridize Indian culinary tradition with Western flavors with aplomb. Take, for example, their innovative Tandoori Broccoli with Chilli & Green Mango raita, or the insanely delicious Patiala Fried Chicken Wings with Tomato Chutney. (A decadent Indo-Western fusion if ever there was one.)
We also love the Beetroot Chops Pao with Peanut Ghati Masala and charming Chettinad Duck Dosa with Coconut Chutney, a classic since 2013. Ultimately, whether you're seeking out a Gymkhana feast consisting of Goat Keema Pao, Tandoori Lamb Chops, Gol Guppa, and Gulab Jamun— or if you want something decidedly English-inspired like Game Bird Samosas, Partridge Pepper Fry, Roe Deer chops or Pigeon & Quail Seekh Kebabs— this restaurant can accommodate the preference beautifully.
Even simple dishes like the Achaari Paneer Tikka, also from the Tandoor, look stylish. (They plate it to look almost like Mexican street corn.)
Thus, for foodies who like to eat with their eyes, Gymkhana is an all-around hit. The interior is as stylish as the plating, full of dark wood, leather booths, and warm mood lighting. Sit on the ground for or the slightly-more private upstairs and enjoy seasonal delights like a Diwali tasting menu featuring Raj Kachori (the so-called 'King of all Kachoris').
Above all, be sure to experience the legendary Wild Muntjac Biryani, a restaurant classic sealed biriyani with a crispy seeded pastry cover (England's pie-like answer to the traditional bread cap). Once you cut it open, an incredible fragrance wafts across the table, and persists in memory long after the meal is over.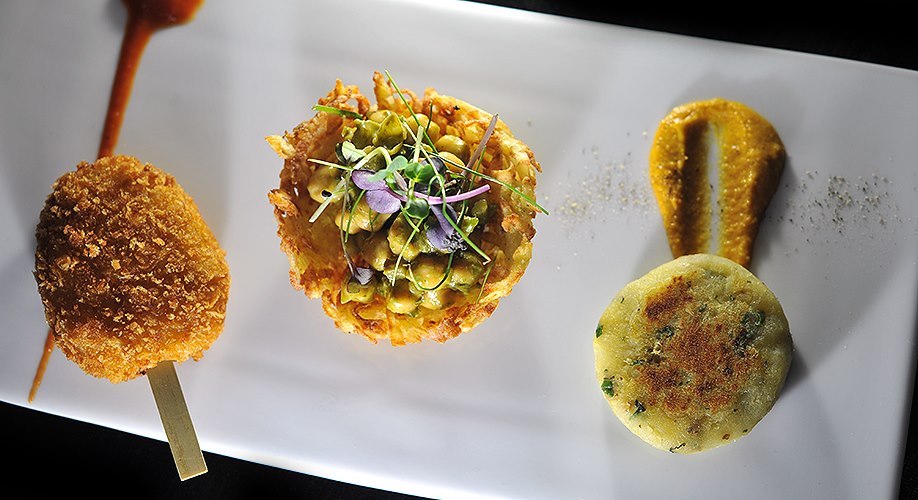 Zaika (North Indian Cuisine Fit For Awadhi Royalty)
We love the ornate interior at this gorgeous South Kensington Indian restaurant, which was once a bank. Today, Zaika's luxurious wood-paneled interior is filled with silk drapes and antiques that make the dining aesthetics just as lovely as the food. It looks like something out of The Grand Budapest Hotel inside!
Here, you can feast like Awadhi royalty, enjoying the vivid flavors and culinary traditions of Lucknow. (E.g. Where my mother-in-law is from!) This is decidedly North Indian cuisine. This means it will be richer and generally less spicy than, say, South Indian or Gujarati food.
The vibe, moreover, is upscale– but it isn't pretentious. Zaika has great poppadum and we love gently "karat-chopping" them to break them up, which is a local tradition.
Much of the menu here highlights Nawab and Moghul cooking techniques– for example, Dum Pukht aka "slow cooking". (<— Yes, that phrase sounds questionable in English, haha.) Nevertheless, the creativity subsuming each dish is informed by local, seasonal ingredients.
Zaika is known for their various seared scallop dishes, which vary each season. Recent preparations include curry leaf, coriander, and chilli-crusted scallops served with a smoked red-pepper chutney. We also love their past tamarind preparation with mixed peppercorns and roasted peppers. They're all delicious and enchanting.
Also, it's generally possible to walk in here without a reservation, but we recommend making one if you're not flexible on time.
Ultimately, this landmark Indian restaurant serves some if London's most creative, modern Indian cuisine. It's a wonderfully lively environment for social, upscale Indian dining in London. Zaika's desserts are also wonderfully colorful and stunning– think pastel piped kulfi and other micro-gastronomy inspired presentations. Beautiful!
(And, for what it's worth, even the wash rooms here are pretty.)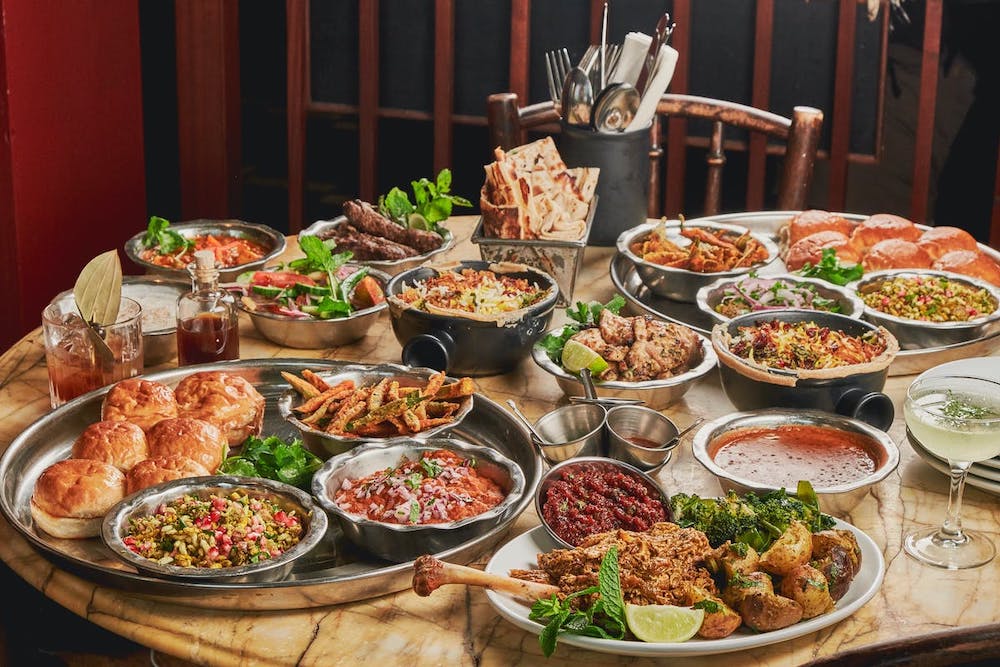 Dishoom (Industrial-Chic Bombay Traditional)
Dishoom in Covent Garden has a reputation that precedes. One of London's most popular Indian restaurants pays homage to the Irani cafés and kaleidoscopic culinary traditions of Bombay. There are multiple locations in Covent Garden, Kensington, King's Cross and elsewhere, but we like the youthful, industrial-chic ambiance of the Shoreditch location best. (Trust me.)
Dishoom offers Bombay-style breakfast, lunch, afternoon chai, dinner, and late-night tipples (India's answer to bar snacks). Their tagline, "From Bombay With Love", says everything you need to know about the ambiance.
Dine at Dishoom from breakfast 'til dinner, feasting on items ranging from a morning Bacon Naan Roll to Lunchtime salad plates. In the evening, tuck in to some Lamb Raan, a flame-grilled leg of lamb marinated in chili, garlic and ginger, sliced and presented with mint chutney and fresh-baked roomali roti. It's divine!
The cafe crisps (served with "masala magic" and a squeeze of lime) are also great— and be sure to ask about the chef's special. (It's different at each location.)
If dining in the evening, round out your meal or arrive early to enjoy an East India Gimlet or a Viceroy's Old-Fashioned; Dishoom does them well.
For those who want a hybrid English Pub experience, order the Dishoom IPA. It's a welcome, unique reflection of the establishment.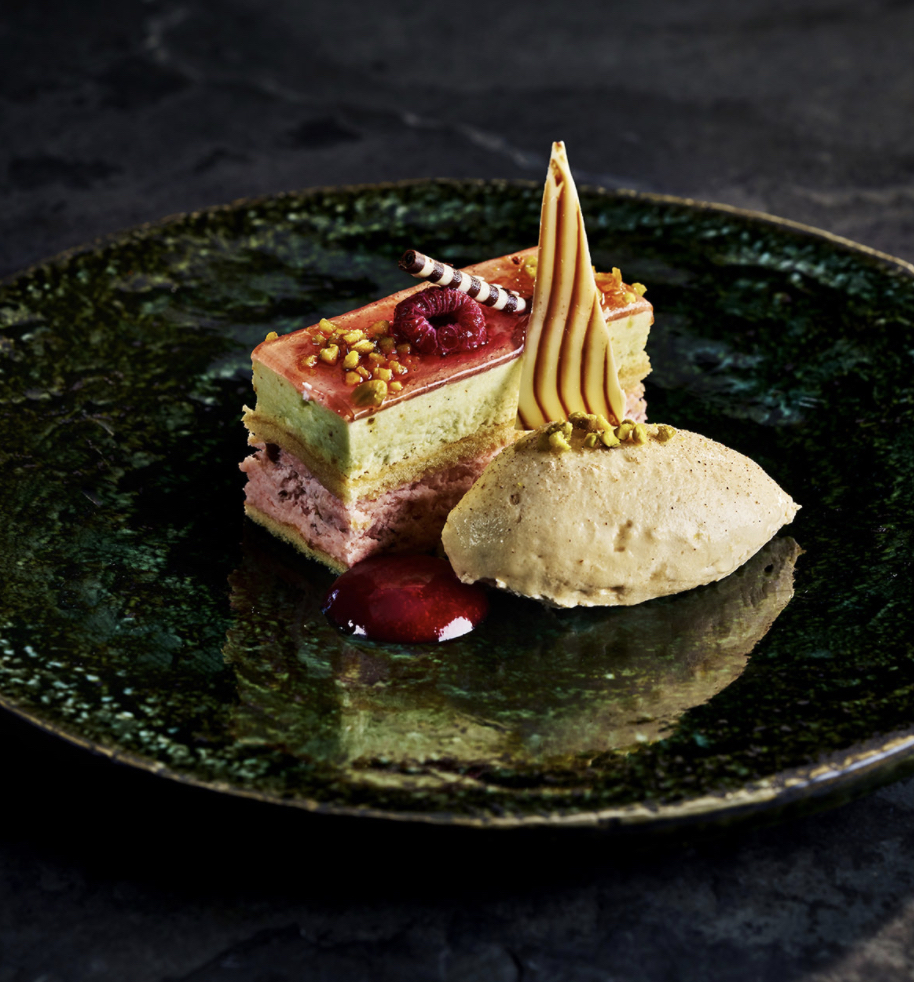 Madhu's (Family-Run for Over 40 Years)
This family-run London Indian food staple is quite the experience. Madhu's is frequently cited as local's favorite upscale Indian restaurant in London.
For over 40 years, Madhu's has been serving beautiful, romantic, banquet-style Indian cuisine in a colorful, opulent setting. Signature dishes like Chef Poonam Ball's Tandoori Lobster Tail and Nargisi Kofta with Quail Eggs are dazzling and seemingly merit a special occasion. As one might therefore expect, Madhu's is a popular restaurant for Valentine's Day and Anniversaries.
Ultimately, however, this restaurant imparts a somewhat "club-like" environment. (A plus for people who like to "dress up" or "see and be seen"; though not so great for those who want an intimate, quiet meal.)
Thus, if you're looking for a London dinner spot for a night out on the town, this is a good place to include in your itinerary. The service is congenial and obsequious. Basically: go here if you want to impress a date.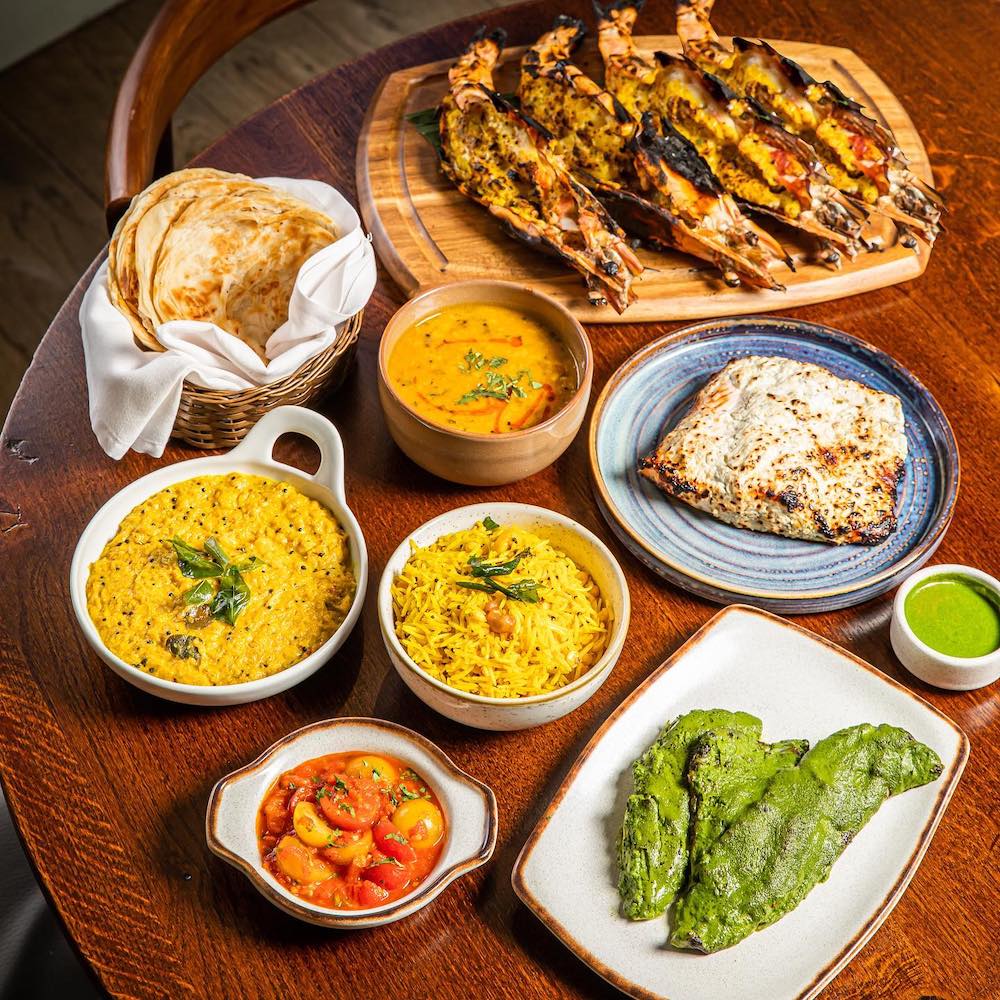 Trishna (Coastal Indian Cuisine)
Trishna, in Marylebone, serves coastal Indian cuisine that ranks among the best in London. The restaurant gives off the vibe of a coastal European hamlet, with its white-walled decor and earthy ceramics. Still, the polished service at this decidedly Indian fine dining restaurant makes it clear from arrival that you're in for a special treat.
"Softie" lovers should be sure to try the super unique Nandu Varuval (soft shell crab, green chilli, white crab, tomato chutney). Order it on the A La Carte menu alongside signature starters like Aloo Tokri Chat (ratte potatoes, masala chickpeas, tamarind, sweet yoghurt) and the Nariyal Scallops (with coconut chips, vermicelli upma, chilli, and coconut chutney –> This is so good!).
We love the Telicherry Squid & Shrimp, a rich pot of umami infused with curry leaves, Indian onion, raw mango & coconut chutney– as well as the seasonal salmon tikka, which is always beautifully seasoned.
For mains, all eyes look towards the Dorset Brown Crab (coconut oil, pepper, garlic, curry leaf) and Kerala Prawn Curry (coconut, mustard, Malabar tamarind). These are two perfect demonstrations of the menu's finesse at incorporating local, regional ingredients into a global culinary tradition.
Not Just for Seafood Lovers
And just because critics love their seafood dishes doesn't mean Trishna won't also please carnivores.
The Lemon Chicken Chops (Kaffir lime, lemongrass, Puy lentils, mango & coconut chutney), the Tandoori Lamb Chops, and mouth-watering Gongura Lamb with pickled sorrel leaves, poppy seeds, and Guntur teja chilli are just a few fabulous embodiments of what the restaurant does so well. The flavors here are sensational.
Nevertheless, the seafood-filled tasting menu is the real draw here, and definitely the thing to order for the quintessential experience. If you love shellfish and seafood– especially in the context of Indian food– this is hands down the best place inn London to order it.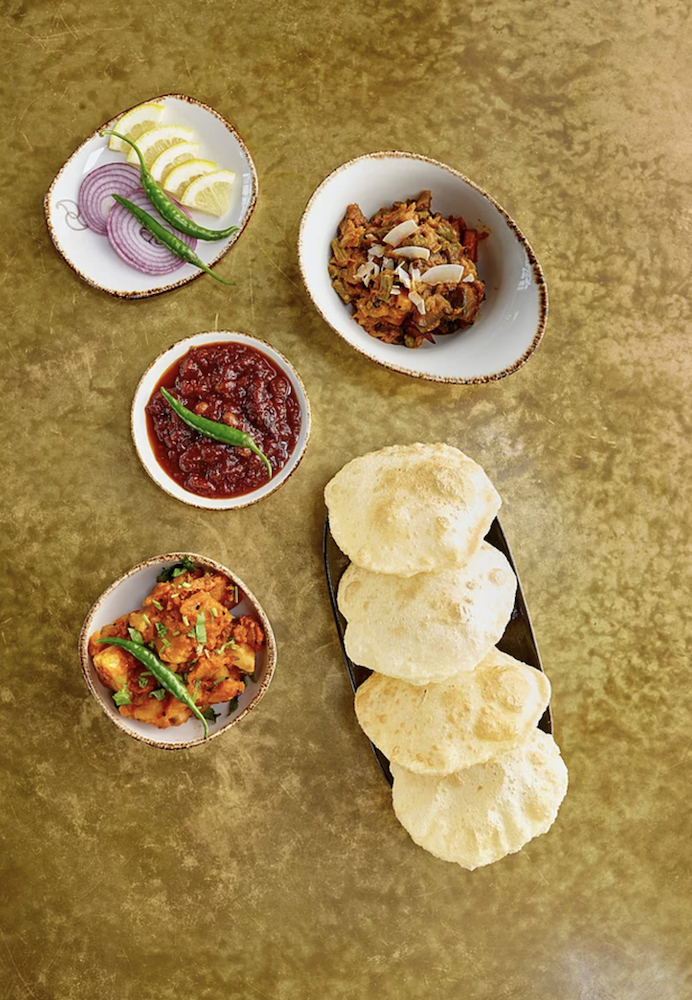 Darjeeling Express (Acclaimed Celebrity Chef)
Darjeeling Express is an acclaimed family-run Indian restaurant helmed by Asma Khan, the first British chef to feature on Netflix's Chef's Table (Season 6). The restaurant has a beautiful, midcentury dining room where all cooking is done by a team of exclusively female chefs. These ladies cook from the heart.
While most "traditional" Indian restaurants in London still ship their vegetables from India, Khan insists on using only seasonal British produce. Fortunately, this integrity of flavor shines through in the food.
As a result, even the lachedar parathas (buttery, flake-y, and layered with ghee!) + zeera aloo combo tastes somehow fresher and more vibrant than any you may have had before.
Ultimately, at Darjeeling Express, be sure to try the Bihari Phulki, the chef's specialty, as well as the classic Dum Biryani. These are two staples.
Locals also love the Paneer Malai Korma with lemon and cashew nut rice (<– the best part!) as well as the chicken kati roll. For dessert, try the shahi tukra (decadent Indian bread pudding, a treat worth saving room for).
Check Out Asma's New Cookbook
After years of popular demand, Khan's debut cookbook Asma's Indian Kitchen is also now available in hardcover on Amazon. (<– This is a fabulous gift for people who love Indian food or cooking at home!)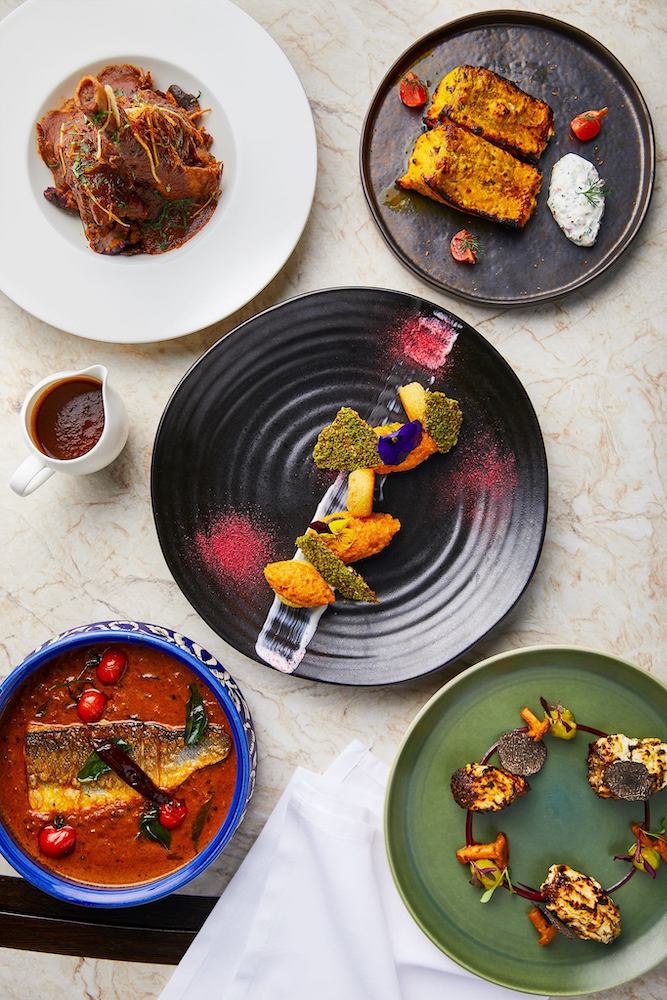 Kutir (Modern Heritage Cuisine in an Elegant Townhouse)
By now, Kutir has firmly ensconced itself as a classic of the Chelsea food scene. Rohit Ghai's poshly designed indian restaurant is one of London's coziest, featuring chicly-patterned babydoll chairs, antique chandeliers, tasteful paneling, and shelves stocked with fine china and other worldly curiosities. The menu, like the decor, is driven by aesthetics.
For design lovers, moreover, the delicious food is just a bonus. For a real treat, embark on one of the chef's Expedition Tasting Menus. These multi-course meals explore seasonal takes on some of India's best-loved dishes from a wide variety of regions. (The chef's travels and kitchen innovations intimately inform each plate.)
Otherwise, eat here for the gorgeous tawa salads, achaari chicken, tandoori salmon, and masala prawns. (<— A curry of pink prawns with coconut, sesame, and samphire. So lovely!)
Dishes like the pomegranate paneer and truffle pulao offer unique twists on classic comfort dishes. Regional staples like lamb roganjosh, meanwhile, please even the most seasoned foodies. If you want to eat globally-inspired Indian food in London, this is a beautiful place to do so.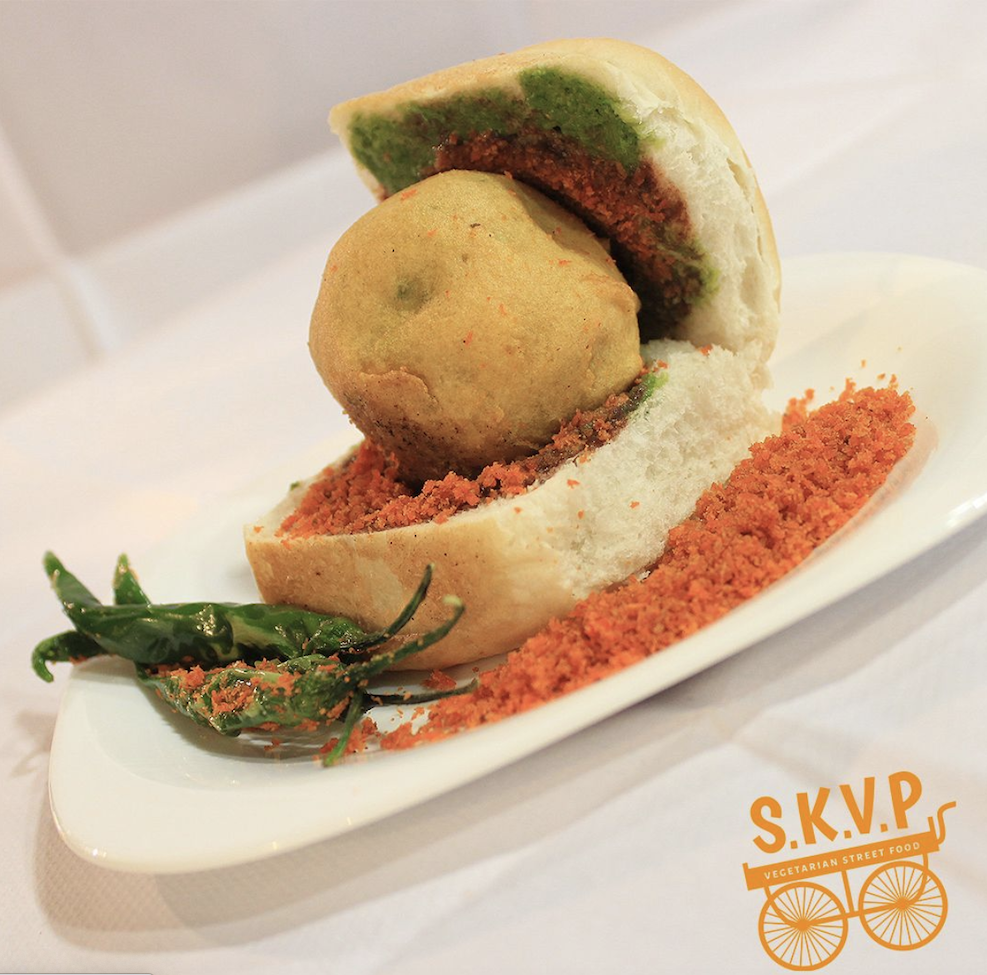 Shree Krishna Vada Pav (Mumbai-Style Street Food)
This vegetarian street food staple is super casual and super cheap, but it's also great. Shree Krishna Vada Pav is a South Indian restaurant that specializes in fast-casual Maharashtrian style Indian cuisine, snacks, and wraps.
They also serve the most affordable and delicious Vada Pav in London. (Vada Pav is a fluffy bun stuffed with a potato patty that's fried in butter-y gram flour batter. The classic comes with green chutney, tamarind chutney, and garlic powder chutney. Ultimately, this is Indian street food at it's finest: carbs on carbs with lots of sauce!)
SKVP, as it is lovingly known, has multiple walk-up locations. Find them at Pinner Road, Hounslow, Harrow, and Slough. (And FYI, people come for the fast takeaway, not so much the ambiance.)
Stop here for piping hot Vada Pav, Kachchi Dabeli, Misal, Bhel Puri, and other scrumptious vegetarian Indian dishes to-go. They even have everyone's favorite nostalgic Indian junk food: chole bature! (Like every dish on the menu, it's cheap, tasty, fast, and filling. My Punjabi relatives would be proud!)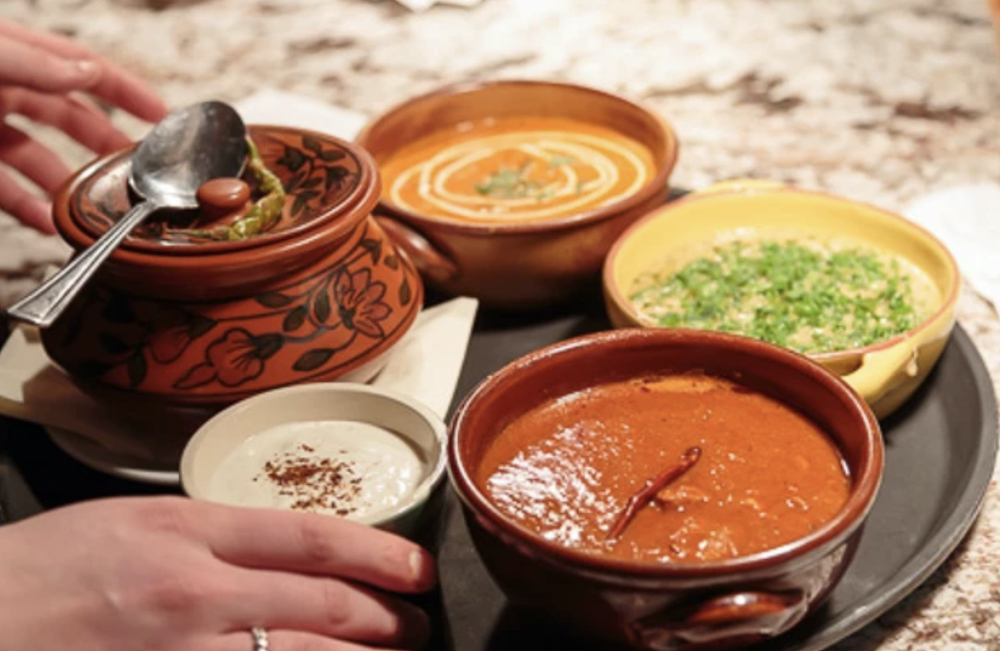 Dastaan (Casual, Rustic Fair From World-Class Chefs)
This bright, casual cafe might seem unassuming, but Dastaan is now recommended by the Michelin guide! Helmed by two Mumbai-taught chefs who are veterans of Gymkhana (detailed above), Dastaan is all about storytelling through food– especially the curries. (And this makes sense, as Dastaan literally means "a story"/"fable"/"tale" in Hindi.)
This is a great place to go for Classic Chicken Tikka, Butter Chicken Masala, and exceptional Lamb Chops— three staples most locals cannot get enough of. (The lamb is absolutely insane— so tender!)
We also like the humble Samosa Chaat, and the Pistachio Kulfi. The latter is the perfect refreshing end to any Indian meal. (Really, who doesn't love a good kulfi?)
While the curries and biryanis are great, don't skimp on the appetizers and tikkis here, either. Even the chicken lollipop is inventive in it's own way, served with a compelling chilli, garlic, and tomato chutney that will have you licking your lips.
And the colorful Beetroot Tikki? Absolutely gorgeous!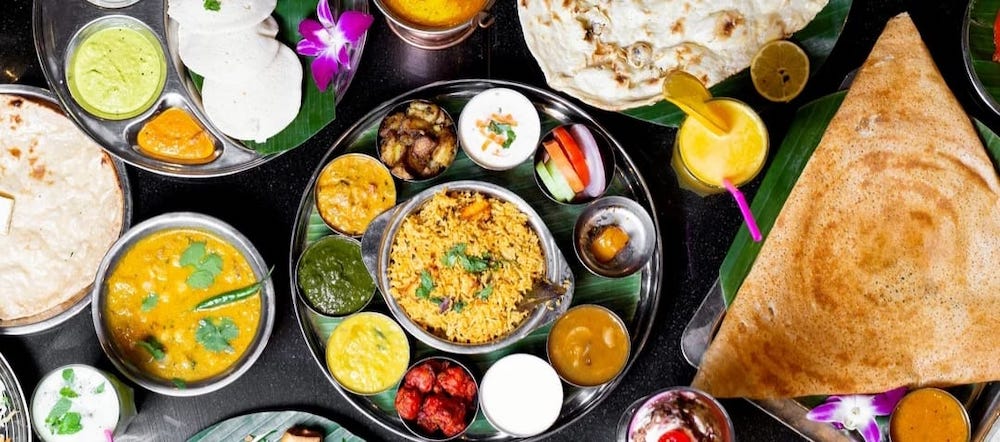 ~ Honorable Mention ~
Two other notable places to get Indian food in London.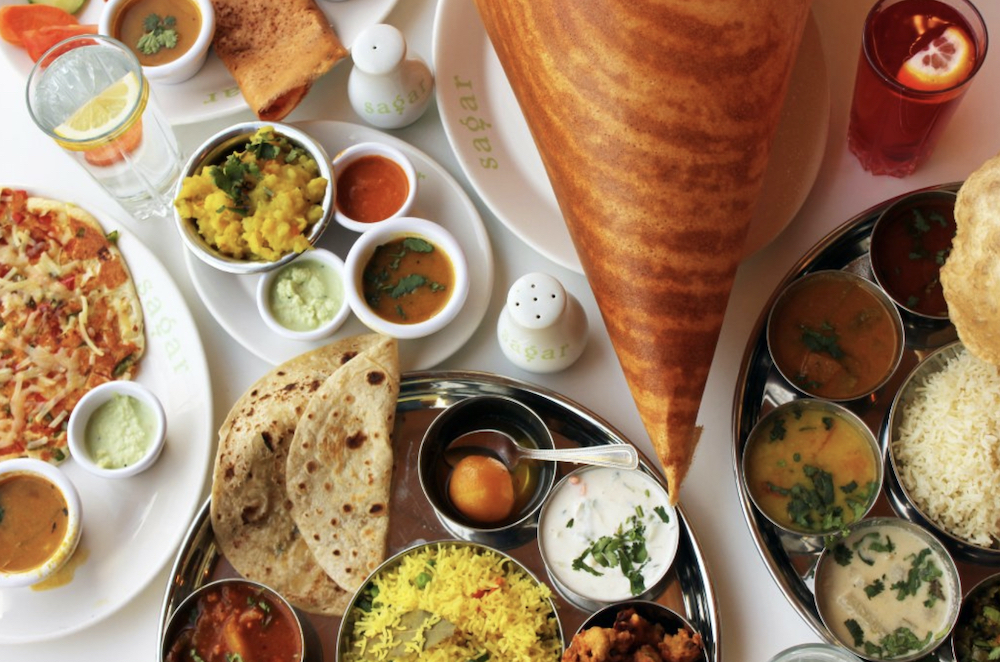 Sagar (South Indian Staples Great for Vegans/Vegetarians)
Sagar is solid choice for vegans and vegetarians seeking good South Indian food in London. The restaurant is a local chain (they have four locations around the city), but the food is reliably tasty, authentic, and enduringly consistent. It's a great option for people who have no time for pretense.
We love the masala dosas and the delicious, authentic pani puri. Idli is also sometimes hard to find in London, but this cozy South Indian specialist does the niche staple quite well.
Most people love Sagar for the special lunch thalis, but many diners also enjoy quick meals here before going to the theatre. The prices here are great, too!
Ultimately, whether you're at Covent Garden, the West End or Hammersmith location, the staff is friendly and attentive. Look for the sly smile on their faces as they carry out those giant paper doses! (They're huge! And don't worry: they'll be unfazed when you demand to take a picture.)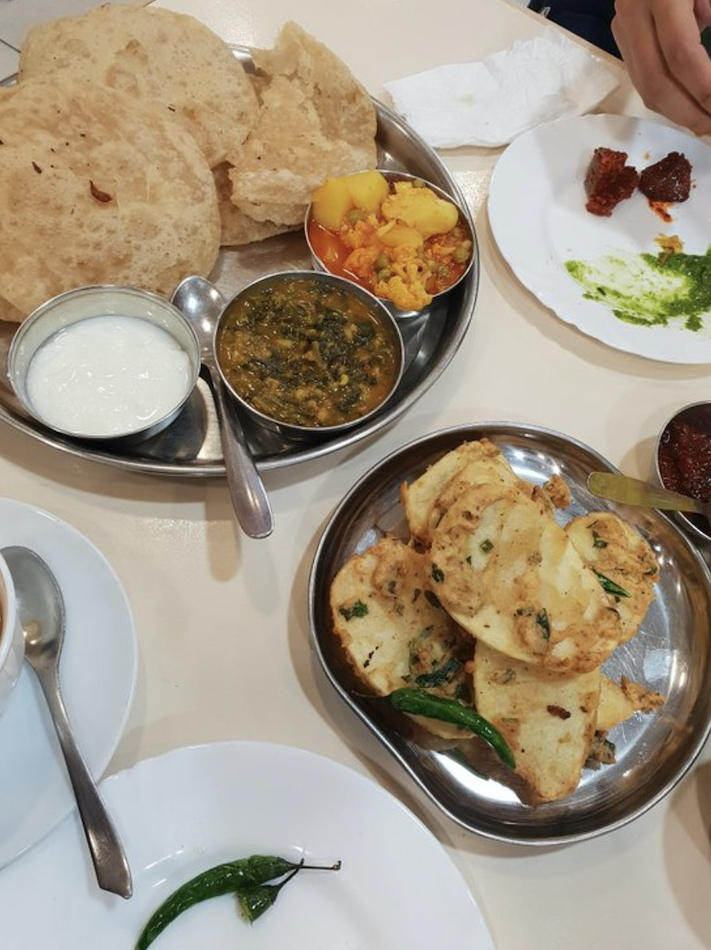 Asher's Africana Restaurant Wembley (Hole-In-The-Wall)
If you find fine dining to be a bit stiff, look no further than this unfussy hole-in-the-wall. (They don't even have a website!) London is an affluent global city, so true dives like this one are becoming increasingly hard to find.
Asher's is a minimalist snack shack. They serve fast-casual Indian and Asian vegetarian chaats like samosa and chapati in classic metal thalis. Dine here on spare wooden furniture under endearing, authentic Hindu prints. It's a true bare-bones experience of Indian snacks in London.
PSA: Some of you might be confused by the "Africana" in the name. This refers to the many Gujurati immigrants who moved to London via East Africa over England's many decades as an imperial force in the region. So yes, this is traditional Indian food, as well.
Today, the service is fast, cheap, and super friendly. It's great for locals and tourist on a budget. Ultimately, this is as close to authentic Indian street food as you can get anywhere in the city. London is full of quaint, unassuming treasures like this– as long as you know where to look.
***
Related: The 6 Best Places to Experience Afternoon Tea in London.
Everything You Need to Know About Lohri, India's Joyful Winter Celebration.