Honolulu is the great food mecca of O'ahu, where all of the island's best restaurants are located. When considering dining options in the city, most people immediately think of cocktails, seafood, and ocean views– but where to get the best breakfast in Honolulu? The answer to that question will depend on who you ask, but most locals will mention the restaurants on this list.
Breakfast has become something of an obsession for foodie travelers in recent years– maybe it's because of Instagram and other social media platforms that spread images of delicious-looking egg dishes, lattes, and pancakes far and wide.
Either way, breakfast is a great way to try local coffee, local food, and start your day off right all at the same time. (And based on the number of questions we get about breakfast options in Honolulu, there are a TON of hard-core breakfast fans out there. We feel you, breakfast lovers!)
The restaurants on this list are adored by locals and tourists alike, and range in price from cheap to super fancy. No matter what you're looking for, you'll walk away satisfied if you entrust your first meal of the day to these beloved restaurants.
From high-end brunch buffets to hole-in-the-wall organic cafes, here's where to get the best breakfast in Honolulu, Hawaii.
***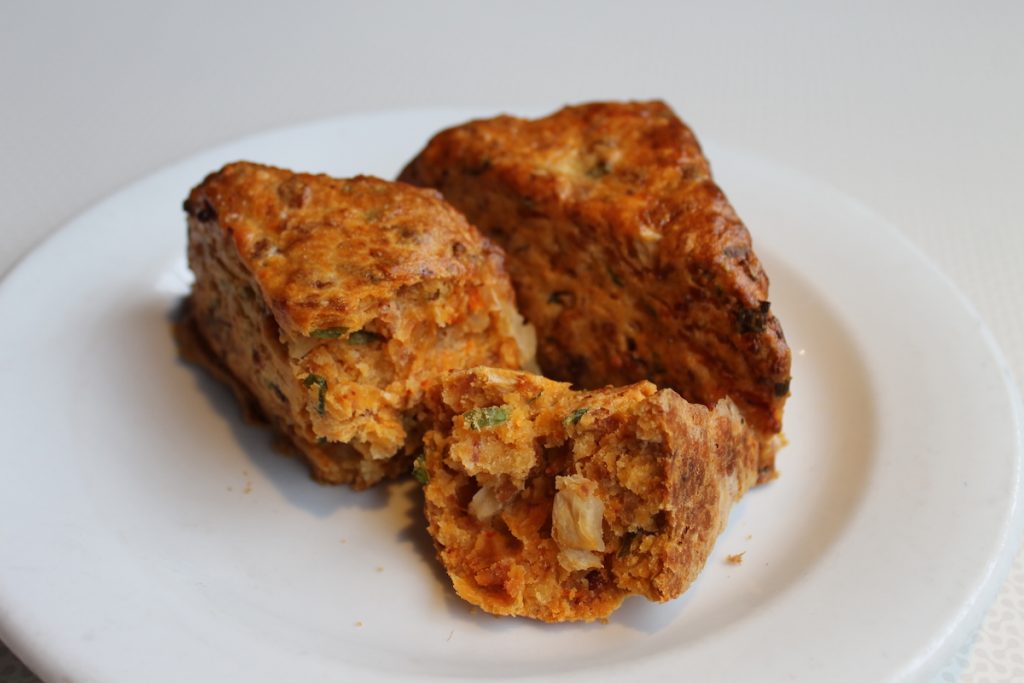 Koko Head Cafe
This popular pan-Asian breakfast joint is celebrated (mostly by mainlanders) for its celebrity chef founder, Lee Anne Wong. While the celeb chef co-sign is often what brings people in, the Breakfast Udon, Congee, house-made sausage, and savory Skillet Bowls keep them coming back.
Koko Head Cafe is also known for its savory scones (above shown) which come in a variety of unexpected flavors like Kimchi Bacon Cheddar. (Yum!)
At a recent weekend brunch, for example, we ordered a Black Sesame Yuzu muffin that the restaurant made to order. We also recommend the Breakfast Bibimbap (bacon, Portuguese sausage, ham, kimchi, soy-mirin shiitake mushrooms, ong choy, veggies, and sunny up egg served over crispy garlic rice in a hot skillet).
Or, sweet lovers can try their famous Cornflake French Toast with billionaire's bacon and frosted flake gelato. (It's nothing if not inventive.)
If there's a line outside while you wait– and there most likely will be, as the restaurant doesn't take reservations– you can pass the time by going to Gecko Books & Comics, across the street. They have an insane collection of cool comics and collector's items that will keep you busy until your table is ready.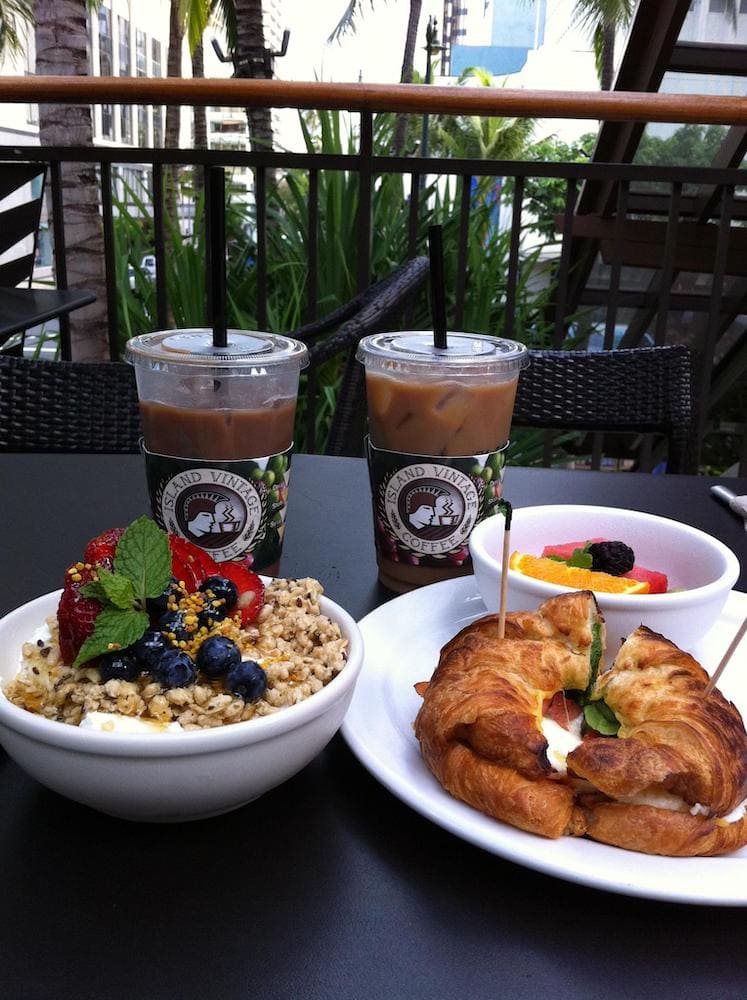 Island Vintage Coffee
Island Vintage Coffee at the Royal Hawaiian Center in Waikiki has a cult following among repeat visitors to the island. It's a welcome respite from the bustle of Bannister Street below, and yet somehow the coffee and food always feel homey, fresh, and authentic.
We love their vegan poke and the huge, colorful açaí bowls. Don't miss the Hawaiian Honey Latte, which is one of the best on the island. And if you want to try Kona coffee but won't be going to the Big Island, this is a great place to do it.
Because of its central location, Island Vintage is also great for a quick breakfast, coffee, or lunch in between doing other activities in Waikiki or greater Honolulu.
This is also one of the few breakfast places open early (6 AM, with food service beginning at 6:30 AM) so it's a great place to go if you wake up early from jet lag. (<— Trust me, it's a thing in Hawai'i– especially if you're coming from the East Coast or Europe!)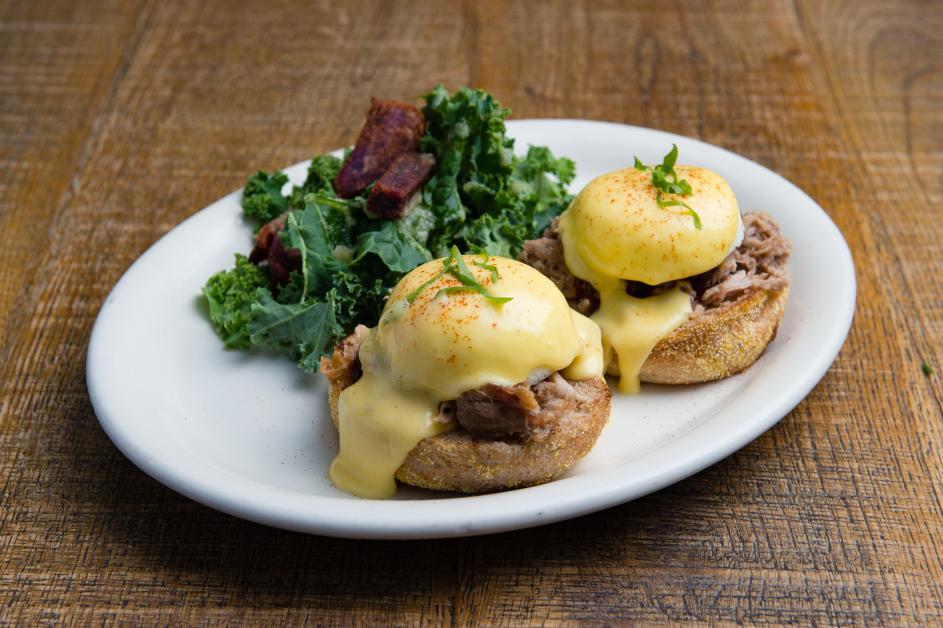 Heavenly Island Lifestyle
Don't sleep on this unassuming All Day Breakfast spot on the first floor of the Shoreliner Hotel in Waikiki. Heavenly Island Lifestyle makes the best organic, locally sourced breakfast around– and at a reasonable price, to boot! (No guide books talk about this place, but my repeat experience and thousands of enthusiastic Yelp reviews do not lie.)
Their Local Eggs Benedict with kalua pig and lilikoi (passionfruit) hollandaise is to die for. Served with locally sourced greens and a few slices of fried, locally grown Okinowa sweet potato, it's a well-rounded meal with mostly organic ingredients.
You'd be hard-pressed to find a better eggs benny anywhere on the island. (And as a former New York City food critic of 10 years, I've eaten my fair share of eggs benedict. This is one of the best I've had anywhere. Just be sure to get the kalua pig, specifically. That's a Hawaiian classic and the other options are good, but not as good as the kalua pig.)
Heavenly also does excellent pitaya (dragonfruit) bowls, styled in the fashion of an açaí bowl and topped with fresh, local fruit. The herb-crusted lamb chops make an amazing dinner option, as well!

Hoku's Sunday Brunch Buffet at the Kahala Hotel
For an upscale brunch with ocean views, there's no better place to go than Hoku's at the Kahala Hotel & Resort. Their $80 brunch buffet (worth it if you like seafood and have a big appetite!) features everything from king crab legs to a full sushi bar.
They also, of course, have eggs benedict, poke, fresh local fruit and salads, a full dessert counter, made-to-order appetizers like avocado toast, açaí bowls, and french toast, as well as classics like pancakes, bacon, sausage, and hash browns. It's pricey, but you get what you pay for and there is truly something for everyone.
Eat until you've had your fill while watching paddle boarders glide across the water at the beach below (the dining room has great ocean views).
After brunch, head over to the hotel lanai (the outdoor deck on the same floor as the restaurant) to watch the dolphins play in the cove below. It's an absolute vision of paradise.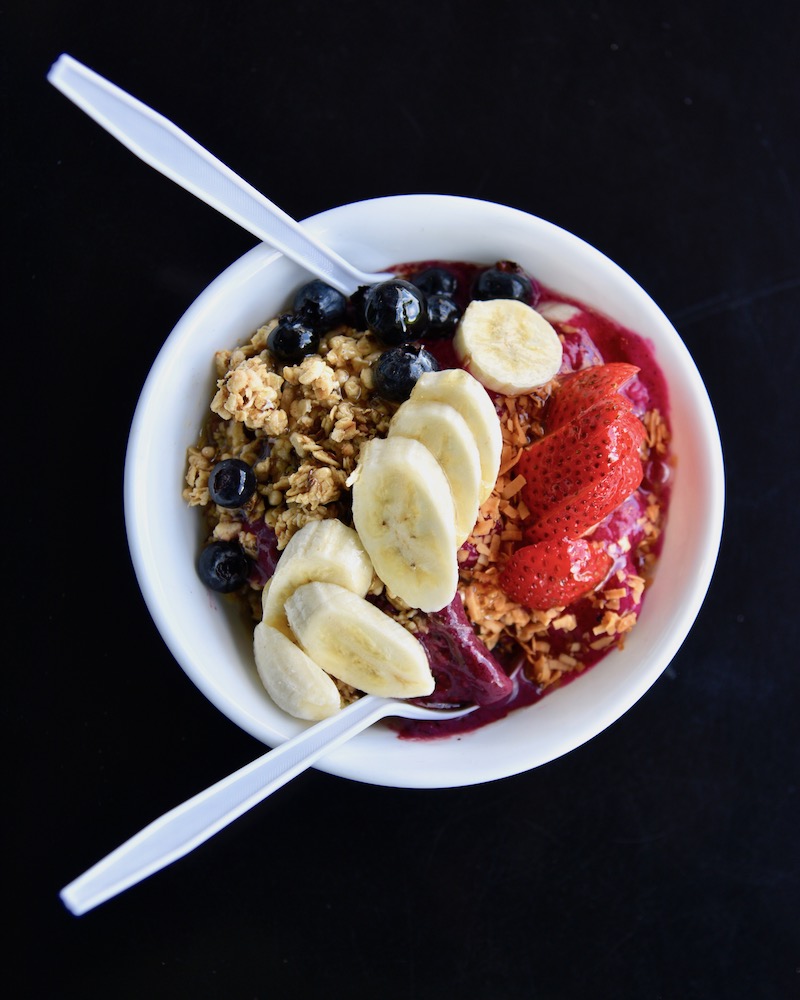 Da Cove Health Bar
This off-the-beaten-track smoothie and juice shop makes the best açaí bowls in Honolulu– at least according to locals. Da Cove is popular with students at the University of Honolulu, and is located on a semi-residential street away from most of the action in the city.
Consider stopping here en route to the North Shore, or after visiting the wildly popular KCC Farmers Market near Diamond Head. The menu consists of açaí bowls, smoothies, specialty smoothies, and juices. There are also a few to-go sandwich options.
For that reason, we only recommend going here if you want a power smoothie or açaí bowl– otherwise, there isn't really a hot service breakfast option. Swing by before or after visiting the KCC Farmers Market for a perfect start to your weekend.
Related: The 5 Most Incredible Acai Bowls on O'ahu.
Moke's Bread and Breakfast
Most people fall in love with the Kailua location of Moke's, which feels much more neighborhood-y. But for those based in Honolulu or Waikiki, Moke's Bread and Breakfast Kaimuki location is just as endearing.
The lilikoi (passionfruit) chiffon pancakes are incredible and a real star of the menu; these are probably the best pancakes on the island, next to those you can get at Cinnamon's (more on that below). They are one of my favorite things to eat on the island!
While a bit of an underdog, the omelet and meat dishes like the breakfast "Loco Moké" are great, and definitely underrated. Plus, Moke's grills their muffins– what's not to love?
We could go on about why we love Moke's, but ultimately the website really says it all: "Trust me, it looks better in person." The menu here is limited, but the food is absolutely excellent.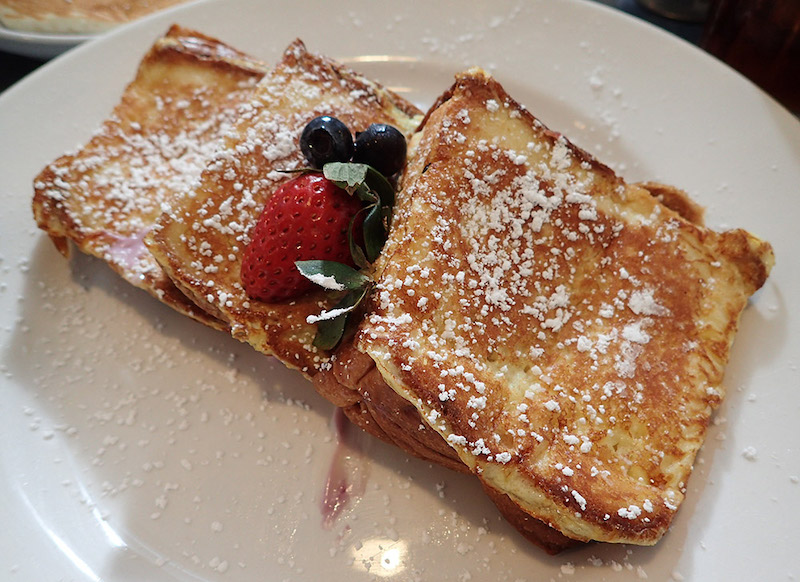 Sweet E's Cafe
Sweet E's Cafe is a great affordable breakfast option on the windward edge of Honolulu. The cafe serves reliably good, down-home diner breakfast staples that will feel familiar to visitors traveling from small-town America. There are local "regulars" and the cafe didn't even have a website until very recently.
We love their signature "Extreme Mess"– a mix of Portuguese sausage, ham, bacon, eggs, onions, peppers, and hash browns covered in cheddar cheese and served with your choice of toast. Topped with hot sauce, there's nothing better. Also, be sure to try their textbook French toast. If you want a diner-style breakfast on O'ahu, this is the place to go.
The omelets, pancakes, waffles, and kalua pork eggs benedict here are also great, if simple. (This isn't a place for gourmands or food snobs. The most exotic thing on the menu is probably avocado, which we recommend adding to a build-your-own omelet. Still, the food is great and the service is super friendly.)
The portions here are huge and people come for the friendliness and consistency. Be sure to try a side of yummy herbed potatoes– and plan to have leftovers. I recommend going here after snorkeling in Hanauma Bay. It's a perfect combo!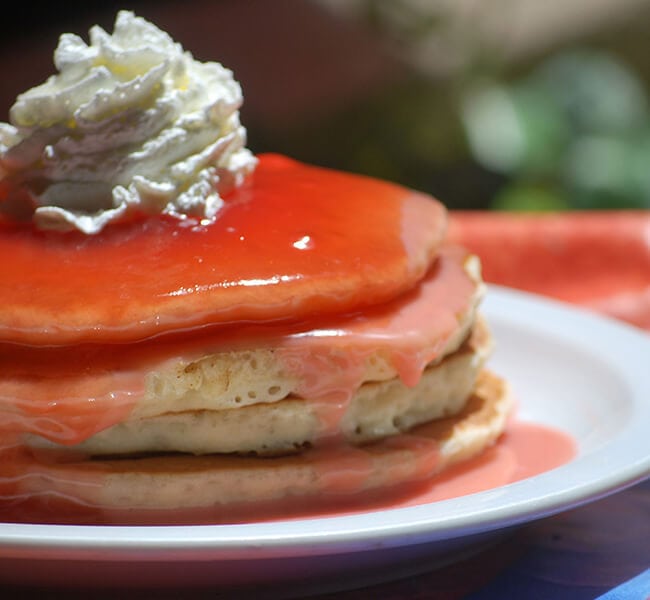 Cinnamon's at the 'Ilikai Hotel
The Cinnamon's location at the Ilikai hotel serves what are considered one of the "Top 10 Pancakes in America". We're not sure who is responsible for making those lists, but the fact is that the guava chiffon pancakes are incredible.
Cinnamon's is THE place to go in Honolulu if you're looking for homestyle American breakfast, like hash browns, eggs, and sausage. Basically, its diner food par excellence with a cozy, country kitchen vibe.
For this reason, you won't see Cinnamon's listed in many restaurant guides. (Printed Honolulu travel guides tend to focus on pomp and pretense over actual tastiness.) But make no mistake: Cinnamon's serves some of the best breakfast in Honolulu, for sure. Just ask anyone who lives here.
We love their crab cake eggs benedict and the guava pancakes, which are a must-try. Bright pink, fluffy, and topped with delicious local guava butter, there's nothing quite like them anywhere else. They also serve a wide variety of eggs benedict (crab cake benedict, kalua pig benedict, salmon benedict, etc).
In true local fashion, the portions here are huge, so be sure to come hungry. Cinnamon's is an O'ahu classic– everyone has to go at least once. And thankfully, they also have a Kailua location. Don't miss out!
***
Related: The 10 Best Coffee Shops in Honolulu.
First-time visitor to O'ahu? Read our critically-acclaimed guide to the 25 Best Restaurants in Honolulu and the 5 Best Places to Hike on the Island.