The best farmers markets on Oahu are– as you might imagine– a joy to behold. Locally-grown tropical fruits of every color, size, and variety are a defining visual aspect of O'ahu's farmers' markets. But O'ahu farmers' markets are also excellent places to sample local seafood and local-style craft cuisine.
Whether you're on the hunt for fresh mangos, local pineapple, delicious poke or a ramen burger, there's a market to match your needs and taste.
Tourists, take note: the Tuesday and Thursday market at the Bank of Hawaii center in Waikiki, from 4 PM to 8 PM, is not a "real" farmers market. It's mostly a gimmick for tourists.
To experience the best real farmers markets on Oahu, you need to go out to the suburbs– or at least to the markets that community members also go to, like the Kapiʻolani Community College Market (detailed below).
Every Oahu farmers' market is unique and special in its own way, but all of the ones on this list are worth checking out. The variety of produce they offer is constantly changing, too (tropical fruit goes in and out of season, just like all mainland produce!) so you're sure to have a different experience every time you visit.
Overall, it's hard not to be besotted by the beautiful, unique, enchanting produce that Hawaiian growers have cultivated for centuries. The pictures in this article don't lie. The best farmers markets on Oahu will make you think you've died and gone to heaven.
***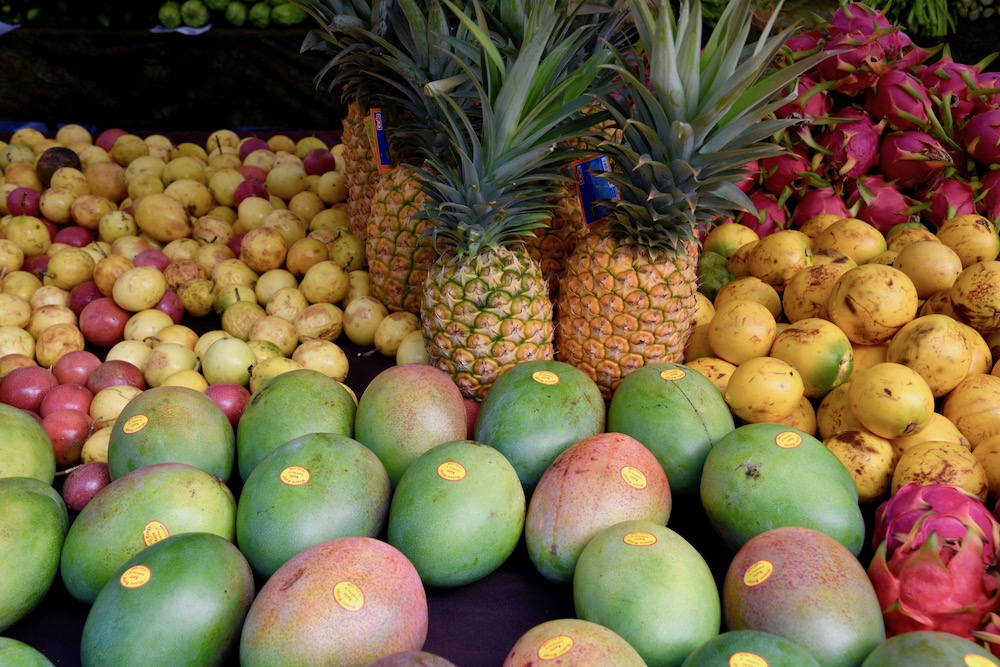 The KCC Farmers' Market (aka the Kapiʻolani Community College Market)
The KCC Farmers' Market takes place from 7:30 AM to 11 AM at 4303 Diamond Head Rd in Honolulu, at the campus of the Kapi`olani Community College. Referred to by locals as the "market at Diamond Head," it's popular with tourists and caters a bit to their taste. (For example, there are more herbs and boutique food items you'd also see on the mainland.)
Ideally, go here early– before 8 or 9 AM– to avoid the massive rush. And be sure to sample some local tropical fruit!
We love KCC's boutique artisanal food offerings. It's easily one of the best farmers' markets on Oahu (if not THE best one). Look for unique items like macadamia nut ice cream, pineapple vinegar, fried green tomatoes, and gelatinized coffee (something you have to experience to understand).
Also try some local honey, fresh-pressed cane sugar juice that the Hawaiian Cane Sugar Company serves with fresh passionfruit. Look for seasonally available rarities like chicu fruit (aka "brown sugar fruit"), egg fruit, soursop, chirimoya (aka "custard apple"), and black sapote (aka "chocolate pudding fruit"). They are all amazing.
Souvenir-wise, you'll also find plenty of the 3 C's: coffee, chocolate, and cookies. The fried mochi at KCC is excellent, if super rich. There are also a number of hot food vendors hailing from some of Honolulu's best restaurants that you should be sure to look out for.
Specifically, The Pig and The Lady (for delicious pho) and La Tour Bakehouse. (<— We like their purple ube pastry and Hawaiian honey furikake puffs, which are a uniquely Hawaiian snack.)
On your way back to the car, don't miss KCC's cactus garden. It's home to a number of cool, imposing prickly specimens. (You'll know you're in the right place when you see people taking selfies with the wild chickens. 🙂 )
Related: How to Make Rare Fresh Mangosteen Juice— an electrolyte- and potassium-rich drink that tastes like tropical sweet tea.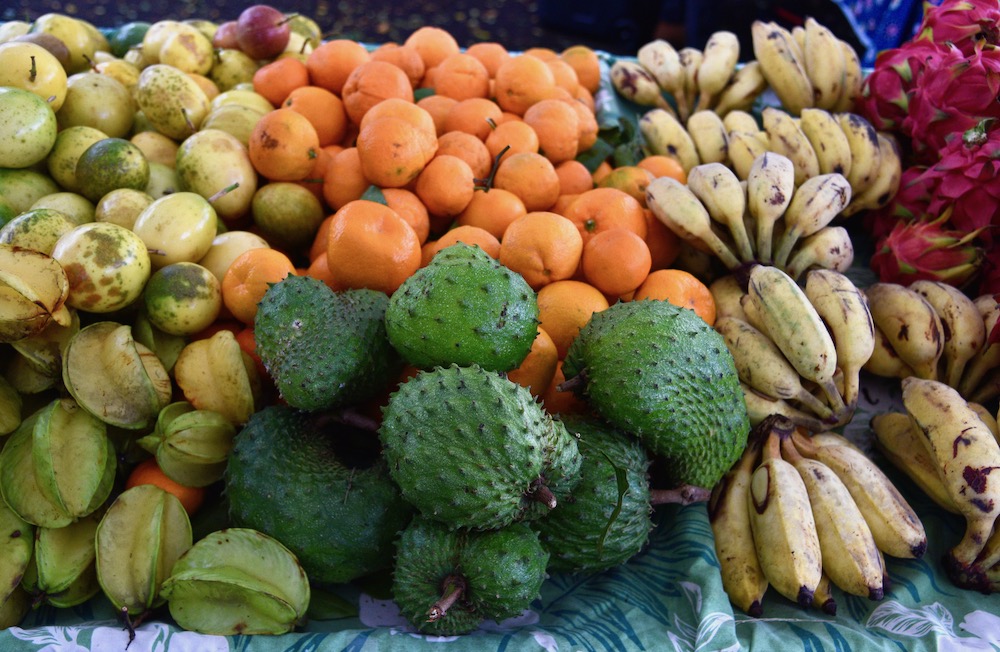 KailuaTown Farmers' Market
The KailuaTown Farmers' Market takes place every Sunday from 8 AM to Noon (and Thursdays from 5:30 to 7 PM) at 120 Hekili Street in Kailua (the former Pali Lanes location near the Whole Foods). Go on a Saturday for the real experience.
This quaint neighborhood market is smaller than the KCC Farmer's Market (above), but the vendors are excellent. Expect to find local mangos and mangosteen in the late summer, giant avocados, pink guavas, and coconuts in the Fall, and starfruit, papayas, apple bananas, and citrus pretty much year-round.
This market doesn't cater to tourists. Thus, it's a great place to get a sense of how local people eat. There is also on-site seating with live music, and the market is shaded.
Overall, the produce selection and atmosphere are great– but the hot food and value-added items are the real stars.
Look for Ma'Ona Musubi, passionfruit chili pepper salt or guava garlic salt from the award-winning Salty Wahine Salt Company, ulu sourdough bagels from Roscoe Sourdough, and ulu breadfruit hummus and chips from 'Ulu Mana Hawaiian Hummus. The crepes at this market are also popular.
We also love the selection of allergy-friendly baked goods at this market. For gluten-free pastry, head to the Pu'uwai Aloha Bakery tent. They're completely organic, always gluten-free, and have lots of vegan options.
Those who want to experience a delicious twist on a local favorite should try the "Loco Moco Ball" from Hawaiian Fresh Farms. This is sort of like Hawaii's answer to a Scotch Egg. (It consists of a soft boiled egg wrapped in beef and crisp fried rice covered in buttermilk gravy, kim chee aoli, and green onion strings. Delicious!)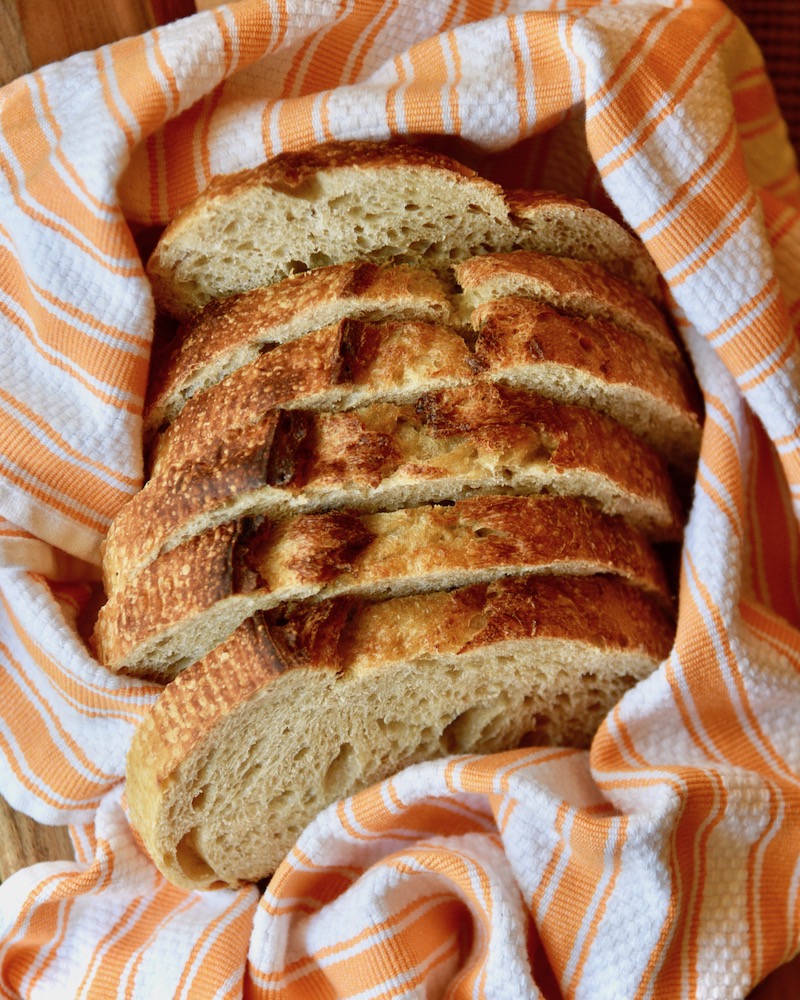 Kaka'ako Sunset Farmers' Market
Located in a bustling city lot on Ala Moana Boulevard, the Kaka'ako Farmers' Market runs from 3 PM to 7 PM on Wednesdays and 8 AM to Noon on Saturdays. On the weekend, there's live music.
Because of it's tourist-friendly location, expect to see more touristy aspects of the Hawaiian produce market on display. (There are usually fresh shucked coconuts for drinking with a straw, and dramatic piles of local dragon fruit.)
Nevertheless, with over 40+ vendors showcasing O'ahu's finest local produce, you're sure to come away feeling satisfied with the experience. Lots of young, hip locals shop here. For foodies, this is a good place to get a sense of the local ebb and flow of city living.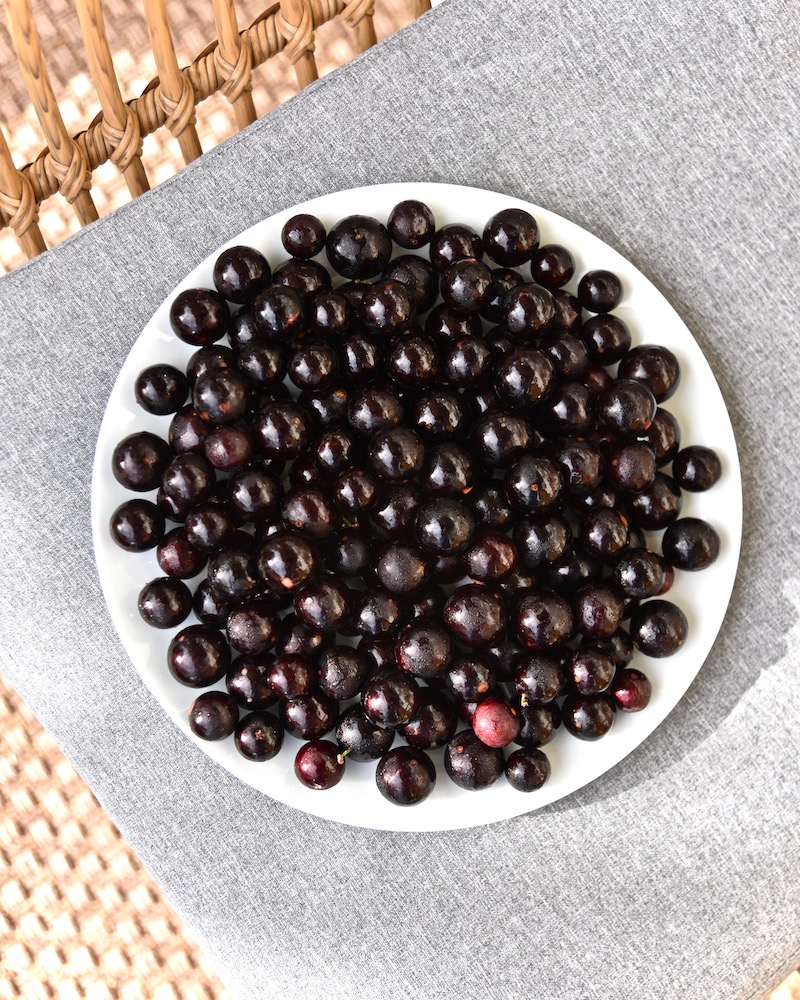 Hale'iwa Farmers' Market
In Waimea Valley every Thursday afternoon from 2 PM to 6 PM, the Hale'iwa Farmers' Market offers fresh produce to locals and tourists alike. It's one of the few Oahu farmers' markets located on the North Shore, which is ironic because most of the island's produce is grown nearby.
Here, local farmers sell tropical fruit not too far from the plantations and red earth landscape where it grows.
Expect to find everything from pineapples, guava, apple bananas, and papayas to locally grown chocolate, coffee, and mac nuts. (Often, these last three will be grown less than 10 miles from where you buy them.)
If you're looking for a farmers market on the North Shore, this is the place for you. It's also a good place to stop before or after getting shave ice at Matsumoto's.
Related: The 6 Best Places to Try Shave Ice on O'ahu.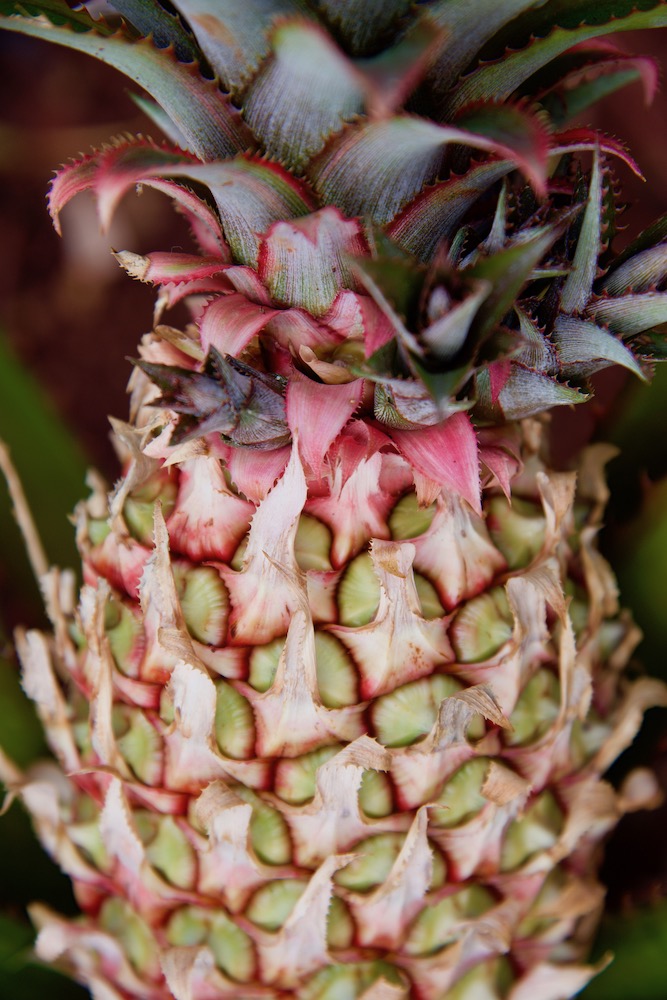 Pearlridge Farmers' Market
Pearlridge Farmers' Market takes place Saturdays from 8 AM to Noon at 98-1005 Moanalua Rd in Waimalu. Now with over 40 vendors, this Oahu farmers market is surprisingly low-key.
Here, you'll find a good selection of produce and hot food. (This is a good market for people who want to cook at home for cheap.) However, the parking lot location of this market isn't very "cool", per se.
If you happen to be the leeward side of the island– say, if you're hiking Maili Pillbox or heading over to Paradise Cove for a luau or to Monkeypod Kitchen for dinner, it might make sense to squeeze this market into your schedule if you want to make a day of it.
Windward Mall Farmers Market
We love this secretly amazing hidden gem of a farmers' market in Kane'ohu. It takes place Wednesdays from 2:30 to 7 PM and Sundays from 9:45 to 2 PM at the Windward Mall. Not too far from the Hoʻomaluhia Botanical Garden, the Windward Mall Farmers Market was originally launched to get more of the locals shopping at the mall.
Today, it is an amazing and popular hub for delicious pan-Asian and Pacific Rim cuisine. They also sell excellent Portuguese baked goods and specialty items like local coconut peanut butter. The fresh poke, smoked fish, mango sticky rice, ube pastry, taro chips, condiments like guava butter and pineapple vinegar, as well as the local specialty produce here are fantastic.
Fruit-wise, you can find everything from santo fruit and local pohole ferns to kiawe beans and banana leaves. It's secretly one of the coolest farmers' markets on Oahu, and seemingly only frequented by local people.
I love the butter mochi (a local Hawaiian-Asian hybrid dessert) as well as the spring rolls and giant avocados at this deceptively intriguing market.
I also can't emphasize this enough: the poke served here is some of the best on the island. The vendor serves it straight out of an ice cooler that's fresh off his boat!
Pro Tip: when you're done shopping at the Farmer's Market, go upstairs to Seeds n' Things. This is a great store at which to buy li hing mui (aka "crackseed"), a local delicacy.
Li hing mui powder is a sour plum powder hailing from Asia that locals historically sprinkle on everything from fruit and meat to desserts. Famously, people like to sprinkle it on mango for an added tang.
Seeds n' Things also sells li hing mui-infused snacks like nuts, cookies, and crackers. Also, look out for exotic Asian sweets like senbai and soaked plums. (<— These beautifully complement the hot Thai and Filipino food sold downstairs.)
Ultimately, Hawai'i itself is a melting pot, and this market puts its most unique, diverse flavors on display!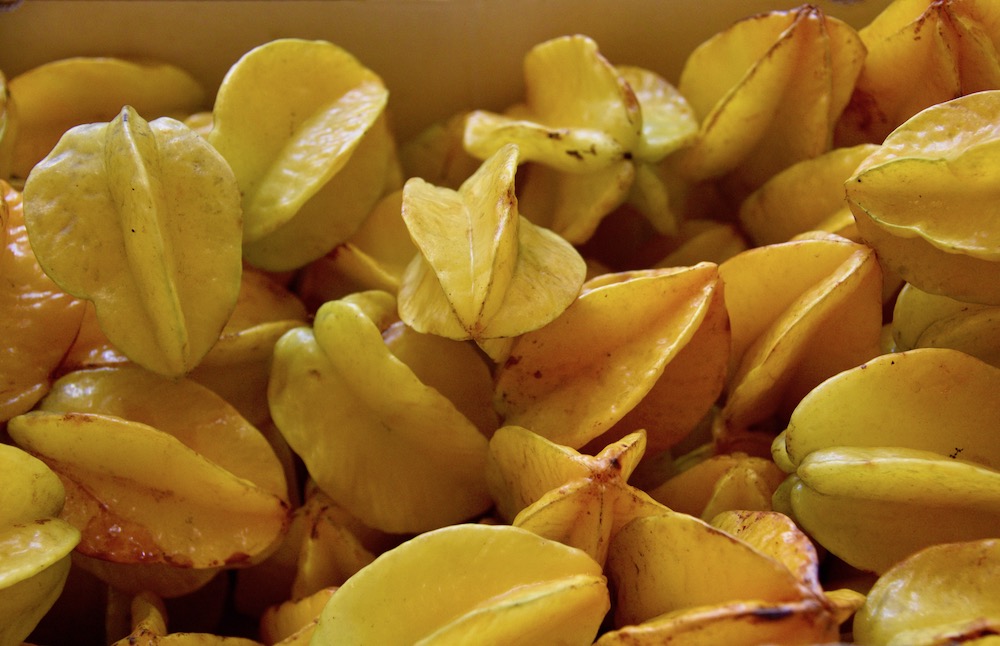 A Note on The Blaisdell Farmers' Market (aka Honolulu Farmers' Market)
Blaisdell is a "Farmers Market" in name, but its more of a food pop-up than anything else. Sponsored by the Hawai'i Farm Bureau, the friendly Blaisdell Farmers' Market at the Neal S. Blaisdell Center in Honolulu is open Wednesdays from 4 PM to 7 PM.
But unlike other farmers' markets on Oahu, this small market is focused on hot food rather than local produce. This can be a little misleading to visitors who look up "Honolulu Farmers Markets" and assume this one is bigger than it is.
Instead, the Blaisdell market is a place to get local cookies, churros, musubi, Thai food, bao buns, and the like. People usually swing by before a concert or event at the Blaisdell Center.
Visitors, take note: If you're someone who is interested in fresh produce, this is not the market for you. For that, you'll want to head to the KCC or KailuaTown farmers market. The fruit in the images above look even better in real life. 🙂
***
Related: Visiting O'ahu for the first time? Bookmark our guide to O'ahu's most incredible hikes.
We've also curated insider guides to the Best Restaurants in Honolulu, the Best Coffee Shops in Honolulu, and the Best Breakfast Places on the entire island. (And if you want to buy an Aloha shirt or try Shave Ice— well, we've got you covered there, too.)