Ah, Paris. There's nothing like a weekend getaway in Europe's most romantic city– and if you're in the market for a luxurious spa treatment, there's perhaps no better place in the world to get one. (Save, perhaps, for Dubai… but that's a story for another time.)
The best spas in Paris, moreover, are playgrounds of the well heeled, showcasing a world-class variety of soothing, mind-body relaxation innovations. From New Age crystal work to ancient East-meets-West massage, the city really does have something cool to offer everyone.
Caviar facials, detoxifying scrubs, soothing body wraps, intensive reflexology, and organic manicures are just the tip of the iceberg.
In recent years, Turkish baths or "hammams" have also became a popular facet of the city's spa culture, giving visitors and locals unique opportunities to explore the roots of Mid-East culture in Paris– a fusion influence that runs deep through the city's food, art, and wellness scenes. (Accordingly, we've spotlighted one of our favorite hammams further down in this article. If you've never experienced a hammam ritual, Paris is a great place to do so.)
Below, we highlight the best spas in Paris for newcomers and regulars, alike. Whether you're a first timer to the city or a repeat visitor looking to indulge, each of these spas reflects something unique to the culture of Paris.
It also goes without saying that these spas are incredibly relaxing places to rest, restore, and revive the senses. If you visit any of the Paris spas on this list, you'll be in good hands. (And tell them we sent you!)
Ultimately, there is nothing quite like getting a spa treatment in City of Love. When you go to the right place, it is as magical as everyone says.
Scroll our guide to the best, coolest spas in Paris, below.
***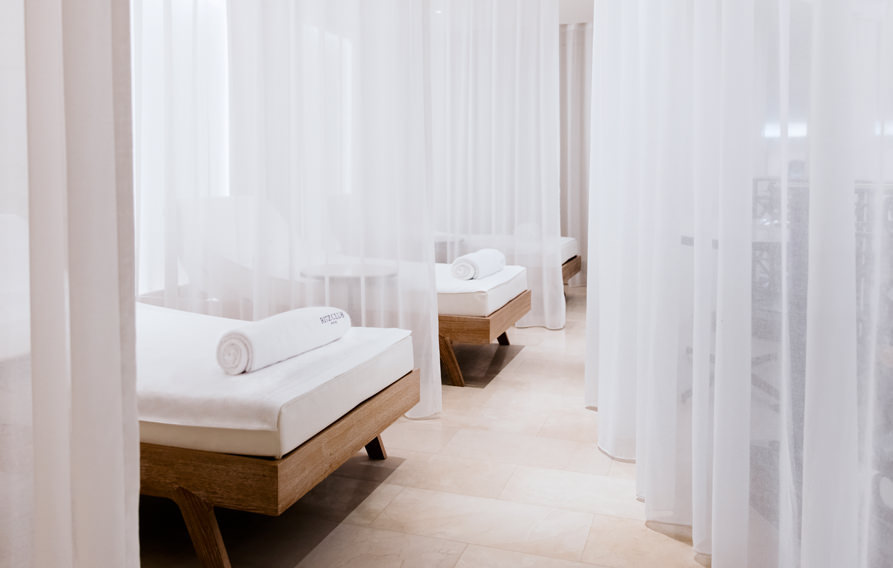 The Chanel Spa at the Ritz Paris (Rich History + Timeless Elegance)
The Ritz Paris is easily Paris' most opulent hotel, known for its rich history as the backdrop to many a Parisian movie and Hollywood celebrity getaway. (Perhaps you've heard of it?) Coco Chanel lived in this famed 5-Star hotel for over 30 years, which adds to its storied elegance– and nowhere is that charm more evident today than in the hotel's luxurious, on-site spa.
Chanel au Ritz Paris is the only Chanel spa in the world, crafted in the vision of Mademoiselle Chanel's enduring legacy of simple elegance and feminine allure. For a life-altering treatment, experience the Le Grand Soin, a fully customized, multi-sensory combination of facial and body massage that uses Chanel products to leave skin feeling radiant and soft.
Guests come away with a renewed sense of wellbeing, inside and out. (It's the most expensive treatment on the menu, but there's a reason why they say the Ritz is "a place where dreams come true.")
In addition to their tailor-made facials, we also love Le Massage de Chanel. The repertoire of body work incorporates gentle fasciae release, olfactory stimulation, and a mix of Eastern and Western massage techniques. It's all lovely.
View the full spa menu here.
Swing by L'Espadon for dinner and the Hemingway Bar for a (alcoholic or non-alcoholic) drink after your treatment. If it's daytime, go for Thé à la Française (Afternoon Tea) at Salon Proust.
Either way, be sure to book your spa experience and dining reservation in advance. The Ritz is, understandably, a very popular place.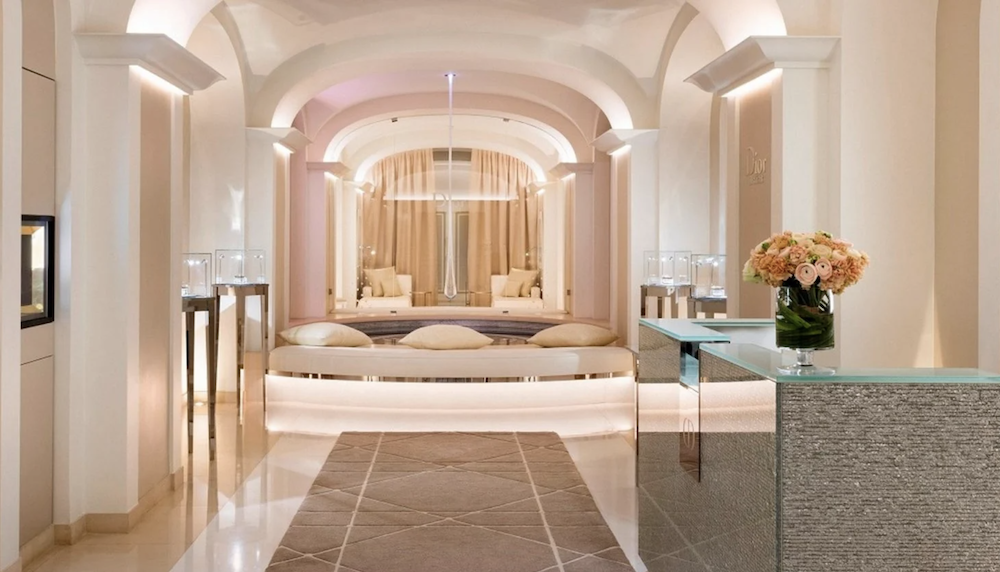 The Dior Institut at the Hotel Plaza Athénée (Old World Luxury Meets New Age Technique)
Institut Dior at the Hotel Plaza Athénée is a Haute Couture spa for the body, mind, and soul developed according to Christian Dior's exacting vision of "high performance and exquisite pleasure."
In addition to their celebrated facials, the spa is famous for its signature Dior Microabrasion treatment with Sapphire Crystals. This they pair with a 40-minute sculpting massage for the ultimate anti-aging treatment. Like their signature Dior Prestige Facial, it's not cheap, but it's always divine.
The Dior Institut, moreover, offers what are not only some of the best facials in Paris, but the entire world. If you want to get a luxurious spa treatment in a gorgeous, pillowy-pink heaven, this is the spa for you.
Each month the Dior Institut also offers a different signature "couture treatment", like their fatigue-fighting Revitalizing Escape massage, or their Nourishing Hand Beauty Treatment, which combines hand wraps and manual massage with a sterling manicure. (For the classic experience, choose Dior's 999 bright red polish. When in Paris, do as the Parisians, oui?)
View the full spa menu here.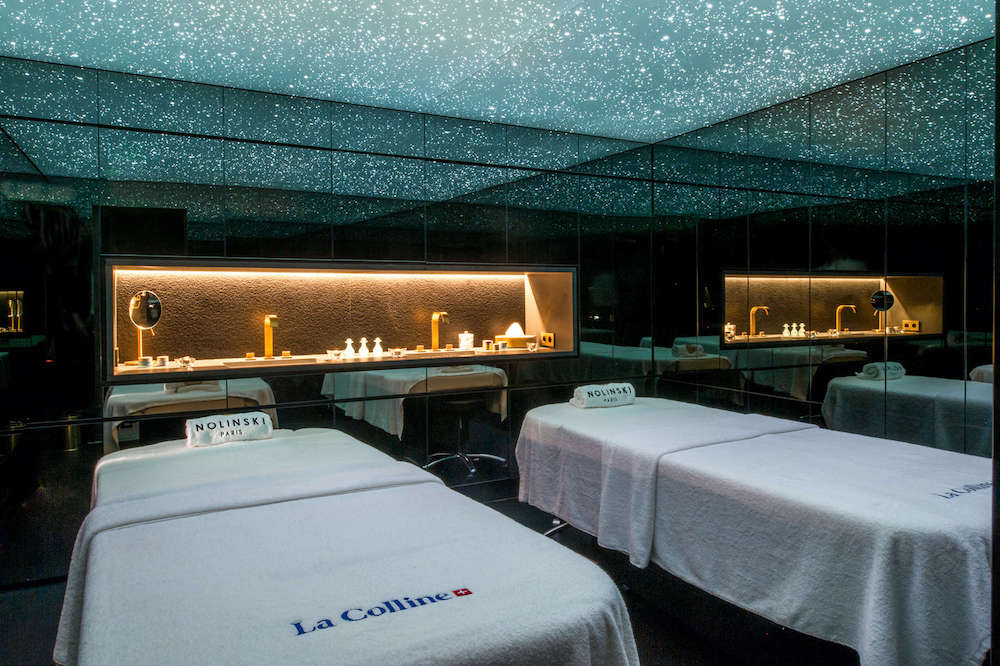 Nolinski Spa at La Colline Hotel (Tastefully Modern Hygge Retreat)
This super modern, low-lit spa matches the tasteful elegance of the chicy-chic hotel where it operates. The Nolinski Spa at La Colline Hotel is a gorgeous, hip haven for private, luxurious spa treatments inspired by the Swiss Riviera's culture of research and biotechnical ingenuity.
We love their rejuvenating Floral Scalp Treatment, which exfoliates dead skin cells and leaves hair feeling glossy, shiny, and refreshed. (Plus your hair will smell fantastic!)
We also recommend their vitality-restoring Immunity Booster Treatment, which fights stress and stimulates the immune system with a research-backed herbal tea infusion made with Siberian adaptogenic plants, as well as a hot candle massage and toning wrap formulated with organic honey and Himalayan salts. It ends with a comforting steam bath session to leave you feeling relaxed and renewed. If you're someone who often gets sick after traveling on an airplane, this is the treatment for you.
The Nolinski Spa also offers excellent facials, sauna sessions, and personalized candlelit massage, which beautifully underscores the "hygge" vibe.
View the full spa menu here.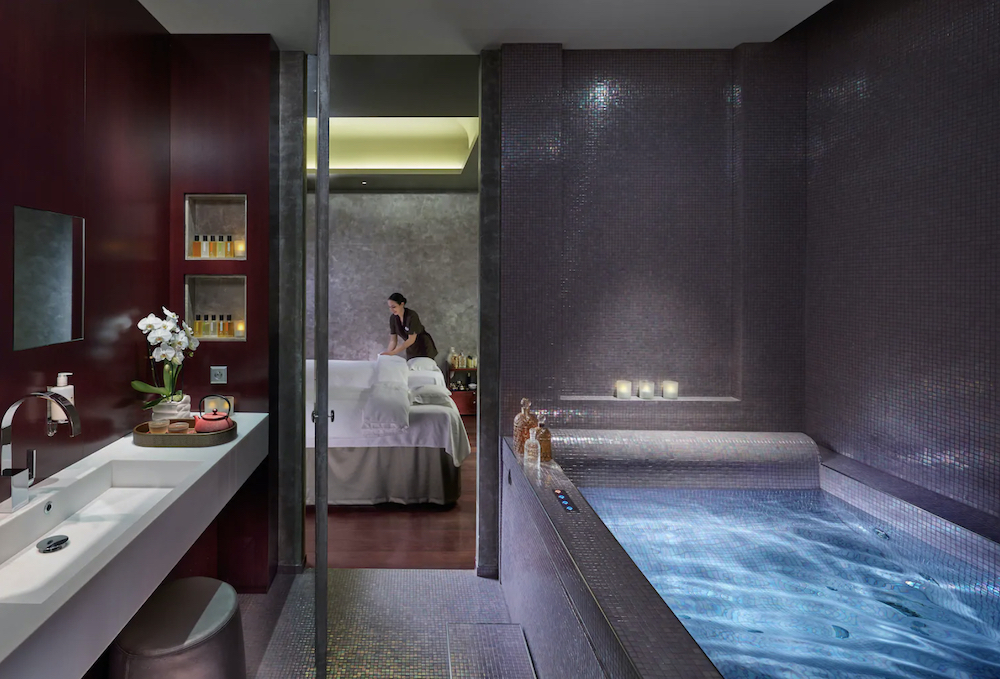 The Spa at Mandarin Oriental Paris (Where East Meets Western Science)
Yes, it's a luxury chain– but the beautifully appointed Spa at Mandarin Oriental's Paris location is uniquely exemplary of the unparalleled service that makes Paris so magical. Not only is it one of the most beautiful spas in Paris, but its emphasis on Eastern healing techniques also makes it one of the most transformative.
Consider, for example, their Guerlain Spa Suite (above shown), a temple of wellbeing that features fresh flowers and a private vitality pool. Here, therapists deliver results-driven body and facial treatments that are as innovative as they are restorative.
Their Guerlain Slimming Treatment and Oriental Foot Treatment are two such examples, featuring luxury Guerlain products and an East-meets-West approach to body work. (Both combine exfoliation, massage, and meridian healing for an uplifting, energizing release.) All Spa Suite Experiences last 2 hours and 20 minutes, which ensures a long, luxurious, immersive experience.
Plus, each of these treatments concludes with the spa's bespoke Tian Quan Therapy, a twist off of Chinese bathing therapy that relieves stress and muscular pain, improves circulation, and restores equilibrium. Lovely!
We also love the Paris Passion treatment. It includes a Quintessence scrub, a replenishing wrap, and an Orchidée Impériale Prestige anti-aging treatment that therapists designed with Paris in mind.
Many of Beauty by Mandarin Oriental's facials, moreover, are designed specifically for Paris, "the home of beauty". Accordingly, all of their products are naturally-derived and paraben-free. (The French would have it no other way.)
View the colorful spa menu here.
Because the Mandarin Oriental is located in Paris' Place Vendôme, this spa is just 2 blocks from the Tuileries Garden. It's also a little over 1 km from the Louvre, and about a ~12 minute walk from the Champs-Élysées.
Thus, it's easy to explore any of these must-see attractions before or after your spa treatment here. A walk through the Tuileries is particularly serene after a massage.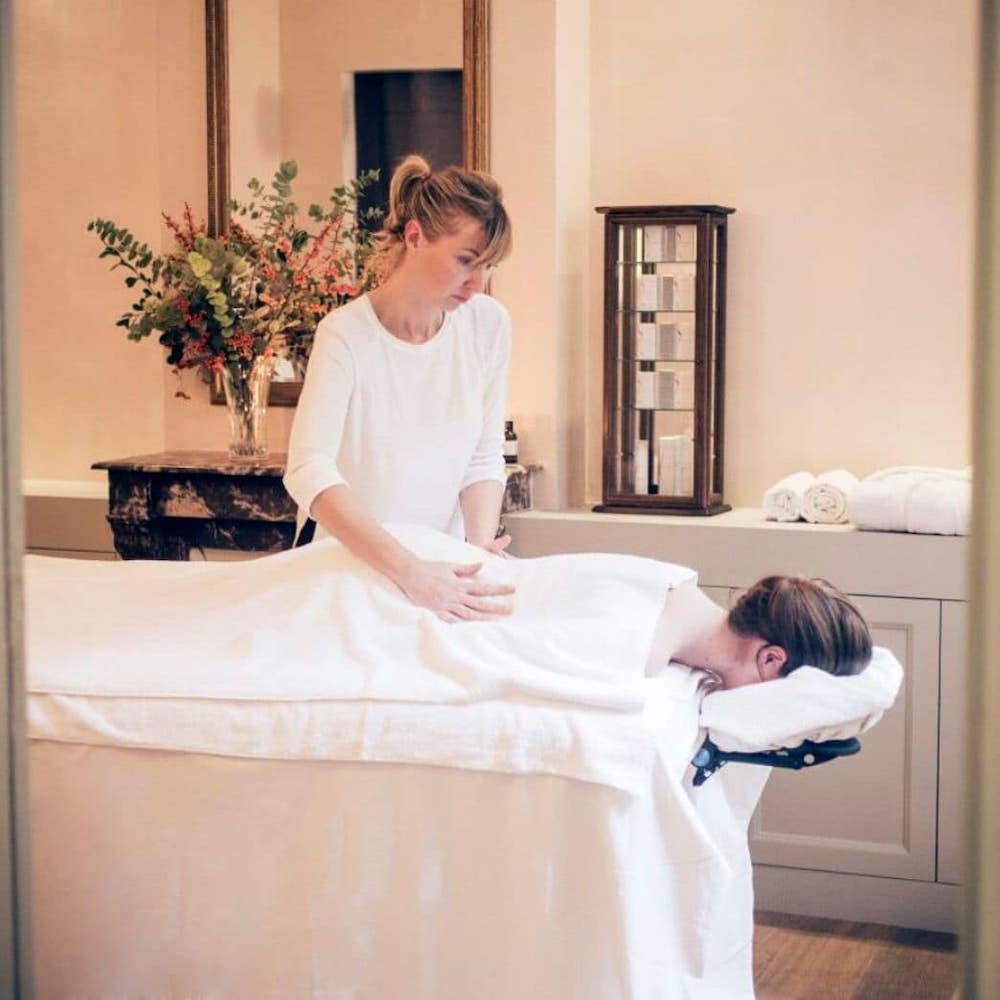 Free Persephone (Quaint Natural Nail Haven)
Free Persephone is the pseudo-feminist natural spa that more and more women want to see in the world– they even have a tea house where they offer spa tea parties! Man, it's quaint. Helmed by American Lauren Creecy, it is also one of the best places to get a natural manicure or pedicure in Paris. (A city where this trend was, surprisingly, late to bloom.)
Choose from their collection of cheerful, all natural nail polish and enjoy a foot bath and shoulder massage in one of the spa's delightfully colorful botanical print armchairs. Opt for a relaxing Renaissance Pedicure, which restores deep hydration with a soothing, integral foot massage.
If you're in the mood for a massage, you're in luck, too. Try the spa's staple "Enchanted Garden" relaxation massage, or the "Sculpture Garden" deep tissue massage. (Both you can book in 35, 50, or 80 minute increments. View the full treatment list here.)
Free Persephone also offers reasonably-priced couples massages in a city where reasonable prices often languish. (At 192 euros for 50 minutes, it's probably the most affordable place to get an upscale couples massage in Paris.)
This is a fun place to get manicures with a friend. After your treatment, linger in the charming tea room and enjoy some refreshments. They have organic juice, hot tea, pastry of the day, etc.
Free Persephone is designed like a cozy country cottage, so this is part of the appeal. You'll leave feeling the warm glow of Spring no matter what the season.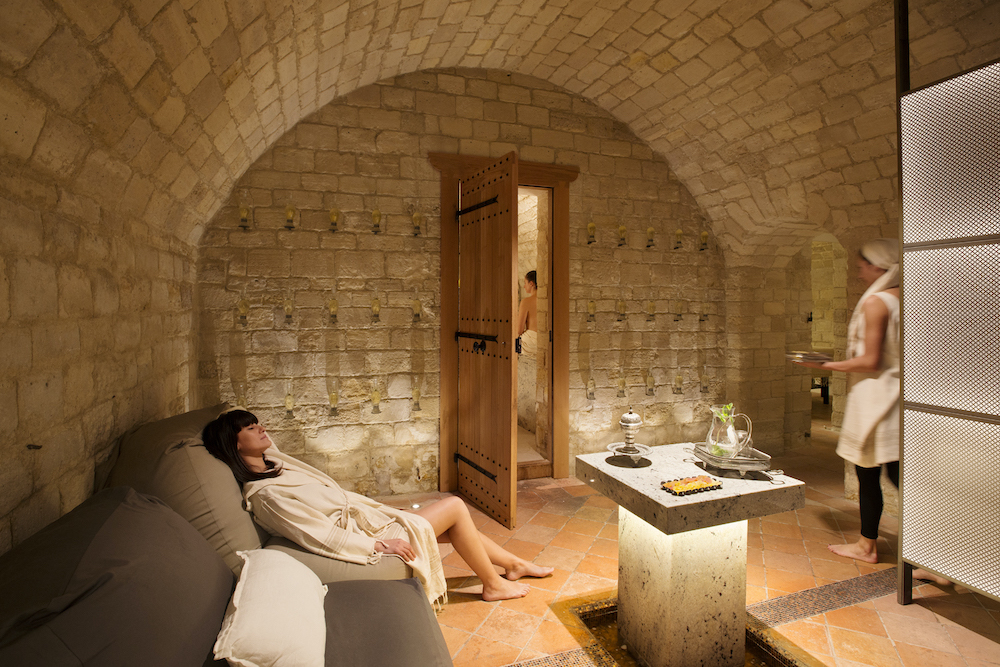 Spa Charme d'Orient (For An Authentic Turkish Bath Experience)
Turkish baths are an emerging trend in the Paris wellness scene– one that's fast becoming the spa experience of choice among local trendsetters. With its large Turkish population, Paris boasts a number of traditional Turkish baths, also known as hammams. But of the many popular options, none is more beautiful and endearing than Charme d'Orient, in the Upper-Marais district.
Le Spa at Charme d'Orient Paris is a stellar example of an authentic Parisian hammam, which draws inspiration from various Middle Eastern traditions. They've got beautiful, modern tile work throughout the treatment space; their gorgeous line of all natural bath and body products are some of the cleanest on the market; there are candles, a calming central garden interior, a faint smell of orange blossom in the bath steam; and the staff exude a subtle discretion and privacy that makes every visit feel sacred.
The spa's Hammam Ritual begins with a soak and an artisanal black soap body scrub. (This prized, emollient soap from Morocco is made with eucalyptus oil and olive oil.)
Bask head to toe in jet-black lather before settling into a warm, steamy bath for 10 minutes. Then, use a kassa glove to exfoliate dead skin for another ~10 minutes. (Not unlike a Swedish bathhouse, hammams are all about the ritual. They all generally involve some form of soaking, scrubbing, sauna-ing, exfoliating, and massage.)
At Charme d'Orient, end with a rhassoul clay body wrap, which dries on the body and face to cleanse and tone. (Rinsing it off is extremely satisfying.) Finally, argan body oil massage seals in moisture and softens the entire body. The whole process is super meditative and relaxing.
As a result, it is an ideal nighttime activity to do before going home to rest. (Ideally, leave the oil on your body overnight. Shower in the morning to soak in the benefits and get more mileage out of your treatment.)
You can also combine hammam rituals with the spa's signature Oriental massages, facials, or honey waxing treatments.
View the full spa menu here.
Be sure to sip some of fresh mint tea before you leave. And on your way out, shop Charme d'Orient's collection of signature body products. This way, you can repeat the luxurious bath ritual at home. Their rhassoul clay powder makes a great souvenir, and it's safe to take on a plane!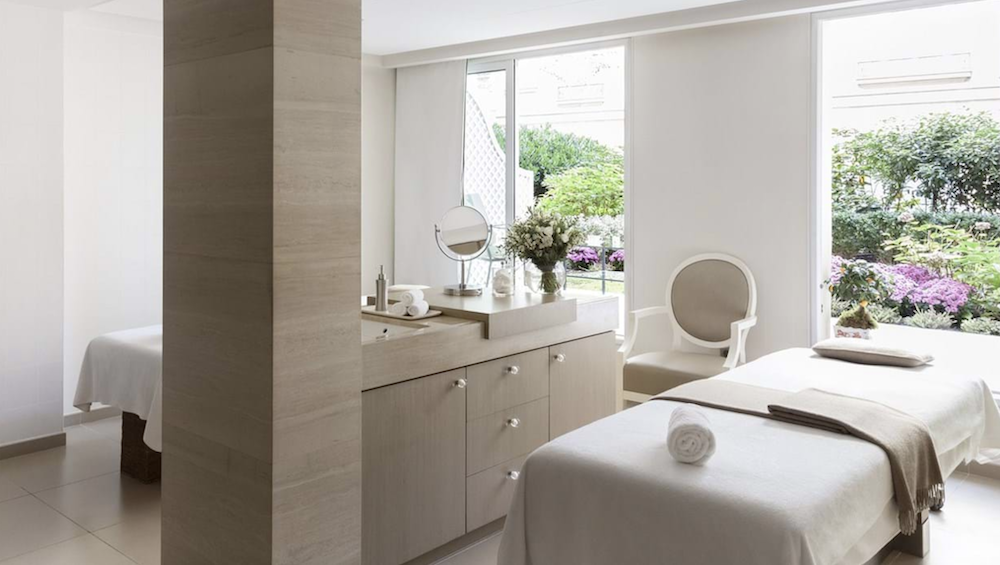 The Spa at Le Bristol (For Over-The-Top Facials)
The Spa at Le Bristol Paris is lovely, with a pro-natural globalist lean. The spa's eight treatment rooms surround a lovely interior garden. The gorgeous rooftop pool includes a Russian Banïya (a steam bath with wood stove). They also incorporate all natural Tata Harper USA, La Prairie Switzerland, and KOS Paris products in all of their spa treatments, which are as unique as they are scintillating.
Take, for example, La Prairie's line of upscale Caviar Facials, which are absolutely extra. (Yes, they incorporate real caviar, which is lifting and firming.)
Try the Caviar Instant Lift Facial for the quintessential relaxing, de-stressing experience.
Or, opt for the White Caviar Firming and Illuminating Facial, which evens complexion with real Golden Caviar extract. (This is the splurgiest of all splurge treatments.)
For body work, we recommend KOS Paris' Osteopathy Massage, which is the ultimate tension-melting massage. First, Le Bristol's in-house osteopath assesses your personal areas of tension and imbalance in the muscles and joints. Then, they tailor the massage to your body, specifically. (Because it addresses stress on multiple kinds of tissue, this is a very integral, healing massage. If you are chronically stressed or experiencing burnout, it's one of the best medical-grade massages in Paris, trust me.)
We also love the Relax & Regenerate personalized massage, especially when coupled with the Aromatic Salt Body Exfoliation, which leaves the body feeling renewed and silky-soft.
For travelers, Le Bristol also offers a Four Hands Massage (two therapists at once!) featuring organic Tata Harper products and divine warm towel compresses. For soothing jet lag, it's the best!
The spa also boasts a number of Parent-and-Child treatments, a unique aspect of the menu that is distinctly European. (They also have a cute kids space courtesy of Bonpoint. Think: plush indoor tents, retro stuffed animals, and ethereal linens.)
Paris, as they say, is always a good idea– especially for families. And if you dine at either of the hotel's Michelin-starred restaurants after your spa treatment, it only gets better.
***
Looking for more relaxing getaway ideas? Consult our beautiful Globetrotter's Guide to Santorini, Greece— the so-called "supermodel" of the Greek Islands. You may also be interested in our Insider's Guide to the Hamptons or this Gorgeous Guide to Kennebunkport, Maine.
Related: The 6 Best Places to Experience Afternoon Tea in London.