Food lovers never had it so good– New York City is fast becoming one of the best cities in the world for Asian, Southeast Asian, and Pan-Asian cuisine. This is due in part to the cosmopolitan and ever-diversifying population of the city, and also because of Instagram, which has spotlighted so many of the best Asian restaurants in NYC that it has contributed to a steep rise in popularity of what were formerly little-known haunts.
Below is our definitive guide to the best Asian restaurants in NYC, according to a local food critic and her very discerning Southeast Asian husband.
We're always looking for (and being asked about) good Asian restaurants in NYC, and after a fruitful decade of dining out in the city, this is our essential list.
Whether you're looking for flavor, authenticity, or fusion cuisine with a distinctive New York City flair, you can't go wrong at any of the restaurants on this list.
Enjoy!
***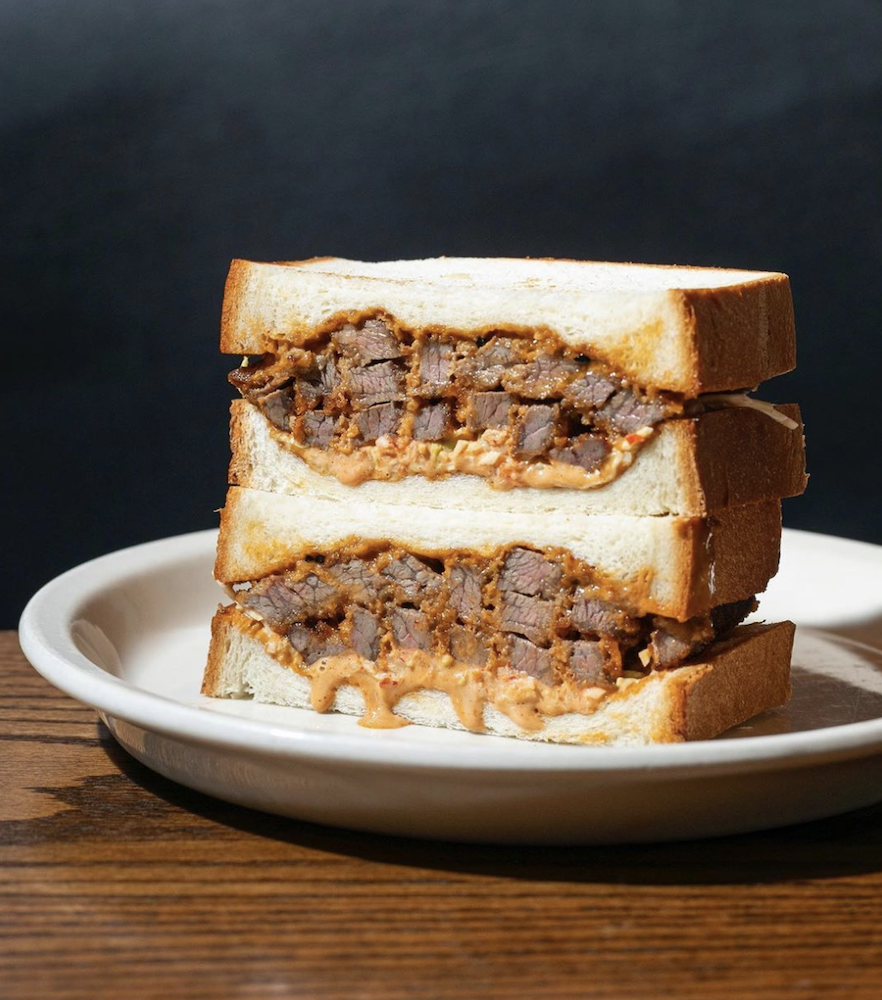 Momofuku Ssäm Bar (& Other Momofuku Restaurants)
David Chang's restaurants are something of a religion in New York City, and no single restaurant encapsulates the magic quite like Momofuku Ssäm Bar on Pier 17. It's no wonder that this chic, minimalist flavor joint is one of the best Asian restaurants in NYC.
Ssäm Bar's excellent pork buns and exquisite fried duck put Chang on the map of elite New York City chefs long ago, and the ambiance and umami-filled menu never disappoint. (Be advised that the menu changes daily, but every once in a while they bring back the greatest hits.)
As for the other restaurants in Chang's empire: Momofuku Noodle Bar is one of the best places to eat in Columbus Circle, with a sister location in the East Village.
Momofuku Ko, meanwhile, is a tiny, charming walk-in bar that serves multi-course Asian-American small plates. It's refined yet somehow unpretentious, like all Momofuku products.
(And, FWIW, there's also Momofuku restaurant group's Milk Bar helmed by birthday cake queen Christina Tosi– but let's save dessert for later.)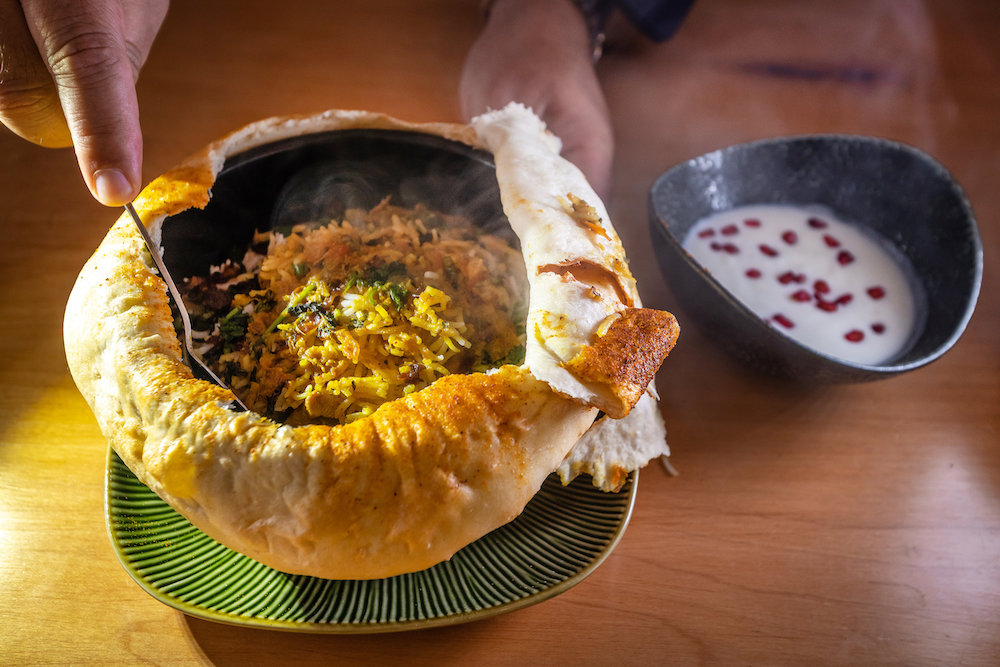 Adda
Adda Indian Canteen is a funky, modern Indian hotspot in Long Island City, whose name– Adda— literally means "a place where people hang out." The restaurant was reviewed as one of The New Yorker's Best Restaurants of 2018, and it's not hard to see why.
In a city that is surprisingly lacking in excellent table serve Indian food, Adda offers intense flavor profiles and cool design, as the colorful tables and Hindi newspapers covering the walls add an air of chic authenticity to the space. (Adda's owners are also now pioneering a new virtual reality dining trend at the James Beard House, but that's another story entirely.)
Adda specializes in traditional Indian cuisine and hearty bites that are difficult to find outside of India.
Specialties here include the bheja fry (goat brain; not for the faint of heart!) and biryanis made with traditional naan bread caps.
Be sure to try the Masaledar Lipatwan Murgh (chicken cooked in a tomato-onion curry with lots of garam masala). We also love the Lucknow Dum Biryani with goat meat, which comes with a traditional bread cap.
In addition to those classics, the Seasonal Saag Paneer and the Lotus Root Kofta are worth trying.
(PSA: We also recommend taking an Uber home afterward. The train ride back from Long Island City can be long, especially at night.)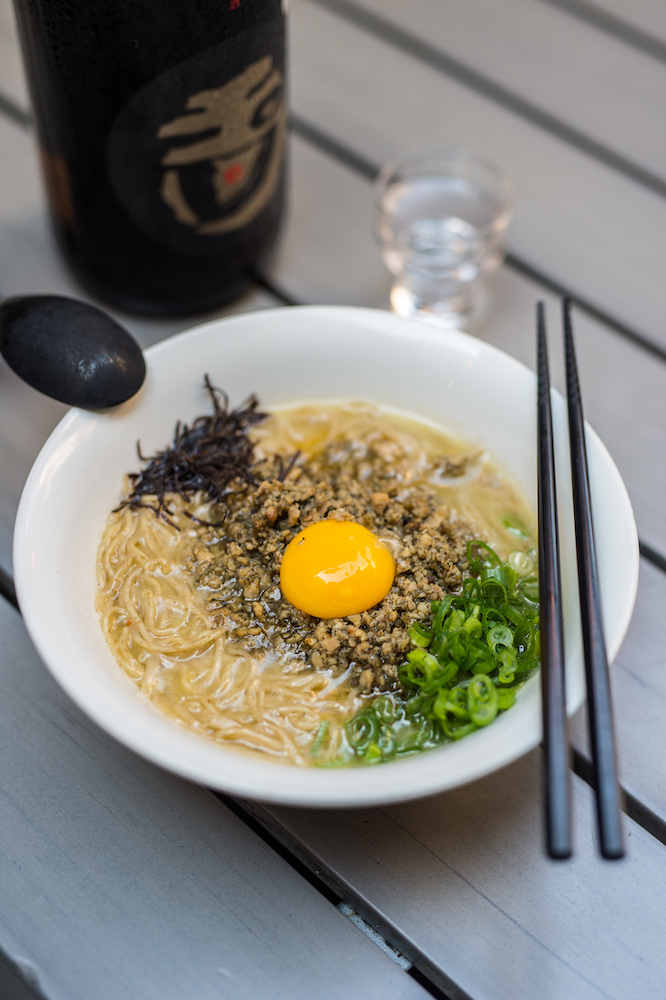 Ivan Ramen
Until you've been to Ivan Ramen in New York City, we guarantee you've never had ramen like this before.
Ivan Ramen skyrocketed in popularity after it was featured on Season 3 of the Netflix docu-series Chef's Table, which told the moving story about how a white guy from Brooklyn– chef and owner, Ivan Orkin– learned to master the art of ramen after years of hardship and owning his own restaurant in Japan.
Today, Orkin has a dedicated following in New York, the city he now calls home again. Basically: Ivan Ramen is one of the best Asian restaurants in NYC because it already passed the test in Asia.
We love the signature Chicken Paitan ramen (above), which is best served with an added tomato. This is the *only* option to order if you're a first-timer. (You MUST get it!)
People also come from Japan just to eat this specific ramen, which fuses Orkin's "Jewish, chicken-noodle-soup" heritage with the traditional flavors and textures of Japanese ramen.
In this way, Orkin has created a unique fusion food that combines the flavors of New York and Japan in one bowl. Ivan Ramen's Chicken Paitan is one of the best things to eat in New York City, hands down!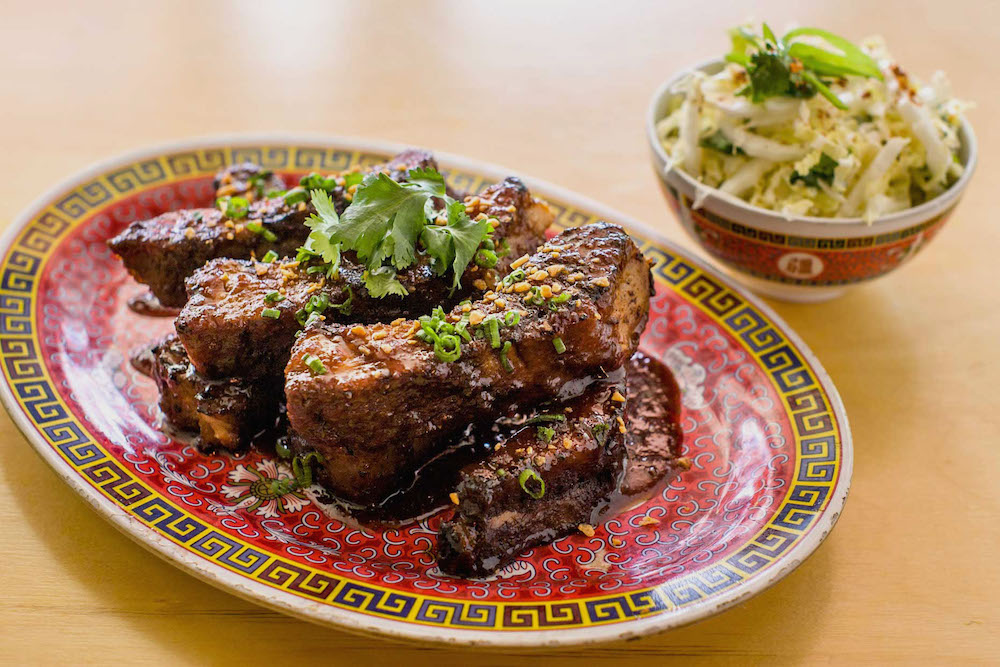 Pig + Khao
Pig + Khao serves excellent Filipino- and Thai-inspired Southeast Asian fare. The modern, minimalist space has a cozy patio and limited menu, but the Crispy Pata, Whole Fried Fish, and Pork Belly Adobo offer an unparalleled variety of flavors in just one bite.
The restaurant's beautiful dishes and flashy plating lend the establishment an Instagram-worthy aesthetic that has earned it a place on every shortlist of the best Asian restaurants in NYC.
And with a prominent location in the middle of the Lower East Side, there are plenty of places to go hunting for dessert afterward. (If, that is, you have any room left in your belly.)
Related: NYC's Best Ice Cream: The 12 Coolest, Weirdest Scoop Shops.
Hanoi House
Hanoi House serves some of the best and most authentic Vietnamese food in the city. This trendy East Village restaurant has been celebrated by everyone from the New York Times to Eater, and for a while, it was hard to get a table unless you went right when it opened for dinner.
Above all, they're known for their excellent pho (above).
We also love their signature classics like Goi Du Du (Papaya and pig ear salad made with green papaya, watercress, cucumber, toasted peanuts, crispy shallots, and a sweet soy dressing).
Located on St. Marks right next to the park (and just around the corner from some fabulous ice cream spots,) Hanoi House also has some of the best restaurant aesthetics around.
The beautiful blue-and-white ceramic plates and bowls, ergonomic utensils, and just enough tables to make you feel like you've discovered a hole-in-wall. (Even though, if you ask any fan of Vietnamese food, this place is very much on the map.)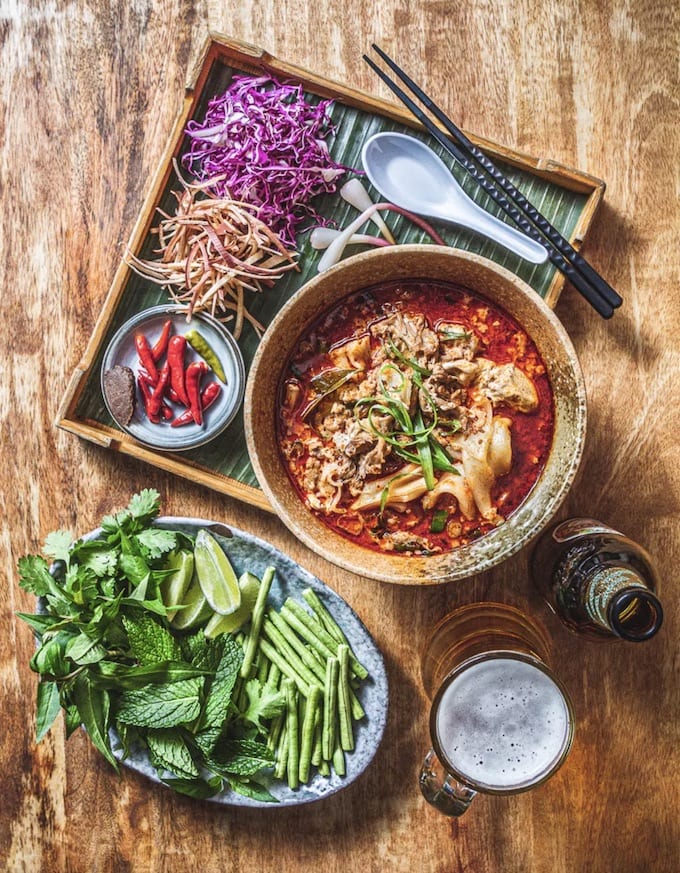 Khe-Yo
Meals are served family-style at this Laotian hot spot, which was featured in Anthony Bourdain's Parts Unknown ("Laos in Five Dishes"). The environment at Khe-Yo (which means "Green" in Laotian) is dark and moody, with a lively exposed brick bar and intimate tables great for dinner dates and large parties alike.
Helmed by Chef/Owner Soulayphet Schwader (along with partner/former Iron Chef Marc Forgione), all the food is local, seasonal, and responsibly sourced.
For the true Laotian-American experience, we recommend getting the delicious Wok Seared Lobster & Noodles and the Berkshire Spare Ribs. The Smashed Green Papaya salad and Bamboo Ginger Quail with Bang-Bang sauce and Gai-Lan are also crowd favorites.
Spice lovers will also enjoy the restaurant's signature Bang-Bang red sauce, which is served with rice instead of bread at the beginning of dinner. Khe-Yo wouldn't be one of the best Asian restaurants in NYC without some creative appetizers, after all.
Lhasa Tibetan Restaurant
This hole-in-the-wall Tibetan shoebox in Jackson Heights serves the best momos around. (Or at least that's what Anthony Bourdain thought when he ate here.)
The Himalayan-inspired food at Lhasa Tibetan Restaurant does not disappoint, from the delicious spicy beef to the popular hand-pulled noodles.
The restaurant's charm stems from the fact that, in addition to being delicious, this place is tiny and endearingly hard to find.
You have to enter through a combination cellphone, DVD, and jewelry store. (Only in Queens!) Then, you'll walk down a maze-like hallway to find the food stall. They may or may not have a sign outside.
Once you arrive, however, Lhasa Tibetan Restaurant is friendly and welcoming. The service is quick and the food is cheap and filling. The momos come stacked with eight to a basket. Load 'um up with sauces and dive in.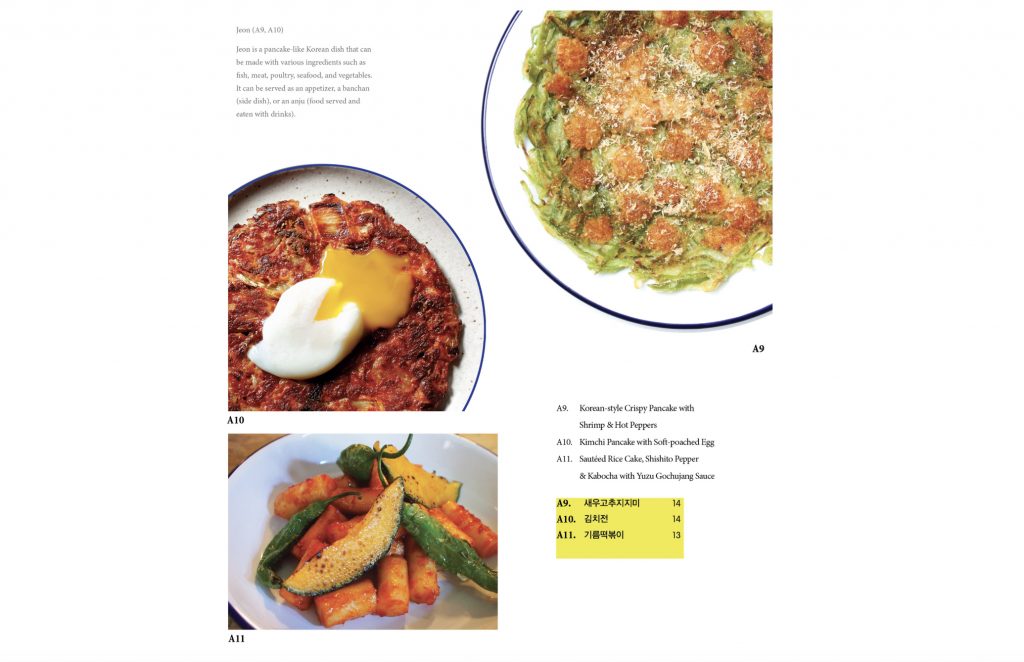 Her Name is Han
Her Name is Han in Koreatown was named one of the World's 50 Best Restaurants in 2016. Enjoy elevated versions of classic Korean dishes like Kimchi Pancakes with soft poached eggs or sautéed rice cake with shishito peppers, kabocha squash, and yuzu gochujang sauce.
Or, opt for the Korean-style crispy pancake with shrimp and hot peppers. The menu features lots of pork belly, marinated chicken, seafood, and beef dishes served in a variety of styles– hot pot, BBQ, stir-fry, and more.
Expect a modern environment with rustic tables and generous portions. Cocktails are brilliant and beautiful.
And, don't sleep on dessert: homemade ginger caramel with roasted plantain and vanilla ice cream topped with candied ginger, anyone?
For reservations (which you'll need), go here.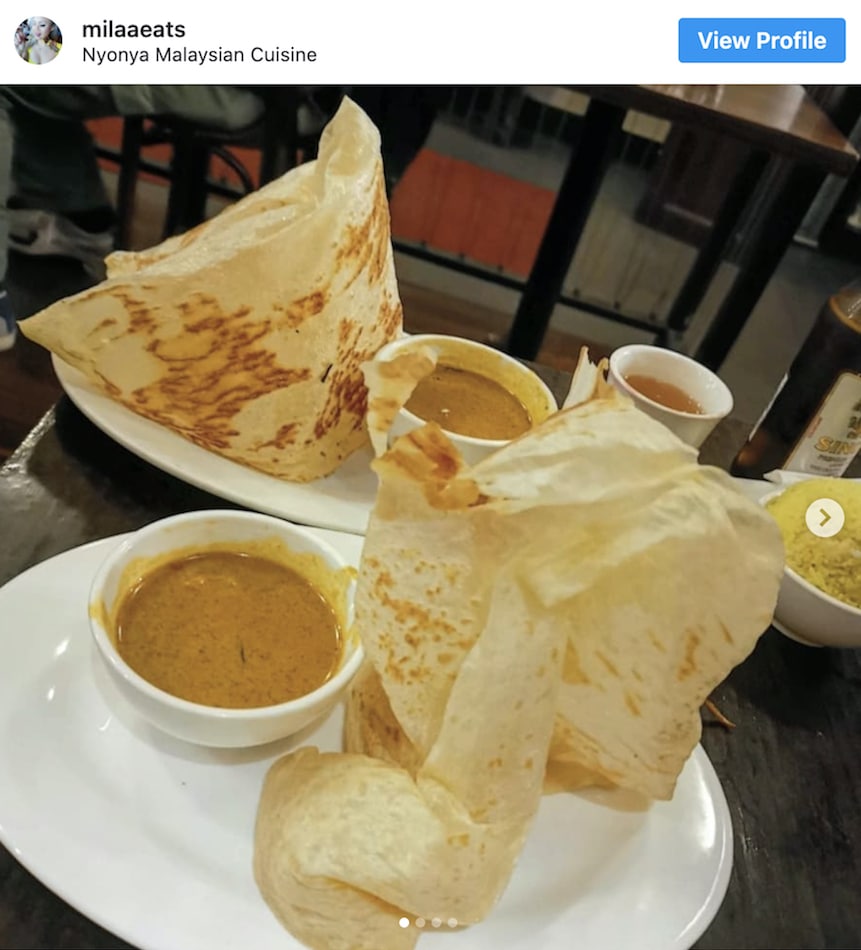 Nyonya Malaysian Cuisine
The first thing you need to know about Nyonya Malaysian Cuisine is that it is cash only, and it is a complete hole-in-the-wall. This restaurant is NOT fancy. Nyonya is not as elegant as some of the other foodie-approved restaurants on this list– but the flavors sure deliver.
The Roti Canai is insane! The Beef Rendang is super tender and moist! The Prawn Mi lunch is also less than $10, which makes it one of the most affordable, tasty lunch options in Chinatown. You get the idea.
We recommend Nyonya mostly for take-out. (Get the Roti Canai, the Prawn Mi Soup, the Beef Rendang and a vegetable dish for the full experience. You will have enough food to last a week!)
If you do eat-in, you can expect quick, no-frills service. The restaurant is unfussy, but the flavors are worth it.
Ultimately, Nyonya has been a staple in Chinatown for over 20 years for a reason. No need to book in advance. Just walk up or order takeout via Seamless.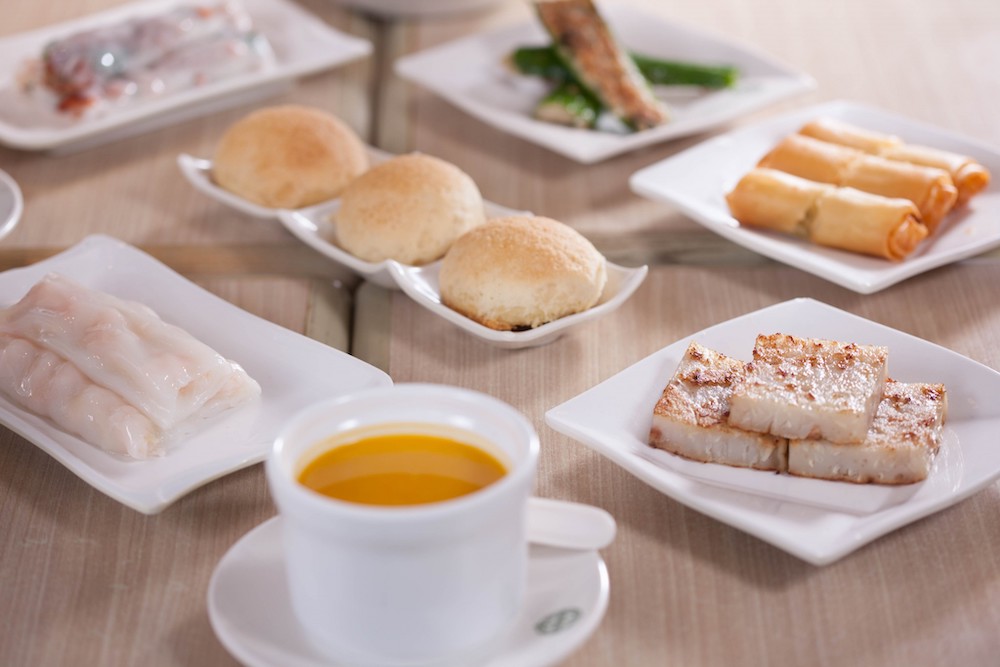 Tim Ho Wan
Tim Ho Wan is "the cheapest Michelin-starred restaurant in the world", serving Hong Kong-style dim sum to adoring New York City fanatics. With two locations in Hell's Kitchen and the East Village, Tim Ho Wan is easily one of the best Asian restaurants in NYC.
Foodies, locals, and tourists all love it, so you're bound to see a crowd no matter which restaurant you visit. The food is reliably delicious and the atmosphere lively. Most importantly: it's super cheap!
We particularly like the pork buns, the riced-stuffed lotus leaf appetizer, the shrimp dumplings, and the various spring rolls. Opt for shrimp or pork spring rolls for a real treat. And when they ask if you would like the sauce, always say yes.
Those seeking an elevated dining experience should be advised that Tim Ho Wan is super casual.
Unlike other Michelin-approved restaurants, there isn't an ounce of pretense at this walk-up establishment. Some people even come in with shopping bags to stand and eat at the bar!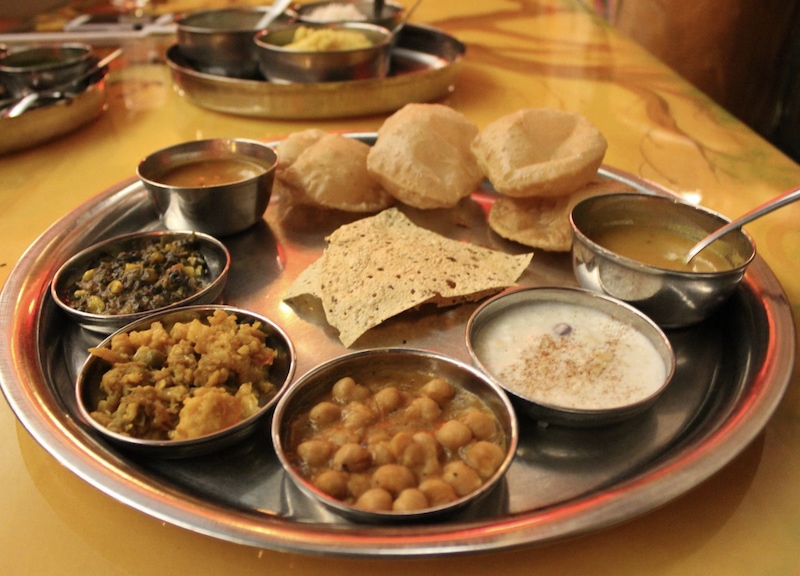 Vatan
If you only have an opportunity to eat at one vegetarian restaurant in New York City, Vatan is certain to be the most unique. This Gujarati-style Indian restaurant serves Thali meals consisting of various veggie-based dishes on a platter.
The food is also kosher, served amongst an epic backdrop of devotional murals on the walls. Tables enjoy thatched-roof awnings and the booths are "cave-style" and intimate. Service is spare, but you won't mind.
Vatan is also great for large groups– if you can, ask to be seated upstairs. The menu is fixed price but the food is unlimited, so if you like something, ask for more!
Just don't be confused when the appetizers come out looking like a full meal; this is not a restaurant that you'll leave feeling hungry.
There are multiple courses to each meal service at Vatan (including dessert and filling drinks like mango lassi). You'll want to save room for all of them. Just be sure to finish off your meal with fresh chai, made in-house.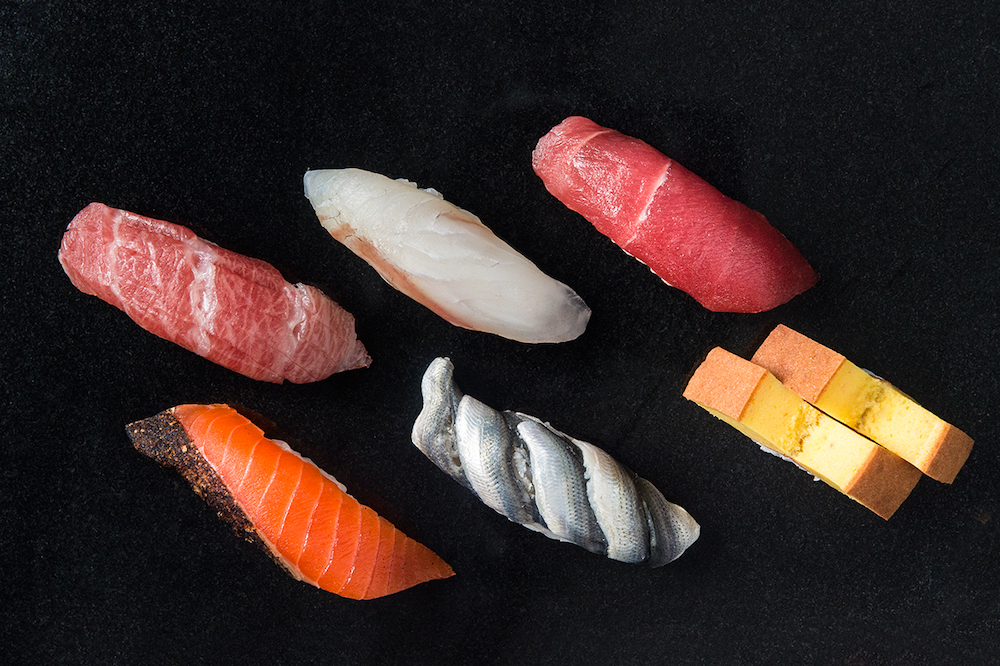 Sushi Nakazawa
Tucked away on a cute little stretch of Commerce Street (right next to where Milk & Cookies bakery used to be) Sushi Nakazawa serves what is undoubtedly the best sushi in New York City.
Helmed by former Jiro apprentice Daisuke Nakazawa, Sushi Nakazawa serves an authentic omakase tasting menu of Edomae-style sushi.
This 20-course meal takes place at a chic sushi bar where guests watch the chefs prepare sushi up close and personal. It's a lovely, reverent space worthy of the culinary theatrics that guests find so charming.
Look out for the iconic, slightly sweet egg sushi tomago. Chef Nakazawa had to make this for Jiro 200 times before he got his approval to serve it on his own.
Overall, this place is an absolute must for Sushi lovers. There's nothing else like it in America (other than the other Sushi Nakazawa location that recently opened in Washington, D.C.).
Be sure to book well in advance.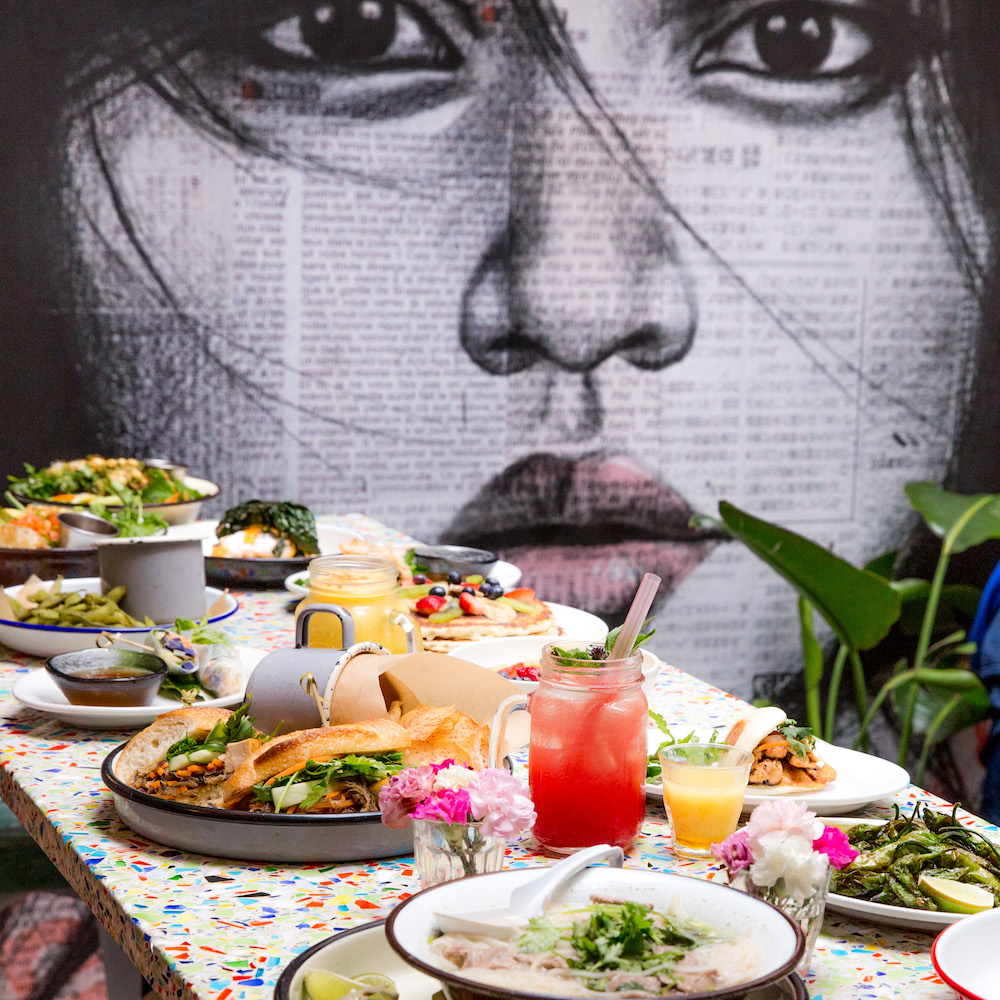 Bò Cà Phê
Quirky decor and delicious bò bún (the French word for Vietnamese rice noodles) make this French-inspired Vietnamese canteen one of the best Asian restaurants in SoHo. Bò Cà Phê is the place to go if you're craving truly unique fusion food. Plus, it's trendy.
The restaurant fuses the technique of fine French cooking with the flavors and composition of traditional Vietnamese cuisine. (Think rice bowls, bao sandwiches, rice noodles, etc.)
Plus, there are cool extras like the option to substitute cauliflower rice or grass-fed chicken for their traditional less-healthy counterparts. Bò Cà Phê is snug and cozy, and the service is quick. This is a great place to rock up for a delicious lunch or dinner while shopping in SoHo.
No need to book ahead. But if you do want to book ahead, there's a beautiful mural above the secluded tables in the back (see photo, above).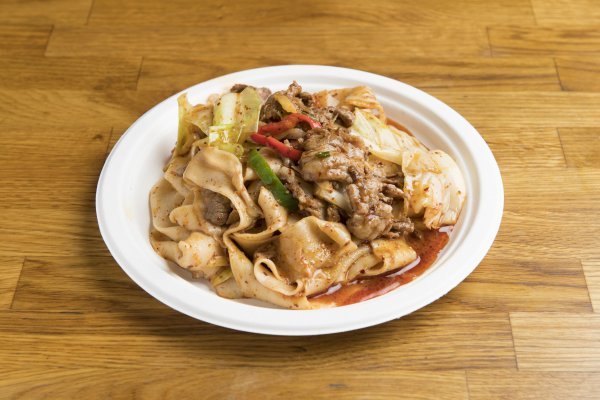 Xi'an Famous Foods
Xi'an Famous Foods is a beloved New York City chain known for Western Chinese style dumplings and noodle shops. They are fast, super casual, and great for take-out.
Above all, XFF is famous for their Hand-Ripped Spicy Cumin Lamb Noodles, which feature giant, 2-foot long egg noodles in an umami-rich broth of seasoned lamb and scallions.
These noodles have won lots of awards and topped many a critics list. Suffice it to say that the authenticity adds to the deliciousness.
Many of the dishes here are spicy, but the spiciness is manageable and pairs beautifully with the restaurant's signature chrysanthemum tea.
Other popular menu items include spicy pork dumplings and spicy lamb dumplings, which can be served with or without broth.
Expect a line, especially around lunchtime– but it will move quickly. And it bears repeating: if they ask you if you want your order "spicy," say "yes". It's so good!
Related: Read our guide to the 7 Best Dumpling Spots in NYC.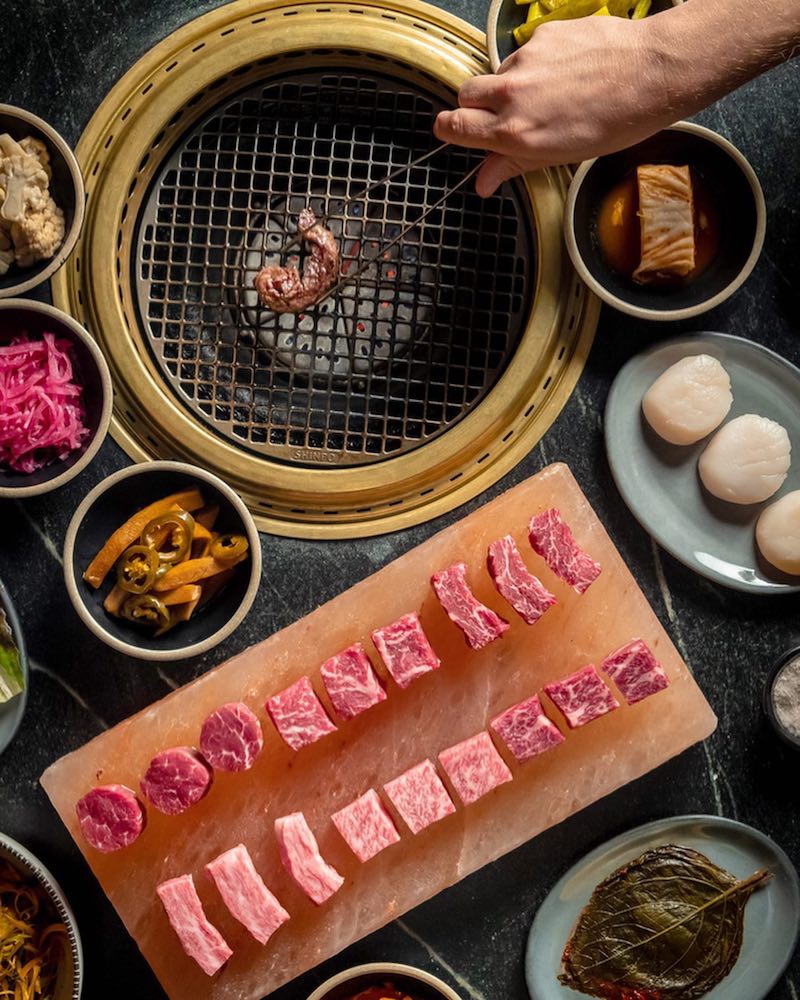 Cote Korean Steakhouse
Cote Korean Steakhouse is a meat-lovers paradise. This elevated Korean BBQ destination is one of the best places to eat steak in NYC. Styled like a nightclub and ideal for groups of more than four, Cote's grilling stations are great for groups. (As a result, if you have a party of 2, you'll only be able to make a reservation for 5 PM or 10 PM.)
Cote cooks their own dry-aged steaks family-style, on a grill set into the table where guests dine. The food is quite literally cooked right in front of you. While the experience comes with a hefty price tag, the $54 per person Butcher's Feast is the way to go.
We also recommend adding a Farmer's Basket of Seasonal Vegetables ($18 for the table). It's a good idea to mix in some veggies with all that beef.
Cote is also a great restaurant to go to in the winter, as the table grilling stations throw quite a bit of warmth (not unpleasant, but still noticeable). The restaurant has air conditioning, but if by chance you want to reach across the table you will feel the heat.
Excellent tableside service and generous portions add to the feeling of cozy indulgence. Cote can also easily accommodate gluten allergies or other sensitivities, since the food has minimal seasoning. The menu is also very paleo-friendly.
(FWIW, those who like Korean BBQ may also like Baekjeong NYC, which is also popular– if more casual– and much more wallet-friendly.)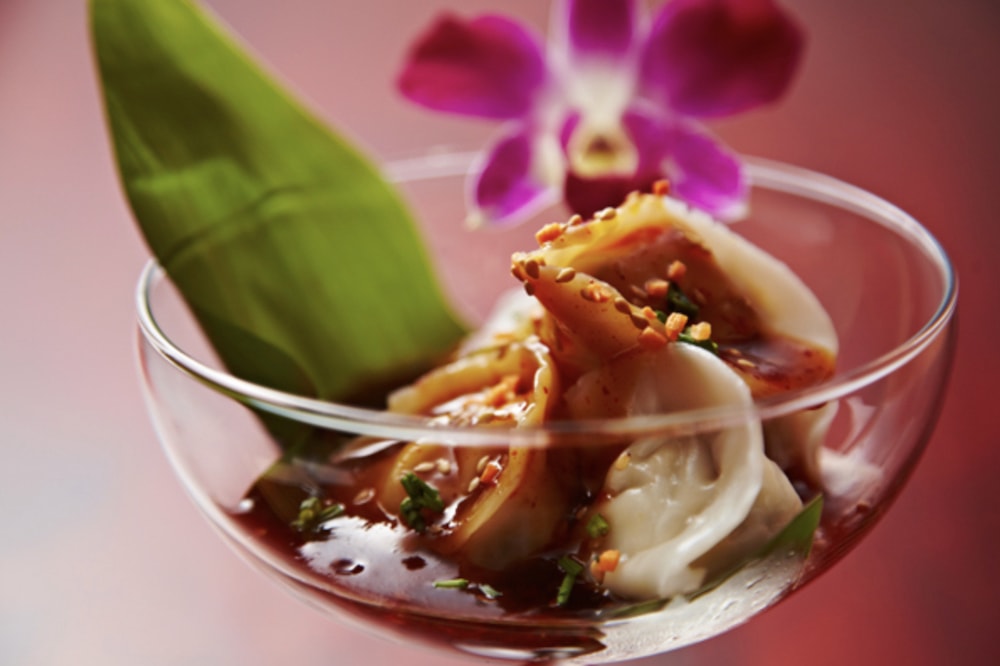 Hangawi
Hangawi is an upscale vegan restaurant and has Michelin Guide approval to boot. This always-busy Koreatown hot spot makes excellent organic avocado bibimbap (a vegetable-filled rice bowl) and delicious, Instagram-worthy spring rolls. We love being able to sit in the sunken booths, without shoes. (The host will ask you to remove them at the door.)
Plus, many of the menu items at Hangawi are organic, which is also hard to find in a typical Korean restaurant setting.
Be sure to book ahead. On a busy night, the wait here can extend well over an hour and a half.
Fortunately, there are plenty of other Korean restaurants in the area for those who don't have time to make a reservation. Explore if you must.
But if you came to the neighborhood specifically for Hangawi (or if you're a vegan or vegetarian with limited options) it's well worth the wait.
***
Related: The 5 Tacos Spots in NYC.
In search of dumplings or sweets? Read our guide to the 7 Best Dumpling Spots in NYC or visit one of the 12 Weirdest, Coolest NYC Ice Cream Shops— many of whose flavors are inspired by Asian desserts!