What bagels are to New York City and what coffee is to Portland, shave ice is to Hawai'i– particularly O'ahu, where the best shave ice is made. This Asian/Pacific Rim-influenced version of a snow cone (albeit a much better snowcone) is a classic Hawaiian dessert. You can't leave the island without trying shave ice– just ask Barack Obama, who is a repeat customer at many of the Oahu shave ice shops on this list.
Shave ice typically comes served in a cup or bowl, with a spoon and straw. The straw is for sipping up the juice once the ice melts, which is part of the experience. It's sweet, but also refreshing. This is a warm-weather dessert best experienced on the beach.
Below, we spotlight the best places to get shave ice on the island of O'ahu. Bookmark this list for easy reference during your trip.
It's worth repeating that you can only get shave ice in Hawai'i. Visitors: be sure to try it on your next Hawai'i vacation!
***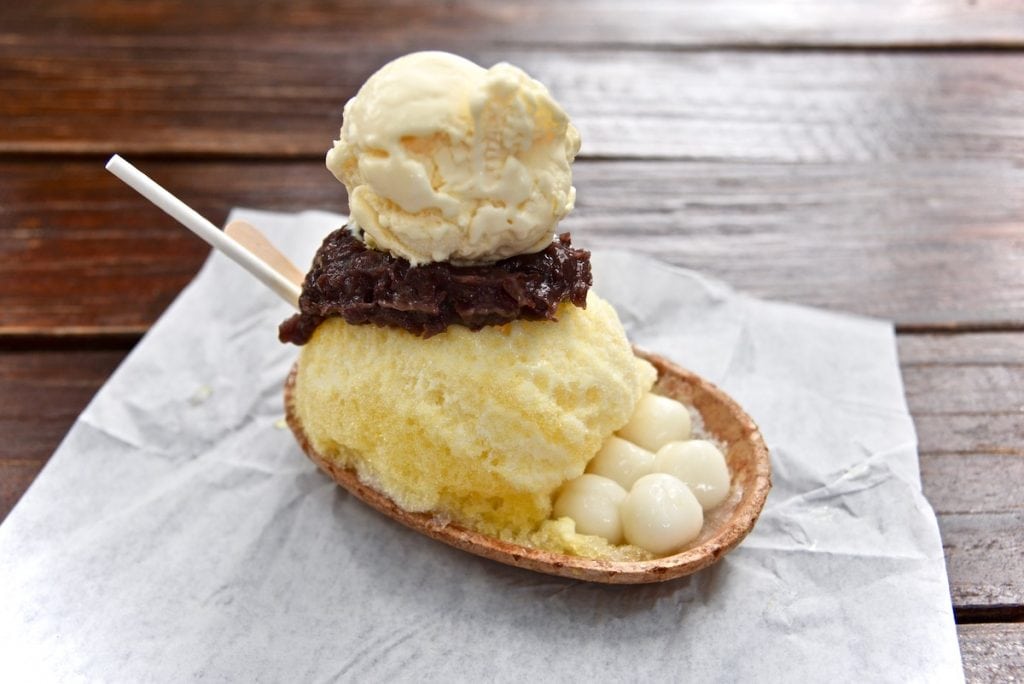 Matsumoto's Shave Ice
The one and only, legendary, and most iconic place to get shave ice on the island. Matsumoto's Shave Ice on the North Shore put shave ice on the map for a global audience.
Their beautifully curated grocery store and shave ice counter features exotic flavors and combos– my only advice is to get vanilla ice cream with whatever shave ice you order. Matsumotos makes their ice cream in-house, and it is the perfect complement to the shave ice, which will add to the experience.
Lately, they've been serving a special called the "Icheban," which is as tasty as it is beautiful to look at. This elaborate dessert served in a waffle boat features shave ice topped with adzuki bean, vanilla ice cream, mochi, and condensed milk. (That's a picture of it, above.) I strongly recommend getting it made with guava or mango ice. If you're a foodie, you'll love it.
Either way, no matter what you order, get the works. Ice cream, red adzuki bean topping, condensed milk, li hing mui powder, Thai iced tea syrup, etc. Be sure to take advantage of the option to mix-and-match, as it's part of what makes Matsumoto's so special.
Also, these are possibly the largest shave ices on Oahu, so if you get something like the Icheban you can easily split it with friends.
Many tourists who try several shave ices on the island argue that Matsumoto's makes the best shave ice on Oahu. This place is certainly the most well-known and commercial– but "best" is a matter of personal opinion.
Matsumoto's is, however, the shave ice place you should visit if you can only visit one. They have the most quintessentially "Hawaii" vibe, which is why they're mentioned in all the travel guides.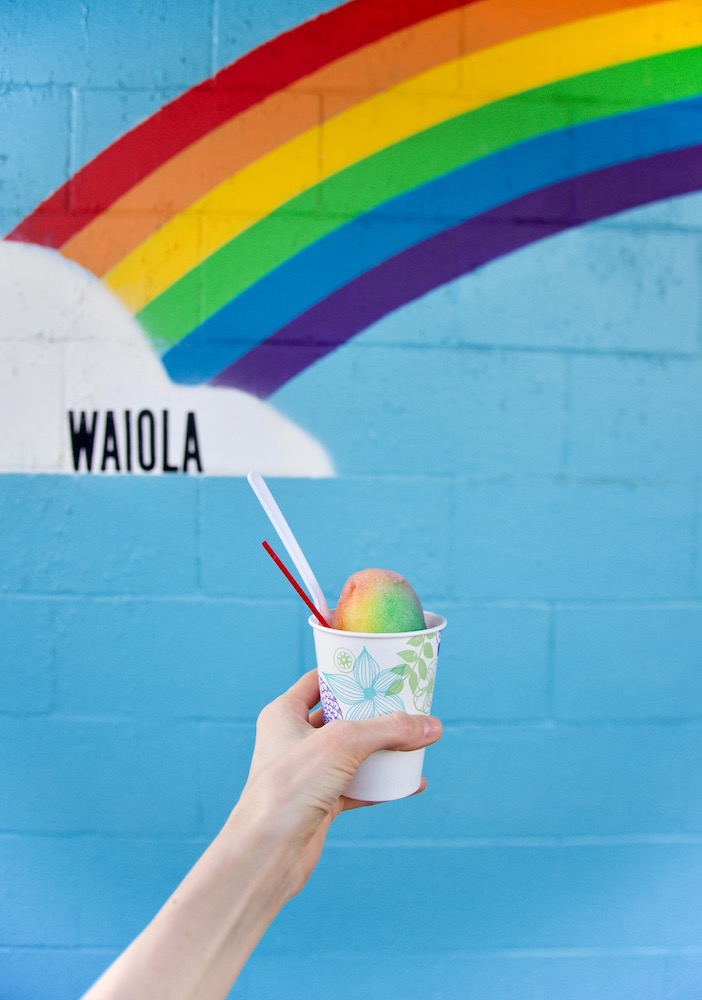 Waiola Shave Ice
Hawaii native Barack Obama famously loves shave ice, and one of his staple places to get it is at Waiola Shave Ice, near Waikiki. This mom-and-pop shop sells no-frills, super simple shave ice in an unassuming residential neighborhood. Plan to bike or drive here if you're staying in Waikiki/Honolulu.
Most people come to Waiola because they hear that the former president once went here for shave ice, but it's also a very "authentic" way to experience shave ice on O'ahu. They have a small bench for seating under the painted rainbow mural above.
Other than that, you're likely to see a bunch of kids and their parents standing around licking and sipping their shave ices in the sun. There's not much else to do in the area, so plan accordingly.
A real shave ice is sugary, melts quickly, and features only basic flavors– no fancy foodie add-ons like ice cream or anything like that. That's what you'll get at Waiola, and that's part of the charm. For purists and locals who live in town, Waiola is THE place to go for shave ice. It's also very cheap and affordable!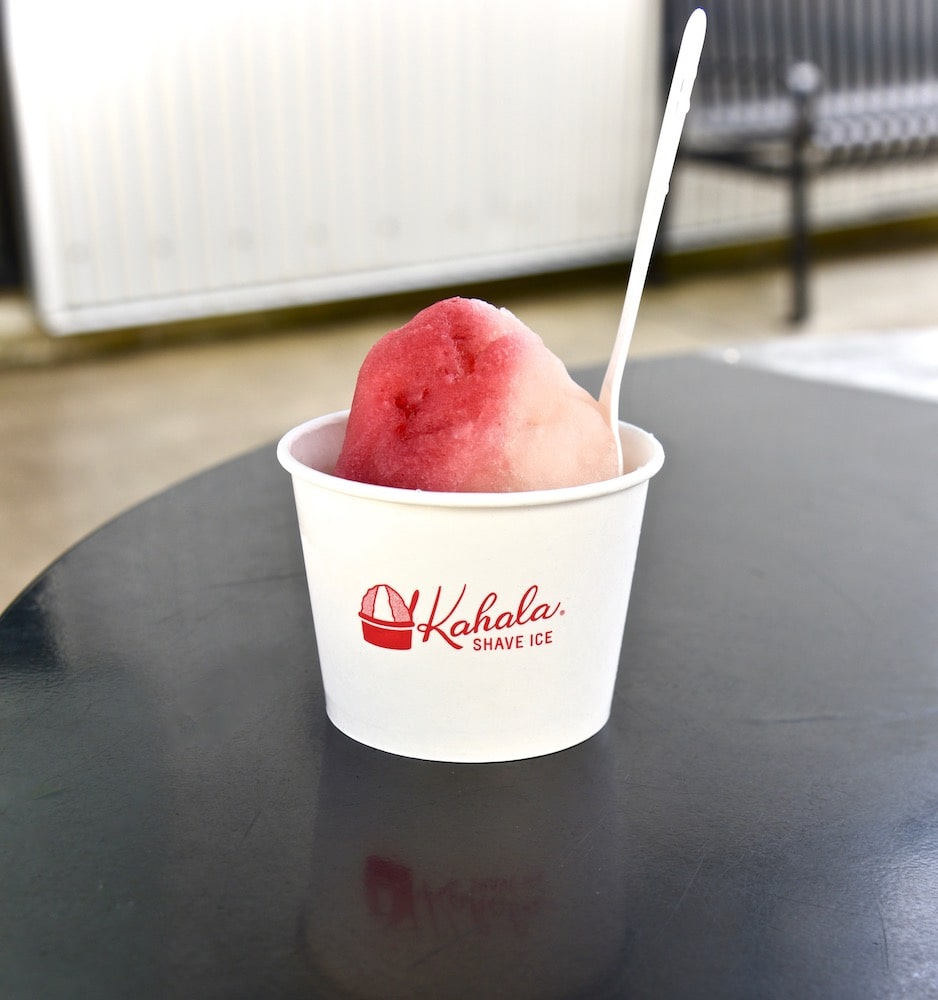 Kahala (inside SALT at Our Kaka'ako)
Nestled inside the Salt at Our Kaka'ako marketplace, Kahala Shave Ice is one of Oahu's best-kept secrets. I spent three months living on Oahu while writing a definitive guide to the island, and in that time I tried shave ice at almost 50 establishments. Kahala's Shave Ice tasted the best, in terms of the quality and actual flavor of the ice.
Kalaha is one of the few shave ice places on the island that offers organic syrups. I love that they also have super niche Hawaii-only flavors like mountain apple (a local wild fruit) and jaboticaba. (Jaboticaba is an extremely rare, wild, grape-like fruit that we were lucky enough to buy fresh from a specialty grocer when we lived in Kailua). They also have fancy foodie flavors like tamarind, Kona coffee, guava chili, and kine lime. You won't find those anywhere else.
While Kahala is mostly known for their hipster aloha shirts, the tiny shave ice stand attached to their shop is going to blow up once people realize how good it is.
If you've had shave ice before and want to have your mind blown, this is the place to go. The flavors here are just better; the syrups taste more like real fruit. And the ice is so soft it's like snow! Crazy.
Basically, if you're a gourmand or someone who is super health-conscious, this is the shave ice for you.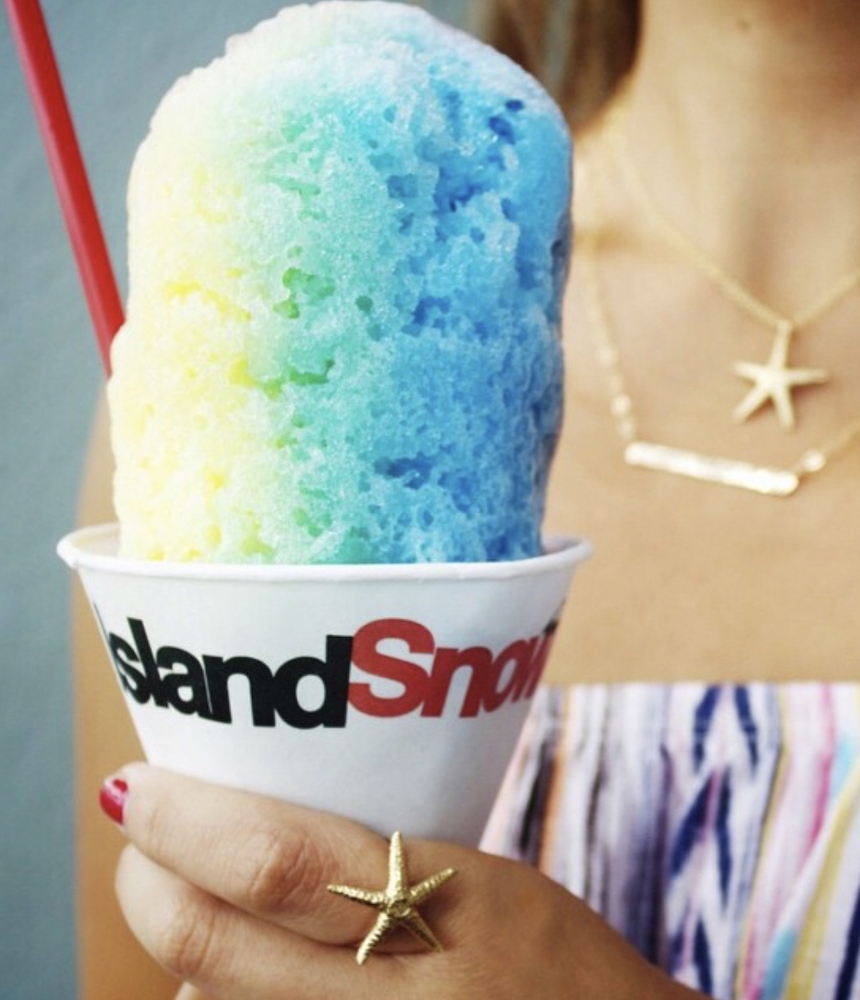 Island Snow
What Kith is to ice cream in New York City, Island Snow is to shave ice on Oahu. This clothing-meets-dessert shop in Kailua sells both stylish urban streetwear and shave ice.
Located about 30 minutes north of Waikiki, on the windward side of O'ahu, Island Snow offers a modern take on the shave ice experience. There are dozens of flavors to choose from and a few locally sourced syrups. Portions are decent and price is on the higher side. This is because at Island Snow, you're really paying for "the experience."
Barack Obama stans can order the "Snowbama"– the same combination of lemon-lime, cherry, and passion-guava that the former president orders when he eats here. He also sometimes adds melona, aka honeydew melon, into the mix. However, he never takes his shave ice with ice cream. You'll know Obama is in town when you see the Secret Service outside. Reportedly, the former President makes his daughters wait in line just like everyone else.
All Island Snow shave ices come with the option of getting ice cream on the bottom– sort of like a frozen version of a fruit-on-the-bottom yogurt. Apparently, Obama says no to this option. Most people who want a "less sweet" shave ice get ice cream on the bottom to cut the sweetness. (The fat in the ice cream tames the intensity of the sugar syrups.)
Those who love frozen lemonade will enjoy Island Snow's all-natural "Crack Seed Lemon Peel" and Sour Lemonade flavors. I recommend getting them both, with macadamia nut ice cream in the bottom.
Island Snow has two locations in Kailua. One is close to Kailua Beach Park, and the other is in Kailua Town. We prefer the latter location, but the former is walkable from Kailua Beach, one of the most beautiful beaches on O'ahu.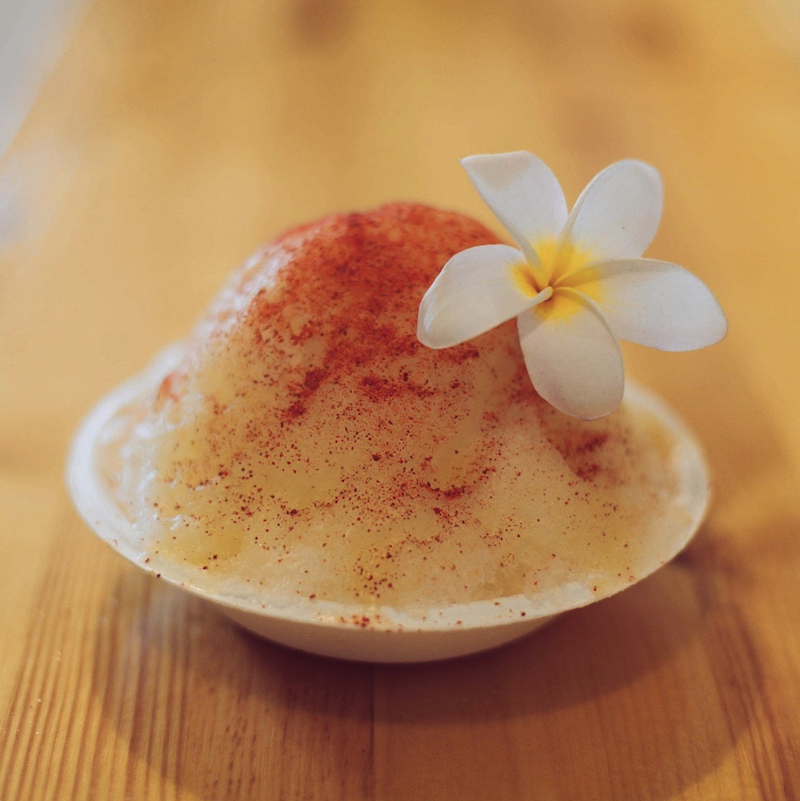 Kaimana Shave Ice
Kaimana Shave Ice offers one of the island's few "refined" shave ices. At this rustic hidden gem on the North Shore, owner Jake Nowicki makes delicious syrups in-house from special local ingredients.
While most shave ice places use ready-made sugar syrups that reminisce of childhood ice cream trucks, Kaimana makes artisanal sugar syrups from scratch. They even have a pickled green mango flavor! The owners also make their own homemade macadamia nut ice cream (it's divine) and there's a cute little landscaped seating area in the back. The whole place is very Instagram-able.
Overall, Kaimana Shave Ice is definitely the best Oahu shave ice joint for foodies and people who love acai bowls.
For a classic pairing, order vanilla ice cream with pineapple shave ice sprinkled with sweet-but-tart li hing mui powder, a local Asian-inspired delicacy. Topped with local plumeria (which, yes, is edible) it's a beautiful twist on this classic Hawaiian dessert.
We also love making a piña colada shave ice. Combine Kaimana's homemade macadamia nut ice cream with condensed milk and coconut + pineapple shave ice (their two most popular flavors).
After you're done eating, walk across the street to North Shore Goodies and buy a jar of The Original Coconut Peanut Butter as a Hawaii souvenir. (It's one of the best-tasting peanut butters on the planet– another hidden gem from the North Shore.)
Related: The 5 Best Places to Try Mai Tais on O'ahu.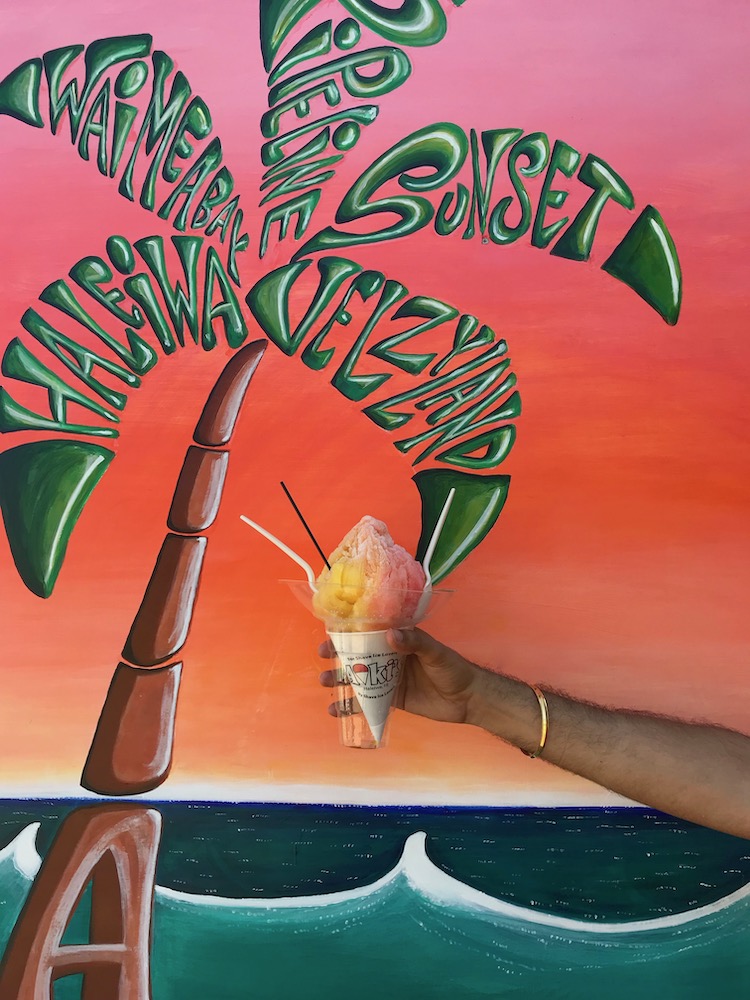 Aoki's Shave Ice
Aoki's Shave Ice in Haleiwa is literally right across the street from the complex that houses Matsumoto's Shave Ice, but it has a much shorter line.
"Advice from Aoki's Shave Ice," reads a mural outside this family-owned shave ice stand: "Stay Cool. Be Sweet. Be Well Rounded. Share With Friends. And If You Have a Meltdown, Grab a Straw and Suck It Up". This is a good representation of the cheeky vibe at this local favorite shave ice stand.
Aoki's shaves their ice super finely, which is one of the reasons why people like it. They also have unusual mainland flavors like "Pumpkin Spice" shave ice in the Fall. They have a special themed flavors like "Tiger's Blood" (strawberry, watermelon, and coconut mixed). Also, we love their creative signage and cool palm tree mural, which is ideal for snapping photos (see above).
Sour lovers go for the "Sour Pucker" (raspberry, sour apple, and a splash of li hing mui). Meanwhile, kids love the crazy flavors like bubble gum, rootbeer, and cotton candy. However, we prefer to stick with classic local flavors like ube (purple sweet potato) and mango, thank-you-very-much.
***
Related: Want more food recommendations on O'ahu? Check out our dining guide to the 25 Best Restaurants in Honolulu. We also have spotlights on O'ahu's best coffee shops, acai bowls, and a guide to the best breakfast spots on the island (<—Kalua pork eggs benedict and guava chiffon pancakes, anyone?)
And if you need a good hike after– well, we've got you covered there, too.