Seemingly no one works in L.A.– or at least that's what you'd think when regarding brunch crowds on any given day of the week. Brunch, moreover, is a whole experience in Los Angeles.
Like brunch in New York, brunch in LA is a place where people like to linger, see, and be seen while dining on some of the best food in the country.
As a result, the restaurants that serve the best brunch in LA are crowded not just on the weekends, but on the weekdays, as well.
In my opinion, the best brunch spots in LA are categorically on the West Side– Venice, Santa Monica, West Hollywood, etc. DTLA and Beverly Hills have great brunch places, too, but because of the local industrial real estate in those areas, they tend to attract chain restaurants. (Nice, boutique chain restaurants, but chain restaurants nonetheless.)
For the real beatnik California cuisine experience, you have to go South and towards the Pacific. There are, of course, exceptions– like Manuela, the restaurant inside the Hauser & Wirth Los Angeles art gallery, which is a unique place to get brunch downtown.
Otherwise, you generally want to go towards the coast to get your Los Angeles breakfast fix.
And breakfast in LA is definitely a fix. Angelenos love their egg bowls and avocado toast, after all. Below, we spotlight where to get the best breakfast and brunch in Los Angeles.
From iconic strongholds (looking at you, Sqirl) to little-known hole-in-the-walls, each of these LA brunch spots offers fresh, seasonal cuisine that reflects the richness, biodiversity, and cosmopolitan nature of food in the city. Ultimately, each destination captures the essence of Los Angeles in its menu, culture, and vibe.
***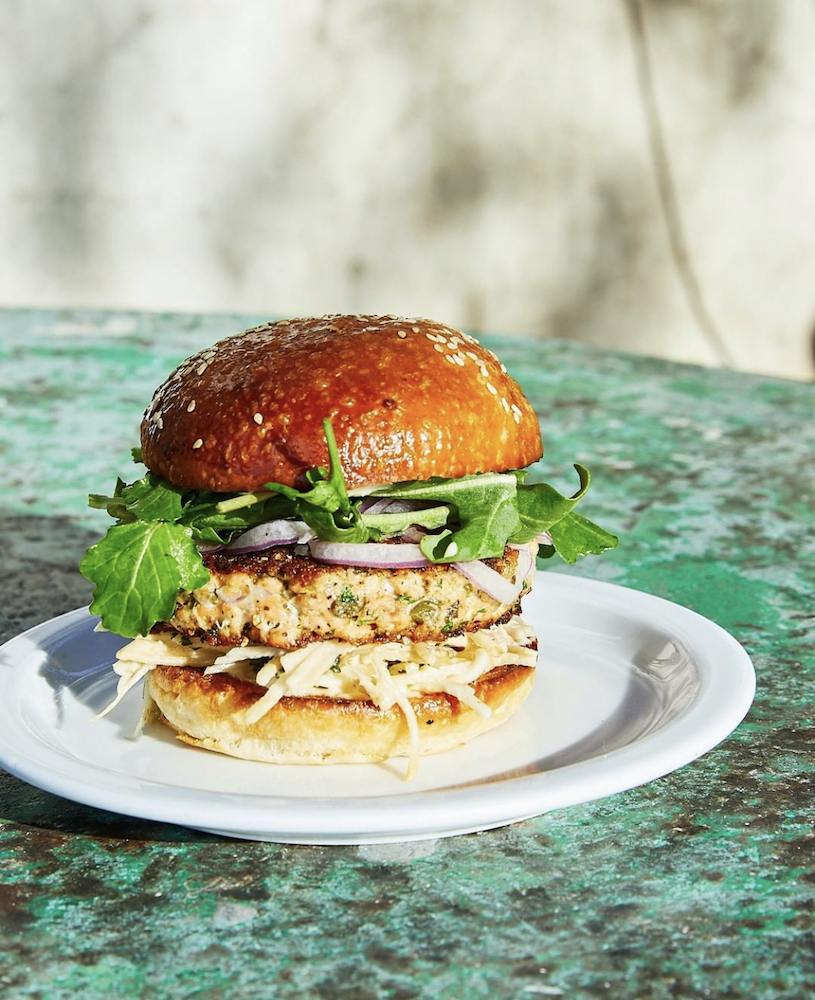 Gjusta
The cafe offshoot of local favorite restaurant Gjelina is just as good– if more abstract and inventive– as the original. Gjusta, on Sunset Ave in Venice, is my all-time favorite brunch spot in Venice. It's casual, and I like the industrial-rustic, come-as-you-are vibe. Plus, the egg bowls with fresh veggies and hummus really suit my taste.
Gjusta is a locavore paradise, with excellent house made bread, smoked meats, pickles, sauces, honeys, drinks, sauces and other sundries available for purchase. The market here is small but mighty.
They also have great juices and salads, and the sandwiches are excellent, as are all the baked goods behind the counter. (Here, you can find interesting items like Tahini Croissants and Lemon Ricotta Teacakes. When in doubt, get both. Everything is delicious.)
The egg on english muffin with collards, gruyere, bacon, and hot sauce is THE go-to order. If they ask if you want avocado, you are basically obligated to say yes. (It's SO good!)
I also love and strongly recommend the Veggie Madame, made on sourdough with fresh market greens. The mushroom, avocado, and/or salmon belly grain bowls are also great brunch options.
Whether you're eating fresh granola + fruit or breaking open a perfect soft-fried egg, this chic bakery-and-market has items to suit every taste. There's cozy outdoor patio seating in the back, and a slim counter where it's nice to eat and chat with friends.
If you plan to explore Abbot-Kinney Boulevard, this is a great place to brunch nearby. Otherwise, meander on in with your dog and get a drip coffee to-go. Just be sure to get some Meyer lemon pickles and spiced olive oil for your pantry on the way out. It's that kind of place.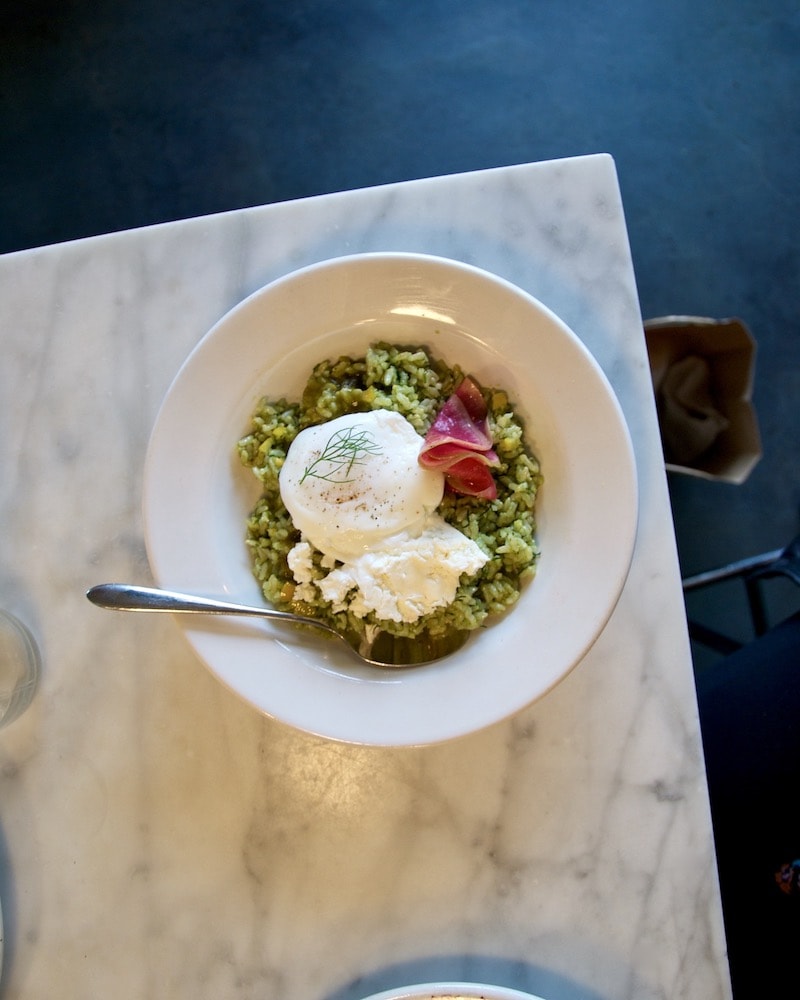 Sqirl
Sqirl's astronomical success was built on the shoulder's Jessica Koslow's jam empire and one fateful review from the late Jonathan Gold, who referred to the inventive cuisine– which includes items like tangy Meyer lemon-infused pesto rice served with perfectly-poached egg, pickled watermelon radish, bacon, avocado, and creamy sheeps milk cheese– as something that can "actually change your life."
The New York Times echoed this sentiment, calling it "wickedly-conceived breakfast food" that's "downright revolutionary".
Today, Sqirl still serves some of the best breakfast food in America. (This is hands down my favorite brunch spot in L.A., and I've eaten everywhere.) The vibe is also super unique to L.A., as well. Not-quite hipster, not-quite punk, always farm-to-table, with lots of citrus elements woven throughout the menu.
Koslow, for those who don't know, is famous for her artisanal farm-to-table jams, which come in hyper-regional flavors like "Seascape Strawberry and Rose Geranium" and "Warren Pear", which you usually don't see outside of California. She sold these jams at farmers markets in LA before launching Sqirl in 2012. The restaurant was originally conceived as an excuse to serve food that, she jokes, could be a vehicle for jam.
Today, Sqirl offers globally-inspired brunch in a minimalist, hipster space in a sleepy corner of Silver Lake. The signature items remain the sorrel pesto rice bowl (she of the glowing New York Times review), and the ginormous ricotta toast (the aforementioned "vehicle for jam" which could feed a small army).
Sqirl also makes local horchata, turmeric lattes, and other bespoke artisanal drinks.
Don't sleep on the baked goods here, either. We love the beautiful specialty cakes, sticky toffee buns, blueberry financiers, and cardamom tea cakes. (I used to get dozens of these in a to-go box and drive barefoot over to Fern Dell whenever I wanted to surprise visiting friends. Nothing like scarfing Sqirl pastry before hiking up to Griffith Observatory!)
Needless to say, they were impressed.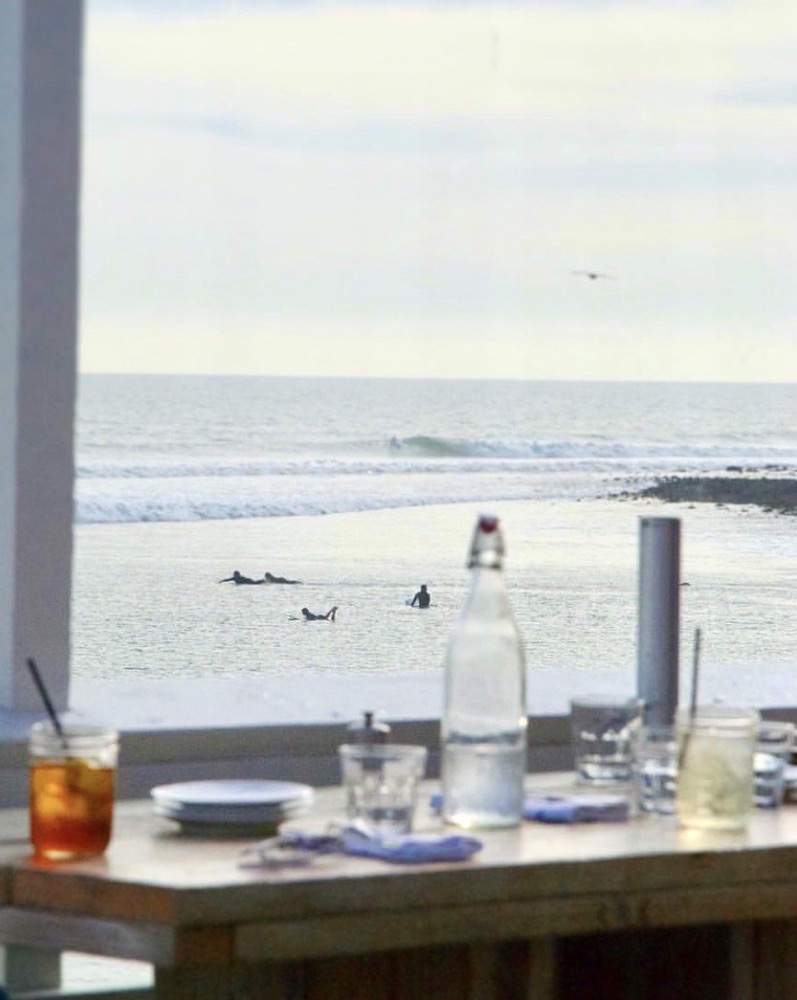 Malibu Farm Pier Cafe (+ Malibu Farm Restaurant)
If ever there was an excuse to get up early and drive to Malibu, having brunch while watching the surfers is it. Malibu Farm Pier Cafe is a lovely, somewhat hidden gem on the West Side, offering what is easily the best waterfront brunch in LA.
The cafe– a more casual spin off of the popular Malibu Farm Restaurant at the start of Malibu Pier– serves a lower-key version of the same super fresh, farm-to-table California cuisine from its location at the end of the Pier. Both of the restaurants are excellent, but we love the open air views at the cafe.
Two Restaurants with Insanely Beautiful Views
Here, from your perch just above the Pacific, you can take in beautiful views of surfers riding waves on the California coast. (See above image.) The cafe's brunch items include standard Los Angeles brunch staples like fried egg sandwiches, breakfast burritos, farm scrambled eggs + smoked salmon, and quinoa oatmeal.
There are also some internationally-inspired items like Swedish mini pancakes with whipped cream and berries. (Personally, I like the aptly named "Surfers Rancheros", made with fried eggs, squash, potatoes, and salsa in a corn tortilla, with avocado, feta, peppers, onions, beans, and slaw.)
For more upscale fare, make a breakfast reservation at Malibu Farm and enjoy elegant brunch items like poblano lobster burritos, smoked salmon hash "pytt-i-panna" (aka fried eggs, potatoes, beets, squash, zucchini, onion, arugula, and horseradish cream), and green-eggs-no-ham "shakshuka". All are delightful.
The restaurant takes reservations but the cafe does not. Either way, be sure to arrive early to allow ample time to enjoy the beach and the views. And if you're in the market for a late arrival, the salads, nachos, Malibu mushroom wrap, and the crab cake sandwich from the lunch menu are also excellent.
Plus, the restaurant has plenty of gluten-free options, and each is wildly inventive. But really: with views this gorgeous, the fact that the food is great is just a bonus. You could easily go here for the views alone.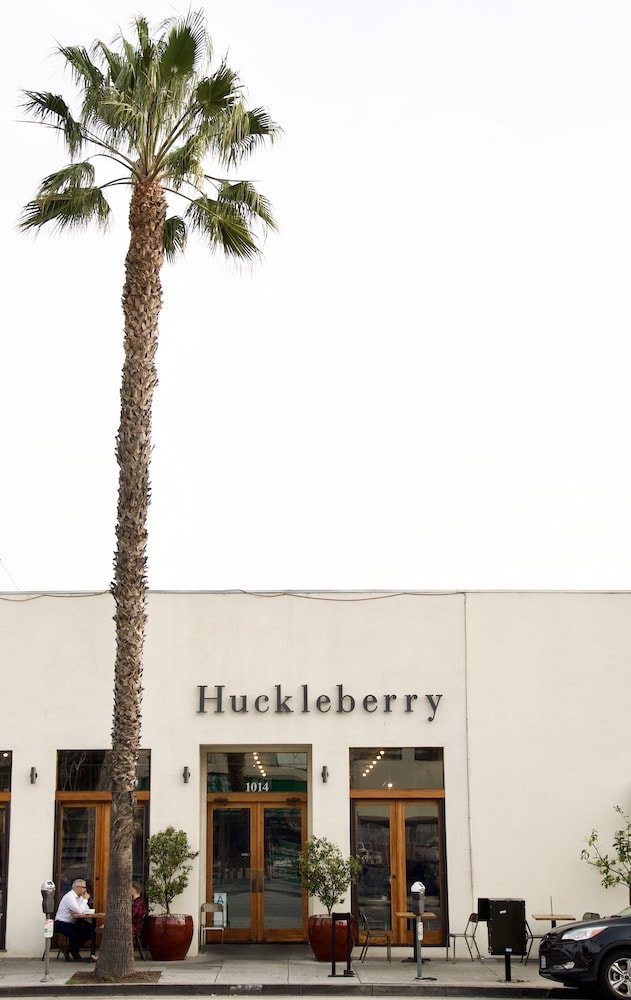 Huckleberry Bakery and Cafe
Huckleberry Bakery and Cafe is a quaint cafe and bakery on Wilshire Blvd in Santa Monica that serves lovely brunch, breakfast, and lunch items with a decidedly country lean.
Come for "Dad's pancakes" and homemade granola, stay for the sweet cornbread, a truly incredible breakfast burrito, or an organic quinoa and market vegetable bowl. We love getting their pastry and house made lattes to go.
This is a great breakfast spot for traditionalists and picky eaters. The portions and flavors are homestyle, so there's few exotic spices and nothing on the brunch menu is too challenging. The bakery is also delicious, as Huckleberry Bakery got its start on the sweet side of things.
If you're too full after brunch but still want to try the goods, grab a muffin or cookie to go. The staff is friendly and they won't judge.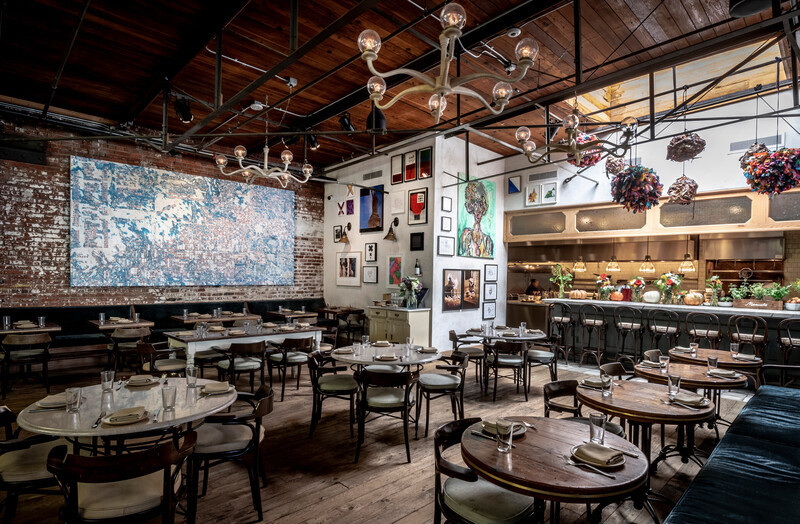 Manuela
The restaurant at Hauser + Wirth's Los Angeles gallery feels like something that should be in New York City, with its industrial-chic environs and artsy open concept kitchen. Still, Manuela restaurant is a decidedly L.A. establishment, serving upscale southern cuisine with a seasonal SoCal spin.
This is a great place to dine in the summer, as the open air warehouse is particularly conducive to relaxation. We love the cast iron blue cornbread and the smoked albacore dip. Also be sure to try the classic Cream biscuits, which are– as if by necessity– large enough to share.
For mains, expect fusion dishes like Crisp Polenta with maitake ragu, creme fraiche, and fried egg; or Cherokee Tomato Toast with dungeness crab dressing, house brioche, benne seeds, and fresh garden herbs. Even the market vegetables here are excellent. Once you've had Manuela's blistered snap peas, you'll never look back.
Executive Chef Kris Tominaga uses produce, eggs, and herbs from the gallery's own community garden. As a true art gallery eatery, Manuela also features specially-commissioned works from local L.A. artists Paul McCarthy, Mark Bradford, and Raymond Pettibon.
Get brunch, then browse the gallery + bookshop for the full experience. It's the perfect way to spend an afternoon in this increasingly walkable part of downtown.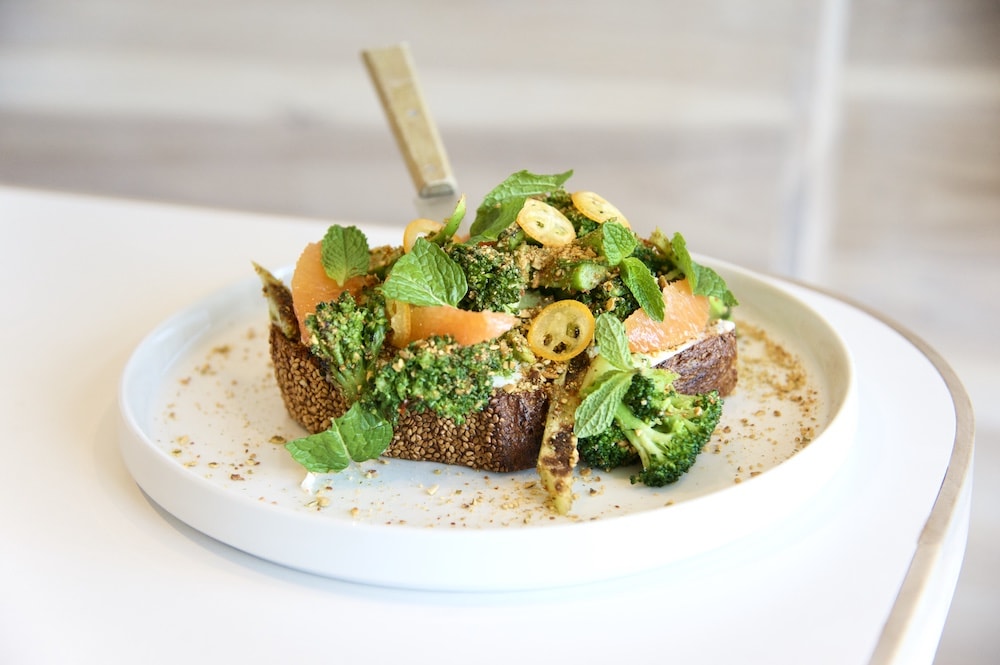 Kismet
Kismet is a vegetable-forward, middle-eastern inspired brunch spot in which traditional global flavors are reimagined as modern day California cuisine. Like Sqirl, the toasts here are huge, conceptual meals rather than simple side dishes.
Meanwhile the salads, which are super fresh and always intriguing, offer unique flavor pairing that inspire all senses. (Aesthetically, Kismet feels like LA's answer to New York's beloved Lower East Side hot spot, Dimes.)
Vegetable lovers and those who love Mediterranean dining will fawn over Kismet's fresh, herbaceous eats. We love the surprisingly excellent broccoli toast (who knew these two things would taste so good together?), as well as the house labneh + tahini. The fried cauliflower with caper yogurt, meanwhile, is not to be missed.
The menu is seasonal and thus rotates often, but signature items– like red and green zhoug, lamb meatballs, or house marinated feta– are friendly, familiar staples.
If you're looking for nuance, this is one of the more unique brunch menus in LA. (And when it's around, their lemony chicken is insanely delicious.)
For the full experience, order a Mezze Meal to share. It's perfect for a date, a meeting, or a fun catch up among friends. This way, you'll both get to try a bit of everything.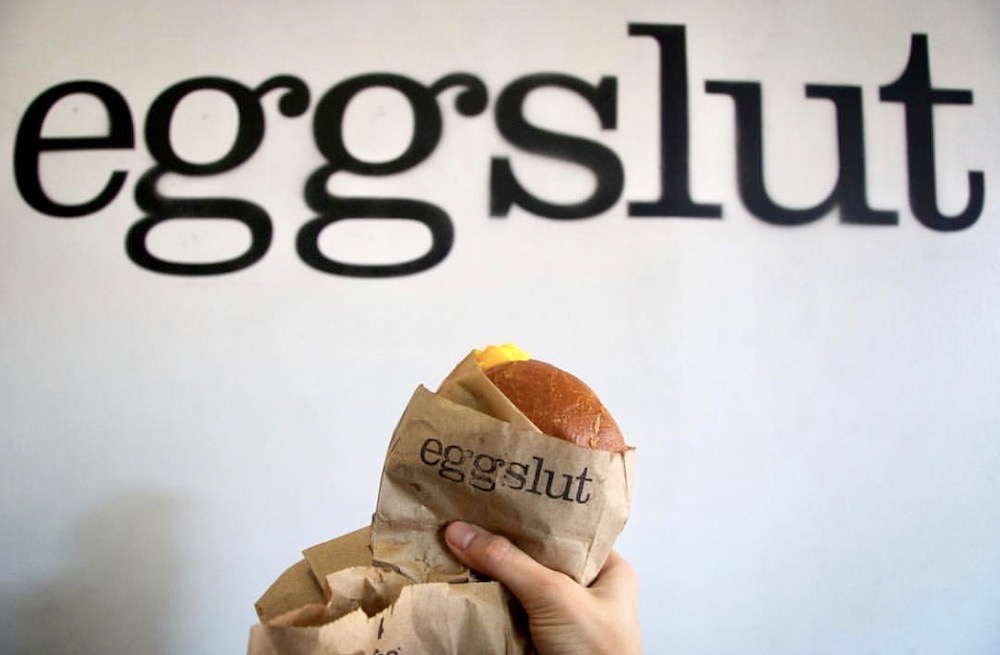 Eggslut
I know, I know: the name is problematic. Nevertheless, Eggslut makes what are easily the best egg sandwiches in Los Angeles. The expertly "coddled" eggs, cloud-like brioche, and heavenly layer of cheese (add avocado for a real local experience!) create a symphony of umami in your mouth. (Editor's Note: "Coddling" eggs is a gentle steaming method that yields those half-baked runny yokes that every food critic loves.)
For the quintessential experience, order the Fairfax Sandwich— cage free soft scrambled eggs and chives, cheddar cheese, caramelized onions, and sriracha mayo in a warm brioche bun. (Again, I suggest you add avocado. It's not on the menu, but they will do it.)
Eggslut started as a gourmet concept pop-up in DTLA's Grand Central Market, but has since expanded to Venice. (It has a blink-and-you'll-miss-it walk-in cafe not too far from Hotel Erwin. This is a chill-er spot to go, as the DTLA location usually has a line on the weekends.) They also have a new-ish location in West Hollywood.
In the last few years, Eggslut's egg sandwiches have become so popular that they've since expanded to London, South Korea, Japan, and– wait for it– Vegas.
Still, Eggslut sandwiches remain, and always will be, a Los Angeles original, like In-N-Out Burger or Randy's Donuts (below). There is no comparison. One bite and you'll understand why.
Like Jessica Koslow's Sqirl and Roy Choy's Kogi BBQ taco truck, it's one of the few food institutions in L.A. that people really go out of their way to experience, almost to the point of absurdity. This is just an egg sandwich, after all. But that being said (and at the risk of gross hyperbole), it will– just maybe– change your life.
Randy's Donuts
This isn't technically a brunch spot, but the iconic coffee-and-donut shop, Randy's Donuts, is like the most photographed restaurant in L.A. before 10 AM.
The original Randy's is located on West Manchester Boulevard in Inglewood; go there for the quintessential experience and a cheesy but necessary donut selfie beneath the massive donut monument.
Overall, it's the cheapest breakfast in L.A., and it's sort of a tourist bucket list item, too. We love the chocolate glazed and the golden, buttery old fashioned donut. (Those are the two donuts to the left in the picture, above. Yes, you'll see a lot of people trying to recreate this #DonutSelfie.)
Randy's in Inglewood is located in a pretty industrial area. Because of this I usually tell visitors to take an Uber there. You can't really walk, and biking is pretty untenable. If you have a local friend, ask them to drive you!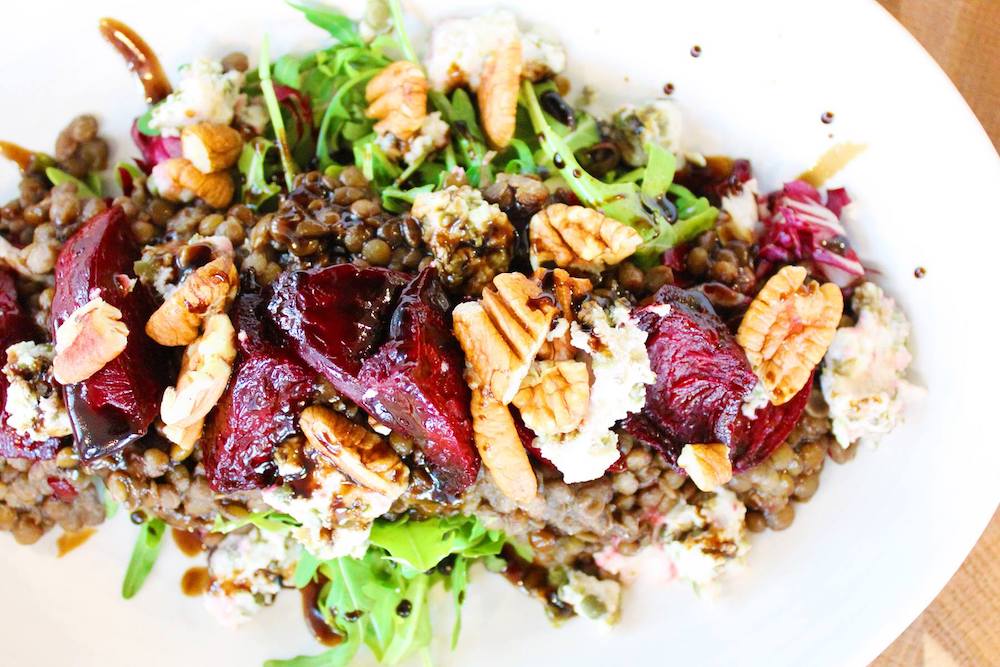 Cafe Gratitude
Cafe Gratitude is a healthy brunch lovers haven, offering what is likely the healthiest brunch menu in Los Angeles. The food is local, organic, and vegan. We love the veggie-forward bowls at this completely vegan restaurant. They also offer a spectrum of delicious vegan baked goods, chocolate, and truffles.
Their rainbow of superfood smoothies and elixir shots are the real draw, as is the hippie-dippy policy of praising every customer based on what they order. (They claim that "Our food and our people are an expression of our aliveness.")
For example, if you order the I AM HUMBLE bowl, the wait staff will literally say "you are humble" back to you. It's cheesy in all the right ways. (This practice is based in the Life Coaching principle that you manifest the good will that you speak– which, as a hospitality practice, is the most "LA" thing, ever.)
True to this spirit, Cafe Gratitude also uses organic produce that supports regenerative agriculture to honor body, minds, and earth.
For the classic experience, order the I AM WHOLE macrobiotic bowl. It features braised garnet yams, adzuki beans, sea vegetables, sautéed greens, kimchee, garlic tahini, and toasted tamari almonds atop your choice of purple rice or quinoa. Love it!
For what it's worth, Cafe Gratitude is great for low-lit dinner– be sure to try their unique vegan desserts. Ultimately, if you want a healthy sit-down meal, this is one of the best places to go.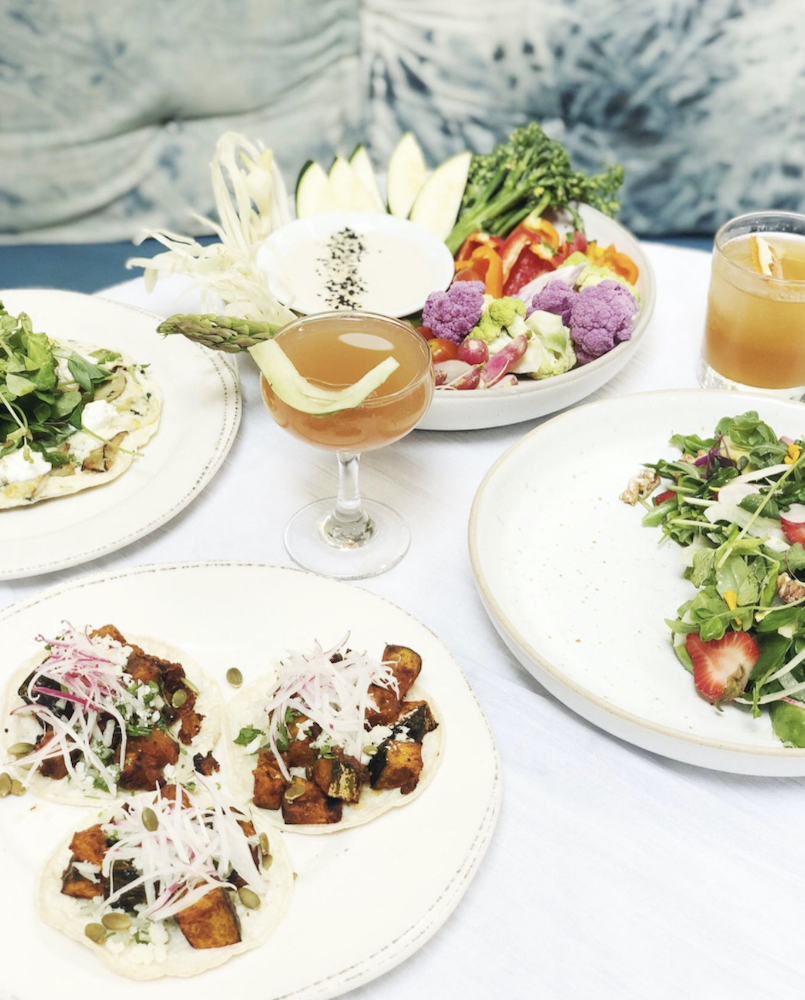 The Butcher's Daughter
The Butcher's Daughter on Abbot-Kinney serves some of the best avocado toast in L.A.— and that's saying something. This NYC-imported vegetarian restaurant emphasizes fresh, local produce with their all day breakfast menu featuring everything from Summer Squash Frittata to Coconut Yogurt & Granola to a "Crab Cake" Benedict made with sweet potato, jackfruit, and quinoa.
It doesn't matter if you like sweet or savory brunch: there's something on the menu for everyone. (Except meat eaters, of course– but you don't miss it.)
The juices here are also excellent. They're so FOMO-inducing, in fact, that you can even try a "Juice Flight" of 4 different heritage juices. (Otherwise, choosing might be hard.)
Get a juice and the "Classic Avocado Toast" with egg and adzuki bacon for the quintessential L.A. brunch experience. You can also order a half size.
If you want heartier fare, order the Country Breakfast with farm egg and Impossible brand maple sausage; or the Surfer's Breakfast burrito with farm egg, avocado, black beans and vegan cheese.
Gluten-free bread and other GF options like Buckwheat coco granola are available, as well.
If arriving later in the day, the Butcher's Daughter serves excellent dinner salads and stone oven pizzas. The Calabasa Squash Tacos and Mixed Mushroom Shawarma are also great representations of the restaurant's menu. Like nearby Plant Food + Wine, it's a welcome respite for plant-only eaters.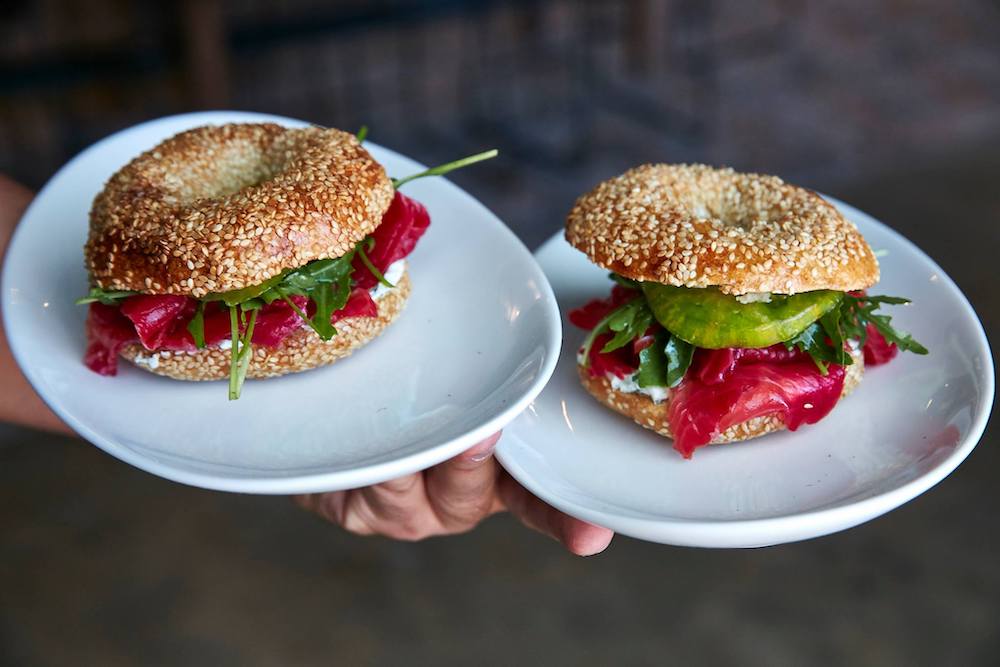 The Rose Venice
Reservations are strongly recommended for weekend brunch at The Rose Venice, a boho-chic breakfast loft and marketplace that's been serving Venice since 1979. The seasonal brunch menu focuses on eggs, grains, and handheld sandwiches. They also offer an excellent raw bar and delectable pastas and pizzas.
We love the Neroni-style sunny-side up eggs with braised bacon, fried potatoes, country bread, butter, and seasonal jam. Nevertheless, you'd be forgiven for ordering some lighter and more exotic.
Try the Roasted Zucchini and Summer Squash grain bowl with avocado, cherry tomatoes, chermoula-spiced chickpeas, and mint raita. (It's so good!)
The menu, overall, features a wide range of welcome (if slightly incongruous) elements, from Baja Ceviche to Oat Griddle Pancakes. The Yellowtail Crudo with geranium-pickled green strawberries and poppy seed buttermilk will delight foodies, who have long scoffed at the Venice Beach brunch offerings as being too pedestrian.
And yet, there are also classic egg dishes, American breakfast classics, and original Rose Bakery comfort food items to suit even the pickiest eaters. (LA brunch restaurants like The Rose tend to lean exotic, but there's a reason why they call their biscuits "The Best Biscuits Ever!". The menu is large enough that most people can find what they're looking for.)
The marketplace inside The Rose is draped with macrame-covered hanging plants and features artwork by local artists. There's an outpost of Verve Coffee— one of L.A.'s best coffee bars– as well as a beer garden, a full market, and a bakery.
Overall, it reflects the culture of its Venice neighborhood pretty accurately.
They also serve wine, beer, and cocktails at their 40-foot cocktail bar. Feel free to linger into Happy Hour. The vibe here is energetic and lively, so it's an ideal LA brunch place for large groups or casual meet-ups.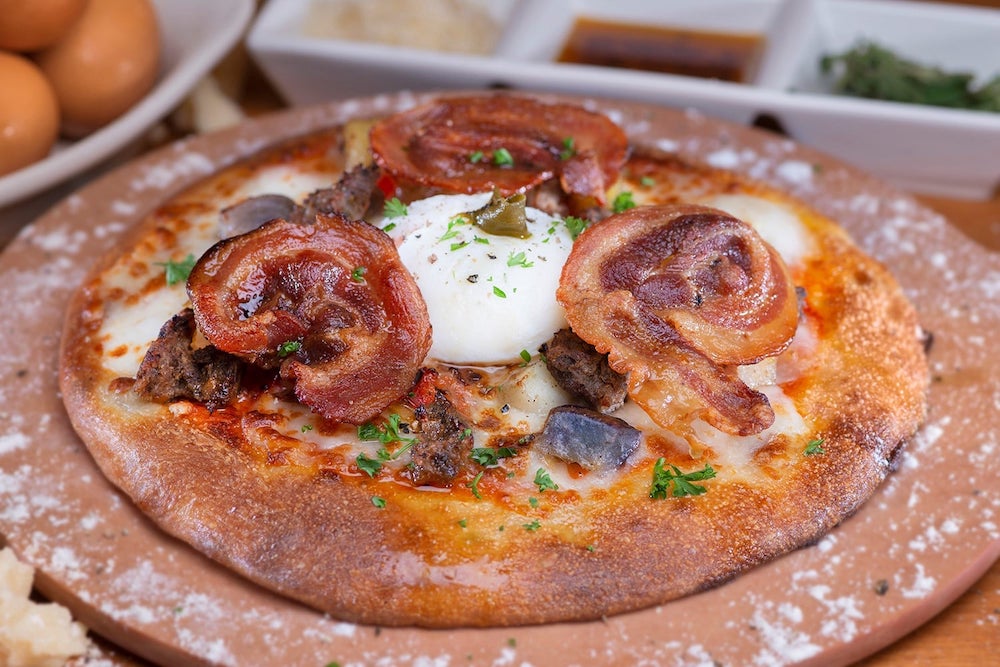 Urth Caffé
Urth Caffé is an organic coffee-focused breakfast franchise with locations all over L.A., from Santa Monica to Pasadena to West Hollywood and beyond. Great for business meetings and social meet-ups, these cafes feature All-American breakfast items and coffee worth lingering over.
The franchise is so popular that they now have over 10 locations around the city! The food is reliable and the coffee is consistent; what more could you ask?
Tea drinkers: Try the Divine Spice Chai, a family recipe since 1991. The blend consists of 100% organic herbs and spices that they grind and hand blend in-house. All the eggs dishes are textbook, and they use sprouted, ancient grain bread for all their toasts. These latter they top with prodigious amounts of smoked salmon, avocado, fresh herbs and greens.
The presentation here is not fancy, but the flavors deliver. Plus: the portions are huge! For travelers who really want value, this is a good place to eat. A meal here will fuel you for the whole day.
Fancy Some Breakfast Pizza?
Locals also love sharing the "Sunrise" Breakfast Pizza (above). It's made with sausage, pancetta, mozzarella, hash browned potatoes, poached egg, and brown sage butter. What's not to like? It's rich, and rare. You don't see many breakfast pizzas in L.A.– probably because no one can make one as good as this.
***
Related: A Weekender's Guide to Joshua Tree, California.
Interested in the sweeter side of things? Check out L.A.'s coolest, craziest cake artists. Suffice it to say, Hollywood knows how to throw a party.
Read more: On a Beach in Los Angeles, "Running Therapy" is Changing Minds.