Spring is one of the best times of year to visit Charleston– South Carolina's most beautiful port city. With azaleas, crepe myrtle, and gardenia in full bloom, the temperate weather and delightful array of special events like the Charleston Wine + Food Festival draw visitors from all over the world. It's a lovely time to explore the city. While Summer brings heat and Winter the occasional rain, Spring and Fall are really the best times to visit if you plan to make the most of your time. The best restaurants in Charleston, like Husk and Fig, are a must on that itinerary. However, below we've also spotlighted several of Charleston's other must-try restaurants. Whether you're looking for great local seafood or the perfect biscuit (and believe us, there are many) this guide has something for everyone. Here's where to eat (and what to see) on your next trip to Charleston.
P.S.: Bookmark this list for easy reference later. We've put a (*) next to the restaurants where you should make a reservation in advance. Enjoy!
***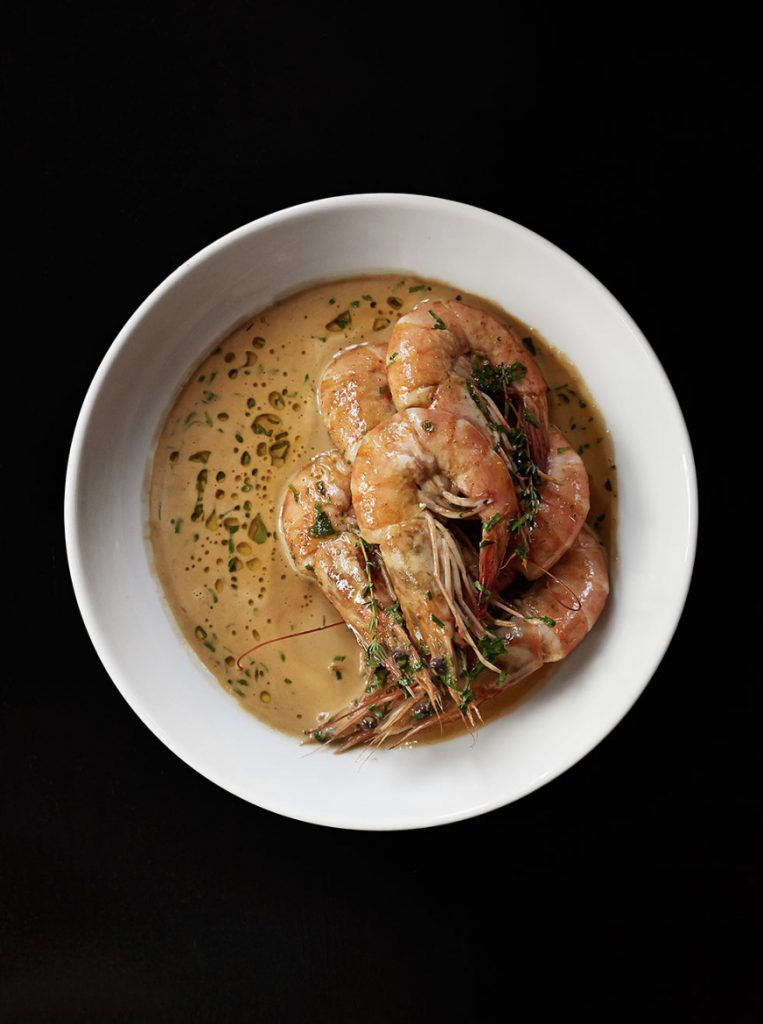 The Ordinary *
The Ordinary is one of the buzziest and quintessentially "Charleston" restaurants in the city, located in former bank on King Street, the city's main drag for shopping and restaurants. Inside, this staple seafood restaurant dazzles with hand painted murals, lofted ceilings, and impressive, sparkly chandeliers. As one of Charleston's premiere "low country" restaurants, The Ordinary is a great place to try local oysters, softshell crab, bee snapper, and other coastal delicacies. (For what it's worth, they also have a great soundtrack, with songs like the Spinners' "I'll Be Around" playing in the background. It goes without saying that this is a popular romantic date spot.)
We specifically recommend ordering the oyster sliders, served on delicious sweet Hawaiian rolls with house made aioli. If you like oysters and oyster sliders, the Ordinary makes the best in the city. Even the simple oyster appetizer served with homemade Old Bay dusted saltines, creme fresh, and hot sauce is a revelation.
The shellfish, moreover, is delightful. Try the bee snapper, zucchini appetizer, and corn-dusted soft shell crab. The menu changes frequently, but you can bet that the seafood and oyster offerings continue to impress as the season evolves. The only true constant is the wine list, which is excellent. Also: water snobs will appreciate that the Ordinary offers notably filtered tap water, one of the few area restaurants to do so. Be sure to book a table well in advance, as this place fills up quickly.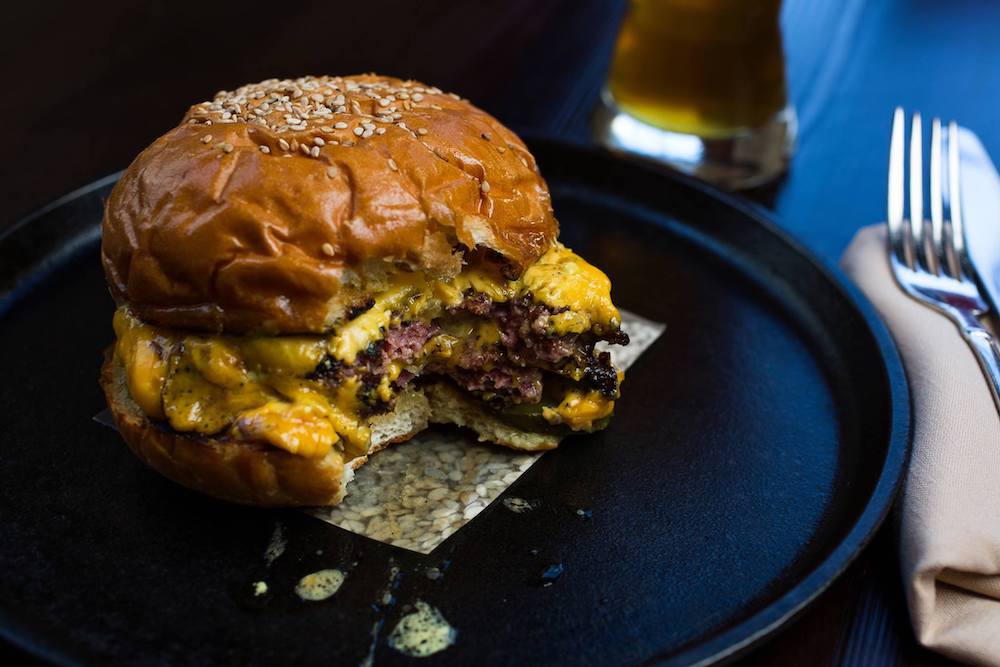 Husk *
Sean Brock's iconic Charleston restaurant, Husk, became one of the South's most buzzed-about restaurants after it was featured in Season 6 of Chef's Table. Today, with sister locations in Nashville, Savannah, and Greenville, Husk continues to inspire diners with Southern-focused menus crafted around ingredients sourced exclusively from the South. At first read, that might not sound that impressive, but this kind of ingredient sourcing is incredibly difficult. Husk is a triumph in the name of truly local food.
The setting, in a beautifully landscaped two-story mansion in central Charleston, is elegant but unfussy. On the wall when you enter, Husk even lists the names of the farms that provided the ingredients for the day's menu. As you might expect, Husk does a mean local fried chicken. (They're celebrated for the unique battering technique that Brock pioneered with this recipe.) We also love the pimento cheese and Brock's signature "Husk" puppies, a play off of hush puppies.
This is a great place to order a burger (served with massive steak fries and homemade ketchup) as well as shrimp n' grits. The menu reflects the most inventive dishes that the South has to offer, made from the best ingredients that the South has to offer. It's lovely both in concept and execution. Be sure to stop and smell the flowers around the porch on the way out.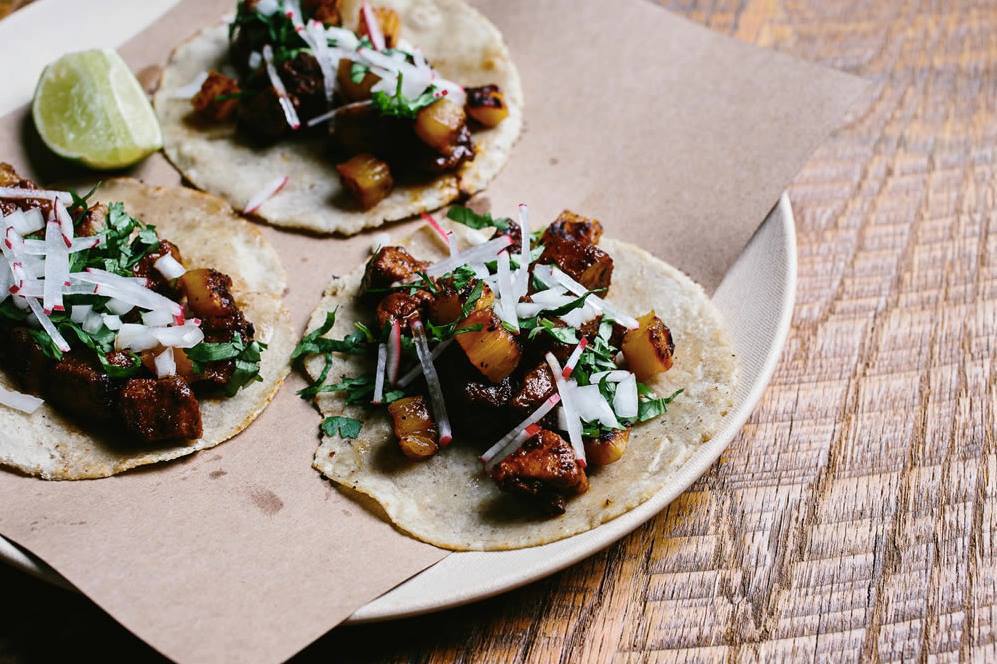 Minero
If for some reason you'd like to get tacos in Charleston, Sean Brock's other home town restaurant, Minero, is a great place to do so. This vibrant and affordable eatery serves creative twists on classic Mexican street food, using local ingredients like catfish and pickled green tomatoes. We call them "Lowcountry tacos", and they're a thing of beauty. (For what it's worth, Minero is also a good place to try Brock's food if you can't get a reservation at Husk.)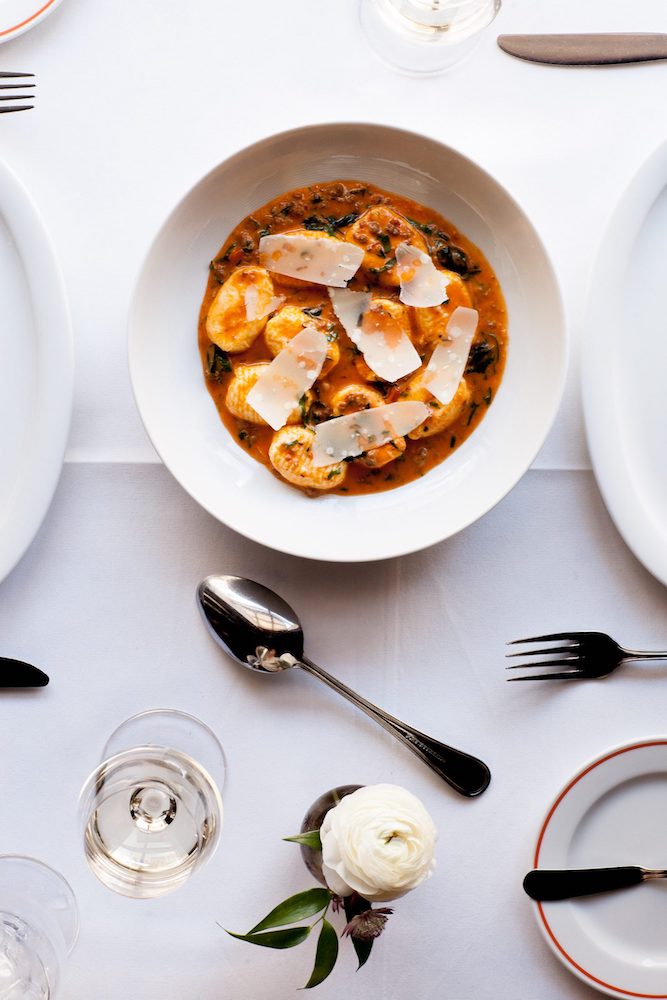 FIG *
FIG is hands down the best fine dining restaurant in Charleston. This James Beard Award winning restaurant– whose name is an abbreviation for the phrase, "Food Is Good"– is a dinner spot so popular that you should probably stop reading and go make a reservation right now. Admittedly, however, I've actually had a much better experience walking up and dining at the bar. (The bar is lively, fun, there's always great conversation, and the bartenders really know the menu and drinks intimately.)
One of the most popular items on the menu, the Ricotta Gnocchi ala Bolognaise, is to die for. Order it. FIG also makes a surprisingly delicious chicken liver pate appetizer and some of the best, creamiest mashed potatoes I've ever had (a local favorite). Regulars really love the veggie appetizers– which included, recently, an excellent dandelion asparagus salad, and a purple turnip appetizer with caviar and egg.
Two other aspects of this restaurant are particularly notable. First, the amazing bread and sweet southern butter that they serve before each meal– this alone keeps people coming back. Second, the chefs at FIG work with local fisherman to find creative ways to use "bycatch"– e.g. fish that are perfectly good to eat but which were caught accidentally in the process of trying to catch something else. By cooking with bycatch, chefs create a more sustainable food system. This practice prevents overfishing while also giving fisherman additional income to diversify their product.
Recently, FIG created a "banded rudderfish rice bowl"– an elevated sashimi-grade twist on poke made with this unique Lowcountry fish. For foodies who like trying new dishes that you can't get anywhere else, FIG's menu continues to delight and inspire.
Finally, don't leave FIG without getting dessert. Order the chocolate "mille-feuille"– a crispy-crunchy layered dessert made with hundreds of layers of chocolate, custard, and bananas foster ice cream. It's mindblowingly good, and easily one of the best desserts in the city. Viva la FIG!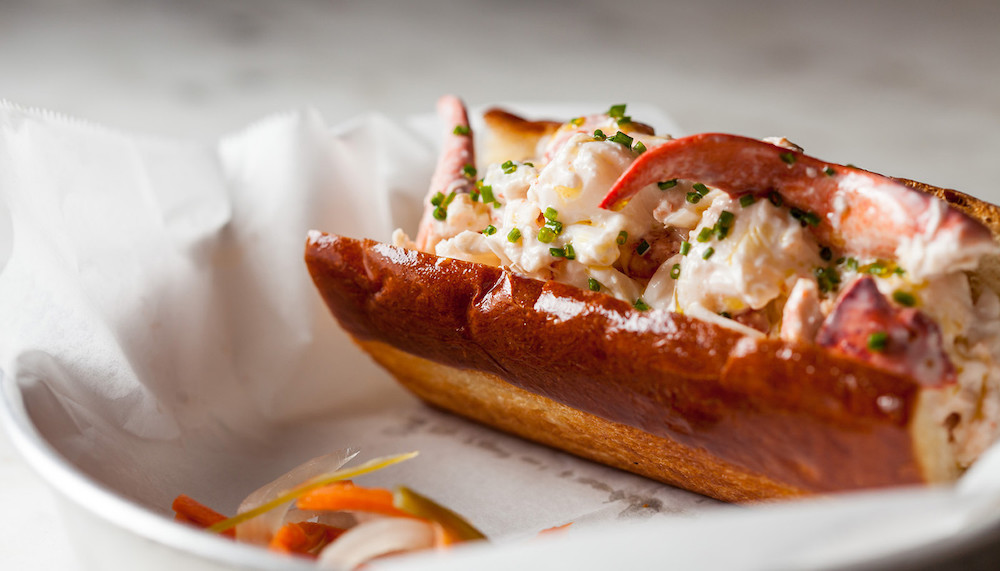 167 Raw
This place is awesome, and easily one of the best seafood restaurants in Charleston. As the sister location to the original Nantucket oyster bar, 167 Raw serves fast-casual eats at its tiny oyster bar and seafood counter on East Bay Street. Go here for lobster rolls, tuna burgers, sea-scallop po'boys– or, if you're like us– all three. Everything is super delicious and fresh. However, 167 Raw does not take reservations, and there are usually long lines to prove it.
Located on the south-east side of Charleston, 167 isn't really a restaurant you can walk to. I recommend taking an Uber directly there. There are exactly 6 parking spaces in front of the restaurant if you'd rather drive. If they're full, you might need to park in the nearby Harris Teeter parking lot on Society Street.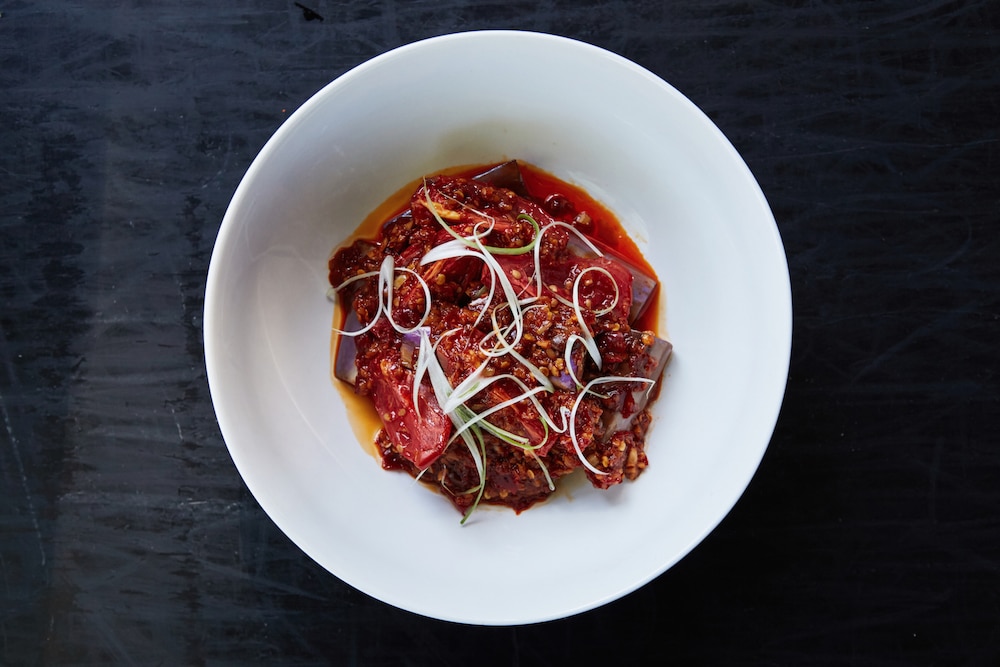 Xiao Bao Biscuit
Xiao Bao Biscuit has an insanely good, limited menu of hipster Asian food inspired by the owners travels through China, Taiwan, Thailand and Vietnam– as well as the South and "kick-ass grandmothers everywhere." Good for lunch or dinner, diners eat family style– so a group of 2 people can order 3 or 4 dishes to share and be perfectly happy. The menu is short, but it packs a ton of flavor. (Ironically, you can't get any biscuits here, even though you can everywhere else in Charleston.)
Above all, be sure to try the Okonomiyaki pancake, a Japanese cabbage pancake that the chefs learned how to make while farming in Japan. Add egg and get the restaurant's signature "pork candy" on top for a real treat. (Pork candy is a sweet, crumbly sugar-like bacon that you have experience to understand. It's SO delicious!!) We also like the fried brussels sprouts and all of the duck dishes, when available.
Xiao Bao is super casual, located in a renovated former gas station with exposed brick and concrete. We love the cactus-lined exteriors and designated wall painted in the style of street art. This restaurant is a hidden gem, though it can get busy during peak hours on the weekends, so plan accordingly. To quote the restaurant: "No reservations, just come."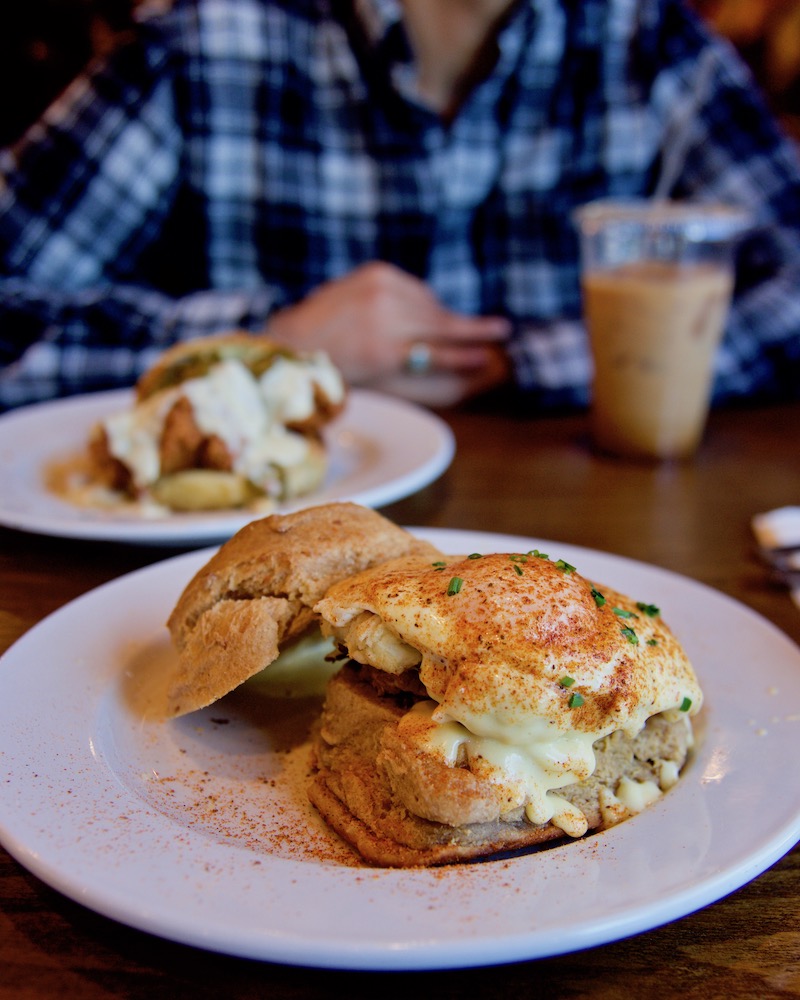 Vicious Biscuit
Make this a top priority. 👆If you want to try the best biscuits in Charleston, it's worth the trip out to Mount Pleasant to go to Vicious Biscuit, a biscuit-only breakfast joint in Charleston's first suburb. (And afterwards you can go to nearby Sullivan's Island Beach and walk on the beach!) Vicious Biscuit is something of a hidden gem. The place is always packed and the neighborhood loves it, but it hasn't yet garnered a ton of press. That will surely change soon.
This place is SO insanely good. It fills the void the opened for biscuit lovers when Hominy Grill closed. (Hominy Grill was an old Charleston brunch spot famous for the "Charleston Nasty"– the city's staple fried chicken biscuit with sausage gravy. Critics like Anthony Bourdain loved it until the restaurant closed its doors in April 2019. None of this really matters, however, because the biscuits at Vicious Biscuit are EVEN BETTER!!)
Try the crab benedict on a sweet potato biscuit if you want a mind-altering experience of deliciousness. This massive pile of local crab is served with hollandaise sauce and runny egg inside a decadent, crispy-tender sweet potato biscuit. Like every biscuit on the menu, it's perfectly cooked. Crunchy on the outside, and soft, fluffy, and buttery on the inside, with just a hint of cinnamon. Hands down, this is the best place to get biscuits in Charleston. Yum!
Harold's Cabin
Harold's Cabin is a very casual, hipster restaurant co-owned by Bill Murray– literally! It's a rustic-chic neighborhood joint that features a charming rooftop garden that supplies vegetables for the veggie-forward menu. The bar is hip and lively, with lots of students and young adult patrons. This former corner store also stocks locally sourced grocery items, and is very casual. It's a good place to stop for brunch on weekends. Try the pimento cheese biscuit sandwich or the avocado toast with pickled onion and jammy egg. The dinner menu is also good– again, very casual– with excellent crab fritters, griddle cakes, and Lowcountry cassoulet. Save room for their home-made ice cream, as well.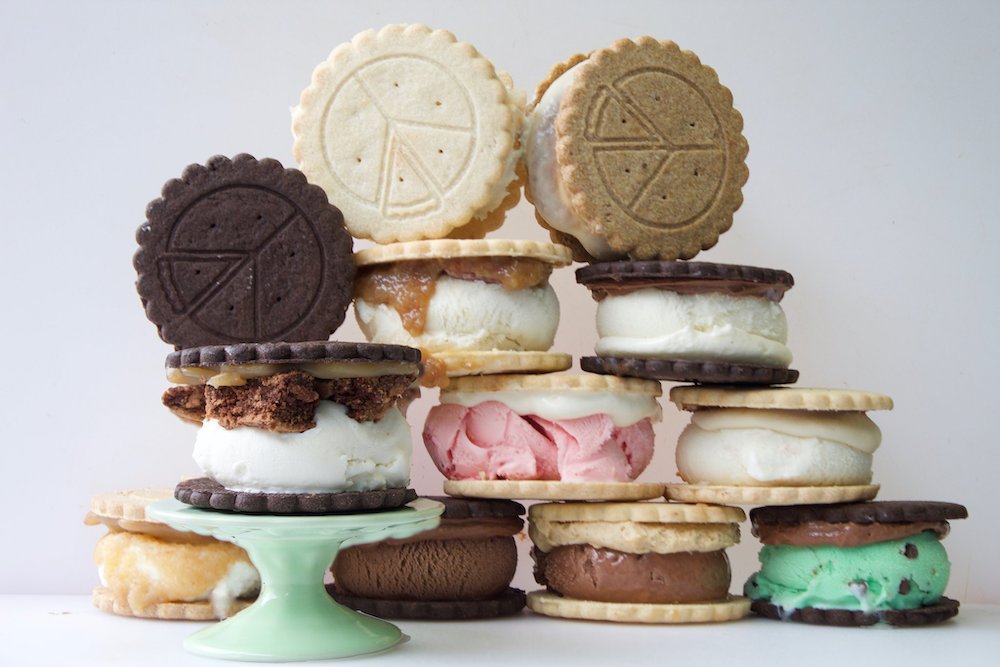 Peace Pie
Buzzfeed once called Peace Pie's pie-filled ice cream sandwiches "One of the Best Ice Cream Sandwiches in America." This is a highly specific designation, but it's nevertheless probably true. Peace Pie is not the only place to get good ice cream in Charleston, but it's certainly one of the most unique. Flavors include Peanut Butter Brownie (vanilla ice cream, brownies, and peanut butter chiffon sandwiched between two shortbread cookies) and Salted Caramel Apple (vanilla ice cream, salted caramel, and apple pie filling between two cinnamon cookies). There's also a combo called the The Elvis, consisting of chocolate ice cream, banana butter, and peanut butter chiffon between two chocolate cookies. You get the idea.
Peace Pie also offers creative takes on Pumpkin Pie, S'mores, Banana Cream Pie, Cinnamon Buns, and dozens of other ice cream and pie combinations. Look at that crazy picture, above! 👆For a certain kind of dessert lover, they can do no wrong.
The Charleston outposts pf Peace Pie compliment many of the area's savory offerings. Why not experience barbecue at Sticky Fingers (Stephen Colbert's favorite) before heading over to Peace Pie for some "blueberry cobbler" (aka blueberry ice cream and vanilla mousse with graham cracker cookies)? Go to the King Street location for the best vibe. It's a nice place to stop while walking along the main drag at night. Just be sure to save room after dinner!
Rodney Scott's BBQ
Those who want to experience true Lowcountry barbecue– which is a heavy tomato, vinegar-based sauce– need look no further than Rodney Scott's BBQ. This super popular BBQ joint is THE place to go for pulled pork, ribs, and rib-eye sandwiches in Charleston. South Carolina is famous for "whole hog" barbecue. And Top Chef alumni Rodney Scott, in particular, is a master of the trade. His BBQ joint is also one of the city's best places to try classic fried catfish. BBQ lovers should definitely make it a point to stop here.
When Kamala Harris returned to South Carolina on the presidential campaign trail, there's a reason why Rodney Scott's BBQ was the first place she stopped. She raved about the cornbread with honey and butter at her Town Hall, because this was something every local could agree on (it's good). Later, she told Pod Save America's Jon Favreau, "I tried to get his recipe for the barbecue sauce. He didn't give it to me," she lamented, "But I'm going back." Enough said.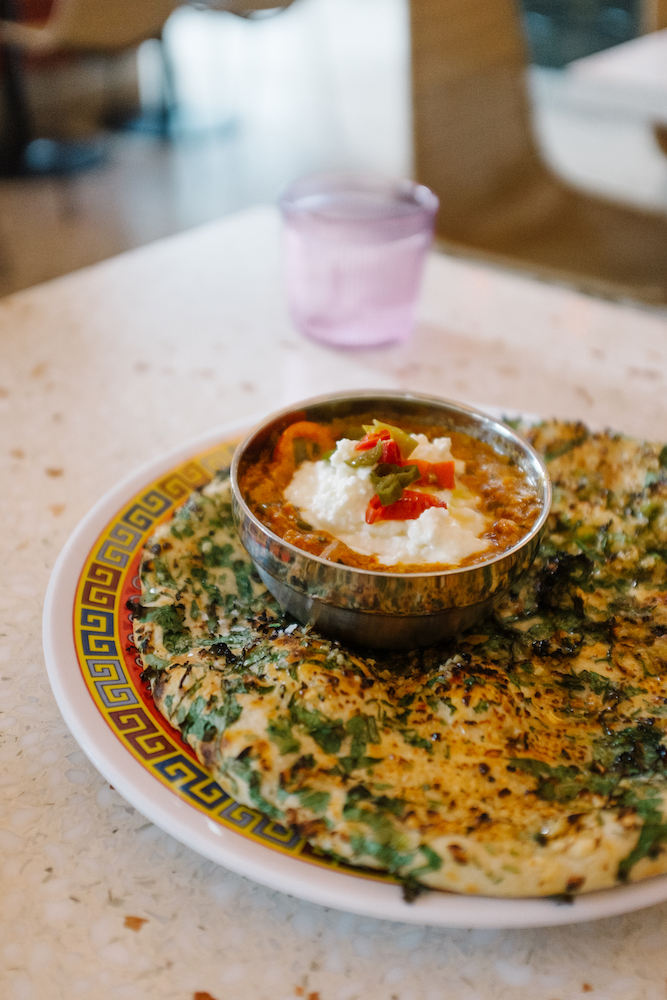 TU
Local darling restaurant Tu combines Indian, Latin American, and Southern style cooking in a manner that results in playfully strange but delicious items like king mackerel crudo with guava, habanero, and cheese ice (trust us, you had to be there). It's no surprise that, like Tu's sister restaurant Xiao Bao, you just have to experience this restaurant to understand it. Tu defies categorization, both in the genre of cooking (though it leans strongly towards pan-Indian cuisine) and in the aesthetic. Also, they discourage phones (aka don't take pictures– don't "be that guy"). And no, they don't take reservations. Just go. (Preferably, early.)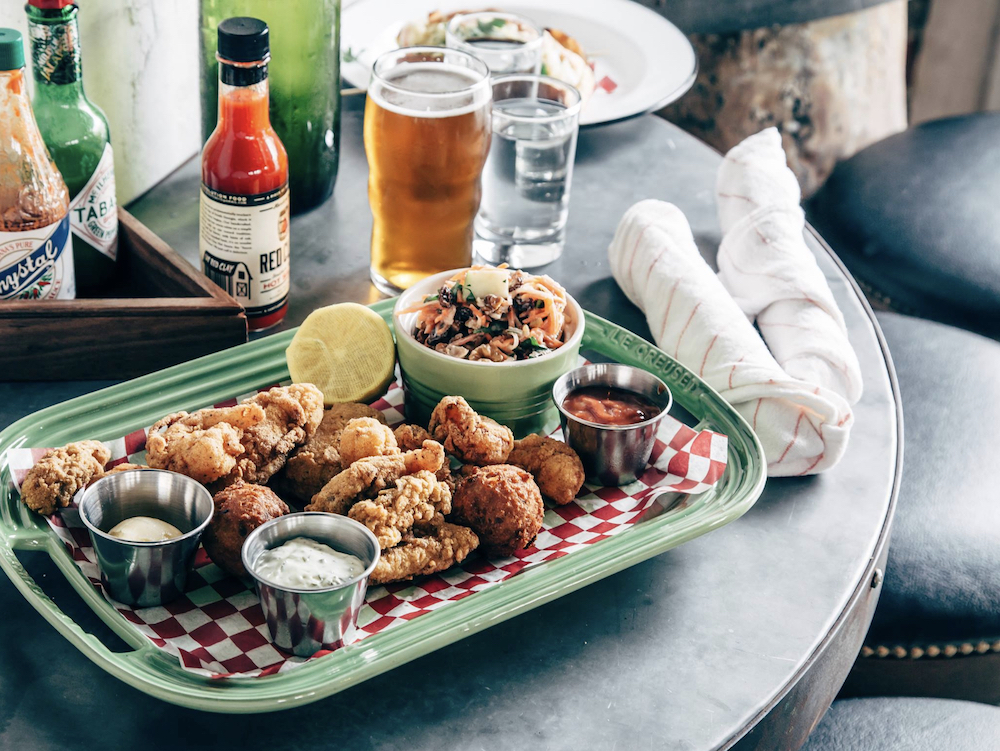 Leon's Oyster Shop
Leon's captures the industrial-chic design leanings that have taken over much of Southern fine dining– which is nevertheless to say that it is relatively "fancy" for an oyster bar. This neighborhood restaurant is a delightfully un-pretentious area favorite known for their oysters, cocktails, "iceberg stack" salad, and iconic scalloped potatoes. The fried chicken is also great, and they have rosé on top. (PSA: Charlestonians love rosé, especially in Spring and Summer.) The beer is cheap, the environment is chill, and locals love it.
Martha Lou's
Martha Lou's is to Charleston what Sylvia's is to Harlem. This delicious, no-frills soul food joint was designed with, for, and by the local community. Don't expect any pretense or allergy-friendly options here. In a small pink shack on Morrison Drive, Martha Lou (and her daughters and grand daughters) serve classic Gullah delicacies. Menu staples include fried chicken, pork chops, baked macaroni, and bread pudding. They also make chitterlings (aka pig intestines– not for the faint of heart). For the last 30 years, they've hosted locals, tourists, and the occasional New York Times reviewer at their tables.
Consequently, this casual eatery is consistently named one of the best restaurants in Charleston for real, down home soul food. All meals are served on paper plates (seriously: it's a dive) and dinner here is a good option for bargain hunters. (A full plate of super rich food averages around $10 to $15.) Eat up!
Little Jack's Tavern
Another great place to get a burger and a solid cocktail is Little Jack's Tavern. In 2017, Bon Apetit named this unassuming restaurant– think leather booths and checkered tablecloths– the Best New Restaurant in Charleston. One look at the food and it's easy to see why. Get a salad and the She Crab soup (a creamy, bisque-like Charleston classic made with blue crab meat, crab roe, and sherry). Or, opt for heartier fare like the Shrimp Burger with "herby" mayo. The menu at this humble King Street staple is limited, but reliable. We like Little Jack's best for lunch.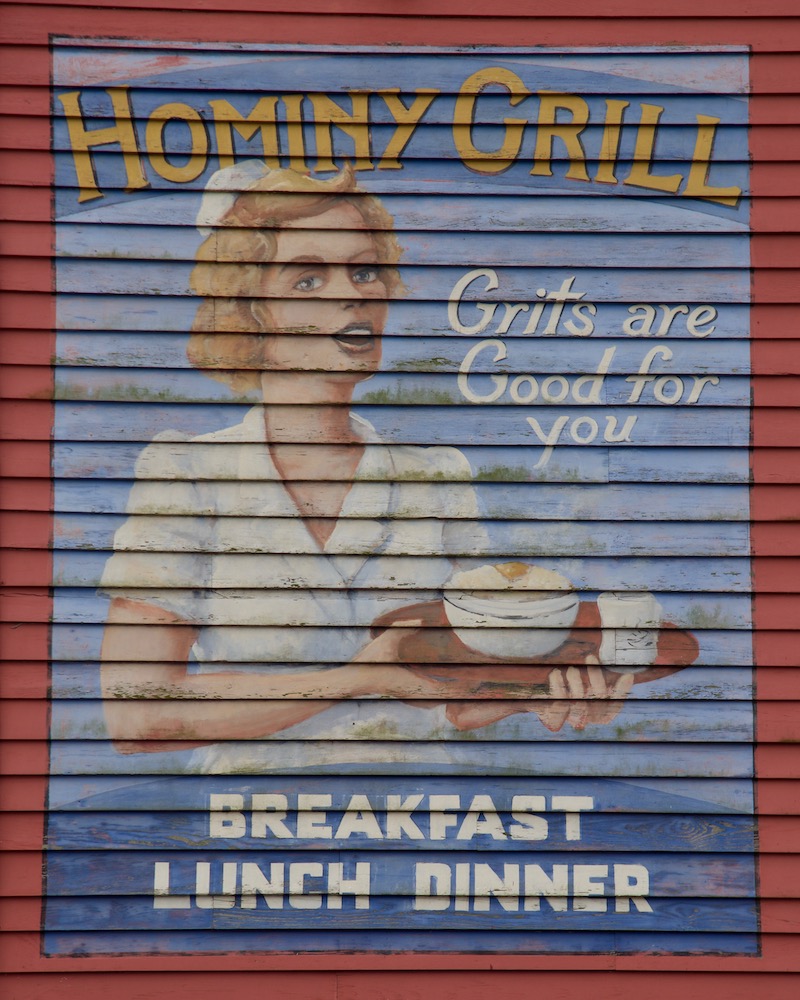 What to Eat, When
When in Charleston, be sure to try homemade biscuits, fried chicken, catfish, oysters, crawfish, grits, rosé, boiled peanuts, and mint juleps. (Only if you like these things, of course.) In Winter, look for for oyster roasts and fried chicken, which is a year-round staple. In Spring, softshell crab– aka "softies"– come into season. Around this time, this local delicacy will feature on nearly every menu in town. Summer is the season for fried green tomatoes, which are a fixture of Charleston brunches. Meanwhile, Fall brings sweet potato biscuits and the Lowcountry Field Feast. In Charleston, seasonal food is a year-round affair; there's never a shortage of tasty options.
If you really want to chow down like a local, order Frogmore Stew– Charleston's answer to a clam bake. It features shrimp, sweet corn, sausage, boiled potatoes, onions, and plenty of Old Bay— but it's such a down-home dish that it's usually not featured at many of Charleston's best restaurants unless it's an elevated version. Look for it at Farmers Markets and food festivals.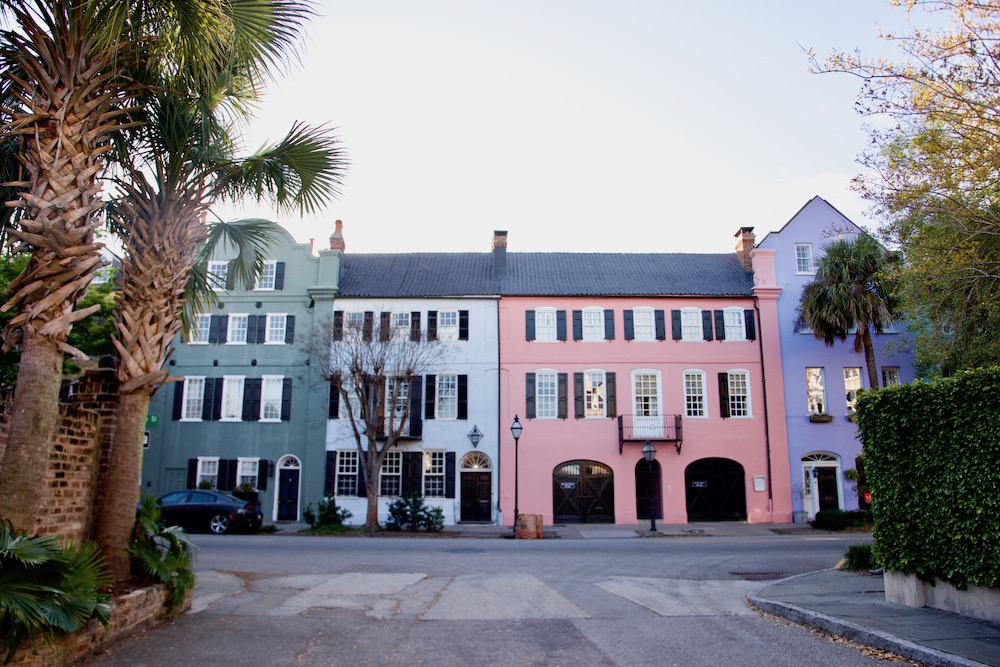 Other Things to Explore
Rainbow Row is an adorable little stretch of colorful homes near the water in South Charleston. This stretch of 13 Georgian row houses is easily the most photographed stretch of architecture in the entire city. (See above picture.) We love the charming colors, the South Carolina palm trees dotting East Bay Street. The homes also have a prime location near the waterfront. Enviable cars line the street, and the rest of the houses South of Broad Street are equally charming. Go an hour before sunset to see the architecture in its most flattering light. It's lovely!
I recommend going to Rainbow Row in the late afternoon, before a dinner reservation at FIG. Then, walk through Charleston's south end before heading over to the restaurant on foot. There's nothing more leisurely than strolling by the beautiful homes and many hidden historic parks along the way. Follow Google Maps directions on your phone– no matter which way you walk, there will be plenty of photo ops.
Bike, Hike, or Park & Pose on the Arthur Ravenal Jr. Bridge
The Arthur Ravenal Jr. Bridge is Charleston's answer to the Brooklyn Bridge or Golden Gate Bridge. The bridge's bike-and-pedestrian lane opened in 2005, and today people love walking and biking across it. The 2.5 mile bridge connections Charleston with its coastal suburbs, and the harbor view from the top is lovely. (And it's a good place to get some exercise after eating fried chicken and biscuits.)
You can park on either the Mount Pleasant or Charleston side of the bridge. Hiking across the bridge takes about 30-40 minutes depending on your pace. As you snap photos in the breeze, look for the giant container ships crossing the channel below. Even if you don't visit the bridge, per se, you'll cross it on your way to Viscous Biscuit. It's also necessary to cross en route to any of Charleston's best beaches. (You'll know it when you see it.)
See The Cypress Groves at the College of Charleston
The College of Charleston campus has the most beautiful Cypress groves and blooming gardenia trees. In the Spring and Summer, lush weeping wisteria and bright pink rhododendrons add color and beauty. Be sure to stop and notice the plants as you walk around the small, brick-filled campus. Stop by nearby student hang Caviar & Bananas for King Bean Twenty coffee and good breakfast/lunch options, then stroll through campus and around to see the neighborhood's cute, colorful houses. On Tuesdays, there's also a small farmers market in front of the campus quad. There, you can find local chocolate, local sea salt, cheese, produce, ice cream, and the like.
Shop Local Farmers Markets
The Marion Square Farmers Market is wildly popular! Located on 10 acres of green space in Downtown Charleston that's known as Marion Square, the Charleston Farmer's Market is open every Saturday from 8 AM to 2 PM. Stop by for local produce, hot food and drinks, artisan goods, live music, boiled peanuts, ice cream, etc. The John's Island Farmers Market is also good if you plan exploring any of the beaches (detailed below).
Explore Plantation Homes & Gardens
Drayton Hall is a 1739 Palladian brick mansion that history buffs and architecture lovers typically enjoy, because the antebellum home is preserved as it was prior to the Civil War. The property also embodies some interesting trivia: this house is older than the United States!
Guided tours detail the lives of the super-rich people who once lived here, the people they enslaved, and what that legacy means for the postbellum South. It's a sobering look at how plantation owners in the South once conducted business, but an insightful one. Apart from that, they are also some nice walking trails along the river that visitors are free to explore.
About 15 miles north of Charleston, Middleton Place is another popular plantation destination in the area, boasting the oldest geometric gardens in the U.S. People come for the the gardens, as Union soldiers burned the home in 1865. The formal French gardens that remain were painstakingly terraced by slaves for local politician Henry Middleton. Surrounded by southern woodlands, they reach peak bloom in late Spring to late Summer.
Walk The Beaches (& Catch a Sunrise If You Can Swing It)
Sullivan's Island Beach, Folly Beach, and Isle of Palms are your best bets for exploring Charleston's coast on foot. These are proper beaches just a ~15 minute car ride outside the city proper. Sullivan's Island Beach is just a short drive from one of the best biscuit restaurants in Charleston, Vicious Biscuit (detailed above). The beach is spacious, serene, and rarely crowded, good for walking any time of day. There are also a number of good coffee shops nearby that sell ice cream and rosé.
Folly Beach is more "touristy," with an iconic boardwalk for viewing dolphins. There are also lots of family friendly seafood restaurants and shops. Meanwhile, Isle of Palms is more secluded and "resort-like"; there are big golf courses, tennis courts, and a large marina for water activities/fishing/chartering boats. Isle of Palms is also one of the few places in South Carolina where you can surf. Most people who stay near these beaches use Air BnB or rent homes. They're also just a 20 minute drive from downtown.
Peruse The Shops of Historic Charleston Foundation
The Shops of Historic Charleston Foundation showcase jewelry, furniture, and Blue Canton porcelain inspired by the city's historic homes– but be advised, prices can vary wildly. The foundation also closes early– at 6 PM most days. Be sure to go earlier in the day if you want to spend more time here.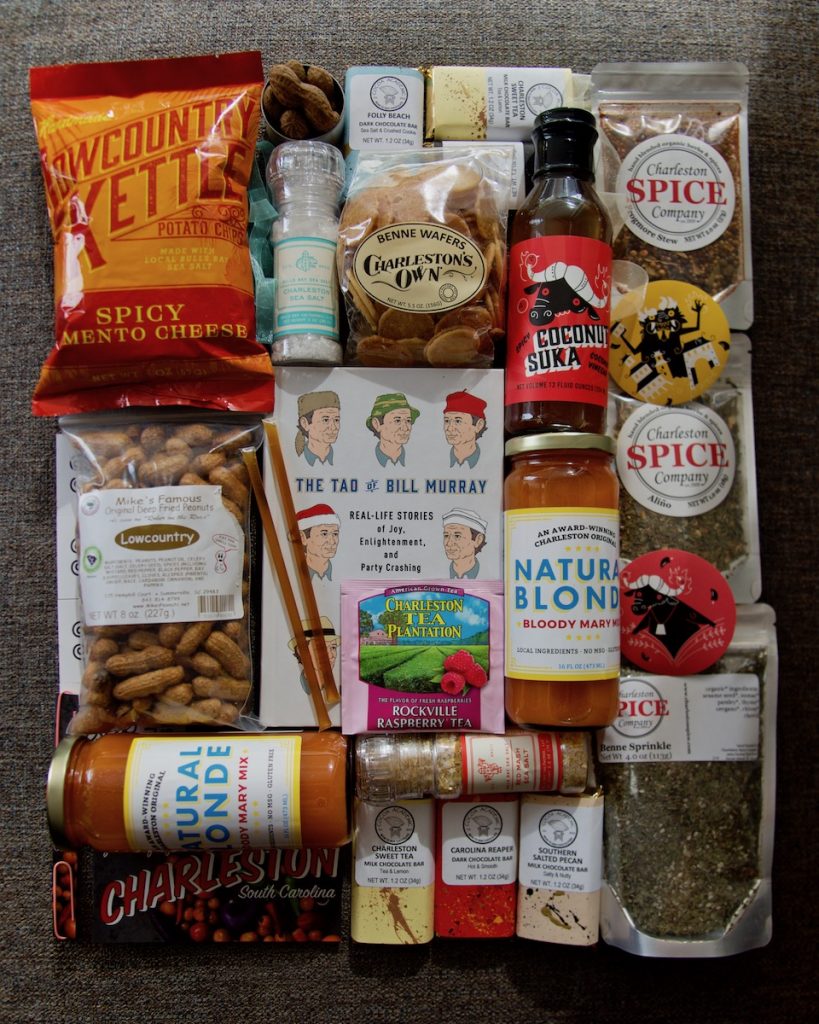 What to Buy
In addition to eating at some of the best restaurants in Charleston, be on the lookout for these food souvenirs. You can't visit South Carolina without sampling some Benne Wafers– but they are also a great souvenir to bring home. We like Charleston's Own Benne Wafers, but you can find them at most speciality and gourmet food stores in the area. Benne Wafers were originally brought to the Lowcountry from West Africa in the late 1700's. The benne, or sesame seed, is thought to carry with it secrets of health and good fortune. Accordingly, it's now incorporated into several old Southern recipes, including these crisp wafer cookies. Try them with a cup of coffee or crushed atop praline ice cream.
For sauce lovers: Burnt & Salty Korean Mustard is one of our other favorite Certified South Carolina products. Harkening to the robust condiment tradition of the South, this fabulous sweet n' salty mustard tastes great on burgers, eggs, cheese plates, pizza or even in Bloody Marys– kind of like the one's you'll want to make with Charleston's own Natural Blonde heirloom tomato Bloody Mary Mix (a cult favorite at several Charleston restaurants and bars, which is also worth trying).
Bulls Bay Salt Works produces locally evaporated South Carolina Salt, and Charleston Spice Company has a few spice blends that also capture unique local flavors that you can take home on an airplane. (We recommend the Aliño blend and the Benne Sprinkle. Also consider the Frogmore Stew blend, which captures the flavors of the popular Lowcountry dish.) Lots of people also like to buy Geechie Boy grits, pimento chips, or Carolina rice to take home.
Meanwhile, snack lovers should look for Lowcountry Kettle spicy pimento cheese potato chips and boiled or fried peanuts (the official snack of South Carolina). Pair these with Cocoa Academic's mini Charleston Sweet Tea chocolate bars and Charleston Tea Plantation's Rockville Raspberry Tea, which you can find at local farmers markets. (This is particularly unique because 99% of all tea consumed in the U.S. is grown in Asia, Africa, or South America. Charleston Tea Plantation, however, grows their tea locally on Wadmalaw Island, just a few miles south of Charleston. They offer trolley tours through their cypress grove plantation where they demonstrate how they make tea.)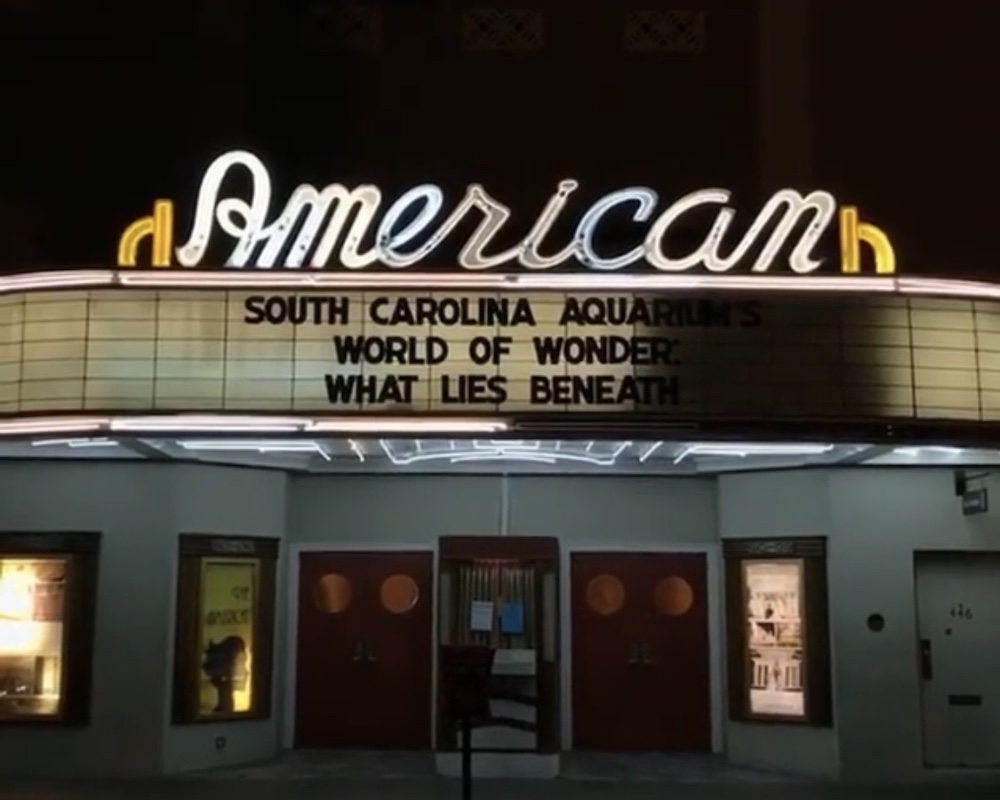 King Street Shopping
King Street, the three-mile shopping promenade lined with independent boutiques, is the beating heart of Charleston. It's the main place to shop and eat in the city, terminating at a beautiful cypress tree-lined waterfront promenade. (Here, you'll see some of Charleston's most enviable homes and mansions.) King Street is also where many of the best restaurants in Charleston reside.
The Ordinary, Peace Pie, Callie's Hot Little Biscuit, Little Jack's Tavern, and Jeni's Splendid Ice Creams are all located here. So is much of the city's nightlife. Overall, it's a lovely place to walk around, by day or at night. (And if you're looking for a good yoga class, swing by Charleston Power Yoga or The Salt Spa & Yoga on Upper King.)
Jewelry lovers should be sure to check out Croghan's Jewel Box, a pricey but charming family owned antique jewelry store on Upper King. (It's a great place to find one-of-a-kind-gifts– or, you know, an engagement ring.) Also stroll by historic Marion Square, the largest green space in the city, bordered on one side by King Street. At some point, you should also stop in front of the iconic American Theater sign. It's a charming little slice of Americana architecture that makes a good photo-op, especially at night. (See above picture.)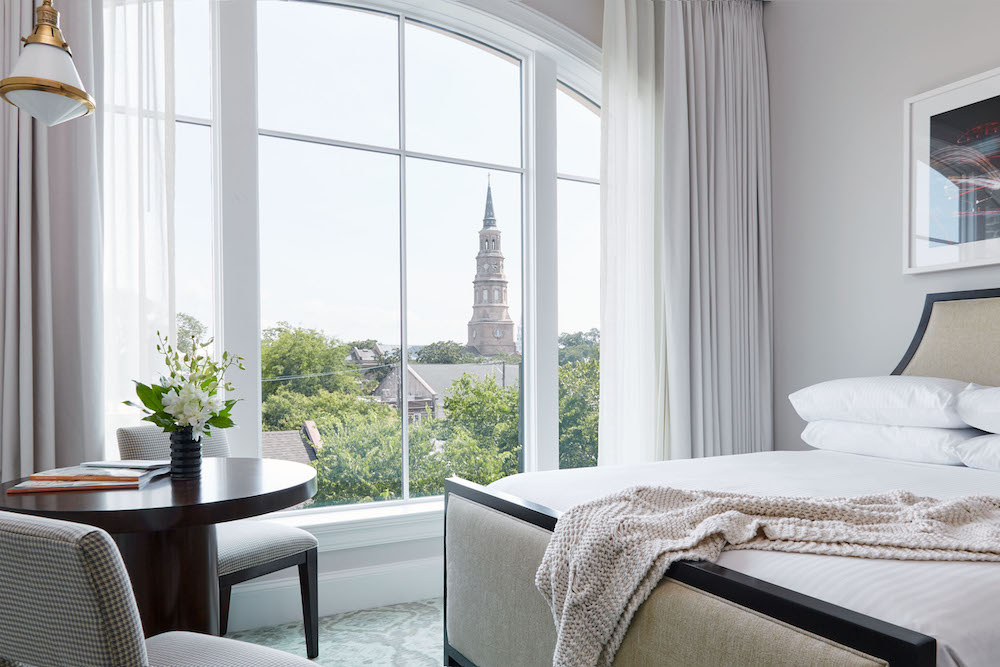 Notable Hotels
For a rundown of the area's coolest hotels and an overview of why they're so popular, read our guide to The Most Charming Hotels in Charleston. No matter where you stay, you'll have a great time. Charleston, South Carolina is a beautiful city. Everyone loves it– especially the food. Enjoy your trip!
***
To read more of our "Best in The U.S." travel guides— featuring destinations from New York City to Honolulu— scroll through our Travel Well archive.