Hawai'i is famous for its Kona coffee, which comes from the region of Kona, on the East side of the Big Island of Hawai'i. While that might be a short plane ride from O'ahu, the city of Honolulu has nevertheless perfected the art and finesse of a good cup of coffee. The best coffee shops in Honolulu serve local-style and Asian-influenced nitro brews, espresso, lattes, and cold brews that delight coffee junkies and jaded caffeine addicts alike– just ask anyone who has spent meaningful time here. Moreover, if you're looking for a good cup of coffee in Honolulu, you've come to the right place.
Below, we spotlight the best coffee shops in the city, aka the best places to get Kona coffee and other Hawaiian coffee blends in Honolulu and O'ahu writ large. The coffee at all of these cafes is excellent, so no matter where you end up going, you can't go wrong. Enjoy!
***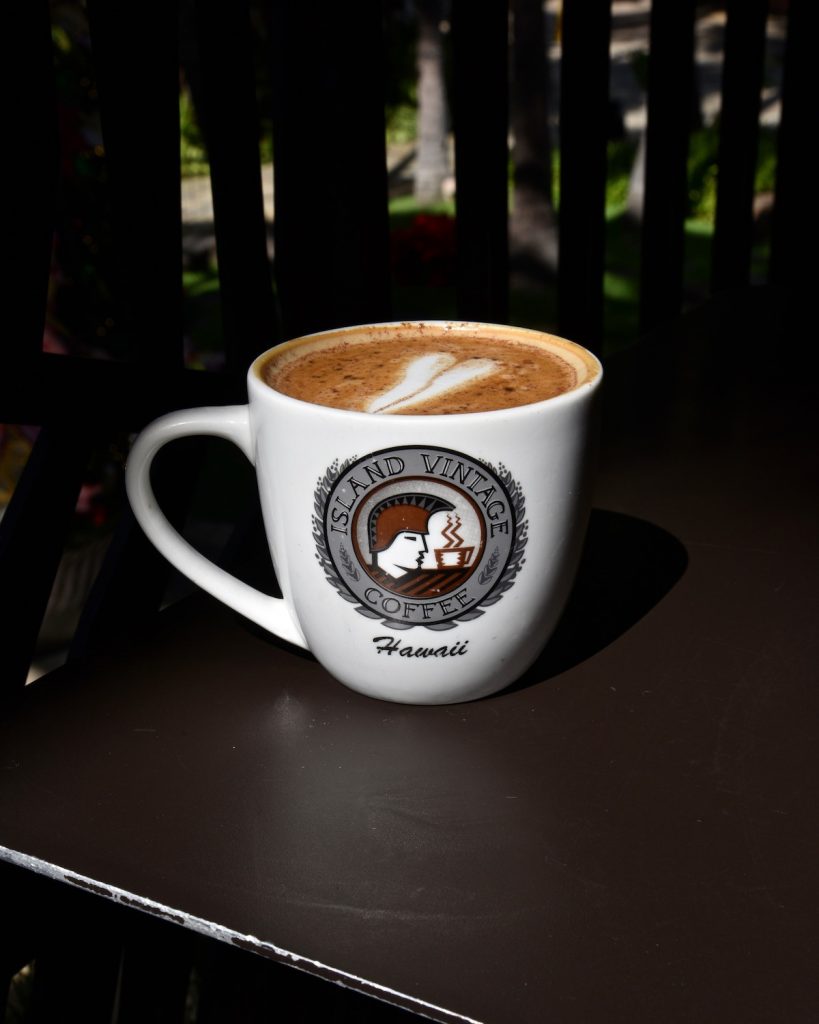 Island Vintage Coffee
This Waikiki staple serves some of the best coffee and breakfast bowls (sweet and savory) to an adoring public. Island Vintage Coffee is also one of the few places on Waikiki open before 7 AM, which is why it's always overflowing with jet-lagged tourists. Be that as it may, the coffee, food, and popular açaí bowls are excellent. As we wrote in our guide to The Best Breakfast in Honolulu, we love their vegan poke and the Hawaiian Honey Latte– one of the most popular items on the menu for those who like sweetness in their coffee. They also do fantastic açaí bowls and salads.
Island Vintage is also a great place to buy local foodie souvenirs like chocolate covered macadamia nuts, local all-natural skincare brands, local salt, local chocolate, and of course: local coffee. The inventory is super high quality, as well (these are high-end local sundries, not touristy knick knacks).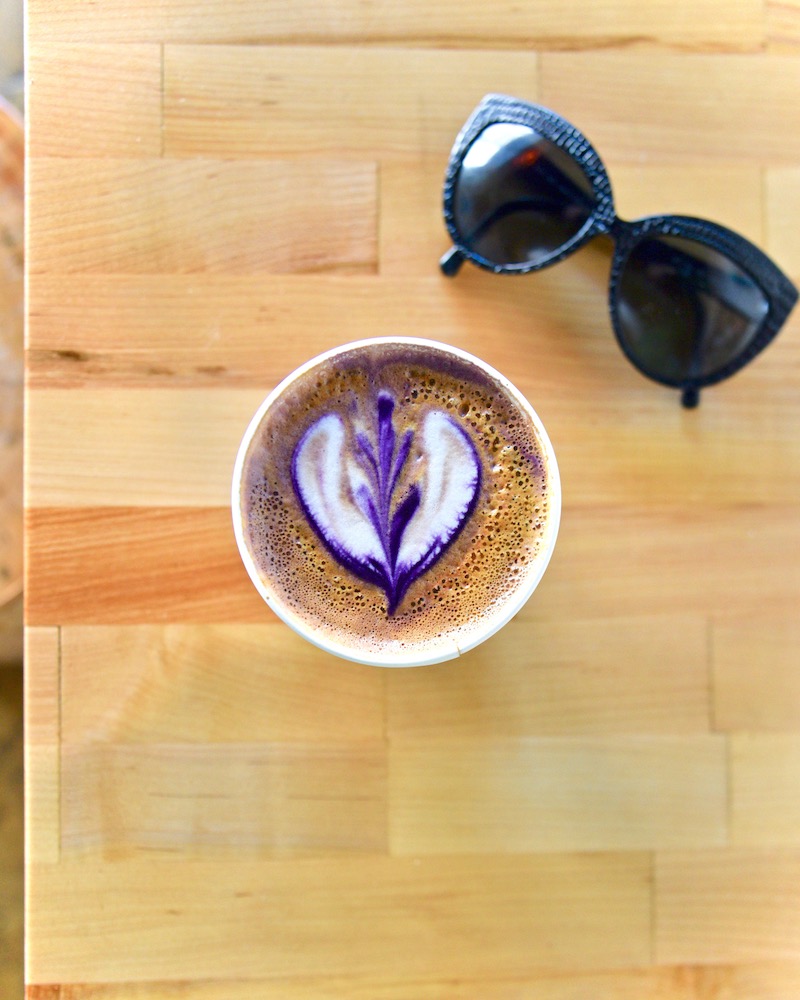 Ali'i Coffee Co
Ali'i Coffee Co is a tiny little craft coffee shop on a graffitied street near Chinatown that sells excellent coffee and inventive coffee drinks. We love their bright purple taro ube latte (above shown). The banana milk float is also amazing, made from cold brew, macadamia nut milk, and pureed banana foam. Order either of these items for the quintessential experience. In general, both the coffee and espresso at Ali'i are excellent.
Ali'i is a locals' coffee shop, very hip and unpretentious, so you'll want to keep coming back to try a new craft drink each time. (Or at least that's what we recommend.) It's not really "near" anything, but it's worth the bike ride from Waikiki or the 15 minute walk from the Honolulu Museum of Art. Just be aware that Ali'i is only open until 2:30 PM each day, and they are closed on Sundays.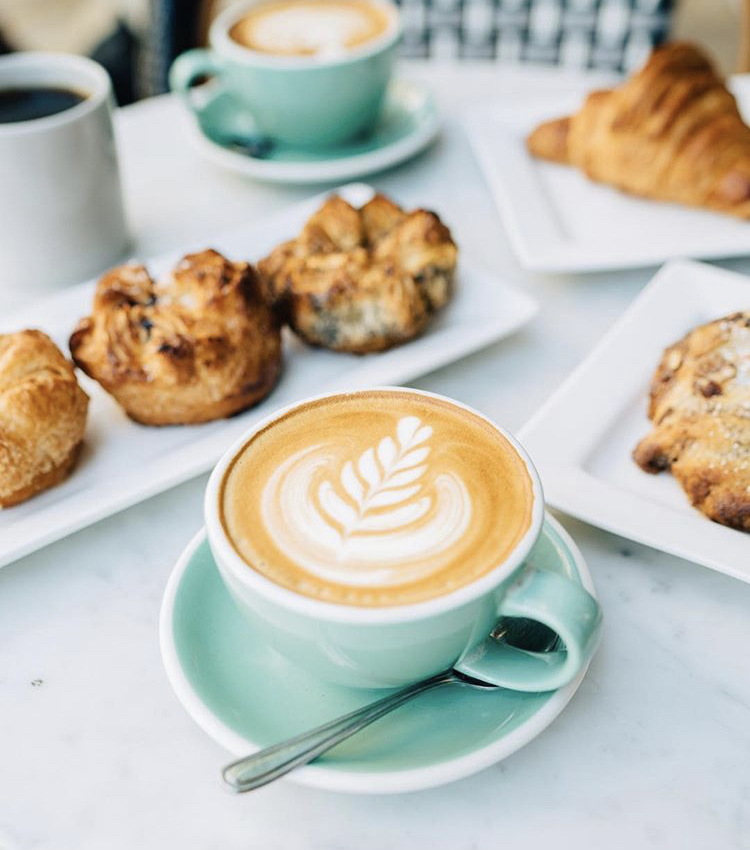 Kona Coffee Purveyors
In their recently-expanded location inside the International Marketplace in Waikiki, Kona Coffee Purveyors offers chic coffee, breakfast, and desserts. It's one of the best places in Waikiki to get fresh, local, Kona coffee. They have a large seating area and convenient location in the heart of tourist-ville, but the black sesame Kouign-amann (aka Breton cake) from b. patisserie in SF is worth trekking into the neighborhood even if you're a local. (Breton cakes are a rare, crunchy, and buttery French pastry that the New York Times once called "the fattiest pastry in all of Europe." This bakery makes one of the best in the world.)
Kona Coffee Purveyors also showcases beautiful latte art. If you're the kind of person who likes a graphic, foamy design drawn on top of your latte, this is the place for you. The ultra modern check out system makes grab-n-go super easy, but the coffee shop it faces the street so there's lots of people watching and seating. Plus, they have free WiFi. Be advised, however, that while this is also some of the best coffee on O'ahu, it's also some of the most expensive. You get what you pay for, I suppose.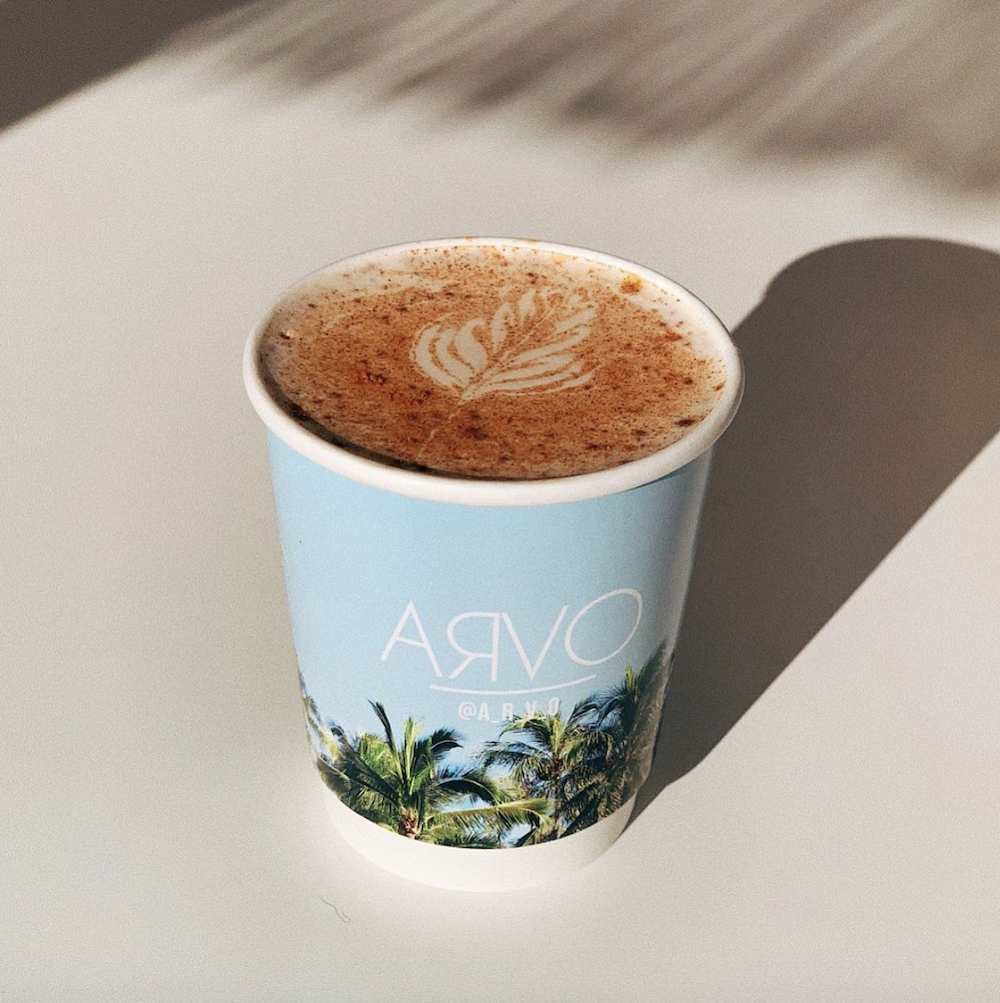 Arvo Cafe
Inside the SALT at Our Kaka'aka marketplace, Arvo Cafe is a tiny, seasonal coffee shop that showcases local coffee and Australian-inspired light bites. Stop by before grabbing dinner in the SALT marketplace. Or, take your coffee to go and catch a sunset down the road at Ala Moana Beach Park.
Unlike many other local coffee shops in the area that close early, Arvo Cafe is mercifully open until 5 PM every day. Plus, it's right around the corner from the excellent local chocolate purveyor, Lonohana Estate, who make an excellent Thai drinking chocolate. (They also always have free samples, FWIW.)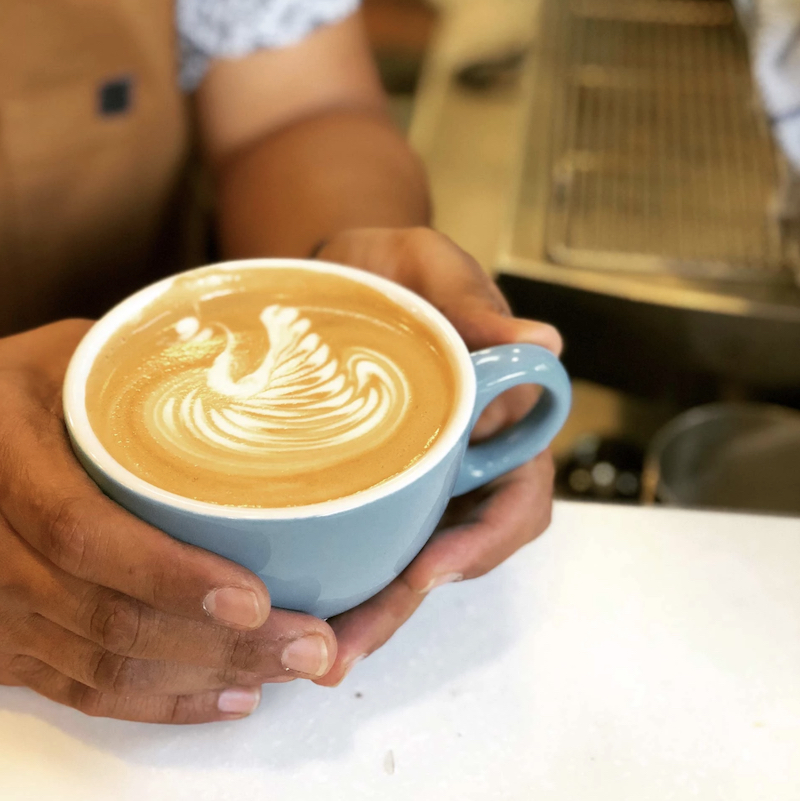 Kai Coffee Hawaii
Kai Coffee Hawaii has a few locations right in the heart of Waikiki. As a result, Kai Coffee is a really a walk in, walk out kind of place– but they have excellent Kona and Maui coffee to start your day off right. Try the super pleasant, not-too-sweet "Kai Latte"– a macadamia nut latte made with two shots of espresso. It's divine. Kai also does a great turmeric latte, and every drink can be made hot or iced. We love their cool packaging; they also have a great selection of mugs and fresh ground coffee available for for purchase.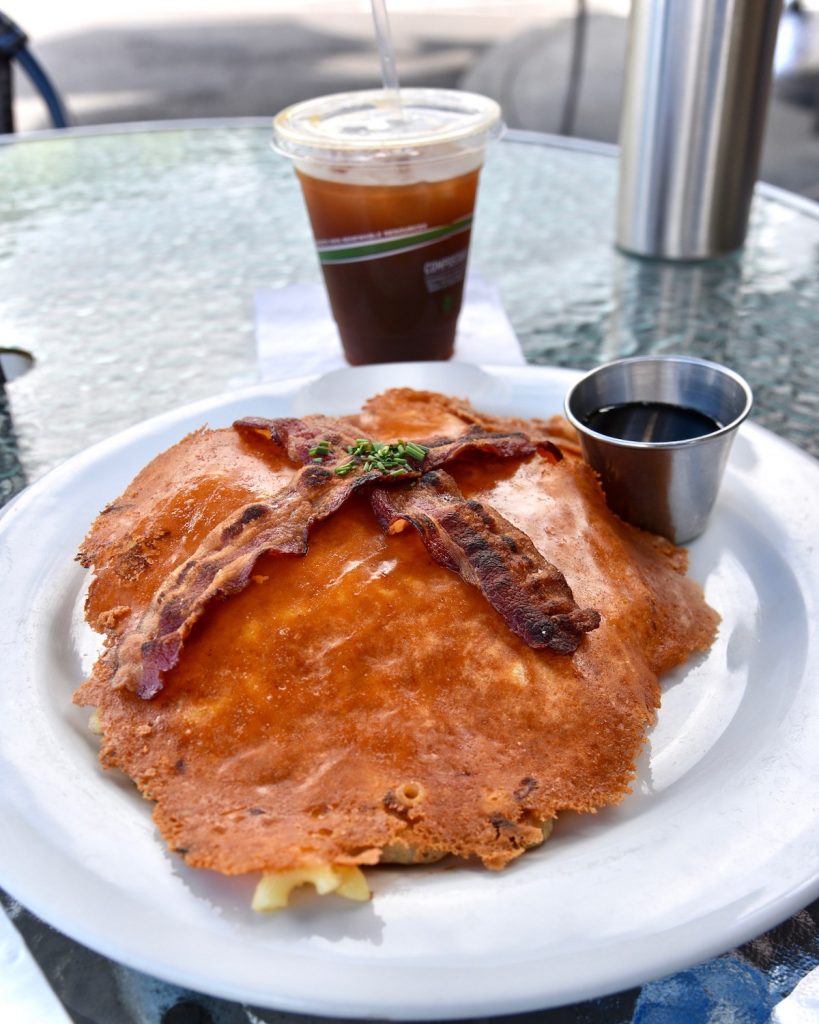 Morning Glass Coffee + Cafe
Morning Glass Coffee has Kona and Ka'u specialty brews as well as a few tasty, super-unique breakfast and lunch items like mac n' cheese pancakes (a real thing!), oatmeal crème brûlée (yes, yes, yes!), and lilikoi honey butter biscuits (to die for). Be sure to go to their Manoa location! For some reason, google keeps sending people to a former pop-up location at Fishcake in Kaimuki. (This is now home to another coffee shop called Bean About Town.) Morning Glass Coffee's correct location is 2955 E Manoa Rd (in the direction of the Manoa Falls Trail).
Adventurous coffee lovers should be sure to try the "Sucker Punch"– two shots of espresso mixed with cold pressed lemonade. I know it sounds crazy, but it's actually really good! On my last visit to the shop I asked the barista, dubiously, "That can't be good… right?" Alas, she reminded me that the bitterness of coffee actually compliments the tang of the lemonade, and there's enough sugar in the mix to balance out the flavor of those two elements. Try it for yourself and see– it's crazy!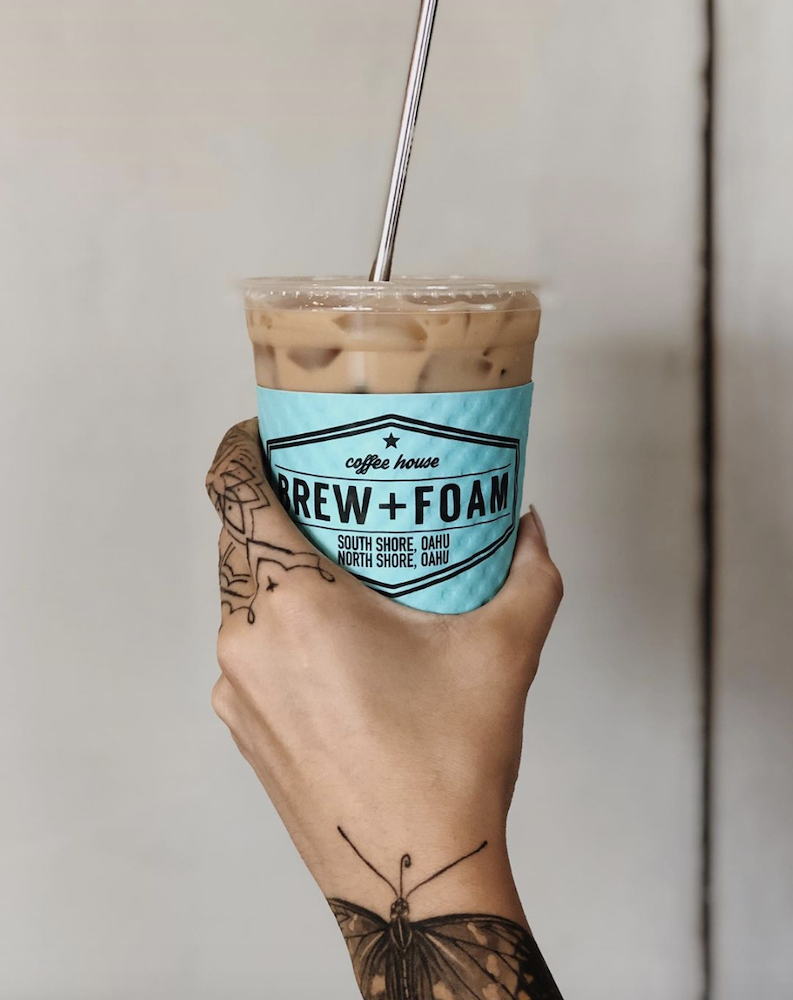 Brew + Foam Coffee House
Brew + Foam Coffee House is in a weird location inside a tattoo shop that's not really "near" any big attractions– but don't let that stop you from swinging by. This is a quirky coffee spot great for completionists who like to explore every coffee shop in the areas where they travel. We adore the Haupia (coconut) Mocha, the nitro cold brew, and the massive gluten-free waffles, which come covered in fruit and whipped cream. They have another location in Waialua on the North Shore, as well.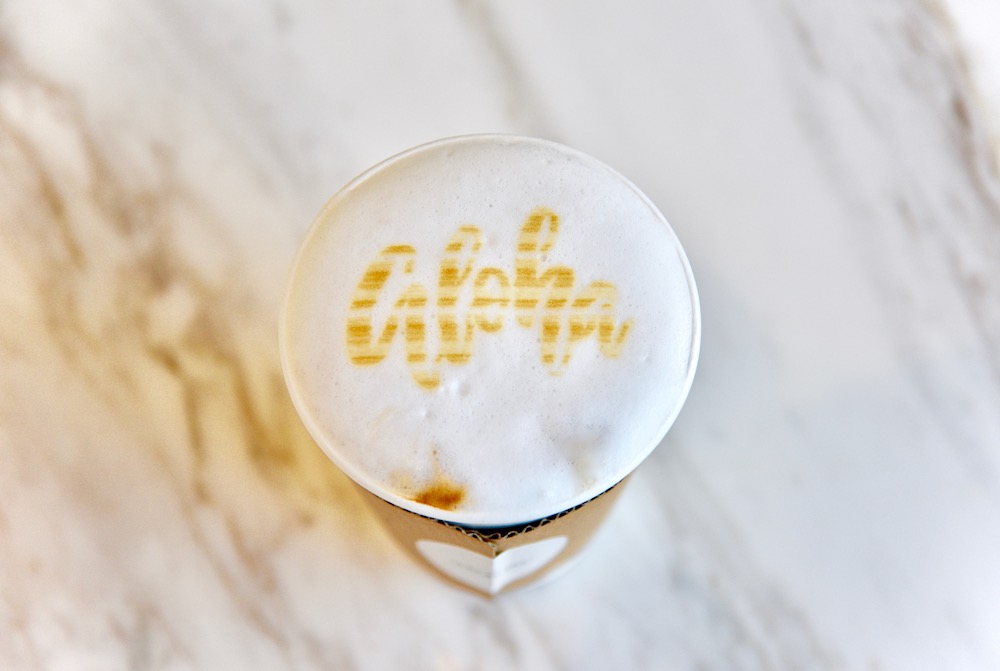 Local Joe
Local Joe might be the only coffee shop in Honolulu where you can get "aloha" written across the top of your latte– so cool! They serve Kona, Hamakua, Kauai, and house blended coffee as well as a whole suite of organic lattes and bulletproof coffee. Try their Royal Hawaiian Mocha or the signature Thai Tea Latte– a cross between a Turmeric Latte, Thai Iced Tea, and a hot Americano (above shown). Both are super popular and unique.
If you're also in the market for food, be sure to try the best-selling "Veggie Power Wrap"– a hummus and avocado filled bao-like veggie wrap that works well as a breakfast or fast lunch item. They also sell delicious paleo chocolate chip cookies which pair nicely with the coffee. You can enjoy these while sitting on the turquoise bench at Local Joe's marble table top, or while walking over to The Pig and The Lady for lunch.
Local Joe is located over by Chinatown, so it's a reliable place to stop when you're in the area. Most people who attend this coffee shop are locals, not tourists, so turnover is pretty quick. They are closed Sundays.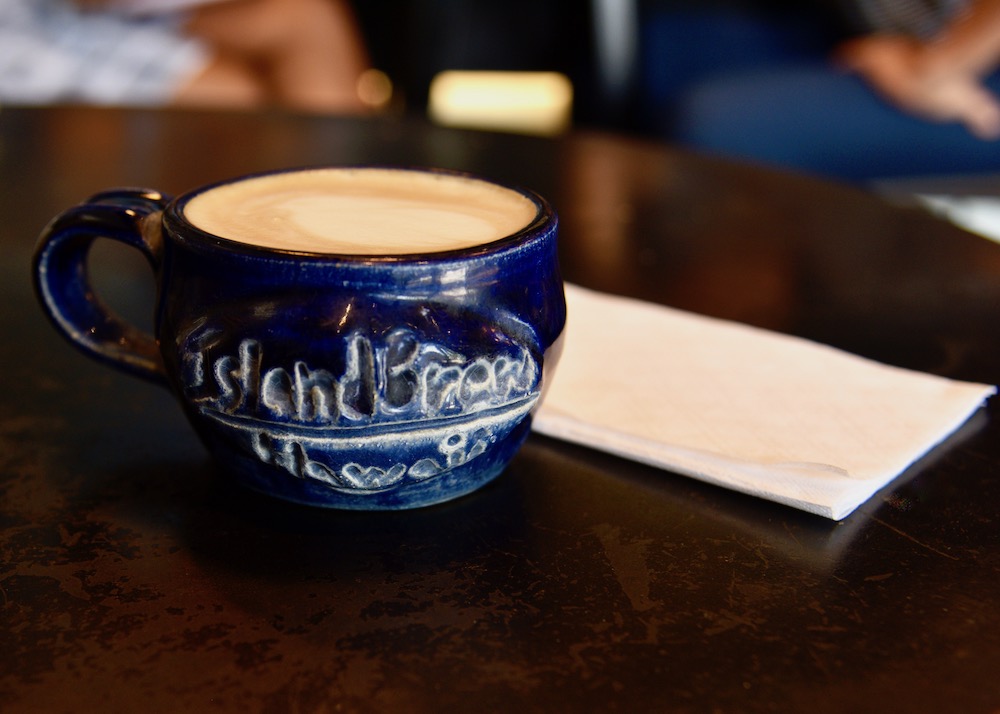 Island Brew Coffee House
Island Brew Coffee House is known for their rich coffee drinks above all– think espresso milkshakes, blended coffee drinks, and espresso classics. They also sell an assortment of gluten-free and vegan breakfast and lunch items, which they serve all day. With free WiFi and a "relaxed coastal vibe," each Island Brew location is a popular study spot and go-to location for business meetings.
Island Brew has two premium locations– one at the Ala Moana Center and another at the Hawaii Kai shopping center, which has waterfront views and umbrella shaded tables (it's also close to Hanauma Bay, so it's a good place to stop for coffee and light food before or after a morning snorkel).
Look out for their signature blended Malabar Mocha (creme de cacao, chocolate, and caramel), as well as super-rich "Cream Shakes" in flavors like pina colada, chai, and matcha. We also like their Biscotti Latte and Dark Chocolate Mocha. For a unique but very sweet experience, try the Macao, a blend of condensed milk and creme de cacao. Ask them to add a shot of espresso for a real treat. (That's what you see in the picture, above.)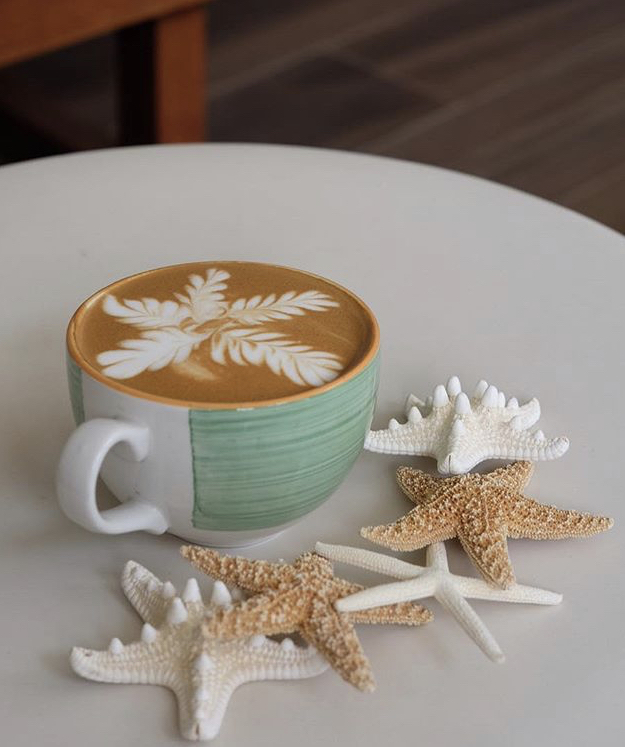 Honolulu Coffee
Honolulu Coffee serves farm-to-cup Kona coffee in a variety of styles, from frothy nitro cold brew to sumptuous lattes. This local coffee chain is sort of like the "Starbucks" of Honolulu– extensively franchised, consistent, and showcasing a variety of creative, calorie dense coffee and tea drinks.
One such example is Mele Kalikimatcha, a colorful green holiday drink crafted with amai matcha and house-made jasmine mint syrup. (Like many of the drinks on the menu, it can be served as a frozen drink, iced, or as a hot latte.) We love Honolulu Coffee's seafoam green mugs and the fact that all of their beans are roasted day-of right in Honolulu. This is a good area staple for those who live by the maxim, "But first, coffee."
And don't we all?
***
Looking for a good breakfast in Honolulu? We've got you covered.