Joni Mitchell's easy lentil soup recipe is a darling little gem that reflects the no-frills food ethos of the 1970s. Made with red lentils, tomato puree, and a hint of sweet paprika, this easy blended lentil soup recipe is the ultimate fall/winter comfort food.
This recipe originally came from a repost in The Guardian, which noted that the singer usually had breakfast in the afternoon, consisting of soup first (presumably this one), and then eggs and toast.
This easy red lentil soup is also the kind of dish one would make for a cozy evening of songwriting in a snow-covered cabin. For clarity, we modified the instructions for making Joni's soup just slightly.
We also offer some tweaks to the garnishing to modernize the dish and up the nutrient profile. Those optional changes aside, this is Joni Mitchell's favorite soup recipe through and through. It's an understated but delicious red lentil soup that's hearty and homey at the same time– the ultimate wholesome comfort food.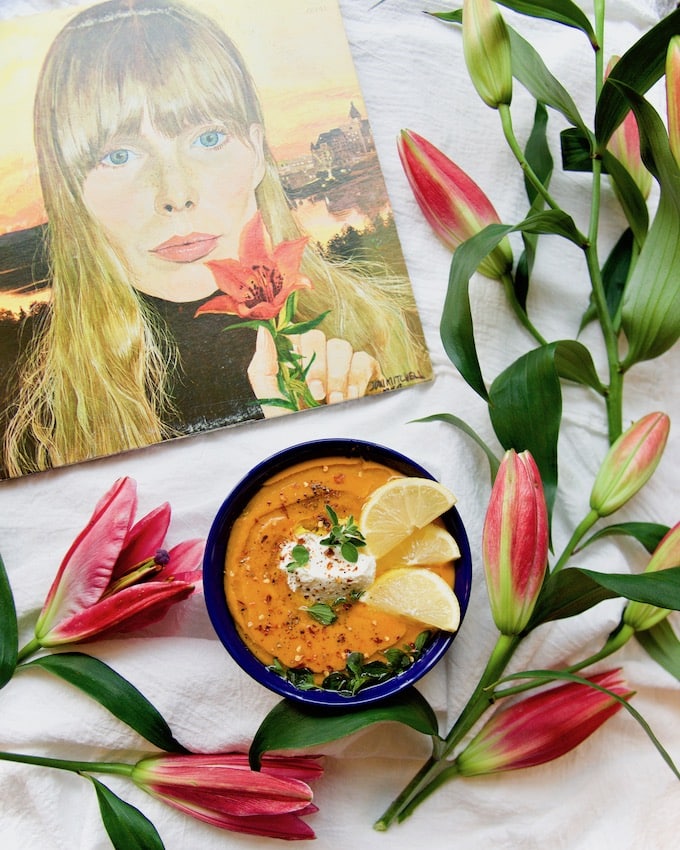 Joni Mitchell's Lentil Soup Recipe
This simple, hearty red lentil soup from America's favorite folksinger embodies the no-frills charm of blended soups. Recipe serves four.
Ingredients
1 garlic glove, chopped
1 medium onion, chopped
~3 Tablespoons butter
2 Tablespoons tomato puree
1 teaspoon sweet paprika
7/8 cup red lentils
3 Tablespoons bulgur wheat (optional)
5 cups chicken or vegetable stock
salt, pepper, and chili flakes to taste
herbs (mint or oregano) for garnish
lemon wedges for garnish
olive oil for garnish (optional)
Instructions
In a large pan set to low heat, slowly soften a chopped garlic clove and a chopped onion in a little butter, until translucent.
Add two tablespoons of tomato puree (we used tomato paste) and a teaspoon of sweet paprika. Cook, stirring, for two minutes.
Add red lentils, bulgur wheat (optional) and the chicken/vegetable stock. Bring to a boil, then simmer for 30 minutes uncovered, stirring occasionally to prevent the soup from catching (this is Joni Mitchell's word for "scalding" or "burning").
Once the lentils are soft and starting to fall apart, take the soup off the heat and blitz until fairly smooth. Season to taste with salt + pepper, then serve sprinkled with chili flakes, a pinch of dried mint or oregano, a drizzle of olive oil (optional), and a squeeze of lemon. Serve hot (ideally while listening to Clouds on repeat).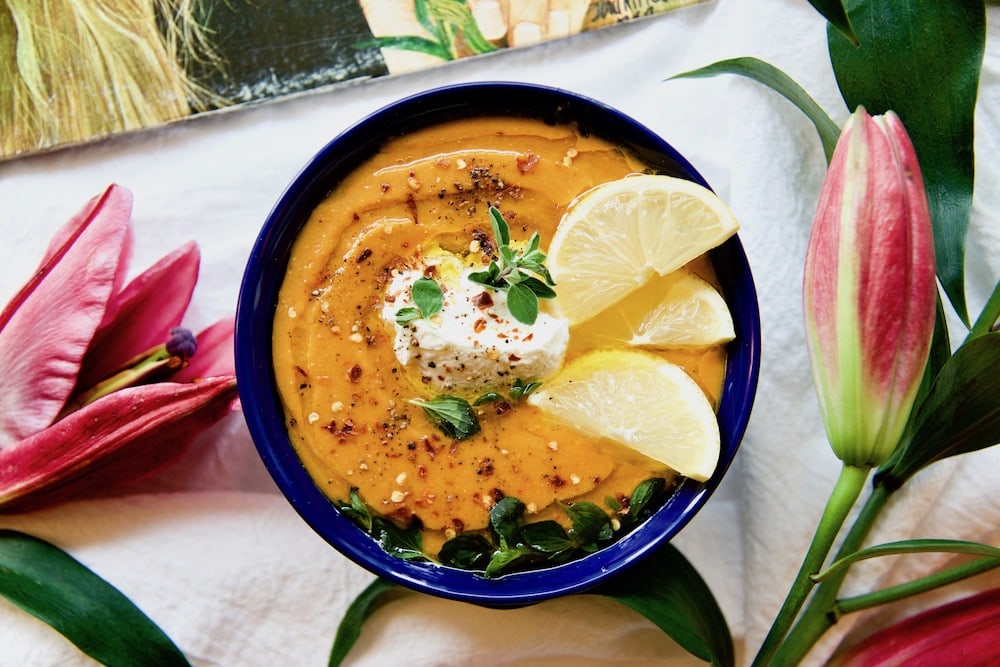 Health Notes For Joni Mitchell's Lentil Soup Recipe
Red lentils are high in protein, fiber, polyphenols, iron, folic acid, magnesium, and they are said to improve electrolytic activity. This easy red lentil soup is a great way to incorporate them into your diet, especially if you're looking for a non-meat source of bioavailable iron.
The mixture of sautéed garlic, onions, tomato paste, and paprika that results from Step 2 in this recipe also makes an excellent condiment on its own. We love it as a topping for eggs, chicken, or as a spread for sandwiches. It's sort of like a tapenade (if you taste it while making this soup you'll get what we mean). Delicious!
Joni Mitchell's lentil soup keeps well stored in mason jars in the freezer for 3-6 months, or in the fridge for 3-5 days after making. It pairs beautifully with focaccia.
"We are stardust, we are golden/ We are billion year old carbon/ And we got to get ourselves back to the garden." — Joni Mitchell
***
Love this lentil soup recipe and strong women? Check out the other recipes in our Nourished By My Heroes series– including Michelle Obama's Shrimp Linguini, Joan Didion's Artichokes au Gratin, Gloria Steinem's Breakfast of Champions, Oprah's Cornbread and Black-Eyed Peas, or our twist on Hillary Clinton's Oatmeal Chocolate Chip Cookies.