Today's edition of Nourished By My Heroes features the ultimate comfort food combo: Oprah's recipe for Southern-style cornbread and black-eyed peas.
The Maui-based mogul has openly stated on multiple occasions that her favorite meal is "cornbread, black-eyed field peas, and rosé"— and it's easy to understand why.
This easy black-eyed peas recipe is so SO good, and it pairs so beautifully with Oprah's favorite cornbread. (The recipe below was modified from Oprah's own private chef.) Between the bacon, the Old Bay, and the iron-rich leafy greens, it's an instant comfort food staple you're likely to make again and again.
Ultimately, this real-food recipe is a humble southern classic, but you can modify the recipe to suit your taste. (Want to add more hot sauce? Go for it! Extra greens? Yes, please!)
Together, these two dishes make the perfect hearty-yet-surprisingly-light meal for the cold weather months– but it's still a comfort food combo that's fit for the summer. (Whether or not you enjoy it with a glass of rosé is up to you.)
Enjoy!
***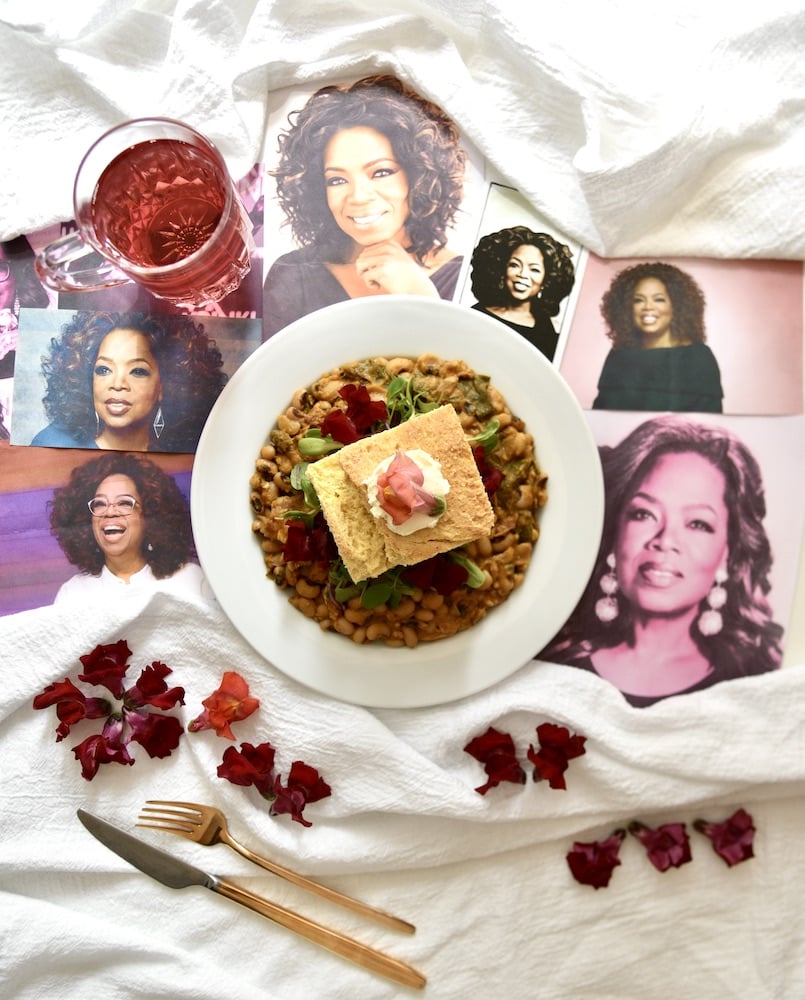 Easy Black Eyed Peas Recipe
This easy black-eyed peas recipe is a hearty classic you'll want to make again and again.
1/2 lb (~approx. 1 cup) black-eyed peas, soaked overnight
1 quart low-sodium chicken broth
4 slices of bacon, chopped
1 chopped onion
1 chopped green bell pepper (or 3/4 cup chopped shishitos)
1 teaspoon soy sauce
2 teaspoons piri piri hot sauce
1 teaspoon Old Bay
handful of collard greens, swiss chard, spinach, or other dark leafy green of choice
salt + pepper
Instructions
Cook bacon until crisp. Stir in the onion and peppers and cook until tender.
Add bacon-veg mixture to beans in a medium-sized pot. Add chicken broth, soy sauce, hot sauce, and Old Bay. Bring to a boil then reduce heat and simmer, uncovered, until beans are tender. Depending on your stove's heat, this should be about 40 minutes post-boil. Be sure to keep beans cooking at an active simmer. In the last ~10 minutes of cooking, add the greens and cook until tender. (For this dish, it is better to overcook than undercook, so if they need to cook longer, that's fine.)
Season with s + p to taste. Serve over rice or with cornbread. Yum!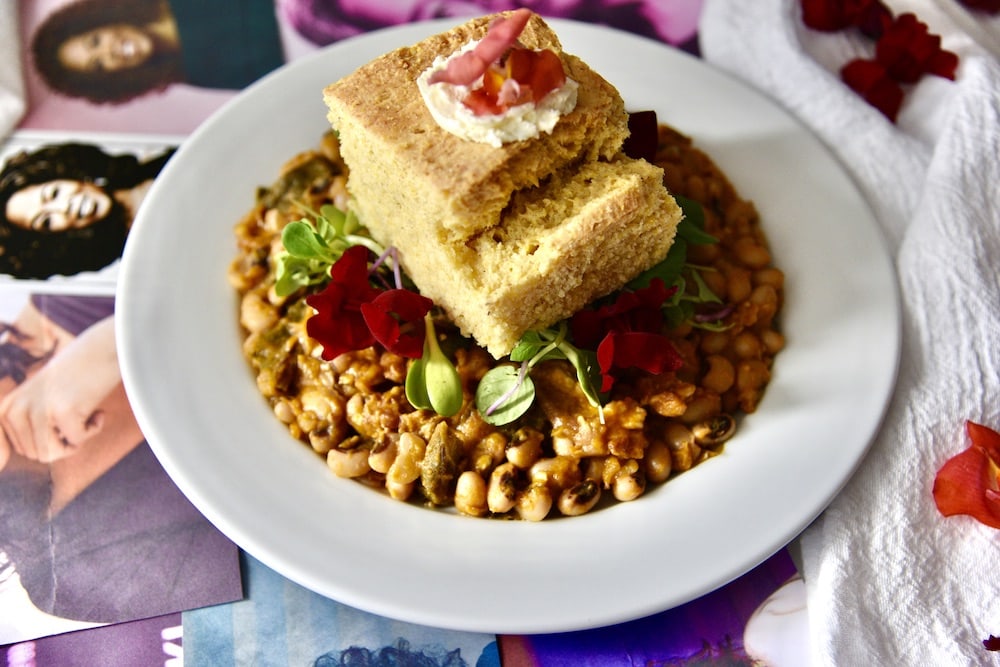 Oprah's Southern Cornbread Recipe
This recipe was modified from Oprah's former private chef's classic southern cornbread recipe, which you can find here.
2 cups organic cornmeal (you can also use gluten-free cornmeal or blue cornmeal)
3/4 cup all-purpose flour
2 tablespoons sugar
2 and 1/2 teaspoons baking powder
1/2 teaspoon baking soda
1 teaspoon salt
2 cups buttermilk
2 large eggs, beaten
1/4 cup avocado oil
Instructions
Preheat oven to 450 degrees F. Grease a 9-to-10-inch cast iron skillet (or 9-inch cake pan) with butter.
In a large bowl, mix all the dry ingredients together. In a separate bowl, whisk the wet ingredients together until the eggs are beaten and everything is well combined.
Add the wet ingredients to the dry, stirring only until just mixed (do not overbeat).
Pour batter into pan and bake for 15 to 20 minutes or until the center of the bread springs back when pressed in the center. Cool for 5 minutes, then turn out onto a plate or serve directly from the skillet. Enjoy!
***
Related: Explore more recipes from our Nourished By My Heroes series– including Michelle Obama's Shrimp Linguini, Gloria Steinem's Breakfast Freekah, Hillary Clinton's Chocolate Chip Cookies, and Natalie Portman's Vegan Hamantaschen Cookies. (<— Yes, these are all their real recipes. So cool!)
Watch Oprah and Lady Gaga talk about "Radical Acceptance" in Mental Health.