This easy-to-make focaccia garden bread adds a cheerful dose of play to the traditional, olive-oil-rich focaccia bread you may have known in the past.
Making a focaccia garden is easy and fun– just use a variety of fresh vegetables and herbs to create a landscape design on a flat sheet of rising dough, then bake for ~25 minutes and viola! Instant mood boost.
Everyone who sees this bread inevitably cracks a smile. We hope that making it will lift your spirits, too. (And honestly, it's a lot easier than sourdough!)
***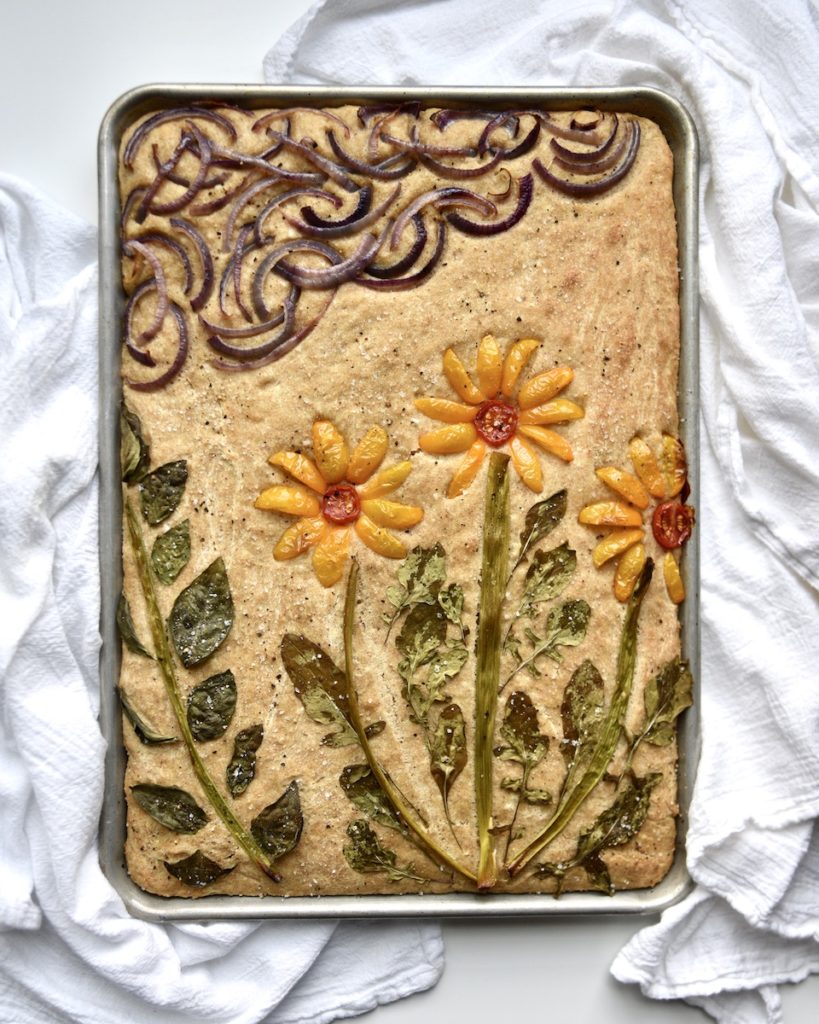 ***
Easy Focaccia Garden Bread
3 cups unbleached all purpose flour
3 cups unbleached wheat flour
1 3/4 Tablespoons active dry yeast
1 Tablespoon fine sea salt
1/4 cup extra virgin olive oil
1 teaspoon garlic powder
1/2 teaspoon dried oregano
2 and 2/3 cups warm water (120 degrees F)
course ground sea salt, flake salt, or finishing salt
course black pepper
various vegetables and herbs for your garden design (I recommend having some tomatoes, red onions, and/or basil in the mix, as these ultimately taste the best baked in a focaccia bread)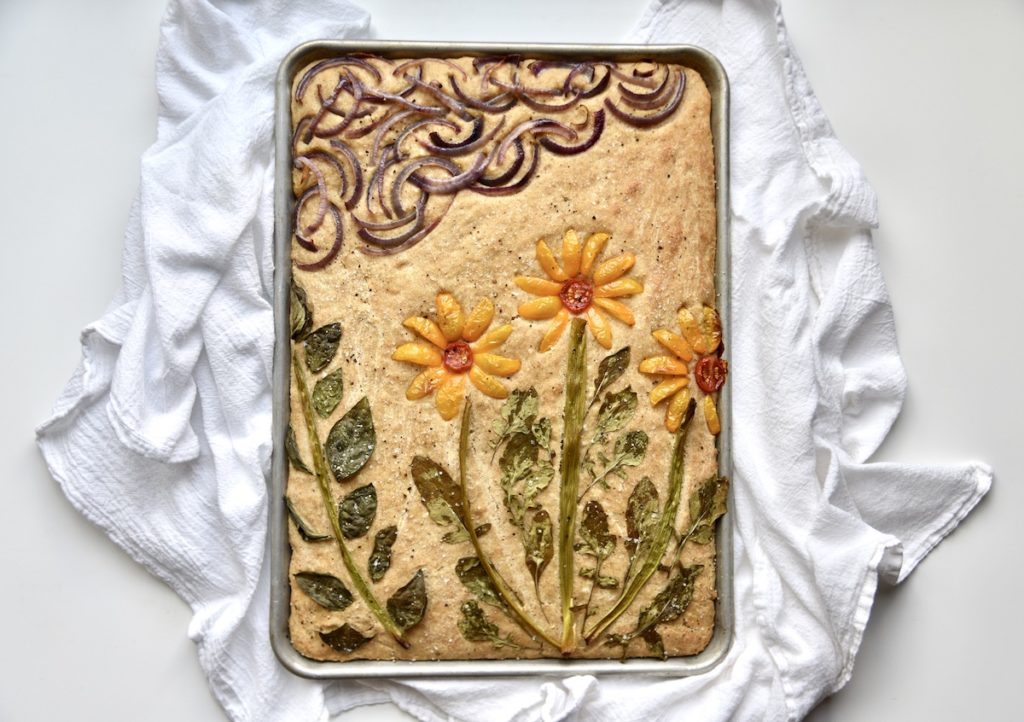 Instructions
In a small bowl, mix your active dry yeast with about 4 tablespoons warm water (~105 degrees, measured with a cooking thermometer). Stir until it's smooth, with no lumps. It should look like a very blonde coffee.
In a large mixing bowl, combine your wheat and white flour. Pour the yeast-water mixture over the top.
Create a "hole" in the middle of your flour pile. Pour your water, olive oil, oregano, garlic powder, and salt into that hole. Stir to combine, mixing vigorously for at least 1 minute. Once the dough comes together, knead it with your hands to make sure there are no lumps, and that all the flour is incorporated. (It will be sticky, and that's ok.)
Cover the dough with plastic wrap and let rise at room temperature for 1 hour. In the meantime, cut up your veggies and herbs to make a mock up of your focaccia garden design on a cutting board, or a 12″ by 16″ baking sheet.
After your dough has risen for an hour, turn it out onto an oiled 12″ by 16″ baking sheet. The dough should have doubled in size and will have a wonderful, glutenous matrix. Pour some olive oil over the top of the dough and spread it out with your fingers so that it covers the pan completely. (Make sure that the dough touches the edge on every side of the pan, otherwise it might shrink back while baking, which could alter your veggie design.)
Create your garden design on the surface of the dough, pressing the veggies gently so that they stick in place. (It should be pretty sticky, so this shouldn't be hard.)
After your design is complete, let the dough rise for another 45 minutes. When there's about 15 minutes left in this rising period, preheat your oven to 425 degrees F.
After the design has risen for 45 minutes, drizzle olive oil over the dough and veggies, gently spreading the oil with your fingers so that it doesn't pool. Sprinkle course seat salt and fresh-ground pepper over the top.
Bake your focaccia garden for 25 minutes or until the bread is lightly golden. Cool for at least 15 minutes on a rack before serving. (I like it best warm, dipped in good olive oil.) Enjoy!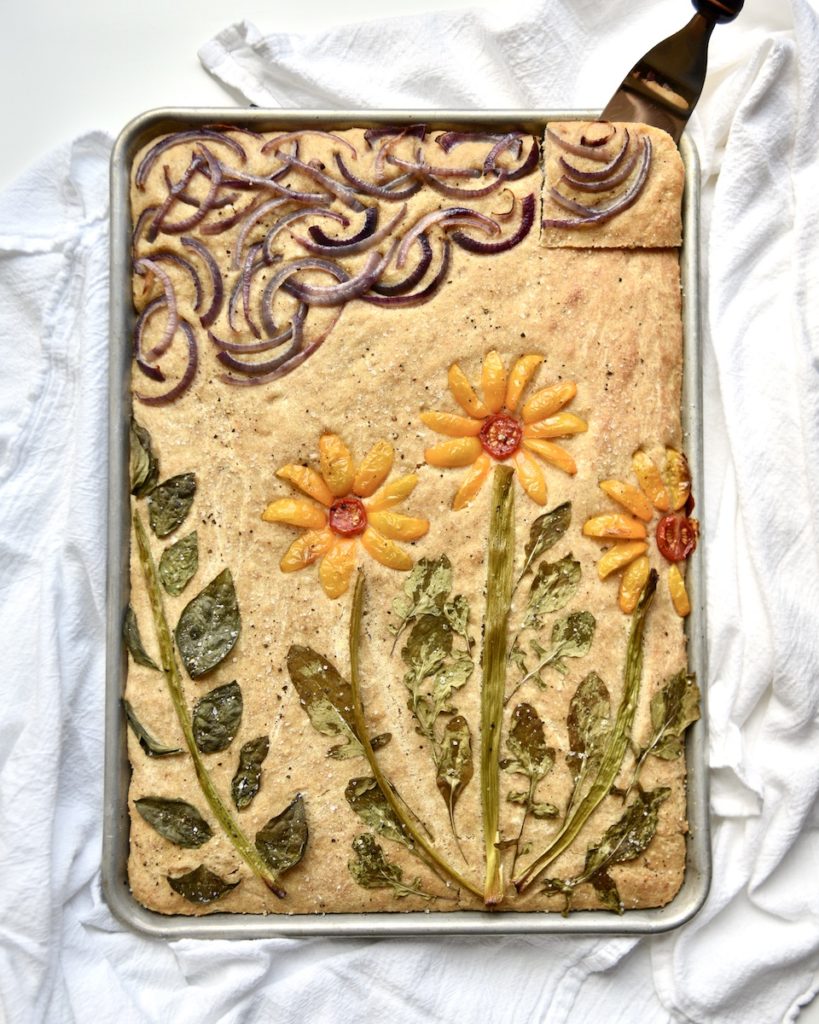 Notes
Make sure your water is the right temperature before you add it to the dough. Cold water will limit how much your focaccia can rise.
To remove the bread from its pan, cut the focaccia into 4″ squares and move to a glass pyrex container. Store in the refrigerator, then toast the bread before eating. Using a bread knife, you can also slice your focaccia garden horizontally to make sandwich bread. (Just be sure to slice the bread before toasting it.)
Some people like to sprinkle a Tablespoon of grated Parmesan cheese over their focaccia right before baking. It's up to you! (Otherwise, this recipe is #vegan.)
***
Want more vegan bread recipes? This super satisfying Gluten-Free, Vegan Olive Oil Quick Bread is our most popular Mood Recipe of all time.