Michelle Obama's epic shrimp linguine recipe was something I saw whispered about in various presidential profiles detailing what Barack Obama liked to eat at home. Eventually, I found the recipe on Genius Kitchen and decided to make it fresh with a few modifications, below. (Minor adjustments made to up the nutrient profile while making the dish even easier to prepare.)
The resulting pasta dish is simple, sophisticated, and delicious. This is a lovely recipe– no wonder it was Barack's favorite meal! According to lore, Barack Obama had two favorite meals in the White House: this recipe for Michelle's shrimp linguine, and Tex-Mex style chili.
I recommend making this shrimp linguine as a summer meal, when fresh shrimp is more readily available. It also pairs beautifully with crisp white wine, like a Riesling (another fixture of summer). But in a pinch– or if you're squeamish– frozen shrimp will work just fine. Barack Obama's favorite meal can be yours, too.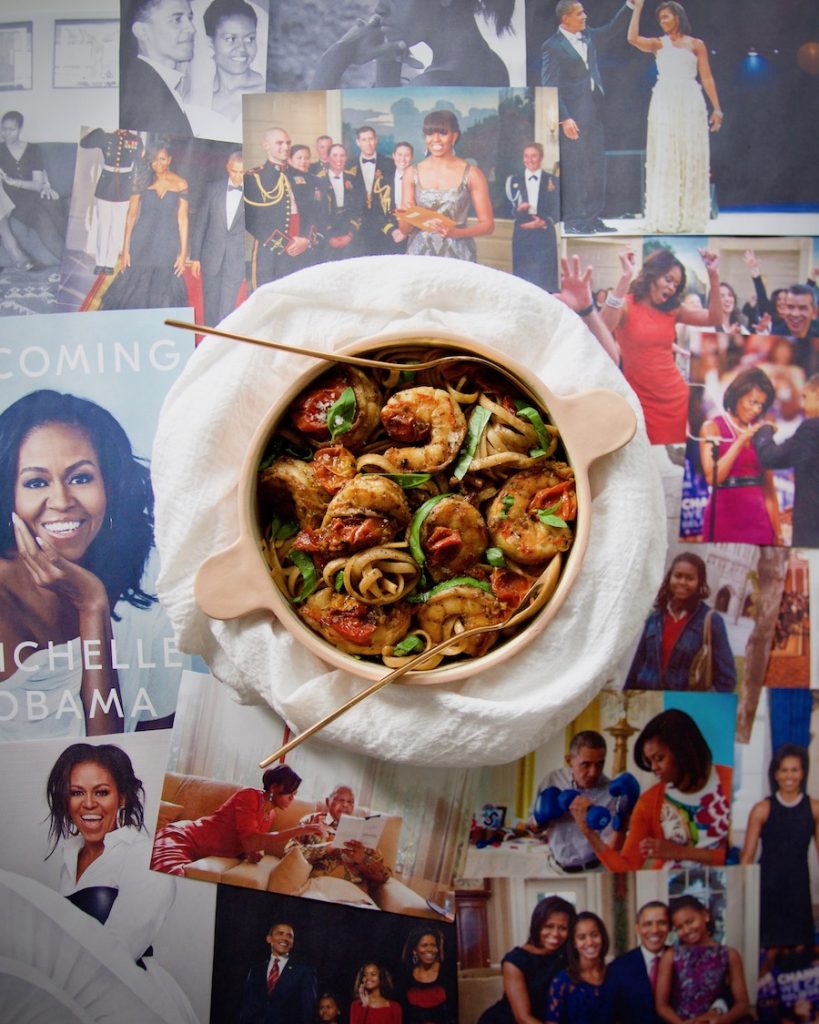 Michelle Obama's Shrimp Linguine Recipe
1.5 lbs fresh shrimp
8 garlic gloves
1 lb whole wheat or spinach linguine (original recipe calls for regular)
8 oz sun dried tomatoes, sliced and drained
2 cups chicken broth
1 bunch fresh basil leaves, julienned
1 Tbsp olive oil
salt + pepper to taste
squeeze of lemon (optional– we added this)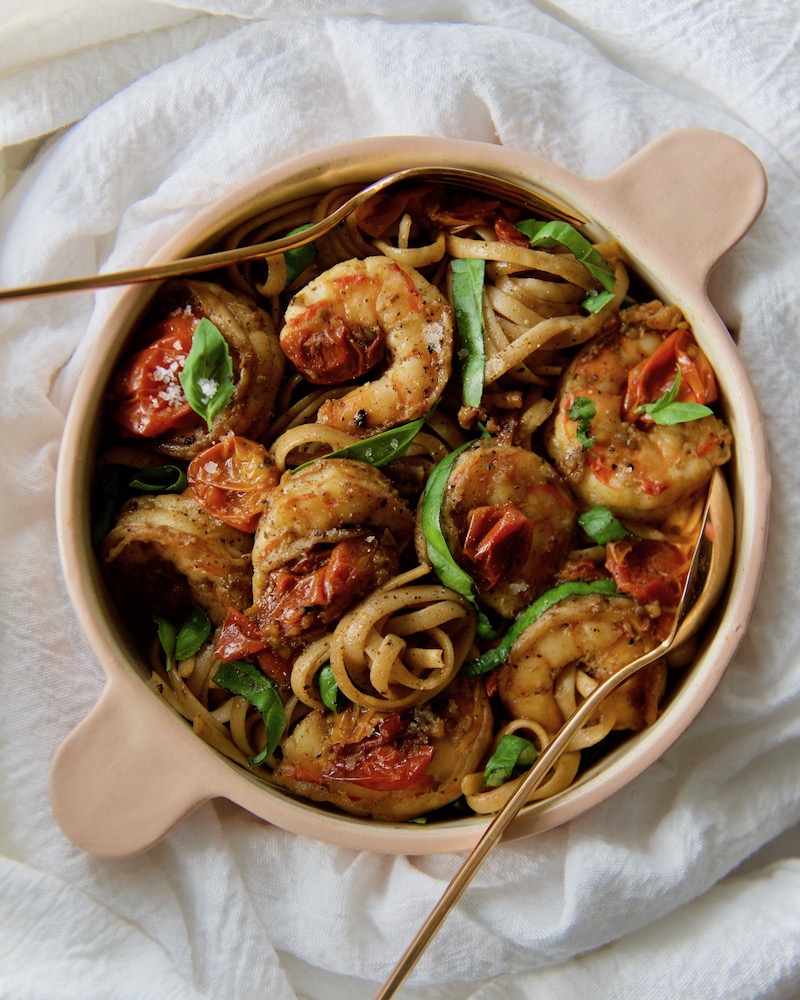 Method
Bring chicken broth to a simmer and then remove from heat.
Next, prepare shrimp by cutting off the heads, de-veining, and removing the shells. (If you're squeamish and don't like doing this, use frozen shrimp instead.) Place shrimp in hot chicken broth and set aside.
Cook pasta according to instructions on the package. Aim for al dente. Drain off the liquid once cooked and drizzle with a little olive oil and salt. Set aside.
Thinly slice the garlic gloves. Sauté in a shallow pan with the oil until lightly browned. Use a slotted spoon to add the shrimp to the pan, reserving the broth. Stir fry until the shrimp are fully cooked.
Add pasta to the shrimp and garlic mixture and stir until a little chicken broth. Add tomatoes, basil leaves, a generous squeeze of lemon, and salt + pepper to taste. Let flavors meld for about 5 minutes before serving. You have now made Barack Obama's favorite meal. Enjoy!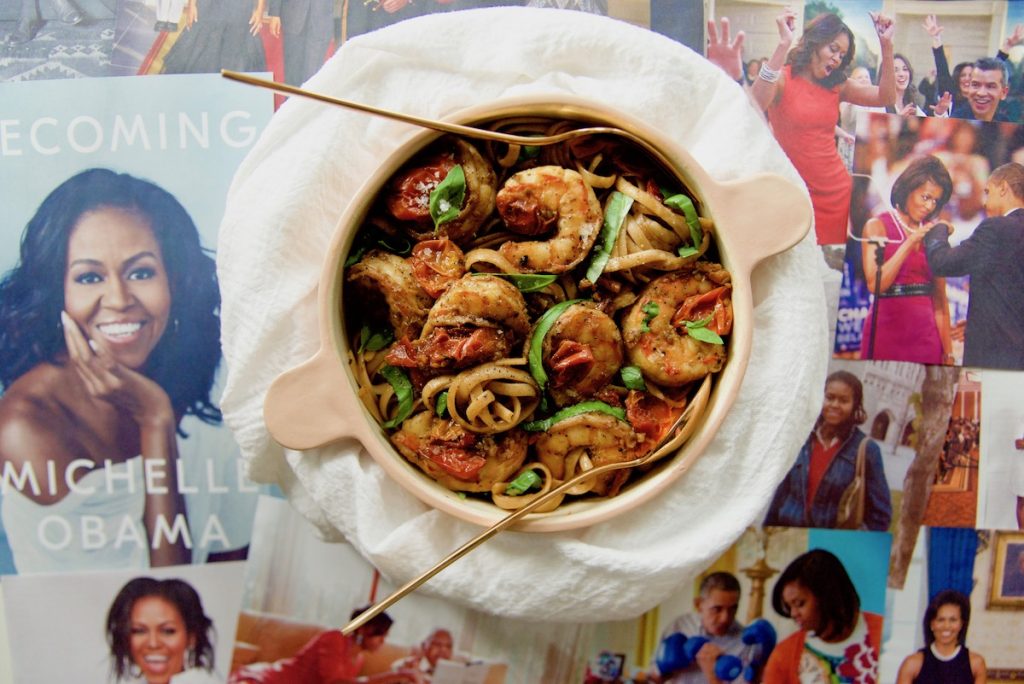 Notes
If sundried tomatoes aren't your thing, try blistering fresh cherry tomatoes with a little oil and salt until almost stewed.
Next, stir in 1 Tbsp of balsamic vinaigrette, pour off the extra liquid, and use the tomatoes in place of the sundried tomatoes in the recipe. (That's what I've done in the photos above, since I ran out of sundried tomatoes on Photo Shoot day. 🤦‍♀️ This recipe is equally good either way!)
Fun fact: One serving of shrimp has over 100% Recommended Daily Value of Selenium, and over 75% Recommended Daily Value of B12, both of which may reduce mental decline. Another rich source of Selenium? Brazil nuts. Always remember: food is medicine!
***
"There are still many causes worth sacrificing for, so much history yet to be made."– Michelle Obama
Love this recipe? Try making Hillary Clinton's Chocolate Chip Cookies or Meryl Streep's Heart-Shaped Shortbread for dessert. This pasta also pairs beautifully with this Grilled Shishito Pepper appetizer.