Gloria Steinem is possibly the single most beloved feminist figure in American history. And with that distinction came no shortage of commentary on her looks, which were as admired as they were patronizingly weaponized against her. In a Washington Post article from 1984 (<— scary!), I recently unearthed a reference to a yummy-sounding wheat berry porridge that Jimmy LeSage of New Life Spa used to feed Steinem when she took her annual fitness-and-health-oriented vacations there. Slow-cooked wheat berry porridge apparently became a staple of Gloria Steinem's diet in the 70s and 80s. Today, most people of a similar palate find themselves reaching for oatmeal in the morning, but this recipe offers a cool, fortifying twist on the classic.
LaSage's recipe calls for wheat berries, which come in many different varieties and are not gluten-free. Below, I've modified the grains and milk to make a dairy-free option with an even higher nutrient profile. By swapping the milk for nut milk and using freekah (roasted green spelt berries), the new recipe has more nutrition and a better environmental impact. (Keep in mind that although freekah is a much healthier grain, it is technically not gluten-free.) Freekeh is an ancient grain, which means that it predates domesticated wheat and has not been genetically modified.
In the recipe below, I used a local freekah from Lakeview Organic Grain in Penn Yan, New York, which I bought at our local farmers market in New York City. I recommend purchasing grains from a local grower if you can. (Grains are no different from other produce in that buying local ensures optimal freshness, less chemical exposure, and that you know where it comes from, etc. Many grains in the U.S. are highly processed and full of chemicals!)
The recipe for Gloria Steinem's "diet" porridge follows below. We're calling this easy freekah recipe the "Breakfast of Champions." Enjoy!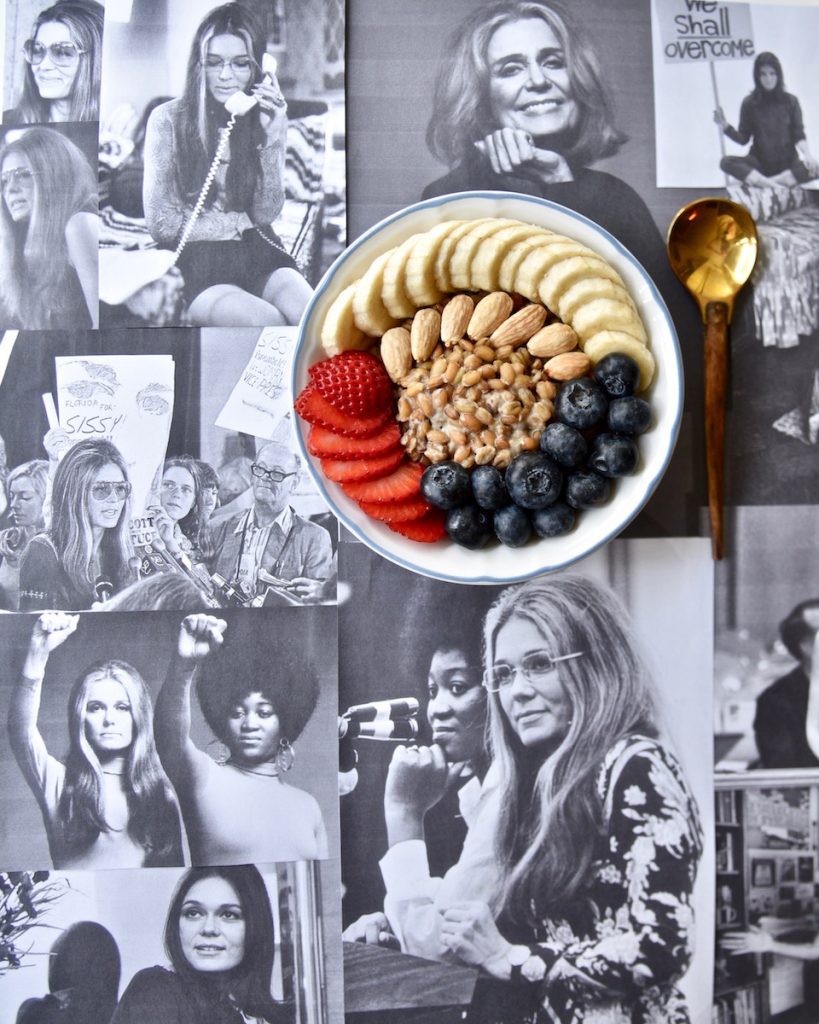 Gloria Steinem's Breakfast of Champions (Easy Freekah Porridge Recipe)
1 cup freekah
2 cups almond milk
1/2 cup fresh berries
1/3 cup nuts
honey to taste
warm almond milk for serving
banana (optional– we added it)
Instructions
In an Instant Pot: Pour freekah and almond milk into the pot and select "Multigrain" and seal the vent. (Or, manually set IP to high pressure, seal the vent, and cook grains for 40 minutes.) Quick-release and stir. Serve hot as a breakfast cereal garnished with fresh fruit, nuts, honey, and a dash of almond milk.
In a Crockpot: Put water and wheat berries in crockpot on low heat overnight. Serve hot as a breakfast cereal garnished with fresh fruit, nuts, honey, and warm almond milk.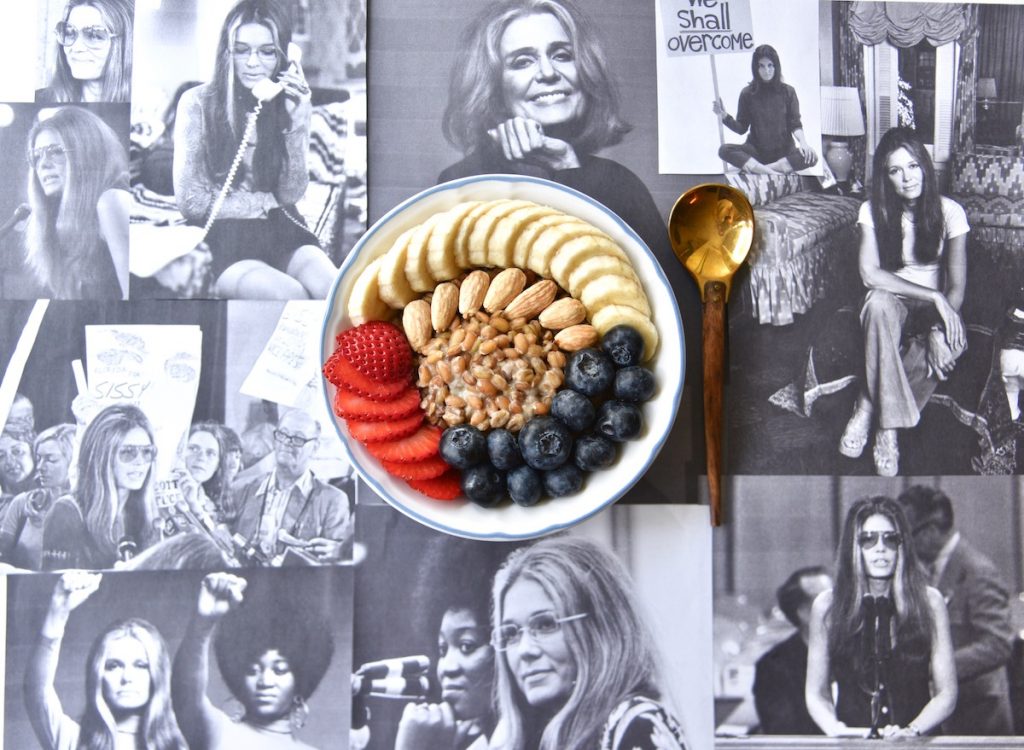 Notes
This recipe makes 5 cups of porridge– about 5 servings at 220 calories each. Freekah is a very nutrient-dense and filling grain, and the end result of the cook should be a tender, almost milky kernel that is just slightly chewy. Combined with fruit, honey, and almond milk, it makes an excellent, hearty breakfast porridge.
Cooked freekah porridge will last about 3 days in the fridge. Store in a sealed, airtight container.
Gloria Steinem's diet ethos can be summed up in this apt passage from the Washington Post: "The question remains whether for feminists a week at a diet spa is a subversive activity. For Steinem it is a matter of emphasis: 'We ought to talk about being strong and not about being thin,' she said. [sic] Diet and exercise should not be a matter of fitting into some psychological corset, of trying to be beautiful at all cost. Said Steinem, 'If we address the question of health and strength and where we feel the best, we will be on the track.'"
"The truth will set you free, but first it will piss you off."– Gloria Steinem
***
Related: Want more recipes from iconic women? Try Michelle Obama's Shrimp Linguini, Joan Didion's Artichoke's au Gratin, or Hillary Clinton's Chocolate Chip Cookies. Meryl Streep's Heart-Shaped Shortbread Cookies are also a hit around the holidays.