Let me just cut right to the chase: these delicious gluten-free peanut butter brownies are fudgy and decadent, made with serotonin-boosting bittersweet chocolate and happiness-inducing mucuna bean powder.
(And if you don't want to add the superfoods, leave 'um out. The recipe holds up either way. These are still the best brownies ever! 🙂 )
Below is some background on mucuna, which I started seeing at wellness centers and juice bars across the U.S. and Europe a few years ago. (It emerged around the same time that CBD oil was gaining prominence in the wellness world– and it has just as much research to certify its efficacy.)
Mucuna pruriens, also known as velvet bean, is a bioavailable source of L-Dopa, an amino acid that metabolizes into dopamine in the brain. (Dopamine is the neurotransmitter responsible for happiness.)
This naturally occurring, caramel-tasting bean powder makes a sweet addition to this delicious gluten-free brownie batter. It makes an ideal complement to the chocolate in this recipe, while gently elevating mood and soothing the nervous system.
Mucuna pruriens is also true brain food; research suggests that it may also help boost libido and regulate sleep patterns, which is why health-oriented cafes and juice bars use it in smoothies, oatmeal, ice cream, and baked goods.
This is our favorite gluten-free peanut butter brownie recipe– and the mood-boosting superfood twist makes it even better. Remember: all food nourishes the mind, body, and soul. Even your "junk food" can work for your well-being.
Enjoy!
***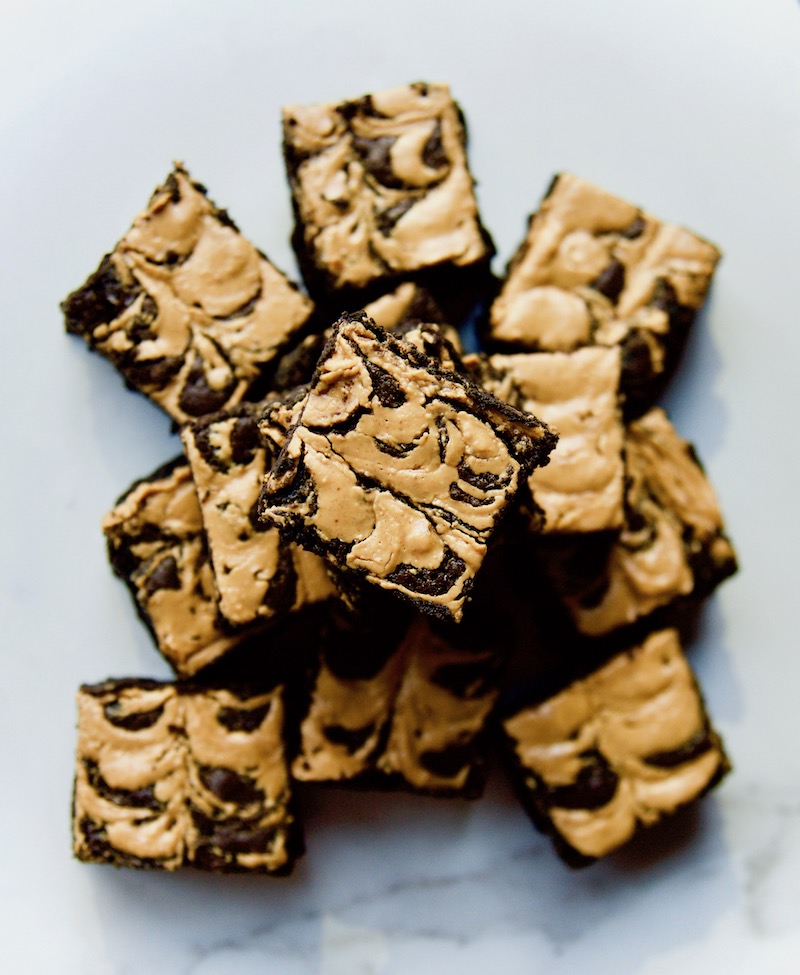 And then there's the chocolate. Decades of studies have shown that chocolate is a natural trigger for serotonin— another "feel good" neurotransmitter that contributes to feelings of well-being and happiness.
The below recipe contains twice the amount of chocolate as regular brownie recipes. As a result, this ratio yields a silkier, truffle-like consistency with added flavonoids.
These easy, fudgy brownies are also gluten-free and collagen-enriched for added brain-friendly amino acids– but there's also so much chocolate, butter, sugar, and peanut butter that you won't be compromising on taste.
As a result, these gluten-free peanut butter brownies are particularly good for people who are feeling down and need a mood boost.
"Dessert" is already an intrinsically whimsical thing, but this delightful brownie recipe takes the good vibes to another level. It's a fun recipe– share it with your friends!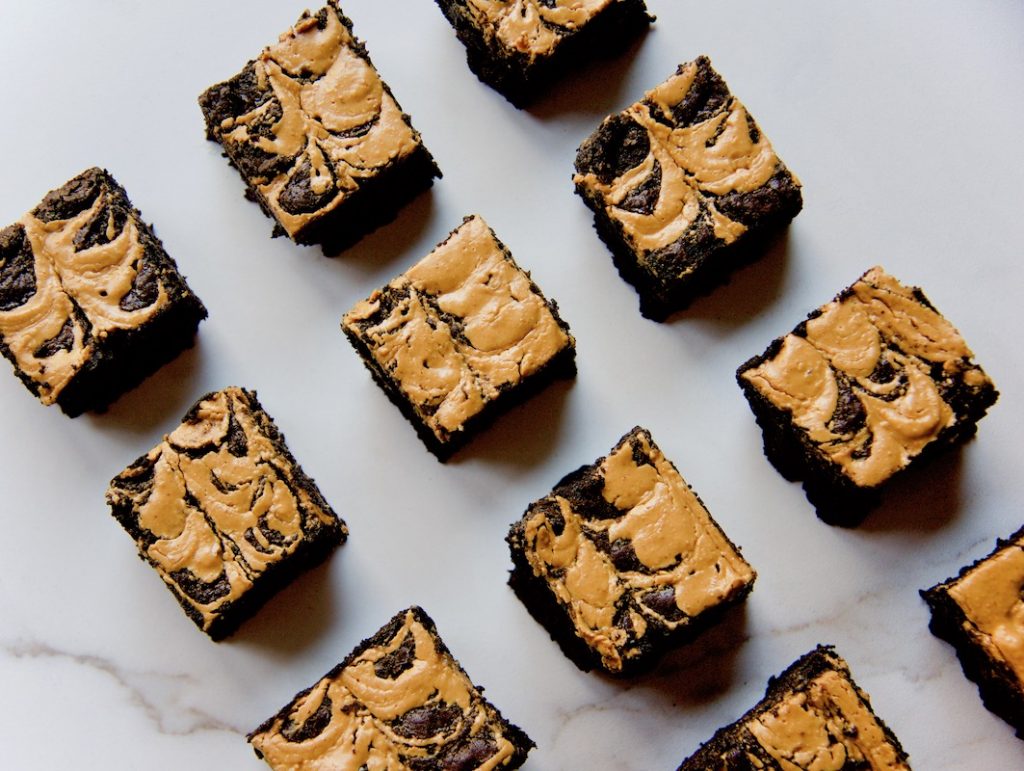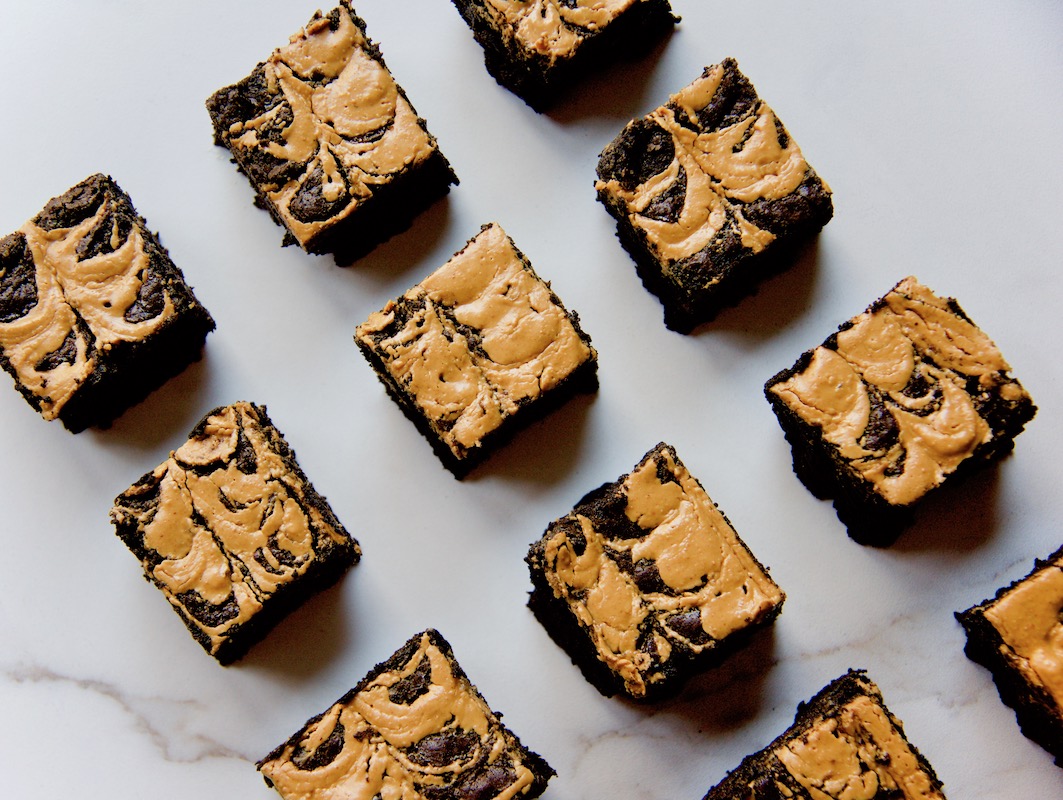 Gluten-Free Peanut Butter Brownies
This recipe contains Amazon Affiliate links, which means we may get a commission if you purchase ingredients through us. That's how we pay for our recipe testing, R&D, and product research!
Ingredients
Instructions
Preheat oven to 350 degrees and line a 9-by-13 inch brownie pan with parchment paper.
Melt chocolate on the stovetop or in the microwave with 3 tablespoons of butter. Then, allow it to cool so that it is only slightly warm but still liquid. (You'll be incorporating it into the egg mixture later, and you don't want it to cook the eggs.)
Beat the rest of the cooled, melted butter with the sugar, eggs, and vanilla in a large bowl. Whisk the melted chocolate into this egg-sugar mixture. Add the mucuna pruriens powder and thoroughly combine.
Add remaining dry ingredients until just combined. The batter will be stiff, almost like cookie dough.
Pour batter into the pan, smooth, and drizzle with peanut butter. Then, drag a knife through the peanut butter drizzle in a criss-cross fashion to create a design.
Bake for 40-45 minutes at 350 degrees or until a butter knife inserted comes out clean. Brownies should be crispy on the edges and fudgy in the middle.
Cool your peanut butter brownies for 30 minutes in the pan before cutting. Enjoy!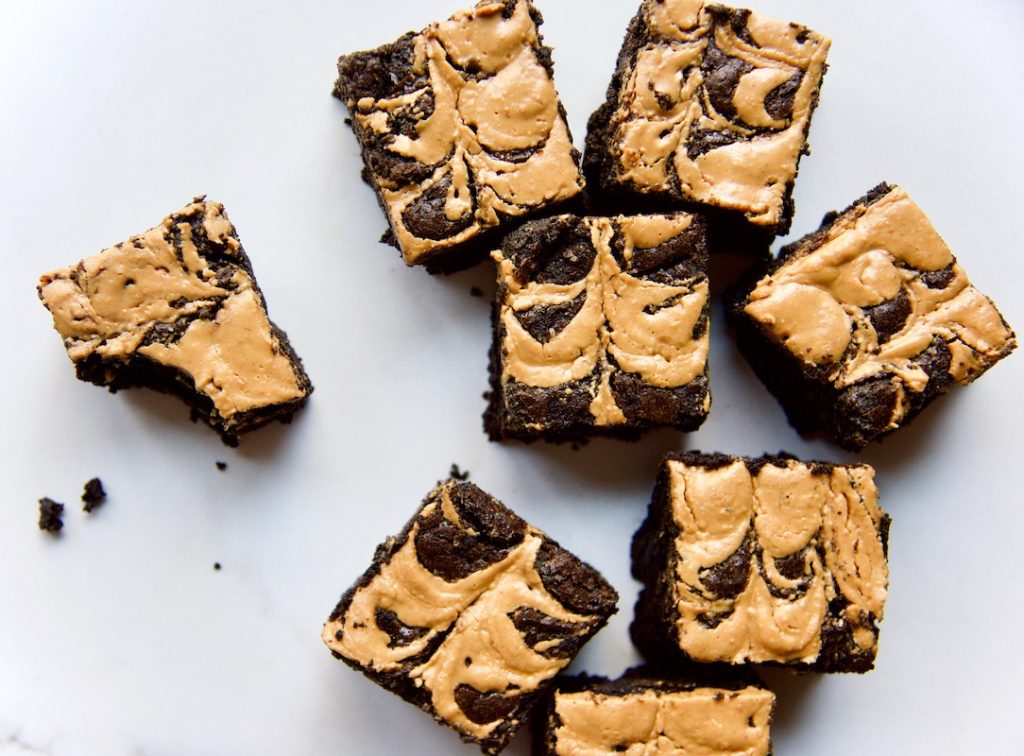 Recipe Notes
***
Related: Looking for more dessert recipes that do double duty? Try making this Anti-Inflammatory Olive Oil Quick Bread or These Focus-Enhancing Peanut Butter cookies.