The latest recipe in G&L's Nourished By My Heroes series is a fun one: Natalie Portman's vegan hamantaschen recipe. Hamantaschen are classic, triangle-shaped filled cookies that originate in Israel and enjoy massive popularity in many parts of Eastern Europe.
The cookie casing can range from hard, almost like a shortbread, to more dough-y, akin to a butter cookie– but the insides are almost always filled with jam. Natalie Portman's vegan hamantaschen recipe is somewhere in the middle, with a nice sturdy bite that doesn't crumble easily even though the cookie has the delectable "buttery" mouthfeel of shortbread.
Recently, Natalie Portman shared her vegan hamantaschen recipe for Purim (a Jewish holiday– more on that in the "Notes" section), which she made by "combining two recipes into one– some of them may have half-collapsed but my kids loved them," she wrote at the time.
Portman is famously vegan, so this vegan hamantaschen recipe is, as well. The recipe appears to swap egg for banana, and coconut butter for regular butter, which we are totally down with. The resulting dough yields a gorgeous, toast-y blond cookie with a wonderful citrus flavor that only gets better with age. (As good as they are fresh, these cookies taste even better the next day, when the orange zest has time to mature.)
Below is the recipe Portman shared on Instagram, formatted to our editorial standard. After several days of experiments, we made a few tweaks in the instructions so that your cookies don't collapse as Natalie's did. (As it turns out, you need to chill that dough before baking!)
Overall, this is a fun, tasty twist on a classic. We all love these delicious, modernized hamantaschen– the orange zest is so lovely! Now I actually prefer them to hamantaschen made with butter and eggs– and they're a little healthier, too.
***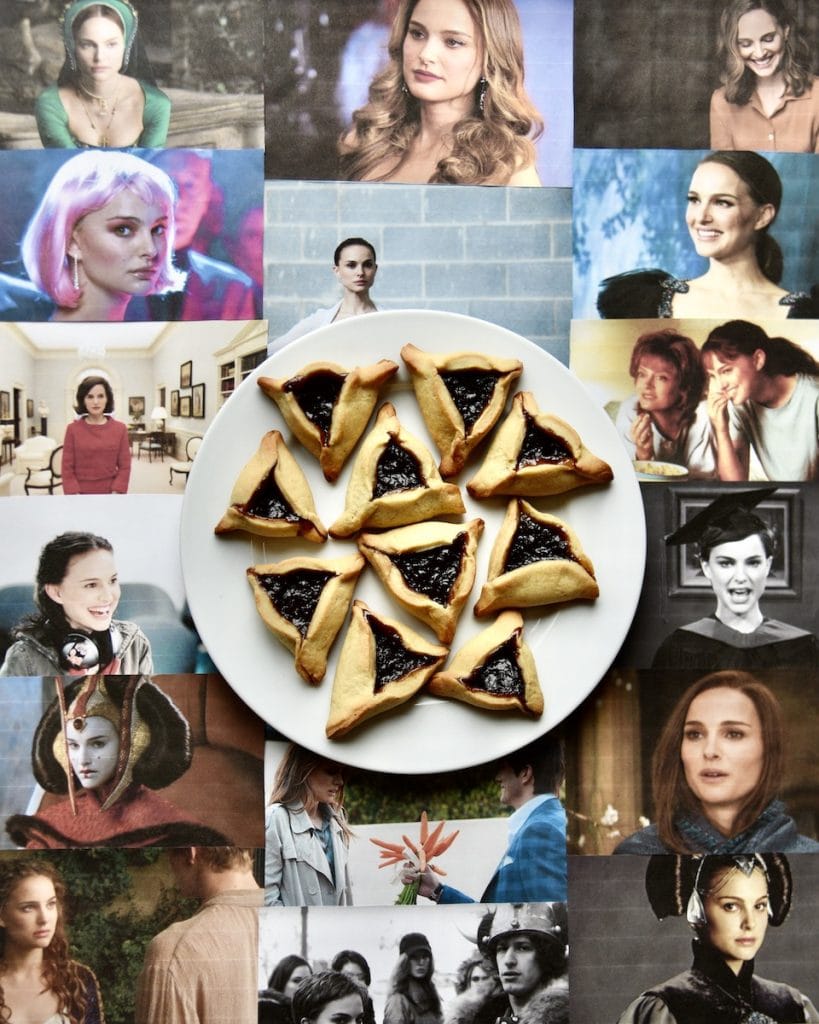 Natalie Portman's Vegan Hamantaschen Recipe
Natalie Portman's vegan hamantaschen recipe comes from the actress combining "two recipes into one." This recipe yields about 2-dozen delicious "buttery", citrus-y cookies.
2 1/2 cups flour
14 Tbsp coconut butter
1/2 cup sugar
1/4 cup orange juice
one mashed banana
1 Tbsp orange zest
1 Tbsp vanilla
Pinch of salt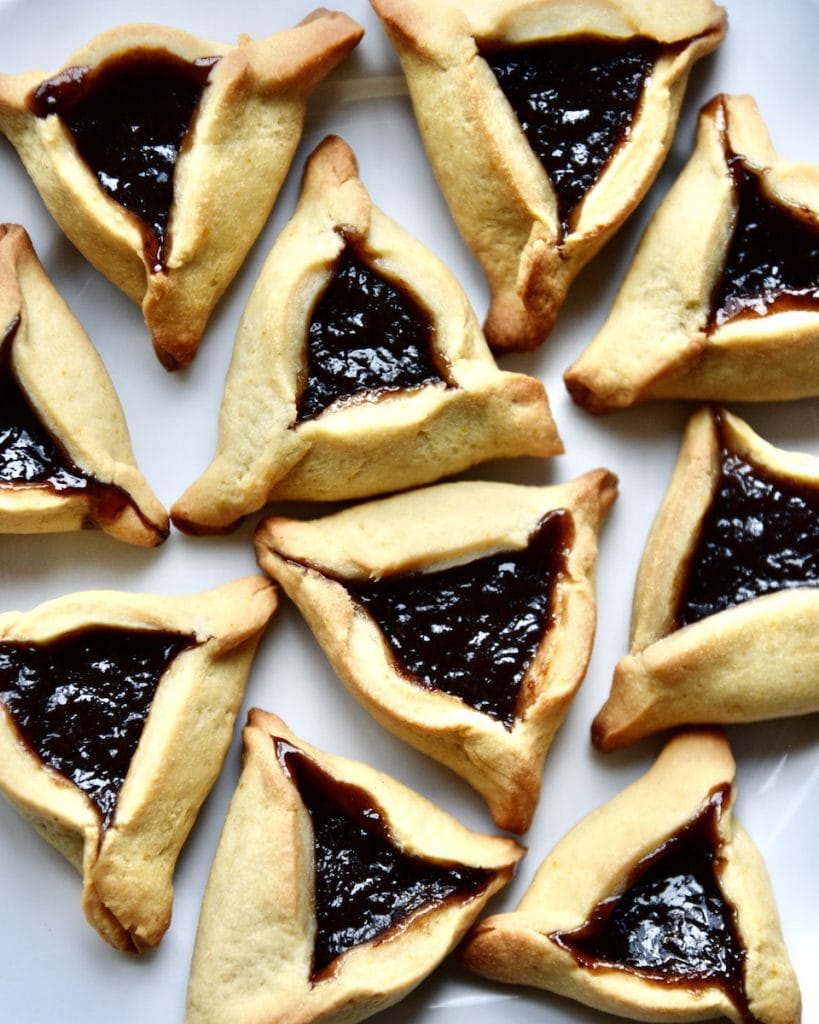 Instructions
Mix everything together until completely blended. (Use a food processor to break up the coconut butter.)
Put the dough in plastic wrap and place in the fridge for 2 hours. Remove from fridge and let sit for at least 30 minutes to soften.
Roll out, cut into circles using a cookie cutter or upside-down glass.
Add a dollop of filling in the middle. (Editor's note: Natalie used strawberry jam and chocolate chips; we used blueberry-rhubarb jam.)
Pinch sides into a triangle shape and place on 2 parchment-lined cookie sheets.
Preheat oven to 375 degrees F.
Place cookies in the freezer for about 15 minutes to firm up the cookies before baking.
Bake cookies one tray at a time for about 25 minutes or until golden brown. (Keep the second tray in the fridge until ready to bake.)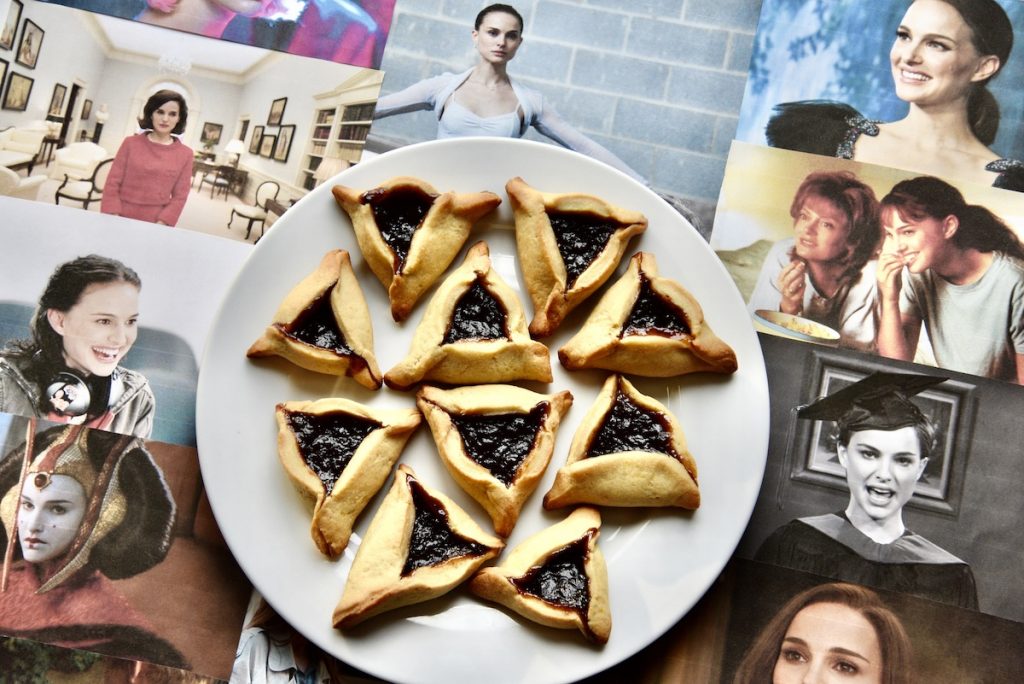 Notes
The most popular hamantaschen fillings in Israel are date, apricot jam, lekvar (prune), raspberry, and mohn (poppyseed). But cultures throughout Eastern Europe make their own versions of hamantaschen cookies, which have a wide variety of fillings.
You can pretty much fill these cookies with anything: people have made fillings out pastry cream with chocolate chips, figs, dulce de leche, halva, and even caramel. Experiment with whatever you like best.
The original prune hamantaschen date back to Ashkenazi Jewish communities in 1731. The name refers to Haman, the villain in the story of Purim, a Jewish holiday to commemorate the day that Esther, Queen of Persia, saved the Jewish people from execution by Haman, who was the advisor to the Persian king.
Despite this intense back story, Purim is considered one of the more "fun" Jewish holidays, celebrated with hamantaschen cookies, baskets of candy, carnivals, and lots of food and drink.
Related: Where to find the Best Chocolate Babka in NYC.
Other Tips
If your cookies collapse, you didn't chill the dough in the freezer for long enough.
Coconut butter is super hard once you refrigerate it. Natalie's recipe originally said to use cold coconut butter, but it is better to scoop it at room temperature when making your dough. Vegan hamantaschen recipes are hard to come by, but this one is excellent as long as you follow the instructions.
We figured out with the first batch of these cookies that Natalie's cookies collapsed because she didn't put them in the freezer before baking. When the dough gets too soft, the coconut butter melts when it hits the oven's heat before the rest of the dough has time to set it in place. As a result, the pinched corners of these triangle cookies unfurl, and you're left with what looks like a piece of jelly toast. The moral of the story is: be sure to chill the dough again before you bake the cookies! 🙂
***
Related: This delicious Gluten-Free Vegan Olive Oil Quick Bread is one of our most popular recipes of all time!
Love this recipe? Consider making Meryl Streep's pistachio rose shortbread or Hillary Clinton's oatmeal chocolate chip cookies. (<— Yes, these are their real recipes, too.)
Want more vegan dessert recipes? We love this Vegan Double Chocolate Zucchini Bread almost as much as these Easy Baked Pears with Honey & Walnuts.