The latest Nourished By My Heroes recipe comes from Pamela Druckerman's cultishly beloved parenting book, Bringing up Bébé. This recipe for Gâteau au Yaourt (Yogurt Cake), was referenced early on in the book's discussion of feeding children and how to encourage them to become independent, confident, curious eaters.
For me, this Gâteau au Yaourt recipe is a delightful representation of the book's many endearing themes.
First is the idea that children are capable, and they can actually have fun in the kitchen at a young age.
Second is the idea that sugar and chocolate don't necessarily need to be forbidden. Young children already know how to eat intuitively, after all, and if they're never given a chance to try a real dessert, they might have trouble regulating themselves later in life.
Finally, the French welcome pastry into their family food repertoire because it embodies the French cultural ideal of eating in a way that nourishes not only your body, but your sense of pleasure. Food is meant to be enjoyed, after all, and making cake forbidden doesn't seem to advance anyone's life experience– or so the French way of eating seems to suggest.
For the French, as Druckerman animates in her book, pleasure is important and almost sacred. Thus, with kid-friendly recipes like the yogurt cake below, they aim to incorporate it into family life in a mindful and thoughtful way.
Below, we've made Bringing up Bébé's Gâteau au Yaourt recipe with a lower sugar greek yogurt frosting and pressed flowers from Loria Stern, whose whimsical dried edible flowers are a delightful way to add whimsy to any food, from frittatas to focaccia garden bread.
Normally, this cake is not frosted, but we decided to up the design a little just because. This is Grace & Lightness Magazine, after all. We care deeply about whimsy and pleasure, even if it's just visual.
Enjoy!
***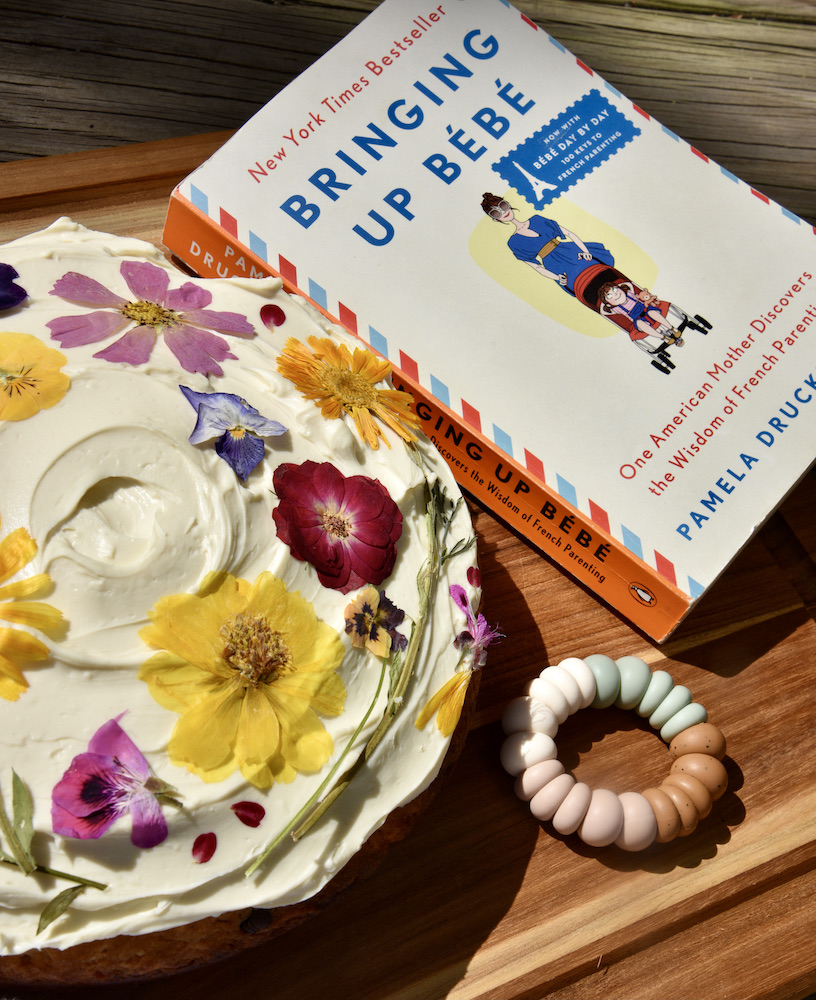 Gâteau au Yaourt (Yogurt Cake) Recipe from Bringing Up Bébé
Recipe from Bringing Up Bébé
2 six-ounce containers plain, whole-milk yogurt (not reduced-fat) yogurt. Use empty containers to measure the other ingredients
2 eggs
2 containers sugar (or just one depending on how sweet you like it)
1 teaspoon vanilla
Just under 1 container of vegetable oil (we used avocado oil)
4 containers flour
1 and 1/2 teaspoons baking powder
creme fraîche (optional)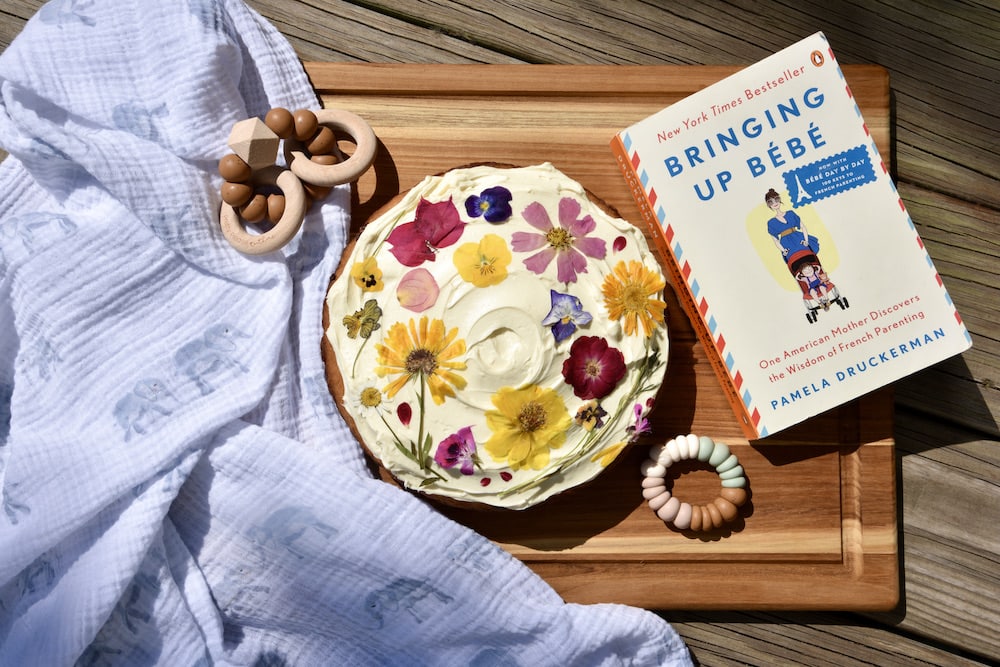 Instructions
Preheat oven to 375 degrees F. Use vegetable oil to grease a 9-inch round cake or a loaf pan.
Gently combine yogurt, eggs, sugar, vanilla, and oil. In a separate bowl, mix together flour and baking powder. Add the dry ingredients to the wet ingredients; mix gently until ingredients are just combined (do not over-mix).
You can add 2 containers of fresh or frozen berries, a container of chocolate chips, or any flavoring you'd like.
Bake for 35 minutes or until a knife comes out clean. It should be almost crispy on the outside but springy on the inside. Let it cool. The cake is delicious with tea and a dollop of créme fraîche.
Recipe + instructions from Bringing Up Bébé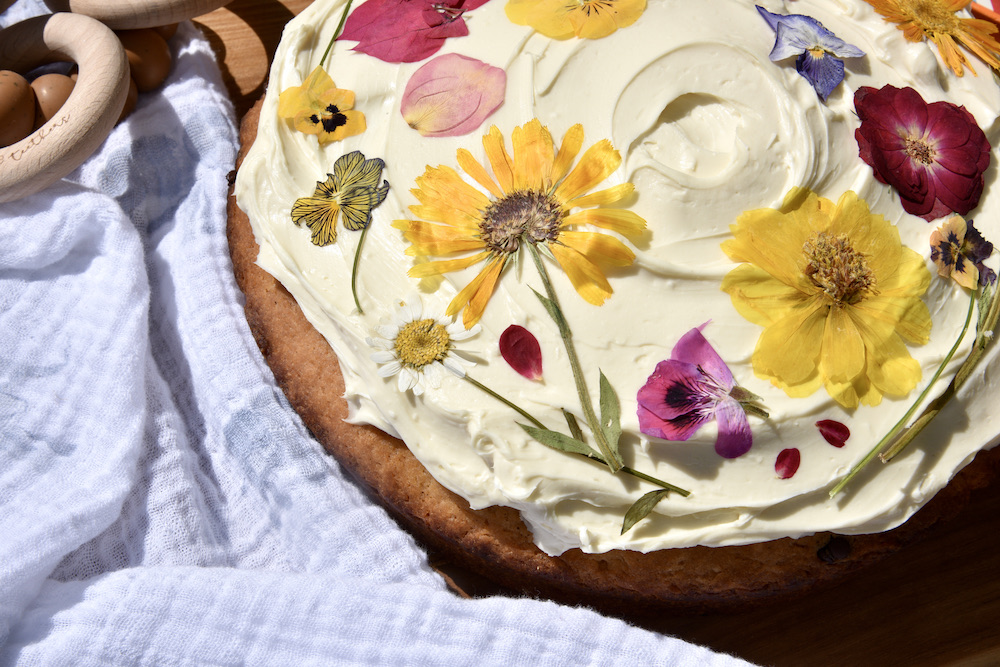 Easy Greek Yogurt Frosting
(Optional– We added this to decorate the cake!)
2 cups plain full-fat Greek yogurt, strained through a cheesecloth overnight (discard the water-y liquid and use only the strained part)
1 cup powdered sugar
2 teaspoons vanilla extract
orange or lemon zest (optional)
Thoroughly mix together the above ingredients and use to frost your cake. Also, sprinkles, edible flowers like the ones we used, or other fun decorations are welcome + encouraged! (Kids love all adornments!)
***
Get more pop culture-inspired recipes by visiting our Nourished By My Heroes column.
Related: 9 Adorable 1st Birthday Gift Ideas (Eco-Friendly & Non-Toxic).
11 Helpful Tips for Optimizing Postpartum Nutrition, Healing, and Recovery.