This easy wagyu beef meatball recipe is one of my favorite meatball recipes of all time!
I'm always tinkering to create tasty, healthy, high-iron recipes, and this is one of the best. I try not to eat beef too often (mostly for environmental reasons) but when I do, I make sure it's super high quality and that I can get the most benefit from it, nutritionally.
That's why I love making meatballs from wagyu beef! It's more expensive, for sure, but there's so much naturally occurring, high-quality fat in the beef that you don't have to put cheese in the meatballs. This is better for iron absorption, as calcium blocks the body's ability to absorb iron. Not to mention: it's super tasty.
Not only that, but wagyu beef naturally has such a rich, short-rib like flavor that you wouldn't want to mask with cheese. So, I can proudly say that these boutique, foodie-beloved meatballs are therefore #dairyfree. (Make this recipe once and you'll understand why my family loves it so much.)
For this wagyu meatball recipe, we used grass-fed wagyu from Arrowhead Beef. (Their beef is pasture-raised, grass-fed, and grass-finished, and ships anywhere in the country. I highly recommend their products!)
The resulting meatballs are sort of like a fancy Swedish meatball, so I recommend serving them with toothpicks and our sweet n' tangy sauce (recipe below) as opposed to marinara. The flavor of both is so, so good. In my opinion, it's the only way to serve them.
Plus, these make a great, festive holiday appetizer. Enjoy!
***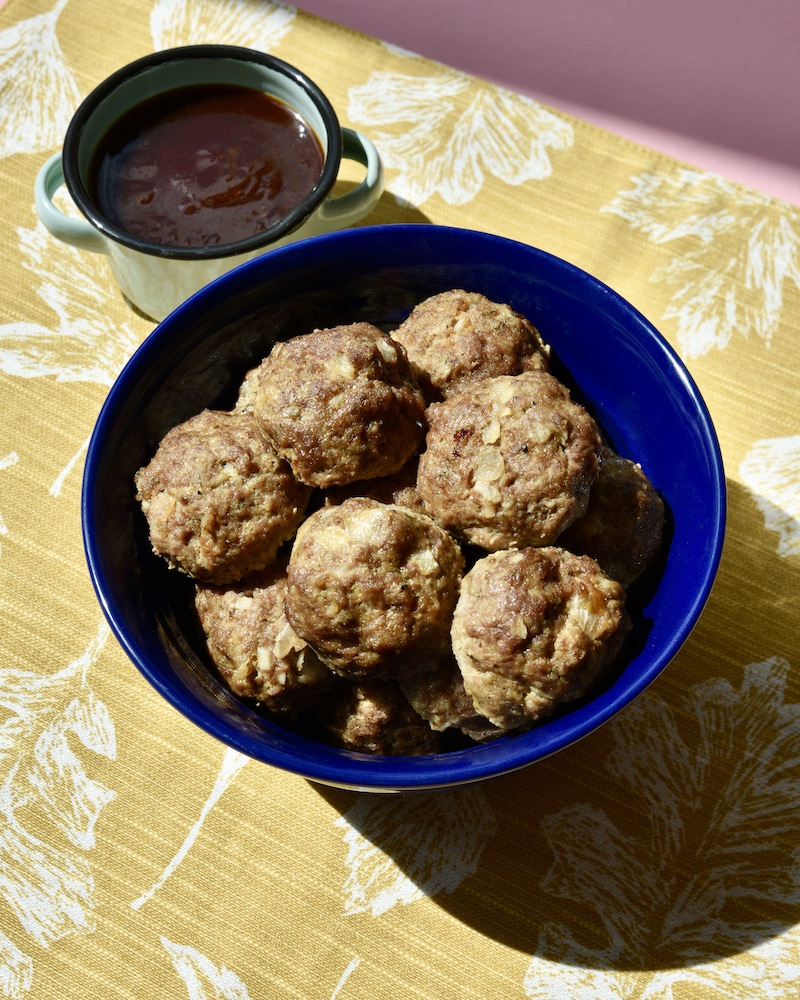 Easy Wagyu Beef Meatball Recipe
These delicious oven-baked wagyu meatballs are mouth-wateringly moist and flavorful. This recipe makes about 30-35 meatballs.
Ingredients
1.5 lbs ground wagyu beef
1/4 cup avocado oil
2 whole eggs
1 egg yolk
1/3 cup dry white bread crumbs
1/2 cup finely chopped onions
2 and 1/2 Tablespoons Dijon mustard
1 Tablespoon finely chopped garlic
2 teaspoons chopped fresh dill (dried dill is also fine)
1/2 teaspoon salt
pepper to taste
To Make The Meatballs
Lightly caramelize the onions and garlic with a pour of oil, about 2-3 minutes. Remove from pan and set aside. (They need to cool before adding them to the meat mixture later.)
In a large mixing bowl, combine oil, breadcrumbs, and Dijon together to get the bread crumbs soaking.
In a separate mixing bowl, whisk the eggs, salt + pepper, and dill until the eggs are broken up. Preheat the oven to 400 degrees.
Take the ground meat out of the fridge (you want to keep it cold until you use it– this keeps the meatballs moist by helping keep the fat from breaking down right away in the oven). Add ground meat to the eggs and mix with your hands until combined.
Add the caramelized onions and garlic as well as the soaked bread crumb mixture to the meat-egg mixture. Salt and pepper to your liking. Then, mix with fingers, pinching and pulling chunks of the meat to distribute the onions and breadcrumbs. Do not overwork or "knead" the meat.
Form the mixture into 1 to 1.5-inch meatballs by gently rolling them in your hands. Each meatball should consist of about 2 Tablespoons worth of meat. Place meatballs on a baking sheet far enough apart so that they don't touch.
Bake at 400 degrees for 15-20 minutes (depending on the size of your meatballs) or until the internal temperature reaches 165 degrees F on a meat thermometer. Wagyu meatballs should be browned on the outside when done. While the meatballs bake, prepare the dipping sauce. (Below.)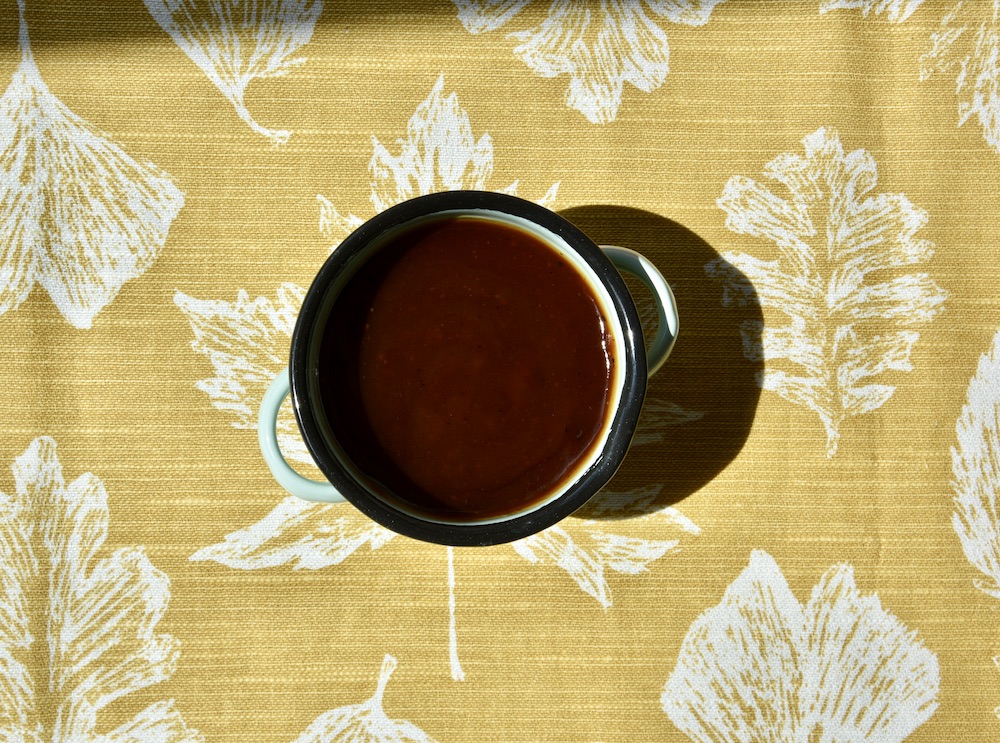 Sweet & Tangy Dipping Sauce
This gorgeous riff on a sweet-n-sour sauce is much healthier, super tangy, and so delicious!
Ingredients
1/2 cup maple syrup
1/4 cup water
the juice of 2 medium limes
1/4 cup soy sauce (we used tamari)
1 Tablespoon + 1 teaspoon of ketchup
1 teaspoon dijon mustard
1 Tablespoon corn starch
salt + pepper to taste
To Make The Dipping Sauce
In a thick-bottomed saucepan, combine all the ingredients over medium heat, whisking constantly until the corn starch is broken up.
Stir regularly for 10 to 15 minutes or until the sauce thickens to the consistency of sweet-n-sour sauce. The sauce should bubble and thicken after about 10 minutes. Keep it on the heat for at least 2-3 minutes after it bubbles to really caramelize it and seal in the flavor. And be sure to stir occasionally so that the bottom doesn't burn!
Use as a dipping sauce for your wagyu meatballs. Enjoy!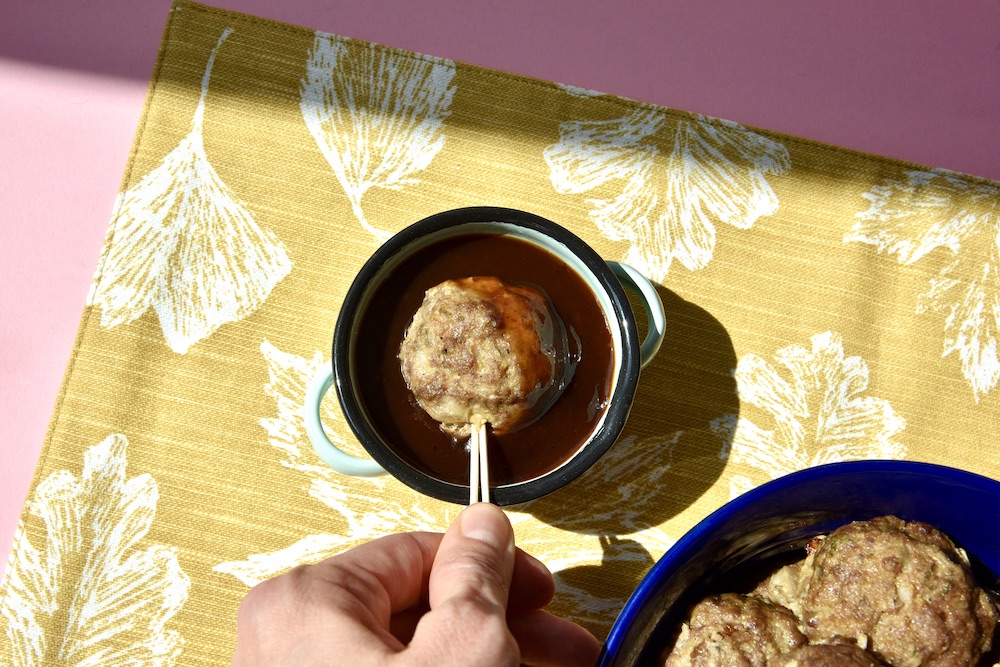 Wagyu Meatball Recipe Notes
This wagyu meatball recipe makes 30-35 meatballs, or enough to feed ~5-6 people. 15 minutes is usually just enough time to cook these meatballs to perfection. The extra fat in the wagyu keeps them moist and juicy. Do not overcook!
Be sure not to over-mix the meat, or the meatballs will be tougher than you want. (I say "tough-er" and not tough because this wagyu beef is so tender that it would be difficult for it to get tough as long as you don't overcook it!)
Don't be concerned if your meatballs extrude a lot of fat/fluid. Wagyu beef has more fat than regular beef, and the onion and eggs also expel water as they cook. If the meat mixture seems a little wet when you knead it– or if you want a more shapely meatball– you can increase the volume of breadcrumbs in this recipe to half a cup.
Our Sweet & Tangy dipping sauce makes an awesome topping for omelets, chicken wings, chutneys, soft cheeses, fish sticks, and more. Keep in the fridge in an air-tight container and it will last for several weeks.
***
Related: Looking for more high-iron recipes? Make these Butternut Squash & Shallot Steak Tacos or this Easy Chicken Liver Pâté next.
Find more healthy, foodie, wellness-enhancing recipes in our critically-acclaimed Mood Recipes section.