'Tis the season! I love this Miso Maple Loaf cake from NYT Cooking SO much that I had to simplify the recipe and make a version that was easy to bake quickly, without a stand mixer or buttermilk (which can be a hard ingredient to source that's not always accessible for many people). This version offers a gorgeous twist on a Fall classic that will send heavenly aromatics wafting all throughout your home when you bake it. If it isn't already a staple in your repertoire, it will be soon.
Forget pumpkin spice bread– all I want to eat come Fall is this Miso Maple loaf cake. Fortunately, this version can be made by mixing all the ingredients by hand. Super easy, and so delicious!
I look forward to making this quick bread every November (a new family tradition). It makes a great Thanksgiving dessert or appetizer option, too, as miso maple bread pairs as well with savory toppings like cheese as it does with butter.
Here, white miso adds a great pseudo-savory punch to the classic maple flavor. The resulting cake has a sumptuously dense crumb, and a decadent, salted-graham cracker-like taste.
Get the recipe below and make this miso maple loaf cake ASAP. Seriously, it's amazing. You'll probably want to bookmark this page for easy reference later, as it's a recipe worth returning to again and again. (I'm excited for those of you who will be making it for the first time…)
Happy Fall!
***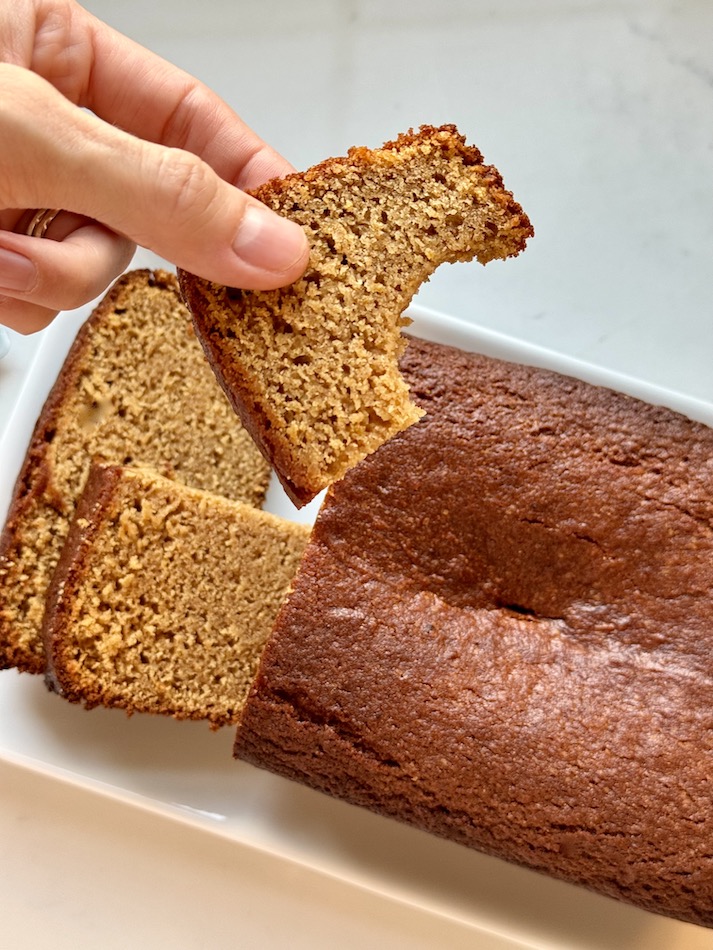 Miso Maple Loaf Cake Recipe
I love this gorgeous Fall quick bread, which tastes like salted graham crackers. It smells heavenly while baking!
4 oz unsalted butter (aka 1 stick or 113 grams) at room temperature
1 and 3/4 cups (238 grams) all-purpose flour
1 and 3/4 tsp baking powder
1/4 tsp baking soda
3/4 cup (150 grams) granulated sugar
1/4 tsp fine sea salt
zest of 1 orange
1/4 cup (70 grams) white miso
1/4 cup (60 milliliters) maple syrup
2 large eggs at room temperature
1 and 1/2 tsp vanilla extract
1/3 cup (80 milliliters) vegan yogurt (I use Harmless Harvest unsweetened plain coconut yogurt)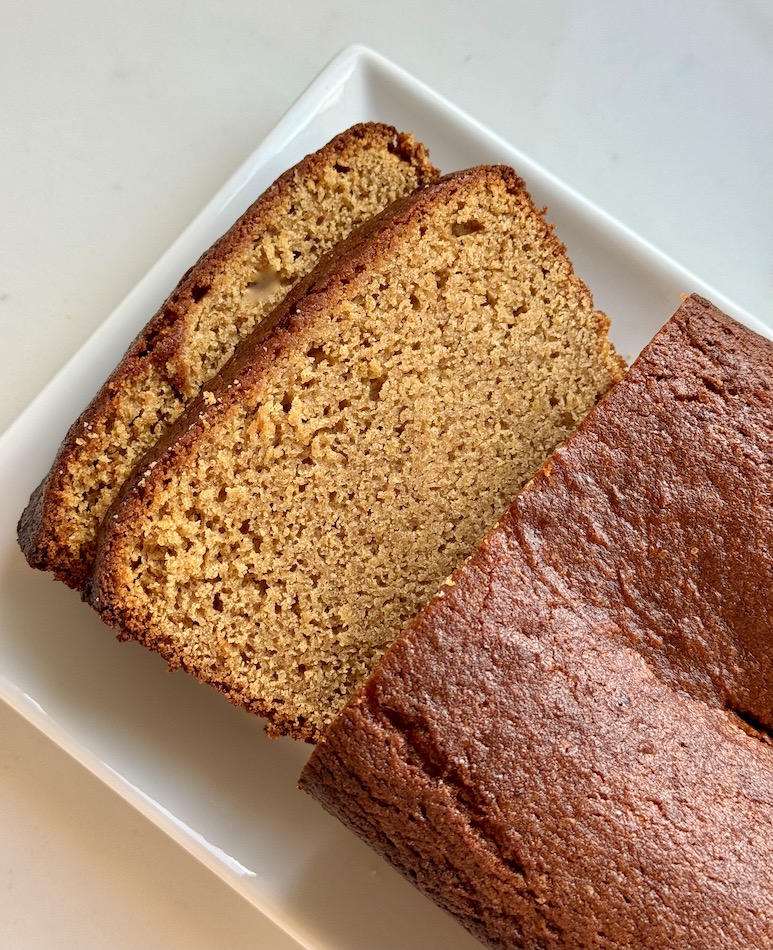 Instructions
Preheat oven to 350 degrees F and make sure a rack is in the middle of the oven. Spray or butter an 8.5-inch loaf pan.
In a large mixing bowl, use your hands to combine the sugar, salt, and orange zest until it is thoroughly mixed and fragrant. (Give it a smell; it's gorgeous!) Then, add the miso, maple, and butter and mix with a wooden spoon until smooth and creamy.
Add the eggs and vanilla and beat with the wooden spoon until well combined. Then, add all the dry ingredients and mix until just incorporated. As the last step, mix in the vegan yogurt until the batter is smooth. Try not to over-mix.
Pour the batter into the pan and smooth the top with the spoon so that it is even.
Bake for 30 minutes and then cover the loaf with tented parchment paper to keep the top from browning too quickly. Then, bake for another 20 to 25 minutes or until a knife inserted in the middle comes out clean. Cool for 5 minutes in the pan, then use a butter knife to loosen the edges and turn the cake out onto a cooling rack. Flip right side up and let the cake cool for 30 minutes before serving. Enjoy!
***
Love this recipe? Try making our popular Maple Olive Oil Quick Bread next.