Here's a hot new-but-old health trend you probably never could have predicted: mustard baths.
Mustard baths are a rich and alkalizing way to eliminate acid waste and balance the body's pH, with a storied history of use in Ayurvedic medicine– and Western research is just now emerging to support these claims.
The combination of mustard powder (no, not bottled mustard) with essential oils, Epsom salts, and warm water helps improve circulation and move lymph around the body. This, in turn, can help relieve a whole host of ailments, from congestion to insomnia.
While mustard is traditionally renowned for its stimulating, cleansing, and rejuvenating qualities (as an example, mustard seed oil has also shown promise as a potential remedy for malaria)– hot water and mustard powder also encourage the skin to relax and release tension and impurities. This makes mustard baths a great low-cost treatment for self-care.
In recent years, however, mustard baths have emerged as a beautiful, low-cost way to relieve nighttime tension and sleeplessness. (As with most things in the realm of mental wellness, we can find solutions to modern malaise by looking to the past.)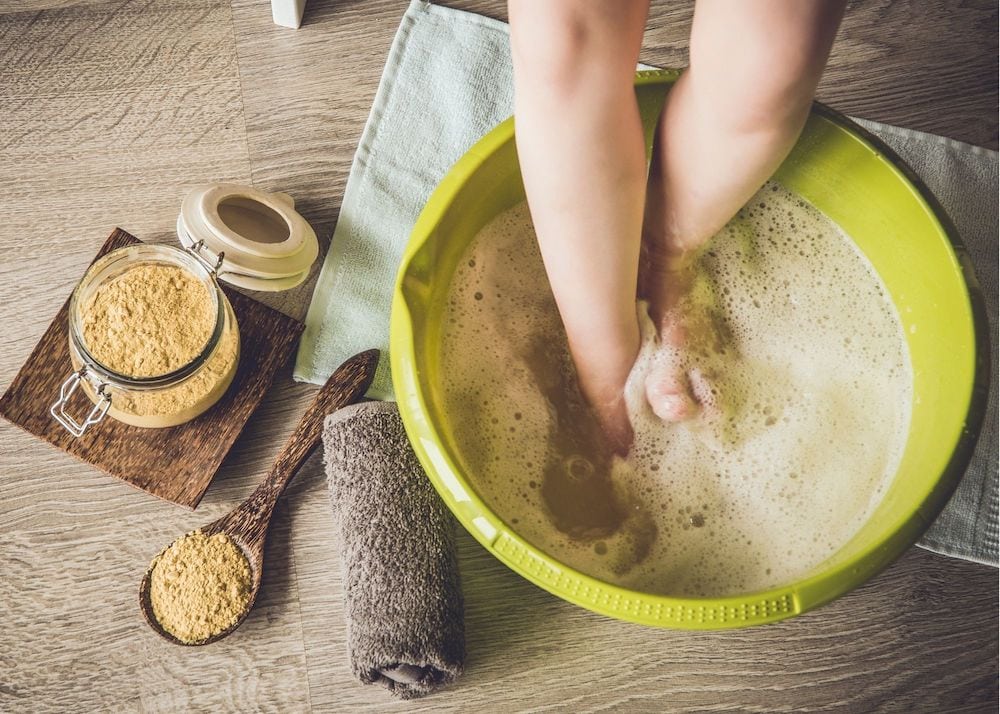 Historically, mustard baths were also a folk remedy in England. (People there used them to treat colds, fatigue, stress, fever, and aches related to sickness– an approach that was likely reappropriated from the parts of India they colonized.)
Today, mustard powder baths are used to relieve stress, muscle aches, and joint stiffness, as well as congestion. Ideally, you'd do this before you get sick or experience burnout, as it works as a preventative measure, as well.
Most intriguingly, mustard baths can also address chronic tension and sleeplessness in the populations of people that struggle with these conditions.
With an increasing number of people seeking holistic treatments for sleeplessness and insomnia– like gravity blankets, herbal remedies, and journaling— the idea of prepping the body for sleep with a grounding experience like bathing has a lot of appeal.
At the very least, it's worth trying before moving on to more extreme treatments like medication.
Warm water works intrinsically on the body to soften and dilute the stress response while calming the nervous system. The vagus nerve, which is responsible for calming the nervous system, responds beautifully to this kind of treatment.
When cold weather months and cold/flu season starts to set in, we recommend trying weekly mustard seed baths to boost immunity and overall wellness. It's amazing how helpful baths can be at preventing and forestalling illness during the down season.
As we've previously written, baths are effective treatments for improving mental well-being, but this is particularly true of baths that contain soothing botanicals like mustard powder. It's as good for your mind as it is for your body.
A Pre-Fab Mustard Bath Mix That We Love
Our team likes Dr. Singha's Ayurvedic Mustard Bath/ Therapeutic Bath Salts, which is made by Master acupuncturist Dr. Shyam Singha.
This formula blends mustard seed powder with wintergreen, eucalyptus, rosemary, and thyme essential oils for added aromatherapy.
All of these essential oils have natural anti-inflammatory properties that help relieve tension. And if you make your mustard bath with hot water (around 100 to 102 degrees F, which is jacuzzi-level heat,) it will also deeply relax your muscles. Studies show that this can help with insomnia.
You can also buy organic mustard powder without the salts and make your own mix– see below.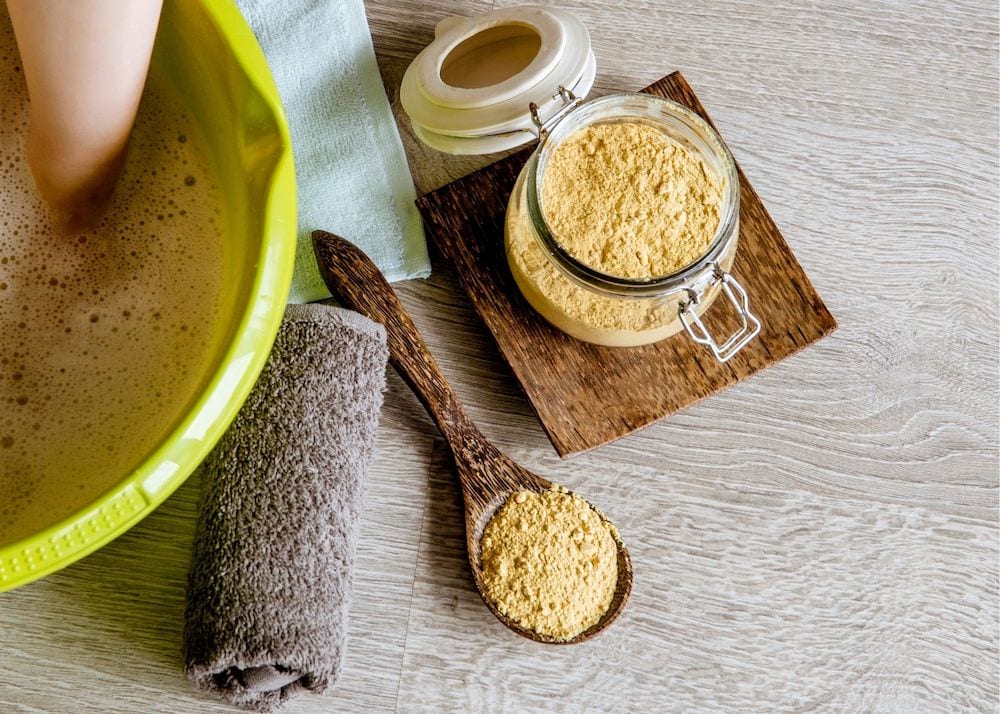 DIY Mustard Bath Recipe
For a foot bath, dissolve 1 Tbsp of mustard powder in a bowl of hot water. Add essential oils and/or epsom salts of your choice. (Lavender essential oil and grapefruit essential oils work best because of their inherent calming properties.) Soak feet for 20 minutes and finish with a short ice bath.
For a full body bath, add 2 oz of mustard bath powder to a hot bath and relax in the water for 20-30 minutes.
For best results, Dr. Singha recommends: "Finish with a cold shower, dry with a rough towel, rest, and keep warm."
A warm shower will do just fine, as well. Prepare yourself for the ultimate feeling of cozy and you'll be sleeping peacefully in no time.
***
Related: 4 Mental Health Bath Recipes for Improving Wellbeing
The 11 Most Effective Herbal Remedies for Insomnia
Read our article on "Self-Care" vs. "Self Comfort" (and Why You Need Both)