Spiraling thoughts are easily identifiable as any obsessive, repeating, or circuitous thoughts that grip your attention in a negative way. You become obsessed, and can't stop thinking about that thing. This is a thought spiral, and they usually weigh you down.
Spiraling thoughts make it so that it's hard to focus on anything else, and they generally make you feel bad, anxious, or upset.
If this sounds familiar, don't worry. Below, we spotlight an easy grounding exercise for taming spiraling thoughts and bringing you back to the present moment. This can be helpful in moments of panic, extreme stress, or anxiety.
The hack goes like this: To calm spiraling thoughts, first identify five things you can see in your immediate surroundings. Say them out loud if you have to; you can also write them down or just say them to yourself silently.
Then, identify four things you can hear.
Next, notice three things you can feel.
After that, notice two things you can smell.
Finally, identify one thing you can taste. (This can be your toothpaste, your last meal, the lingering flavor of coffee on your tongue, etc.)
Below is an easy visual guide that breaks it down (bookmark or screenshot this image for later).
***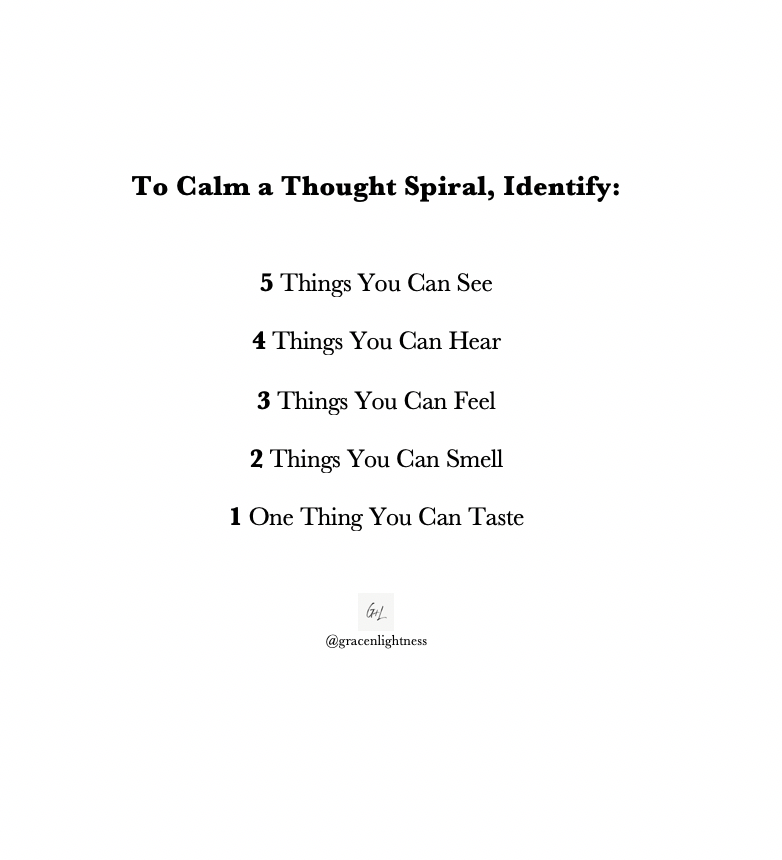 In the process of getting your brain to notice these sensory details in your immediate environment, it has to slow down and return to the present moment. This can be helpful in breaking a cycle of unhelpful thoughts that might precipitate a panic attack. As a result, your mind can get back to more productive thoughts.
Once you break that pattern of spiraling thoughts, it becomes easier to pull yourself up out of the hole, so to speak. This is the goal of "staying present"; it keeps your mind out of the shadows and helps build resilience for the future.
Increase the impact of this grounding exercise by doing a short guided meditation afterward. There are a number of free guided meditation videos on YouTube that are very calming and can be done anywhere with headphones.
***
Related: Read our 5-Step Method for Identifying Misplaced Emotions.
If you're suffering from chronic stress and anxiety, you might want to speak to a therapist or consult our Comprehensive Guide to Anxiety Relief: 25 Research-Backed Tips that will help you keep calm and carry on.