Tom Hanks' 1994 performance in the iconic American film Forrest Gump was a revelation at the time the movie came out– though the politics of having an able-bodied person (Hanks) play someone who was intellectually disabled (Forrest) have certainly changed. (Spoiler alert: that is a bad idea!)
Nevertheless, Forrest Gump remains an essential narrative within the American artistic canon, a film celebrated for the way in which it captured not only the ethos and tumult of the 1950s, 60s, and 70s (the era in which the movie's flashbacks are set) but also the ambiance and lush environs of the American South.
It's nostalgic, homey, endlessly quotable, and enduringly touching. Perhaps unsurprisingly, it won 6 Academy Awards, including "Best Picture".
All of which brings us to Savannah. Most of Forrest Gump was filmed around Beaufort, South Carolina, but many of the film's most iconic scenes– including the bench where Forrest tells stories to anyone who will listen– is located in Savannah, Georgia.
This is why the lush, fictional Alabama town of "Greenbow" closely resembles the genteel charm of a Savannah public square.
As a result, Forrest Gump super fans visiting Savannah have to visit Chippewa Square, the conduit through which the entire narrative runs.
Below, we spotlight this iconic backdrop and a few other popular destinations in our Forest Gump Guide to Savannah– one of Georgia's most charming cities.
***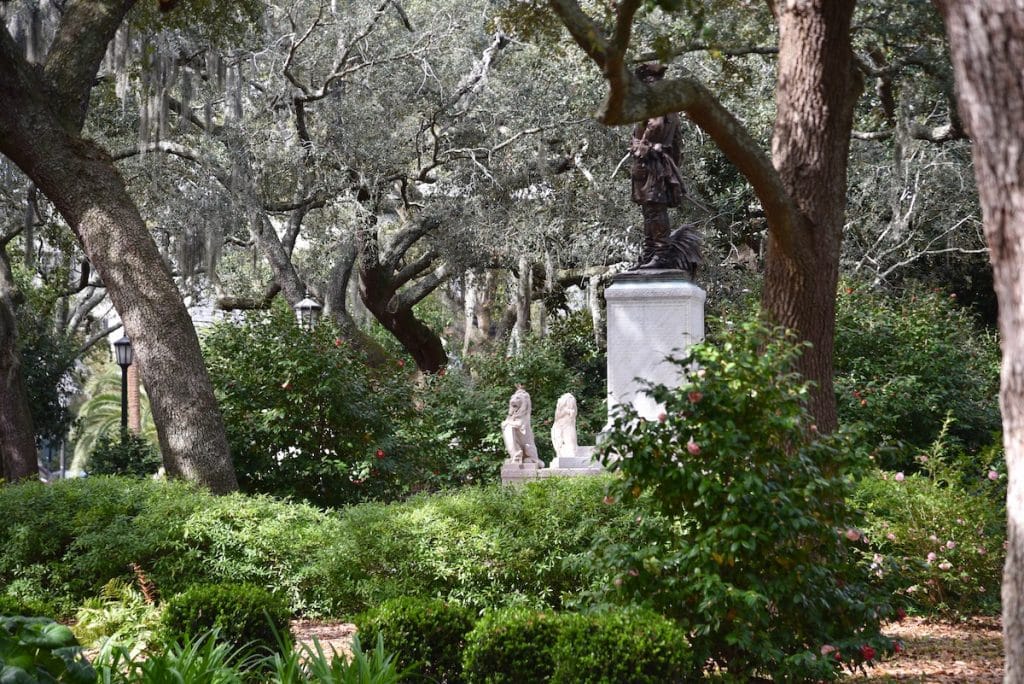 Chippewa Square (Forrest Gump's Most Iconic Savannah Scene)
Chippewa Square is arguably the most important filming location in Forrest Gump. This is the park where Forrest/Hanks sits on a bench, offering chocolates and regaling strangers with stories. (Chippewa Square is what you see in the banner image of this article.)
The location of this iconic bench, where Forrest utters the "Life is like a box of chocolates" line, is a popular photo destination to this day. It also just so happens to be in one of Savannah's original public spaces. Chippewa Square is a beautifully landscaped quad shadowed by towering mossy oak trees, camellias, and spring-blooming azaleas.
It's a super beautiful area, even if you didn't know about the Forrest Gump connection.
And because it's located central to some of Savannah's most charming streets, you're likely to pass by it eventually. (It's also walking distance from one of my favorite Savannah brunch spots, The Collins Quarter.)
The specific spot where the bench once stood is now a garden. The sign for Chippewa Square resides in the same spot.
The bench was a movie prop, which is why it now lives in the Savannah History Museum. (See details below.)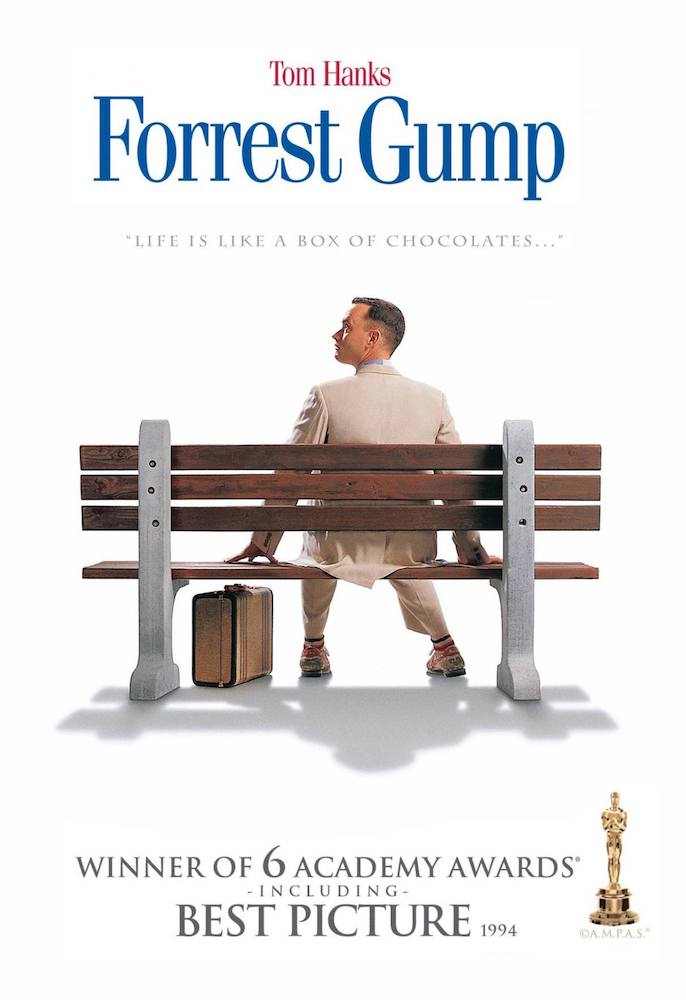 Savannah History Museum
Forrest's iconic bench scenes were filmed in Chippewa Square, but the bench was only installed there temporarily. It was a movie prop, as the crew needed to be able to film outside the walls of the square. (This way, the bus could pull up directly up to where Forrest was sitting on the sidewalk.)
The "box of chocolates" bench has since moved to the Savannah History Museum, which is now its permanent home.
Housed in a vacant 19th-century railway shed, the Savannah History Museum explores the local military history, art, and culture of Savannah. Here, amongst Civil War paraphernalia, you can find the iconic bench in all its glory.
If you watch the trailer on YouTube, you can see it in the opening scene. Chippewa Square is central in the background. Incidentally, this is fun to watch after a visit to Savannah.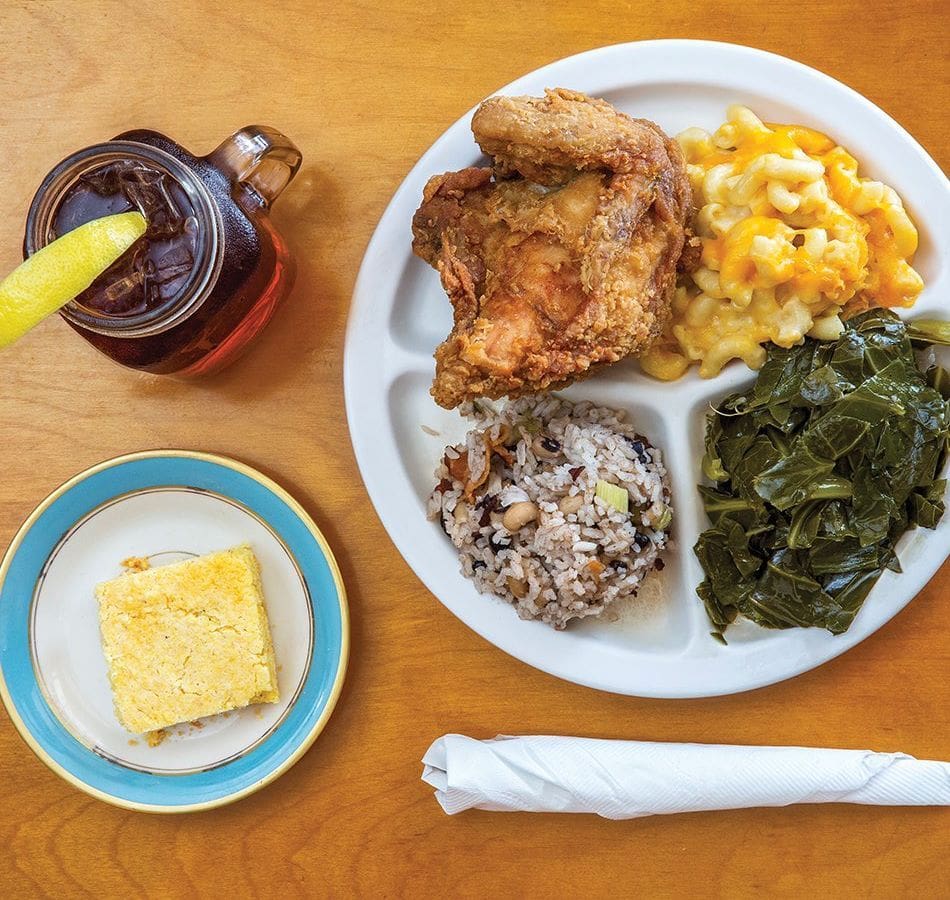 Debi's Restaurant
Bay Street staple Debi's Restaurant (a real place) is where the fictional "Jenny" (played by Robin Wright) worked as a waitress. Today, the restaurant still serves unfussy down-home Southern cuisine like chicken and dumplings, corn pudding, and fried pork chop.
Prices are super affordable here, if only because there is better southern food elsewhere in Savannah. But, if you're a die-hard fan, Debi's is the restaurant from the movie. (Though they have moved to their new location Downtown since the movie was filmed.) Fans still eat here, if only to take a selfie.
Love's Seafood Restaurant, meanwhile, is the location Jenny worked at as an "entertainer." This is the place where she sang Bob Dylan's "Blowin' In The Wind" while sitting naked behind her guitar.
For the movie, set designers styled the restaurant to look like a truck stop. Today, it has a neon truckstop-esque sign that some people pose with for photos. (Clothing is, um, required.)
Related: These are the 15 Best Restaurants in Savannah for Charming Southern Meals.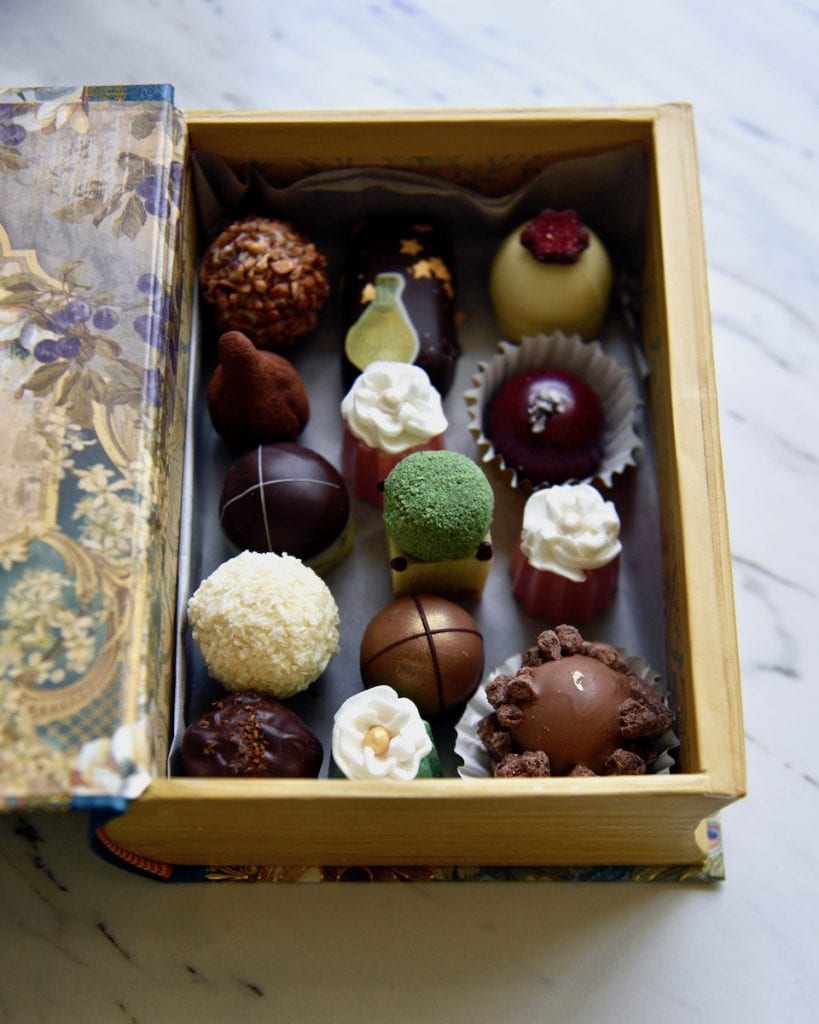 Chocolat by Adam Turoni (Bull Street Location, Specifically)
No Forrest Gump Savannah guide would be complete without mentioning where to get a beautiful box of chocolates. Enter: Chocolat by Adam Turoni.
While it wasn't featured in the movie per se, this chocolate shop located directly adjacent to Chippewa Square is one of the few places in Savannah where you can actually get "a box of chocolates."
As a result, Chocolat usually has a Forrest Gump quote or joke written on the chalkboard outside of its Bull Street location.
Plus, this lovely, quirky "Chocolate Library" looks like a bookstore! It's very cool. Here, customers open up antique display cases to select each truffle by hand. It's a beautiful concept, unlike any other chocolate shop I've seen.
The flavors here change regularly, but the Mint Julep and Georgia Peach Truffle capture the decadence of the region. (And Forrest Gump's Savannah vibe.)
Several truffles at Chocolat also feature locally produced Savannah Bee Company honey. This adds a unique, local terroir to the flavor that you can't find anywhere else. The chocolate, moreover, is excellent. Chocolat's proximity to where Forest Gump's chocolate box bench scene takes place is just a bonus.
Chocolat, however, is not cheap, as truffles can cost around $3 dollars each. But for those who want the full box, it is absolutely worth the splurge! (The gift boxes open like books– see image above.)
Meanwhile, if you only want to spend a few dollars, it's still super fun to explore the store and buy a truffle to eat while wandering the neighborhood's charming streets and public squares.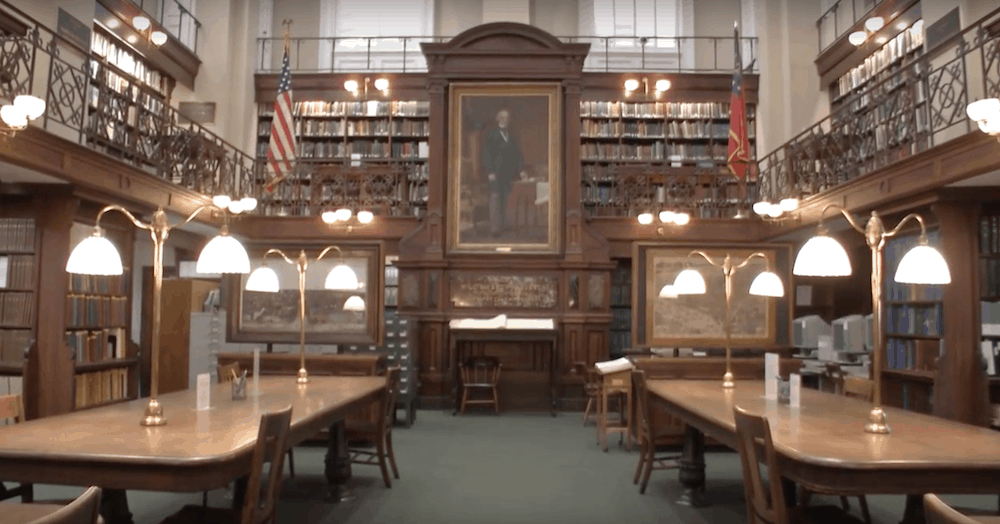 Path to Forsyth Park Outside of The Georgia Historical Society
The Georgia Historical Society is a beautifully designed research facility dedicated to preserving Georgia's archival history.
Headquartered at 501 Whitaker Street near Forsyth Park, the GHS has a massive collection of manuscripts, photographs, books, and other artifacts. These are housed in a hall designed by Detlef Lienau, one of the founders of the American Institute of Architects.
When you walk up the stairs to see the research room's three-story vault, you can take a diagonal sidewalk to the center of Forsyth Park. This is where Jenny told Forrest that she was sick.
In response, Forrest said that she and Little Forrest should come back to Greenbow, Alabama with him.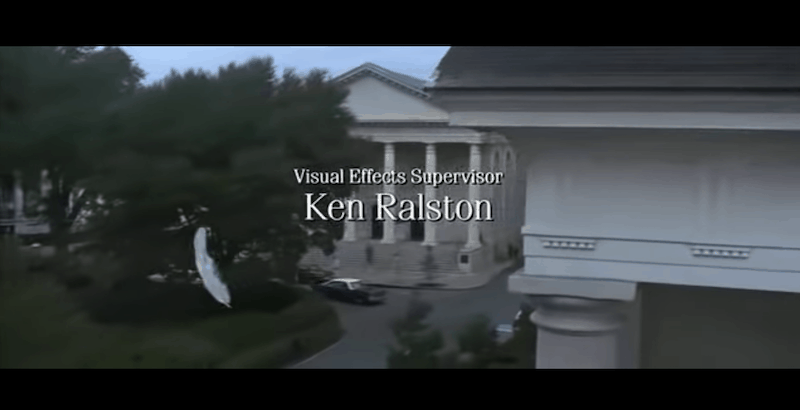 First Baptist Church
The feather that slowly wafts down the frame into the film's opening scene floats by a prominent Savannah backdrop: First Baptist Church. First Baptist Church is a greek revival building dating back to 1800.
Today, it is Savannah's oldest surviving church, often photographed by history buffs.
Located right on the edge of Chippewa Square, it's accessible by private tour only. (A few blocks away, church aficionados also love exploring the Cathedral of St. John the Baptist, which is still considered one of the Top 10 Historic Sights to Visit in the South.)
Enjoy!
***
"I don't know if we each have a destiny, or if we're all just floatin' around accidental-like on a breeze, but I, I think maybe it's both." — Forrest Gump
Related: The 15 Best, Most Charming Restaurants in Savannah and our guide to The Best Things to Do in Savannah.
Love this guide to Forrest Gump's Savannah? Visit our critically-acclaimed Travel Well section, where we spotlight beautiful destinations and unique, up-and-coming travel hot spots in America, Europe, and beyond.