Santorini is a small, crescent-shaped island in the Aegean Sea that's famous for its charming sun bleached architecture and dazzling ocean views. Located just off the coast of Greece, it's one of dozens of small volcanic islands that dot the archipelago between Greece and Turkey. Today, it's known for its photogenic pink bougainvillea, reliably sunny weather, and views so stunning that Santorini is routinely referred to as "the supermodel of the Greek islands."
Thanks to social media and the advent of the #travelgram, Santorini is now a world-class destination for luxurious island living. Some of the world's most beautiful hotels reside on this tiny dot in the mediterranean. Infinity pools and private terraces abound, and it's easy to charter a boat to witness gorgeous pink sunsets over the Aegean Sea.
The best time to visit Santorini is between April-August, when the temperature feels like bath water during the day and night. June is the peak tourism season, when hordes of people flock to the circuitous white villages of Oia, Fira, and Imerovigli. Autumn is also a great time to visit Santorini because the weather is still nice, but you won't be battling as many crowds. It's also generally cheaper than in peak season.
Below, we explore where to stay and what to eat, see, and do in Santorini, Greece. This comprehensive and well-researched guide is all you need to plan the perfect getaway. What are you waiting for?
***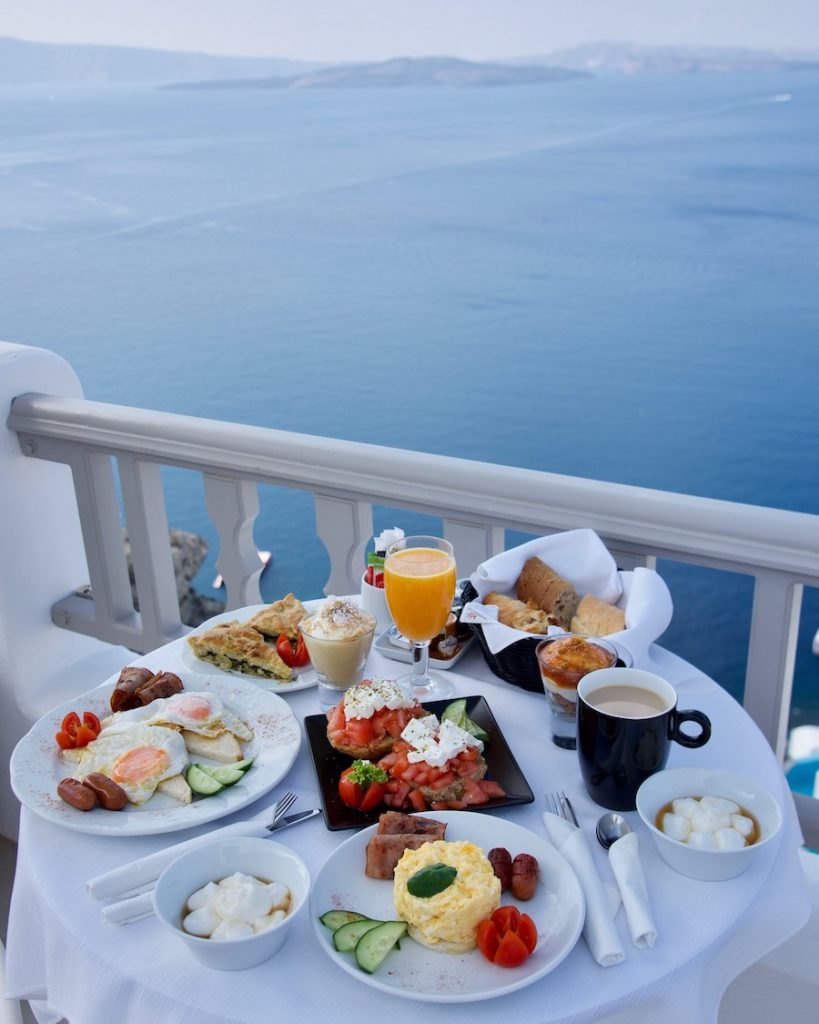 Breakfast on the Terrace
Mornings are slow and leisurely in the Greek isles, as they should be. But nothing captures the beauty and luxury of Santorini quite like breakfast on the terrace, which is de rigueur. No matter what hotel you are staying in, breakfast should be included in a booking fee. We LOVE the breakfast service at Filotera Oia Suites Santorini (pictured above; more details, below).
A typical Greek breakfast might include: Greek yogurt with sour cherry, white grape compote, or honey; thin Greek sesame bagels with fresh butter; fresh fruit, bread and butter with greek honey; greek pastry (cheese and cream); over medium eggs, tiny breakfast sausages, and bacon with fresh cherry tomatoes; and flaky Greek melitinia, which is Santorini's traditional sweet cheese tart. And of course: OJ and coffee!
Most hotels deliver breakfast to your terrace with a subtle knock on your door at a pre-designated time of your choosing. Then, BOOM: you open the door and you have a fabulous breakfast and view that literally looks like this. 👆What could be better?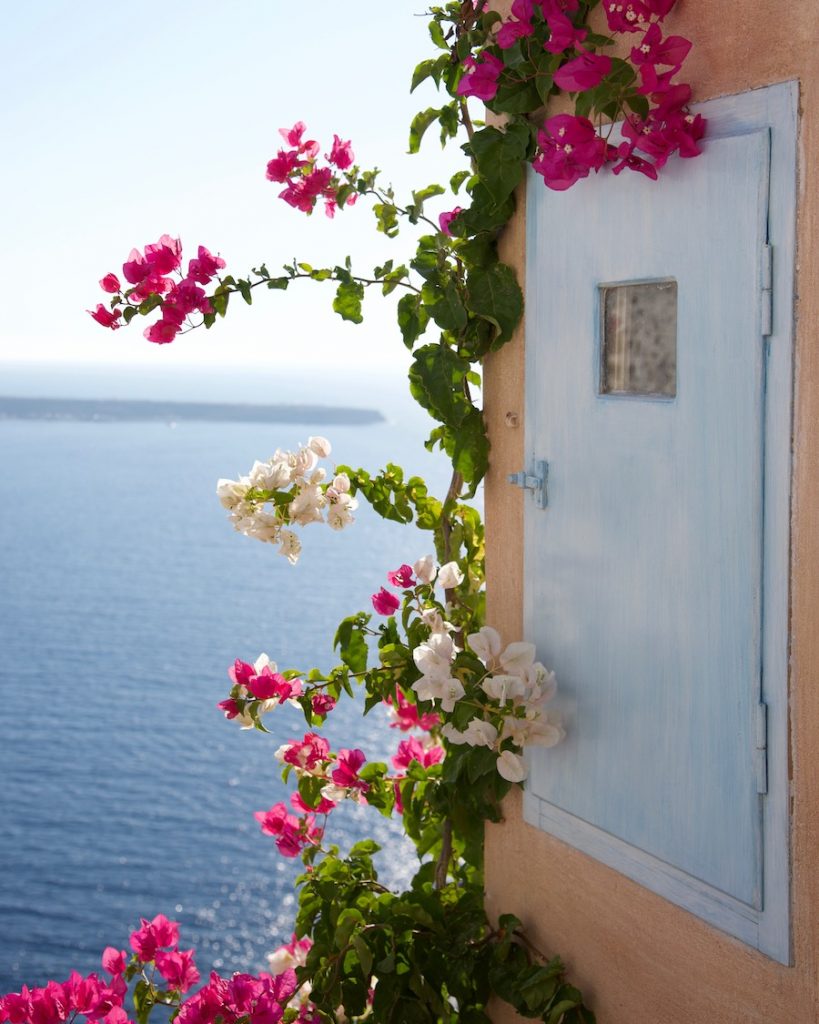 Take a Moment To Marvel at the Bougainvillea
Santorini's iconic bougainvillea flowers draw tourists from all over the world, who take pictures under the epic bougainvillea bloom in the middle of Oia's main street, and under the eves, rooftops, and stairwells where bougainvillea loves to climb. (It's understandably awesome, though a little cliché.)
Walking around in the intense, white sunlight and admiring all the pink flowers is a lovely pastime in the peak of summer– just be sure to keep an eye out for other beautiful desert plants that might be blooming, like greek orchids, palm trees, moon cacti, olive trees, and succulents. Most hotels place potted olive trees on their terraces, so be sure to keep a lookout for olives underneath the branches.
There's a lot more to the island's botany than just bougainvillea!
Explore The Circuitous White Architecture in Oia
Pictures of Santorini are immediately recognizable because of the iconic blue and white architecture. Because the village is built into the cliff of the caldera (the underwater volcano that formed Santorini and the Greek Islands), Oia offers striking views of the Aegean sea that are best explored on foot.
Oia's main street is called Nikolaou Nomikou, and it's home to some of the island's best restaurants, shops, and romantic caldera views on the island. Book your stay near here if you want to experience the best leisure, spa, and dining activities Santorini has to offer. If you want something more remote with equally romantic views, book your stay in Imerovigli. If you're looking to party, stay in Fira.
At some point in your trip, you might see a train of donkeys zig-zagging up the stairs in one of the villages. This is a very old Greek tradition, akin to seeing a double rainbow in Hawai'i. You won't believe how easily the donkeys can navigate Santorini's busy, narrow, cliffside streets!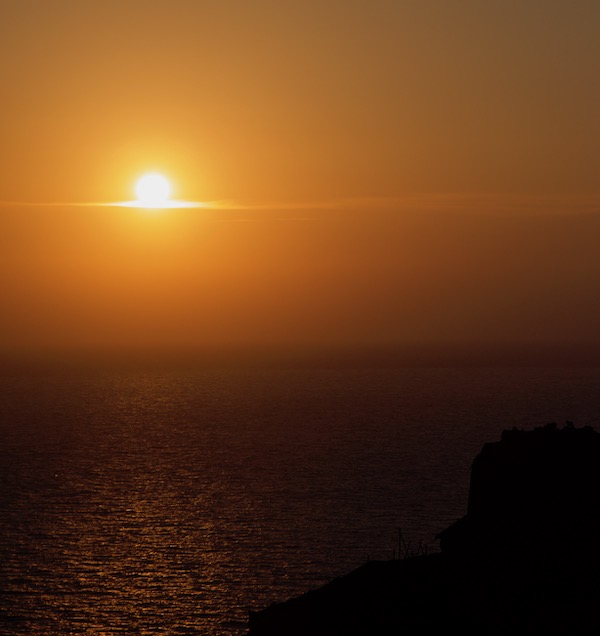 Witness One of those Iconic Pink Sunsets
There's nothing like a long, lingering, egg-yolky sunset to restore your faith in humanity. And in Santorini, every sunset is like this! In the summer, sunset happens around 8:45 to 9 PM. People actually gather in the streets to witness sunset. They even clap when it's over– picture hundreds of people applauding in the street– like it's the end of a movie.
One of the best ways to experience sunset in Santorini is to have a sunset meal at a restaurant like Ombra or Red Bicycle in Oia. We also like Blue Note in Imerovigli, and Ellis in Fira. Or, take a sunset cruise with a local charter. There are a number of great boat tour companies out there, but I recommend booking a catamaran.
Even if you don't camp out to witness it, the beautiful pink orb in the sky cannot be missed. Just be sure to keep your eyes peeled and look up when the sky starts to change color. Also, the concrete stays warm well after sunset here… just a subtle detail that I love. 😊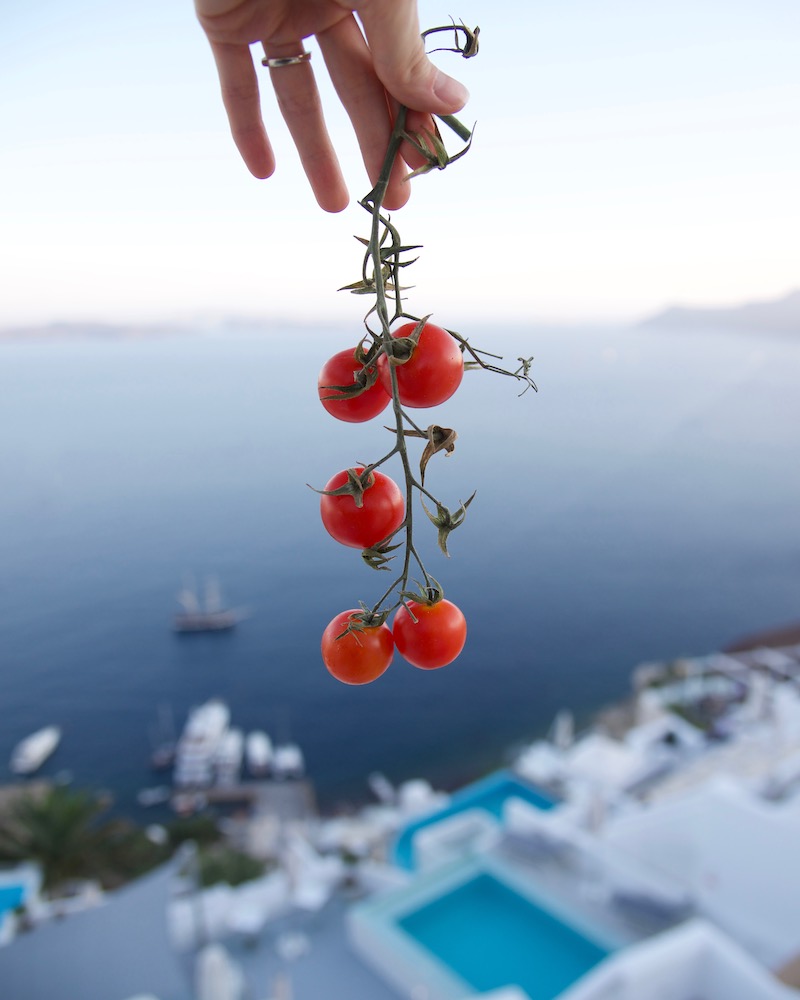 What to Eat and Where
Fresh cherry tomatoes from a local market
Come for the views, stay for the super-sweet cherry tomatoes. (In Santorini, cherry tomatoes are "a thing.") If you are visiting the island in the summer, head to a local market (any market) to pick up a bag of fresh cherry tomatoes. They are so sweet you'll eat them like grapes! While you're there, pick up some award-winning feta, local olive oil, fresh greek yogurt, and local wine– you'll know it's good if there is no english on any of the labels.
Sunset Dinner at Ombra Restaurant
Ombra Restaurant is one of the best places to have a sunset dinner on the island. The shrimp with mojito sauce and Santorinian herbs is excellent. Ombra also has excellent gyros.
For appetizers, opt for the dip trio comprised of tzatziki, smoked eggplant dip, beet dip, olives, and perfectly cooked pita chips. And definitely get a fish dish– all fish is so fresh and reliably delicious, prepared simply with lemon, spices, and fresh herbs.
Flaky Melitinia– Santorini's Traditional Sweet Cheese Tart
Melitinia is the traditional sweet cheese tart of Santorini. You can find it at select bakeries, restaurants, and hotels around the island. Most nice hotels in Oia will also serve melitinia at some point in their breakfast service, so be sure to look out for it there (it looks like a mini pie, with farmers cheese in the middle and a flaky braided crust around the edge). Otherwise, look for melitinia at authentic Greek eateries like Melenio Bakery in Oia or Ellis in Fira.
The Greeks serve their grape leaves warm, not cold like they often are in salad bars across the U.S. If you get a cold grape leaf, consider it a red flag. Most restaurants around sunset will have their own version of this Greek staple, but we love the grape leaves at Alkyona Sunset and elevated take stuffed with oxtail, bulgar wheat, and egg-lemon truffle at Red Bicycle (one of the fancier restaurants in Santorini).
Moussaka at Blue Note Restaurant in Imerovigli
The classic moussaka at Blue Note Restaurant in Imerovigli is a rustic and hearty crowd pleaser. What it lacks in presentation, it wins in spirit. Blue Note also does excellent lamb and stuffed grape leaves– two other local staples. Plus, it has a view that can't be beat.
Calamari at Alkyona Sunset in Oia
Alkyona Sunset has amazing warm grape leaves and delicious, fresh calamari that's so good it doesn't need sauce. Be sure to order a piece of their homemade baklava, which is extra syrup-y. (It sells out quickly.) While the restaurant isn't much to look at, they hand cut their french fries and the tzatziki is extra garlic-y. Expect to see a stray cat wandering around, which is very Greece. The indoor room where you pay your bill is also a dive. Expect to see older men watching soccer and smoking cigarettes amid piles of old receipts and vintage liquor bottles. Greece's charm persists in these stereotypes.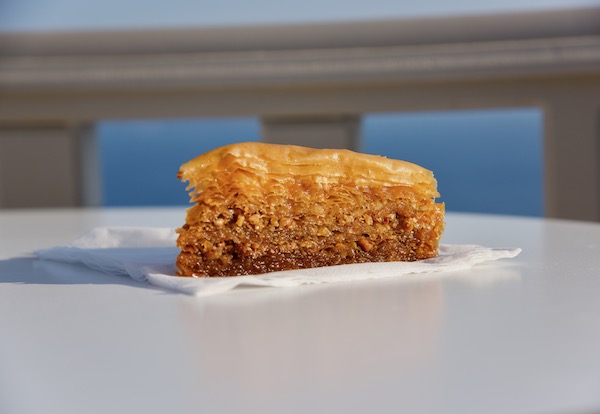 Baklava and "Milk Pie" from Melenio Bakery in Oia
Those looking for a sensational piece of baklava need look no further than Vogue-approved Melenio Bakery. The baklava is so moist it bursts with honey when you bite into it. Omg, it is so, SO good. The bakery's homemade milk pie (a sort of creamy, flaky custard) is also excellent.
Fresh Fish at Taverna Katina in Ammoudi Port
Those looking to experience fresh seafood in Santorini need look no further than Taverna Katina in Ammoudi Port, which serves fish that was caught the same day in the ocean right next to the restaurant's dining tables. When we say this restaurant is "right on the water," we mean it!
If you're feeling brave, walk down the stairs from Oia Castle to get to Katina on foot. Just be advised that you'll have to hike back up the steep stairway after dinner. (Dodging donkey droppings the whole way, if they've just sent the mules up. But this is part of the charm.)
You can also hire a charter boat to bring you right up to Katina's open air waterfront dining, but walking up and down the stairs pre- and post-dinner is honestly one of the best "hikes" in Oia.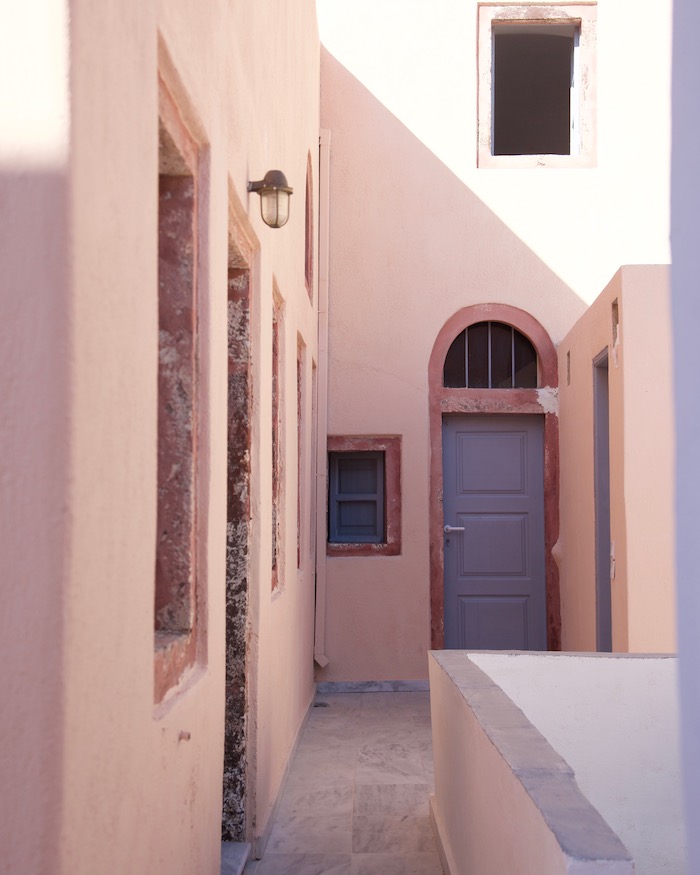 What To Buy in Santorini
The best things to buy in Santorini are sesame stick candy, olives, pistachios, figs and fig paste, olive oil, Santorinian wine, evil eye jewelry, olive oil and clay soaps, linen clothing, locally made baskets, scarves, and sandals. I also like getting powdered tzatziki dip mix from local grocers so that I can recreate the experience at home (it also makes a great gift).
Feel free to haggle at some of the smaller boutiques in Santorini, though it's more likely to work at souvenir shops in Fira than in posh areas like Oia.
Ladies: Ecru is a somewhat hidden boutique clothing shop located inside a small pink building off of Oia's main street. The cozy store has an excellent selection of linen clothing, GORGEOUS locally-made handbags, and fabulous scarves. This is THE place to shop if you're looking emulate the breezy lounge wear that is so iconic on the island.
I purchased a pair of blue, wide-legged linen pants here that strangers have since complimented in New York, Maine, the Bahamas, California, and beyond. The clothing here has universal appeal. Ecru, moreover, captures something magical about island life. This is one of my favorite places to go to shop for high quality souvenirs in Santorini. And so few people know about this place even as I write about it, so it feels like a hidden oasis from the summer tourists.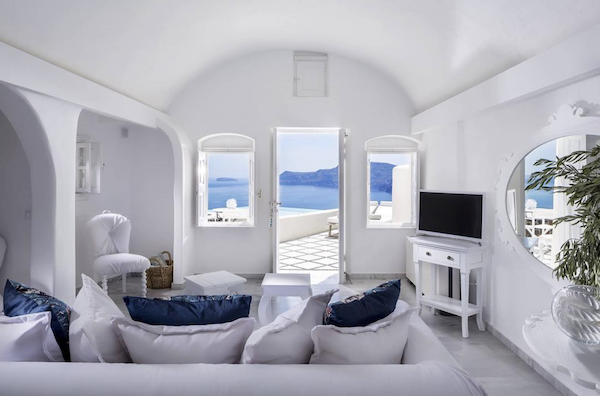 Stay in a Cave Suite
Sleeping in a cave-style suite is a quintessential Santorini experience. Whether you're renting an apartment or staying in a hotel, choose accommodation with a caldera view. Cave style suites are carved into the cliff face overlooking the Aegean Sea. As a result, the effect of walking out onto the terrace is like emerging from a cave. (See picture, above.) The curved ceilings are made of brick covered in concrete, with concrete and marble floors as well as submarine windows for cooling.
Like most of Santorini's white washed architecture, cave suites are painted white to reflect sunlight, which acts as a form of passive cooling. Don't let the name fool you, though– these "caves" all have electricity and air conditioning, which allows for a perfect, modern hotel experience.
Esperas Santorini- $$ Hotel Option
Esperas Santorini is a great moderately priced hotel for those who don't want to blow their savings on a hotel stay, but who still want to experience sleeping in a cave suite and a gorgeous terrace breakfast. That being said, Esperas Santorini has some of the most magnificent views of the Caldera in Oia, and it is also home to one of Santorini's best restaurants, Ombra. Be sure to book early, as this is a popular destination among summer travelers.
Filotera Oia Suites- $$$ Hotel Option
Filotera Oia Suites is a family owned boutique hotel with fabulous rooms, excellent breakfast service, and private terraces complete with hot tubs and caldera views. This is a great option for those looking to have a gorgeous, authentic Santorini vacation.
Visitors can expect courtesy bottle of wine and complimentary turn down service in which hotel staff lower the umbrellas and light candles in each doorway at night. This is an industry standard on the island that gives Santorini its signature after hours glow. There is a pool with a bar and restaurant on site, but given Filotera's premiere location on Nikolaou Nomikou, you'll have plenty of dining options nearby. On-site staff are extremely helpful and available 24/7.
Breakfast at Filotera is also excellent. Expect things like fresh spinach pie, homemade orange juice, incredible sunnyside up eggs with very orange-y yolks, fresh greek yogurt, and an assortment of fresh breads with greek butter, honey, and fruit preserves.
Canaves Oia Suites- $$$$ Hotel Option
Canaves Oia is THE 5 Star hotel option for luxury travelers looking to have a world-class Santorini experience. A winner of Travel & Leisure's World's Best Hotel Awards for 2018, the suites at Canaves Oia deliver everything you could possibly want in a hotel: insane views, gorgeous design, top-notch service, an excellent on-site spa and dining, and a perfect, private location at the end of Nikolaou Nomikou. In a word: this place is paradise.
Canaves Oia's infinity pool has one of the best views in the world. The hotel's own boutique also sells gorgeous greek slippers, one-of-a-kind jewelry, dresses, and other locally made artisan goods.
Even with all the chaos during peak tourism season, once you descend from the main road to your suite, you feel totally alone even in peak travel season. It's a rare dichotomy that I haven't many other places, and it's one of the reasons why a cave suite experience in Santorini should be on everyone's bucket list.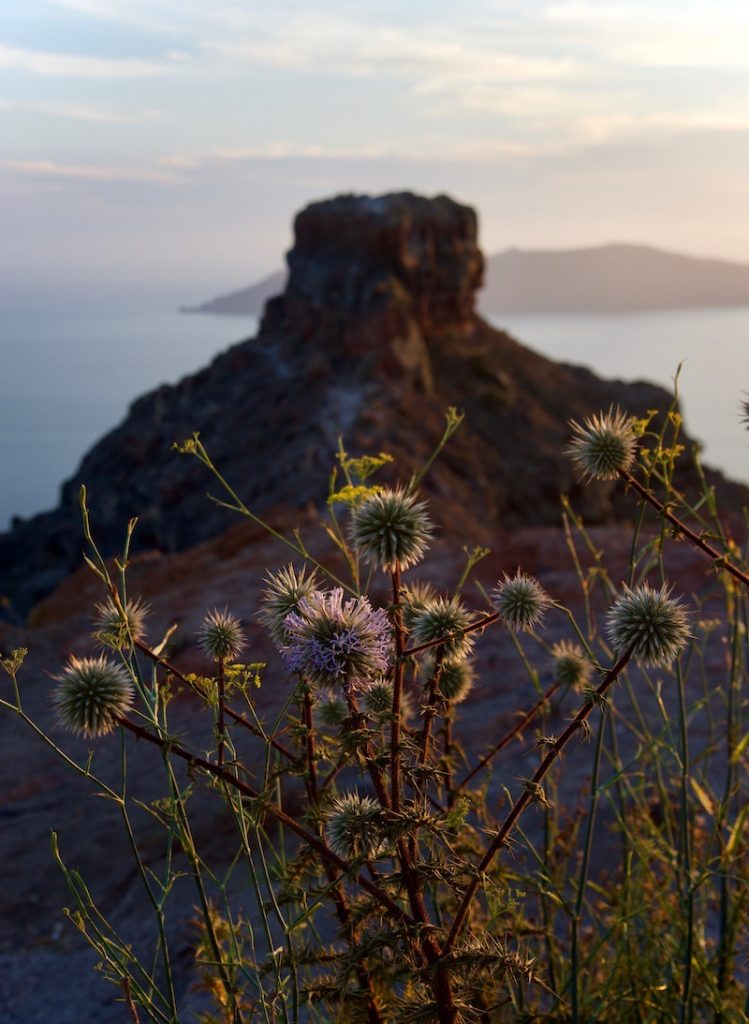 Hike Skaros Rock in Imerovigli
Imerovigli is located on the highest cliffs of the caldera in Santorini, and is known for its iconic sunsets. In fact, because of its more secluded location on the northern reach of the Island, Imerovigli is referred to as the "Balcony to the Aegean"– the best place to view sunset over the ocean.
The best bets for securing good accommodation in Imerovigli are to rent an apartment through Airbnb or Booking.com. We stayed in the Heliades Apartments and loved it. Just be advised that you might not be able to drink the faucet water when renting an apartment. (Plan to buy bottled water for brushing your teeth.)
In addition to the sunsets, the biggest draw in Imerovigli is a landmark known as Skaros Rock. Skaros Rock is hands down the best place to hike in Santorini, and I recommend doing it at sunset. The 360 degree views of the caldera from the top are absolutely insane. It looks like Mars! In the summer, beautiful wild thistles grow along the trail. (As in the photo I snapped on our hike to Skaros Rock, above.👆)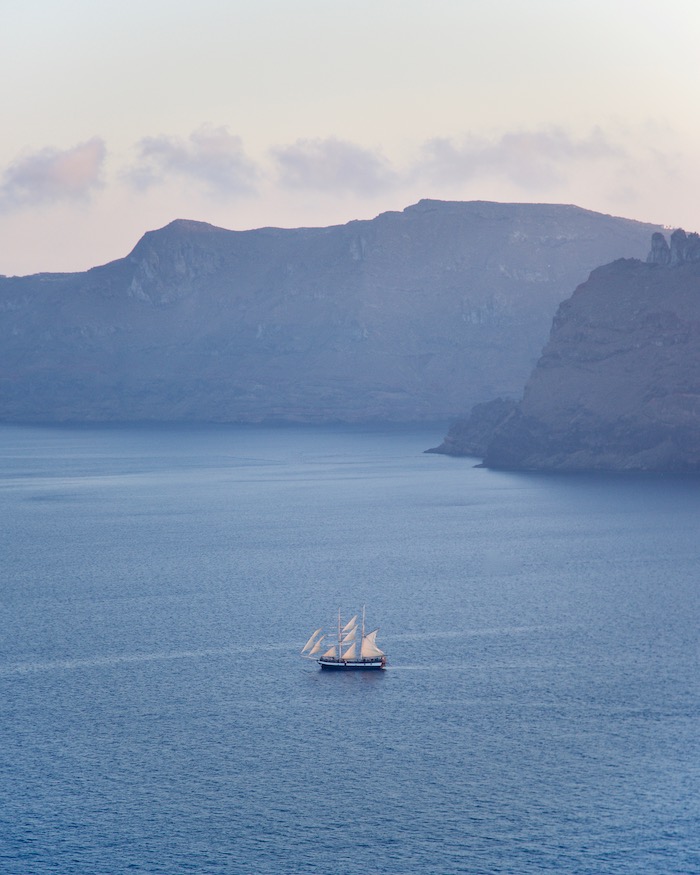 Other things to keep in Mind
Be advised that Santorini International Airport is incredibly small, which comes with a few challenges. Regional airlines like Blue Panorama are sometimes sticklers about having the name on your printed ticket match your passport exactly, and the airport doesn't have printers for you to correct the change after the fact. Some airlines are SO strict, in fact, that if you type your nickname when booking your airline ticket (like "Mike" instead of "Michael") and your passport says something different (like "Michael") then they might not let you on to the plane. Accordingly, be sure to bring a printed copy of your ticket with you to the airport. Forget printers– they sometimes don't even have hand soap!
Other Basic Info

The currency in Santorini is the Euro. Outlets in Santorini have two prongs: socket type C and F. And the local time zone is GMT+3 (7 hours ahead of the East Coast of the United States).
Santorini does allow Uber, but you don't need it. You can easily navigate each village on foot. If you need to get to the airport or another village, ask the hotel to hire you a cab. You can also rent a car, but it usually isn't necessary.
Watching a train of old school donkeys saddled up and zigzagging their way up the caldera is a very Old World "Greece" experience– but don't fall for the tourist traps offering "donkey rides." The donkeys aren't always treated well.
Santorini has a culture of stray cats and dogs, who wander freely around restaurants and shops. This is normal. They are safe and usually very friendly animals.
Be sure to tip the bag carriers who help guests haul their luggage down serpentine stairwells at most hotels. (I once saw a guy carrying a full mattress on his shoulders as he climbed down the Escher-like staircase at Filotera Oia Suites.) These men and women work hard. If you're going to spend the money to stay at a nice hotel in Santorini, be sure to reward the staff who make your experience so lovely!
***
Looking for more European travel ideas? Find out why Lisbon, Portugal is fast becoming one of the most popular and affordable cities to visit.