The East End of Long Island is where the mythical Hamptons reside. Known for their fresh air, peace and quiet, and beautiful, storied beaches, the Hamptons are a constellation of coastal villages with beautiful homes and restaurants showcasing fresh, local produce and abundant seafood. Each year, visitors turn their sights towards the epicenter of it all, East Hampton, which is repeatedly referred to as one of the "Most Beautiful Villages in America."
In addition to being the nucleus of all the activity, East Hampton is also one of the World's Top 10 Beach Destinations. Accordingly, this Hamptons Travel Guide spotlights the most beautiful parts of East Hampton and the surrounding areas. Whether you're seeking a gorgeous beach getaway, a relaxing weekend of pampering, or both, we've got you covered.
A Gorgeous Place to Escape
Picture it now: a mint green bicycle affixed with a basket of flowers; pastel Adirondack chairs on a pristine porch; powder blue Volkswagen beetles, Jeep wranglers, and BMWs lining the street. Today, design lovers coo over the Hamptons' beautiful homes and gardens, marveling at the perfectly manicured lawns and hedgerows dotted with iconic rhododendrons and hydrangeas. Plus, the smell of salt air is undeniable… and the list of reasons why people love the Hamptons goes on!
Many movies have been filmed across the Hamptons' iconic shores, from Citizen Kane to The Godfather to Eternal Sunshine of the Spotless Mind. Because of the Hamptons' proximity to New York City (about 2 hours by car), it's perhaps unsurprising that many Hollywood stars also live here. Stephen Spielberg, Leonardo DiCaprio, Gwyneth Paltrow, Scarlett Johansson, and Martha Stewart are just a few of the celebrities who call this area home. (The Hamptons are the "Beverly Hills" of New York, after all.)
For all of these reasons and more, the Hamptons have become one of the most popular summer travel destinations in the United States. For a perfect weekend away, we begin our stay at the Mill House Inn: a true Long Island oasis that's redefining "Bed and Breakfast" with excellent service, bespoke food, charming amenities, and world-class hospitality (read on for the details). The rest of our recommendations for what to do and where to eat in the Hamptons follow in our bespoke travel guide. Consider this your one-stop guide to exploring the best that this area has to offer.
***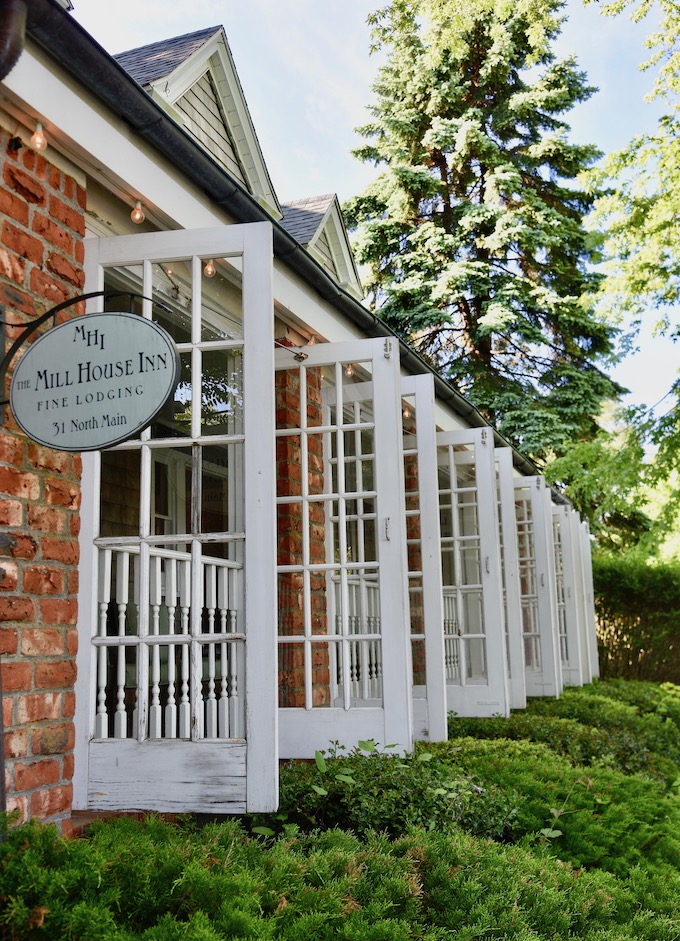 For a Luxurious Stay: The Mill House Inn
The Mill House Inn in East Hampton is repeatedly rated one of the best small hotels in America. The suites are lovely, the garden is gorgeous, and the breakfast is absolutely fabulous. 
Those looking for a gorgeous place to stay in the Hamptons need look no further than The Mill House Inn in East Hampton. This refined-yet-cosy inn with a beautiful rhododendron garden captures all the romance of why we love the Hamptons in the first place: gorgeous grounds, refined local cuisine, friendly and knowledgable staff, and an emphasis on thoughtful, restorative rest and relaxation.
Many people come to stay just for the lovely seasonal breakfast. Recent menu items at the Mill House Inn include a gorgeous Montauk Lobster Frittata made with grilled asparagus, roasted red pepper, sweet onion, crisp local fingerling potatoes, applewood smoked bacon and crème fraîche, as well as brioche french toast, local vegetable hash, and a signature "Sloppy Joe" scramble made with Berkshire pork, chorizo, ground beef, tomato, sweet onion, and Vermont goat cheese.
Homemade green juice, a full range of craft coffees, and bread baskets by Blue Dock Bakery are de rigueur. Mill House Inn also uses organic eggs and farm-fresh butter (as if there was any other kind in the Hamptons) and breakfast can be served en suite or in the quaint lounge. (For the full experience, try both.)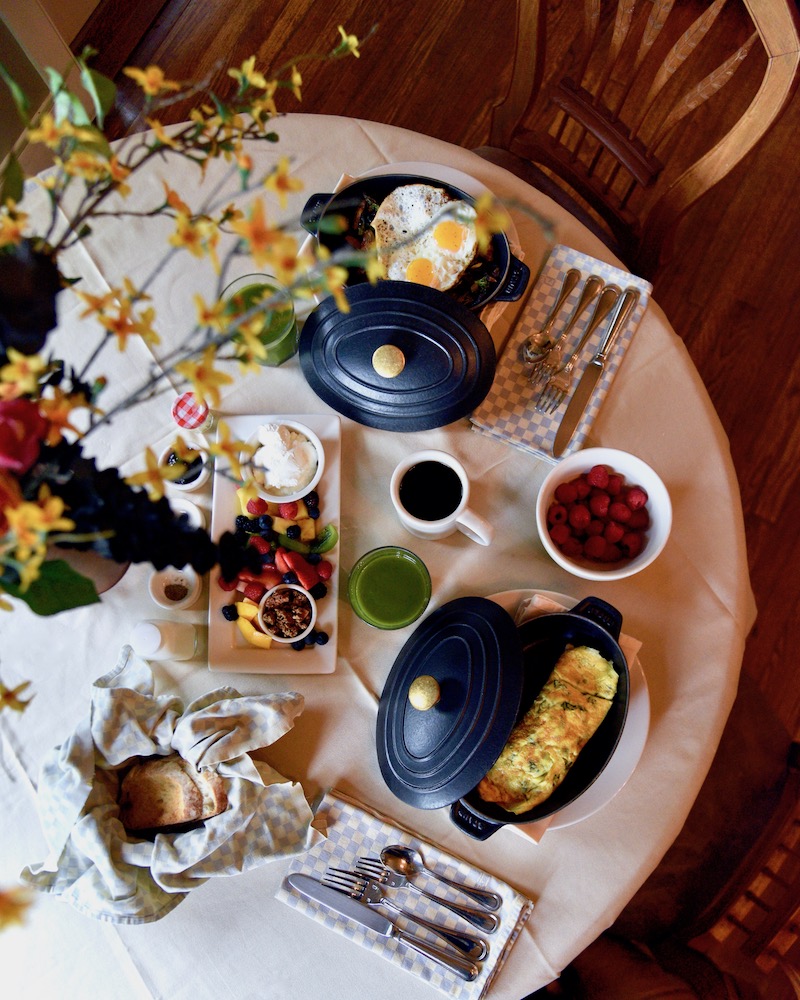 Back in the rooms, no detail is spared– the Inn even makes their own bath salts for the luxurious jacuzzi tubs featured in each suite. 🛁Every room at the Mill House Inn has a different theme, but each features a charming fireplace and well made, traditionally crafted wood and leather furniture. Fast Internet, lovely turn down service, the ability to walk to the center of town, and the season beach passes available at the front desk are just bonuses.
Guests should also be sure not to miss the Mill House Inn's signature snack bar, which features a surprising array of homemade and local snacks. These include house made kale chips, jerky, and cookies; local ice cream; seasonal lemonades; a popcorn bar featuring flavors like truffle and black pepper; and local and international cheese and charcuterie boards with hummus, pickles, and hand fruit, all of which can be delivered to the room. The Inn also has a full boutique coffee menu, with each cup made fresh to order. (Unless, of course, you want cold brew; they keep stylish glass bottles in the snack bar fridge.) The attention to detail, as we said, is bar none. The Mill House Inn doesn't skimp on anything.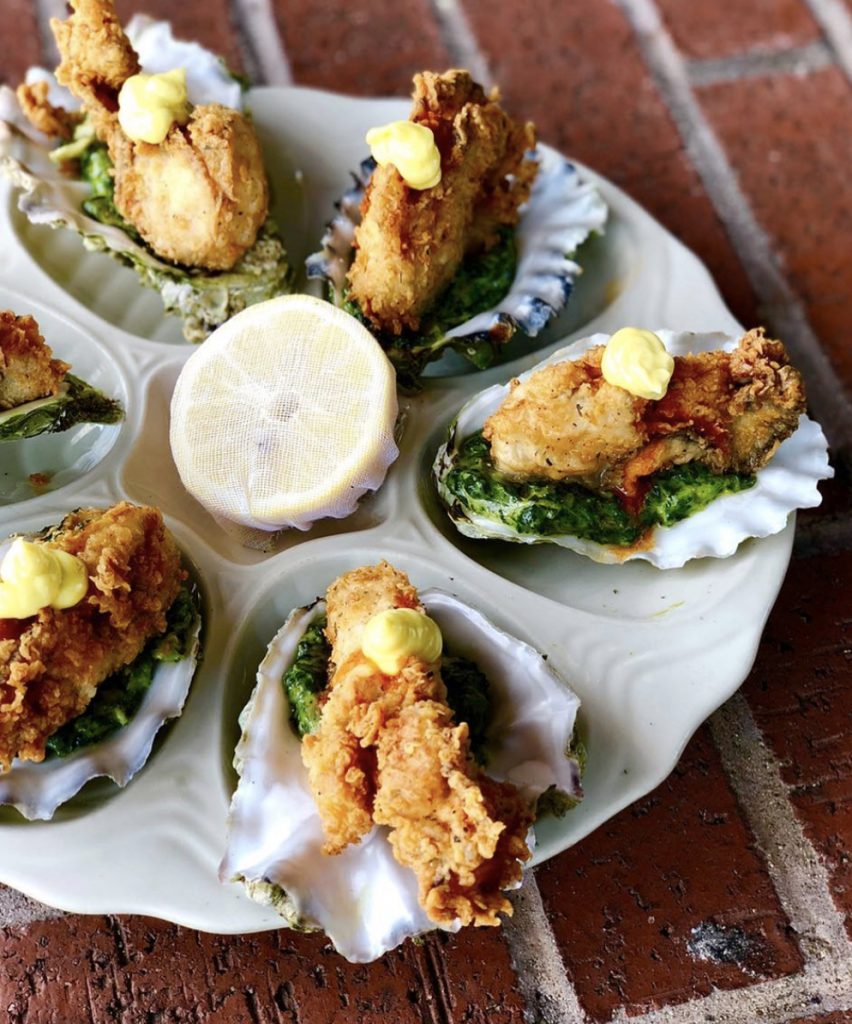 The Best Restaurants in the Hamptons
Five wonderful restaurants that demonstrate why the Hamptons have become a world-class food destination.
East Hampton Grill
Come for the heavenly rosemary biscuits and iconic fried Oysters St. Charles; stay for the surprisingly perfect salads and gorgeously executed filet mignon. East Hampton Grill is one of the East Hampton's best restaurants for a reason. Locals love the dedicated service and reliably delicious fare, while visitors come pining for fresh seafood and decadent ambiance. Fortunately, the East Hampton Grill can guarantee it all. They specialize in hearty, comforting dishes that emphasize local seafood, like their Lobster Po' Boy, for instance. Oenophiles will also love the excellent selection of local and exceptionally unique wines, which range in price from modest to "this-must-be-a-very-special-occasion."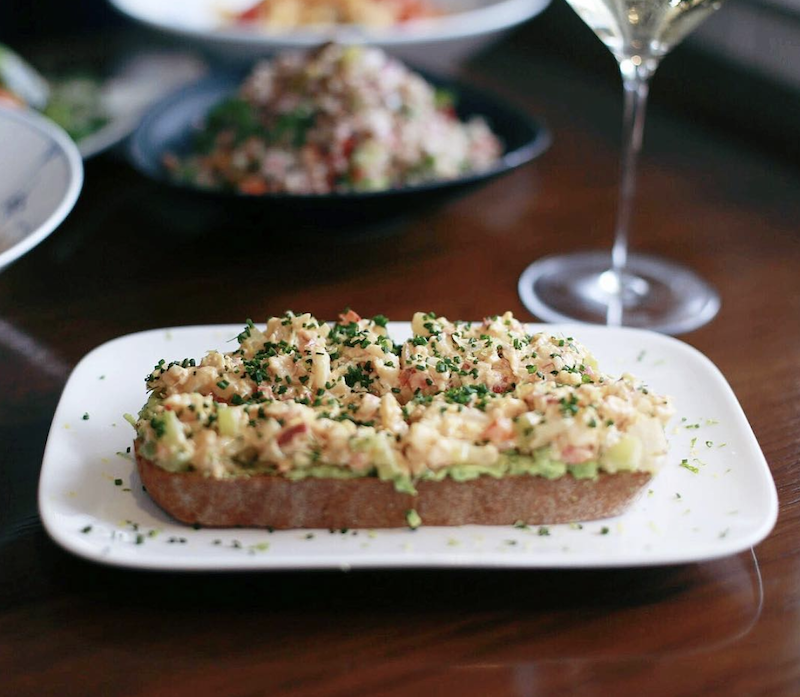 Highway Restaurant & Bar
Highway might initially seem out-of-the-way from the main action in East Hampton Village, but don't let its literal location on the highway fool you. The lovely Highway Restaurant & Bar is quickly becoming one of the area's most popular restaurants. Seasoned locals love Highway's fresh, modern take on regional cuisine. For example, their exquisite Lobster Avocado toast is a steal of an appetizer that could be a meal on its own. The menu also includes haute seasonal dishes like Sautéed Langoustine with Burned Lemon and Arugula Salad, and Spit Roasted Organic Chicken, for instance.
Even the sides of fresh, local vegetables are generous. A recent visit found us salivating over tenderly dressed swiss chard, which reminisced in texture of a hearty Indian saag. Highway Restaurant is also filled with plants and beautiful, black-and-white photos of the area's best beaches. There's even a stylish throw pillow in every booth. Design lovers: take note!
Nick & Toni's
A rustic Italian staple known for attracting celebrities like Paul McCartney, Nick & Toni's in East Hampton is a quintessential dining destination. Serving locally caught fish and organic vegetables grown in the restaurant's own garden, Nick & Toni's will please locavores and foodies alike. In short, the food is great. The salads are wonderful, and there's an excellent alcoholic beverage list featuring over 200 specialty liquors. Just know that the tables are small and unfussy, so you'll want to reserve in advance.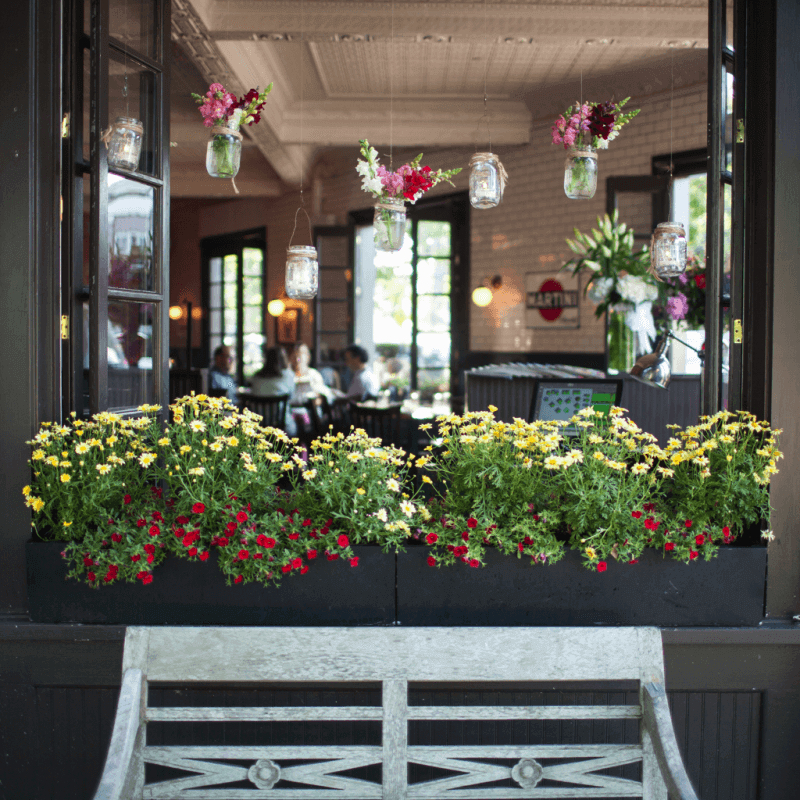 Almond
Located in Bridgehampton, Almond is an "un-Hamptons" French bistro that still manages to capture the unique je ne sais quoi of coastal New York dining. Popular among celebrities, tourists, and food critics alike, this corner restaurant sits right on the main drag in Downtown Bridgehampton. This means you'll likely pass it if you're driving from New York City.
Inside, the food is reliably excellent, showcasing local seafood, fresh salads, and upscale takes on homey dishes like meatloaf. You also can't miss Almond's quaint, painted exterior and 100-year-old tin ceilings, as viewed through the big, airy (and usually open) windows. Almond is only open for dinner, but the restaurant occasionally hosts special events like their recent Julia Child Dinner, part of a Food + Wine series that brings artists, writers, and foodies together in celebration of local cuisine. Bon appétit! 
Page
Page at 63 Main is a lovely new seed-to-table concept restaurant in Sag Harbor, NY. Here you can enjoy delicacies like charred Spanish octopus, local oysters, or Page's sautéed lump crab cake. Above all, they serve the freshest possible local salads, scallops, and house made pasta. Meat lovers will enjoy the local duck, chicken, and fish dishes made with fresh aquaponic herbs and vegetables, as well. (And the clam chowder is also great– it was a winner at the local 2018 Harborfest.) Page is open for lunch, dinner, and gorgeous Sunday brunch. We recommend all three.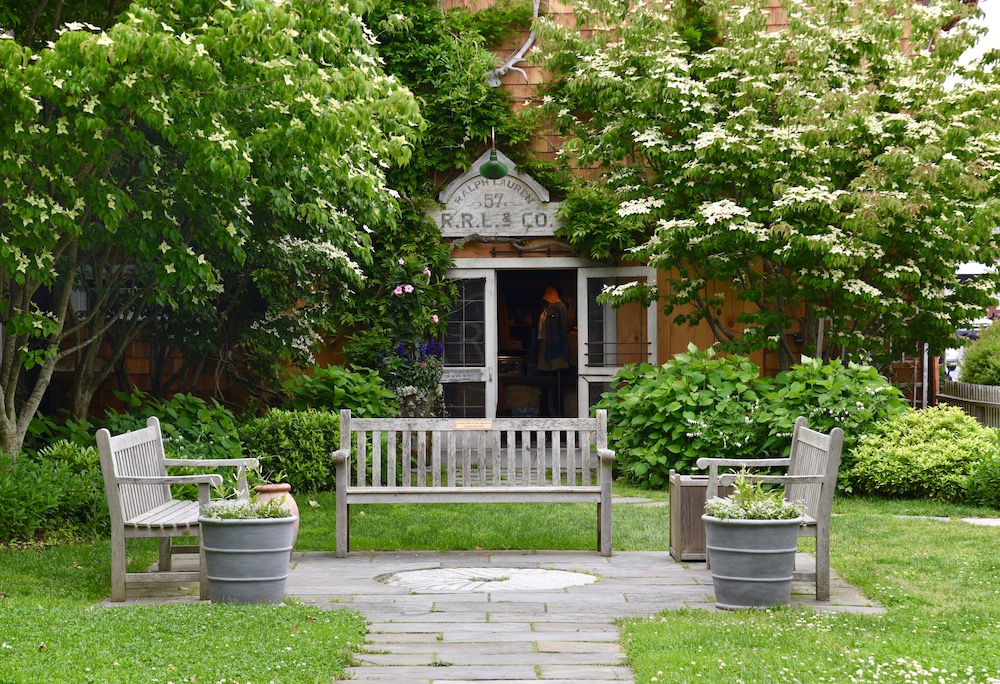 Shopping
Shopping in East Hampton is about as luxurious as it gets. Expect high-end designer brands and a handful of gorgeous boutiques catering to the well-heeled. Below are a few must-stop shops around Main Street in East Hampton, which is super walkable.
Madoo Conservancy
The Madoo Conservancy is a famous 2-acre garden in the heart of Sagaponack that's popular with garden lovers all over the Northeast. Featuring Tudor, High Renaissance, early Greek, and Oriental gardening styles, the Madoo Conservancy also displays rarely seen native design techniques. As a result, it's become the kind of place that green-thumbed people go to get inspiration for their own gardens. The Conservancy also frequently partners with local organizations to support community preservation and development efforts. To check out their current Exhibitions page, go here.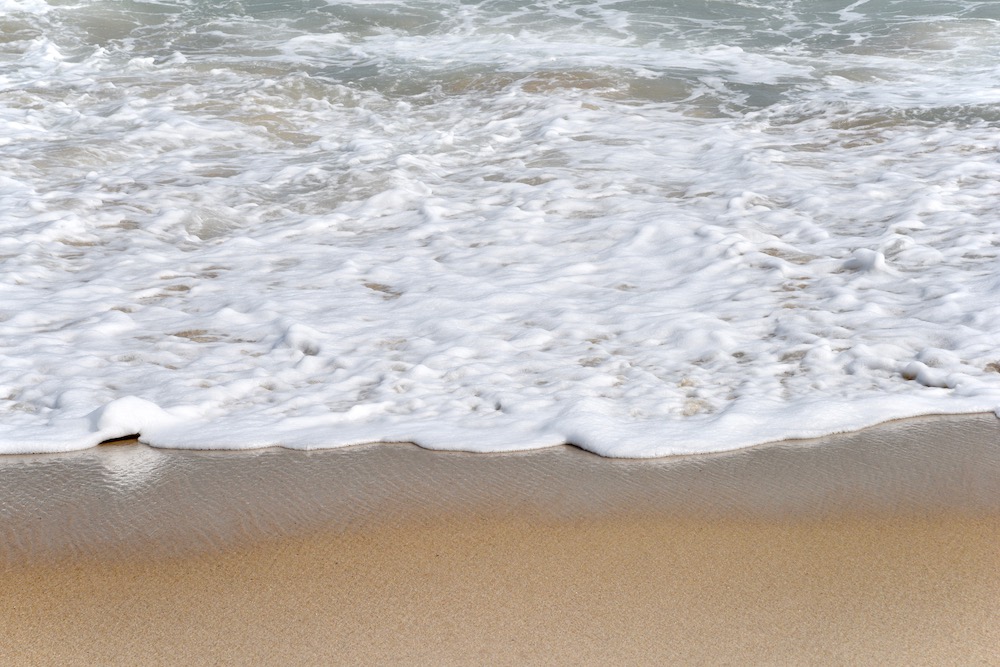 Beaches
The Hamptons' iconic beaches have been featured in several decade's worth of entertainment, from Something's Gotta Give to Sex and the City. Many of the beaches in this Hamptons travel guide require beach permits. Be sure to check with your hotel or buy a beach pass if you are planning to park.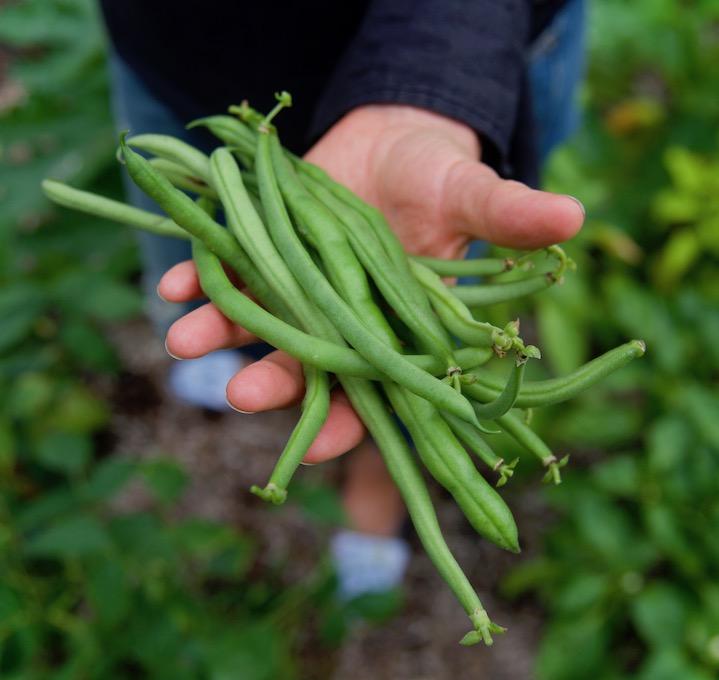 Round Swamp Farm Stand
For a charming little dose of local farm life, stop by the Round Swamp Farm Stand and Country Market in East Hampton. (Open from 8 AM to 6 PM Monday through Saturday, and on Sundays from 8 AM to Noon.) The market showcases some of the best local produce and sundries around. Consequently, they have a dedicated local following that dates back over 50 years!
Round Swamp Farm is where you'll find everything from fresh local berries to delicious, vine-ripened tomatoes. Also, their sugar snap peas, stone fruit, and local baked goods will make your mouth water. For lunch, look out for excellent charcuterie, hummus, sauces, prepared meals, jams, jellies, and fresh local seafood. And before picnicking on the beach, swing by to pick up some excellent ready-made deli items. (For example, pimento cheese, pickles, salads, chocolate, bread, and coffee.) Round Swamp Farm also has two other markets: one on School Street in Bridgehampton, and a new beachside market next to Montauk Beach House.
Pollock-Krasner House
The former home and studio of artists Jackson Pollock and Lee Krasner is a National Historic Landmark and a must for art lovers. Located in East Hampton, the Pollock-Krasner House is open on Thursdays and Fridays by advance reservation only. (It's also available for self-guided tours on Saturdays from May to October, when no reservation is required.)
Inside the house, it's hard to miss the splatters on the floor from Pollock, who liked to work with his canvases on the floor. There are even some spots where Pollock's own footprints remain etched in paint. (You can still see them clearly, which is super cool.) Also be sure to take note of the splatters surrounding the rectangular outlines on the wall. These are from Lee, whose paint frequently splattered beyond the canvas.
In order to preserve this 3-dimensional archive, all visitors have to wear foam slippers that the museum distributes upon entrance. This is necessary to preserve the floor, which has since become a shrine to Pollock and his processes. After years of accumulating random drips and splatters, the floor looks like Pollock painting in and of itself!
Spas
The best places to lounge, relax, and recharge.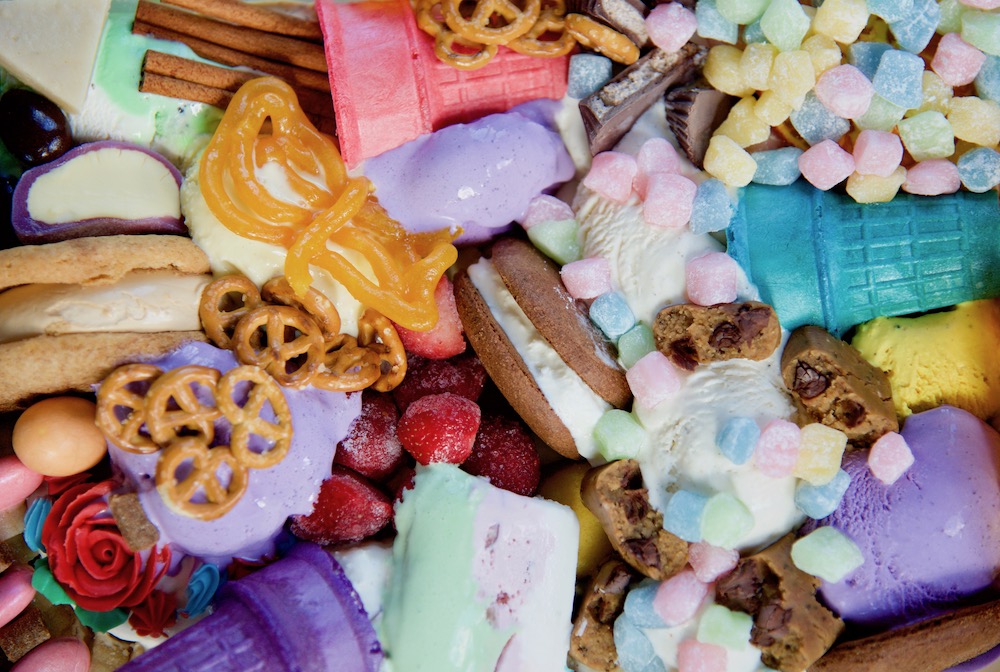 Ice Cream
Traditional Mom-and-Pop establishments rule the ice cream market in the Hamptons. You won't find anything organic or avant-garde here unless you're getting dessert at a local restaurant.
For an area so close to New York City (which has so many amazing ice cream shops) the Hamptons has surprisingly few "innovative" or "upscale" ice cream parlors. Still, there are a few delicious options for those looking to get good ice cream in the Hamptons.
Scoop du Jour is kid-friendly and also sells donuts; Bridgehampton Candy Kitchen is the place to go with friends if you're looking to share a homestyle banana split (just be advised that it's cash only!); and Big Olaf's serves classic, all American combos like Moose Tracks and chocolate peanut butter ice cream in a waffle cone.
New Yorkers can also stop by the original Tate's Bake Shop in Southampton on their drive back to the city, if looking to experience a truly local dessert. (Tate's sells their iconic cookies at almost every boutique market in NYC.)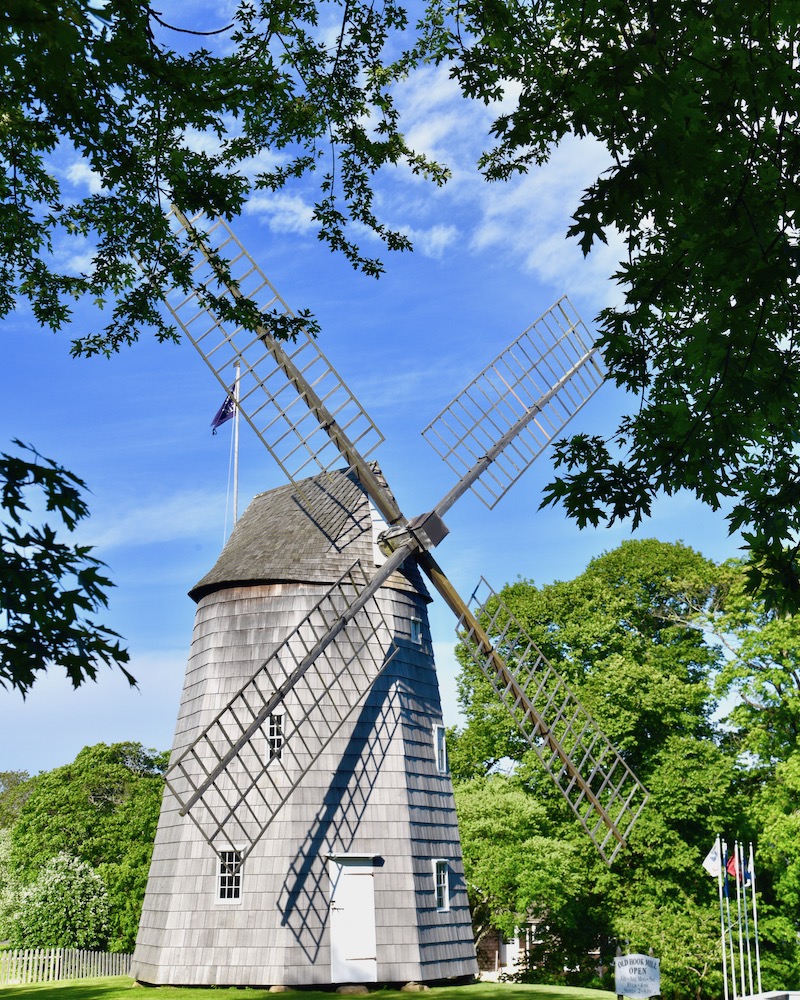 Other Things to Keep in Mind
In early summer, gorgeous rhododendrons bloom across the Hamptons: on sidewalks, in front yards, and hotel gardens. The landscaping is absolutely stunning!
***
Want a more affordable Hamptons-like experience? Check out our Gorgeous Guide to Kennebunkport, Maine (a good travel dupe for those exploring on a budget).