This bespoke guide to the best restaurants in Savannah, Georgia features a mix of refined and casual eateries that showcase cool aspects of Savannah's local culture.
In addition to serving delicious, one-of-a-kind cuisine, each of these Savannah hot spots tells a story about this unique region of the lowcountry South– as well as the heritage food and culinary traditions that define it.
Whether you're seeking BBQ and biscuits, seafood and salads, vegan eats, or fried chicken and sweet tea, this Savannah restaurant guide features a little something for everyone.
Bookmark this list for your next trip and you're guaranteed to have nothing but amazing meals. We visited the restaurants on this list anonymously and repeatedly, and they consistently deliver. You're in good hands. 🙂
Ultimately, this list is in no particular order. However, for the full foodie experience, you'll want to prioritize visits to exceptional local restaurants like Local11ten, The Collins Quarter, and The Olde Pink House, all detailed below. (In my experience, that trio never lets anyone down.)
Be sure to come hungry, and enjoy!
Scroll our guide to Savannah's best, most unique restaurants, below.
***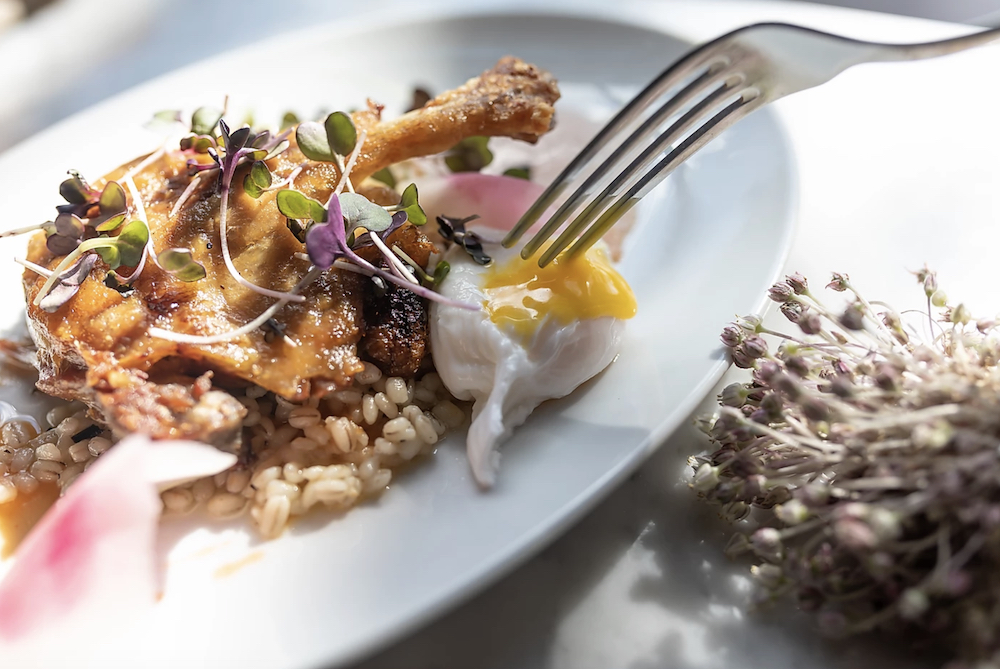 Local 11ten
Located just one block south from historic Forsyth Park, Local 11ten restaurant is easily the best upscale farm-to-table restaurant in Savannah. Featuring sustainably-sourced local produce and wine along with fresh seafood from the Georgia coast, the restaurant serves iconic charcuterie, salads, and composed dishes. (And the seared scallops in particular are excellent.)
Helmed by the Daniel Reed Hospitality Group, Local 11ten's interior is also super modern, with contemporary design, polished service, and chic ambiance to complement the rotating seasonal menu.
Perch, Savannah's premiere rooftop bar in the Victorian District, is located just above the restaurant, which is housed in a restored 1950s-era bank house. It's a gorgeous place to relax and take in views of the park with a craft cocktail before dinner. (I highly recommend going in the Spring/Summer during golden hour.)
The bar, like the restaurant, is dedicated to popular Southern flavors, which is why its frequented by locals and tourists alike.
The attire is smart-casual and there is outdoor lounge seating when the weather permits. Local 11ten is only open for dinner (5:30 PM to 10 PM). Be sure to make a reservation in advance.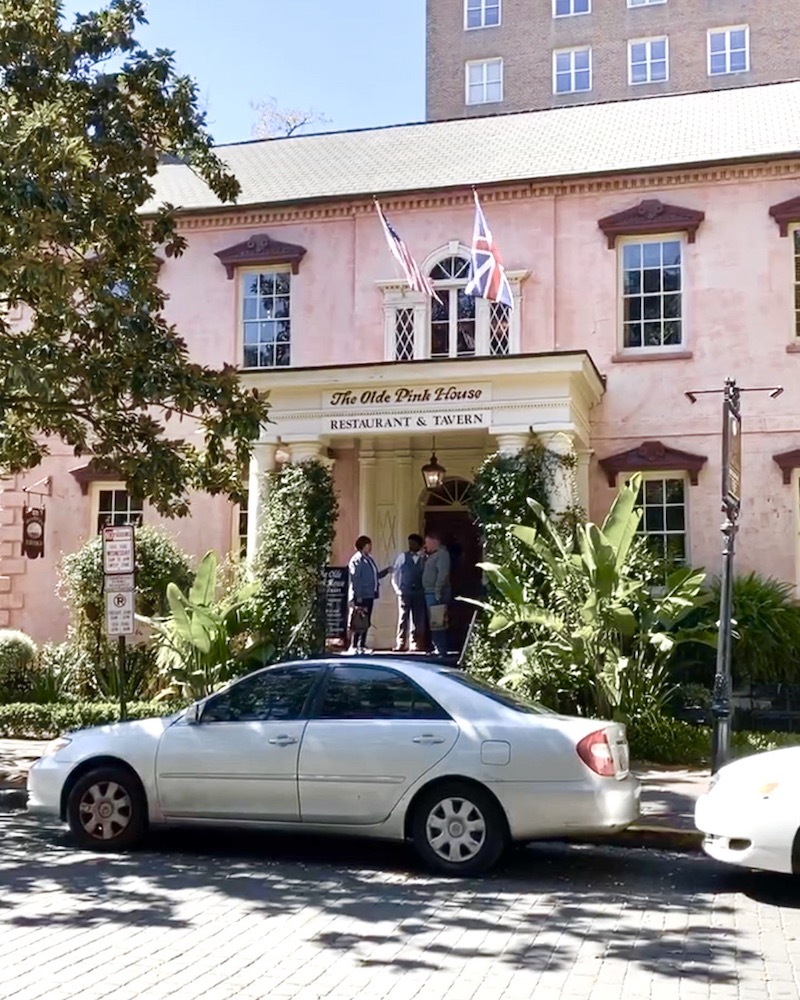 The Olde Pink House
Upscale classic Southern Food, mostly iconic for its beautiful exterior facing Reynolds Square, right in the middle of Savannah's historic district. The Olde Pink House building dates back to 1771, and it is as charming as it sounds.
Among other sinfully rich items, the restaurant is known for the Southern Sushi: shrimp and grits rolled into a coconut-crusted nori roll. We also love the BLT Salad (which was featured on The Food Network's The Best Thing I Ever Ate TV series,) as well as the fluffy fried Blue Crab Beignets. (It wouldn't be a trip to Savannah without them!)
The entire restaurant consists of 11 rooms within the house. The basement– which looks like a wine cave– has a lovely bar with inset table booths. (These are particularly cozy in winter.)
We also love the "Blue Room" upstairs, which is our favorite place to dine. Either way, every room has it's own charm. This is a great spot for history buffs and design lovers.
"Southern Sushi", Enduring Style, and Charming Service
Food-wise, "Max's Fried Chicken" is easily the best fried chicken in Savannah, and their mac n' cheese is simply gorgeous.
Ultimately, The Old Pink House is a veteran favorite Savannah restaurant among tourists and locals alike. From the moment they place the pimento cheese straw "breadsticks" on your table to the quaint closing coffee, you'll be charmed. Be sure to make a reservation in advance.
Ultimately, the gracious service, Old World architecture, and charming interior make this a Savannah restaurant unlike any other. And you can't help but crack a smile at the Pink Panther-colored exterior!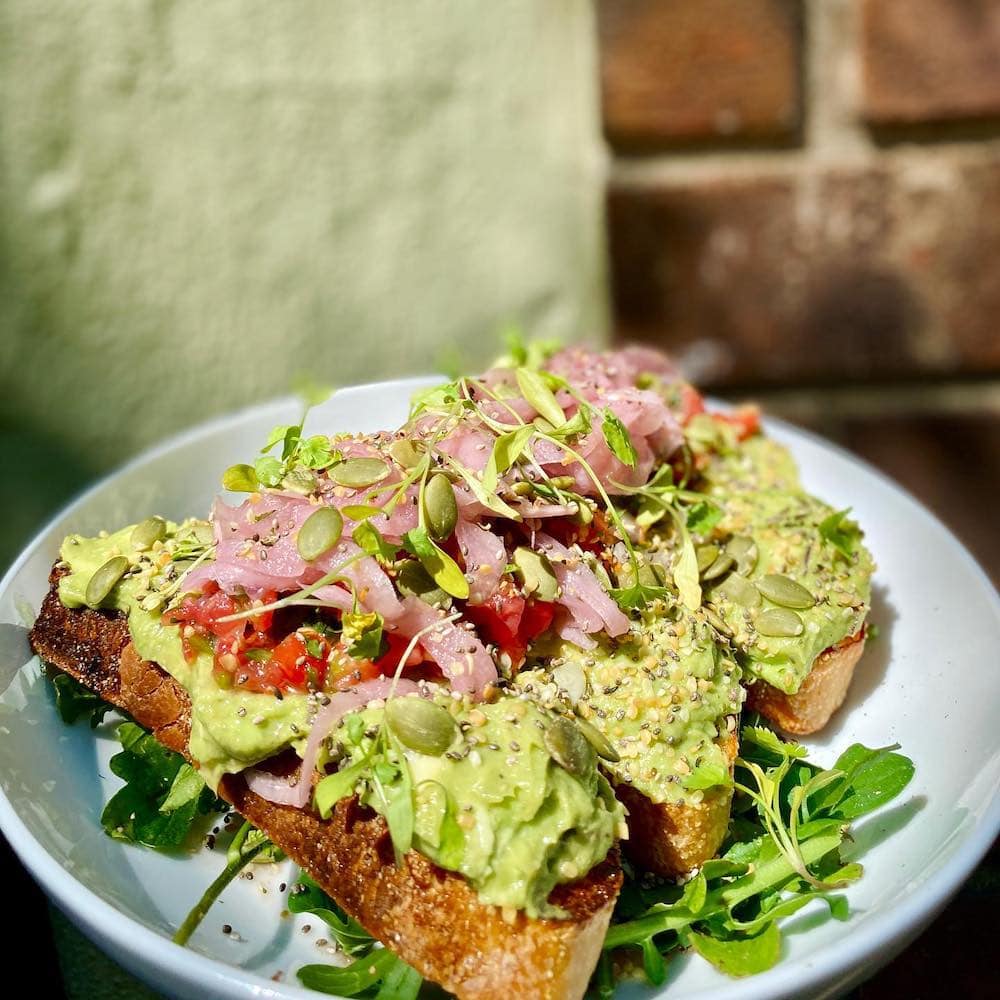 Fox & Fig Cafe
Fox & Fig Cafe is an amazing vegan cafe, bakery, and coffee shop in the Victorian district that has some incredible, adorable internationally-inspired plant-based dishes. It's easily the best "healthy" restaurant in Savannah.
Here, you can expect a mix of creative colorful salads, mind-blowing plant-based charcuterie, and epic global dishes like the signature tostada verde.
Also be sure to look for local favorites like the super popular mac and "cheese" and insane cookie butter truffles. (<— These are an exquisite local treat you should absolutely save room for.)
Prices are also great considering how hard it is to find this quality of vegan food in Savannah. And portions, as with most things in the South, are generous.
Vegan Meals + Trendy Coffee
The cafe's carry out espresso bar serves thoughtful local coffee with non-dairy milks, as well. They make a wonderful Spiced Lavender Mocha– one of my favorite dairy-free treats in the city. (All milky drinks are made with Oatly Oat Milk.)
When the weather is nice, their outdoor seating on a beautiful residential stretch of Habersham Street is absolutely lovely.
At night, Fox & Fig is also great for a low-lit dinner and good conversation, either indoors or out. (I strongly recommend going here after a local yoga class.)
Generally speaking, you don't need to make a reservation in advance.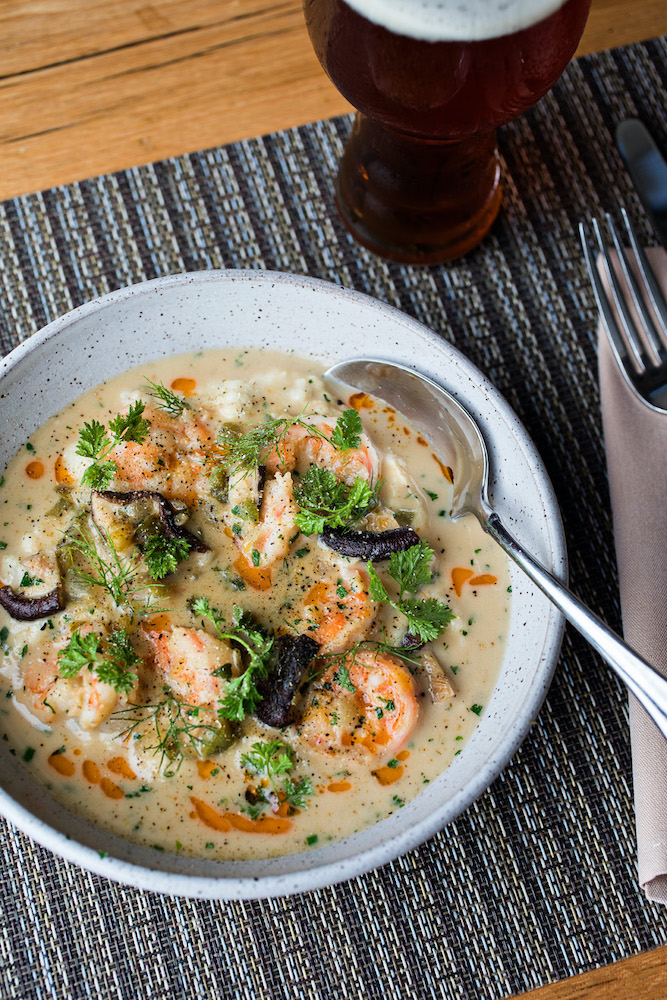 Husk Savannah
This classic, highly-awarded Savannah staple is an offshoot of Sean Brock's Chef's Table celebrated Husk empire, which began in Nashville and has since expanded to Charleston, Greenville, and Savannah. With an emphasis on exclusively local foods grown in the South, Husk Savannah honors local heritage cuisine with aplomb.
Located in the heart of Savannah's Historic District, the restaurant specializes in Southern foodie staples made from exclusively local ingredients. Take, for example, their Coal Roasted Chicken with local peppers, Bradford watermelon, pole beans, and papalo. (Papalo is a new, increasingly trendy green that tastes like a cross between cilantro and arugula).
They also have excellent local seafood and pasta dishes like GA Shrimp and Grits with 'Nduja, shiitake, sour garlic, and arugula. Or, consider their local Pecan Tortellini, with Silver Queen corn, lion's mane mushrooms, and Bradford okra. So good!
Appetizer-wise, be sure to try the fresh baked cornbread with sorghum. (It doesn't get more Southern than that!) Or, munch on a selection of local Southern cheeses or charcuterie.
Ultimately– and most uniquely of all– the menu here changes daily based on what the restaurant's regional producers provide. This way, with Husk's hyper-seasonal menu, you're sure to have a unique experience every time you eat here. No two meals are the same, as they consistently render seasonal produce in new and intriguing ways.
Cocktail lovers: Before dinner, check out the rooftop Bar at Husk, which specializes in classic cocktails and tippling traditions while still honoring the restaurant's commitment to local sourcing. They do a mean Happy Hour featuring lowcountry-style drinks that highlight artisan distilleries in the South.
They also have old-school "Southern Sodas" and craft microbrews from Moon River Brewing Co, Coastal Empire Beer Co, and Service Brewing Co. Beer lovers, rejoice!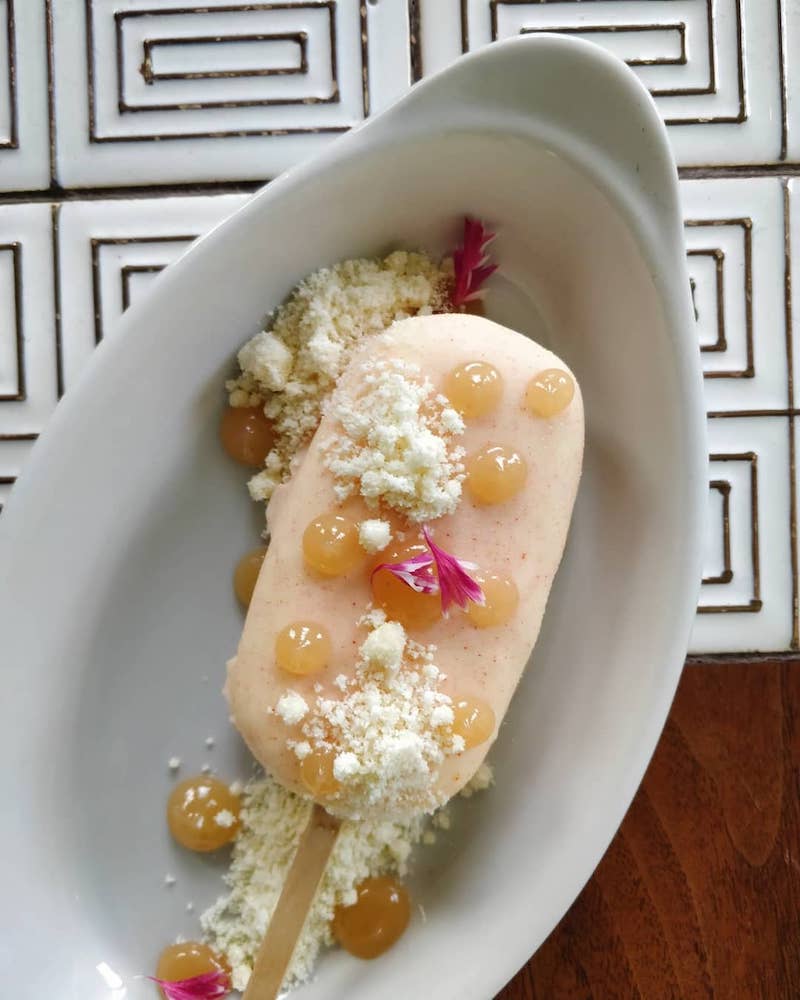 The Grey (+ The Grey Market)
The Grey is housed in a former Greyhound Bus Station on Martin Luther King Jr Blvd, where James Beard Award-winning Chef Mashama Bailey serves port city Southern cuisine in cool, retro-chic digs. Be sure to make a reservation in advance if you want to sit at a table. Otherwise, the bar in the main dining room is friendly and always welcoming.
This is not the place to go if you don't want small portions. It is fine dining, after all, so the aesthetic and size of various plates are true to tradition. To wit, the food is all super delicious and inventive.
See, for example, their recent Foie & Grits made with mostarda, red wine gravy, onions, and Maldon salt. They also serve excellent raw seafood dishes like Amberjack Crudo with pickled chile, smoked paprika oil, cilantro. (The "Dayboat Catch" preparations rotate with the day, but the crudo here is always impressive.)
The salads, meanwhile, are excellent, if tiny. A recent Collard Salad was embellished with croutons, benne seed dressing, and fresno chiles. The excellent Crab Salad, meanwhile, is adorned with fennel aioli, fennel, and Meyer lemon confit.
Even the local Shrimp Salad– green papaya, lime, chile– elevates simple flavor notes to works of culinary art.
Overall, the menu here is mostly Southern, aesthetically-pleasing, and globally-influenced. Chefs at The Grey know their way around Braised Rabbit, for example– and they also serve a mean pâté.
Ultimately, every dish at The Grey seemingly compliments the restaurant's retro-futuristic interior. Even the bathrooms are cool. (Inside, it looks like a stylish tiled spaceship!)
Desserts are, of course, equally lovely. Look no further than the pretty pink ice cream bar with noyaux, loquat, and milk crumb (above shown).
For a more casual experience of Chef Bailey's food, grab a bodega-style meal at The Grey Market lunch counter, which is always good for takeout.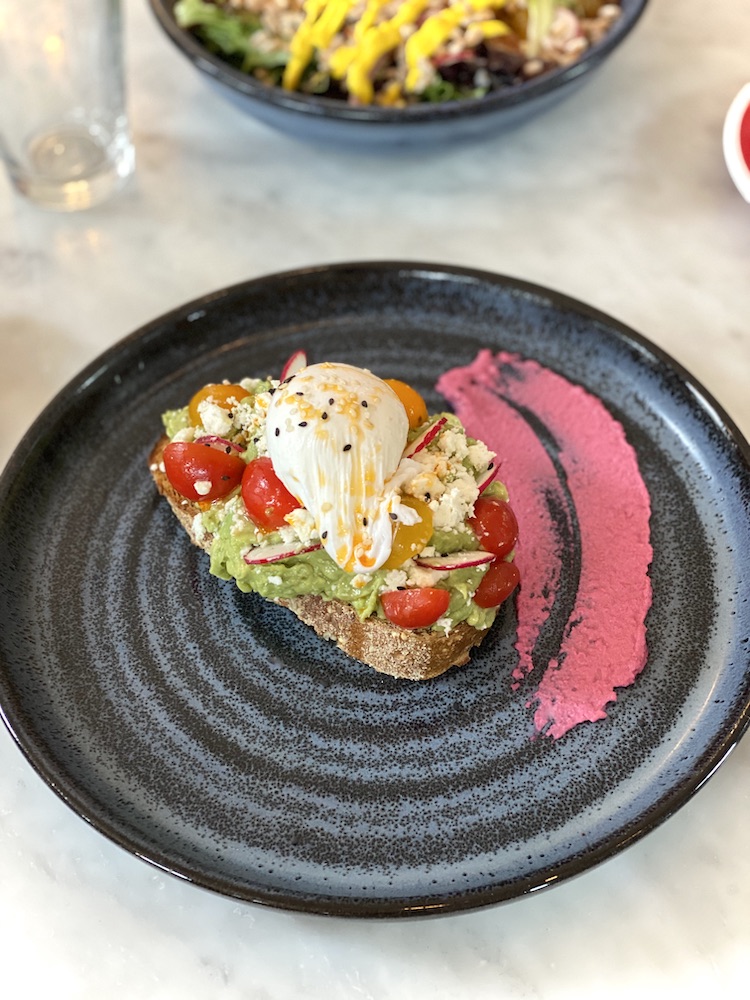 The Collins Quarter
We adore this central Savannah brunch staple, which also does an excellent, low-lit dinner service. The intimate, mid-century modern decor and friendly service at The Collins Quarter make it a popular dining spot among SCAD students, tourists, and locals, alike. The rotating menu is always sharp and to the point, but the food is enviable and satisfying in every season.
Try the delicious avocado toast with soft boiled egg if you're headed there for excellent brunch. For dinner, opt for something heartier, like the always-excellent scallops. The burgers are also great, and surprisingly gourmet.
Aesthetically, we love the checkered tiles, exposed brick, and abundant flowers at this always-packed hot spot.
With its prime location not too far from Chippewa Square (one-time home of the famous Forrest Gump bench,) there's plenty to do and see if you feel like walking around after your meal. Otherwise, bask in the modern, artsy-ambience and linger over a delicious coffee, mocha, or cocktail.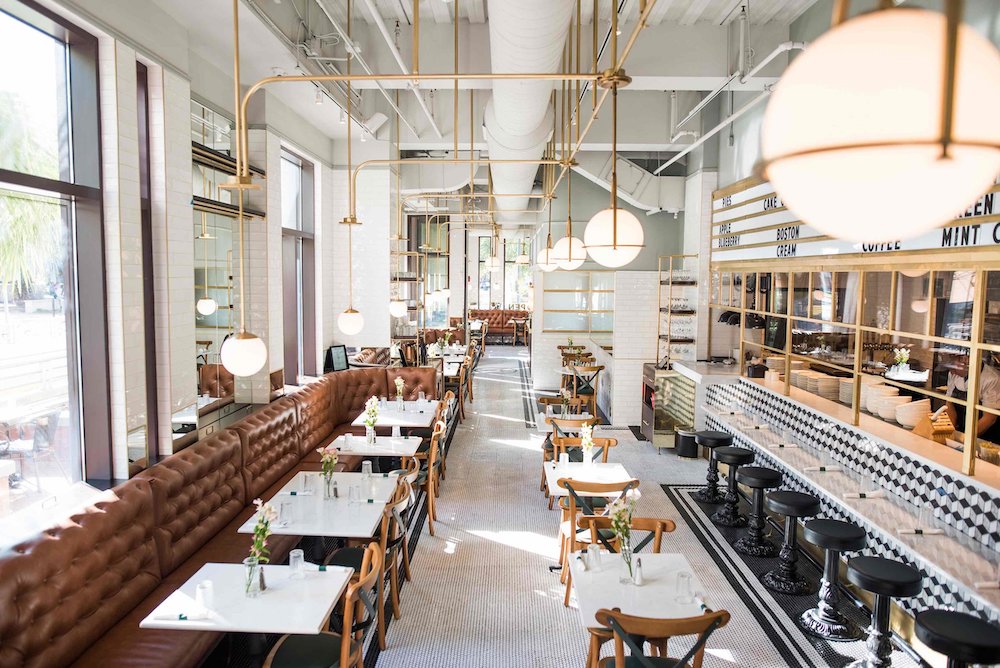 Little Duck Diner
Little Duck Diner is a super unique "vintage chic diner" that offers an intriguing mix of breakfast staples, tacos, upscale diner fare, and even a dedicated gourmet grilled cheese menu.
As we mentioned in our guide to Savannah's best brunch spots, we love the art deco decor and the posh, discreet location right off of Ellis Square. (And, it may go without saying, the brunch.)
Ultimately, the salads and tacos here are great. But above all, the cheeky, foodie-friendly gourmet grilled cheese menu is what keeps me coming back. Try the delightfully-bougie Duck Grilled Cheese (roasted duck, caramelized onions, roasted tomatoes, cheese). Or, opt for something more traditional but elevated, like the Fancy Schmancy (gruyere, cheddar, havarti). It's diner food par excellence.
For trend-conscious foodies I love and strongly recommend the Avocado Grilled Cheese, which features applewood bacon, avocado, sliced tomato, Swiss cheese, and the option to add an egg. (I would.) It's nostalgic, refined, and surprisingly inventive.
Ultimately, the entire grilled cheese menu registers like a cross between a great breakfast sandwich and the best dang grilled cheese your Mom ever made you. If you have room at the end of your meal, order the diner's super rich "Tuxedo Bomb". (Don't ask, just order it.)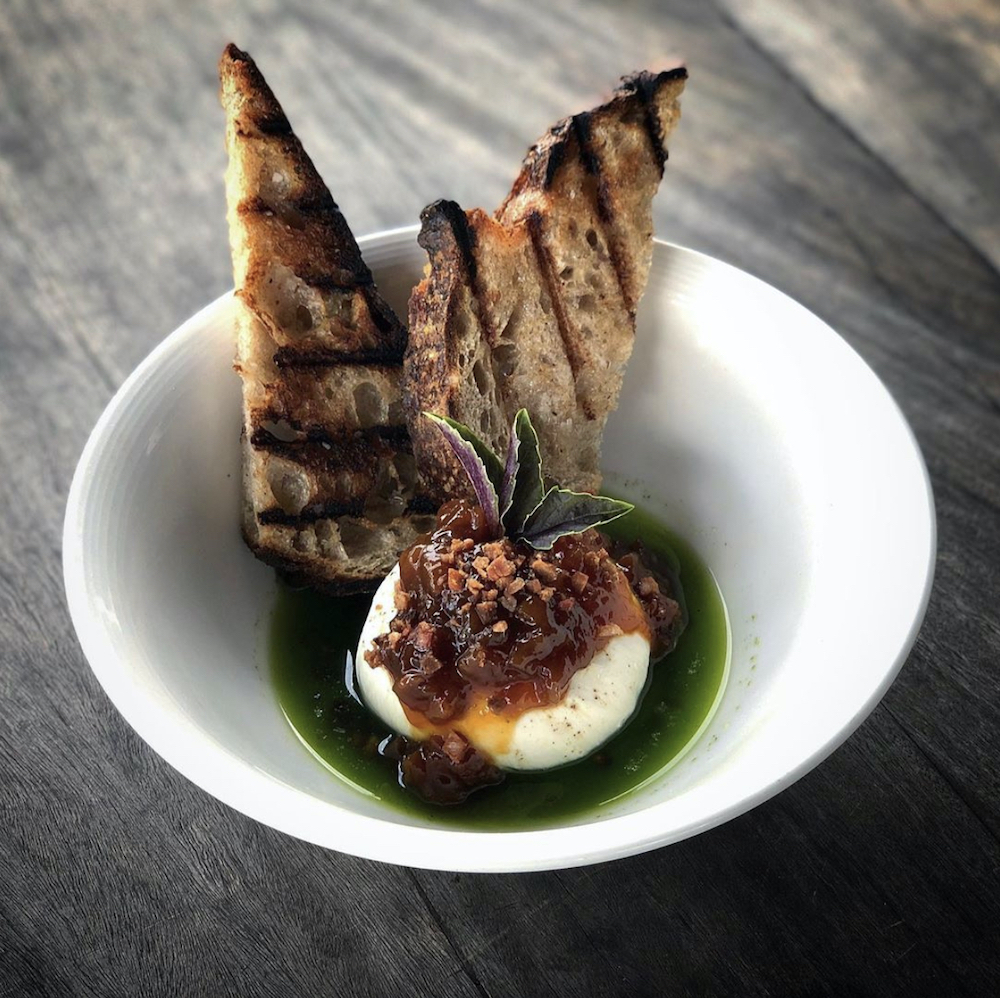 The Wyld
Located in Southside on an estuary in the Moon River District, The Wyld is one of Savannah hidden gems– easily the best and freshest place to eat seafood in Savannah.
As one of Savannah's best seafood restaurants, the Wyld also has plenty of live music and open-air reverie. It's a relaxed spot to enjoy farm-fresh cuisine and even fresher seafood, but don't let the rustic environs fool you. The food here is refined and sophisticated– without the pretense.
Consider their burrata with apricot orange jam, basil oil, house bacon crumbles, and grilled sourdough (above). This exists alongside more casual menu items like twice-cooked pork tacos, lima bean hummus, succotash, and grilled okra. The seafood, of course, is bar none.
When they're serving tartare, be sure to order it. (We're still fawning for their recent Fluke tartare with grapefruit and ginger vinaigrette, avocado, shallots, cucumber, yellow pepper, and coconut crema. Delicious!) Everything pairs well with a margarita, and fortunately, the Wyld's are also excellent.
Overall, if you're looking for fresh seafood and cocktails with a water view, the Wyld Dock Bar is the best Savannah restaurant for you. It's a great local spot.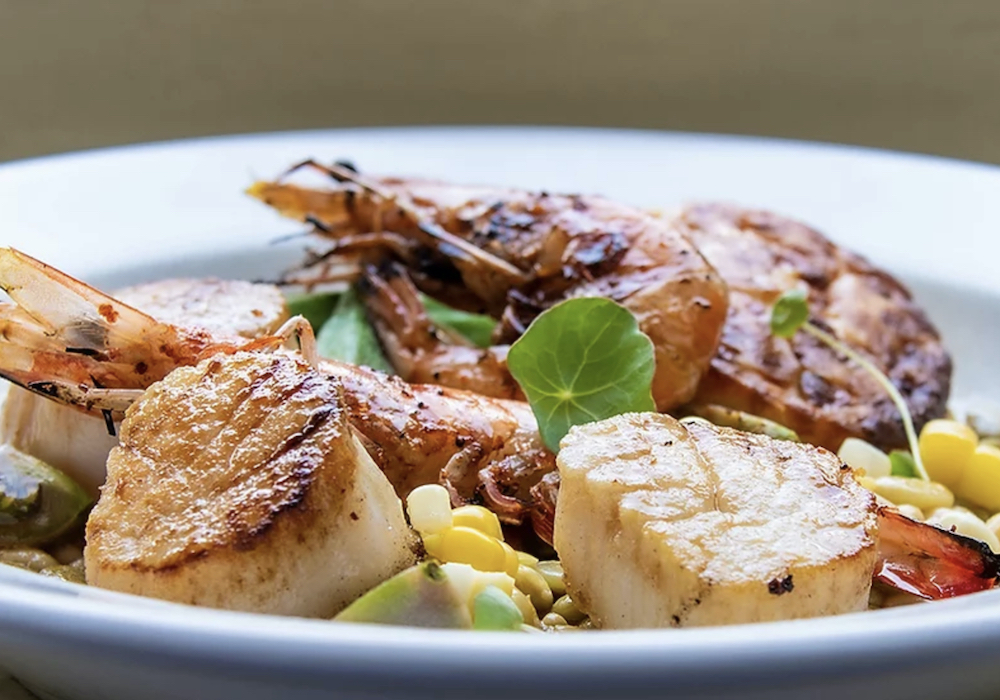 Elizabeth on 37th
With its lovely location inside a mansion on E. 37th Street, Elizabeth on 37th is a place you go for the experience, which is very "Savannah".
Like the Olde Pink House and Husk, the restaurant honors the local tradition of putting fancy restaurants inside old mansions, which is about as charming and exemplary of the place as Savannah gets.
Dine here for locally-sourced seafood and homegrown produce in a lovely turn-of-the-century Greek Revivalist mansion.
The food is satisfying and high quality– for an upscale date in Savannah, this is an ideal place to dine. However, it is further afield from the bustle of downtown. If you want to stay in the touristy area that's more walkable, this might be a little far. (You'd definitely need a car or Uber to get here– but the magic of the space speaks for itself.)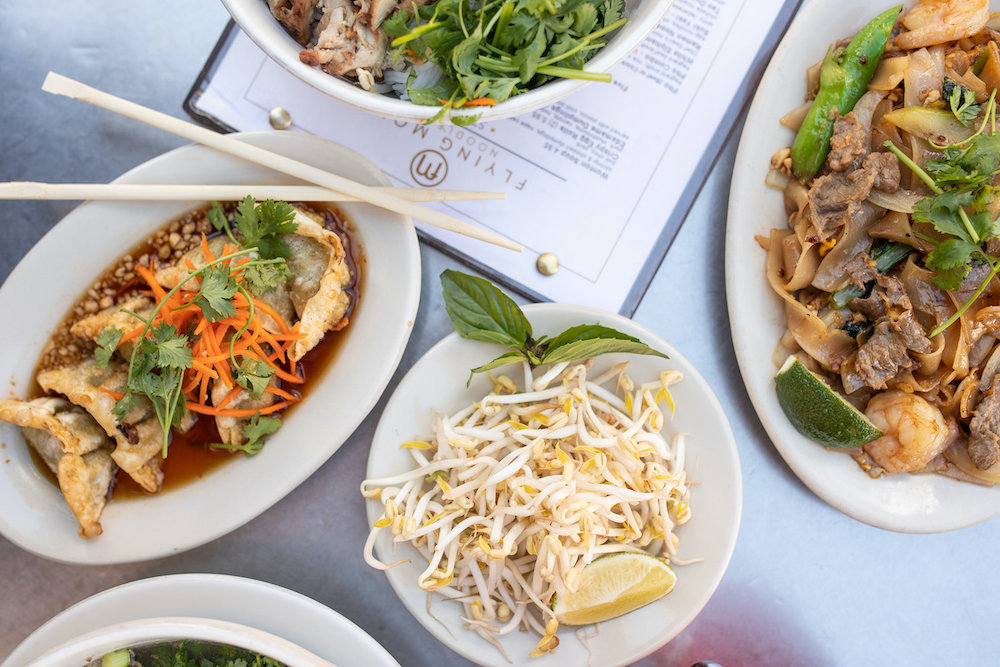 Flying Monk Noodle Bar
This walk up Pho and Noodle bar is very popular with SCAD students. With its convenient location on W. Broughton Street, Flying Monk Noodle Bar is an affordable, delicious place to get everything from Peking Duck to green papaya salad and delicious crispy egg rolls.
Try the braised pork belly for a delicious, succulent treat. Then, try the Vietnamese beef or chicken pho for the quintessential experience. (At just $10 for one huge, steaming bowl, it's likely the cheapest dinner in the city.)
We also like that the restaurant labels the country of origin for each dish, honoring Asia's cosmopolitan food culture with the specificity and regional focus it deserves. And the Five Spice BBQ pork? Forget about it. It is so, so good.
~ Honorable Mention ~
A few other foodie gems worth exploring.
***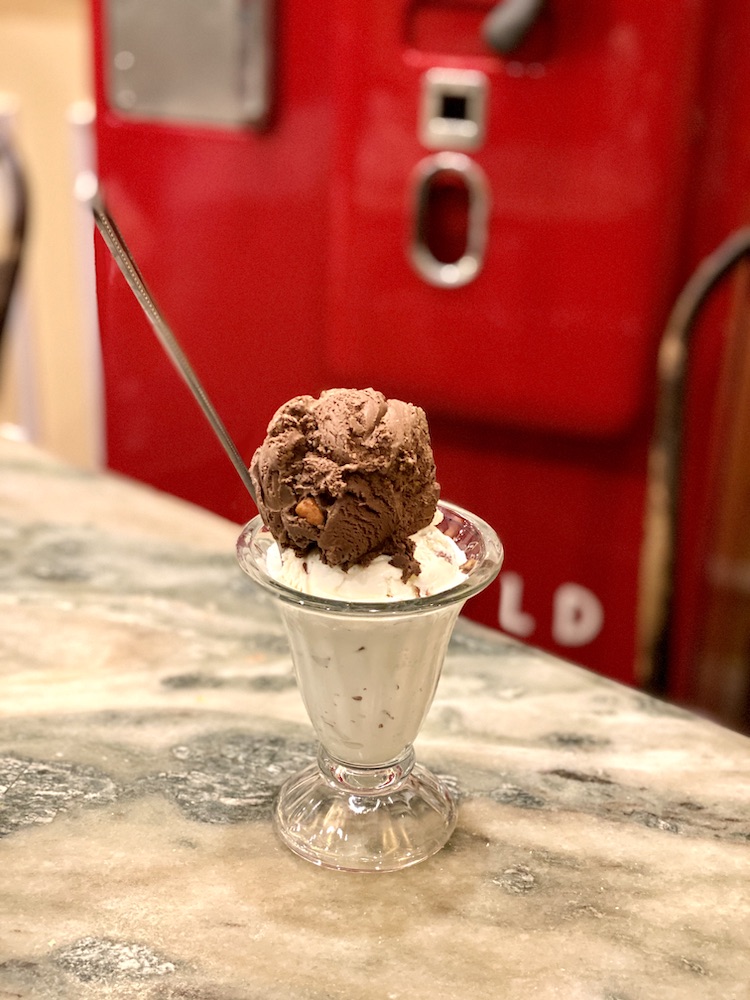 Leopold's Ice Cream
While not technically a restaurant, this is an important stop for any foodie visiting Savannah.
Leopold's Ice Cream is a classic American ice cream parlor where the flavor Tutti Frutti was invented. It's been around since 1919, always has a crazy wait, and we love the iconic 1950's-esque sign outside.
This isn't a restaurant, per se, but no trip to Savannah would be complete without a stop at Leopold's!
The "Savannah Socialite" and the SCAD honey-almond ice cream are the two best, most popular flavors in my opinion– but it's literally all delicious. (The Savannah Socialite consists of milk and dark chocolate ice creams infused with roasted Georgia pecans and bourbon-infused caramel swirls. It's amazing!)
Otherwise, look out for the original, unique ice cream flavors like Lemon Custard. (This lemon ice cream with fresh lemon zest has a gorgeously lush, subtle flavor ideal for summer. Plus, it's made from a recipe that hasn't unchanged since 1919!)
Also, note that any historic flavor– like the Tutti Frutti– will be tagged with the year it was invented.
You'll know you're in the right place when you see the charming retro sign and a line down the sidewalk.
If you can, eat inside rather than taking your ice cream to-go. It's better when you can sit down and enjoy the real, working jukebox.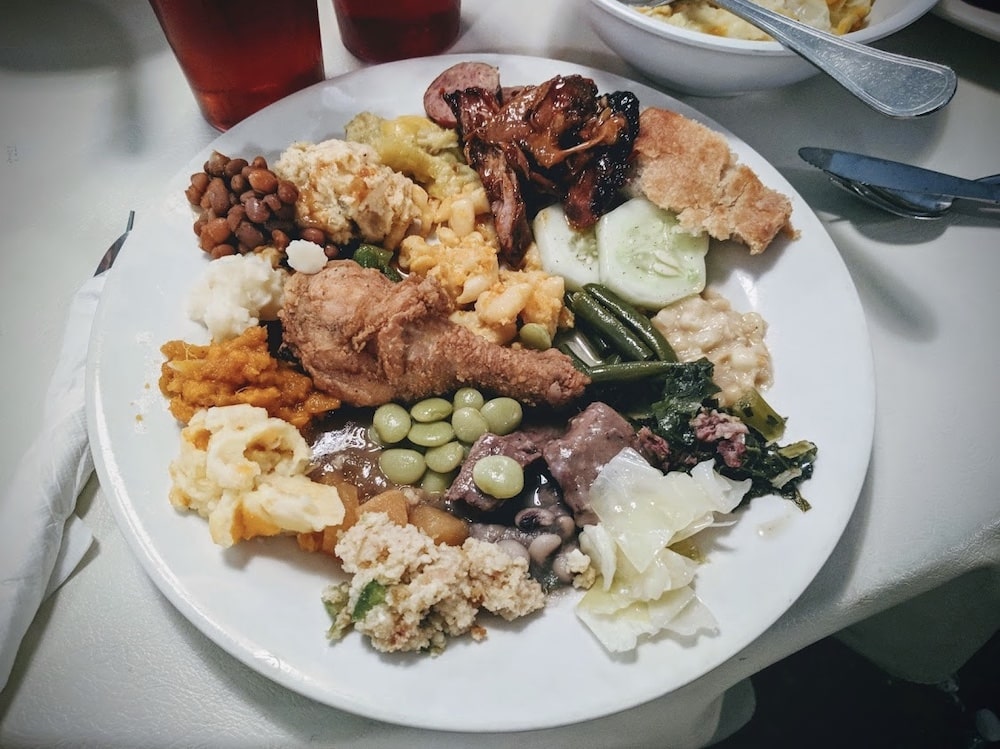 Mrs. Wilkes Dining Room
People line up early outside of Mrs. Wilkes Dining Room, which is famous for fried chicken and Southern comfort food served family-style at communal tables. Since 1943, this family-owned Southern diner has been a classic Savannah staple.
The food isn't particularly refined, but it sure is tasty. Fill your plate with generous portions in a warm environment. Locals love it, and budget-conscious folks love the value.
Jones Street, where the restaurant is located, is also very pretty. (Lots of towering trees, Greek Revival homes, and beautiful 19th-century architecture, etc.) It's a nice place to walk around after a meal.
Eating at Mrs. Wilkes Dining Room, moreover, is all about *the experience*. The restaurant is cash only, $25 per person, all you can eat. Come hungry!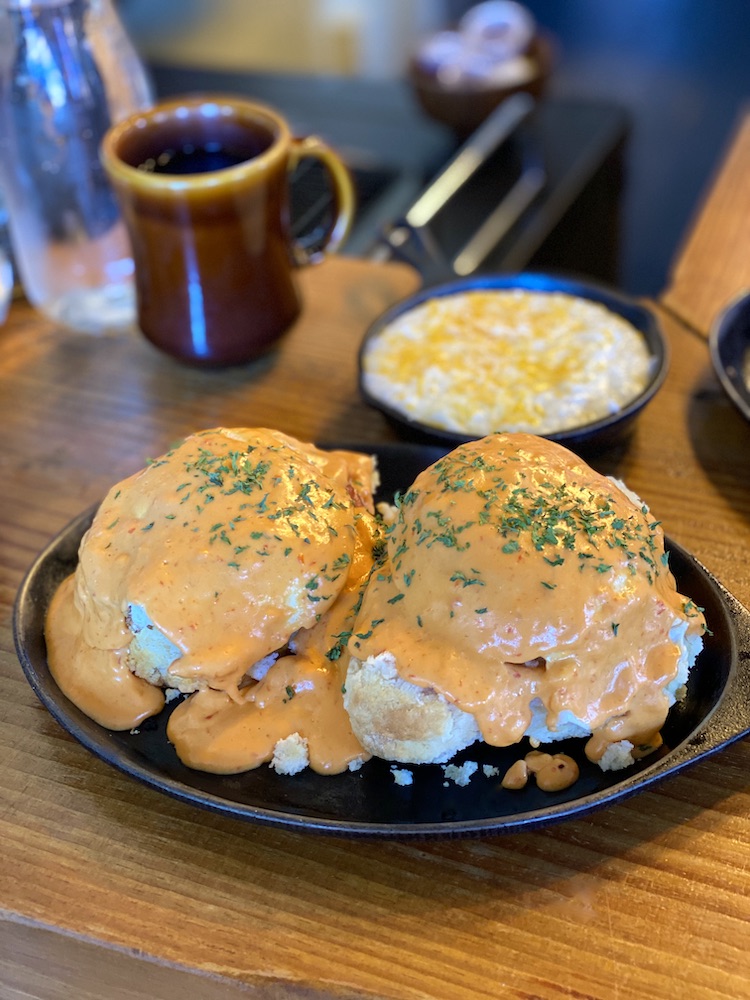 Two Cracked Eggs Cafe
Two Cracked Eggs Cafe is a hearty breakfast joint with ginormous biscuits overlooking the water. Quaint cafe in the middle of East Bay street with excellent crab benedict and clothesline bacon (exactly what it sounds like).
The staff is friendly (if visibly busy) and there are water views from the tables in the back. (If they don't have tables available, ask to sit at the bar for a lively experience.) If you can snag a seat, this is one the best breakfast joints in downtown Savannah.
Inside, the walls are covered with all kinds of sarcastic, pseudo-religious signage that really encapsulates Georgia humor. We also like the antique and clothing shops nearby, which are fun to peruse while you wait for your table.
Otherwise, park yourself on a sunlit bench and enjoy the breeze under the mossy oaks.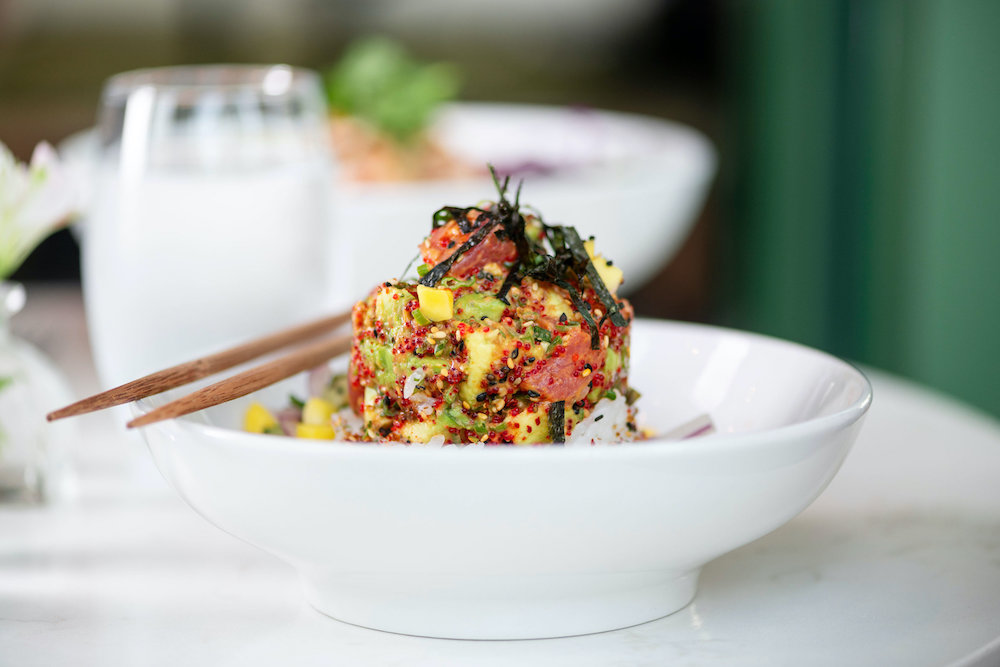 Sushi at Coco & Moss
Coco & Moss is a locally-owned sushi and cocktail bar that also offers warm grain bowls and Asian-inspired salads, like our favorite Missy Miso Chicken. (Roasted chicken and root vegetables with greens, shredded cabbage, toasted almonds, sunflower seeds, and a miso sesame ginger vinaigrette.)
And no, Savannah isn't exactly known for its sushi– but this place is great if that's what you're craving.
We dig the cool art and the minimalist-futuristic design at this local walk-up. Sit at the bar for a quick bite, or settle in with friends on the sidewalk-style seating.
We love their spicy hamachi roll and their Pretty in Pink poke bowl.
The latter features salmon, avocado, cucumber, mango, pickled onion, nori, sesame oil and sriracha over Japanese rice. It's a nice, refreshing sushi dish for a hot day in the summer. What's not to love?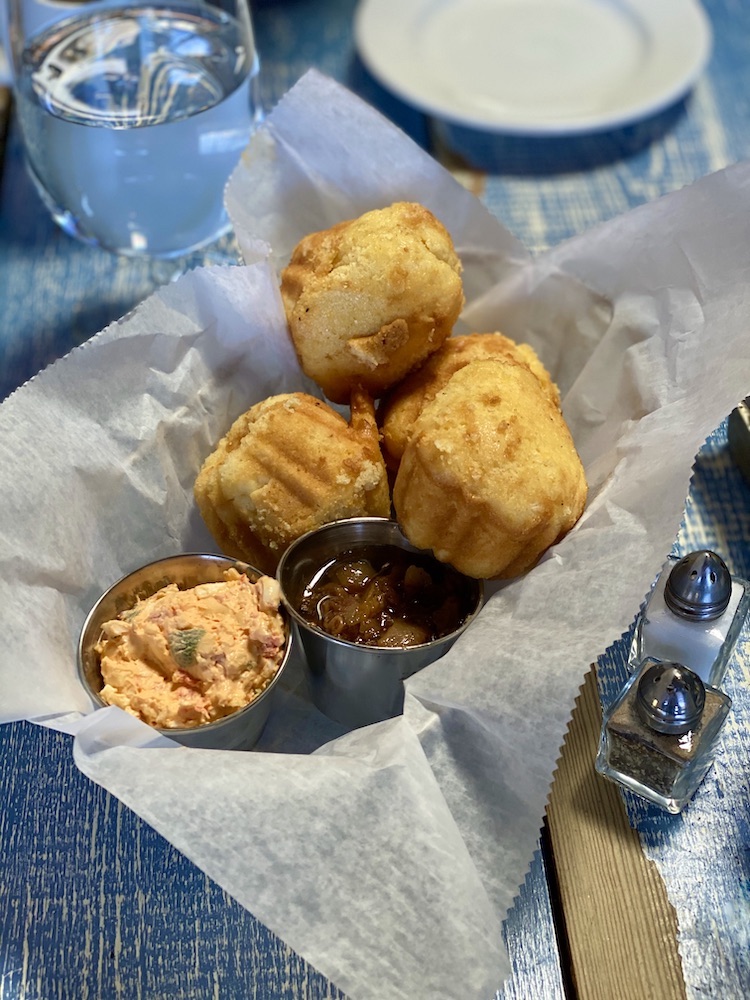 What To Eat in Savannah, Georgia
Look for these locally-grown, locally-perfected food items when you dine in Savannah.
Savannah is a quintessentially Southern city. As a result, it's known primarily for its Southern cuisine and lowcountry seafood like shrimp.
Accordingly, local menus feature lots of crab cakes, fried green tomatoes, shrimp & grits, chicken & waffles, cornbread, pimento cheese, "low country boil", biscuits, bacon, bacon jam-topped burgers, mint juleps, mimosas, BBQ, country-style bacon, and fried chicken.
If you love country cooking, you're in luck! If you don't, give any of these items a try for a truly authentic taste of Savannah. No matter where you go, the food will be made with heart. Enjoy your meal!
***
Related: An Insider's Guide to Savannah, Georgia (22 Delightful Things to Do)
Did you know that Forrest Gump was filmed in Savannah? Check out our "Forrest Gump" Guide to the city. (<—This cheeky travel guide features local attractions and iconic film spots from the movie that made Tom Hanks famous.)
You may also be interested in our guides to the 7 Best Breakfast Spots in Savannah or the 9 Best Restaurants in Tybee Island, Georgia.
Looking for more regional Southern dining? Visit our Travel Well section to discover everything from The Coolest Restaurants in Charleston, South Carolina to the Best Fried Chicken Spots in Asheville, North Carolina.