Is there anything more charming than waking up in Savannah and searching for breakfast or brunch? I think not. Fortunately, Savannah is rife with hundreds of lovely restaurants that all produce amazing, decidedly local first meals– but which ones really capture the flavors of the South in their breakfast offerings? That's a matter of fierce debate.
Delicious breakfast in Savannah isn't necessarily hard to find– but you do need to know where to go and what to order if you want to have a super authentic and tasty local brunch experience. Just because a restaurant is popular doesn't necessarily mean the breakfast menu is worth your time.
Fortunately, this guide lays out where to get delicious, cool, intriguing breakfasts in Savannah with precision.
Below, we spotlight the best places to get breakfast and brunch in the city, as well as what you shouldn't miss. Accordingly, we've made this guide easy-to-scroll with quick notes and bold insider tips so that you can bookmark this page for easy reference on-the-go.
You only have time for so many meals on any trip, right? Use this guide to make them count. Enjoy!
***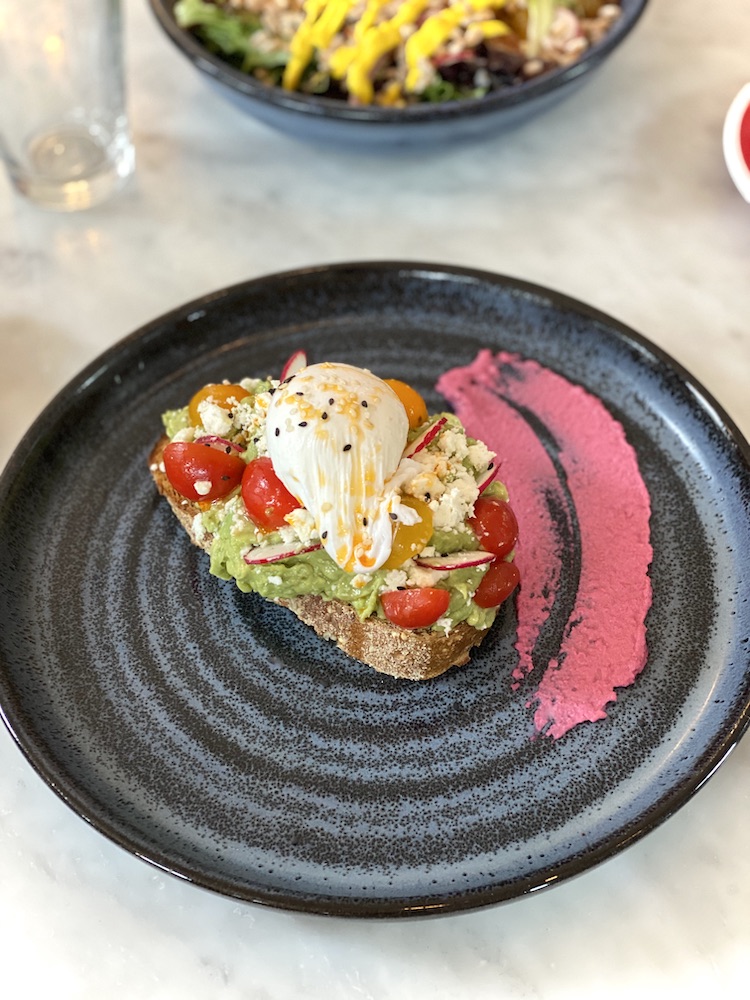 The Collins Quarter (To See and Be Seen)
The Collins Quarter is an Australian-inspired restaurant and coffee house that manages to simultaneously capture everything that is good about food in Savannah, while also nodding at larger national and international food trends. We love their delicious veggie-stuffed Avocado Smash— avocado toast with a soft boiled egg on top, beet hummus, sesame, and the perfect melange of spices. It's divine, and easily the restaurant's most signature item.
Also not to be missed is the speciality spiced lavender mocha. (Otherwise, all of the coffee here is excellent. Given the Australian roots, it has to be.)
They also serve excellent Banana's Foster Brioche French Toast, and sweet-meets-savory options like french toast topped with pulled pork, tomato, poached egg, hollandaise, and bacon.
Also look for intriguing world-meets-South options like GQ Grits "Shashouka" Style, Coconut Chia Pudding, and Short Rib Hash. Be sure to go to their original Downtown outpost on Bull Street, rather than the new pop-up in Forsyth Park. (Unless, of course, that's where you want to eat breakfast.)
Finally, book a late brunch if you feel like drinking and lingering. The cocktails here are great, and it's a popular spot. (Specifically, The Collins Quarter serves a mean Bellini, Mimosa, and signature Bloody Mary.) And with its perfect location near Chippewa Square (where Forrest Gump's iconic bench scenes were filmed), it's a beautiful restaurant for people watching. Besides which, it's also located near some of the best architecture and landscaping in the city.
Overall, the food and coffee here is excellent, and the crowd is always young, hip, and enthusiastic. Make The Collins Quarter one of your first stops in Savannah and you'll be overwhelmed by the charm.
The Collins Quarter is located near one of our favorite Savannah clothing boutiques: Harper. (Ladies: this is a great place to shop if you want to bring home a souvenir that represents quintessential Savannah style. Think: trendy sundresses, beautiful, flow-y skirts, artisan head wraps, and artsy jewelry.)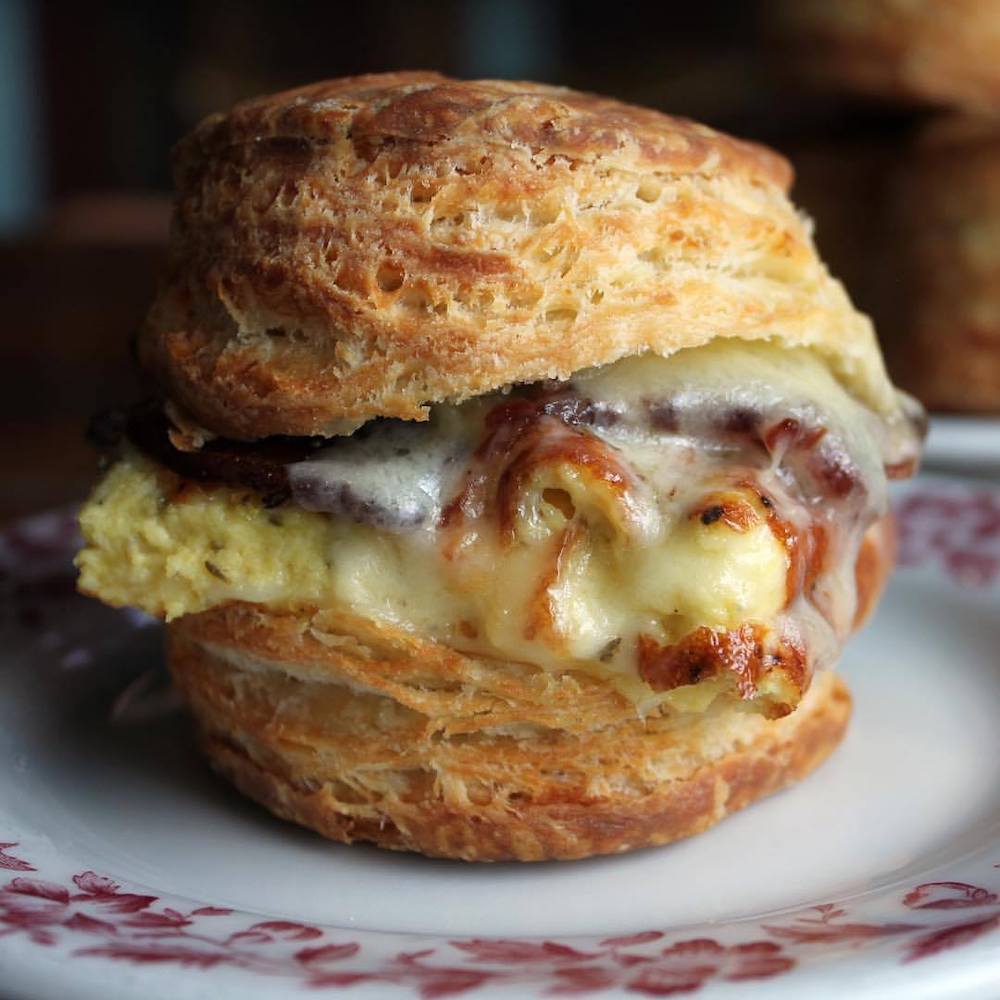 Back in the Day Bakery (Off The Beaten Path)
Back in the Day Bakery is an off-the-beaten-path Savannah brunch spot that specializes in two things: biscuits and pie. Simply put, if you want to try the best biscuits in Savannah, this is where you should go.
Located in the artsy-hipster Starland district, this James Beard Award-nominated bakery and cafe makes "nostalgic Southern fare with timeless appeal." True that. We love the biscuits– and so does Chef Sean Brock, of the award-winning Southern restaurant Husk.
When available, the main thing here is to get a biscuit sandwich. For the quintessential experience, order their iconic BBLT— a biscuit "BLT", filled with bacon, lettuce, and tomato. You can also add pimento cheese, or order it on an "Everything Is Everything" biscuit. (It's a biscuit-lover's answer to an everything bagel, topped with poppy seeds, sesame seeds, garlic, dried onion, and salt.)
Alternatively, order your biscuit plain or with butter, pepper jelly, cream cheese, pimento cheese, eggs, bacon, cheese, or some combination of them all. There are no rules– other than the worshipful dedication to made-from-scratch authentic buttermilk biscuits.
Overall, this industrial, artsy bakery is very accommodating– and it's a great place to get a casual take-out order in Savannah. Pay at the counter and then wait for your order to be called. (There is no table-side service, but there are tables, which adds to Back in the Day's casual cafe vibe.)
Get your breakfast to go, or sit down at a community table and eat beneath the pennant-adorned statement wall. The tall ceilings and windows make the place feel very relaxed, even when it's busy.
Back in the Day Bakery has limited hours. They serve biscuits only "until they run out", so check their website for the most current hours. Be advised that they are located outside of the downtown area, so you will have to drive or Uber to get here. But if you're looking for the best biscuit in Savannah, it's worth the trip.
Order the BBLT. The cardamom coffee milk and turmeric orange juice are also great. And before you leave, be sure to marvel at some of the world-class sweet and savory pastry behind the counter. (If, that is, you didn't already order some to eat on the spot.)
Back in the Day Bakery also makes excellent cupcakes, too. (If you're up for it, try the red velvet. It's old-fashioned in the best way.)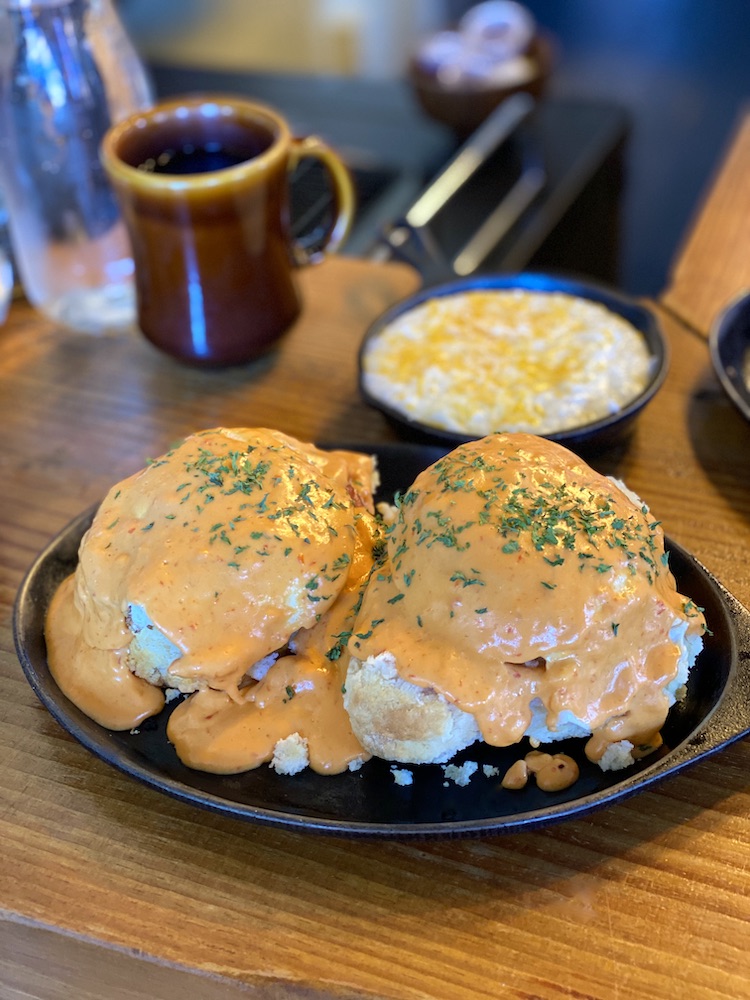 Two Cracked Eggs Cafe (Popular Breakfast In Downtown Savannah)
Two Cracked Eggs Cafe is a popular brunch spot in Downtown Savannah that always draws a crowd. They serve super hearty breakfast items with ginormous buttermilk biscuits; thick, fatty bacon; runny yolks; and lots of sauce. The portions here are huge and the back of the restaurant overlooks the Tugaloo River.
With its quaint location in the middle of East Bay Street, Two Cracked Eggs Cafe is a good spot if you're in a rush or staying downtown. It's walkable from just about anywhere in that area.
We love the excellent Crab Benedict (above) and the seasonal "Clothesline" Bacon. (<— This is exactly what it sounds like. Three pieces of massive, country-style bacon served hanging from clothespins off of a tiny, personal clothesline! It's quite the spectacle.)
Here's a picture of it: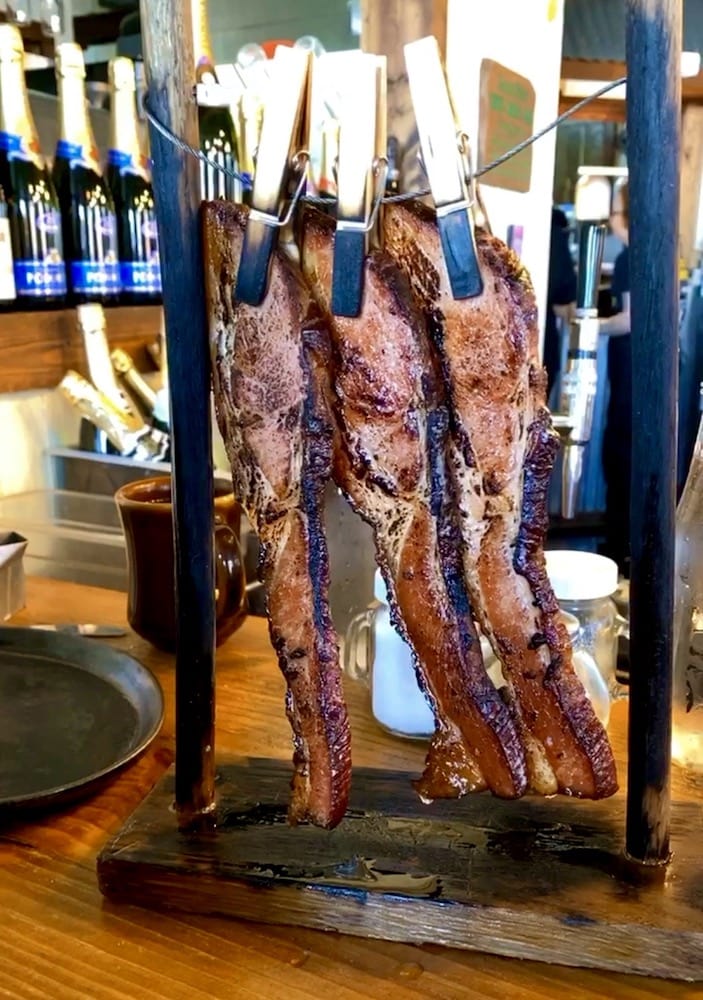 The cafe also has all kinds of sarcastic, pseudo-religious signage that really encapsulates Georgia humor.
We like the antique and clothing shops nearby, too, which are fun to explore while you wait for a table. (Unless you arrive before 9 AM, there will probably be a wait, but it tends to move quickly.)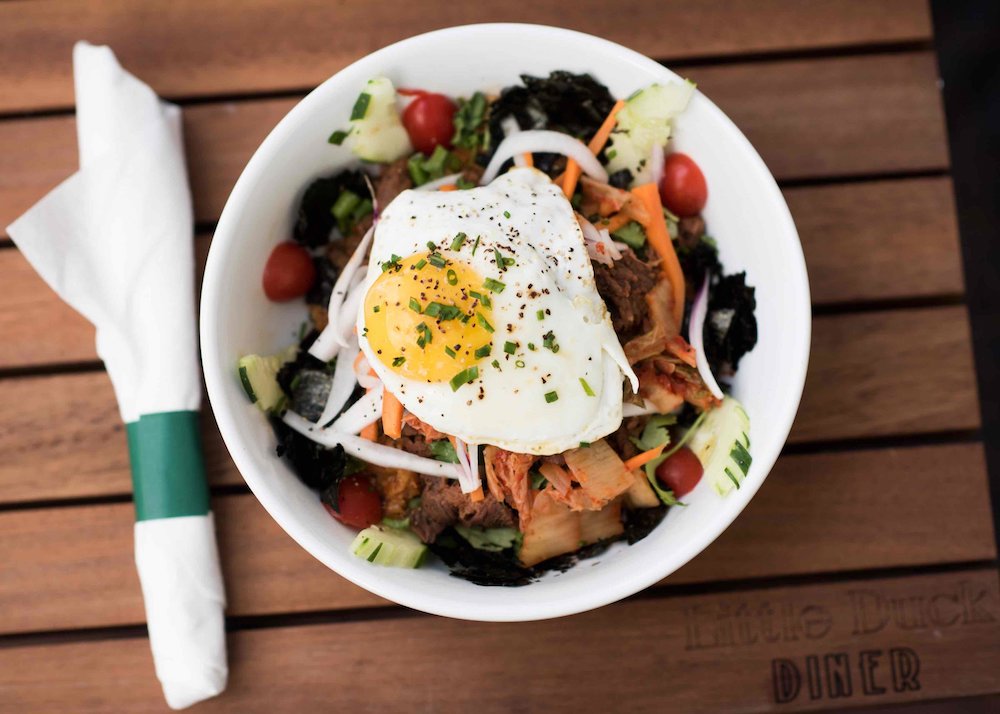 Little Duck Diner (Breakfast with Art Deco Appeal)
Don't let the simplicity of the above photo trick you. Little Duck Diner is a vintage-chic art-deco diner that's great for Breakfast and Lunch in their airy, arty interior. It's an elevated experience both in aesthetic and in taste.
Sit at the counter for a quick bite, or order off their dedicated upscale grilled cheese menu, featuring items like Smoked Salmon Grilled Cheese (Norwegian smoked salmon, tomatoes, pesto, cheese) and Duck Grilled Cheese (duck, caramelized onions, roasted tomatoes, cheese).
We love the gilded gold ceilings, the black-n-white checkered tiles, and the quaint outdoor seating under the southern palms. The Belgian-style waffles with local pecans, bananas, whipped cream, and bacon are a popular Savannah breakfast item, as are the veggie-stuffed egg bowls.
Overall, they've got wonderful egg dishes, solid biscuits, and country-style sausage. (And, honoring the theme, cocktails are served with adorable rubber duckies floating in the glass.)
Best of all, Little Duck Diner uses cage-free eggs. They're also very generous with allowing "healthy" swaps like side salads in place of hash browns. (And they're not just simple mixed greens.)
It's also probably the only brunch spot in Savannah that will allow you to order risotto before 3 PM. Try their Risotto Stacker, featuring pan-seared cheesy risotto, breakfast sausage, sunny-side-up cage-free egg. Delicious!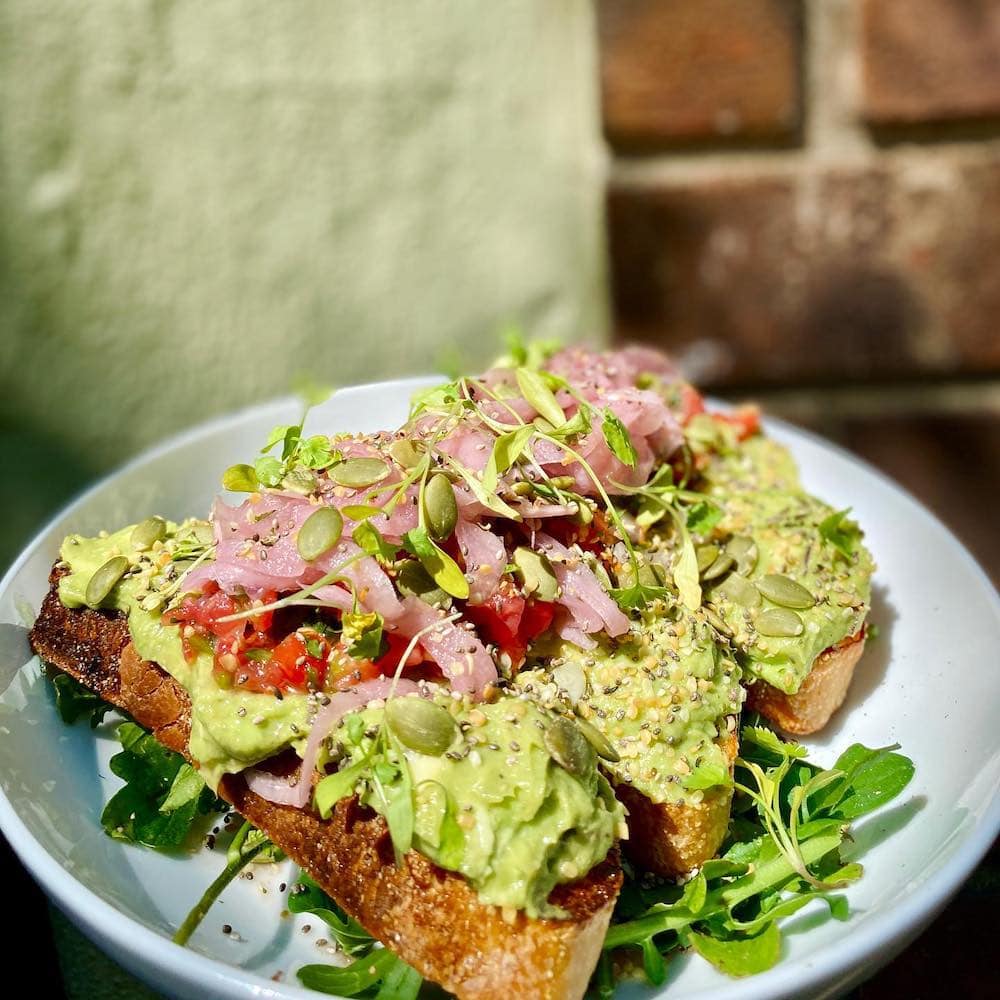 Fox & Fig Plant-Based Cafe (Healthy and Hip)
This plant-based cafe is a hidden gem in the Victorian District. Fox & Fig Cafe serves vegan and local comfort foods with a hip espresso bar serving delicious non-dairy milks. We love the ambiance and artsy plant lover vibe at this small, chic cafe. Don't sleep on it if you have a bias against vegan food! The coffee and vibe here is so great– and so is the locally-made pastry.
While the seasonal breakfast menu is limited, it's also excellent, especially if you are looking for a healthy breakfast in Savannah. (And that's often hard to find, as Savannah is biscuits-n-gravy country, after all.)
Try the epic Tostadas Verde (local Auspicious Baking Co. ciabatta, key lime avocado mash, house-made salsa, pickled red onion, chia, hemp, and pumpkin seeds) or the super beautiful Soaked Chia Porridge (organic coconut cream-soaked black chia seeds, blueberry, agave nectar, toasted hemp seeds, cacao nibs, Billy's Botanicals edible flowers).
When they're around, the Breakfast Burger and Lemon Poppyseed Pancakes are also insane. The Tostadas are what you see in the picture above.
Also! Let us not give the Gunslinger Pancakes the praise they deserve. These oat milk pancakes are served with cold-smoked, organic, cultured cashew butter as well as Vermont maple syrup, and a dusting of local PERC Coffee Brazilian espresso. It's divine.
Savannah doesn't have any other fully vegan brunch offerings, but if they did, we're confident that Fox & Fig would still come out on top. The food and coffee are both very exciting, creative, and surprisingly hearty, and the flavors are thoughtful.
They also take care to work with regional bakers and food suppliers to showcase local ingredients and the bounty of each season. What more could you want?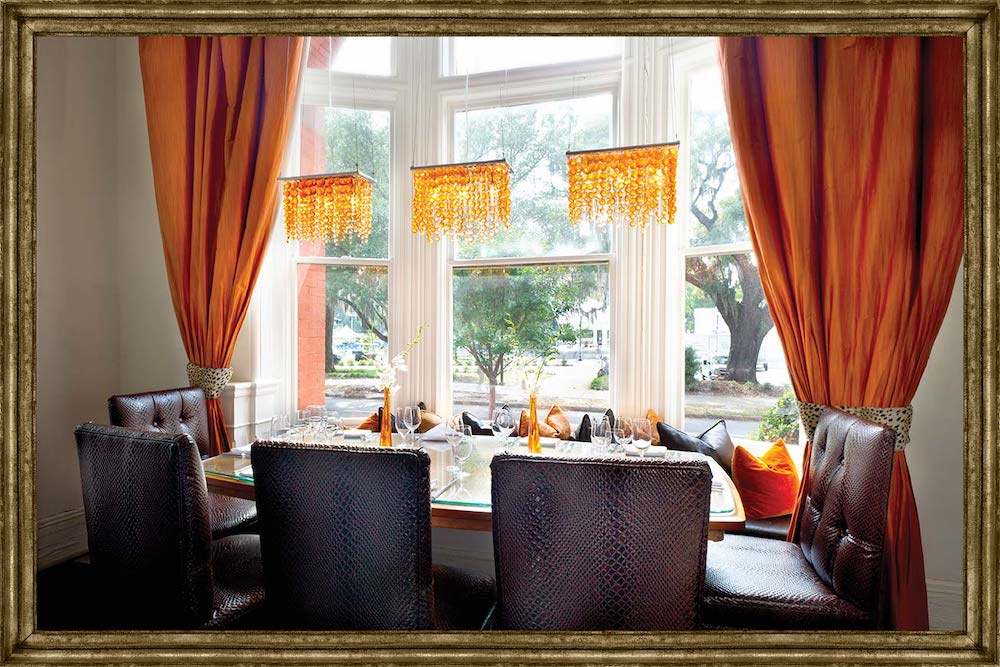 700 Drayton at The Mansion on Forsyth Park (Upscale, Refined)
Looking for an upscale Weekend Brunch in Savannah? 700 Drayton is the spot for you. With its beautiful location and adjacent art gallery inside the Mansion on Forsyth Park, this contemporary American restaurant is anything but ordinary. Though it's well known as a fancy dinner restaurant, the breakfast offerings here are some of the best in Savannah.
And with its beautiful location right on Forsyth, it's the perfect spot to dine before exploring the park. If you go on a Saturday morning, be sure to check out the Savannah Farmers Market. It runs from 9 AM to 1 PM on the South end of Forsyth Park.
We love the seasonal Herb Frittata and local melon salads, which are available for breakfast in the summer. Come winter, their heartier Ancient Grain Bowl (toasted farro and quinoa, caramelized sweet potato, roasted red pepper, avocado, toasted almonds, wild arugula, and sunny side up egg) definitely hits the spot. The menu is limited, but it delivers on quality.
The environment here is super luxe and fancy-feeling, with gorgeous stained wood and period elements defining the opulent gold and red interiors. Be sure to call them to make a reservation for brunch, especially if you have a large group. They'll be expecting you.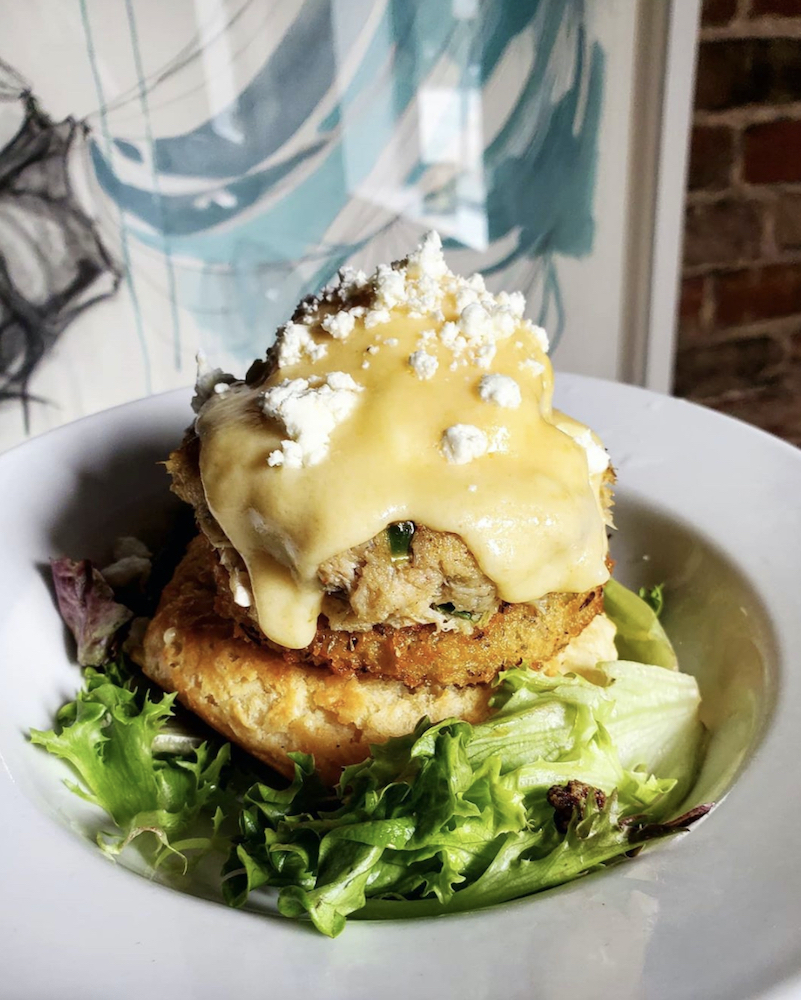 B. Matthew's Eatery (Good Breakfast for Vegetarians)
B. Matthew's is Fodor's favorite spot for country-style brunch in Savannah– and it's also really good for vegetarians. They've got one of the best veggie scrambles in the city, and the signature fried green tomato & pimento cheese on toast can be made without the bacon.
Ultimately, people love the fresh Bloody Marys and the Fried Green Tomato & Crab Cake Benedict (above). The salads, burgers, and cocktails here are also excellent.
Order "Grandma's Burger" and the surprisingly great Kale Salad to split, and you'll be a happy camper. Pair that with a beautiful lavender mimosa and you'll complete the Savannah brunch trifecta.
The Omelette Sandwich, Salmon Avocado Toast, and Southern-style Shrimp n' Grits are also excellent and a great value. But who are we kidding? It's all good. And if you're someone who really wants brunch to be more like lunch, this is one of the best breakfast spots in Savannah for you.
Plus, the service is warm and the location is convenient. There are more beautiful or aesthetically pleasing breakfast spots in Savannah, but this one is consistent. It's also just a quick walk to get here if you're staying near Bay Street downtown. But most importantly, they'll get you the coffee you need, quickly.
***
Related: The 9 Coolest, Quaintest Coffee Shops in Savannah.
Plus: These are the 15 Most Charming Restaurants in Savannah. (For dinner, lunch, and beyond!)
You may also be interested in our Insider's Guide to Savannah (22 Delightful Things to Do in The City)
Willing to travel for breakfast? Discover the 9 Best Places To Eat on Tybee Island— a local beach community 30 minutes outside of Savannah where you can dodge the crowds and soak in the salt air.