In my opinion, there are only three ingredients that you need to make a really good taco: super flavorful meat, citrus, and avocado.
This easy steak taco recipe highlights these flavors along with sweet butternut squash and buttery shallots– and notably grass-fed steak from Arrowhead Beef. (Their beef is pasture-raised, grass-fed, and grass-finished, and ships anywhere in the country. Read more about why this is important in our "Notes" section, below.)
Butternut squash– the ultimate cold storage vegetable– and shallots make an excellent compliment to steak, which gets an earthy crust when you cook it in a cast iron skillet.
Sirloin is a heartier cut of meat that many people start grilling once the weather starts to warm up or cool down. But cooking it in a cast iron skillet keeps it moist and retains all the flavorful juices.
This easy, umami-filled butternut squash and shallot steak taco recipe features medium-rare sirloin steak, which is the healthiest preparation of steak in terms of iron absorption, digestibility, and flavor.
(To learn more about why medium-rare steak is better for you, go here. We love Arrowhead Beef's tender grass-fed steak, which is a perfect complement to the fluffy squash and buttery shallots in these tacos.)
The below steak taco recipe is quick to prepare and beautiful to look at. Serve these tacos on a cookie tray with a few generous lime wedges, which brighten the whole dish and make the recipe seem more sophisticated than it is. (The pictures in this article don't lie!👇)
Also: iron deficiency is on the rise among women in the Western hemisphere, and steak is pretty much the best way to get it. (But that's an article for another time.)
We strongly suggest buying grass-fed beef whenever possible for maximum health benefits. The added cost is worth the investment in your health, the environment, and the supply chain.
Either way, once you make these steak tacos, you'll never go back to any other steak recipe. They're the best.
***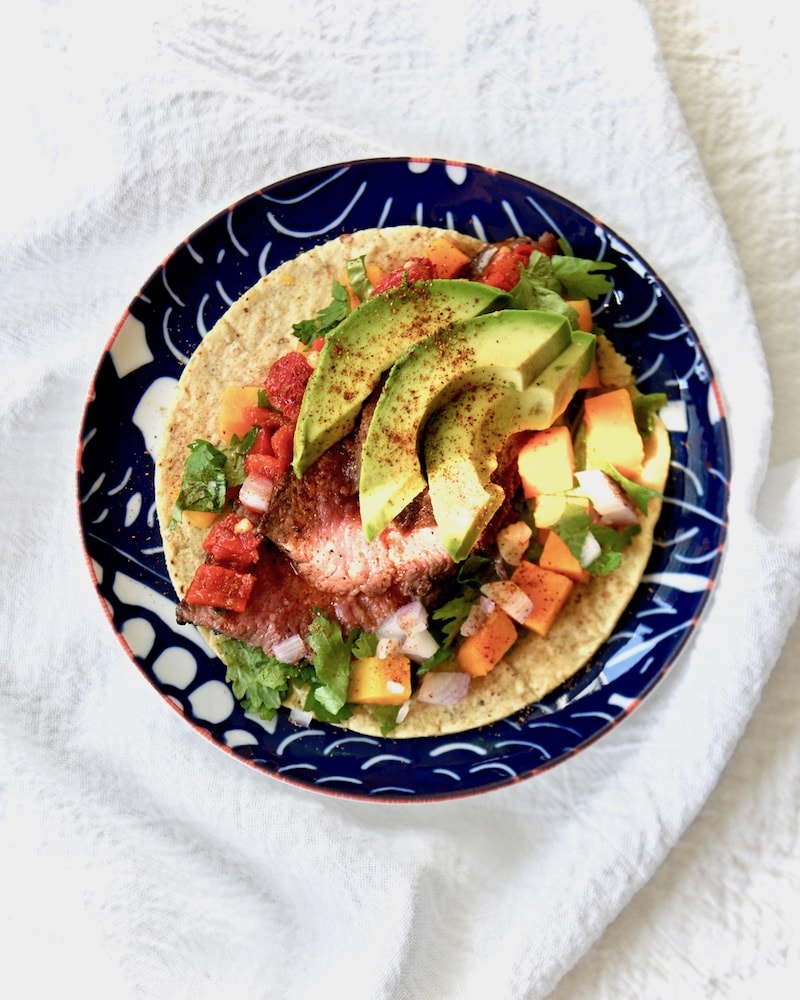 These delicious steak tacos are so easy, colorful, nutritious, and they present beautifully. They make a great early summer/early Fall meal for when the weather is crisp and you want to eat something fresh and seasonal.
The secret here rests in the delicious caramelized shallot reduction that flavors the steak. This carries over into the taco, giving the meat a rich, umami flavor with minimal effort.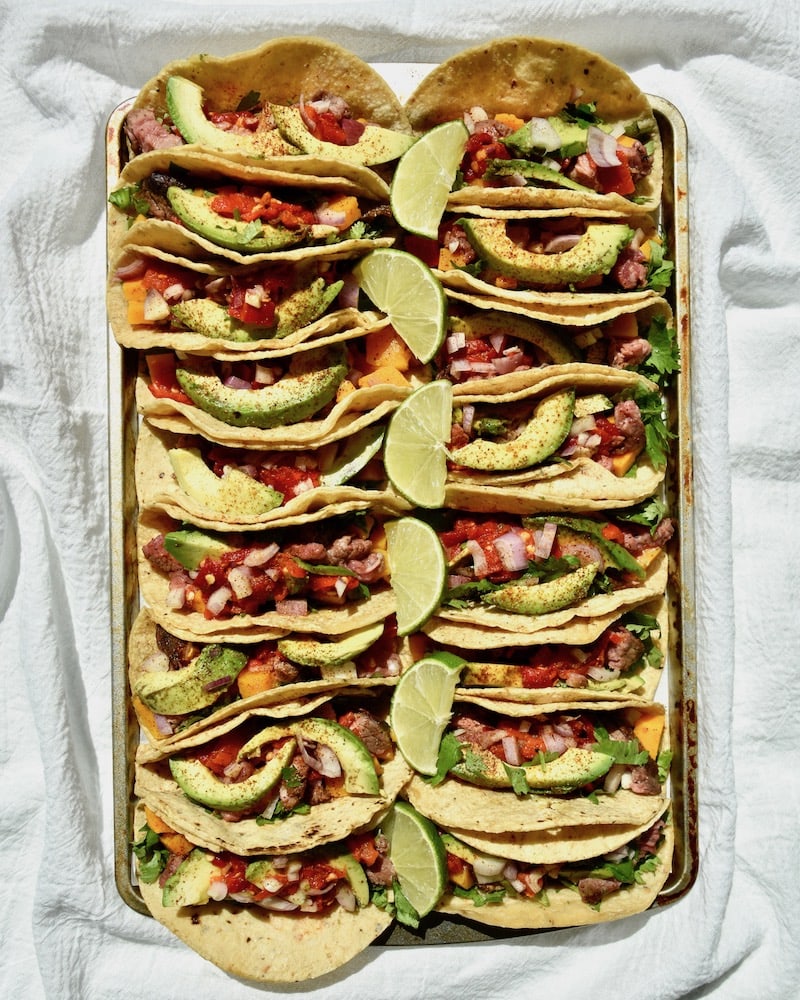 Butternut Squash, Shallot & Steak Tacos
This easy steak taco recipe serves 4-6 people. The meat only takes about ~20 minutes to cook and rest. For tacos in under 30 minutes, cook the squash ahead of time.
1 medium butternut squash, roasted and diced
2 lbs sirloin steak (we used a large grass-fed Tri Tip sirloin from Arrowhead Beef, cut into two big pieces)
1 jar salsa or red chile sauce
4 avocados, sliced
6 shallots (diced), 3 diced shallots reserved
2 cups chopped cilantro (those who don't like cilantro can use parsley)
20 small corn tortillas
paprika to taste
coriander powder to taste
salt/pepper to taste
avocado oil
2 tablespoons butter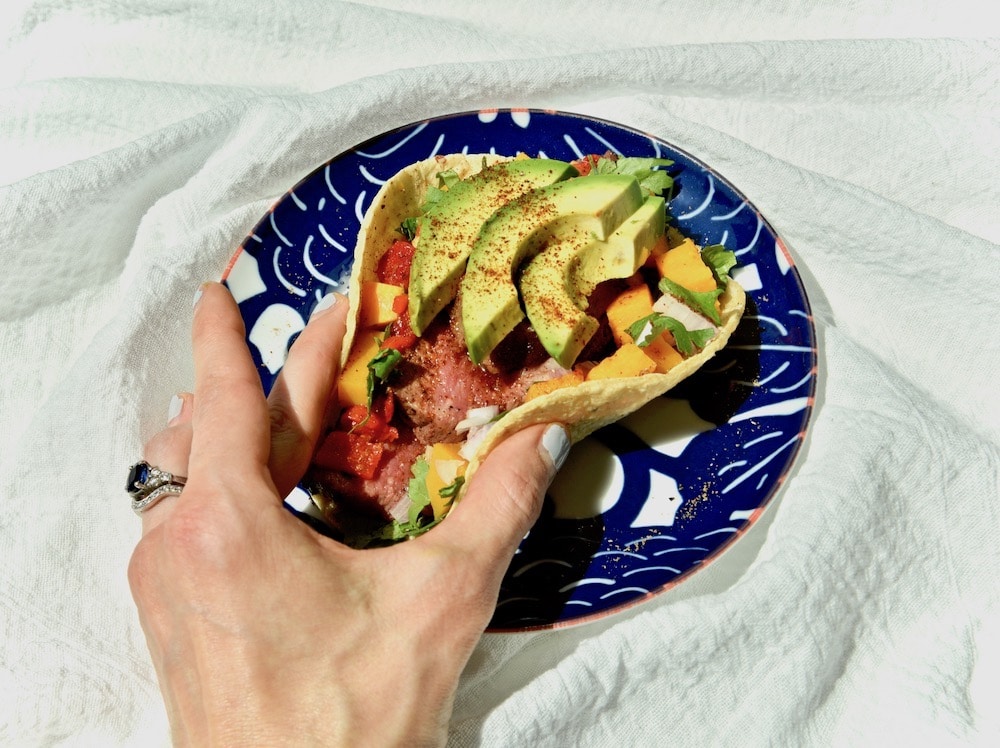 Method
Pre-heat oven to 350 degrees. Bake whole butternut squash for 1 hour on a cookie sheet or roasting pan. Cool, cube, and sprinkle with salt and pepper.
Dry steak with a paper towel then rub with avocado oil and sprinkle with salt and pepper.
Heat a cast iron skillet to medium-high until a drop of water sizzles when it hits the pan.
Drop 3 diced shallots into the pan with a pour of avocado oil. Cook until slightly caramelized, about 2 minutes at low/medium heat. (Set aside remaining shallots for garnishing tacos. Do NOT let these shallots burn!)
Leave cooking shallots in the skillet and push them to the side as you drop in your steak. Cook steak on hot skillet for 5 minutes. Flip over, then cook until medium-rare, about 5-6 minutes more. (This is an image of "medium-rare streak" for reference. If you're using a meat thermometer to test for medium-rare, the center temperature should reach 125 degrees at the thickest part of the steak.) For thicker steaks, add 2-3 minutes to the cook time on each side. When the steak is finished cooking, it should have a nice "crust" but it should still be pink and juicy in the middle.
Remove steak from the pan and let the meat rest for 10 minutes. Melt 2 Tablespoons of real butter on top of the steak as it rests, and pour caramelized shallots from the pan over the top of the steak, to let the flavors settle.
After 10 minutes, thinly slice the steak. Then, place a few pieces of meat in a warm tortilla and layer with toppings– squash, shallots, salsa, avocado, cilantro, a squeeze of lime, paprika, coriander, salt and pepper. Enjoy!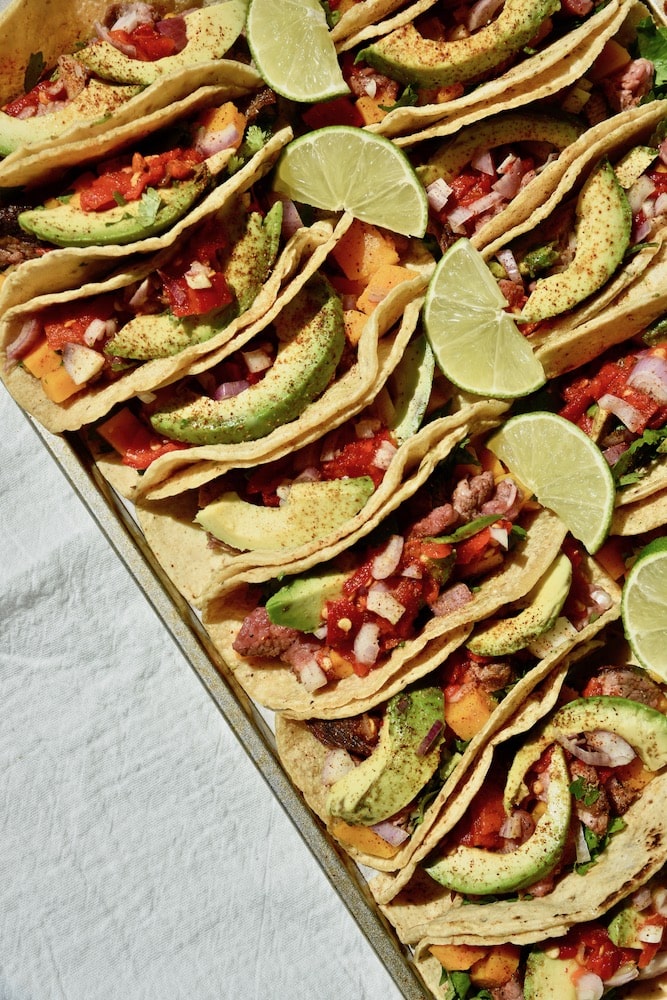 Notes on This Steak Taco Recipe
These steak tacos make for a super easy and FAST dinner if you cook and cube the butternut squash ahead of time. You can also purchase pre-cubed butternut squash and roast them until fork tender, if you don't want to deal with cutting it. Then, you'll just need to spend ~15 minutes cooking and slicing the steak for tacos (just put out all the ingredients and let diners built their own bite). Great for kids and dinner parties!
Also, don't let those shallots burn! When you are caramelizing the diced shallots, be sure to use low heat and only cook them halfway before you up the heat to medium and add the steak. If they are too done when you add the steak, they might burn before the steak is finished cooking. This will leave the meat with a slightly carbon-y taste, which you obviously don't want.
Finally, if you don't like corn tortillas, use flour ones. This steak taco recipe will no longer be #glutenfree, but if that doesn't matter to you then go for it.
Notes on Iron Deficiency
Most steak tacos recipes will naturally be high in iron. But, the naturally occurring vitamin C in lime juice, salsa, and cilantro will help your body better absorb the iron in this steak. Conversely, because calcium blocks the absorption of iron, we've omitted cheese and sour cream from this recipe– but you won't miss it. The caramelized shallots in these steak tacos are a delicious flavor bomb!
Why Using Grass-Fed Beef Is So Important
Very often, meat vendors can claim that beef is "grass-fed" if the cows ate grass at some point in their lives, and because the guidelines are this ambiguous, not all grass-fed beef is created equal. You really have to trust your farmer.
Grass-fed beef has a higher concentration of a naturally occurring beneficial fat called conjugated linoleic acid (or CLA), which has been tied to improved immunity. (It's also a natural anti-inflammatory.)
Grass-fed beef is also higher in a host of vitamins, omega-3's, and trace minerals like iron. These nutrients and healthy fats don't occur (or occur in significantly lower quantities) in regular beef, which is usually produced from cows who ate grains (which are NOT a natural part of their diet).
Consequently, grain-fed cows require treatment with antibiotics and other chemical medications to keep their digestion going, and these toxins end up in the meat.
Also, grass-fed beef is better for the environment, because grazing helps restore ecosystem balance. If you're going to eat red meat, organic and grass-fed is the way to go.
***
Related: Looking for more high-iron recipes? Try these Easy Wagyu Beef Meatballs with Sweet & Tangy Dipping Sauce or this Homemade Chicken Liver Pate. Both are so, so good!
Looking for some other simple meal ideas? Make this Healing Hazelnut Beet Salad with blood orange and creamy labneh or Easy Grilled Shishito Peppers. For dessert, try this Gluten-Free Olive Oil Cake or Baked Pears with Walnuts and Honey.