If you've never cooked shishito peppers before, this easy grilled shishito peppers recipe is a good place to start. You've come to the right place!
Shishito peppers are a tangy, citrus-y, and sometimes spicy bell pepper that comes from Japan, where they are known as a "longevity food." Rich in Vitamin C, antioxidants, and prebiotic fiber, this sweet, citrus-y pepper is just spicy enough to pack serious flavor but not spicy enough to scare off people who don't like spicy things. According to the PepperScale, the average shishito pepper is 13 to 160 times milder than a jalepeno pepper. So basically: it's pretty mild.
It's said that every batch of shishitos is mostly sweet, with a few random hot peppers in the mix. For people who like somewhat spicy foods, the ambiguity of not knowing who will get the spicy pepper is part of the fun.
Red or yellow shishito peppers will not taste any different from green shishito peppers; they're not necessarily hotter, either. Much like apples, color variance in shishitos is natural, even within the same crop. (This shishito peppers recipe works regardless of how mild or hot your particular batch of peppers may be.)
Every once in a while, however, a single shishito pepper might be weirdly spicy– it's just part of the "surprise" that they are known for. I went several years before I ever tasted a spicy shishito pepper, but I know other people who have gotten several spice shishito peppers in the same bowl. It's all a roll of the dice. But the likelihood of getting a hot pepper is truly random. (And it's kind of part of the fun!)
Fortunately, even the spiciest shishito pepper is not nearly as hot as a jalapeño, so it won't burn your mouth. Most people can handle it– and many people enjoy the kick. Our easy grilled shishito peppers recipe follows, below.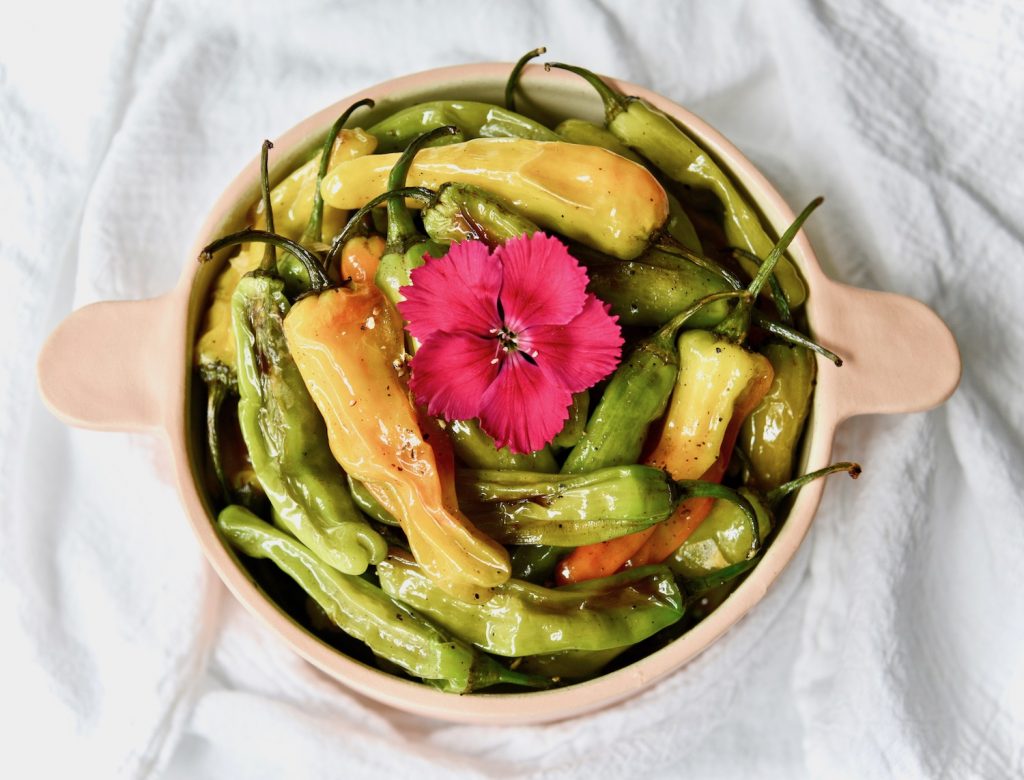 In the West, grilled shishito peppers have become a popular appetizer at trendy restaurants and dinner parties because they are so easy to cook. This is why many people have started to notice them at grocery stores like Trader Joe's and Whole Foods.
In the summer, you might have also started to see shishito peppers at your local farm stand. (Shishito peppers are relatively easy to grow in most summer climates.) Accordingly, this easy grilled shishito peppers recipe is an ideal summer appetizer. It's fresh and vibrant– and the best way to cook shishitos is to grill them when they're fresh.
Our recipe below uses salt, pepper, avocado oil, lime, and shishito peppers– that's it. Simple is best, and don't let anyone tell you different.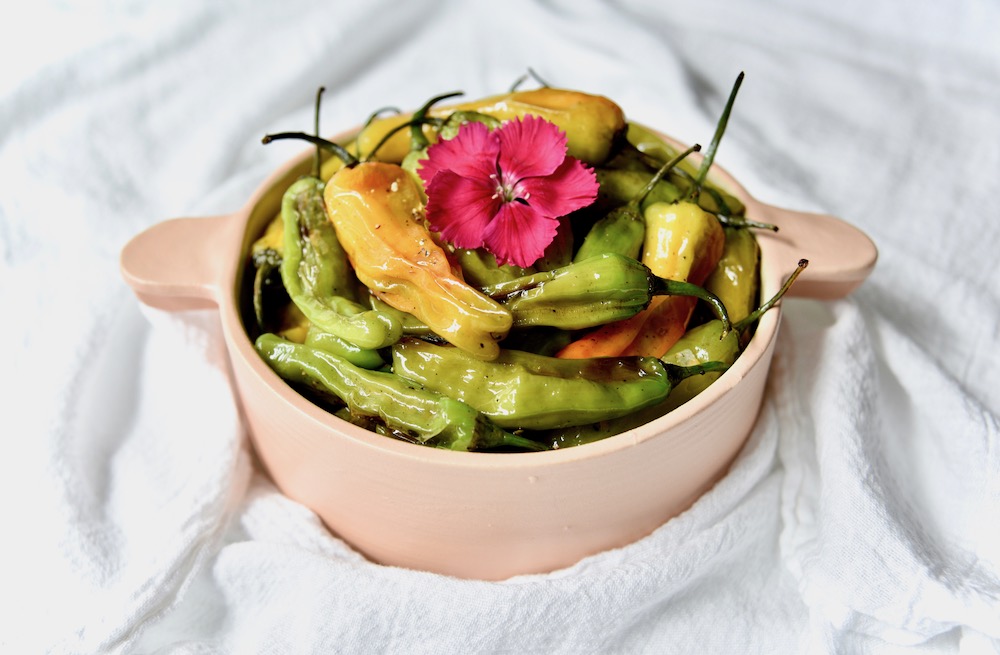 Easy Grilled Shishito Peppers Recipe
Tangy, salty, and sometimes spicy– everyone loves grilled shishito peppers. Make this restaurant-quality dish at home in 4 easy steps.
16 oz. shishito peppers (about 1 bag if pre-packaged)
avocado oil or other high-heat oil
flake salt
pepper
lime squeeze (optional)
Method
Heat a cast iron skillet to medium-high heat and then add avocado oil to grease it up. (Olive oil should not be used with high temperatures because it can oxidize and burn.)
Add peppers stir, flipping over every 2-3 minutes. Don't be afraid if the peppers pop– they often "burst" when they blister, which can make a startling noise. If the oil starts splattering and smoking off the pan, lower the heat a little.
Cook until peppers have a nice char, like a toasted marshmallow– it should be golden brown or slightly darker than that. Once you remove the peppers from heat, they will "deflate" a bit and look withered. This means you have cooked them correctly.
Sprinkle shishito peppers generously with flake salt. (We used Cyprus Salt with Saffron for extra flavor, but any flake salt is fine.) Shishitos always require more salt than you think they need. Add pepper and lime squeeze to taste. Serve warm.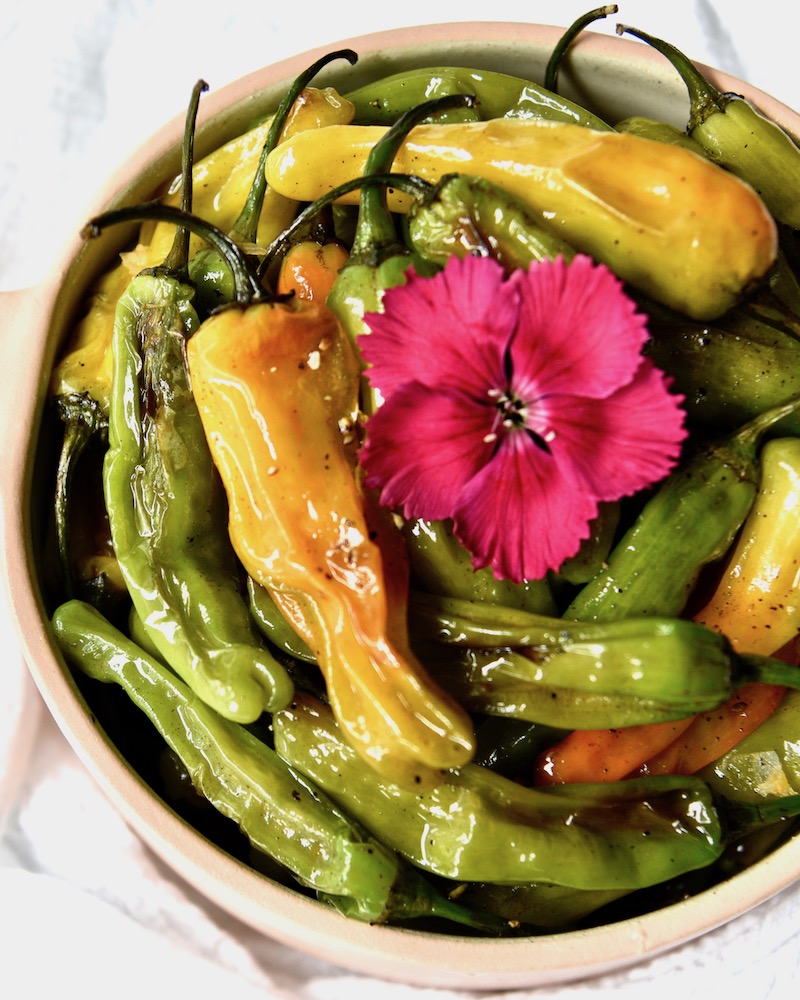 Notes
You can use any frying pan for this shishito peppers recipe, but a cast iron skillet works best.
Yes, you can eat the seeds inside shishito peppers, but don't eat the stems. Use the stems to pick up the peppers and eat them like maraschino cherries.
Grilled shishito peppers will last for about 3 days in the fridge. You can also puree them and use them as a base for chile sauce, which freezes well.
***
This shishito peppers recipe is part of a series of recipes for aging gracefully. Discover more longevity food recipes– like Vegan Pine Pollen Pesto, Persian Pesto Frittata, or Easy Baked Pears with Honey— by visiting our Mood Recipes section.