This easy Acorn Squash Pie recipe is a delicious pumpkin pie alternative that's perfect for Thanksgiving dinner. It's also a great recipe for anytime you have extra squash lying around, and you're tired of making savory dishes. It's so good!
Beginning with our super-flaky homemade pie crust, we add just the right amount of seasonal spices to create a smooth, creamy, complex acorn squash pie puree. When baked together, the result is a rich, decadent acorn squash pie with perfectly golden crust and made-from-scratch filling that will have your relatives asking for the recipe. (Luckily, we've provided that below.)
Also, you can also use a pre-made pie crust if you want to make the process even easier– but there really is nothing like homemade pie crust. Once you make this acorn squash pie from scratch, you'll never go back. (I promise.)
Acorn squash is a rich source of Vitamin A, manganese, potassium, magnesium, iron– and most importantly, B vitamins. B vitamins play a critical role in bolstering cognitive function and regulating happiness– there are even some peer-reviewed studies that link depression with Vitamin B deficiency.
Fortunately, acorn squash is rich in Thiamine (Vitamin B1), Pyridoxine (Vitamin B6), and Folate (Vitamin B9). There are tons of other delicious dessert recipes out there, but why not choose one that does double duty? (That's the theme of our Mood Recipe column– check it out!)
Our easy Acorn Squash Pie recipe follows, below. Enjoy it. And Happy Thanksgiving!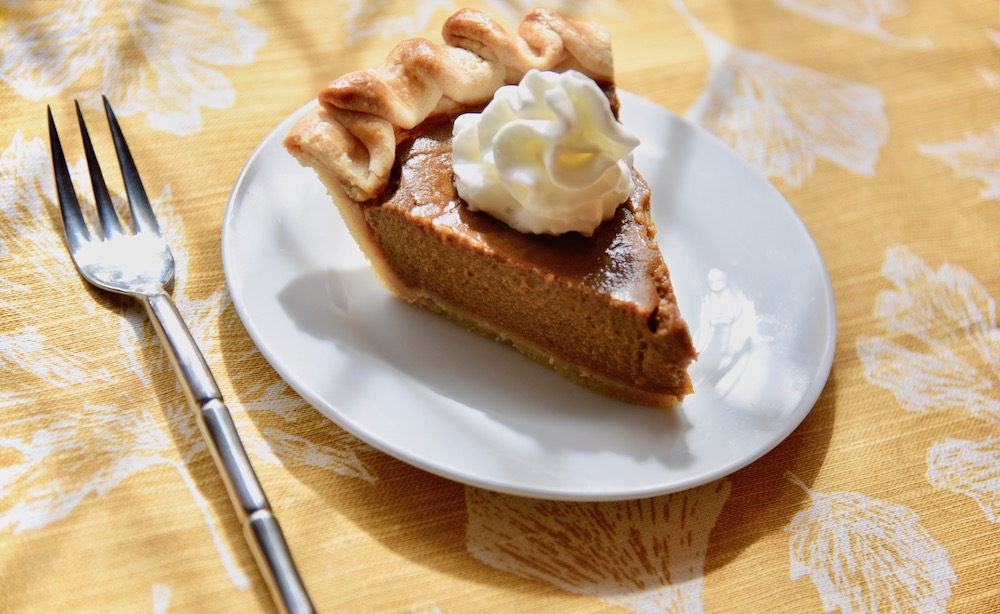 Easy Acorn Squash Pie
Recipe makes one delicious 10-inch pie.
Pie Crust
You can also use pre-made dough, but this yogurt-based pie crust is easy, flaky, and insanely good!
1 1/4 cups all-purpose flour
3/4 teaspoon sugar
1 stick salted butter
1/4 cup full fat greek yogurt or coconut yogurt
1 teaspoon cinnamon
1 egg and 1 teaspoon of water or milk for egg wash
Filling
1 1/2 cups puree from a roasted medium-sized acorn squash
3/4 cups heavy cream (or plant-based half and half)
1 egg + 1 egg yolk
1/3 cup packed dark brown sugar
1/4 cup white sugar
1/4 teaspoon salt
1 teaspoons cinnamon
1/2 teaspoon ground ginger
1/4 teaspoon ground nutmeg
1/8 teaspoon ground cloves
1/8 teaspoon allspice
The zest of 1/2 lemon (optional– we used Meyer lemon and it was amazing!)
Other Things You Will Need
plastic wrap
parchment or wax paper
a food processor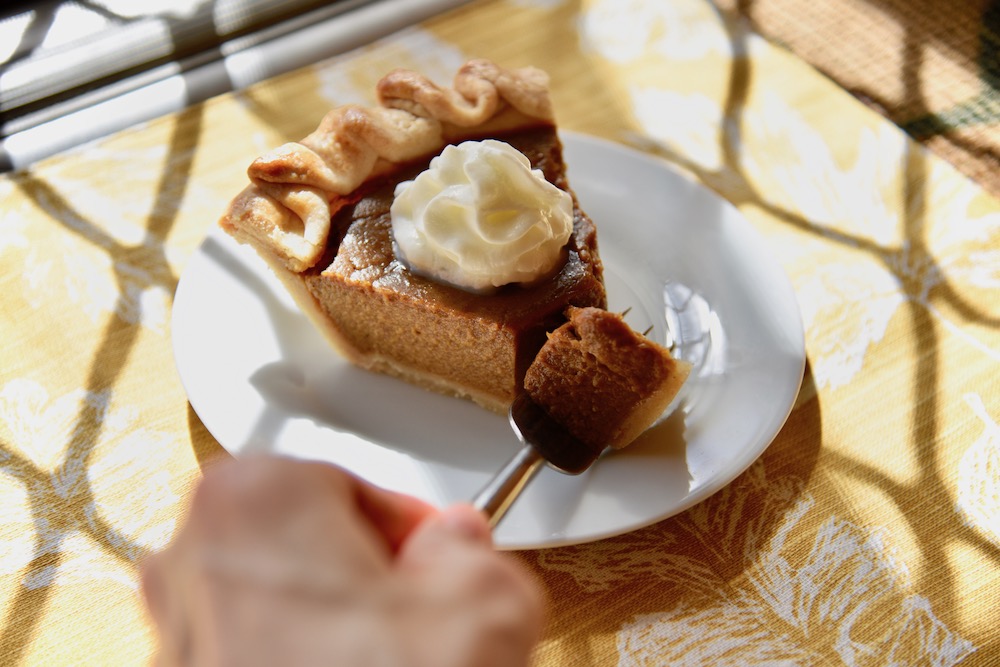 Instructions
Remove butter from the fridge and let it sit at room temperature for 5 to 10 minutes to soften it up.
In a large mixing bowl, whisk together flour, sugar, and cinnamon.
Next, cut the butter into cubes and drop the cubes into the flour-sugar mixture. Knead and pinch with hands to make a crumbly dough with finely integrated flakes of butter.
Using a fork, incorporate the yogurt until pie crust reaches a dough-like consistency. Form the dough into a ball, sprinkle with flour, and wrap in plastic wrap. Then, flatten wrapped dough into a disk-like shape and refrigerate for at least 1 hour before rolling out.
Pre-heat oven to 350 degrees F. Remove the dough from fridge after at least 1 hour of chilling and roll out dough on top of a piece of parchment paper. Once you have a disk of pie crust that's approximately 1/8 inch thick and wide enough to cover the 10-inch pie pan, use the parchment paper to flip the dough over onto your pie pan. Then, peel off the parchment paper and fit the dough into the sides of the pan, so that there aren't any air bubbles between the pan and the dough. Fold or pinch the rim of the pie crust into whatever shape you like to keep it neat around the edges.
Poke a several holes in the bottom of the crust with a fork. These will act as ventilation to keep the crust from bubbling and warping the surface of the pie.
Combine all the filling ingredients in a food processor or blender until it reaches the consistency of a smooth puree. Pour the filling into the crust.
Brush the remaining exposed portion of the crust with an egg wash (made by beating one egg with a teaspoon of milk or water). This will give the crust a nice golden-brown glow.
Finally, bake the pie for 45-50 minutes at 350 degrees F (175 degrees C) or until the center of the pie has a firm skin and the crust is golden brown. Let rest for at least 20 minutes before serving. Enjoy!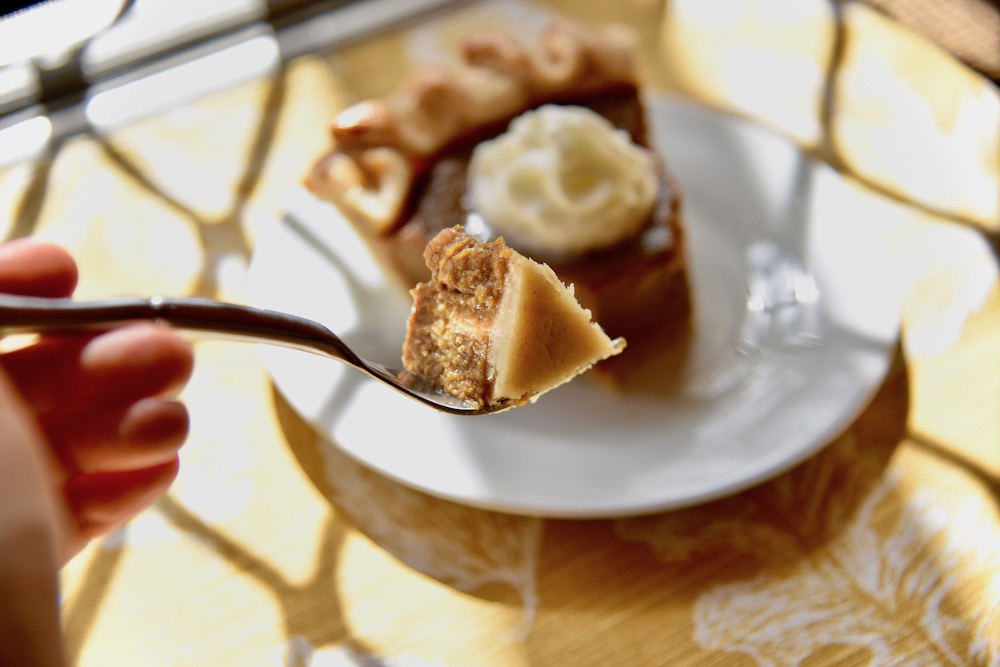 Notes
If your filling cracks, it can mean that you over-baked your custard– but don't worry, it happens to almost everyone except professional bakers and it doesn't change the taste.
You can easily substitute delicata squash, butternut squash, or any other Fall gourd for the acorn squash in this recipe. No matter which squash you use, the pie will turn out amazing.
Acorn squash pie, like pumpkin pie, can be frozen. To freeze extra pie, simply cover chilled pie with plastic wrap, then wrap it in aluminum foil. Frozen pie can stay in the freezer for up to 2 months. (But ours usually doesn't last that long.)
***
Related Autumnal Recipes: We love these Fall-Inspired Butternut Squash, Shallot, and Steak Tacos and these winter-y Juniper Berry Glazed Walnut Shortbread. Seasonal recipes are the best!