This super, super easy baked pears with honey and walnuts recipe is so rich, satisfying, and hearty. I love it as a rustic dessert or breakfast. Plus, it's gluten-free and vegan. (Though you can also serve it with a hefty dollop of whipped cream, crème fraîche, Greek yogurt, ice cream, or any plant-based alternatives to those toppings.)
These honeyed pears are divine! The crisp texture of fresh Asian pears bake beautifully into a naturally sweet, "custard-like" consistency that's never mealy or dry. Meanwhile, the honey caramelizes the walnuts (a rich source of brain-boosting omega-3 fatty acids and Vitamin B6, which supports nerve health) to make a delicious crunchy topping.
On top of that, cinnamon helps mitigate the blood sugar spike that comes with eating "sweet" foods. (Even though this recipe contains no added sugar or refined sugar. This is just an added bonus for people who are watching their fruit sugars, as well.)
Enjoy our easy baked pear recipe, below.
***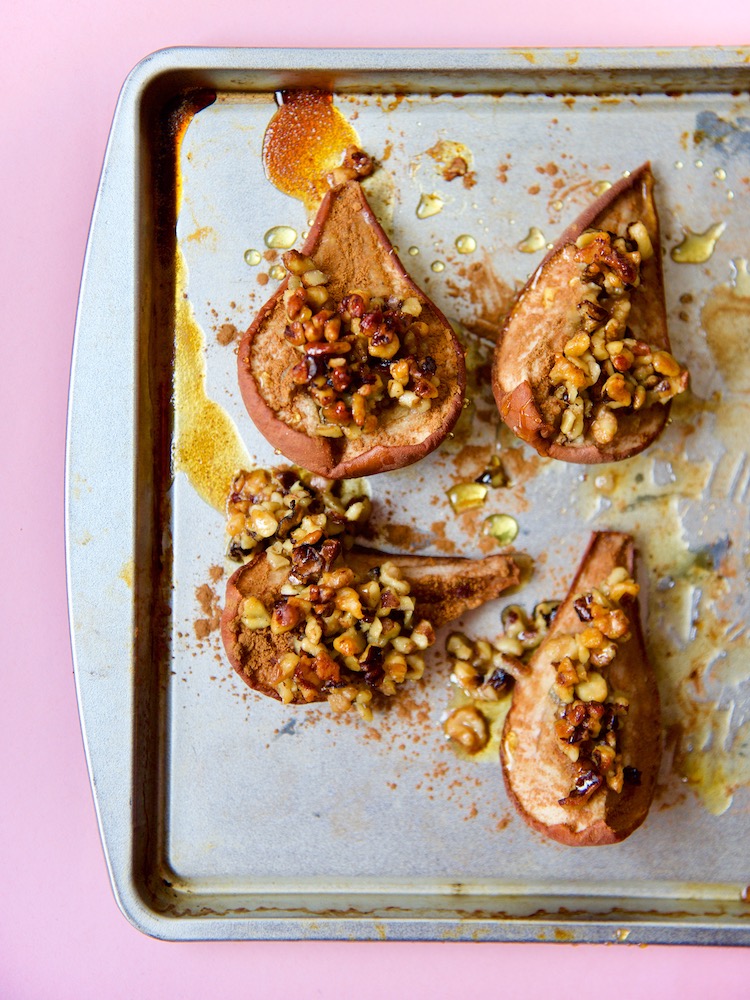 Easy Baked Pears With Honey and Walnuts Recipe
This delicious baked pears recipe yields sweet, custardy pears brimming with crunchy, honey-caramelized walnuts. Recipe serves 6.
3 Asian pears, washed and cut in half lengthwise with seeds/stems removed
1/3 cup honey
1/2 cup chopped walnuts
cinnamon, for sprinkling on top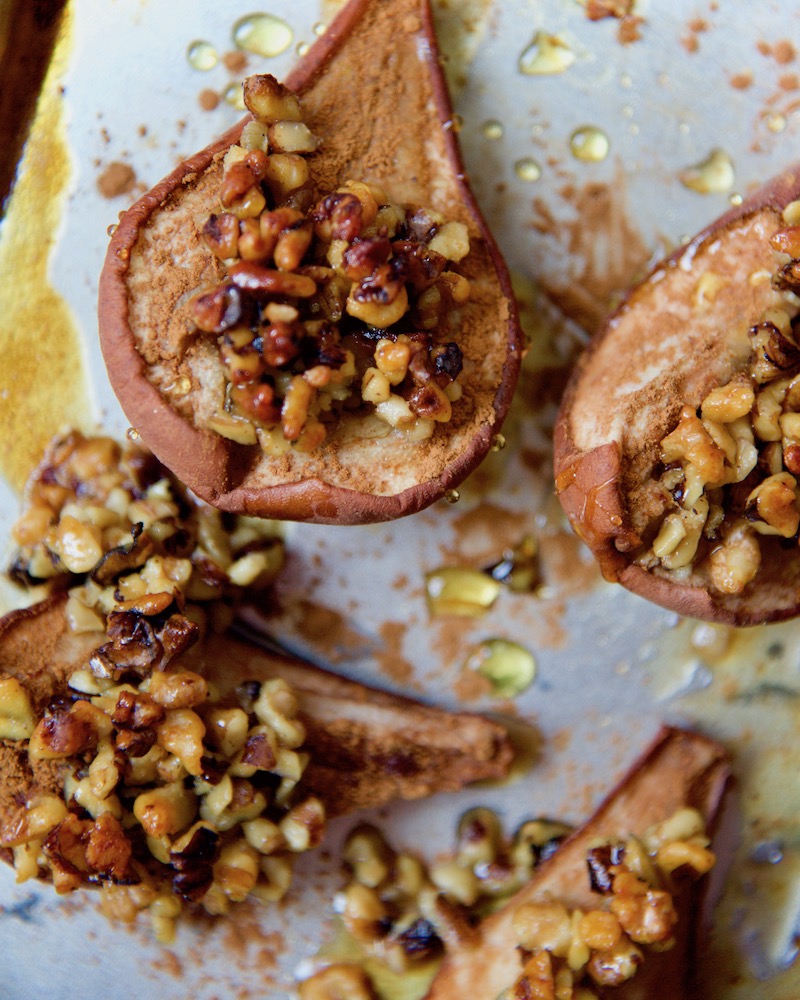 Method
Preheat oven to 350 degrees F (175 degrees C). Wash pears and remove inner seeds and stems. Place pears on a small cookie sheet, inside facing up.
Mix honey with chopped walnuts to combine.
Spoon honey-walnut mixture unto the center of the pears. (Where the seeds used to be.)
Sprinkle these stuffed pear boats with cinnamon, and drizzle with extra honey if desired.
Bake pears for 30 minutes at 350 degrees F (175 degrees C) or until the pears are fork-tender and the nuts are slightly golden-brown. At this point, the nuts and pears will caramelize. When done, you should be able to easily cut the pears with a spoon, and your whole kitchen should smell divine!
Serve baked pears warm, either plain or with a scoop of crème fraîche/ greek yogurt/ whipped cream/ or vanilla ice cream. Enjoy!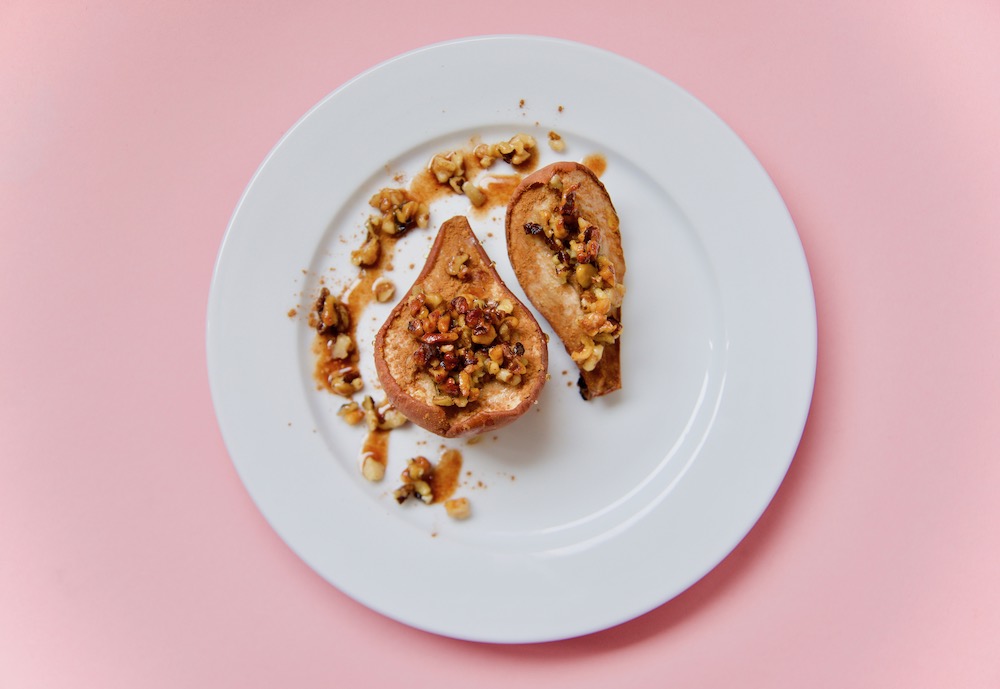 Notes
According to Traditional Chinese Medicine (TCM), baked pears with honey are good for the lungs, which is the organ that controls asthma, allergies, and other respiratory conditions. All of these inflammatory respiratory issues center around the meridians of the lungs, according to this ancient folklore.
This is particularly interesting in view of new research by the Western Medical establishment, which demonstrates that there is a strong link between allergies and anxiety. Both allergies and anxiety stem from inflammatory responses of the body and mind in response to a certain stimulus.
As a result, acupuncturists and other healers who practice Tao or Chinese Medicine recommend eating specific foods to soothe inflammation. In the case of respiratory issues, TCM practitioners believe that eating baked pears and honey can help alleviate the symptoms. Who knew?
Chinese Medicine has been around for thousands of years, so there's likely some truth to it– and now Western studies are also beginning to validate these age-old nuggets of folk wisdom. If this is true, then eating baked pears with honey may help soothe respiratory issues like exercise-induced asthma, seasonal allergies, and more. Give it a try!
Either way, this easy baked pear recipe is a great healthy dessert option. It's sort of like how grandma always said that chicken noodle soup would cure a cold– and then later, scientists proved it.
Don't believe us? Make this baked pear recipe and see for yourself. It's too easy and delicious not to try.
Bon appétit!
***
Related: Want more easy, healthy dessert ideas? Make this delicious Vegan Olive Oil Quickbread recipe— one of our most popular Mood Recipes of all time! (And oh my god, it is so, so good.)