Looking for some new and intriguing ways to cook chicken liver? This high-iron chicken liver pate recipe is just the thing.
Pâté– also more casually written as pate— is a French meat spread that's traditionally served with crackers or bread. In recent decades, it's come to be associated with fine dining and general epicurean fancy-ness, but in truth, eating foods made from organ meats is a centuries-old health tradition that, frankly, was historically done by foraging nomads and Medieval peasants.
By the late 19th century, eating organ meats or 'offal' became associated with poverty because organ meats like chicken livers were cheaper than muscle meats in most of the West, particularly North America. The latter still continues to dominate the culinary landscape in this part of the world.
However, in recent years, progressive food movements and holistic health practitioners have noted that the loss of organ meats in the typical Western diet has meant a loss of nutritional benefits, too.
Chicken livers are a wonderful source of energy-producing minerals and vitamins like iron, Vitamin A, Vitamin B12, folate, and essential fatty acids. As a result, some nutritionists regard liver as one of the most nutritious foods in the world!
(If you are pregnant, however, be sure to check with your healthcare provider before consuming any liver, especially in the first trimester.)
Iron is necessary for energy metabolism in the body, as well as select hormone metabolism. As a result, having good blood iron levels has been associated with better sleep, strong, healthy hair, skin, and nails, and improved overall vitality. (Just ask anyone who's ever been anemic how they feel when their iron levels are low…)
Having sufficient iron in one's diet is also seen as a bolster against premature aging.
Ultimately, this alcohol-free chicken liver pate recipe is perfect for those looking for a creative way to eat more organ meats, without them tasting so organ-y. It's great for parties, pate-lovers, and anemic folks, alike.
Plus, this excellent recipe is fairly simple to make, with ingredients that are generally easy to find even at basic grocery stores. (The hardest part is probably sourcing the chicken livers– be sure to buy organic and local when you can!)
Scroll on to get our recipe for easy chicken liver pate, below. Enjoy!
***
Easy Chicken Liver Pâté Recipe
1 lb chicken livers
2 small-medium onions
2 cloves garlic, minced
1 sprig rosemary, chopped
1 teaspoon dried or fresh thyme
2 pinches ground clove (optional)
1 Tablespoon apple cider vinegar
5 tablespoons butter (1 Tablespoon reserved)
1 teaspoon salt
1 teaspoon pepper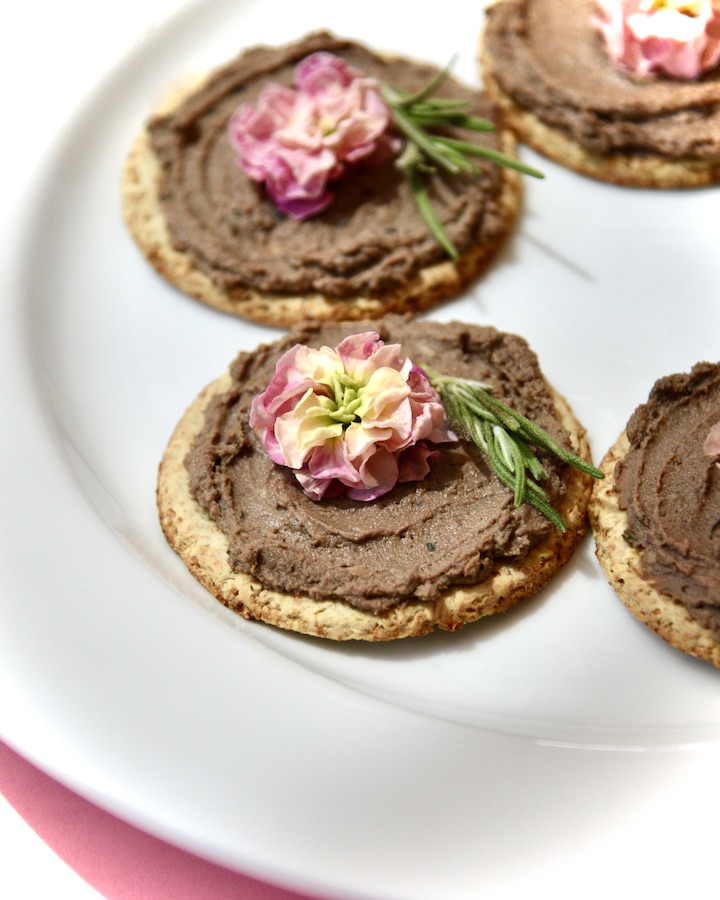 Instructions
In a large mixing bowl, soak chicken livers in milk for 2 hours.
In a cast iron skillet, cook onions on medium heat in 4 tablespoons of butter until soft and browned. Add salt and pepper while they are browning.
Once the onions have browned, add minced garlic and give everything a good stir.
Drain milk from chicken livers by pouring the whole bowl of milk + chicken livers into a strainer. Pat the chicken livers dry with a paper towel. Then, add chicken liver to the onion-garlic mixture and cook on medium until the chicken liver is pink in the center, but not overcooked. (This shouldn't take more than 8-10 minutes depending on your stove's heat variance.)
Turn off the heat and add fresh herbs– rosemary, thyme, and clove– as well as the apple cider vinegar. Mix all that in while the pan is still hot but the heat is off.
Once combined, pour the mixture into a blender and add the remaining tablespoon of room-temperature butter. Blend until smooth.
Place this pâté into several ramekins or shallow bowls and let it set in the fridge overnight. Serve with crackers and viola! The perfect pâté.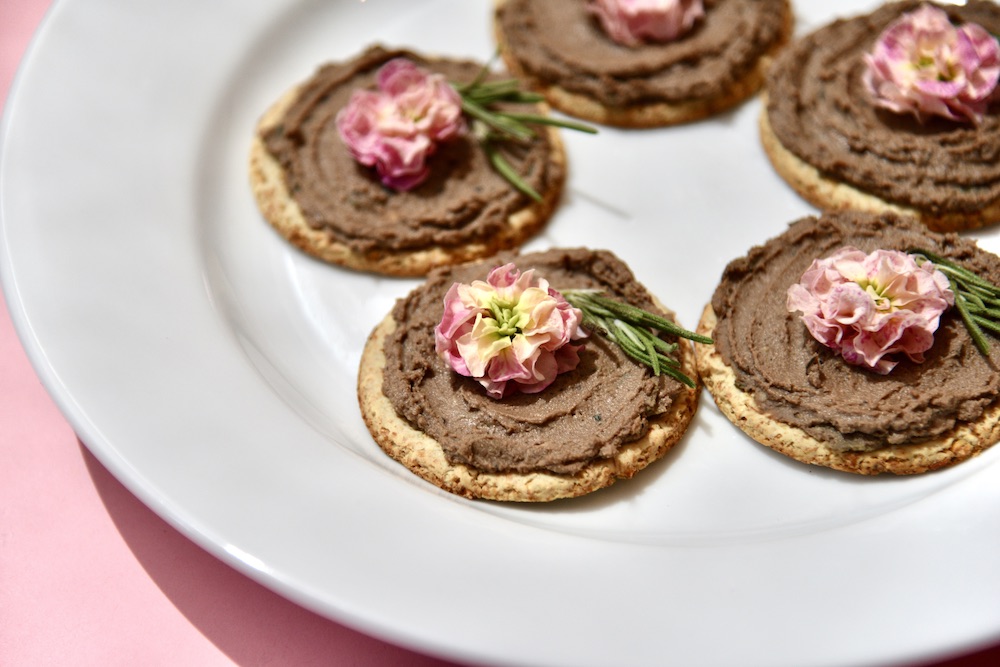 Recipe Notes
The combination of cooking this pate in a cast iron skillet– and the fact that chicken livers themselves are high in iron– make this recipe ideal for those who are looking to up their iron intake.
Chicken liver pate is best served chilled, right out of the fridge.
Fresh chicken liver pâté will last about 3-4 days in the fridge or 3 months in the freezer.
***
Related: Looking for more high-iron recipes? Make these Butternut Squash, Shallot & Steak Tacos or these Easy, Delicious Wagu Beef Meatballs. Both are super easy and designed to optimize the absorption of iron. Enjoy!