This vegan double chocolate zucchini bread recipe is one our favorite nutritionist-designed desserts of all time! This super moist quick bread is luxuriously decadent and fluffy as a cloud.
Chocolate, flax seed, and green veggies combine to make a surprisingly rich crumb that is the ultimate powerhouse treat, as these ingredients can also help ease the symptoms of Seasonal Affective Disorder. (This is because chocolate boosts serotonin levels in the brain; flax seed is rich in brain-boosting omega-3s; and green vegetables pack a ton of folate. which can help ward off depression.)
This recipe was designed by Rhode Island-based nutritionist Nicolette Fraza, who we interviewed in-depth for our viral article on 6 Ways to Stop Emotional Eating (According to Experts).
Ultimately, we did not expect to love this bread as much as we do (though it did sound amazing from the outset) so we decided to include it in our Mood Recipes archive. It's rare to find a good chocolate zucchini bread recipe out there, and this one is so rich and moist it's insane. It delivers on all fronts.
Now, even the pickiest members of my family consider it a staple. This chocolate zucchini bread recipe is also a great way to use up excess garden zucchini in the summer (which may be why you landed on this recipe in the first place :)).
Ultimately, it's a nice twist off of traditional zucchini bread. (Which, if you get as much zucchini as we do in the summer, can get a little boring after a while. It's also been my experience that even people who don't usually like zucchini bread love this recipe, as the chocolate takes the classic quick bread concept to another dimension.)
All I have to say is, it is so so good.
Get the recipe for our favorite vegan double chocolate zucchini bread, below.
***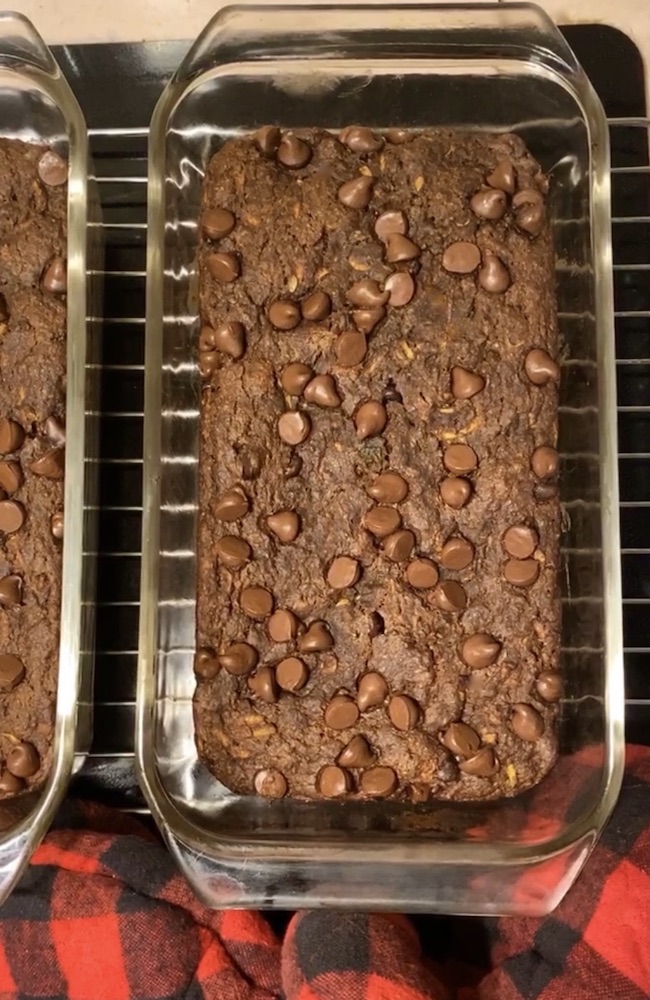 Vegan Double Chocolate Zucchini Bread Recipe
This super-moist, surprisingly light double chocolate zucchini bread tastes like a decadent cloud.
Ingredients
1 2/3 cups whole wheat flour
1/3 cup cacao or cocoa powder
1 1/2 teaspoons baking powder
1/2 teaspoon sea salt
1/2 coconut sugar or another dry sweetener of choice
1/4 cup dark chocolate chips
2 flax eggs (2 Tablespoons ground flax + 6 Tablespoons water)
1 teaspoon vanilla extract
1/2 cup almond milk
1/3 cup melted coconut oil
2 cups shredded zucchini
Instructions
Preheat oven to 350 degrees and grease a 9×5 loaf pan.
In a large bowl, whisk together the flour, cocoa powder, sugar, baking powder, baking soda, and salt. Stir in chocolate chips and set aside.
In a small bowl, whisk together the flax eggs, vanilla extract, almond milk, and oil. Stir this wet mixture into the dry ingredients. Fold in the zucchini and mix well.
Transfer batter into the prepared baking pan, sprinkle a handful of chocolate chips on top, and bake for ~55 minutes to 1 hour (or until a toothpick inserted in the middle of the bread comes out clean). Enjoy!
***
Make These Next: This Gluten-Free Vegan Olive Oil Quick Bread is our most popular recipe of all time. (And this Vegan Focaccia Garden Bread is easily our most beautiful! Check 'um out.)
Related: Natalie Portman's Vegan Hamantaschen Recipe. (<— Yes, this is her actual recipe.)