When you live in New York City, rugged nature can seem worlds away, far removed from the hustle of daily life. It's easy to forget that so many great hikes and cultural institutions also reside just beyond the city limits, easily accessible by train (or, if you're feeling fancy, a rental car). Below, we spotlight six beautiful upstate New York day trips from NYC that are always worth making.
From world-class outdoor art galleries to internationally famous farm restaurants, the spotlighted upstate institutions have something to offer everybody– especially nature lovers.
Better still, the train ride to get to them from Manhattan is also a beautiful journey in its own right.
If you've never explored beyond the city but want to, these are just the adventures for you.
Below, we highlight our favorite upstate New York destinations to visit as a day trip from NYC (ideal for spring and summer months). They are all close to the city, but feel worlds away– and that's part of the magic. Bookmark this list for easy reference later! They should all be part of your New York bucket list.
Have fun!
***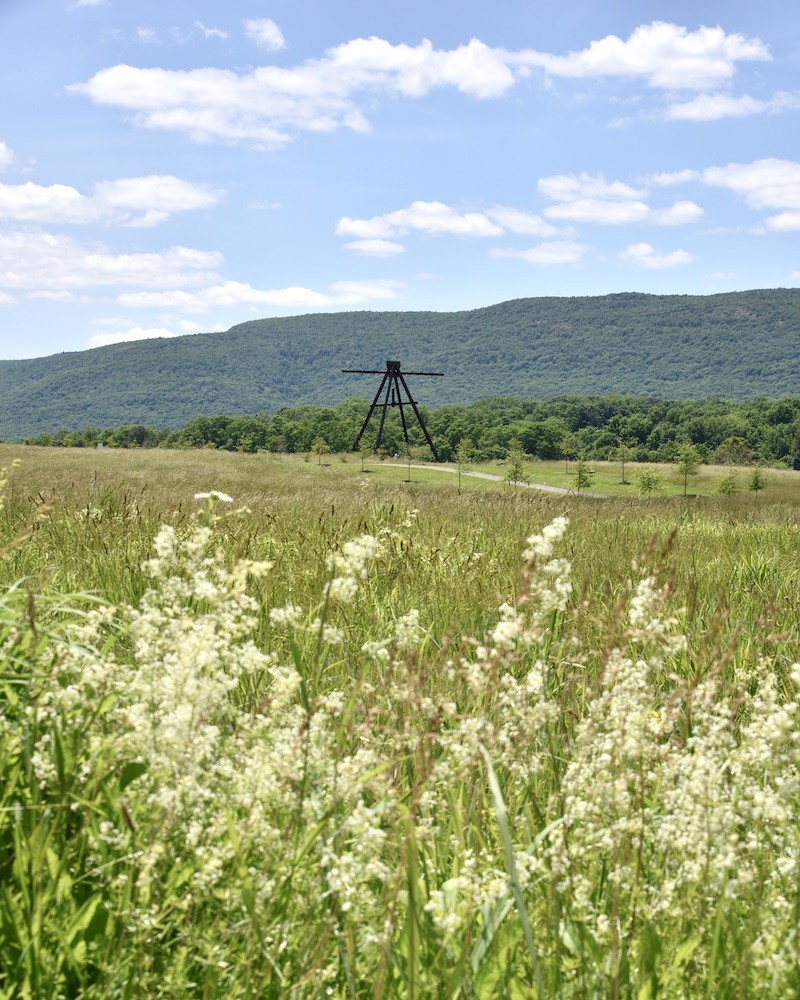 Storm King Art Center (Beautiful, Pastoral, Art-Lovers Paradise)
Storm King Art Center is a gorgeous 500-acre outdoor sculpture park located in New Windsor, New York, just a short drive from the Beacon Station train stop on MetroNorth. Most people take an Uber, Lyft, or Taxi from the train station to the grounds.
Since its opening in 1960, guests have been able to wander Storm King's beautiful property while experiencing large-scale sculpture and site-specific earthworks under vast, open sky.
As a result, Storm King is a beloved upstate New York institution adored by NYC art buffs and nature lovers, alike. Its Hudson Valley location is an international epicenter of culture and ecological conservation, as the art center devotes countless staff hours to stewarding the hills, native meadows, woodlands, and forests of the surrounding ecosystem, in addition to curating the art.
And all this concerted effort has paid off, aesthetically; the landscape's rugged natural beauty is the perfect foil for the art. The combination is absolutely sublime.
Go on a spring day (ideally in May or early June,) and you will be blown away by Storm King's lush scenery. The unique combination of forested wetlands and leafy allées comprises over 350 trees– among which the landscape has played host to large-scale works from Alexander Calder, Andy Goldsworthy, Zhang Huan, Mark di Suvero, Sol LeWitt, Maya Lin, and Ursula von Rydingsvard, among many others.
In the distance, enjoy unobstructed views of the Hudson Highlands, Black Rock Forest, and Storm King Mountain. As far as day trips from New York City go, this one offers the most bang for your buck. It's totally enchanting. 🙂
A Beautiful Outdoor Escape
Storm King's open season runs from April to early December each year. It's a lovely place to visit if you'd like to spend an entire day outdoors.
Bring a packed lunch, or enjoy various casual cafe and food truck offerings on site. Coffee, water, toilets, a museum store, downloadable audio guides, and bike rentals are available.
Guests are not permitted to bring their own bikes. Drones, pets, smoking, and scooters are also prohibited. Simply bring comfortable walking shoes, sunscreen, and whatever else you'd need for a day outside. (And don't worry, there's plenty of shade if you want it.)
Various trams also run throughout the grounds, stopping at 10 designated spots throughout the site every day. Trams are free with admission, which is $18 for adults; various discounts are given to students, seniors, and school groups, as well.
Overall, Storm King Art Center is one of the world's best contemplative spaces in which to spend time communing with art and nature– a magical combination.
For more information about access, transportation, and upcoming exhibitions, visit Storm King's visitor page.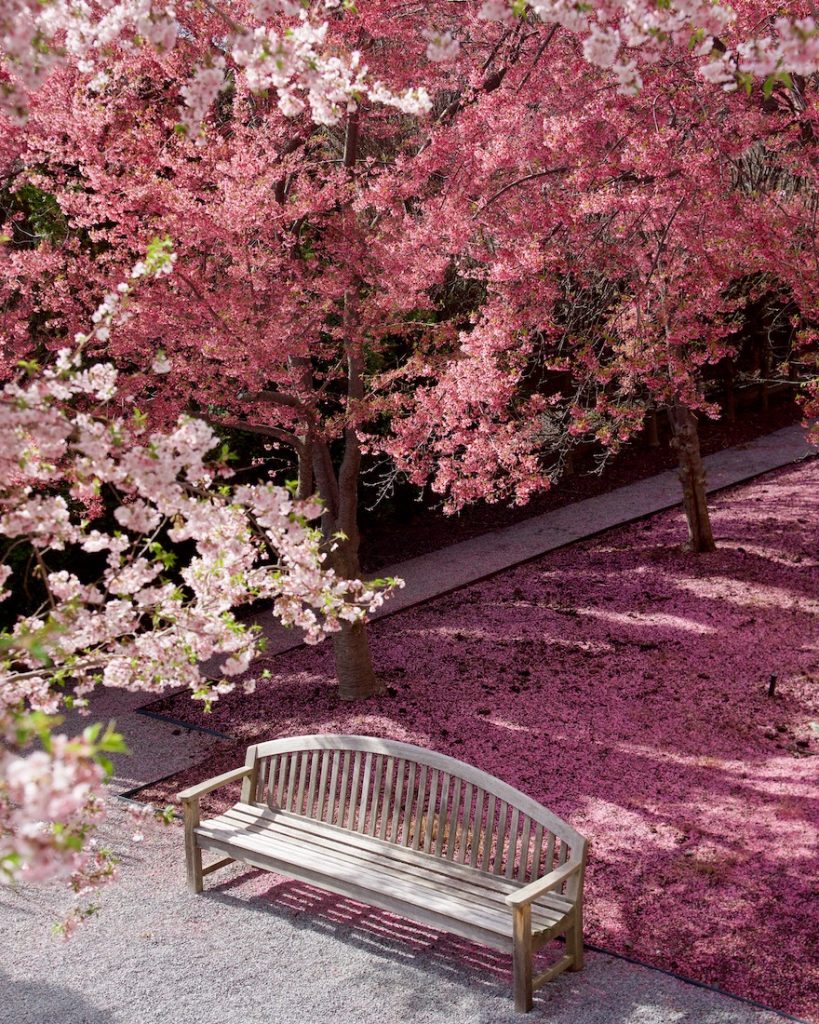 Dia:Beacon (The Coolest Gallery in Upstate New York)
Dia:Beacon is a suburban extension of the New York City art scene– but it's really its own planet, entirely. This massive gallery outside the city displays abstract architectural works that hinge their appeal on beautiful geometric sightlines and negative space.
As a longtime New Yorker, I've come to regard Dia:Beacon as the best art gallery ever. It's absolutely gorgeous in the spring (April-May), when the cherry blossoms are in bloom– see the last picture I took there, above.
More importantly, the art, oh my god, is exceptional. If you like Dan Flavin, you'll love it. (I sure do.)
Art lovers adore wandering around this conceptual, architecture-forward contemporary gallery. The space is very photogenic, seemingly designed for Instagram long before social media was invented.
Go In The Spring to See The Cherry Blossoms
It's best to go on a weekday to avoid crowds, if you can swing it. Just hop on the Metro North Poughkeepsie line at Grand Central Station and get off about an hour later at Beacon. Then, walk to the gallery from the train station– it's literally steps away.
If you'd like to stay for a meal, hit up the gallery cafe or picnic on one of the property's lovely garden benches (above shown).
Ride the train back during golden hour and watch the sun glowing over the Hudson for the perfect day trip.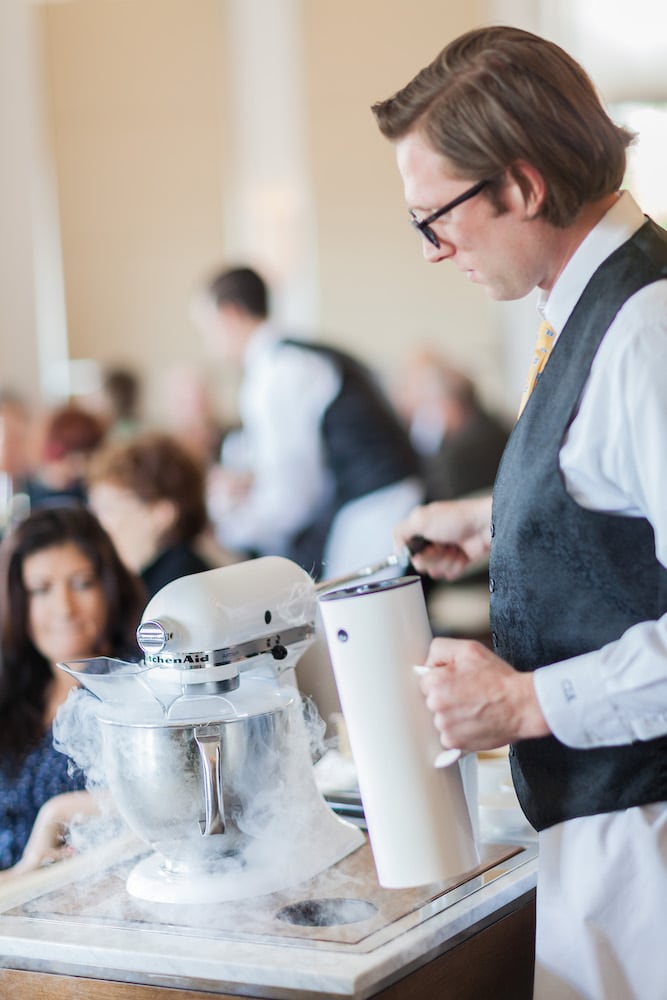 The Culinary Institute of America (Dining, Tours, Weekend Workshops, and Cooking Classes)
The Culinary Institute of America's flagship Hyde Park campus is a must-visit for foodie tourists or those who want to take elite cooking classes from some of the world's most seasoned chefs.
Mostly, it's fun to take a public tour of the campus and dine in one of the full-service teaching restaurants, like The Bocuse Restaurant (which I strongly recommend).
Here, after touring the facility's bakeries and test kitchens, the show continues with table-side soufflé prep, ice cream churned before your very eyes, and other dazzling displays of culinary prowess. It's pretty cool, especially if you're interested in the aesthetics of presentation.
The CIA features four award-winning, student-staffed public restaurants. These are Ristorante Caterina de' Medici, The Bocuse Restaurant, American Bounty Restaurant, and the Apple Pie Bakery Café.
You can also take on-site classes in everything from "Artisan Breads" to "Mediterranean Cooking" to workshops on making perfect pies and tarts. They also offer 5-day "boot camp" intensives for amateur chefs.
With a wide variety of on-site restaurants and culinary attractions on-site, the CIA is a bucket list visit for any New Yorker.
Be sure to stop at the CIA's Craig Claiborne Bookstore, which features a world-class assortment of cookbooks, kitchen equipment, and other culinary delights.
The Catskill Mountains and section of the Hudson Valley surrounding the Hyde Park campus also features many top culinary tourism spots, from local farms and artisan cheese makers to wineries. There are also a number of historic destinations, like Franklin Roosevelt's home and Vanderbilt Mansion.
To get here, take the Metro-North Train from Grand Central Station to the Poughkeepsie stop. It's also just 30 minutes from Stewart International Airport in Newburgh, New York. (Either way, you'll pass gorgeous views of the Hudson River Catskills on the ride over.)
Touring around nearby Vassar College is also lovely, in case you want to linger in Poughkeepsie and check out the campus and get a coffee at beloved Hudson Valley coffee house, The Crafted Kup.
Hiking Up Bear Mountain (Late Spring Is Lush and Green; Fall Has Beautiful Foliage)
Bear Mountain State Park's signature hike is a beautiful and accessible climb that appeals to people of all fitness levels. It's one of the best hikes in upstate New York that's easy to access from the city.
To get to this fun upstate New York day trip, take the Hudson Line from Grand Central Station to Peekskill. Then, take an Uber or share a taxi to Bear Mountain. (Taxis pull up directly to the train station. They'll know exactly where to take you.)
Use the bathroom, grab a snack, or refill your water bottle at the on-site general store and cafe at the Bear Mountain Inn, or head straight to the trails for a beautiful, meandering hike that finishes with panoramic views of the Hudson.
Breathe the fresh air as you take in sweeping views of local villages, distant bridges, and the contiguous hills of the Hudson Highlands and Harriman State Park. It's gorgeous, especially in the Spring and Fall.
There's also a lovely little lake trail at the foot of the hike where people can fish. It's also great for walking dogs (on leash only). There's also an old school Merry-Go-Round on-site, as well as bathing areas and a Wildlife Center.
I like hiking Bear Mountain in the late afternoon/early evening. This way, you can see the views by day and at golden hour, when everything is glowing in golden light. You also get fewer crowds after 2 PM, which is especially desirable on weekends.
Just be sure to head back down before it gets dark. (This is a heavily trafficked trail with lots of places to rest, picnic, and take pictures. Thus, getting lost shouldn't be a problem.)
Hiking shoes are not required. You can easily navigate this hike's forested switchbacks in sneakers. Some extra traction might be nice, though, if you plan to go off-path to climb rocks or trees.
Also: there is plenty of shade, but it helps to bring water if it's a hot day. There are no fountains on the mountain.
Finally, be mindful of mountain bikers if you do go off the path. They come at you fast– but watching them from a safe distance is quite the thrill.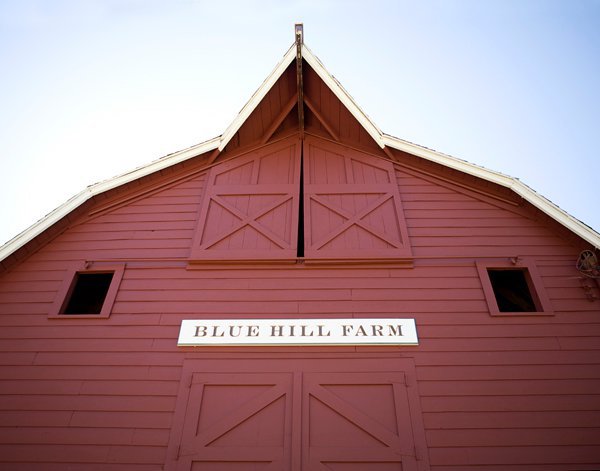 Blue Hill at Stone Barns (Tour Farm + Stay for a Meal at One of the World's 50 Best Restaurants)
Dan Barber's amazing Blue Hill at Stone Barns concept– an experiential farm, artisan market, and farm-to-table restaurant all-in-one, is well worth booking a tour and a table. (As far as upstate New York day trips go, this is one of the easiest and most popular. The restaurant also has a second location in the village, but visiting the upstate mothership is the quintessential experience.)
Go early to tour the bucolic farm and learn about the property's amazing plant hybrids (purple beets! heritage cherry tomatoes! rainbow beans! oh my!) and winning agricultural accomplishments.
The restaurant is so invested in developing the local supply chain, in fact, that they even grow their own heritage wheat. This is used to make the restaurant's signature bread. (My favorite locally-seeded loaf!)
To get here, take Metro-North from Grand Central Station to Tarrytown on the Hudson Line. (It takes about 35 minutes on the express train. Then, you can Uber or Taxi the 10-minute drive to Blue Hill at Stone Barns.)
In addition to the famous restaurant, the property also hosts the Blue Hill Cafe & Grain Bar, a more casual concept with excellent takeaway baked goods and a fresh produce component. (Think: quiche with salad, famous croissants, fruit loaves, grain salads, pastries, local jams for sale, etc.)
The rustic space is enveloped by exposed stone walls and is always brimming with fresh flowers in the summer.
Book In Advance; No Cancellations
Because of these delightful features and more, Blue Hill at Stone Barns is one of the "30 Most Influential Restaurants of the Last 30 Years." They've also made the list of the World's 50 Best Restaurants. (<— A huge deal!)
As such, you have to book your table well in advance, and there are no cancellations.
FYI: Dining here is a not cheap– close to $400 for 2 people! — but it is quite the experience and a bucket list item for foodies and Dan Barber acolytes.
Architecturally, the restaurant is stunning, overseen by an iconic stone silo (thus the name, Stone Barns). Each spring, it overgrows with feathery white wisteria that is so, so whimsical.
Ultimately, the garden and farm feel more like a French country chateau than a barn restaurant in Tarrytown, New York. It's a beautiful concept, both literally and symbolically.
Barber, moreover, works with local growers, farmers, bakers, fermentation experts, butchers, brewers, and beekeepers to supply the restaurant. As a result, the meals here are as unique and enchanting as they are impossible to recreate anywhere else.
Over the years, his restaurant has become a foodie bucket list destination that supports people, the land, and a healthier, more connected community foodshed. The whole experience is lovely. For those who can afford it, it's always worth the trip.
***
Related: An Insider's Guide to the Hamptons.
Headed back to NYC? Discover where New Yorkers love to eat, move, and play.
Our Travel Well section also features guides to lots of niche food stuff in the city– like where to get the best tacos, ice cream, cookies, coffee, babka, bagels, or dumplings. For a quick scroll of our bespoke NYC travel guides, go here.