There's nothing more whimsical or reminiscent of childhood than a good ice cream cone. Fortunately, in New York City, ice cream is something of a religion. The best ice cream in NYC runs the gamut from experimental and edgy to foreign-inspired and all American. There's something for every palette and age bracket in America's Best Food City, the Big Apple. (You just have to know where to look.)
Below, we spotlight the best ice places in the city to grab a cone, a scoop, a bouquet of rolled, freeze-dried ice cream, and more. If you can imagine it, it exists here. These are the 12 Weirdest, Coolest Ice Cream Shops in NYC.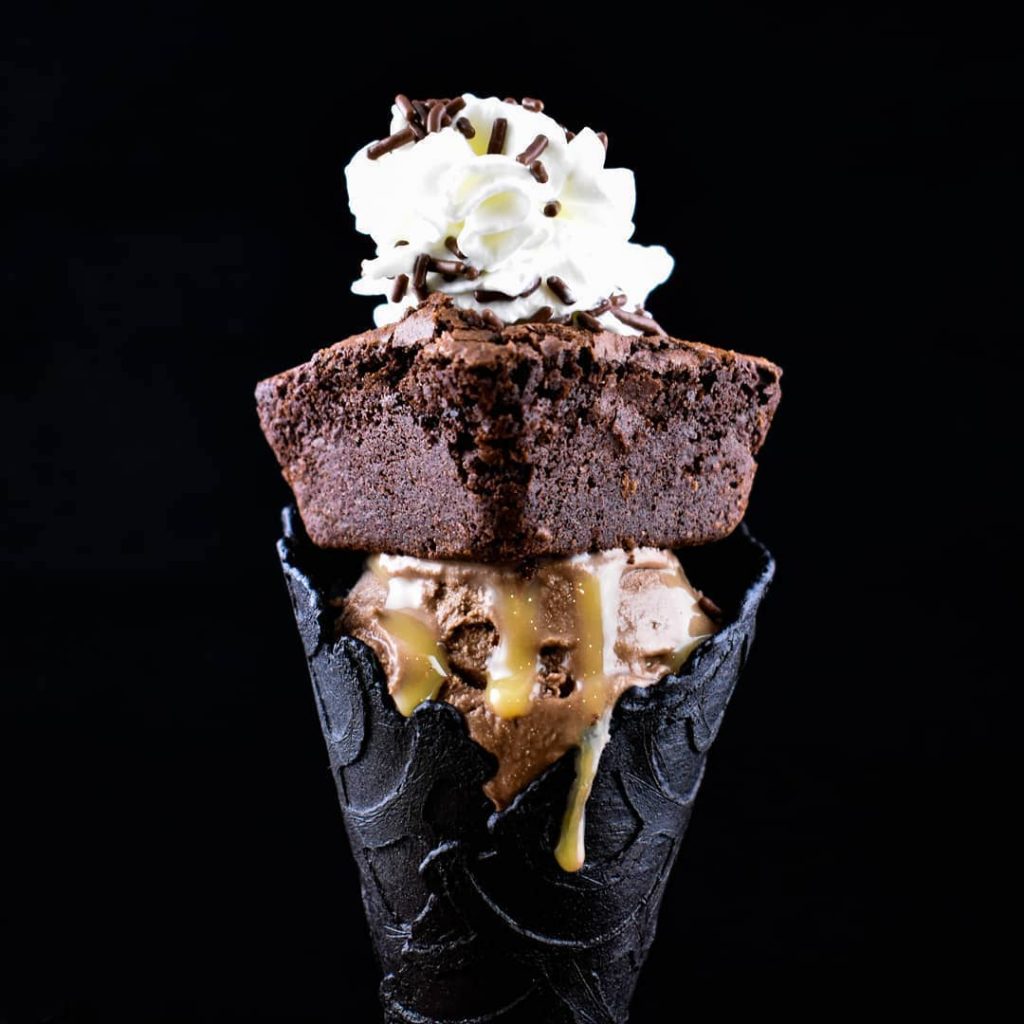 Ice & Vice
Ice & Vice is an experimental ice cream shop on the Lower East Side that specializes in fruity-pebble crusted ice cream "pie", chocolate-dipped ice cream sandwiches, and stacking slices of pie and other baked goods into their towering ice cream cones. If they've got any claim to fame, it's in making the "stacked" ice cream cone famous. They love to layer their cones, as above. As you can image, this kind of thing caught fire on Instagram, which is why Ice & Vice is still one of the most Instagrammed ice cream shops in the city.
Morgenstern's Finest Ice Cream
If you haven't already heard of Morgenstern's Finest Ice Cream, you likely know it as "the place with the black ice cream" before the black ice cream was banned by the FDA because of a complicated regulatory issue. Setting that one issue aside, Morgenstern's is a high concept "New American Ice Cream Parlor" with two locations downtown– a flagship on W. Houston, and the original blue, glass-fronted parlor on Rivington Street. The jet-black Coconut Ash ice cream may have made this artisan scoop shop an Internet sensation, but foodies consistently return to Morgenstern's for the innovative, artisanal flavors that feel very "New York".
Choose from flavors like Raw Milk, Salt & Pepper Pinenut, Chocolate Oat, Burnt Sage, Rockiest Road, Black Pepper Molasses Vanilla, Lavender Agave Vanilla, Yuzu Yamazaki, Mango Passion Rice, Peanut Hokie Pokie, and a handful of "regular" American classics like Cookies n' Cream, Chocolate Chip Cookie Dough, and Butter Pecan. There are also plenty of creative toppings available. And don't even get us started on the sorbets! Mango Chili, Salted Melon, Pistachio Shiso, Apricot, Tahini, Labne, Cashew… the list goes on. This is not your momma's ice cream parlor (but then again, nothing on this list is).
Eggloo
Tucked away on a sleepy stretch of sidewalk across from Columbus Park in Chinatown, Eggloos' ice cream-filled Hong Kong style waffles are best complimented by a simple matcha ice cream rose and one or two toppings like Viet coffee or Matcha drizzle. Eggloo is a tiny little shop without much seating, but that's okay because when the weather is nice, there is nothing better than taking your ice-cream-stuffed-waffle across the street to sit on a park bench and watch the Chinese elders play cards and practice Tai Chi.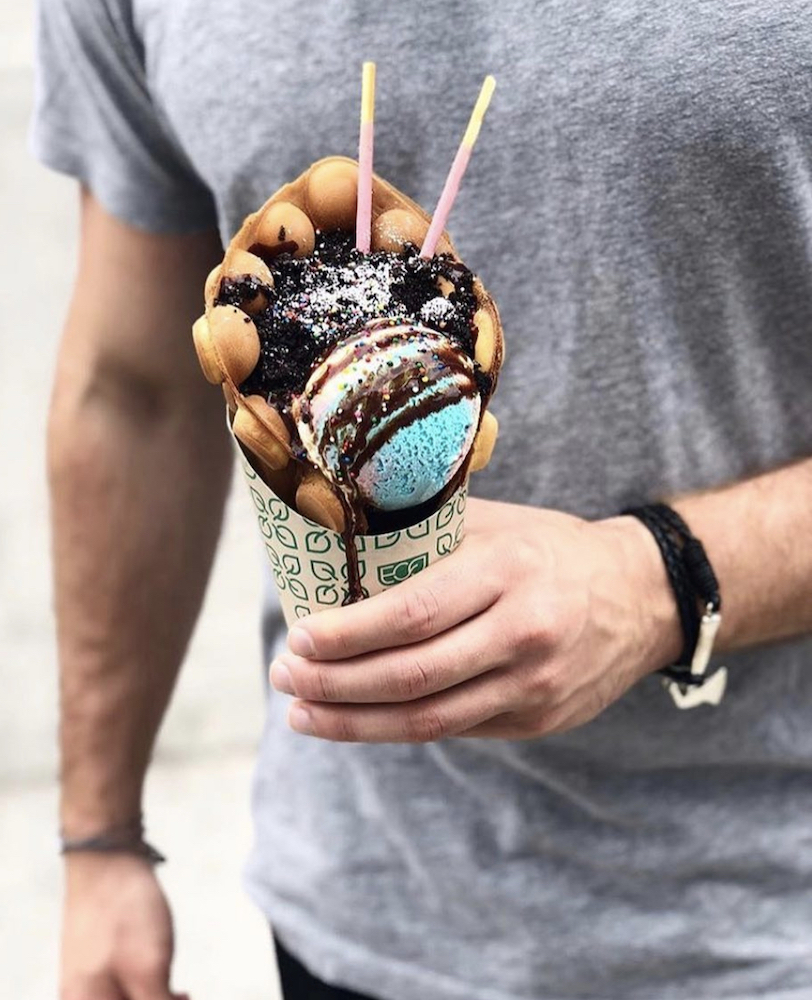 Wowfulls
If Eggloo wasn't enough for you, Wowfulls' crazy, colorful stuffed waffle cones take the Hong Kong ice cream trend to the next level. Featuring an expanded menu of ice cream flavors and a whole host of toppings, you're sure to get decision paralysis at this multi-location New York City ice cream shop. Wowfulls offers chocolate, coconut, red velvet, matcha, and original 1950's-style bubble waffles (also known as Gai Dàn Jai), which are crispy on the outside and soft on the inside. The toppings are a little overwhelming, and seem like they would mostly appeal to children who like to lose themselves in the candy store: think pocky sticks, sprinkles, teddy grahams, golden grahams, fruity pebbles, crushed Oreos, colored sugar, and a whole rainbow of colorful, flavored syrups. Recently, the shop even started offering fried chicken filled waffles. (In hindsight, this was inevitable.)
Kith Treats
Ice cream, cereal, and sneakers. These are the making of the hype machine that has propelled Kith to the forefront of Youth Culture. On weekends, an epic line of mostly teenage boys snakes its way up the stairs of Kith's futuristic multi-level sneaker shop, which seems (and with good reason) like the kind of place Jaden Smith would hang out. Importantly, Kith also sells soft serve ice cream with various combinations of sugar cereal toppings. Sneaker lovers may go crazy for what's on the shelves, and for the sweet tooths among them, taking a picture of an iconic cereal sundae from Kith Treats has become a rite of passage. For a certain subset of Gen Z, it's a symbol that you're living your best life.
Minus 10 Rolled Ice Cream
Chinatown's best-kept secret is a basement parlor that sells delicious "rolled" ice cream prepared before your very eyes. Minus 10 is the city's first and best rolled ice cream shop, where the quality of flavors well surpasses the gimmick. (There might be a line, but the wait is worth it.) Guests choose an ice cream flavor (essentially a milkshake of cream, milk, sugar, and flavorings) that staff pour out onto a nitrogen frozen block where the ice cream immediately freezes into a thin, paper-like sheet. Patrons then marvel as they slice, dice, a quickly roll the ice cream into what looks like jelly rolls, which they assemble into a cup like a bouquet. This Thai-inspired technique yields flaky, delicately layered bites with a texture unlike any ice cream you've had before. Many people like to add toppings and garnish with things like Oreos, toasted marshmallows, and actual s'mores. (See above.)
Koku Plant-Based Ice Cream
Koku is the kind of ice cream place that could only survive in New York or LA– or so stereotype suggests. This completely "plant-based" ice cream shop serves organic, dairy-free, refined-sugar-free coconut ice cream infused with superfood ingredients like wild blueberries and granola butter (a purée of gluten-free oats, flax, olive oil, maple, coconut oil, sea salt and select spices). Favorite flavors at Koku's SoHo storefront include Moringa Mint Chip, Dark Cacao with Reishi, and Toasted Coconut Butter. Be sure to order your scoop in a half coconut shell for the full experience.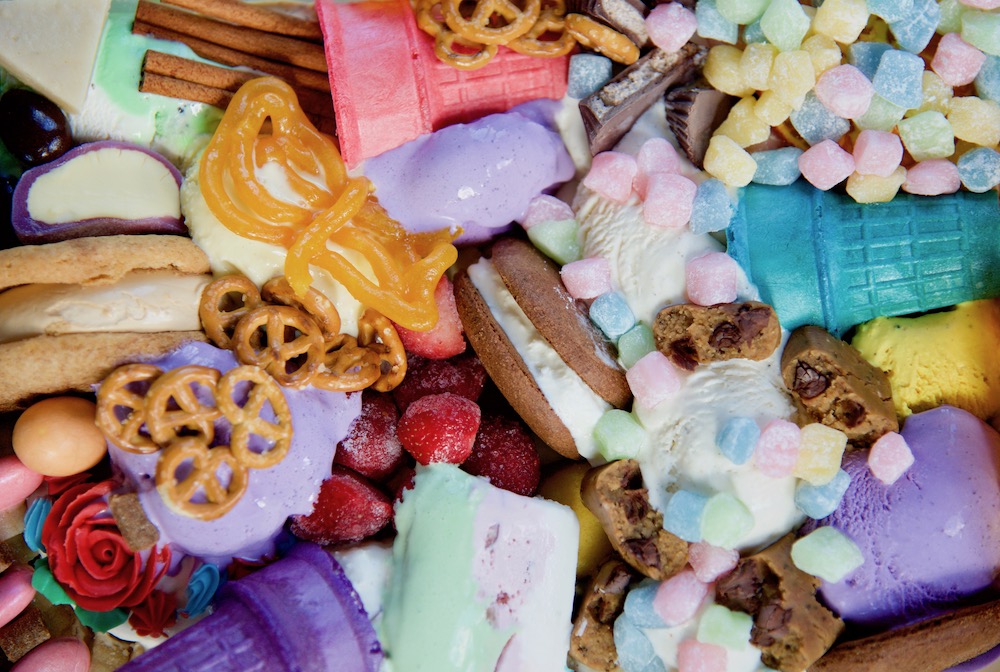 Big Gay Ice Cream
As the name may suggest, there's a lot of color going on that this New York native ice cream shop, which originally debuted their iconic rainbow sprinkles and chocolate-covered "Salty Pimps"* in the East Village. Today, Big Gay Ice Cream is one of the best ice cream shops in NYC, with multiple locations around the city– in the East Village, West Village, and Seaport. In 2013, they were named one of the Best Ice Cream Parlors in the World by USA Today. Try their Dorothy cone: a velvety vanilla soft serve injected with dulce de leche and covered with crushed Nilla Wafers. Or, opt for a "Nutella Beast" from their milkshake menu. (*Footnote: a "Salty Pimp" is Big Gay Ice Cream's signature vanilla soft serve cone swirled with dulce de leche and dipped in a crunchy chocolate shell.) These are good, safe flavors for picky eaters and purists.
Van Leeuwen Artisan Ice Cream
Van Leeuwen Artisan Ice Cream is essentially responsible for making vegan ice cream sexy in the city. They serve delicious regular dairy options as well as vegan ice cream made with cashew and coconut milk, in a variety of classic flavors like Chocolate Chip Cookie Dough, Peanut Butter Chocolate Chip, and Salted Caramel. Many locals would consider them to make the best ice cream in NYC. Look for Van Leeuwen's roving pastel ice cream truck, or visit any of their (stationary) scoop shops around the city. Van Leeuwen's seasonal artisanal flavors– Brooklyn Brown Sugar Chunk, Earl Grey Tea, Honeycomb, and Mocha Cookie Crumble at the time of this writing– are also excellent. They make all the ice cream fresh in Greenpoint, Brooklyn!
Soft Swerve
Soft Swerve is a self-described "urban" ice cream shop serving Asian-inspired ice cream flavors like Ube purple yam, matcha, lychee, and black sesame along with toppings like mochi, condensed milk, and fruity pebbles. At their Lower East Side shop, opt for an epic "swirl", which is when they fold currents of matcha, black sesame, lychee, or Ube throughout the ice cream, if you so choose. Then, top your cone (black chocolate or red classic) with a "crunchy", "chewy", or "drizzle" option like Skor Toffee, salted caramel bits, or dark chocolate, respectively. The limited menu is very niche, but if you've ever had ice cream in Asia– or if you want to!– this is a great place to get the same vibe.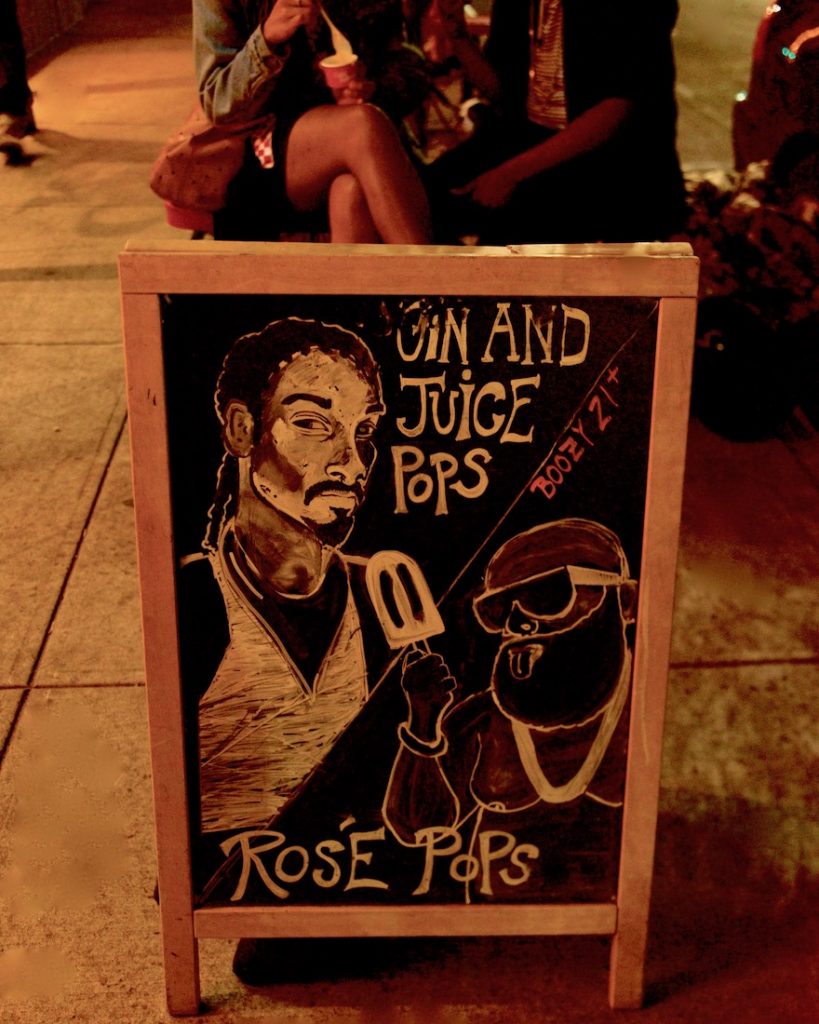 OddFellows Ice Cream Co.
Brooklyn's quirkiest ice cream maker, Oddfellows is known for making bougie but very Brooklyn flavors like olive oil, malt maitake peanut, chorizo caramel swirl, miso cherry, and vegan hazelnut ice cream. Even their raspberry pink peppercorn sorbet is popular, made in small batches just like the rest of the ice cream. In the summer, they also sometimes do popsicles, like the iconic "Gin and Juice" and Rosé pops detailed in the picture above. (Hello, Brooklyn!) At the original Oddfellows location in Williamsburg, Brooklyn, you can grab and cone and walk down to the S. 4th street or S. 8th street waterfront and get your lick on while you take in the best view of Manhattan in all of BK. (Seriously, the Williamsburg Waterfront is the best!)
The Original Chinatown Ice Cream Factory
The Chinatown Ice Cream Factory is decidedly the best place to get ice cream in Chinatown, and depending on your flavor preferences, it may even be the best ice cream in NYC! Their Black Sesame, Red Bean, and purple Taro flavors are all divine, and of course (because it's Chinatown) there's no shortage of exotic options. These include Durian (a pungent but sweet fruit native to Southeast Asia), Don Tot (light n' creamy Chinese egg custard), and Pandan (a Malaysian leaf often used to flavor sweet desserts). Above all, try the Zen Butter– a delicious peanut butter ice cream made with toasted sesame seeds. You'll know you're in the right place when you see the line out the door!
***
Interested in more sweet eats in NYC? Check out our guide to New York City's Best Cakes. Want to go savory? Read our guide to the best asian restaurants in the city and find out where to get the best dumplings.