When I first moved to New York after college, one of the things I loved most about the city was the incredible array of boutique fitness offerings. Categories of gyms and fitness programs I had never even heard of before– like aquacycling and megaformer Pilates– caught my interest. Previously, I was a runner, a yogi, and, when it made sense, a hiker and someone who would go on an occasional strenuous bike ride. But for the most part, it never occurred to me to try any of what I would later discover were the best workouts in NYC. I rarely took my exercise routine indoors, let alone to a fitness class.
In New York City, however, discovering new ways to exercise became its own form of entertainment for me. Each week, and often multiple times a week, I would travel all over the city in pursuit of trying something new. I loved learning about proprioception, balance, and posture exercises.
Eventually, friends and I tried out every latest fitness craze. I even went to the studio where Pilates was invented, just to make the pilgrimage.
Overview
One of the coolest things about New York City is that it is consistently at the forefront of wellness. Restaurants here were catering to people who were dairy-free, paleo, gluten-free, and low sugar decades before anyone was even talking about these things– and the same is true of the best NYC workouts.
In Manhattan, plyometrics reign supreme, and there are literally of hundreds amazing, innovative yoga studios around the city. Professional Broadway dancers and Ballerinas have founded some of the world's most popular cult workouts from inside their tiny Manhattan apartments (see below).
Also, High Intensity Interval Training (HIIT) was invented here. There is a gym solely dedicated to treadmill workouts. You get the idea.
Below, we spotlight some of the coolest, most unique workouts that New York City has to offer. Whether you're a local looking to shake up your routine or a fitness junkie traveling to the Big Apple, these are the workouts you shouldn't miss.
***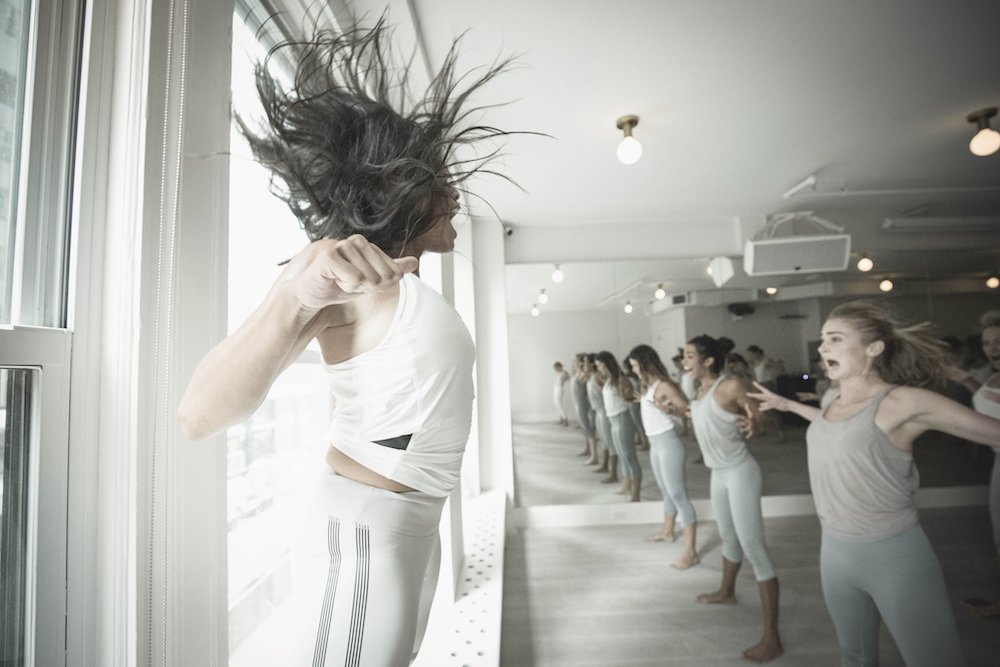 The Class by Taryn Toomey
The Class by Taryn Toomey is a "spiritual workout" that combines dance, yoga, and HIIT routines into a total mind-body sweat session. Located in a third-floor walk up in TriBeCa, this toning mind and body workout involves a lot of "Huh!"-ing on the exhale.
The Class most closely approximates a mix of Pilates, yoga, spiritual healing, calisthenics, and stretching. First-timers wear shoes but others are welcome to take class barefoot.
The one-room studio looks like it was designed by Gwyneth Paltrow– all white, blush pink, and gold. A bottle of Chanel's Healthy Light Creator sits at the gold-handled sink next to a giant crystal and a small cup of blush pink hair elastics. Crystal jewelry hangs on the walls along with tasteful, bespoke art and a tightly curated selection of all-natural beauty products.
Items like Queen of Hungary Mist, Pursoma bath salts, and Mae Lindstrom Blue Cocoon beauty balm dot the shelves. There's also a filtered water tap for refilling reusable water bottles (no cups, no waste) and co-branded yoga mats with a nice patina.
Even the tampons in the bathroom are organic. For a certain type of wellness lover, it's basically paradise.
Tracy Anderson Method
Tracy Anderson is a New York City fitness darling if ever there was one: a former dancer who is friends with everyone from Gwyneth Paltrow to the city's top aestheticians. Anderson's signature combination of dance and barre, the Tracy Anderson Method, has a cult following in the city. In fact, it was one of the first boutique fitness classes offered here– and possibly in the world.
The studio operates on a membership basis. TAM classes are upbeat and feel inherently danceable, despite the leg-quivering difficulty. But don't be fooled: this toning cardio workout will make you shake, quake, and wonder how it is that a random muscle on the inside of your thigh could ever burn so much.
This is also an iconic New York City workout that's better with friends; evening classes are always full. There's also a bustling location in the Hamptons. (More evidence that locals love this workout enough to take it with them on vacation.)
Additionally, online memberships are available for those who want to get their Tracy fix at home or on the go. (A friend of mine who loves Tracy Anderson moved out of the city and now uses her online subscription religiously.)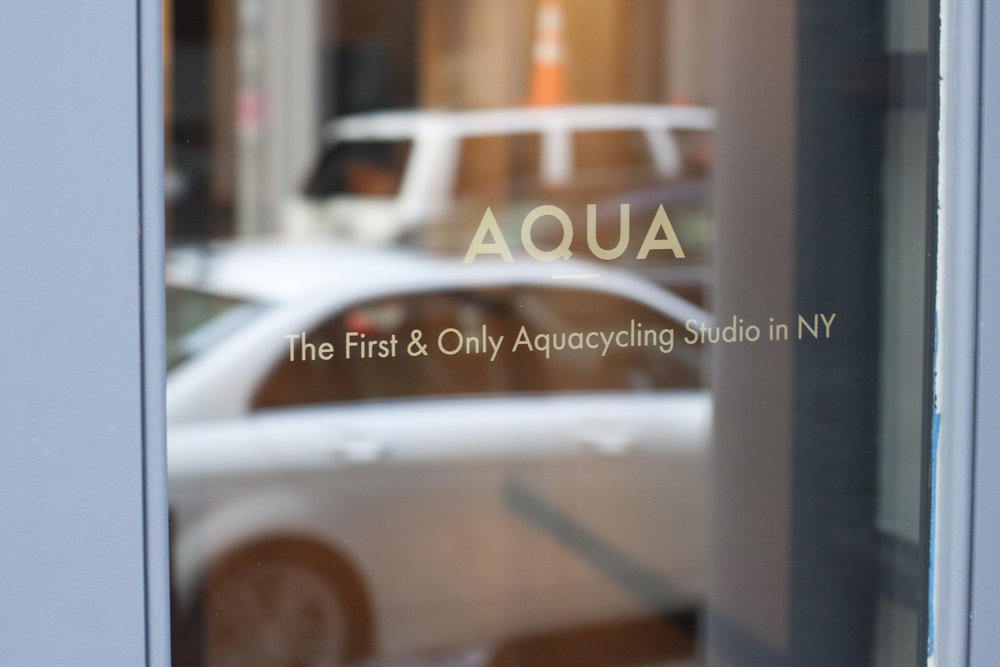 Aquacycling at AQUA Studio NY
Aquacycling is exactly what it sounds like– an underwater spin class in an 84-degree saltwater pool. If that isn't the most unique workout you've ever heard of, check out AQUA Studio's website and see how it works for yourself. The studio positions the bikes in a pool so that your head and shoulders are above water.
The resistance from the water acts as a natural weight that enhances the spin classes' difficulty. While it might be easy to pedal fast above water, doing the same speed pace underwater is much, much harder. You feel like you're pedaling through molasses in the best way.
Plus, germophobes can rest easy knowing that an advanced filtration system thoroughly filters the water in the pool 10 times a day. (This is why the Aquacycling Studio feels almost like a spa.)
AQUA Studio NY is a great little hidden gem in TriBeCa that I first discovered when I moved to NYC a decade ago. In the time since, it has grown to attract a more "elite" clientele to the beautiful indoor loft that functions as the pool room. Now, they have a small shop and more evolved locker rooms and showers.
Surprisingly, underwater spinning hasn't really taken off in other cities yet. (This is probably because of the cost of operating a pool spin studio.) Consequently, this workout is a true "only in NYC" experience. Give it try!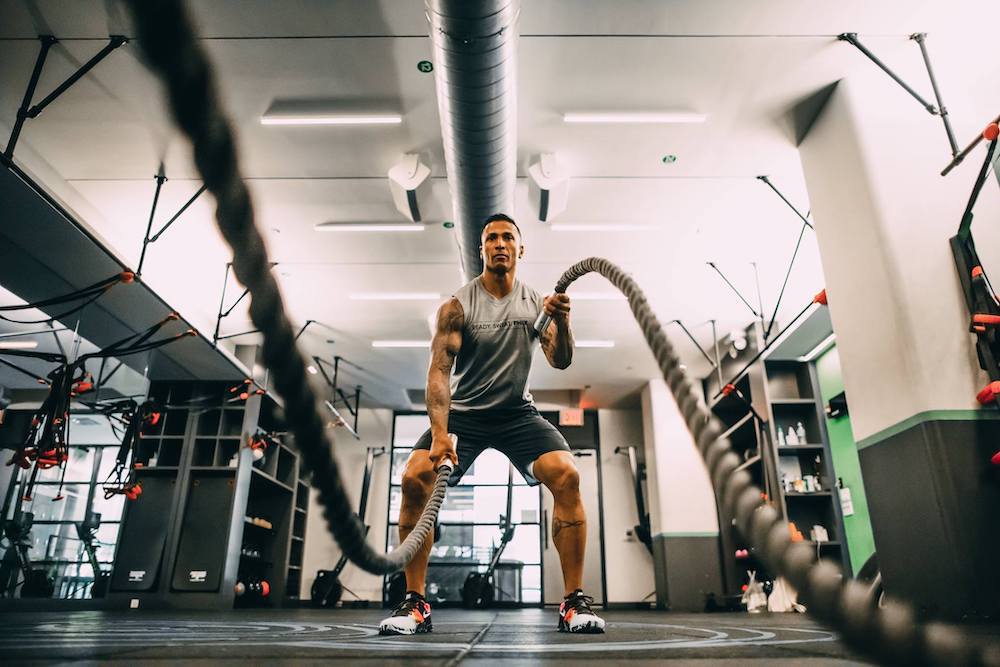 Fhitting Room for HIIT Training
Fhitting Room is largely credited with popularizing the HIIT workout trend– not just in New York, but everywhere. HIIT stands for "High Intensity Interval Training", and it's a cross between interval training and weight training, hybridizing cardio and strength movements into a single, highly structured workout.
Classes take place in an upbeat group setting with 2 trainers– one to coach, the other to correct form. Each trainer gives personalized instruction on how to perform various sets of exercises, like weighted squats, burpees, bear crawls, deadlifts, rowing, wall sits, and everything in between. (Unlike, say, CrossFit, there's a huge emphasis on injury prevention and "quality over quantity" of repetitions.)
The studio is so confident that they offer one of the best workouts in NYC that the first class is free for all newcomers. You'll do each set of exercises in alternating sets for a few minutes each. Then, you'll rotate to another station where you'll perform a different set of exercises for a few more minutes. This repeats on and on until class ends.
By alternating intense bursts of concentrated effort with rest, the body learns how to perfect the form of each exercise (which can be replicated at home or at the gym) with power and grace.
HIIT is also a kick-ass cardio workout. Because you know that you won't have to go long between sets before you can (briefly) rest, you're more likely to give every minute of the workout your all. Also: some exercises at Fhitting Room call for alternating sets with partners, so this is a good place for couples who like to exercise together.
Fhitting Room is another New York Institution with multiple locations around the city, but we like the Union Square location best.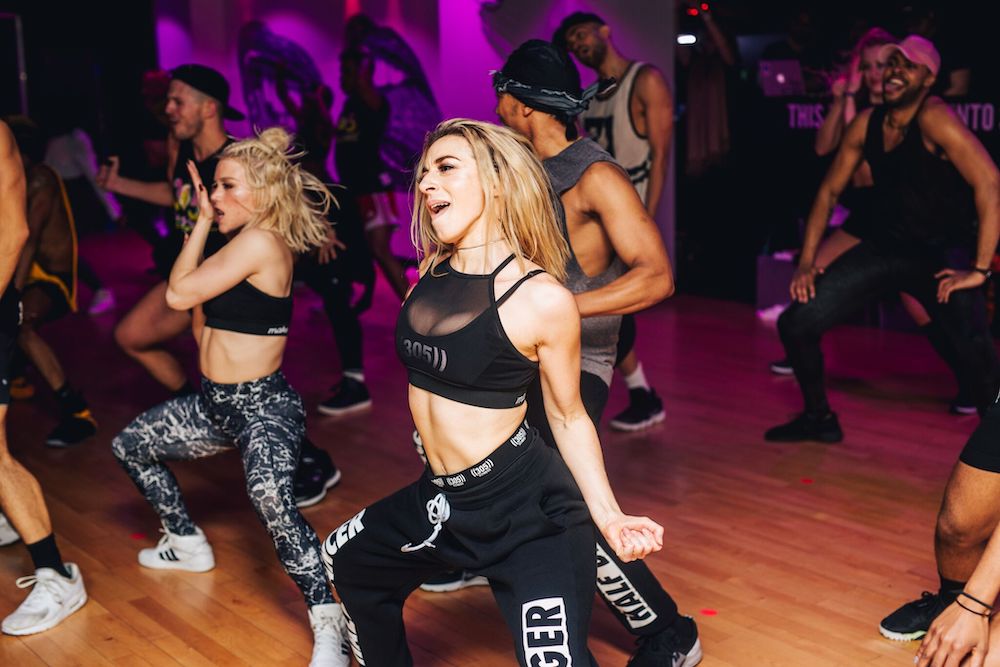 305 Fitness Cardio Dance Party
The world's most high-energy dance workout has several flagship studios in New York City… and some of them with iconic pastel decor to get you in the groove. 305 Fitness is a cardio dance studio with a live DJ, in some cases a light show, and "lots of energy."
No dance experience is required, but those with an inclination towards dance will love the free-form nature of the class. (You'll occasionally be asked to "strike a pose" or twerk, but it all happens so fast that if you're embarrassed that feeling won't linger.) This is a judgment-free zone with sassy, enthusiastic instructors.
As a result, 305 Fitness is one of the most popular dance workouts in NYC. This is not your mama's aerobics class, either, but there are some similarities. (For example: dancing in lines, turning in unison to face different sides of the room, and doing alternating reps of whole-body movements.)
The city's most famous dance party will have you gyrating to high-energy club tunes at 7 AM (for this, enroll in a Cardio Class). For a slower introduction, opt for a PWR class (strength and conditioning exercises in a smaller group setting).
We also love the FLX class, an active stretching class developed with dance, physical therapy, yoga, and biomechanics in mind. (The heated, 90-degree room facilitates everyone's range of motion.)
Whether you're dancing, dynamically stretching, or sweating it out, the music is excellent. It's so fun it won't even feel like a workout (cliché sounding, but true).
View this post on Instagram
Ballet Beautiful Method
Across from Tiffany & Co, Dior, and Chloe in one of those old old New York lofts with creaky stairs, Mary Helen Bowers' Ballet Beautiful studio seems right at home. Bowers is the iconic ballerina-slash-fitness-guru who trained Natalie Portman for Black Swan.
Today, she and a highly trained cohort of real NYC ballerinas teach the Ballet Beautiful method. This signature workout combines ballet technique, Pilates, resistance band training, and barre.
Classes take place in a lovely 5th-floor walk-up in SoHo. (Regulars often joke that it's a workout just to get there.) Inside, tutus hang from the ceiling above the posh dressing room. (Think: claw-foot velvet benches, dressing room mirrors, and the like.)
On sunny days, light streaks through floor-to-ceiling windows behind the instructor, who will likely be wearing a stylish leotard and ballet flats. It's a lovely vibe. Overall, Ballet Beautiful is the best workout in NYC for toning and grace. Barre none, if you will. It's astonishing how much these long, slow, purposeful movements can target the weakest parts of your abs, inner/outer thighs, and arms. It's wonderful!
Ballet Beautiful is also one of the most transformative workouts in the city in terms of yielding actual results. Talk to someone who has been and they'll surely tell you that their thighs were slimmer after just one class. Another subtle detail we love is that there are always fresh flowers in the studio.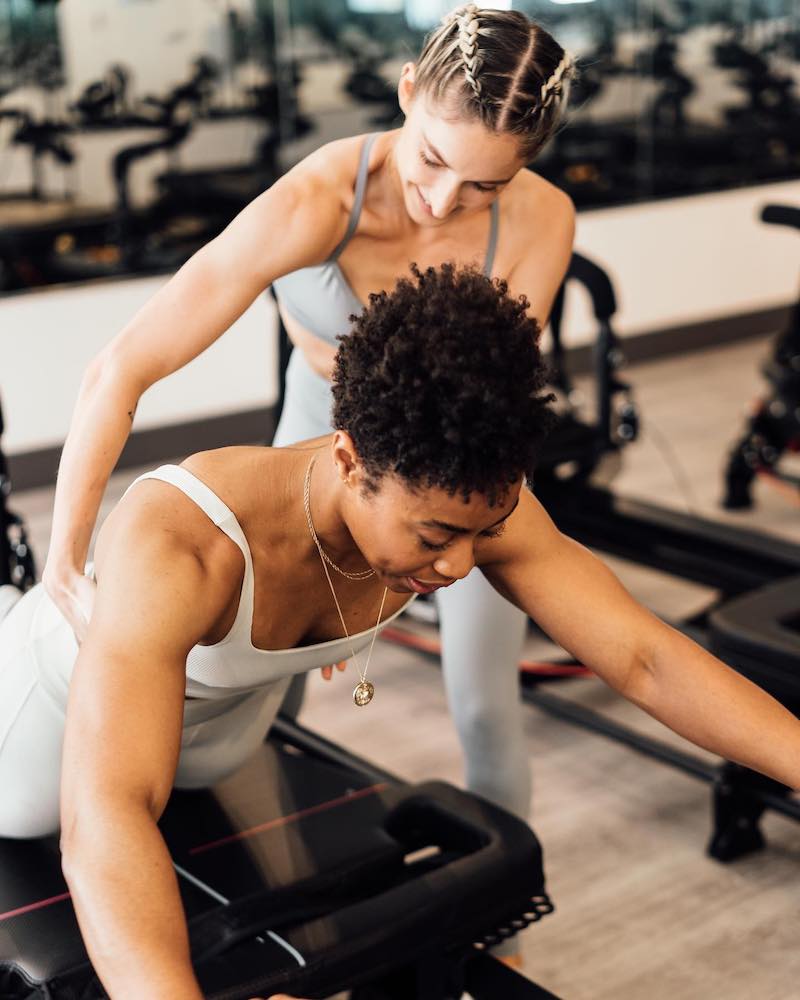 SLT
SLT is so freaking hard! Short for "Strengthen-Lengthen-Tone", these Megaformer workouts take place on what looks like a glorified Pilates reformer of death. Just kidding; not death. But holy smokes, workout junkies are in for a treat! SLT workouts are a mix of weight-bearing Pilates exercises, plyometrics, cardio, and resistance training.
The studio's newest offering, SLT Tread, combines 25 minutes of toning on the Megaformer with 25 minutes of cardio on a Woodway treadmill. This high-caliber burn is available exclusively at the James Hotel studio in NoMad. By combining articulated resistance training with more traditional cardio, you get the best of both worlds; e.g. two workouts in one.
Otherwise, classes at the Brooklyn, Cobble Hill, Park Slope, and Long Island City SLT studios last 50 grueling minutes on the Megaformer. The burn will make you understand the company's credo, "You don't need more time. You need more intensity."
Expect real results in the vein of leaning, toning, and lengthening all the vanity muscles, from triceps and abs to hammys and glutes. It's exhausting, but thrilling in the way that only a good workout can be. As they say: "Better Sore Than Sorry."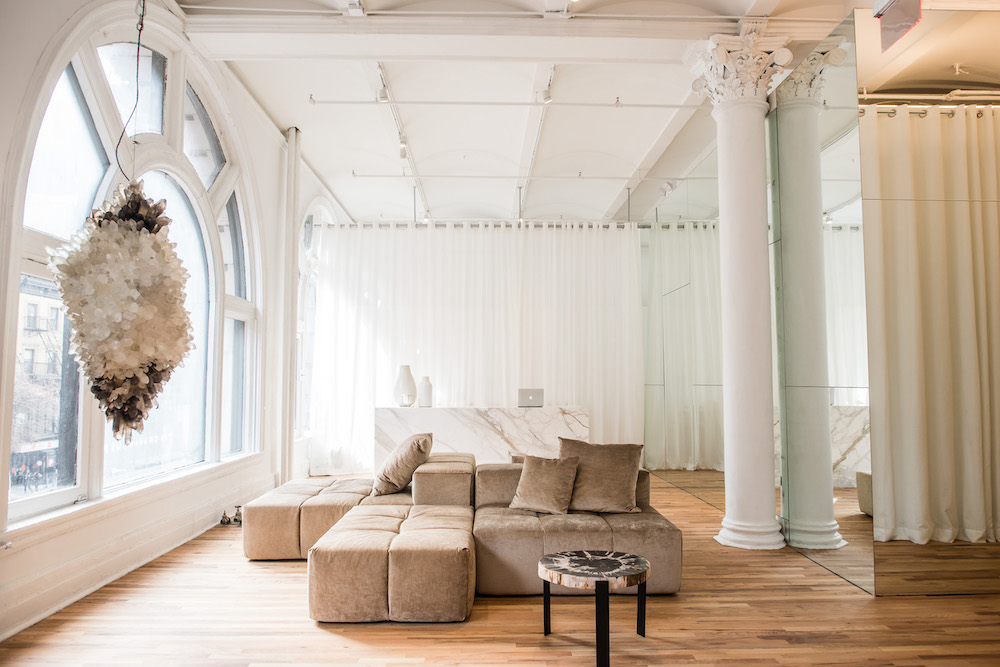 Sound Therapy Yoga at Humming Puppy
We love the sound therapy shala at Humming Puppy, an Australia-born, NYC-based yoga studio that features prominently in our guide to the Coolest, Most Unique Yoga Studios in NYC.
During each class in their low-lit studio, a singing bowl "hums" in the background. The exact frequency of this white noise ranges between 7.83 hz and 40 hz. This is called the "Schumann Resonance," and it induces deep relaxation. Exposure to this sound helps yogis de-stimulate and zen out during their practice.
If you're looking for a cool yoga studio in Chelsea, Humming Puppy is it. We love the modern digs. And be sure to enjoy some fresh tea on your way out.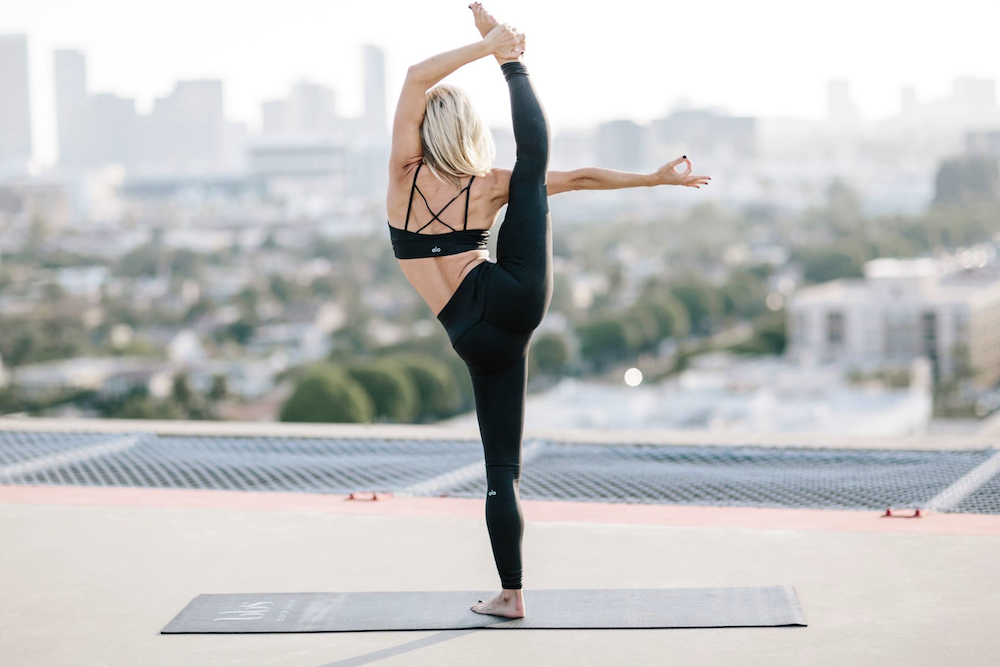 Body by Simone
There's a reason why a host of models, actors, and pop stars all swear by Body By Simone, which is frequently featured on extreme weight loss shows like Revenge Body. Simone De La Rue's dance-inspired cardio program yields major results, burning for each client an approximated 900 calories an hour.
De La Rue worked as a professional dancer on and off-Broadway for years. In 2011, she founded her fitness program from inside a tiny Upper West Side apartment. Today, Body by Simone has grown to offer one of the best dance workouts in NYC.
At her Chelsea studio, "BBS" clients choose from a mix of dance cardio, trampoline, and full-body workouts. There are also targeted classes like ABC (aka "arms, back, core") and HTB ("hips, thighs, buns").
Classes last 1 hour and are super fun! And like all dance-inspired workouts, the music makes it feel like you're just dancing rather than working out. But rest assured: you'll feel it in those little interstitial muscles the next day.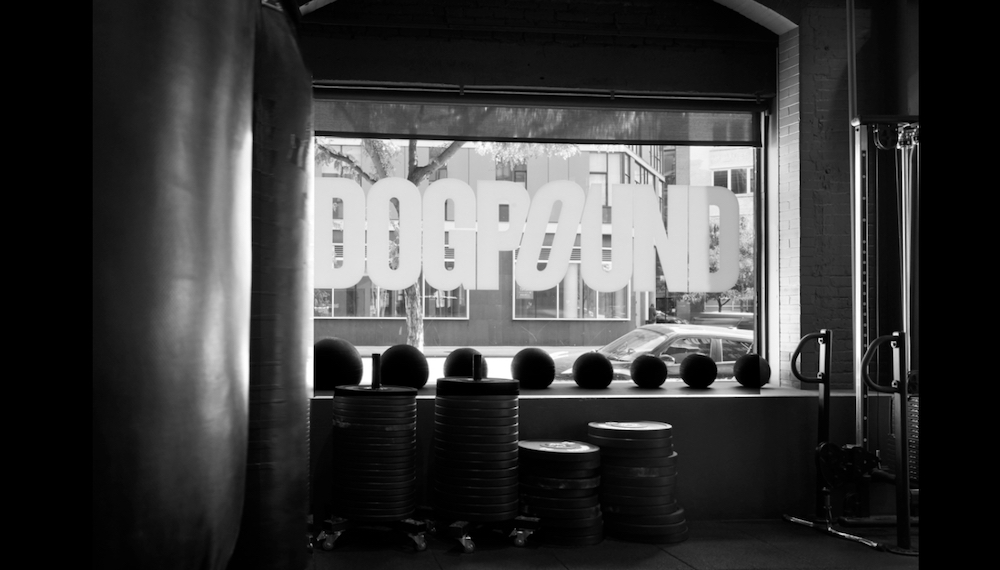 Dogpound for Personalized Training
Exclusive? Yes. Expensive? Yes. Unsurprisingly, many celebrities go to Dogpound when they're looking to get in shape for, say, their next Calvin Klein ad campaign. From Queer Eye's Antoni Porowski to various Victoria's Secret models, Dogpound personal training tailors every workout to your specific goals and needs. Dogpound is a state-of-the-art gym with dedicated personal trainers; the only way to work out here is with a personal trainer.
As a result, it is not cheap– as much as $200 per person per session (more than therapy!). But, it is effective. And why wouldn't it be? Clients get one-on-one attention fit for the stars. Dogpound trainers curate the best workouts in NYC because they work with the world's most fit people. They work you hard, but the results speak for themselves.
Ultimately, for bespoke one-on-one personal training in NYC, this is the best gym for it.
***
Looking for more of the best workouts in NYC? Read our guide to NYC's 11 Coolest Yoga Studios.
Related: Try these 5 Super Helpful Toning Neck and Shoulder Stretches (<— Ideal for those who work at a desk!)