I know what you're thinking: tacos are really an L.A. and Austin thing, right? WRONG. For many years, that was certainly the case– but if you still think there aren't any good tacos in NYC, you haven't been looking in the right places.
In truth, the very best tacos in NYC could face off against Los Angeles tacos any day. Seriously. Don't believe me? Then stop going to Dos Caminos and Chilo's and start eating at any of the real, authentic Mexican restaurants, below. We promise: you won't be disappointed.
NYC is the restaurant capital of the world, with a historic Latino community that is as robust and colorful as the one in SoCal. What the population lacks in numbers– NYC boasts approximately 2.2 million Latinos versus LA's 4.9 million– the community makes up for in enthusiasm.
Moreover, the Latino community in NYC has deeply impacted the city's culture over the years, for the better. (Just ask the Salsa Congress, every corner bodega, and Lin-Manuel Miranda.)
This is perhaps reflected nowhere better than in the food, via New York City's myriad taco offerings. Omnivorous eaters from all over the world regularly flock to NYC to enjoy this culinary smorgasbord. Meanwhile, locals love having easy access to tacos and margaritas in every borough.
There are also amazing street taco trucks and classic Mexican sit down spots literally EVERYWHERE in New York City– but these 5 restaurants are consistently rated as having the best tacos of them all.
Bookmark this list for easy reference later!
Get the details on where to find the best tacos in New York City, below. Enjoy!
***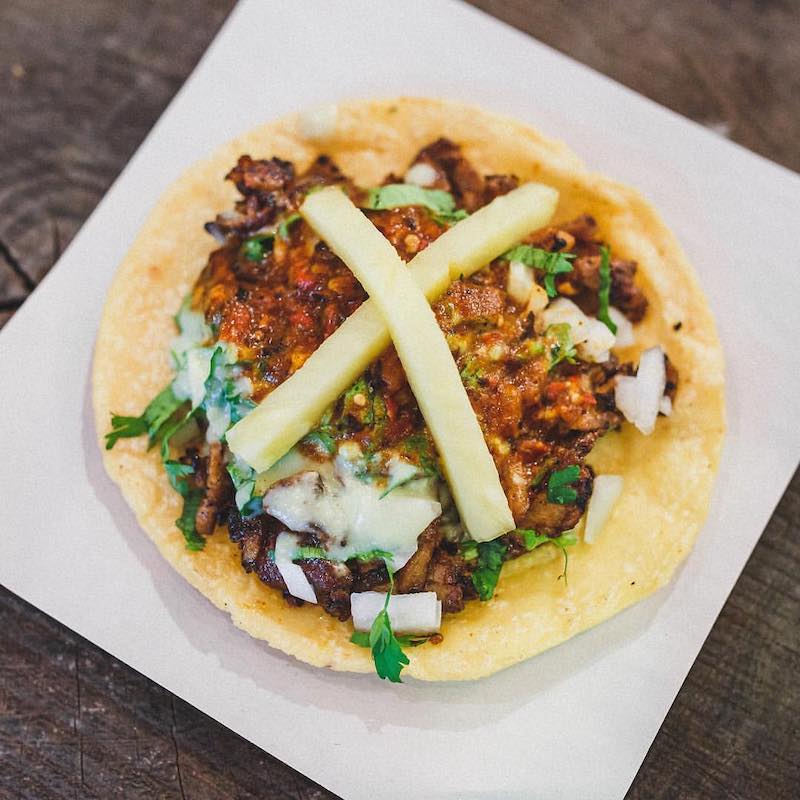 Los Tacos No. 1
Los Tacos No. 1 is THE place to get authentic tacos in NYC. With an original location inside of Chelsea Market, this always-busy walk-up taco bar serves authentic Mexican-style street tacos that are arguably the best tacos in NYC. (For many years, they've won the title of "Best Tacos in NYC" from various respected food publications.) It doesn't matter that there isn't any seating here; these tacos are worth it.
For the quintessential experience, order one of each signature taco. These include carne asada (steak), pollo asado (chicken), adobada (pork), and nopal (aka cactus, which is great for vegetarians and hard to find outside of Texas/California).
We prefer the corn tortillas, but the flour tortillas at Los Tacos No. 1 have their share of fans, as well.
And as for toppings, everyone agrees. The best way to order these tacos is "Con Todo," with the classic toppings of onions, cilantro, salsa, and guacamole. You can't go wrong getting the works. (Unless you're one of those people who doesn't like cilantro. In which case: tell them to leave it off.)
The menu at this California import is short and to the point. In addition to their namesake tacos, Los Tacos No. 1 offers quesadillas, chips n' salsa, a nopal plate with beans, cheese, and optional meat, and chips n' guacamole. That's about it.
As far as Chelsea Market goes, the setting is pretty minimalist. But when you're in the mood for great tacos, that's the way it should be!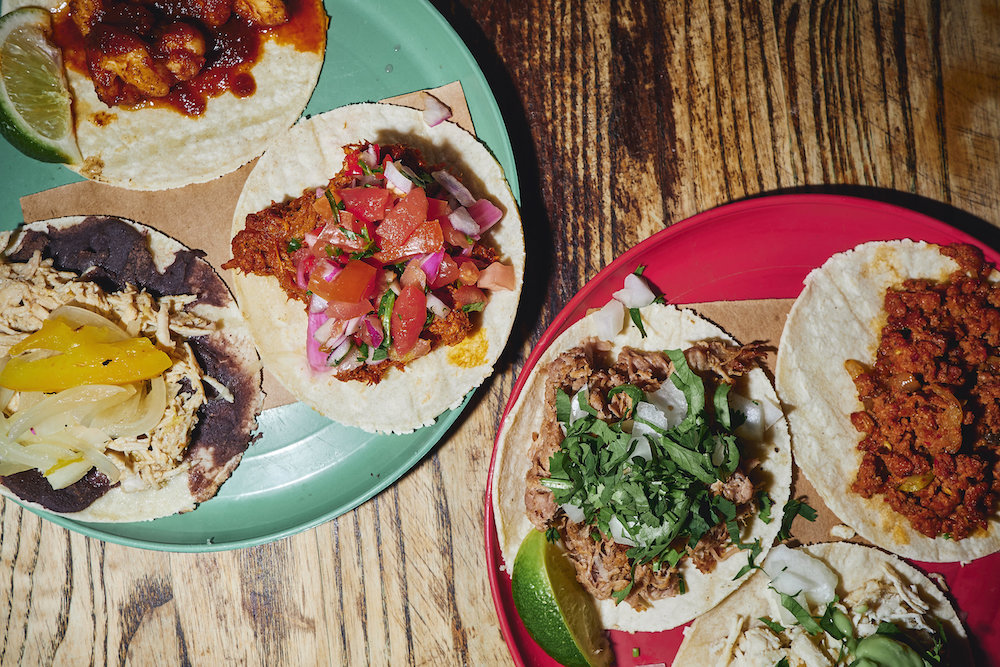 La Superior
La Superior is a cash-only, Michelin Guide recommended Williamsburg restaurant that is a fun place to go on warm summer nights in the city. You can tell the Mexico City inspired tacos at this aluminum-trailer restaurant are super authentic for a number of reasons.
First, locals love their ragged edged, hand-pressed tortillas and the minimalist toppings (which is how tacos are traditionally served on the streets of Mexico City, the native city of chef/partner Felipe Mendez-Candelas, who is from the neighborhood of Coyoacan).
Second, they serve authentic fillings. We love the beef tongue, housemade chorizo, and Pavo en Escabeche, aka turkey cooked in escabeche sauce.
At La Superior (which literally means, "the best",) diners can also enjoy a variety of traditional Mexican street food like torta ahogada, ceviche, and cochinita pibil. These dishes are partially why people rave that La Superior serves the best Mexican food in Brooklyn. (Also, it has a charming, somewhat hidden location on a trendy block in Williamsburg.)
Order these three dishes and a round of tacos for the table, and we guarantee your party will be coming back for more. Viva la superior!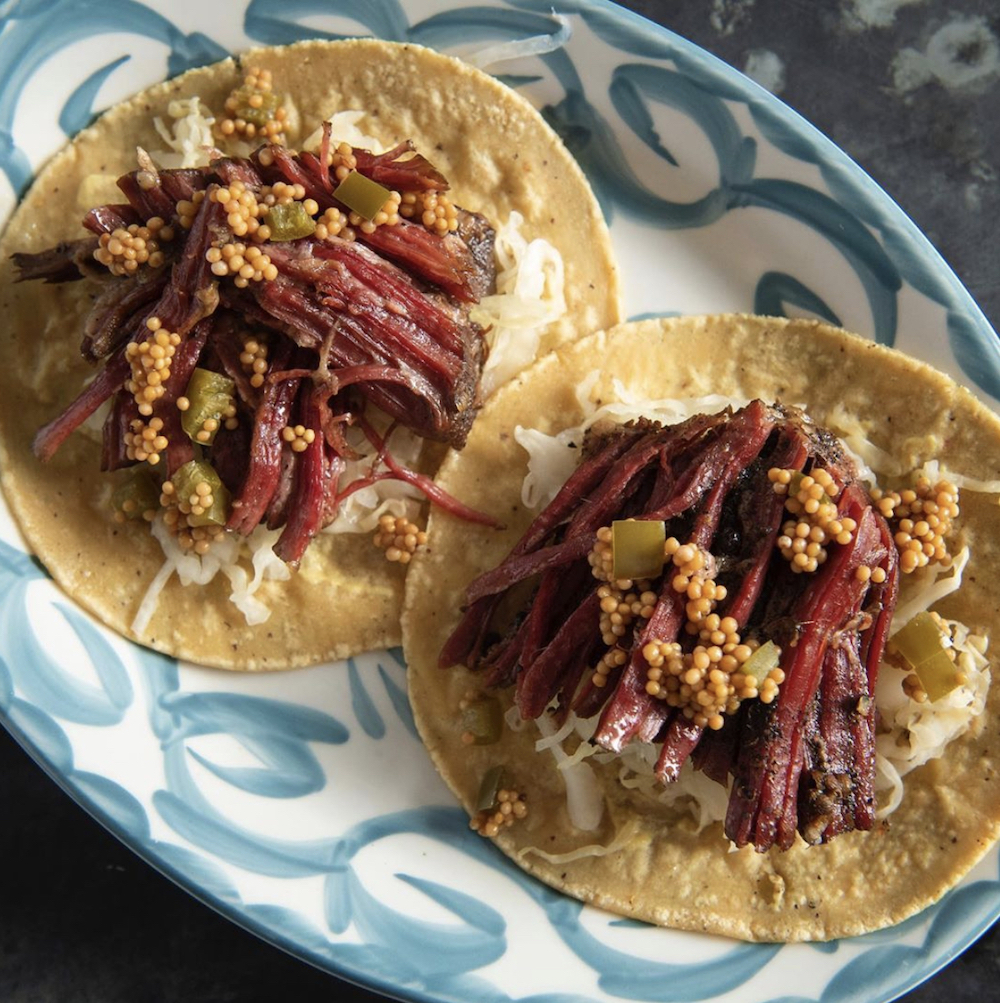 Empellón
If you want an only-in-New-York-City food experience, try ordering the insanely delicious short rib pastrami tacos with mustard seed salad at Empellón's West Village taqueria. (They also have locations in the East Village and Midtown.) With this dish, chef Alex Stupak reimagines the classic New York City sandwich meat in the context of traditional Mexican tacos.
The results, as you might expect, are outstanding. Above all, order these tacos if you only get one chance to try tacos in NYC. It's a unique item that you won't find anywhere else, and so New York!
Moreover, Empellón has one of the most unique, foodie-friendly taco menus in the city– and maybe even the country. Diners love their signature dishes, including Lobster tacos, Red Chile Duck tacos, Fish Tempera tacos, and Brussels Sprouts tacos. I recommend ordering them all. (Everything is so good!)
Empellón's inventive appetizers, queso fondido, and flan-free desserts are also fantastic. Nevertheless, the restaurant's rotating daily taco specials are the menu's real star. These wildly delicious takes on classic street tacos change every day of the week.
For example, the fried oysters, scallop, crab cake, and pork belly tacos offer increasingly unique twists on what you thought tacos could be. Both delicious and creative, they never disappoint. (And if you haven't ever had a crab cake taco or a fried oyster taco, you haven't lived! Go here and order them, ASAP.)
Location, Location, Location
For the best experience (and some of the best tacos in NYC) visit Empellón's West Village location. You can certainly order tacos at the other locations, too, but the menus won't be as large or intriguing as the original taqueria.
Trust me on this one. The West Village is where it's at. Plus, it's in a cute, trendy neighborhood worth visiting if you're coming from out-of-town.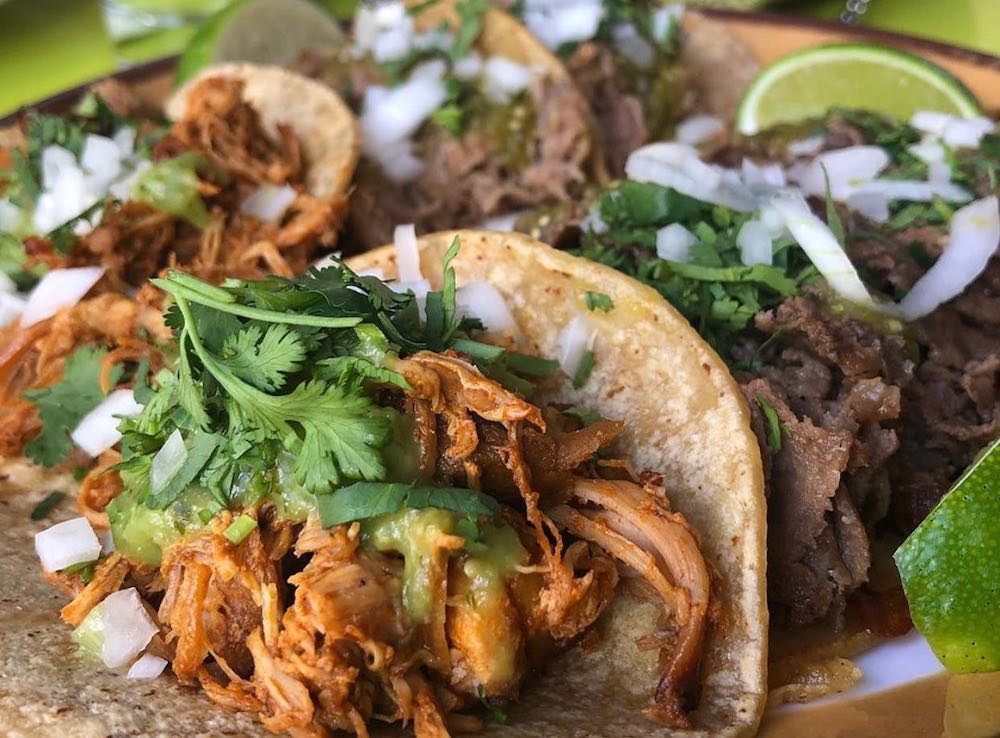 La Esquina
Soho hipsters love the chicken tacos and refined decor at La Esquina ("the corner") on Kenmare Street– one of the few places to get authentic tiny tacos in SoHo. With a cool tequila bar in the basement, this popular Mexican restaurant draws crowds from all over the city.
Also, it's a little more upscale than typical Mexican food joints elsewhere in the city– but then again, it is Soho. (They also have locations in Midtown and UES.)
Regardless of the polished decor, the tacos here maintain a humble come-hither deliciousness that makes it clear from the jump that the chefs at La Esquina know what they're doing. The rotisserie pulled chicken tacos, the Bistec con Queso (rib eye) tacos, and the Barbacoa (lamb shoulder) tacos are the most unique offerings on the menu.
Our favorite tacos are the Hongos— grilled Maitake mushroom tacos with corn mole, queso fresco, roasted pepitas, and salsa roja. However, the understated aquacate (avocado) tacos are delightful, which makes La Esquina a good spot for vegetarians and carnivores, alike.
If you're planning a sit down meal with a group, we recommend visiting the restaurant's SoHo location. Overall, it has the best ambiance and is a nice place to luxuriate over a meal. (However, you will pay Soho prices, even for tacos. In downtown New York City, that's typically how it goes.) Plus, the central location is great for a date, a work lunch, and birthday celebrations, alike.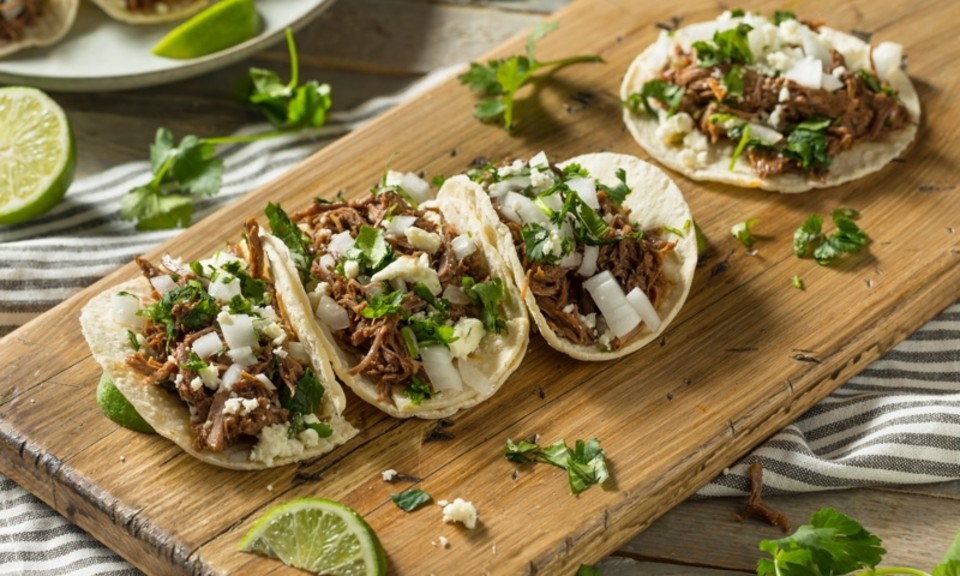 Taco Mix
The tacos al pastor at Taco Mix in East Harlem showcase all that is wonderful about slow-roasted, marinated pork. This small, no-frills taco joint specializes in fairly priced tacos al pastor served with a dash of pineapple in fresh, warm tortillas.
While they're mostly popular as a take-out spot, Taco Mix has a small, unassuming counter that is always busy into the wee hours of the night. (They're open all day until 12:40 AM, which is a weirdly specific time, I know.)
Locals love the sizable portions and efficiency at the walk-up counter. The staff even slices the meat right into your tacos off of a shawarma-like rotisserie. In addition to the Al pastor, the Suadero (flank steak) tacos are also popular.
Plus, you can order the Oreja (pork ear) tacos if you want to try something unique. Or, "mix" it up and try one of their dense, super-filling quesadillas, the taco bar's best-kept secret.
Again, this place is not fancy, but their tacos are cheap, filling, and satisfying. The meat here is so flavorful that the tacos have become a coveted staple in the community.
Plus, if you're going to head all the way up to 116th Street, you might as well come back full. Unless, that is, you live there– in which case, you already have access to one of the best Taco Tuesdays around.
Enjoy!
***
Related: The 11 Best Places to Get Pizza in NYC.
Are You a Foodie in NYC? Scroll through our critically-acclaimed Travel Well section to discover more of the city's World-Class Cake Bakeries, Super-Famous Cookie Shops, Iconic Babka Purveyors, and NYC's 12 Weirdest, Coolest Ice Cream Cafes.
We also have guides to niche hot spots like The 17 Best Asian Restaurants in NYC and where to get The Best Dumplings in NYC.