New York City's coffee shop scene ranks among the best in the world– like Paris and Portland, this is a city where coffee is both currency and cachet; it's a cultural experience as much as a functional, necessary part of life in the city that never sleeps.
For foodies, design lovers, and folks who just love people-watching, New York City's best coffee shops capture the style and panache of life in the city. In New York, cafes are cultural institutions that give a snapshot of their respective neighborhoods, and all of them are so different.
Sure, we're writing about coffee like Carrie Bradshaw would write about a dating trend– but it's true: New York is a city that runs on caffeine, and given its reputation as one of the most cultured food cities in the world, New York City's coffee is darn good, as well. It has to be, of course: the locals wouldn't stand for anything less.
Ultimately, whether you're looking for a cool cafe in Brooklyn, a plant-filled oasis, or a swanky cappuccino lounge for mixing with locals, this list features it all.
Below, we spotlight the 9 coolest, most unique coffee shops in NYC– in no particular order.
Bookmark this list for easy reference later!
Enjoy!
***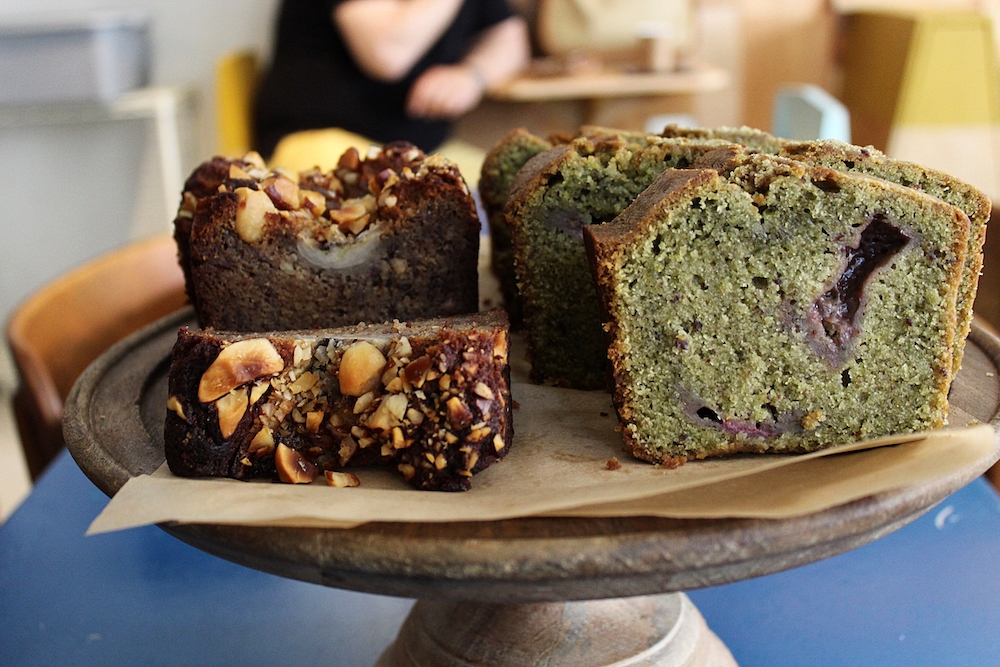 OCafe
O Cafe is a bustling little West Village coffee shop with a lot of heart. We adore the in-house bakery, and the healthy homey breakfasts cater to the stylings of precisely what modern New Yorkers eat. (See, for example, the Roasted Yams with jammy eggs, seeded spread, pickled onions and greens, which can be served with lovely add-ons like romanesco, avocado, and turkey.)
Ultimately, their sponge-print logoed paper cups make us swoon with nostalgia. O Cafe is a quintessential New York Coffee Shop, and easily one of the best places to hang out in the West Village.
We love that there is only one location– on 6th Avenue, in the heart of the village– and that the space itself is cozy and accommodating. (Small enough to feel intimate and bustling at all times, and big enough to linger with a friend and chat for hours. It's a perfect balance.)
Try a cortado and the Avocado Egg for the quintessential breakfast experience (trust me). Otherwise, you can't go wrong with a latte and any of their delicious baked goods. Chia citrus and polenta cake, anyone?
Beyond that, there's also a pseudo-International through line that runs from the coffee to the food. They serve matcha lattes and house-whipped ricotta parfaits alongside arepas and Brazilian Pão de Quiejo, and we're here for it.
Plus, O Cafe also stocks a beautiful assortment of prepared sauces, preserves, snacks, and chocolate made by other local small businesses in NYC. Don't miss these details!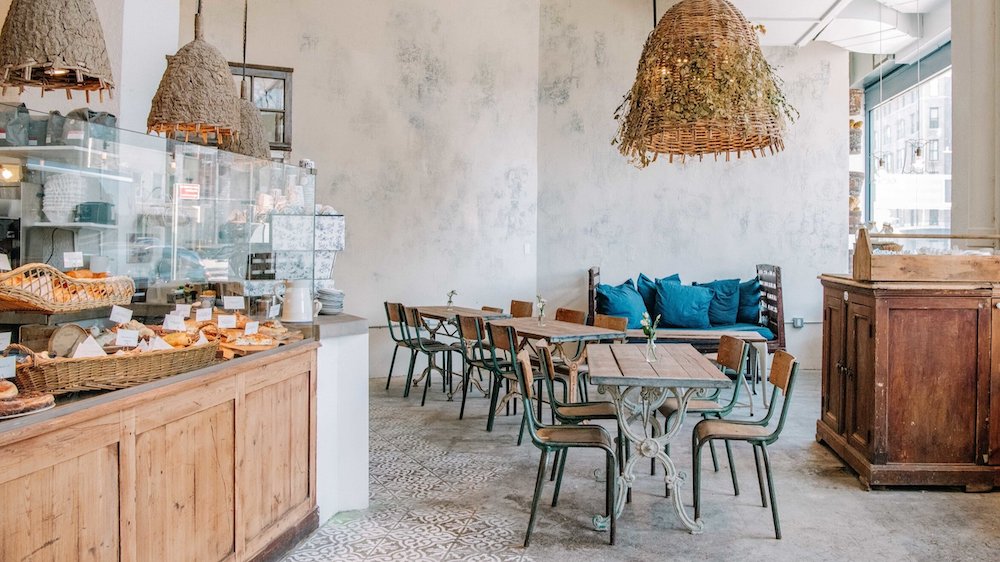 Maman NYC
Maman NYC is an adorable city staple known for its French-influenced food and drink. They have so many locations around the city– downtown, University Place, NoMad, SoHo, TriBeCa, Upper East Side, Upper West Side, and more!– plus Brooklyn locations in Greenpoint and Cobble Hill.
Ultimately, we love this cafe chain's come-hither aesthetics, with its iconic blue china-patterned cups and the global culinary influence. As a result of this latter detail, Maman is one of the best NYC coffee shops for dining in addition to coffee, as well.
Between the smashed avocado tartines, the daily quiche, eggs ratatouille, and Maman's signature breakfast sandwich made with bacon jam, avocado, roasted tomatoes and fried egg on a cornmeal focaccia bun, you'll never go hungry no matter which location you attend.
Salads, soups, and sandwiches are all delectable here, as is Maman's robust selection of pastries, from traditional kouign "maman" to vegan croissants, homemade Oreos, nutella beignets, creme brulee cookies, and more. There's plenty of variety, and it's all excellent. (And don't even get me started on their Honey Lavender latte, which is the best of its class in the city.)
Notably, Maman is a laptop-free cafe, so it tends to foster intimate, lingering conversation, which adds to the cosmopolitan vibe.
The location on the border of Chinatown/SoHo is a lovely respite, with a cute, intimate seating area in the back. The Hudson Street location, meanwhile, is also totally gorgeous as well. (See above.)
Basically, if you're looking for a cafe that reliably passes the vibe check, you can't really go wrong with any Maman cafe. My favorite has always been the TriBeCa location, which weirdly never feels crowded even when it's crowded. (You just have to check it out to understand.)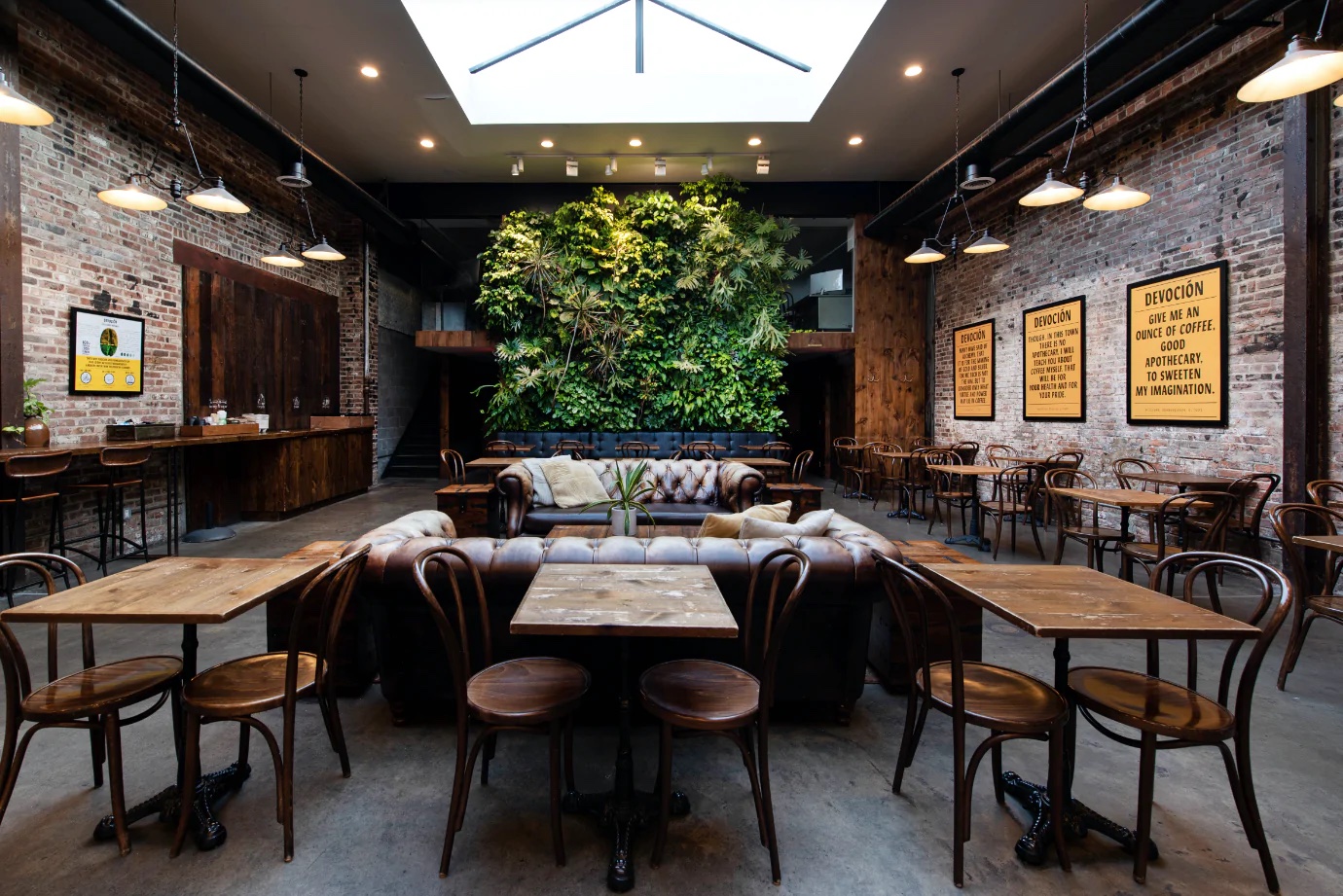 Devoción
The Williamsburg location of this beloved farm-to-table coffee shop is our personal favorite, though there are also Devoción locations in Flatiron, Dumbo, and Downtown Brooklyn.
This cafe's destination roastery in Williamsburg is the OG gathering place of what once used to be the borough's best-kept coffee secret. Now, it's popular and everyone knows about it, but that's okay.
Before roasting on site, the cafe receives raw beans directly from their partner in Botoga, Columbia, usually within 10 days or less from when they were picked. This direct-from-the-farm approach is a big sell point that distinguishes Devoción from some of the other New York-based chains on this list. (You can even watch the roaster at work behind glass on your way into the cafe.)
Ultimately, we love the airy skylight and lush vertical garden on the cafe itself, which round out the aesthetics of this exposed brick, vintage-furniture-filled industrial space. People do tend to gather here with laptops and for business meetings, as the cafe lounge practically invites it.
When in Williamsburg, this is a great place to rest your legs in the midst of exploring the neighborhood.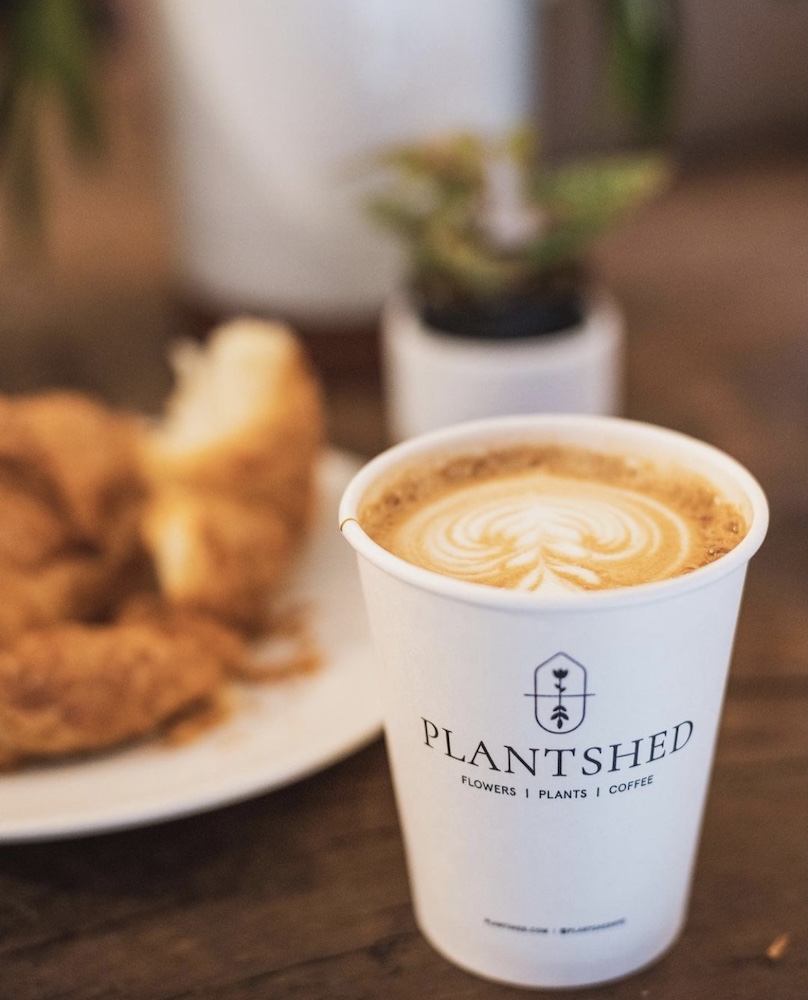 PlantShed Cafe (NYC's Original Plant Shop + Coffee House)
The plant-filled oasis known as PlantShed Cafe is, to be clear, more about the plants than the coffee. Since 2018, when New York City perhaps reached its peak interest in urban jungles, the concept cafe has been merging the realms of retail and nature at their locations in Nolita and the Upper West Side.
The PlantShed in SoHo is now the biggest of their multiple city locations, combining a traditional floral and plant shop with cafe items like espresso drinks, matcha, locally-sourced baked goods, and seasonal specials like Pumpkin Spice and Maple Cinnamon lattes.
The coffee, like the plants, is sourced from all over the world, and the particular offerings vary from location to location. (The bakery, for example, is much more expanded at the Amsterdam Ave location.)
Come for the coffee, stay for the cacti!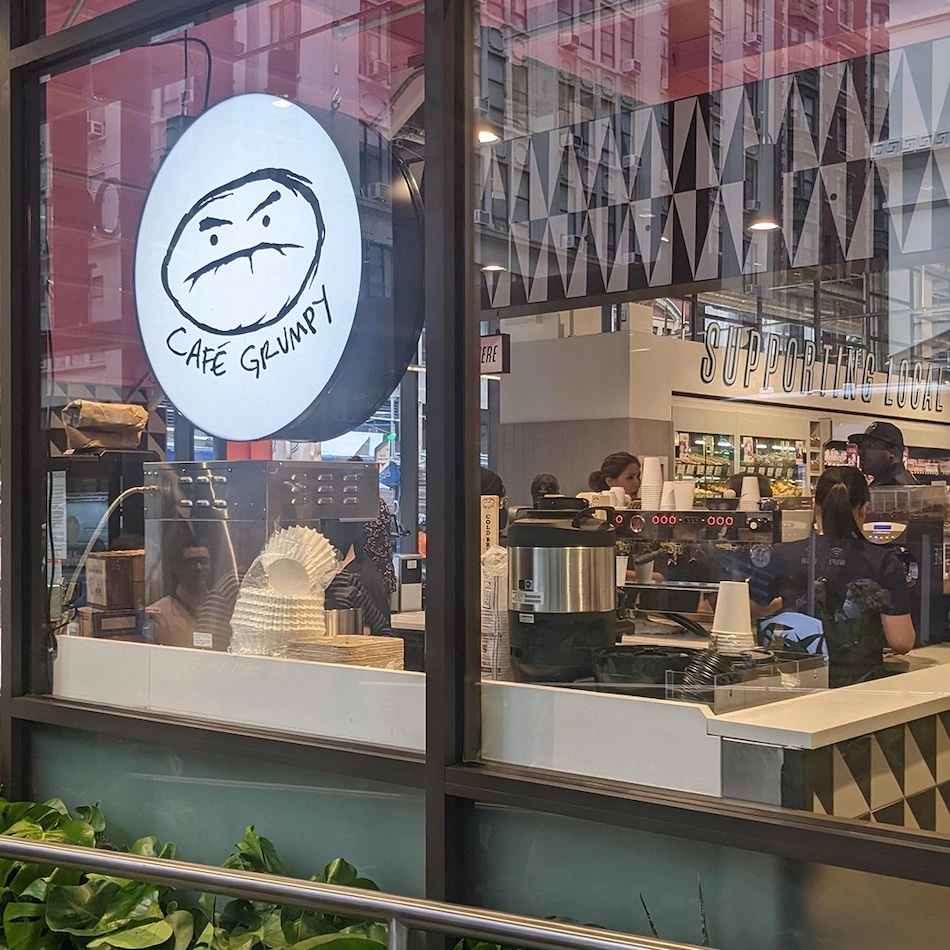 Cafe Grumpy
Honestly, Cafe Grumpy is a no-fuss cafe that feels so incredibly New York because of its name alone. They offer the standard assortment of coffee and tea drinks delivered quickly with– dare I say it— a perfect amount of cool, detached efficiency. Welcome to New York. 🙂
In addition to good coffee, Cafe Grumpy is a great place to get the famous Ovenly peanut butter cookie, one of New York's best and most famous cookies. And, they have locations all over the city, from Nomad to the Financial District to the Fashion District and Grand Central.
You can easily spot them by their grumpy face sign. (See above.)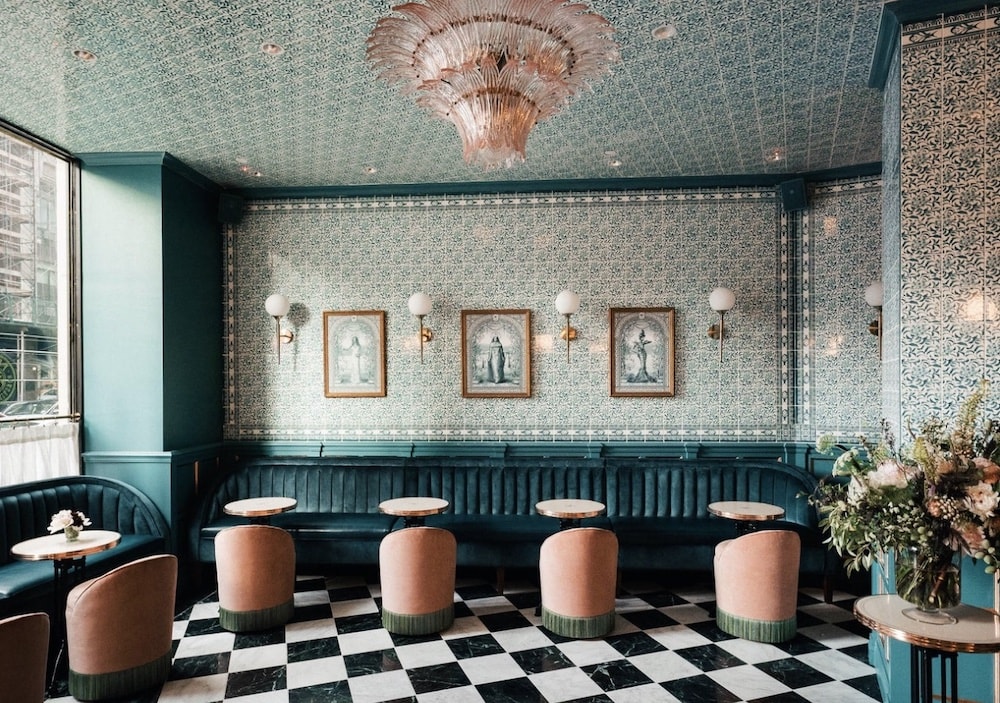 Felix Roasting Company
Felix Roasting Company is SO BEAUTIFUL with locations in Nomad, Soho, Noho, and "West" Soho (<—a dubious neighborhood distinction, but still). The Noho location at 2 Astor Place, in particular, is stunning– but really all of these NYC cafes are lovely.
All Felix cafes have a very "accidentally Wes Anderson vibe"– probably the most so of any coffee shop in the city. It all comes down to the details, from the calacatta and verde alpi marble floors to the copper-leafed wainscotting and matching table borders.
Ultimately, it's a great coffee shop for maximalist antique vibes. Even the sugar packets wouldn't feel out of place at an old-timey cafe in Lisbon, Milan, or Paris.
But alas, this is New York– so you can rest assured that the oat milk matcha lattes are just as good as the espresso. And of course, they would be. Felix cafes are all about decadence and details, from the house-made non-dairy milks to the proprietary syrups. Don't let the pomp distract you: the coffee is very good!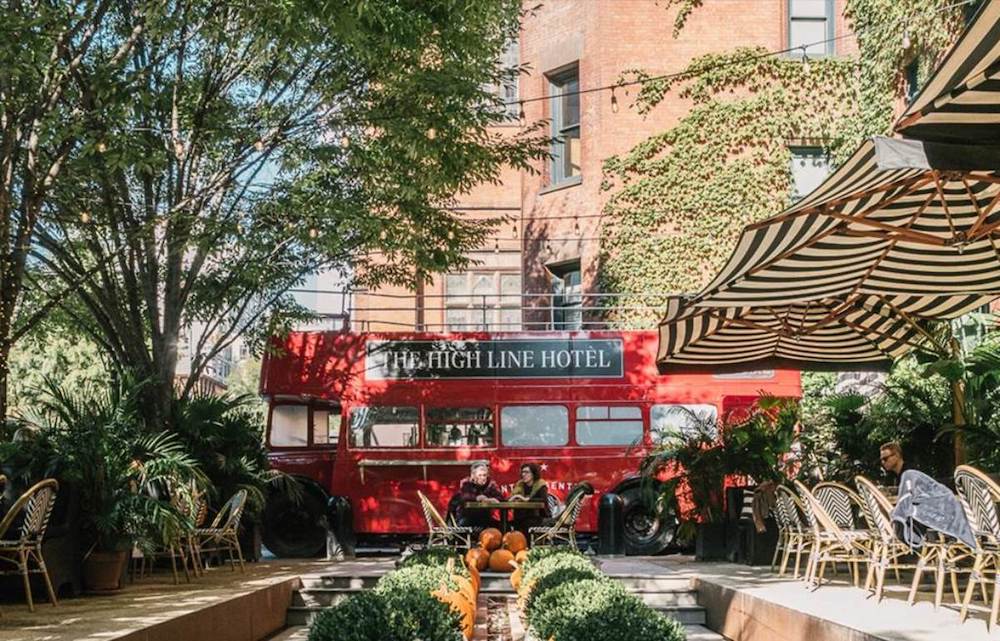 Intelligentsia's High Line Hotel Coffee Bar
Intelligentsia might not be exclusive to New York, but their one-of-a-kind coffee bar on the High Line sure is. This boutique coffee shop is all about location, location, location– but honestly, the coffee is world-renown and famous for a reason, too.
If you're looking to knock two things off your New York Bucket List– aka visit the High Line and go to a great coffee shop– then this is the NYC coffee shop for you.
In the Spring, try the signature Black Cat Fizz for a unique experience: it's an espresso tonic made with their Black Cat espresso, fever tree tonic water, and orange bitters. They also serve the city's only iced mocha made with housemade ganache— and the Flat White is one that even picky Australians can get behind.
Chances are, if you're all the way over on 10th Avenue already, you're either there to explore the High Line or plan on checking out some art galleries. Either way, this is the perfect spot to grab an espresso or Americano to power the adventure along New York's only elevated park.
~ Honorable Mention ~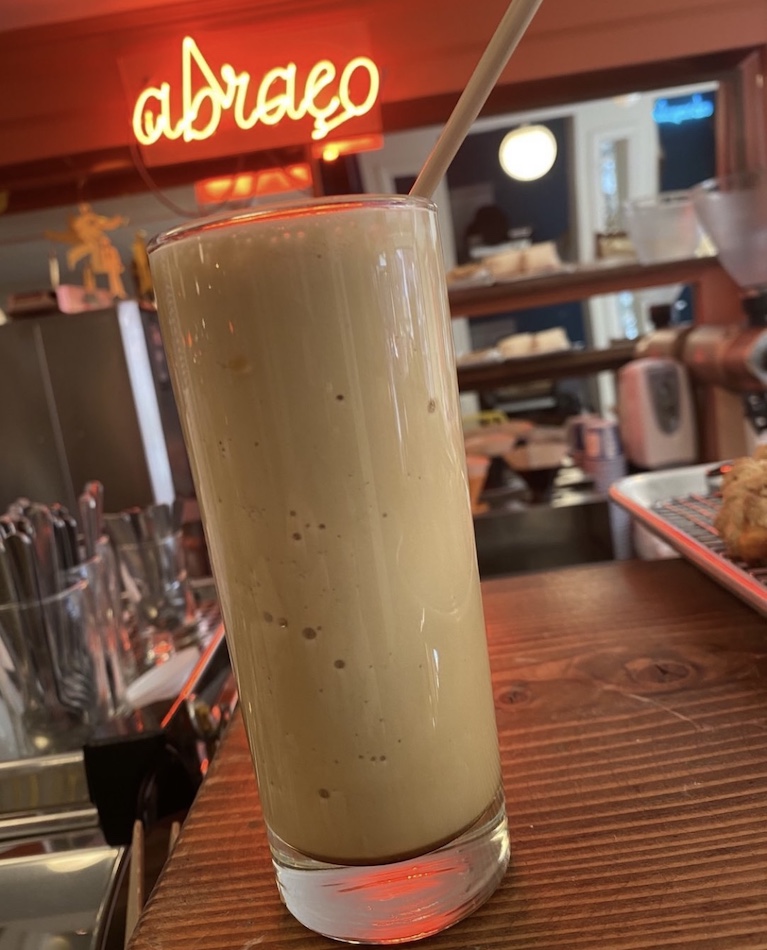 Abraco
Abraco serves great espresso at its counter-serve walk-up in Ukrainian Village, but really, I'd send you here for the Cured Olive Cookie alone. (No, that isn't a typo.) The coffee here is straightforward and minimalistic, but this cookie is anything but.
Basically, the baked goods here are really unique and interesting. Abraco serves treats like orange blossom ricotta babka, buckwheat maple banana cake, and laminated Breton butter cake. It's all delicious, as is the coffee.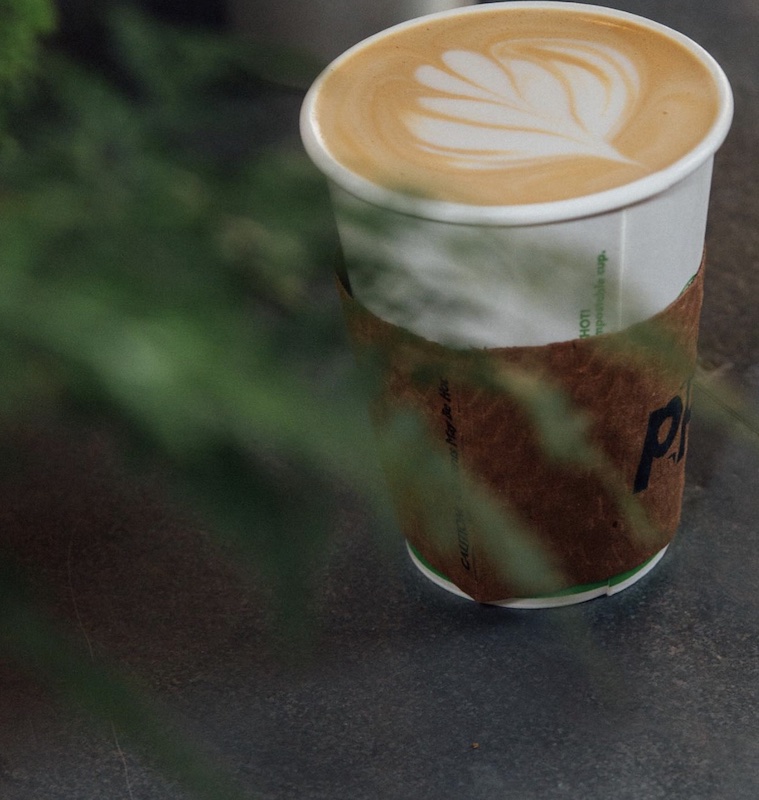 Ppl
This low-key Williamsburg cafe on Roebling Street is loaded with plants and defined by its blithe, chill vibe. We love the white sesame latte and the vegan banana bread at Ppl— but really we love how it feels like what hipster Williamsburg used to be 10 years ago. (Before all the wealthy ex-pats flooded the neighborhood.)
This place is small, but scrappy! Blink and you'll miss it!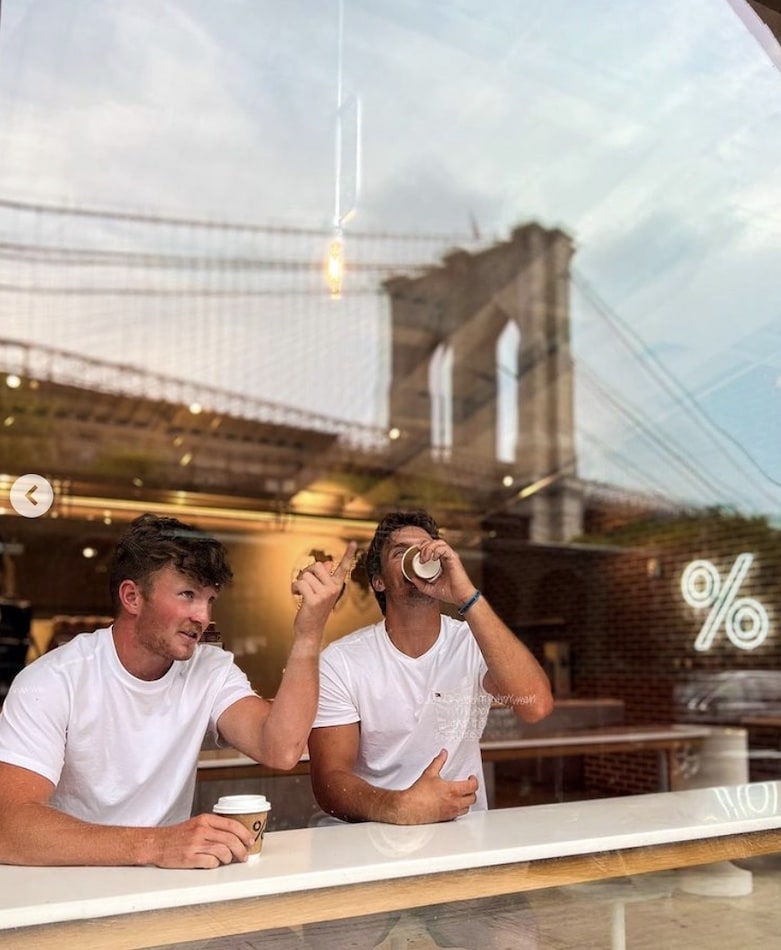 % Arabica
% Arabica is a truly lovely gem conveniently located near Brooklyn Bridge Park and the waterfront in DUMBO. This sleeper cafe is bright, spacious and airy, with beautiful, clean sightlines and lots of exposed brick. The pastry selection at this industrial-style roastery is minimal, but like the distinct branding, it's also on point.
Stop here for a decidedly excellent coffee after taking the ferry over from Manhattan, and sip while meandering through Brooklyn Bridge Park and taking in the views across the East River.
Or, bring it to Jane's Carousel or to Time Out New York's local pop-up food court for the quintessential DUMBO experience. Enjoy!
***
Related: 9 Iconic Places to Get Bagels in New York City.